Congratulations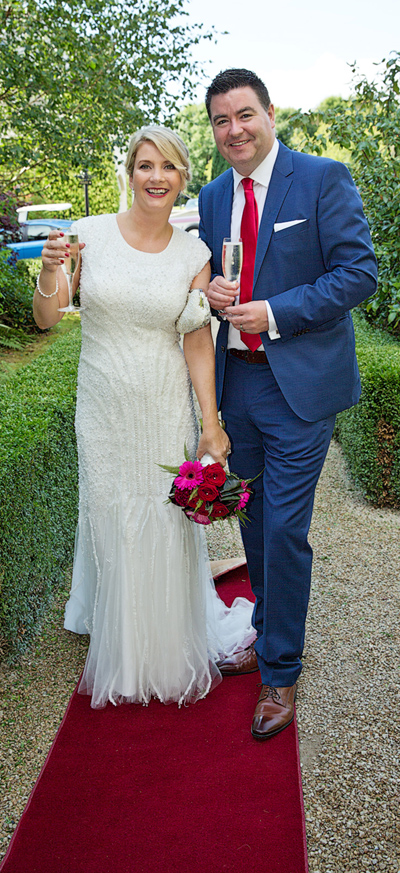 Congratulations and best wishes to Oonagh Kennedy, Cullohill and Vincent Keogh, Prosperous, Kildare who celebrated their wedding with their families on Thursday 14th August.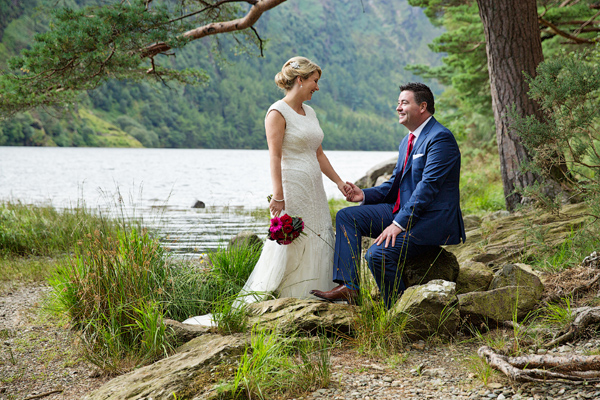 They married in St. Kevin's Church, Glendalough followed by reception in The Brooklodge, Wicklow.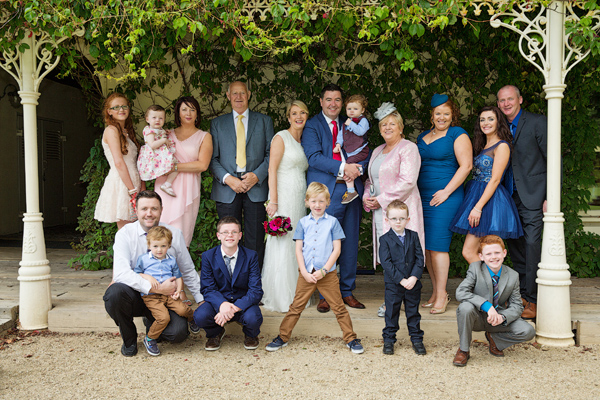 The Kennedy Family and Photography by
www.dermotbyrne.ie
.
---
Community Games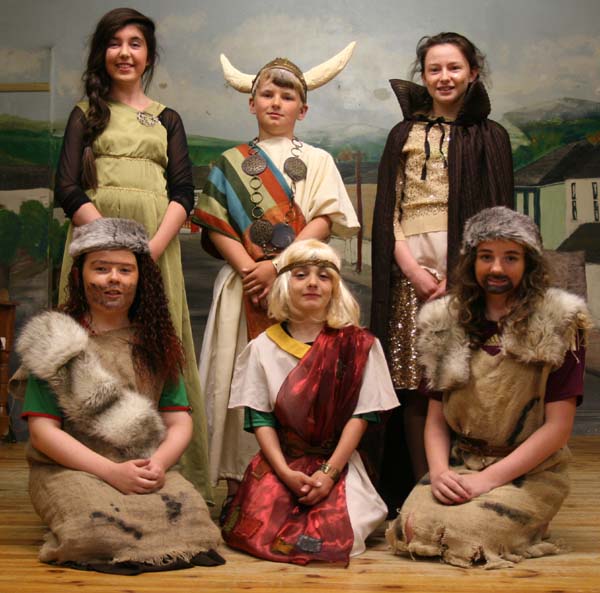 Back row : Maeve,Colm & Aoife
Front row : Adam, Razuk & Cailín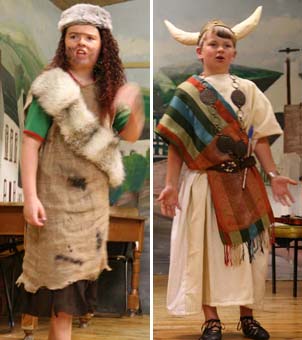 Adam & Colm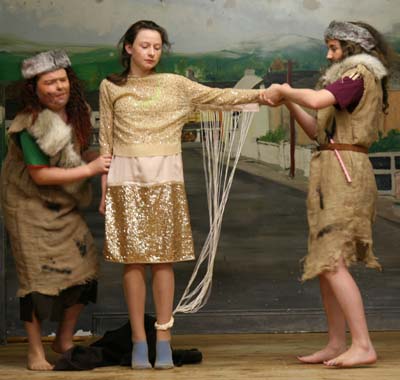 Adam, Aoife & Cailín

Borrisoleigh were bronze winners in the Community Games in the Drama Section which were recently held in Athlone. Well done to all who took part.
---
Line Dancing

Are you looking for a fun way to lose a few calories, learn new dance steps and listen to great music then Line Dancing is for you. It doesn't matter if you haven't been dancing with us the last few weeks you can begin any Saturday, you are always welcome. We dance to all kinds of music not just country. If you have never Line Danced before or did it a few years ago and feel you would like to get back into it then come along.
It's only 5 Euros per class (pay as you go). Class starts at 10am until 11.30am every Saturday in the Marion Hall
Hope to see y'all there

---
Borrisoleigh Track Attack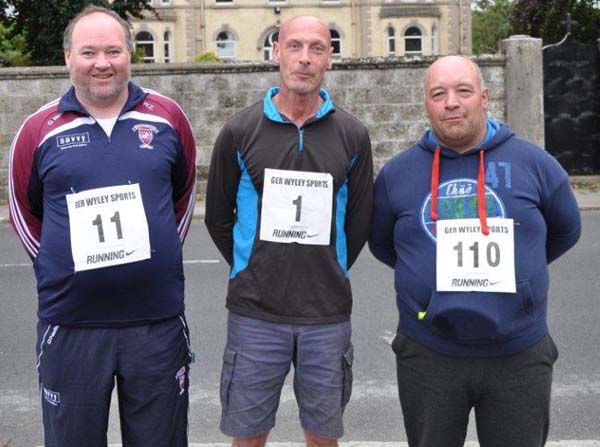 (L-R) John Vahey, Hugh Hennessy, Joe Holland
The new track around the hurling pitch in Borrisoleigh will hopefully be a hive of activity during the upcoming winter nights. Following the success of the recent Borrisoleigh 5K road race, our next project is the Borrisoleigh 42km Marathon Challenge. The purpose of the event is to promote sporting and recreational activities in the local and surrounding areas.

The event is to be kindly sponsored by Albany Decor (Nenagh), Owen Ryan Motors (Loughmore), Wright Insurances (Wexford), Cross Fabrication (Templederry) and Pat Keane Painter & Decorator (Mountkinane). The marathon distance of 42km will be broken down into 7 nights of 6km each. The challenge will commence on Tuesday 14th of October and will continue for a further 6 Tuesday nights. On the possibility of the chance that the Borris-Ileigh senior hurling team would have any potential championship match fixed for a night that clashes with a run, the run will be cancelled and participants will be notified of the rescheduled date. We will add an eighth night to give everyone who missed a night the chance to complete the challenge.
As per the aforementioned Borrisoleigh 5km, we encourage and welcome everyone to come along and participate. It doesn't matter if you run, jog, walk or crawl, what matters is your participation and for you to be part of a positive community project. Registration will be taken each night in the pavilion from 7:15pm where there is an entry fee of €2 per night. Anyone under the age of 16 are welcome to enter free of charge. The start gun will sound each night at 8pm while an organised warm up will begin at 7:45 for anyone that wishes to avail of it.
Between now and October 14th, dust off the cobwebs from the runners and begin to prepare for the event. The 6km distance is roughly 7 and a half laps of the track. Follow one of the many "couch to 5k" training plans that you can find online. Also encourage friends and family to come along and attempt to complete the challenge. If you wish to find out any more info on the event, please feel free to email borrisoleightrackattack@yahoo.com
---

Templemore Athletic Club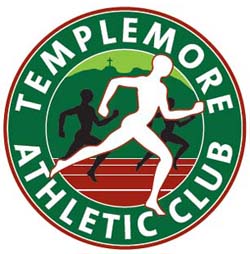 Templemore Athletic Club has started its Autumn/Winter training for 7 to 10 year olds @ 7pm on Mondays and Wednesdays & all are welcome. Phone 087 2096356 for further details.

Track & Trail Run

Unlike last year we had good weather from start to finish on Sunday 14th September for our 4th annual event. 134 entrants crossed the finish line after completing the 4 mile course. Just like last year, the first man home was Tony Fogarty, this time running with Templemore AC, he was followed by John Fitzgibbon (Thurles Crokes) and Paddy Cummins (Moycarkey/Coolcroo). Our own Margaret Danagher was the first woman to cross the line followed by Carmel Fitzgibbon and Eileen McCullagh both of Thurles Crokes. The first Junior man home was Luke Herke (Templemore AC) and first Junior woman was Chloe Shanahan (Thurles Crokes). Full results from the day are available here and photos can be seen on our Facebook page. We also held a Mile Challenge on the track for juveniles under 15 for the first time and this was very successful with 70 entrants taking part.
We would like to thank everyone for participating on the day. Thanks also to all the people who helped make the day a success from stewards, to registration, timekeeping, results, course set up and refreshments, it couldn't be done without you!! We also wish to acknowledge the support of Tipperary Mineral Water who provided the water for those taking part and Lidl Templemore for providing bananas for the kids after their run. The services of the massage therapists from Templemore College of Further Education were much in demand after the run so their presence was very much appreciated.
---

Junior Infants at Scoil Naomh Cualán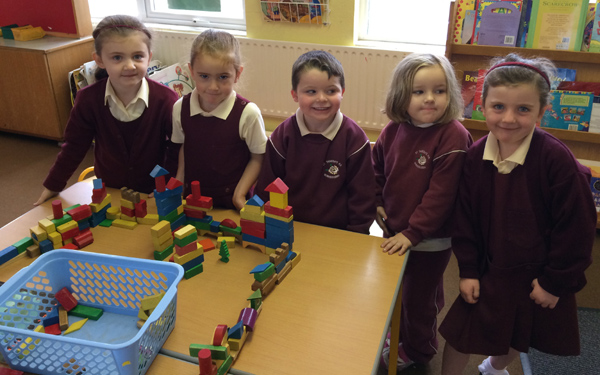 Pictures of the new Junior Infants who stared school in Scoil Naomh Cualán on September 1st.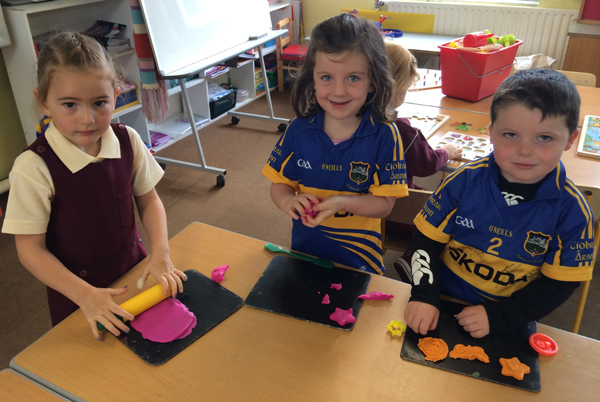 Happy faces!!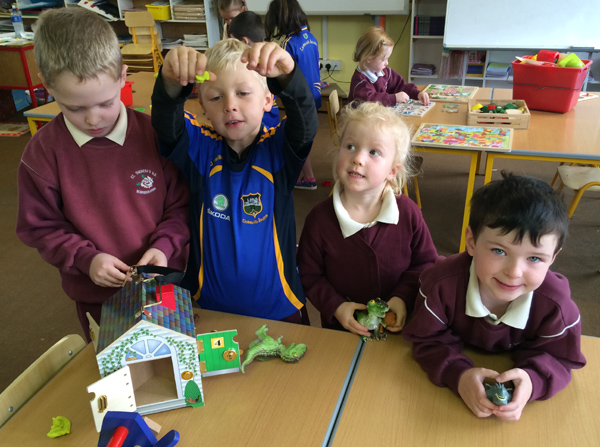 Busy children!!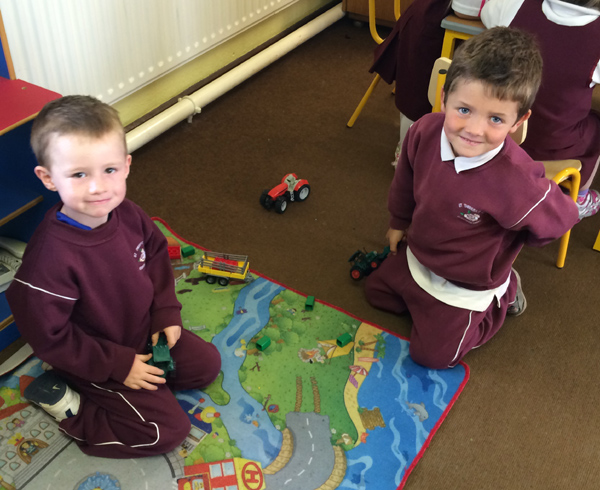 Butter wouldn't melt!!!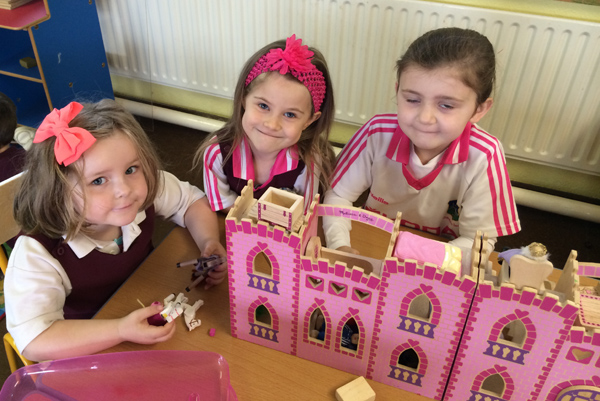 Princesses at work!!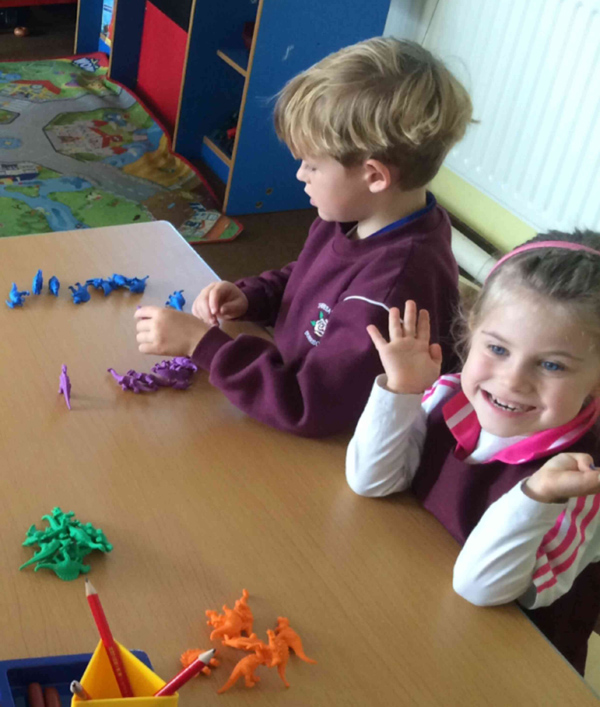 His and hers!!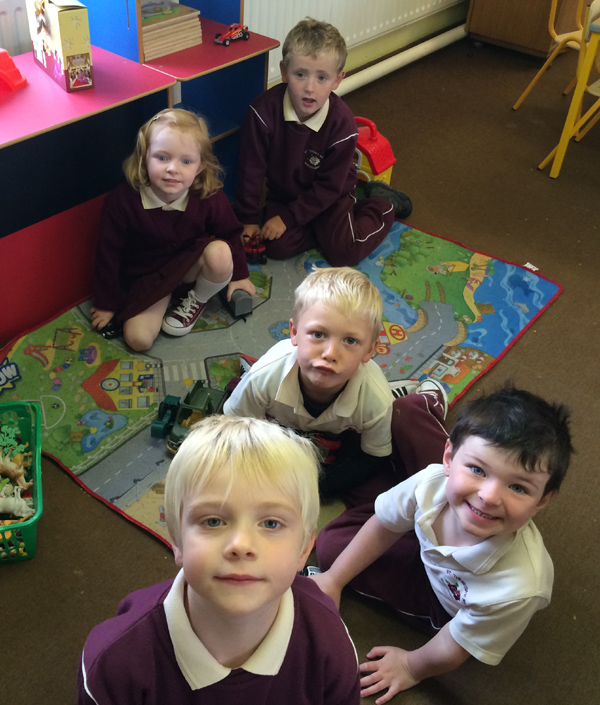 All of the children have settled very well into school life and above are some pictures of them happy at play.
---
Borrisoleigh Community Defibrillator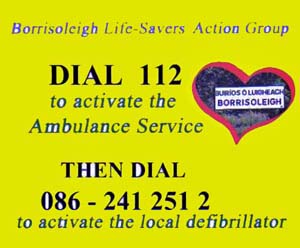 Borrisoleigh Community Defibrillator group are holding their annual church gate collection this weekend Saturday 20th and Sunday 21st Sept. All support greatly appreciated all monies go towards the maintenance of the 5 community defibrillators and the training of personnel in their use.
---
Borris-ileigh Juvenile GAA
Our U16's will play Borrisokane in the North U16b final on Saturday 20th of September at 11.30 in Nenagh. Your support would be appreciated for this panel of players who have worked hard throughout the season. Best of luck to all concerned.
Our U14's played Silvermines last Saturday evening in the U14 Plate final in Toomevara. After an exciting game they emerged victorious on a scoreline of 2-07 to 8pts. Well done to Captain Oran Bergin and the full panel of players for an excellent display on the night. This game brings the season to an end for the U14's. We still have U13 hurling plate fixtures to play against Kildangan, Nenagh and Toomevara.
The U8 Meagher cup will take place on Saturday 20 September in Borrisoleigh with Drom Inch, Upperchurch Drombane, Loughmore Castleiney and Borris Ileigh taking part.
Well done to Gerry Kelly and Ray Mc Cormack who lined out for Tipperary U16 and U14 teams in the John Doyle Perpetual tournament and the Tony Forristal Tournaments recently.
---

St. Joseph's College Notes
All-Ireland Hurling Final

Well done to our past pupils, captain Brendan Maher and his team mates, Paddy Stapleton, James Woodlock, Gearoid Ryan and Seamus Callanan on an outstanding display in the blue and gold jersey in the All-Ireland final against Kilkenny. We are very proud that no less than 1/3 of this exceptional team are past pupils of our school. We wish the lads the very best of luck in the replay on the 27th September. Tiobraid Árann abú!
Annual School Mass
Archbishop Dermot Clifford continued the long standing tradition of officiating at our annual school mass on Friday last. Archbishop Clifford has been coming to St. Joseph's College since 1986. This mass is held every year after the Junior Cert results are released and coincides with the beginning of the new school year. The Archbishop praised the hard work of students and teachers which culminated in excellent Junior Cert results.
Junior Cert. Results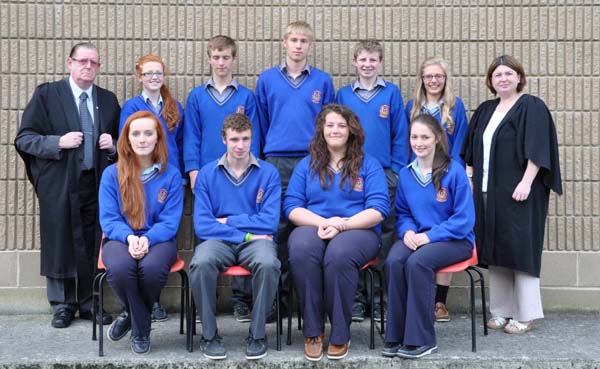 Congratulations to the Junior Cert class of 2014 on the excellent results they achieved. Again the results in St. Joseph's College were well above the national average. Many students achieved 10 honours in higher level papers. The top result of 2014 went to Jack O'Meara, Mardyke, Loughmore, Templemore. Jack achieved the exceptional result of 9 As and 1B in higher level papers. 3 students shared second place in the roll of honour, each achieving 8As and 2Bs in higher level papers. They are Aaron Reid (Glentane, Borrisoleigh), Michael Ryan (Ruan, Upperchurch) and Orla Ryan (Ileigh). These fantastic results are testament to the hard work of the students and the teaching staff over the past 3 years. Well done!

---

Borrisoleigh Scór
Set dancing classes returned on Monday 15th September in the Marian Hall.
Beginners welcome from Jnr. Infants age & upwards ~ 6.30 – 7pm.
All existing members please return to the same class as last year.

---

Music Lessons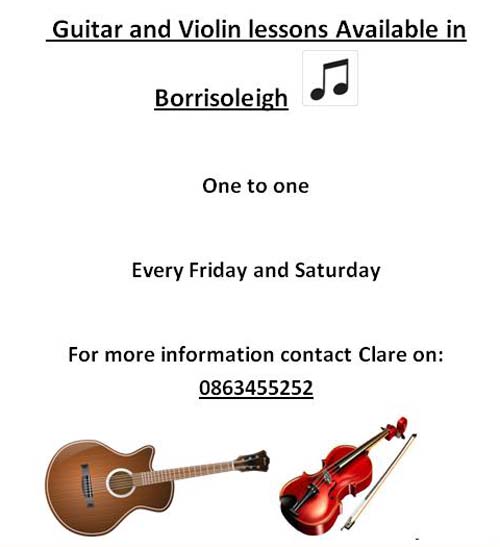 ---

Borrisoleigh Historical Society

As most of you will be aware this Society was formally established last year. Our first significant project involved the organisation of a Historical Walk -" Down Memory Lane" through Borrisoleigh on the 5th of October 2013. This event featured in the Gathering Festival 2013. It was a remarkable success as was evident from the numbers attending (over 200) age profile and gender balance of the participants. Despite our best endeavours, we were victims of our own success and only succeeded in completing half of the intended route.
Since that event, the Society has enjoyed many and varied events which are widely spoken about throughout the local and wider Community. We had a lovely series of Lectures in the Parish Centre during the Winter of 2013 and the Spring of 2014. We also had some very enjoyable Outings/Field Trips in recent months. Needless to say this is work in progress and we will soon be preparing our Autumn/Winter Programme.
In the meantime there is the matter of preparing for "Down Memory Lane" Part 2 which again will form part of this year's Festival Programme. We hope to use the same format as last year with a mix of local Speakers and a few non locals. It is proposed to complete The Square, Upper Street to Illeigh Road and finish in Pallas Street.
Let's hope the October sunshine of last year will return but more importantly that your good selves will return in even greater numbers so that we can all travel together in mind and body "Down Memory Lane"
Other upcoming Historical moments
Cahir and World War One Commemorative Weekend
"Their Name Liveth For Evermore" – Cahir and World War One 1914 – 2014
20th and 21st September 2014
Saturday 20th September
12 noon: Launch of Photographic Exhibition in Granary Art Gallery (Talks at 2 & 4pm)
12.15pm: Lecture on World War One and Cahir by Paul Buckley.
11 – 5pm: Military Display by Battlegroup Centre & Bookseller Stands in Community Hall.
2.30 – 3.45pm: Street Pageant re 1914-1918 period in Cahir starting from War Memorial.
8.00pm: "From Tipperary to Salonika" – a concert of music and poetry from World War One in Cahir Castle with Burncourt Drama Group and Guests.
Sunday 21st September
12 noon: Photographic Exhibition in Craft Granary Gallery (Talks at 2 & 4pm)
11 – 5pm: Military Display by Battlegroup Centre & Bookseller Stands in Community Hall.
2.30 – 3.45pm: Street Pageant re 1914-1918 period in Cahir starting from War Memorial.
4.30p.m.: Unveiling of Plaque at Ginchy Terrace.
5.00p.m.: Wreath-laying at War Memorial.
Contact: http://www.cahirhistoricalsociety.com

---
Borris-Ileigh Camogie Club

INTERMEDIATES CHAMPIONSHIP
Shannon Rovers v Borris-Ileigh was brought forward to Friday last in Ballinderry.
Score: Borris-Ileigh 2-15 to Shannon Rovers 1-10.
Scores from Grace O Mahony 1-00, Moira Maher 1-03, Deirdre Corcoran 0-01, Nicole Walsh 0-11 (8 frees).
Next round versus Drom, this Friday September 19th at home at 7.30 p.m. Follow "Borris-Ileigh Camogie" on Facebook for further updates.
U14 League.
U14 girls have qualified for a play off for a quarter final in this league. Well done girls. Opposing team to be announced shortly.
U12
It is a great privilege that our U12 club player Katie Boyle of Ballyroan has been selected to play at the half time game of the All-Ireland Final replay on Sept 27th. Katie will wear the number 12 jersey to represent Tipperary. The teams that play at half time are selected from players from all over Ireland. So as we cheer on our Borris boys of Brendan, Paddy & Conor, we also wish Katie the very best of luck.
U8's & U6's
This age group have now finished for the season. With great credit to the manager and his team, the kids have had a very enjoyable season. It is hoped that with the help of parents, that more people will become involved in the training schedule for 2015.
CLOTHES COLLECTION
Its Clothes Collection season again, so when you clearing out all the households summer gear, please donate some to raise some much needed funds.
Bags, shoes, and belts all can be donated as well clothes/coats/textiles/cuddly toys etc.
Confirmation of dates for collection will be announced shortly.
MERCHANDISE:
Camogie club merchandise now available Hoodies, tracksuits, t-shirts,
jerseys and raincoats available.
Please contact Caroline at 0861522716.

---
We are getting closer to the Borrisoleigh Festival taking place on October 3rd, 4th and 5th. A great line up of events has been organised from hillwalking to cycling, part two of the historical walk through the town, an even bigger and better family fun day in the Town Park and live music in McDonagh Square throughout the weekend. As well as the excellent local bands of Silver Dollar, Outa Diesel, Ebony, The Castle Trio and The White Gypsy Band, Liam Ó Maonlaí of Hothouse Flowers fame has also been confirmed to play on Sunday night.
Due to it's success at last year's Gathering Festival Bubble Soccer is back again. You can try your hand (or feet) at the zany game that is Bubble Soccer. For anyone who missed it last year, it's like a cross between regular soccer and bumper cars! Players 'wear' a transparent inflatable bubble around their bodies, with just their legs free to run and kick the ball. The Bubble Soccer is taking place on Sunday 5th October in the Town Park during the Family Fun Day. Bookings are now being taken to take part in this hugely entertaining 'sport'. Phone Fiona Max at 087-2169150.
Well done to everyone for the great work which has been done in painting around the town and with more lovely murals added to various buildings. Borrisoleigh is festival ready, hope you are too!
---
Inch Loop walk winds its serpentine path along the Cromogue River, leads you gently beneath its verdant canopies, soothes your mind with bird-song and the gentle murmur of rippling waters while discreetly unveiling before your eyes stunning vistas of peaceful pastureland deep in the bowels of Inch. A momentous occasion awaits us all when this seminal walking trail will be officially launched outside Inch Church on Sunday 21st. Sept at 12.40pm (just after 12 o'clock Mass.)
A guided walk of the route itself will follow immediately afterwards which takes about one hour and ten minutes. The voluntary contribution to this project has been extremely impressive and on behalf of all the parishoners of Drom/Inch, I say thank you. It's time for the parishioners and indeed anyone who enjoys walking to come along on Sunday 21st. Sept. and show your appreciation for what promises to be a hugely enjoyable occasion for all the family.
The walking trail is a hugely valuable amenity in the Inch area and has enormous tourist potential as it combines natural beauty with local history. Refreshments will be served at Inch House along the route. The event is free but voluntary donations would be really appreciated. See you there" "Ar scáth a cheile , a mhaireann na daoine."
---

Pic of the Past……..down memory lane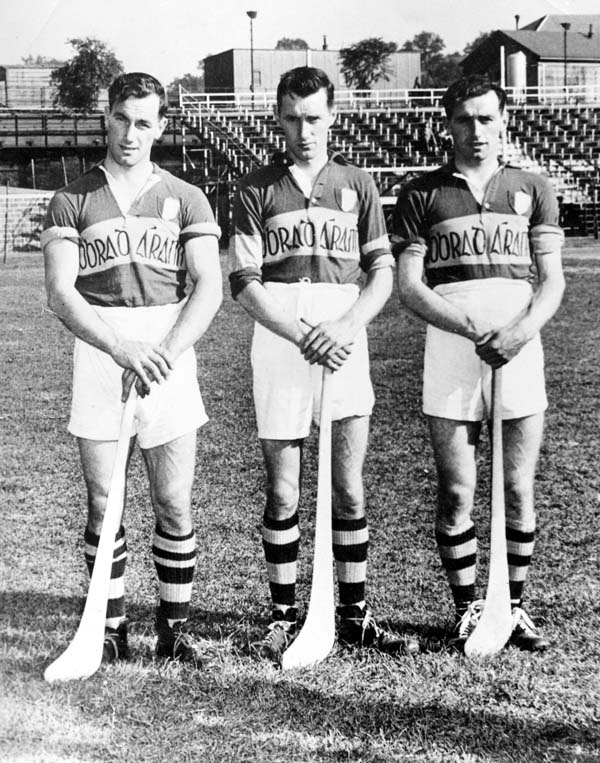 The Kenny Brothers, Main Street
Sean, Phibby and Paddy members of Tipperary's three-in-a-row winning teams 1949, 1950 and 1951.
This photograph was taken in the Polo Grounds in New York.

---

Your Website Needs You!
Committee: Enda Ryan, Noreen Fahy, Margaret Cowan, Marie McGrath, Aileen Óg Groome and Derry O'Donnell

Many thanks to all those who contributed photographs and news items. Remember, we need you to continue to send us material so that we can keep our website current and interesting.

Send your email to:
info@borrisoleigh.ie
Also, if you like what you see and want to leave a comment, remember to use the Guestbook!

While we make every effort possible to ensure that the information contained in this Website is accurate and complete, we cannot accept any legal liability as a result of the inaccuracy or incompleteness of the information presented to users of this site
---