A Holy Show!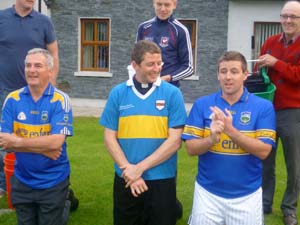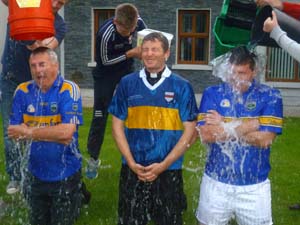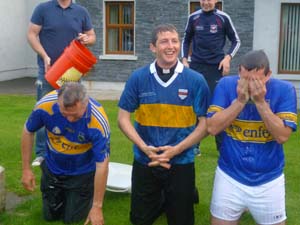 Fr. Liam, Vincent & Michael taking the Ice Bucket Challenge
Pictured above are Fr. Liam Everard, Vincent Stapleton & Michael Small recently taking on the Ice Bucket Challenge in aid of the Irish Motor Neurone Disease Association – www.imnda.ie Parish Sacristan Noreen also took on the challenge.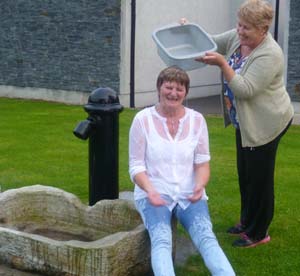 Noreen enjoying the challenge!
---
Borris-Ileigh Camoige Notes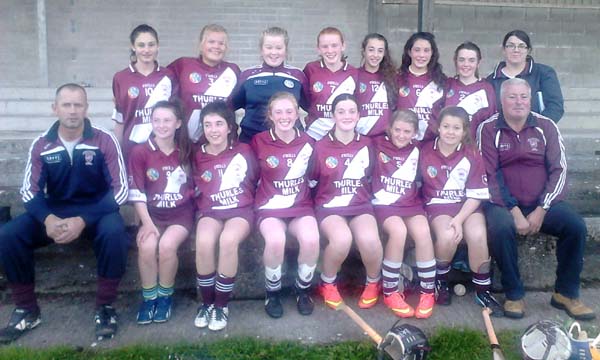 U14 team who played Moneygall
INTERMEDIATES CHAMPIONSHIP
REMAINING FIXTURES:
Borris-Ileigh v Drom – 21/09/14
Shannon Rovers v Borris-Ileigh – 28/09/14
U14 League.
U14 girls played round 3 of the League last Thursday against Moneygall. Unfortunately, they narrowly missed out on a win, but huge effort from all the players, made them every equal to the opponents. They were unlucky to lose by 2 points.
Final Score: Moneygall 1-05 – Borris-Ileigh 1-03. Scores from: Aoife Ryan 1-01 & Avril Ryan 0-02
U10's
U10's were out last Saturday morning in Boherlahan in the "Jim Lahart" blitz. Borris-Ileigh played teams from Thurles, Knockavilla & Cahir. These were tough games, but the girls managed to win two out of three games despite suffered some injuries.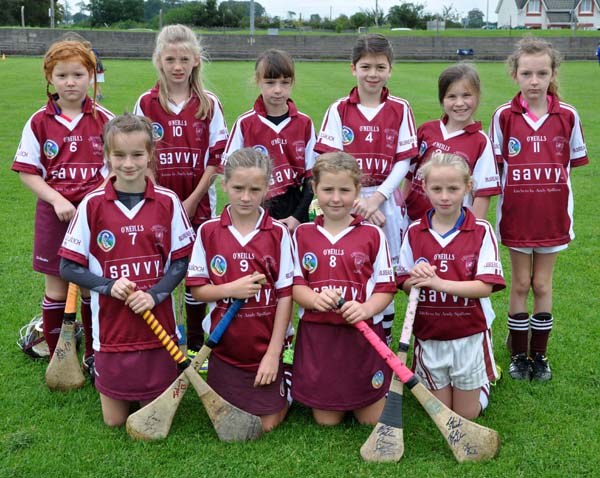 U10 team that took part in blitz
U10's & U8's played Nenagh in great challenges last Monday night. Both teams were victorious on the night. Well done girls.
MERCHANDISE:
Camogie club merchandise now available Hoodies, tracksuits, t-shirts, jerseys and raincoats available. Please contact Caroline at 0861522716.
---
Borrisoleigh Scór
Set dancing classes return on Monday 15th September in the Marian Hall.
Beginners welcome from Jnr. Infants age & upwards ~ 6.30 – 7pm.
All existing members please return to the same class as last year.
---
Music Lessons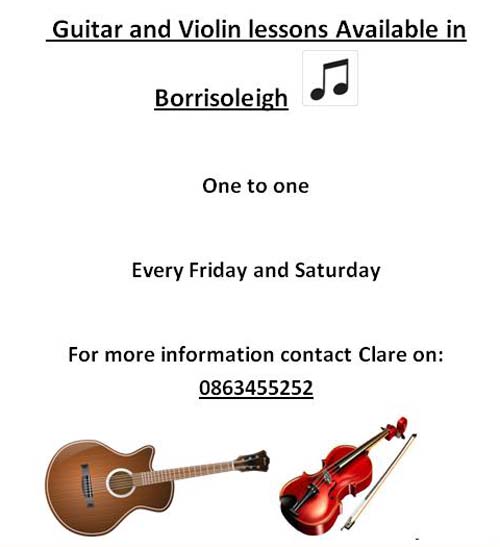 ---
Borrisoleigh Festival
The full list of events taking place over the weekend of the Borrisoleigh Festival taking place from Friday October 3rd to Sunday October 5th is up on the festival website BorrisoleighFestival.com
Food and Craft Fair
Stallholders are invited to take a stall at the Food and Craft Fair taking place on Saturday 4th October in The Square. Stalls cost €10. Bookings to Fiona at 087-2169150 by Friday 26th September.
---
Track & Trail Run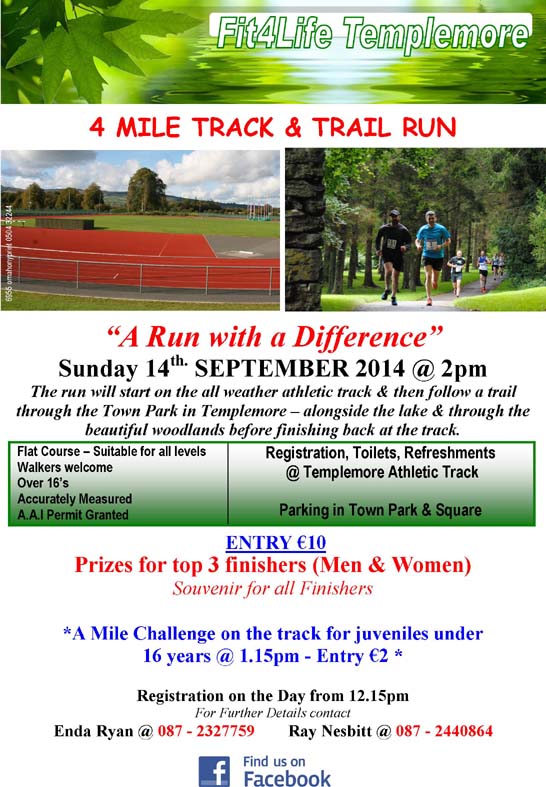 ---
Borrisoleigh Historical Society

Cahir and World War One Commemorative Weekend
"Their Name Liveth For Evermore" – Cahir and World War One 1914 – 2014
20th and 21st September 2014
Saturday 20th September
12 noon: Launch of Photographic Exhibition in Granary Art Gallery (Talks at 2 & 4pm)
12.15pm: Lecture on World War One and Cahir by Paul Buckley.
11 – 5pm: Military Display by Battlegroup Centre & Bookseller Stands in Community Hall.
2.30 – 3.45pm: Street Pageant re 1914-1918 period in Cahir starting from War Memorial.
8.00pm: "From Tipperary to Salonika" – a concert of music and poetry from World War One in Cahir Castle with Burncourt Drama Group and Guests.
Sunday, 21st September
12 noon: Photographic Exhibition in Craft Granary Gallery (Talks at 2 & 4pm)
11 – 5pm: Military Display by Battlegroup Centre & Bookseller Stands in Community Hall.
2.30 – 3.45pm: Street Pageant re 1914-1918 period in Cahir starting from War Memorial.
4.30p.m.: Unveiling of Plaque at Ginchy Terrace.
5.00p.m.: Wreath-laying at War Memorial.
Contact: http://www.cahirhistoricalsociety.com/

---
St Joseph's College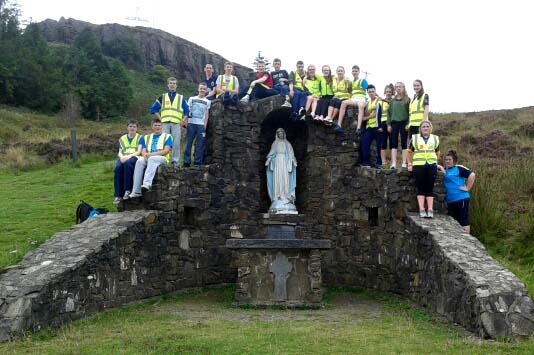 Well done to our TY's who recently took on the challenge of walking up the
Devils Bit from the school. All students, despite a few aches and pains,
returned home safely
Tetrathlon August 2014
Two of our students, Richard O Donoghue, Templederry (TY student) and Sean Ryan, Borrisoleigh (Leaving Cert 2014) were part of the Senior Boys team who came third in the Irish Pony Club Tetrathlon Championships on the 2nd,3rd & 4th August 2014. Sean Ryan rides with Golden Vale and Richard O Donoghue with Nenagh. They formed a team with Matthew O Meara (Duhallow) and Chris Oakley (Ward Individual). The four events were shooting, swimming, riding and running. Sean finished joint 1st in the riding and Richards strong running, resulting in 11th overall, aided the team to claim third place overall. This remarkable achievement of Sean & Richard in a National event are to be commended. We wish them well in the future.
Kildangan won the County Minor B title on Saturday last in Cloughjordan and had Billy Seymour (3rd Year) in their side. Congratulations to Billy and the Kildangan team.
Results
Final best wishes to the Junior Cert class of 2014, who will be receiving their results on Wednesday September 10th.
Freestyle Hurling
Practice has begun for our freestyle hurling competition. The final videos are scheduled to appear online at the end of the month. So watch out for some St. Joseph's skill!
Sophie's Journey Fundraiser
Thanks to everyone who took part in our jersey day on Friday the 5th of September in aid of Sophie's Journey. A total of €560 was raised from the jersey day. It is a fantastic cause, striving to prolong a young girl's life. If you wish to donate log on to www.idonate.ie/sophiesjourney. Her inspiring journey can be followed on Facebook at Sophie's journey. Also in aid of Sophie's Journey we conducted the Ice Bucket Challenge on three of our teachers. Each student cast their vote for €1. After the
votes were counted the whole school joined the TY's to watch Ms.McCormack, Mr.Buckley and Mr.McCarthy do their ice bucket challenge. Fantastic fun was had by all and most importantly an overall total of €766 was raised for Sophie.
---
Borris-Ileigh GAA Notes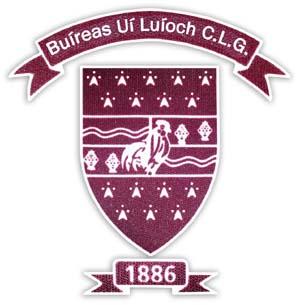 Inter-County Hurling: Well done to Paddy, Brendan, Conor and all the Tipp lads on a magnificent performance against Kilkenny on Sunday in the All Ireland Final. It was a game that was played at massive intensity for a full 70 minutes with only a few inches being the difference in the end. The game will be replayed on Saturday the 27th of September in Croke Park with throw in at 5pm. Tickets will be on sale shortly and as always, club members will get first preference.
Senior Hurling: Due to the draw in the All Ireland Final, our match against Silvermines has been postponed until the weekend after the All Ireland. Training continues at usual times.
Minor Hurling: Hard luck to our minors who lost out the Newport Gaels in the North 'A' Semi Final last Wednesday evening on a score line of 1-20 to 1-13. It was a close match with the two sides going in level at half time. However a strong last 20 minutes from Newport saw them come out on top. Newport then went on to win the North Final on Saturday beating Toomevara.
U16 Hurling: Our U16 team will play Borrisokane in the North Final on Saturday 20th of September. There has not been a venue named yet but we will let people know as soon as possible.
---
Pic of the Past……..down memory lane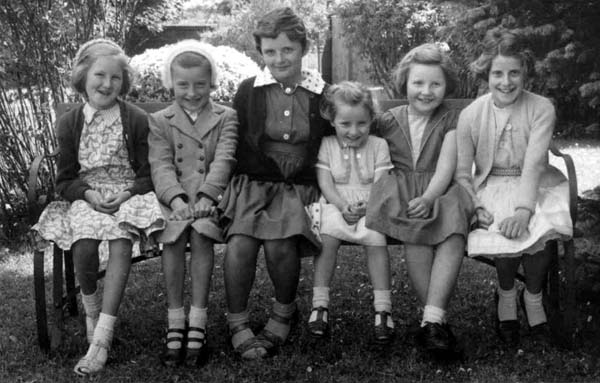 Maura Stapleton, Louise Kavanagh, Marie Kinane,
Catherine Chadwick, Nora Chadwick and Kathleen Harty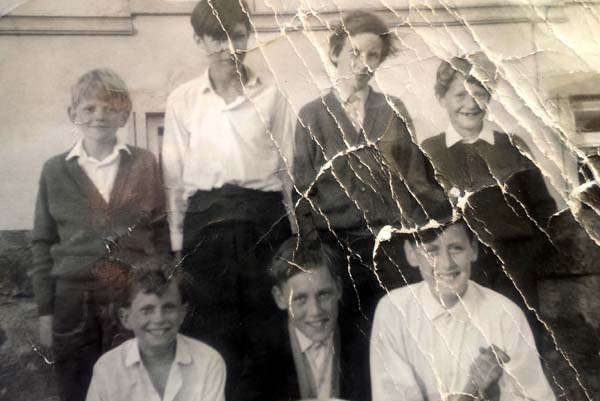 Old Parish League Team – Currabaha Cross
Anthony Kelly, Ger Howard, Ger Kennedy, Martin Costello
Tony Madden, Michael O'Dwyer, Rory O'Dwyer

---
Your Website Needs You!
Committee: Enda Ryan, Noreen Fahy, Margaret Cowan, Marie McGrath, Aileen Óg Groome and Derry O'Donnell
Many thanks to all those who contributed photographs and news items. Remember, we need you to continue to send us material so that we can keep our website current and interesting.
Send your email to: info@borrisoleigh.ie
Also, if you like what you see and want to leave a comment, remember to use the Guestbook!
While we make every effort possible to ensure that the information contained in this Website is accurate and complete, we cannot accept any legal liability as a result of the inaccuracy or incompleteness of the information presented to users of this site