News and Pictures from Scoil Naomh Cualán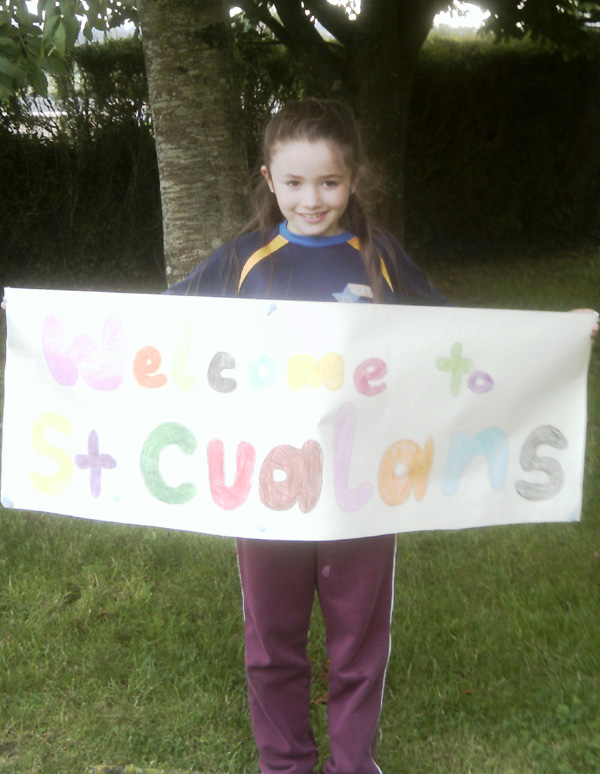 A big smile from Ella as she holds the lovely poster she designed to welcome everybody on the first day of Scoil Naomh Cualán Borrisoleigh.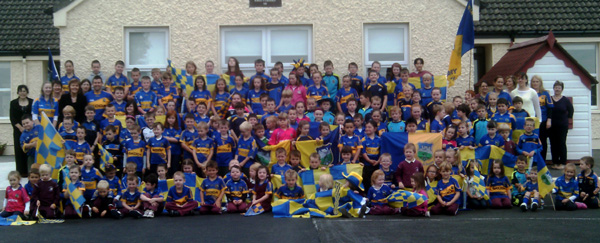 Lots of colour from Scoil Naomh Cualán supporting Brendan, Paddy, Conor and the Tipperary team.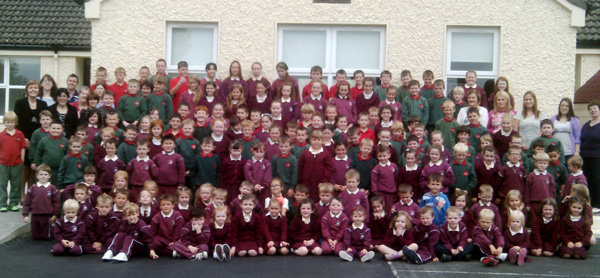 First day smiles from Pupils and Staff of Scoil Naomh Cualán Borrisoleigh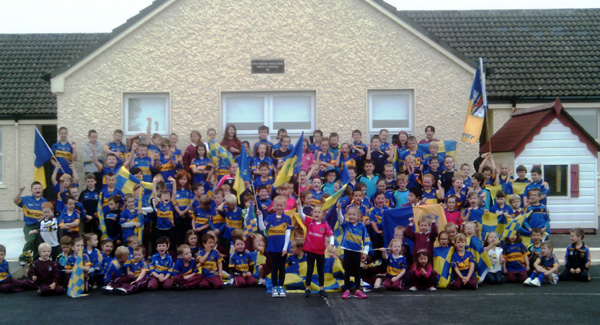 Eve, Amy and Tara lead the cheering for Uncle Brendan and his teammates.
Monday, September 1st, 2014 marked a very special day in the parish of Borrisoleigh as it heralded the first day of our new amalgamated school, Scoil Naomh Cualán. There was great excitement among pupils, staff and parents as the children returned to meet old and new friends and to take our first steps forward as a new school community.
Scoil Naomh Cualán is dedicated to the memory of St. Cualán, founder of the ancient monastery in Glenkeen. We in Borrisoleigh are privileged to have a replica of the 'Bearnan Cualáin', a unique emblem of our patron saint, in the Church of the Sacred Heart which demonstrates the esteem in which St. Cualán was held. All at Scoil Naomh Cualán are proud that our new school will acknowledge this very special individual and foster a sense of pride in our local heritage. Pupils, Staff and Management would like to thank all who helped to make this special event a reality and look forward to a bright future for all who will attend Scoil Naomh Cualán.
In addition to the excitement of having a new school all at Scoil Naomh Cualán are eagerly looking forward to Sunday, September 7th, when Tipperary Captain, Brendan Maher, will lead his team in the All-Ireland Hurling Final. We are immensely proud of our local representatives, Brendan, Paddy and Conor and wish them and all their teammates every success on Sunday.
We include some photographs from the historic first day and look forward to many other special days. Ni neart go cur le chéile!
---
HSE Community Games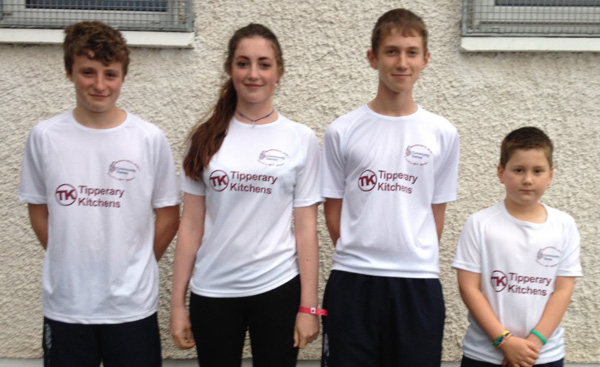 Sport and Art Competitors
Culture Corner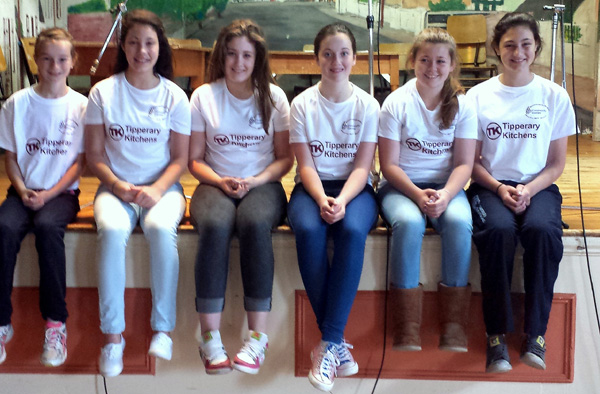 Singing Group
All the competitors representing Borrisoleigh in the Community Games National Final can be very proud of themselves.
Seamus Ryan was part of the Tipperary U14 Relay Team, James Ryan competed very well in the Cycling on Grass and earned himself a place in the final. Clodagh Ryan ran in the Marathon. Shane Maher competed in Art U10. Sinéad Ryan sang in the Solo Singing. Katie Fitzgerald, Gretta Atik, Laura Slattery, Sinéad Ryan, Shaneen Stapleton & Antionette Atik all took part in the Group Singing. In the Culture Corner Adam Carr, Maeve Stapleton, Aoife Ryan, Kayleen O'Dwyer, Colm Boyle & Razuk Atik all gave a brilliant performance to earn the Bronze Medal.
Well Done and congratulations to all.

A big 'thank you' to all the parents and to everyone who helped out in any way whether it was with practice, costumes, training, setting up of events, baking or washing up. We really appreciate it.
We would also like to thank our sponsors Tipperary Kitchens, Tipperary Water and Fr. Everard.
That's it until next year when we hope to be holding even more events.

---
Borrisoleigh Festival October 3rd to 5th
Borrisoleigh Festival would like to wish the very best of luck to Brendan, Paddy, Conor and all the Tipperary team and management in the All Ireland Final on Sunday.
The schedule of festival events has now been completed and is available to view on BorrisoleighFestival.com and in the festival booklet which will be distributed later this month.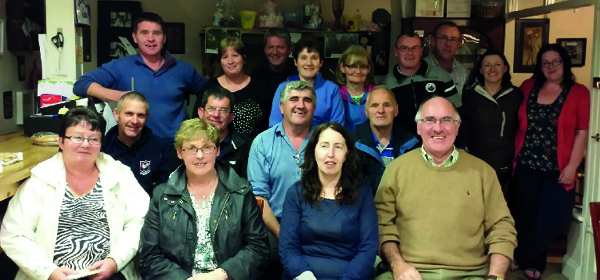 A recent meeting of festival organisers in the Bothy. Back row: Joe Loughnane (Chairman), Fiona Max (Secretary), Derry O Donnell (PRO), Phil Mason, Margaret Madden, PJ Delaney, Tom Mason, Kathleen Scanlon, Fiona Ryan. Middle row: John F Kennedy, Tony Madden, Sean Shanahan, Paddy Dolan. Front row: Nuala Ryan (Treasurer), Breda Ryan, Teresa Kiely, Michael Delaney

---
Leaving Cert Class of '94 Reunion
The Leaving Cert Class of 1994 from St Josephs College are having a 20 year re-union to co-incide with the Gathering Celebrations in Borrisoleigh.
We are meeting up at 8:30pm on Saturday the 4th October in Stapletons Bar, Borrisoleigh.
We invite everyone that was in the class to join us, if you know anyone that was in the class please let them know as we do not have everyones contact details .
Hope to See everyone there!
Find us on our Facebook page called 'Reunion Borrisoleigh' or by clicking here
---
School Notes St.Joseph's College, Borrisoleigh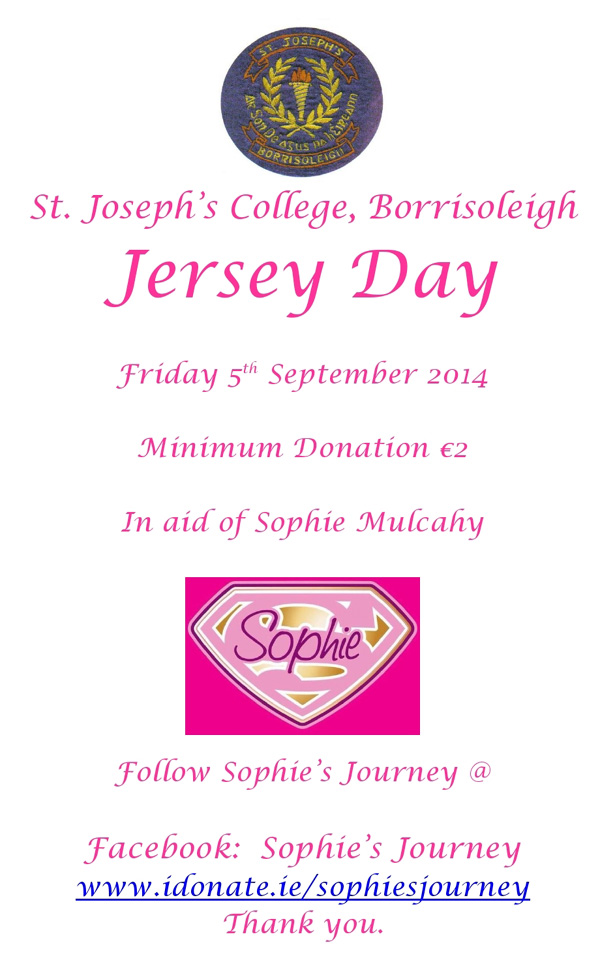 SPORTING ACHIEVEMENTS
Congratulations to Eimear Murphy and Aidean Hogan who represented Tipperary on the recent All Ireland U16 camogie winning team. A special mention is also given to the students who represented Tipperary last weekend in the various inter-county competitions which took place. U17 Jack Delaney, Daragh Carey. U16 Adam Hogan, Jerry Kelly and Jake Ryan. U15 Billy Seymour and Mattew Ryan.
A great night was enjoyed by the leaving cert class of 20114 at the Radison Hotel Co. Limerick last Tuesday. Thank you to all who helped organise transport and entertainment to ensure that a safe enjoyable night was had by all.
---
St. Cualans Social Club
Our monthly coffee/tea morning continues this Thursday in the Community Centre after 10am Mass. It is hoped to have a talk this month about some local people who recently did the Kamino Walk. Everybody is most welcome to come in for a cuppa and a chat.
---
Borris- Ileigh GAA News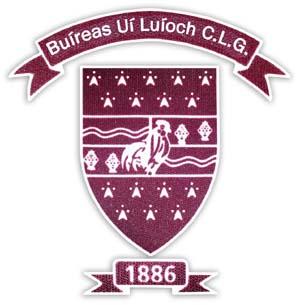 Inter-County Hurling
: The club would like to wish the best of luck to the Tipperary team and especially to our three representatives Paddy Stapleton, Conor Kenny and captain of the team Brendan Maher. All roads lead to Croke Park on Sunday and we hope you are there to shout on the lads. In the next few days we hope everybody displays as much colour, flags and bunting as possible to show your support for the lads. The town is looking great at the moment and has been receiving many compliments from people passing through the town.
Senior Hurling: As of yet there is no date set for our final county championship game against Silvermines. It is thought that it will be played on the weekend of the 13th. We will let people know as soon as we hear more. On Thursday night coming we play Patrickswell in a challenge match in the park at 7.45pm.
Minor Hurling: Our minors take part in the North A Semi Final on this Wednesday evening at 6pm in Dolla against Newport Gaels. Our support would be appreciated
Development: As people may have seen there has been more work taking place in the park over the last week or so. New goals have been erected on the new pitch while the poles for the back net have also been erected. This has been made possible by the continued support of the people of the parish. We will continue to endeavour to provide the best facilities for the parish of Borrisoleigh
Sympathies: It was with great sadness we learned of the passing of Biddy Stapleton, Kilfithmone. Biddy was a great Borrisoleigh supporter who rarely missed a match and was highly involved in fundraising for the club and county. She will be remembered fondly as a great Gael and a most genuine person. The club would like to extend their deepest sympathies to her husband TF, her extended family and her large circle of friends.
---

Camogie Notes


INTERMEDIATES CHAMPIONSHIP
Borris-Ileigh beat Moycarkey in Littleton last Sunday by 3 points.
Final Score Borris-Ileigh 2-11 to Moycarkey 0-14.
Scores from Nicole Walsh 1-07 (4 frees), Deirdre Corcoran 0-04. Second goal was a goalmouth scramble involving Moira Maher and Jane McCormack which ended with the ball in the net!!
REMAINING FIXTURES:
Borris-Ileigh v Drom – 21/09/14
Shannon Rovers v Borris-Ileigh – 28/09/14
U14 League.
U14 girls played round 2 of the League last Thursday against Thurles.
Under extremely wet conditions, the girls were unlucky on the night.
Final Score: Thurles 4-05 to Borris-Ileigh 3-01
Scores from: Laura Maher 1-00, Kate Delaney 1-01 & Aoife Max 1-00
U14's play Moneygall this Thursday in Moneygall. Good Luck.
U10's & U8's had great victories over Nenagh last Monday night in the park. Keep up the good work.
U10's are out again this Saturday morning in Boherlahan in the "Jim Lahart" blitz. Good luck girls.
MERCHANDISE:
Camogie club merchandise now available Hoodies, tracksuits, t-shirts,
jerseys and raincoats available.
Please contact Caroline at 0861522716.

---
Men's Shed
Will anyone interested in starting a Borrisoleigh Mens Shed please contact
Tim Davis on 086 0758008 or email timthetent@gmail.com
---
Irish Dancing Classes in Marian Hall
Irish Dancing Classes will recommence in the Marian Hall, Borrisoleigh on Wednesday, 10th September at 4pm.
Children of all ages are welcome.
Further enquiries/bookings contact Edel 086 1722347



---
Bush & Briar Ramblers
Bush & Briar Ramblers would like to wish the Very Best of Luck to Brendan, Paddy, Conor and the Tipperary Team in the All-Ireland on Sunday.
We would also like to send our Congratulations to Kevin Murray on retaining his All-Ireland Strongman title and his World 9th place ranking.
Rambles will recommence shortly after the summer break.
---

Maher Book now in print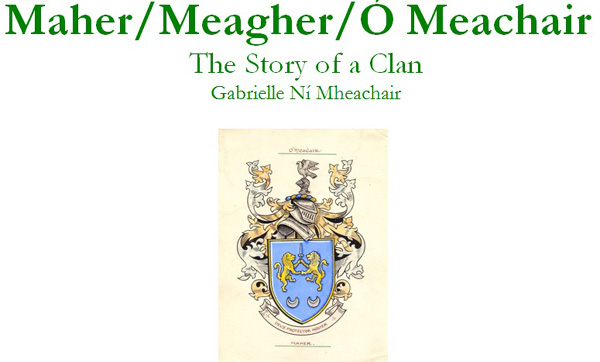 Available for the first time ever!
Ó Meachair The Story of a Clan is the most thorough history of the Maher/Meagher Clan ever written. Appreciate the role your Maher/Meagher ancestors played in all the major events of Irish history from the coming of the Celts to national independence in 1922.
This book is not only a history of the Maher/Meagher Clan but also a simple history of Ireland written for an audience versed or unversed in Irish History.
A must have for anyone who bears the Maher/Meagher name!
About the Author
Gabrielle Ní Mheachair, a native of Templemore, Co. Tipperary, is known for her children's books in the Irish language along with many scholarly articles and columns for magazines, journals, and newspapers.
Gabrielle was awarded the Tipp FM Arts and Entertainment award in 2009.

Ó Meachair The Story of a Clan by Gabrielle Ní Mheachair
is available at… Amazon.com (UK or US)
Walsh, Templemore; Bookworm, Thurles;
Signed copies from the author at…
uicairin@woeltje.org
---
Upperchurch 2014 9th Annual Walking Weekend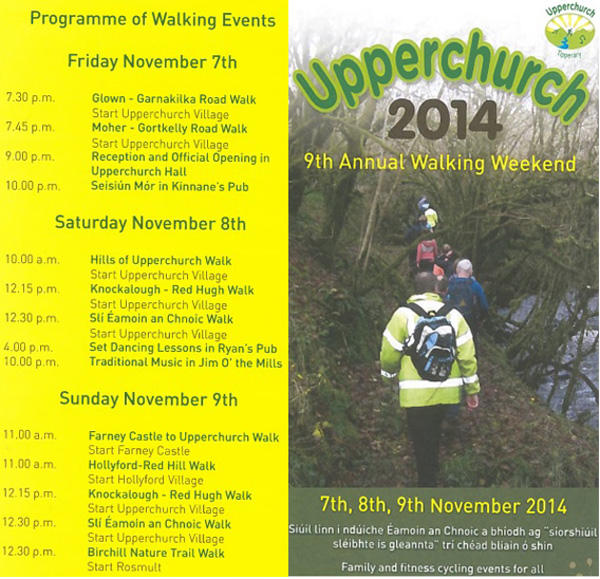 ---
Pic of the Past……..down memory lane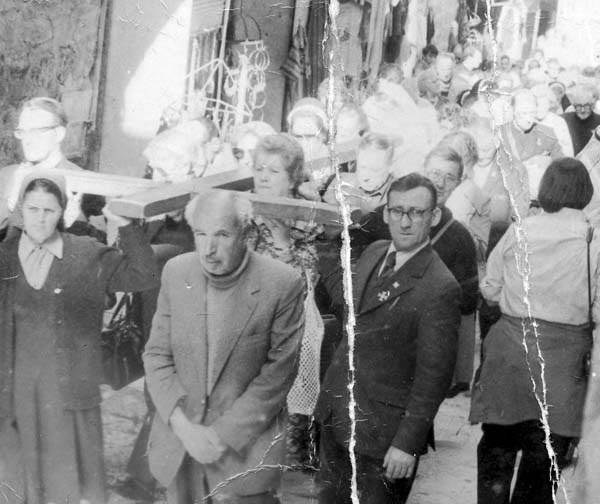 Holy Land 1949
Jim Stapleton, Kilfithmone
---
Your Website Needs You!
Committee: Enda Ryan, Noreen Fahy, Margaret Cowan, Marie McGrath, Aileen Óg Groome and Derry O'Donnell
Many thanks to all those who contributed photographs and news items. Remember, we need you to continue to send us material so that we can keep our website current and interesting.
Send your email to: info@borrisoleigh.ie
Also, if you like what you see and want to leave a comment, remember to use the Guestbook!
While we make every effort possible to ensure that the information contained in this Website is accurate and complete, we cannot accept any legal liability as a result of the inaccuracy or incompleteness of the information presented to users of this site.
---