Fr Matt writes from Brazil…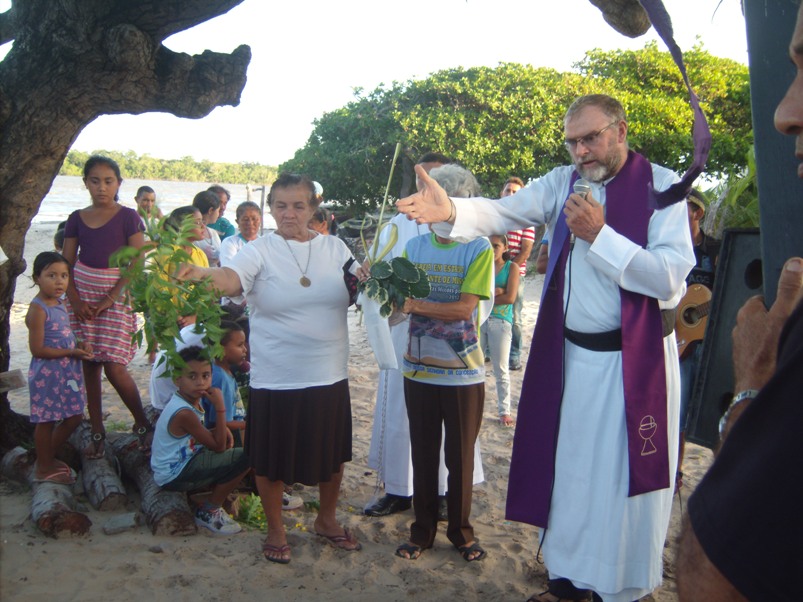 The following is a piece that was sent to us by Fr Matt Ryan from Brazil. He writes…
I am sending you just a few photos taken in the communities where I spent Holy Week. We had some beautiful experiences of living with the poor who are such genuine people. To cap it all we had rain almost every afternoon. They are always delighted when it rains because they suffer so much from the drought. Rain for our people here is their life-line and thank God it has been raining here since March the 19th. The people have plenty to eat these times because rain brings abundance.
Our liturgical celebrations mightn't have met with all the rubrics and liturgical demands of Holy Mother Church, but they were very profound religious and mistical experiences for most of us. I took one of our seminarians , Carlos Murilo, with me to help out with the singing. He's a good lad. Hope he stays with us.
We travelled by foot, by boat and at times we had the ginnet or mule to help carry our baggage. There's about two hundred and twenty communities in the parish of Araioses and some of them are very well organised but others are very abandoned by both Church and State! They are difficult to get at because of the distances and the roads and the water-ways….some would be up to 50 or 60 kilometres away.
I decided that I would avail of Holy Week to be present in a few of those weaker communities because most people still respect Holy Week here as a time for prayer, reflection and Family living. They were delighted to have the big padre with them for the few days.
However the people in the Parish Church were complaining about the PP who is always out the countryside ……….maybe trying to get back to the hills of Cooleen!
All the best now to all of you and keep up the good work in the Borrisoleigh Website and I look forward to seeing you all in August this year. Abraços to all Padre Matias em Brasil.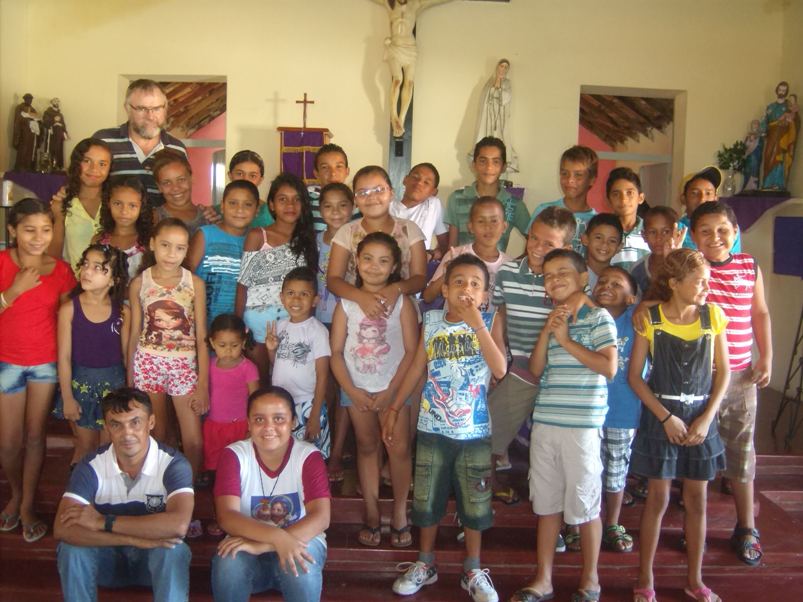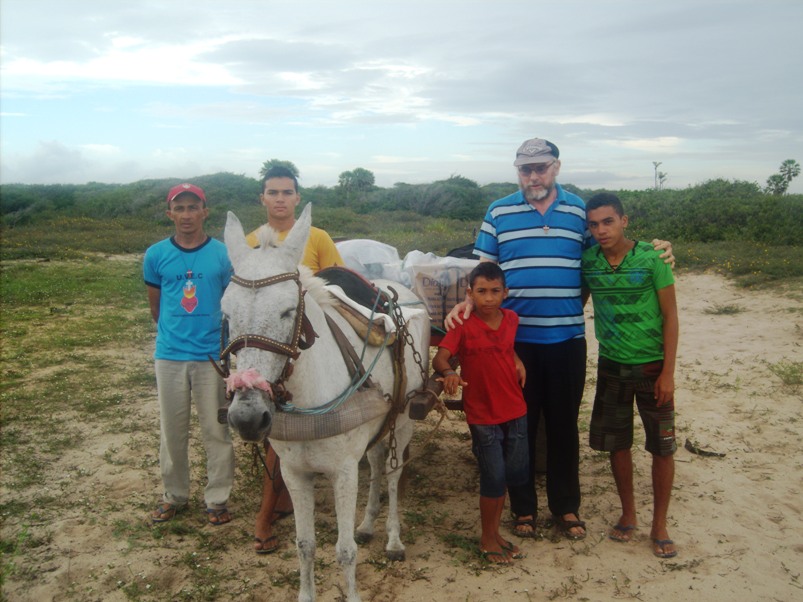 ---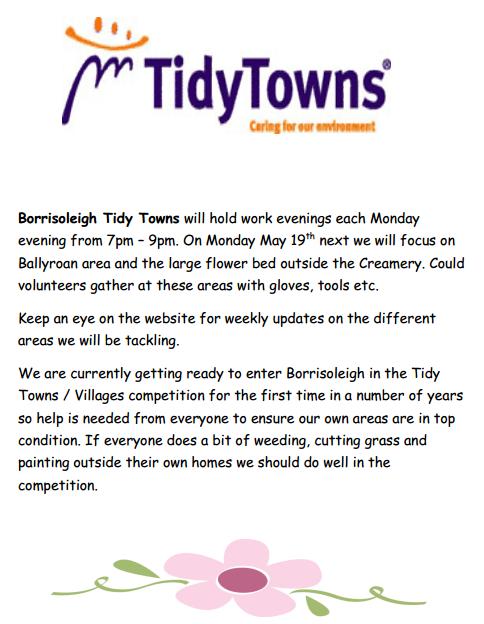 ---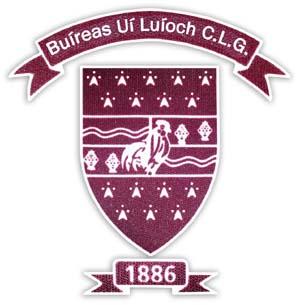 Golf Classic: Following on from the huge success of last year's golf classic, we are delighted to announce that we will be hosting the event again this year in Thurles Golf Club. The event will take place on Friday 23rd and Saturday 24th of May. We had many fantastic prizes last year and this year will be no different. The time sheet is now available and slots can be acquired from Martin Fahy on 087 2608780. We encourage people to get their slot as early as possible to avoid disappointment. Over 100 teams took part last year and we hope to see the same and more this year. A team of 4 costs just €120.
---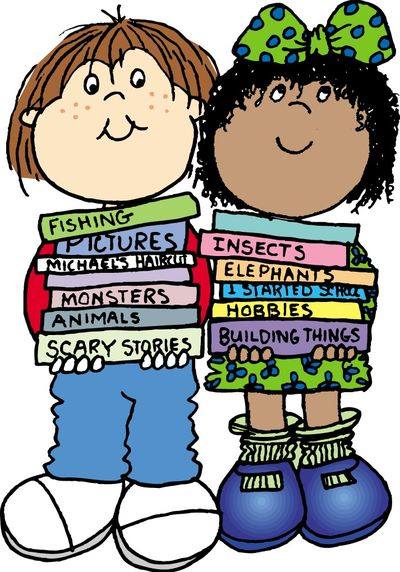 Dates for your Diary, Saturday the 17th of May, Kids Book Club at 4pm in The Bothy Snug
---
Borrisoleigh Historical Society
The next Historical Society Meeting will be held on Wednesday 28th May. It will be delivered by Mr. Paddy Gleeson, Guide, Glasnevin Cemetery. We will then look forward to meeting with Paddy when we visit Glasnevin Cemetery on June 14th. There are some seats still available on the bus.
The Historical Society hosted a lecture in the Community Centre, Borrisoleigh on 26th March last. The title of the Lecture was "Continuity and Change in Agriculture in the Parish of Borrisoleigh". It was delivered by Borrisoleigh native, Professor Gerry Boyle, Director of Teagasc. This lecture gave a great insight into the past and present methods of farming.
Click here to view the notes from this lecture.
---
The Final of the Munster Tug of War Senior League is on at the Borrisoleigh Town Park on the 25th of May 2014. The local team 'The Shop' are participating and are in poll position in the league standings for Munster. The Current Welsh champions are also invited " Lamboidy". This should be a great competition. Your support is greatly appreciated. Competition starts at 1.30 pm
---
Bush & Briar Ramblers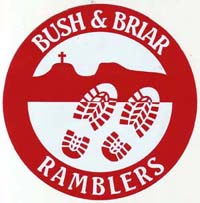 Hello All, time to get your walking boots out again. Next weekend May 17th and 18th will see the Ramblers going on two outings.
Saturday 17th May:
Eamon an Cnoic loop walk
in Upperchurch.
Meeting at the rear car park of Shanahan's Centra at
09.50hrs
for departure at
10.00hrs
Meet in Upperchurch approx 10.15hrs
NOTE: Later departure time than normal.
Sunday 18th May: Keeper Hill
Meeting at the rear car park of Shanahan's Centra at 08.50hrs for departure at 09.00hrs
Meet in Dolla approx 09.15hrs
Don't forget a small pack lunch and rain gear.
Looking forward to seeing you for a nice weekend of walking.
---
Twisted
Well done to all the Borrisoleigh participants who took part in "Twisted" which took place in Templemore last weekend. Some participants are pictured below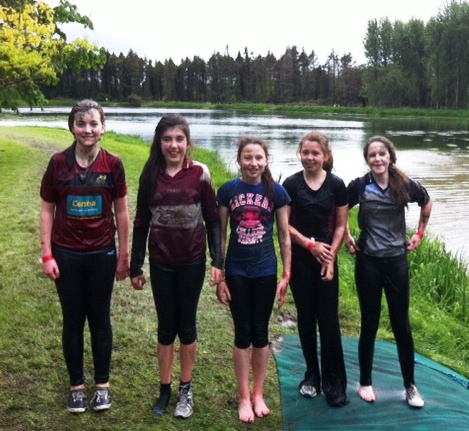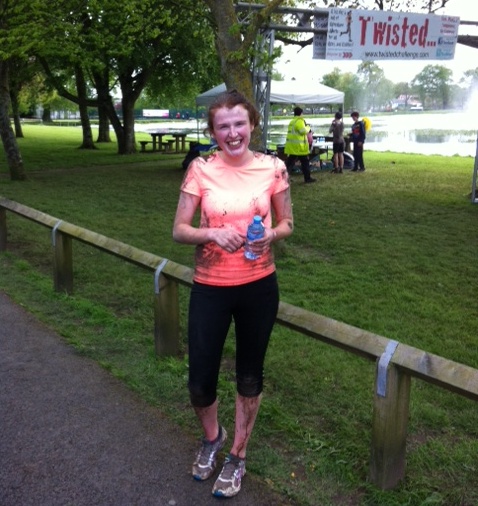 ---
Paddy Stapleton Fitness Bootcamp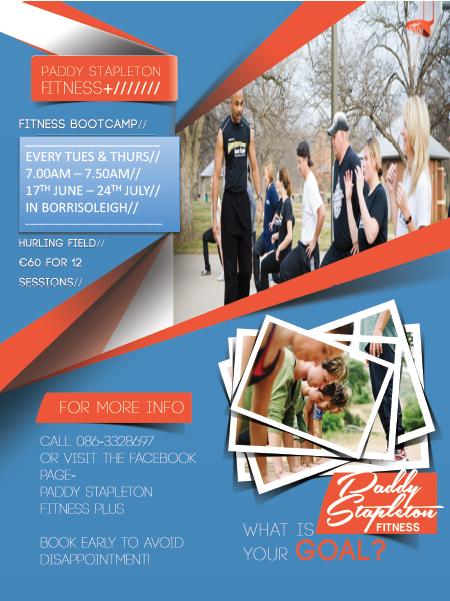 ---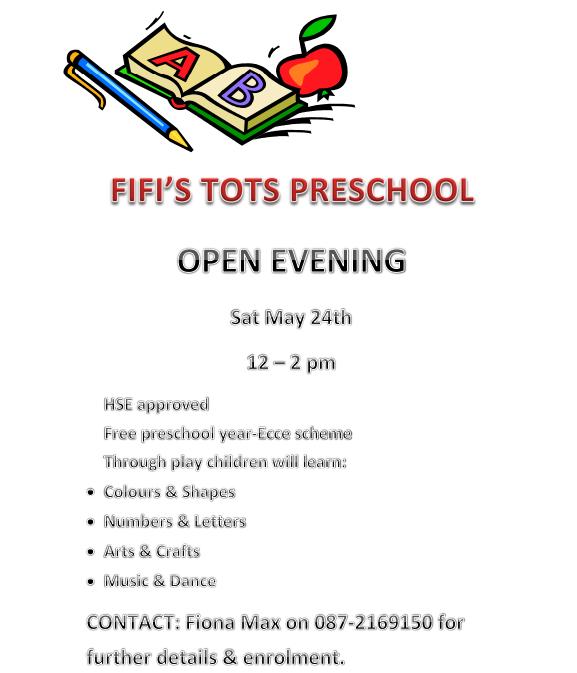 ---
Upper Limits Indoor Climbing & Bouldering
After our successful opening in May, we're now open and taking bookings for birthday parties, family celebrations and family events. We're open on Wednesday and Thursday evenings from 7 pm to 9.30pm and on Saturday mornings from 10 to 12.30. But if you have a group of 10 or more, we can open up outside of these times once we have enough volunteer supervisors to cover the session.
We've got great feedback from all the parties to date so if you're looking for somewhere different for a party or event, think local and think Upper Limits in Upperchurch. Call 087 3919190 to book your next event.
---
Borrisoleigh Community Games
Well done to the Borrsioleigh U11 Boys Hurling Team who had a great win over Thurles and will be playing Newport in the next round.
If anyone is interested in competing in Judo, Chess or Table Tennis please give John a call @ 086 089 4718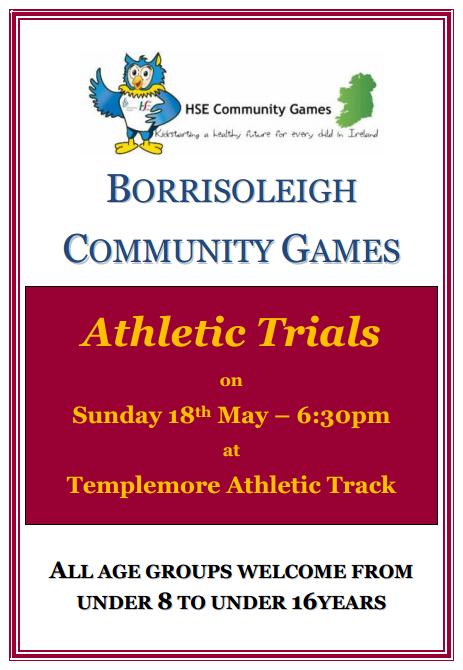 Borrisoleigh Community Games Athletic Trials – Sunday 18th May @ 6.30pm – Templemore Athletic Track
ATHLETICS TRACK EVENTS (Individual Events)
Boys &Girls U/8 years Over 6 – 60M & 80M
Boys & Girls U/10 years Over 8 – 100M & 200M
Boys & Girls U/12 years Over 10 -100M & 600M
Boys & Girls U/14 years Over 12 – 100M & 800M
Boys & Girls U/16 years Over 14 -100M & 1500M
Boys & Girls U/16 years Over 14 – 7Km Marathon
---
Damage was caused to a car on May 4th in McDonagh Square / Main St between hours of 10pm and 2am. Anyone with info please contact 086-3881539 or the Gardai in Borrisoleigh or Templemore.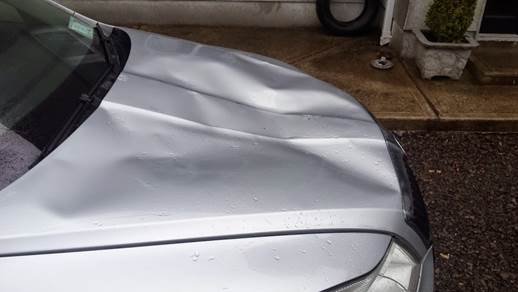 ---
Pic of the Past…….. down memory lane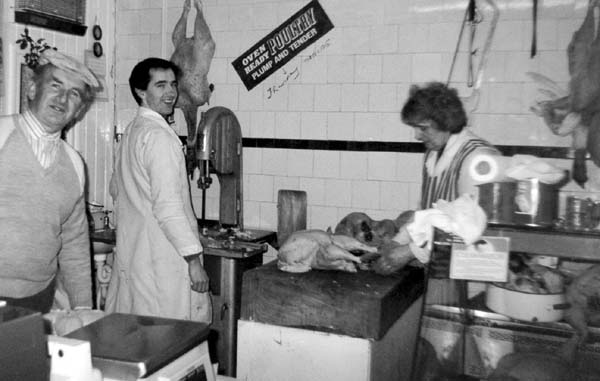 Preparing the turkeys in Lanigan-Ryan's Butchers' Stall
Tom (Snr), Tom (Jnr) and Mary

---
Your Website Needs You!
Committee: Enda Ryan, Noreen Fahy, Margaret Cowan, Marie McGrath, Aileen Óg Groome and Derry O'Donnell
Many thanks to all those who contributed photographs and news items. Remember, we need you to continue to send us material so that we can keep our website current and interesting.
Send your email to: info@borrisoleigh.ie
Also, if you like what you see and want to leave a comment, remember to use the Guestbook!
While we make every effort possible to ensure that the information contained in this Website is accurate and complete, we cannot accept any legal liability as a result of the inaccuracy or incompleteness of the information presented to users of this site