May He Rest in Peace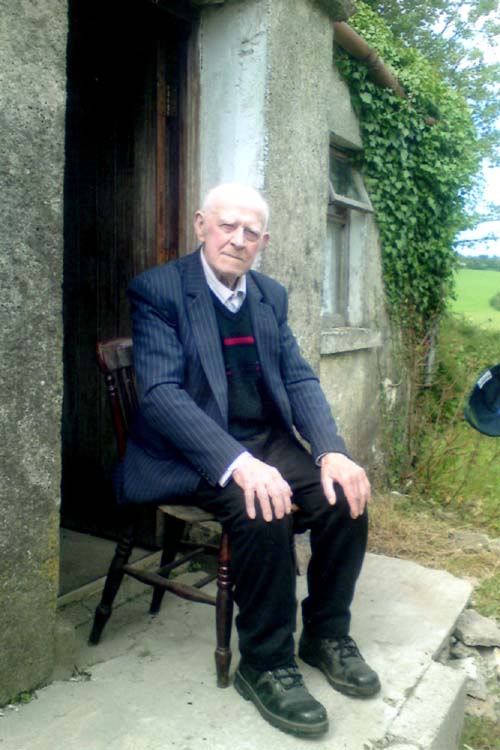 The death occurred on Thursday 1st May of Jimmy Murphy, Glenkeen. His Funeral Mass took place on Saturday 3rd May in the Sacred Heart Church, Borrisoleigh with burial in St. Brigid's Cemetery. We offer our deepest sympathy to his family and friends. May he rest in peace.



---
Borrisoleigh Scór The AGM of Borrisoleigh Scor is taking place tonight Wednesday 7th May at 8pm in the Marian Hall. Everybody welcome to attend.



---
Borris-Ileigh Camogie Notes

All quiet on the match front for juvenile camogie this week. Training continues as per regular times.
U16 – CHAMPIONSHIP 2014
GROUP: BORRISOLEIGH, TOOMEVARA, KILRUANE & BURGESS
We were unlucky last Thursday evening against Toomevara. The girls battled to the end and tried in vain against this very strong Toomevara team. However, it was good experience to play in this group and to come up against a very established and experienced team.
Next game:TBA BURGESS V BORRIS-ILEIGH (away), this game is most likely to be played after exams.
Texts will follow confirming date's venues & times.
INTERMEDIATE LEAGUE
Semi-Finals date has been changed to Sunday May 18th at the Camogie Grounds in the Ragg. Times will be confirmed. Opposing team TBA.
CLUB MEMBERSHIP:
REMEMBER: If you intend to train or play with Borris-Ileigh Camogie Club this season, you must be registered. It is essential to contact Paula Ryan (087 9035949) Club Registrar or your team manager.
MERCHANDISE:
Camogie club merchandise now available Hoodies, tracksuits, t-shirts, jerseys and raincoats available.
Please contact Caroline at 0861522716.
CARMEL FOR LORD MAYOR – BORRISOLEIGH FESTIVAL:
We would like to wish our Chairperson, Carmel Harkin the very best of luck in the local race for election for Lord Mayor of Borris-Ileigh…..Come on the Ginja Ninja…

---
Bush & Briar Ramblers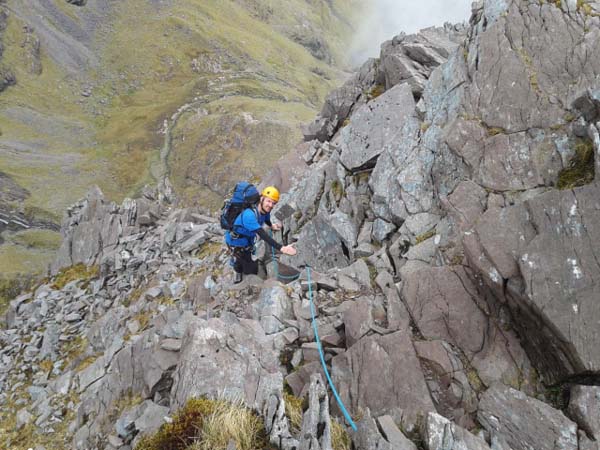 Tom Young climbing in Kerry last weekend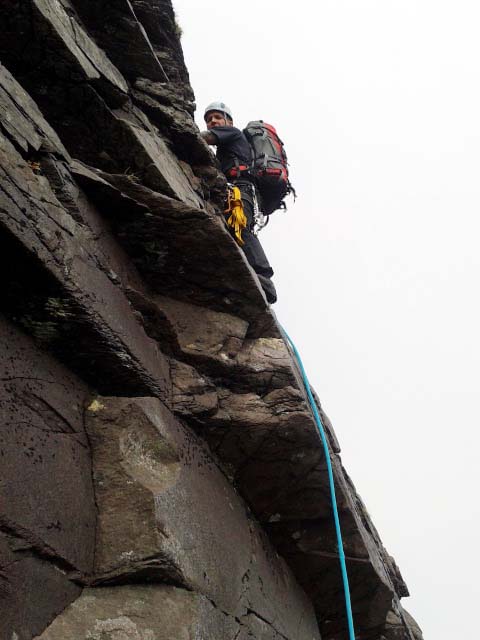 John F Kennedy enjoying the scenery!

Local mountaineers Tom Young and John F Kennedy enjoying the good weather and great scenery in the mountains of Kerry over the Bank Holiday weekend.
Bush and Briar Ramblers going to new heights.
---
Borrisoleigh Community Games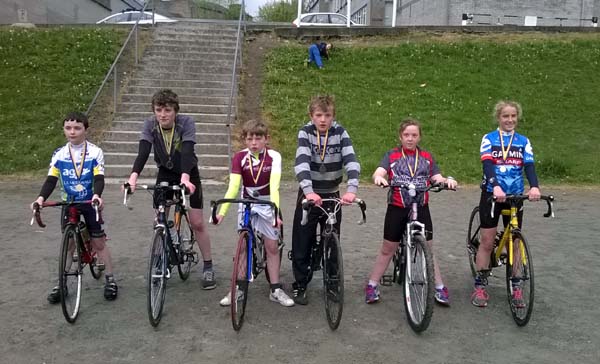 Cycling on Grass County Final Results
Boys U12 – David Delaney 2nd
Boys U14 – James Ryan 1st
Well done to our
U11 hurlers
who had a great win over Nenagh and now progress to the next round.
---
Borris-Ileigh GAA Notes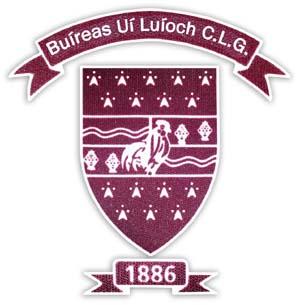 Golf Classic:
Following on from the huge success of last year's golf classic, we are delighted to announce that we will be hosting the event again this year in Thurles Golf Club. The event will take place on Friday 23rd and Saturday 24th of May. We had many fantastic prizes last year and this year will be no different. The time sheet is now available and slots can be acquired from Martin Fahy on 087 2608780. We encourage people to get their slot as early as possible to avoid disappointment. Over 100 teams took part last year and we hope to see the same and more this year. A team of 4 costs just €120.
Tipperary Draw:
The Tipperary Draw will be recommencing for 2014 in the coming weeks. If you have not been approached to renew your subscription please contact TF Stapleton.
For all other local GAA News and events check out
www.borris-ileighgaa.com



---
Borris-Ileigh Juvenile GAA Notes

Borris Ileigh Juvenile GAA
Our U10 1/2 hurlers
played Nenagh in the first round of the Community Games Hurling and came away with a well deserved win. We await the draw for round two.
U14 Feile Hurling: Last week end we travelled to Annacarty to play Moyne Templetuohy in the County semi final. From start to finish it was an exciting contest with Moyne coming out winners by the slenderest of margins on a scoreline 3-03 to 2-05. A great effort was put in by all the players only to be denied by a late goal. Congratulations to Moyne Templetuohy who went on to win the title comfortably.
The U14 footballers also exited the U14 Football Championship losing to Newport on Monday evening last.
Well done to Gerry Kelly and Jack Prior who represented the Club on the North U16 team at the week end. Best wishes also to Oran Bergin, Alvis Danko and Raymond McCormack who are currently competing for places on the North Tipp U14 team for the Peadar Cummins Tournament which will be held in Borrisoleigh on Saturday 24th of May.
Well done to Club Members, Kevin Maher, St Patricks Boys N.S, James Devaney, Fantane N.S and John McGrath, Inch National school who all made it through to the second phase of qualifiers for the primary game hurling trials. Congrats to Alvis Danko who made it through to the second round in the football trials also.

---

Paddy Stapleton Fitness Bootcamp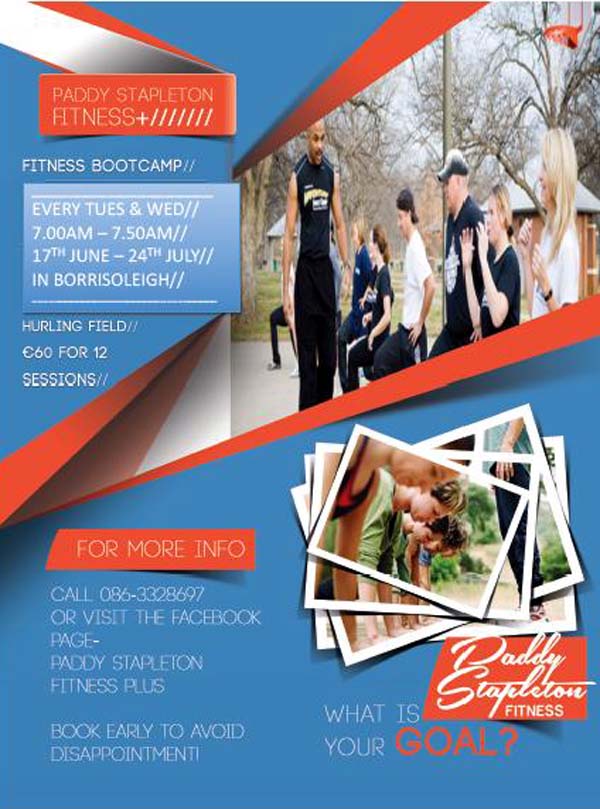 Just a message to say that my bootcamp is starting up in the park on the 17th June. It will be on every Tuesday and Thursday morning at 7am. It's a pre-work bootcamp aimed at giving everyone a good start to the day. As it is a summer workout it will make it a lot easier to get up and will leave you with all your evenings free. There will be circuits, team games, running etc involved in the camp and will be tailored so everyone can take part. The biggest aim will be to get healthy and tone up.
If you are interested please book in as soon as possible as I don't want to disappoint anyone. My number is 086-3328697 for bookings or queries.
---

Mayor / Mayoress of Borrisoleigh Contest Launch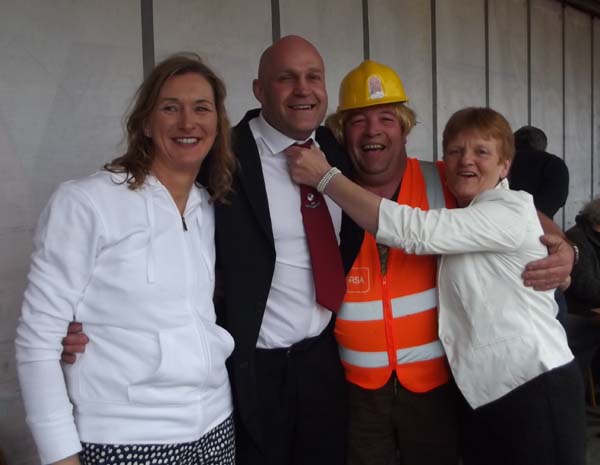 The four candidates are Patrice Cooney, Mossy Ryan, Joe Holland and Carmel Harkin
There was a great turn out on Sunday 4th May to meet the candidates in the Mayor/Mayoress Contest being run by the Borrisoleigh Festival committee. There was live music in the Square in the run up to the main event. To make it interesting it was decided that bonus votes would be awarded to the candidate who impressed the judges most with their arrival and the impression they made on stage. The four judges were Tom Everard, Sally Loughnane, Jim Ryan and Mary Brosnan.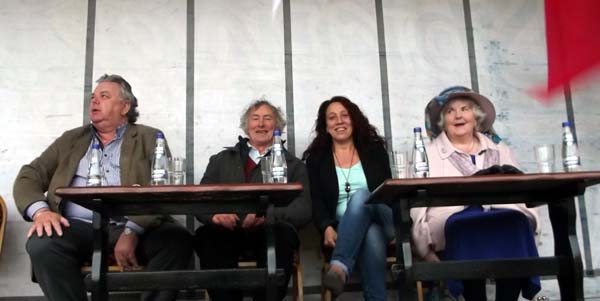 The judges……Tom Everard, Jim Ryan, Sally Loughnane and Mary Brosnan
The first of the candidates to arrive, from their starting point of Chapel St., was Carmel Harkin who made her arrival standing on the back of a pick up to the tune of 'Kung Fu Fighting'. Next to arrive was Joe Holland, not long off the stage with the Drama Group, and his entourage dressed in high vis jackets, hard hats and carrying shovels with the slogan 'There's No Show Like a Joe Show Show'. Mossy Ryan was next in line with his high security presidential cavalcade. Flanked front and rear by two motorcycle security, a jeep with flashing lights and his, no doubt bullet proof, car guarded by black suited secret service types running alongside watching out for 'trouble'. By stark contrast the last of the candidates Patrice Cooney arrived on a High Nellie bicycle! She had the largest entourage of them all with 'Team Patrice' carrying an assortment of colourful placards.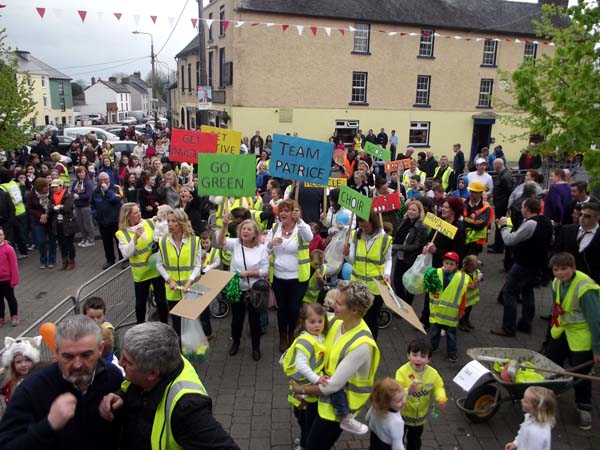 All the candidates then were asked some questions by MC of the day Michael Kinane. This is sure to be one hard fought contest, with each candidate trying to score points and gain an edge on their competition. In the end however Mossy Ryan was the deserving winner of the bonus votes thanks to his dramatic arrival to the launch event. Voting will continue until the Festival which takes place on Oct 3rd, 4th and 5th when the winner will be announced.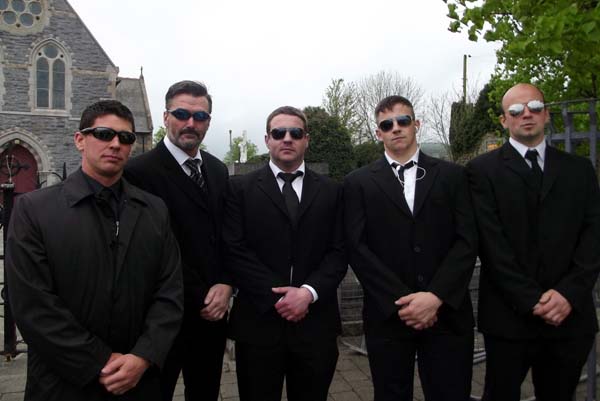 Security was tight!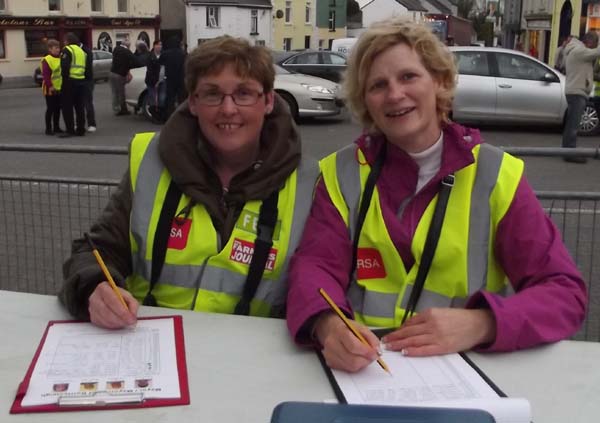 Breda and Teresa taking votes

Please click here for more photographs



A video of some of the highlights will be available on the Borrisoleigh Festival website and on the Facebook Page. Please click here to view the video.



---

Pic of the Past…….. down memory lane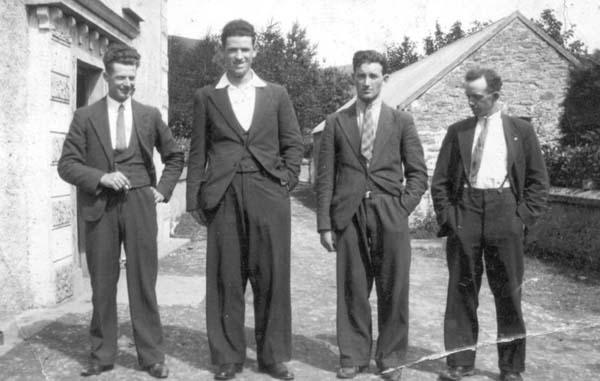 Tierney's of Glenbreeda
Gerry Tierney, Tim Maher (Glenmore), Mick Howard (Glenmore) and Mick Tierney



---
Your Website Needs You!
Committee: Enda Ryan, Noreen Fahy, Margaret Cowan, Marie McGrath, Aileen Óg Groome and Derry O'Donnell

Many thanks to all those who contributed photographs and news items. Remember, we need you to continue to send us material so that we can keep our website current and interesting.
Send your email to: info@borrisoleigh.ie
Also, if you like what you see and want to leave a comment, remember to use the Guestbook!

While we make every effort possible to ensure that the information contained in this Website is accurate and complete, we cannot accept any legal liability as a result of the inaccuracy or incompleteness of the information presented to users of this site




---