Happy Easter

Easter Cermonies in Borrisoleigh & Ileigh

Father, into your hands I commend my spirit

Holy Week Ceremonies

Confessions:
Tuesday 7pm
Spy Wednesday:

Chrism Mass in Cathedral @ 7.30 pm. Parishioners are invited to this Mass and also to refreshments afterwards in St. Patrick's College.

Holy Thursday:

Evening Mass of the Lord's Supper @ 7pm.
Holy Hour at Altar of Repose immediately after Mass.
Good Friday:

Celebration of the Lord's Passion 3pm
Stations of the Cross: Ileigh 7pm. Borrisoleigh 8pm.
Holy Saturday:

Easter Vigil: 8pm.
Easter Sunday:

Masses: 9.30 am. (Ileigh); 11.00 am. (Borrisoleigh)
---
Tidy Towns Spring Clean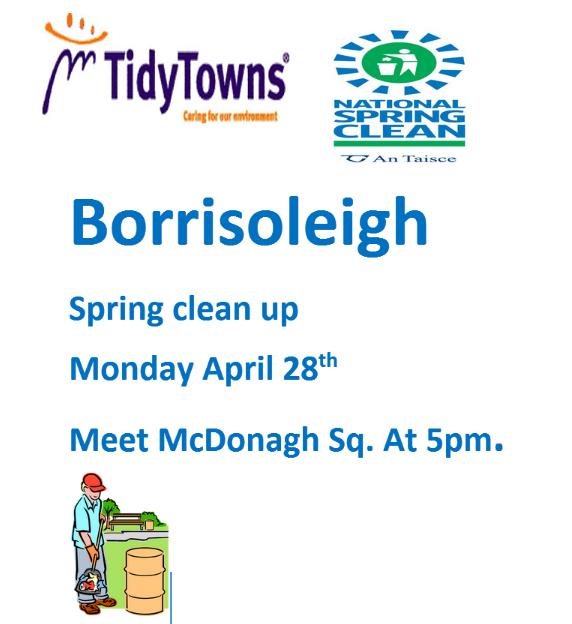 ---

Bush and Briar Ramblers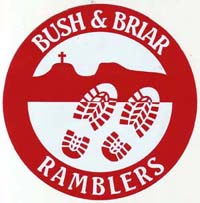 Bush and Briar Ramblers outings both Easter Saturday and Easter Monday. Meeting both mornings at rear car park, Shanahans Service Station at 08.50 hrs for departure at 09.00. Join us on the hills and work up an appetite for those Easter Eggs.

---
Borrisoleigh Drama Group
The countdown is on! Borrisoleigh Drama Group's latest production 'The House Husband' will be on stage in the Marian Hall on 2nd, 3rd and 5th May.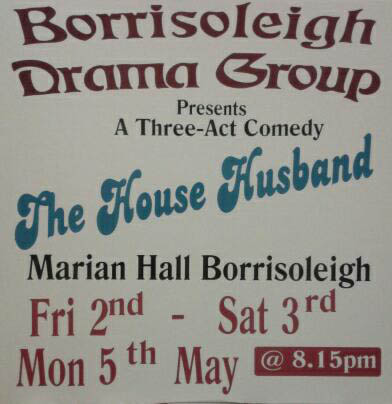 ---

St Cualan's Social Club
A group of parishioners travelled to Mount Saint Joseph's Abbey in Roscrea on Saturday last where they were welcomed with Tea/Coffee and Scones. They toured the premises and Confessions were available for anyone who wanted to avail. They stopped off at Templemore Arms on the way home for a lovely meal. A great afternoon was had by all! New members are always welcome.
---

St. Therese's N.S. Cake Sale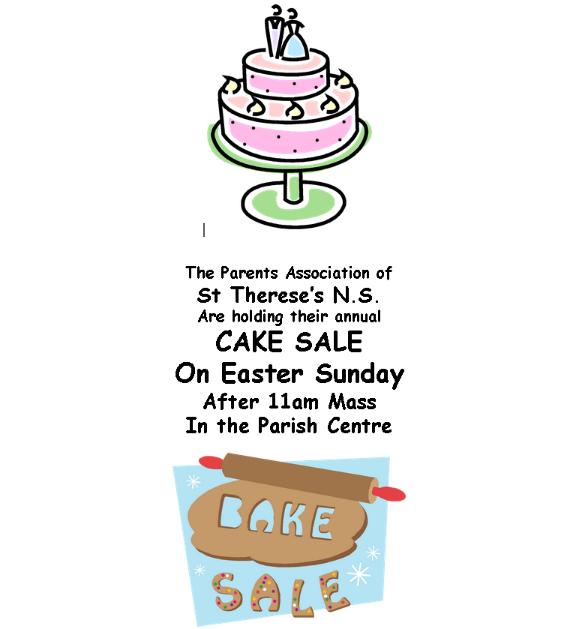 ---
Borrisoleigh Community Games
Art
Borrisoleigh will be well represented in the Community Games Art County Final which will be held in the Presentation School Clonmel Saturday 26th April @ 2pm
Girls U 8 Tara Kennedy & Kalyn Treacy, Girls U 10 Anna Harkins & Emma Maher, Girls U 12 Klaudia Dragula & Melissa Ryan, Girls U 14 Laura Hutchinson & Claire Ivors, Girls U 16 Rachel Ivors & Clodagh Ryan.
Boys U 10 Shane Maher & Pierce Ivors, Boys U 12 Denis Ivors & Adam Carr, Boys U 14 James Ryan.
Gymnastics
Anyone interested in competing in the Gymnastics Events please contact John @ 086 089 4718 before 26th April.
County Finals will be held in Monroe Sports Complex Monday 5th May @10.30am. Age categories are U9, U11, U13 & U15. Boys & Girls.
---
Borris-Ileigh GAA Notes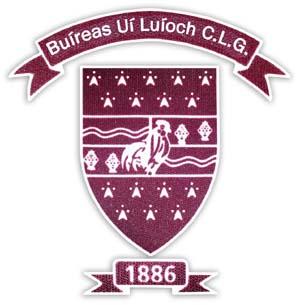 Golf Classic: Following on from the huge success of last year's golf classic, we are delighted to announce that we will be hosting the event again this year in Thurles Golf Club. The event will take place on Friday 23rd and Saturday 24th of May. We had many fantastic prizes last year and this year will be no different. The time sheet is now available and slots can be acquired from Martin Fahy. We encourage people to get their slot as early as possible to avoid disappointment. Over 100 teams took part last year and we hope to see the same and more this year. A team of 4 costs just €120.
For more GAA News, match reports and fixtures log on to www.borris-ileighgaa.com
---
Borris-Ileigh Juvenile GAA
Well done to our U12 footballers who recorded a fine win against Newport last week end. We have now qualified for the semi finals.
The U14 Footballers were well beaten on wednesday evening by a strong kilruane team. We have a bye this week and will play Burgess in Kilcolman on Wednesday week.
We played Newport Gaels last Saturday morning in the U14 Feile Hurling and put in a good performance to come out winners. We will play Moneygall/ Templederry in the North semi final. The North Semi finals and Final will both be played on Easter Monday 21 April.
Well done to Gerry Kelly who represented the Club on the North Tipperary Garda Cup team at the week end. South Tipp won the tournament.
The Club will hold its annual table quiz in the Marian Hall on Good Friday night commencing at 9 PM. Your support would be appreciated for this enjoyable annual fundraiser. Again the questions will be set by Tómas Russell and will be suitable for young and old alike.
---
Borris-Ileigh Camogie notes

U-6
training takes place each Tuesday at 7 p.m.
U-8
training takes place each Monday at 7 p.m. Parents are asked to collect their child promptly at 7.45, as trainers cannot be held responsible for children after that time.
U10 & U12 training – Monday 7 to 8. Additional times will be notified.
U12 FIXTURES:
19/04/14 – Borrisoleigh v Clonoulty (home)
26/04/14 – Borrisoleigh v Holycross Ballycahill (home)
U14's were out against Templemore last week, and were unfortunate to lose, with a score line of 2 – 2 to 3 – 3.
Next match due against Moycarkey on 22nd April (away).
U16 – CHAMPIONSHIP 2014 – FIXTURES
GROUP: BORRISOLEIGH, TOOMEVARA, KILRUANE & BURGESS
24/04/14 KILRUANE V BORRISOLEIGH
01/05/14 BORRISOLEIGH V TOOMEVARA
TBA BURGESS V BORRISOLEIGH
Texts will follow confirming dates, venues & time.
MINOR training continues each Thursday night.
INTERMEDIATE.
Borrisoleigh played Drom on Sunday April 13th with a result of
3 – 12 to 1 – 10 to Drom.
Borrisoleigh were unlucky on the day and things just couldn't come together for them in their 2nd game of the League.
REMAINING LEAGUE FIXTURES:
SUN April 20th – Borrisoleigh v Kilruane (home)
SUN April 27th – Shannon Rovers v Borrisoleigh venue Shannon Rovers.
SEMI FINALS MAY 4th.
FINAL – May 11th 2014
Times and venues will be confirmed.
CLUB MEMBERSHIP:
REMEMBER: If you intend to train or play with Borris-Ileigh Camogie Club this season, you must be registered. It is essential to contact Paula Ryan (087 9035949) Club Registrar or your team manager to arrange payment of membership and collection of our Code of Ethics, Conduct and Best Practice. It is vital that everyone involved in the club is familiar with this document.
The County Board requires full details of club registration immediately.
Adults €40, Juveniles €20 (€13 registration & €7 insurance), & Social Members €20.
---
Historical Society Notes
Upcoming Events
24/4/2014: Sr. Aine Historical Society, Templemore:
Title of Lecture: 'Sale of Middleton Town '44 to '66'. delivered by Mr. John Fenton.
30/4/2014: Community Centre, Borrisoleigh
Title of Lecture: 'Holycross Abbey, & Medieval Treasures of Holycross' delivered by Mr.Tom Gallagher.
28/5/2014 Community Centre, Borrisoleigh,
Title of Lecture: ' Glasnevin Cemetery' delivered by Mr. Paddy Gleeson.
14/6/2014: Bus trip to Dublin. Guided tour of Kilmainham and Glasnevin Cemetery.
Names to be given to Delia Ryan Sec. asap (27 seats only available on bus)
---
Tractor Challenge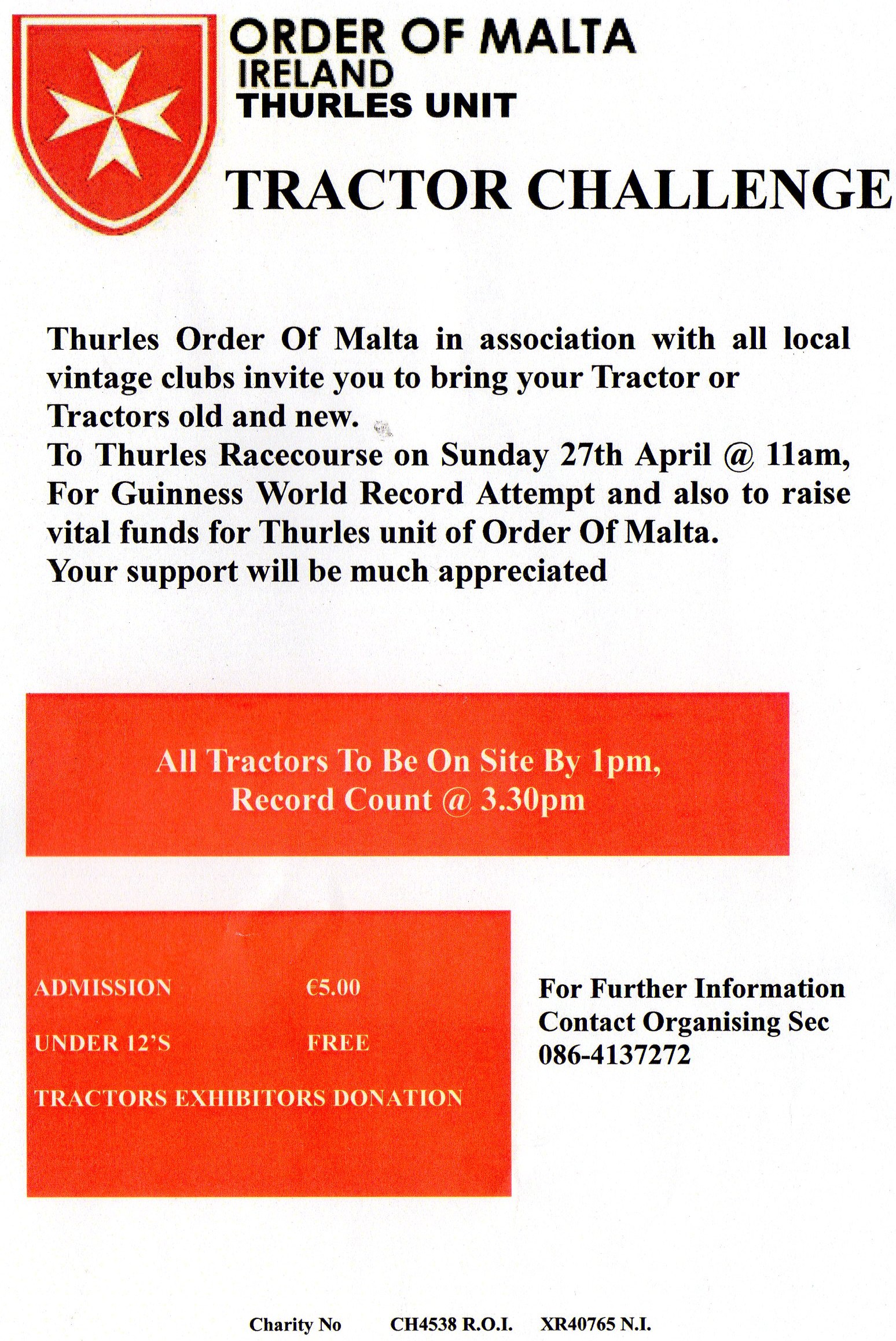 ---
The Bothy Easter Opening Hours
The Bothy's Opening hours for Easter: Thursday 10:00-17:30, Good Friday 10:00-13:00 for all those Easter goodies in time for the weekend and Saturday 10:00-17:00. HAPPY EASTER TO YOU ALL.
---
Pic of the Past…….Down Memory Lane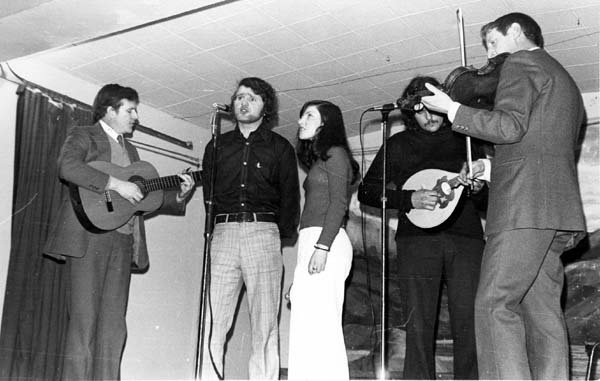 Derry Bourke, Paddy Dolan, Una Molumby, Noelie Maher and Timmy McSherry
---
Your Website Needs You!
Committee: Enda Ryan, Noreen Fahy, Margaret Cowan, Marie McGrath, Aileen Óg Groome and Derry O'Donnell
Many thanks to all those who contributed photographs and news items. Remember, we need you to continue to send us material so that we can keep our website current and interesting.
Send your email to:info@borrisoleigh.ie
Also, if you like what you see and want to leave a comment, remember to use the Guestbook!
While we make every effort possible to ensure that the information contained in this Website is accurate and complete, we cannot accept any legal liability as a result of the inaccuracy or incompleteness of the information presented to users of this site