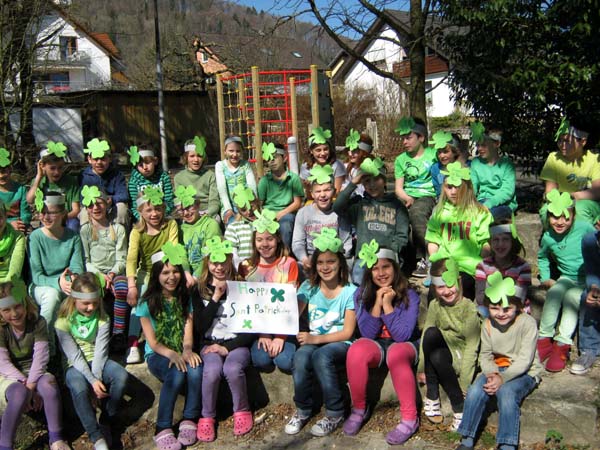 Pupils from Grundschule Stahringen
We received the following St Patrick's Day greetings from Stahringen in Germany.
HAPPY ST. PATRICK´S DAY from Stahringen to Borrisoleigh. Have a fantastic time and enjoy the day. Best wishes, Staff and children of Grundschule Stahringen
---
St Therese's National School


AUCTION ON THE NIGHT FOR
2 GARTH BROOKS TICKETS,
2 SIGNED TIPPERARY JERSEYS,
A WEEKEND AWAY IN CARLTON HOTEL
AND MANY MORE…
---
Bush & Briar Ramblers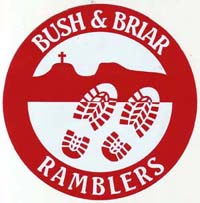 On Sunday afternoon 16th March we joined the local people of Moneygall on the official opening of their new walk "Rock of Loyer Loop". We enjoyed the views down over Moneygall and surrounding countryside. Some of the group relaxed in the Obama Cafe for a cuppa and a chat afterwards while more of us walked the loop a second time and had our cuppa at the picnic table further up the hills.
---
Scór Sinsear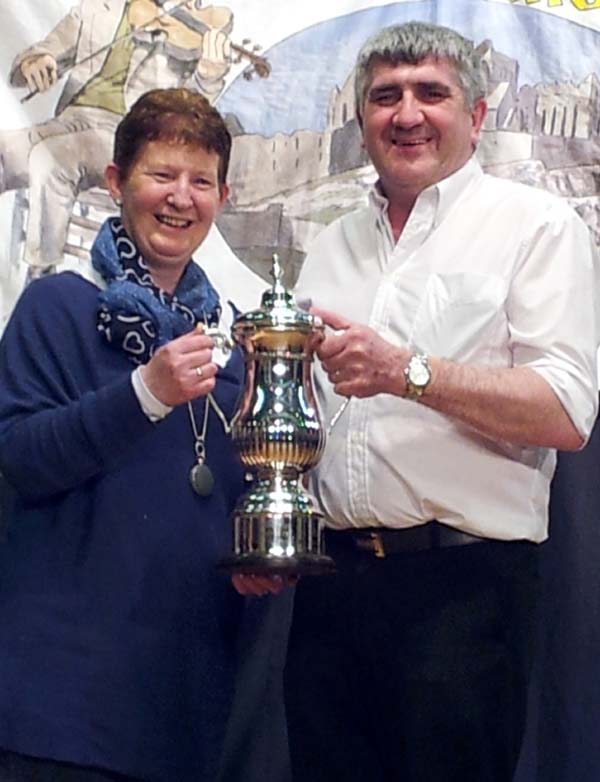 Sean Shanahan receiving the County Trophy from Josephine Cahill
Another County title came Borrisoleigh's way last Saturday night in Holycross when our ballad group won the Final of Scór Sinsear. The group consisted of Tony Murray, Sean Shanahan, Joe Loughnane and John Paul Ryan. They now go forward to the Munster Semi-Final this Saturday (Mar 22) night in Cappamore at 6.30pm. Your support would be appreciated and we wish them well. Well done also to Paddy Dolan and Sean Shanahan who performed very well in the Solo Song Competition.
A reminder that set dancing classes have finished for the season and will resume in September.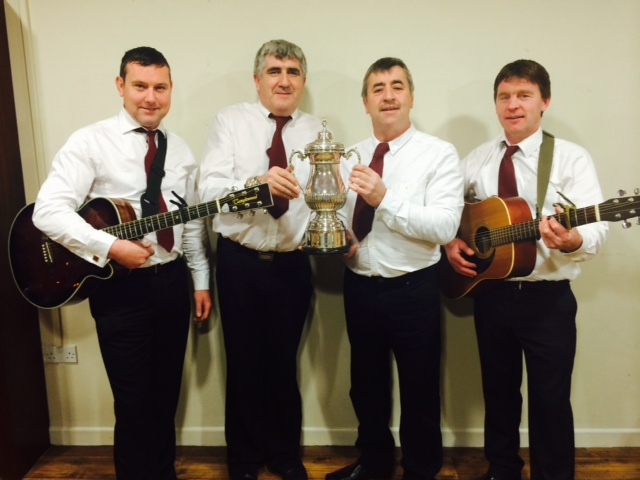 ---
St Patrick's Day Parade in Templemore

Pupils from St Therese's National School gathering for the Parade
The entire school from thirty little Junior Infants to sixth Class participated this year in Templemore with their theme -"Water' and of course they are working towards achieving their third Green Flag based on Water Conservation.
The Junior Infants displayed Water Safety in the Parade. Senior Infants and First Class showed an array of weird and wonderful creatures under the sea. Second , Third and Fourth Class conveyed the Trocaire theme-Make Every Drop Count – Fifth and Sixth Class showed an array of household implements which can waste a lot of water.
St. Therese's were delighted with their prize of 200 euro and they thank all those who came to help out during the Parade. Greetings to all our penpals in Germany and to Petra Wieshof and Staff in Grundschule, Stahringen. Happy St. Patrick's Day.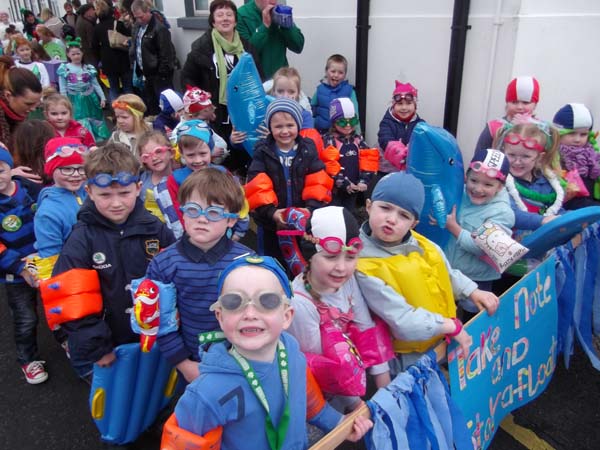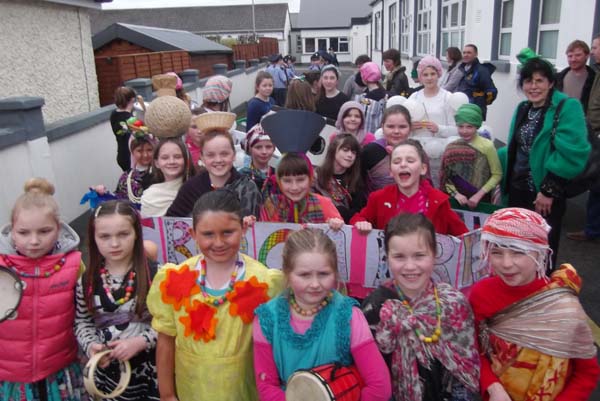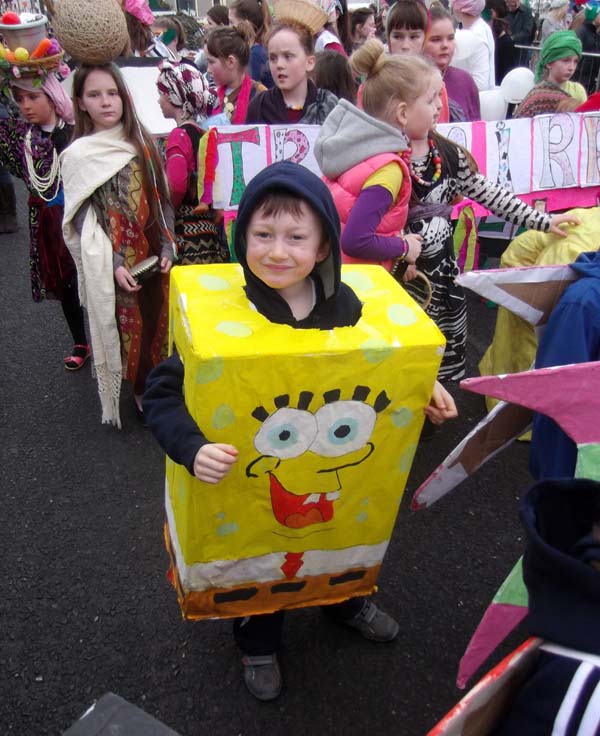 More photos from the Parade are available to view in the Gallery

---
Borris-Ileigh GAA Notes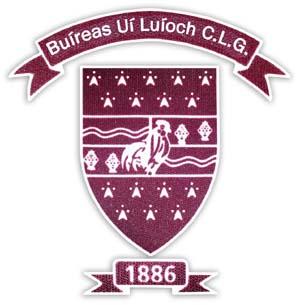 Online Lotto: Our online lotto continues to grow and we would encourage as many people as possible to sign up to it. We especially appeal to Borris people outside the parish who do not have access to tickets on a weekly basis. There have been huge developments taking place in the club in the last 12 months and funds are vital to help us continue to build on the great work in 2013. Online lotto can be set up on www.borris-ileighgaa.com or you can contact Mark Stapleton on 086 8143486
Membership: Membership is now due for all players and members. Registrars Martin Fahy and John Bradshaw and Secretary Gerry Treacy will be taking membership. The cost for an adult player is €50 while ordinary membership is just €30. Membership forms are also available from Donal Hurleys Gala. The deadline for membership is the end of March so don't delay. We urge as many people to sign up for membership. It is a vital source of income for the club and gives people a far greater chance to be involved with the club.
County League: Well done to our Seniors who had a good win over Holycross. We now play Toomevara this Sunday in Borrisoleigh in the quarter final. The time has yet to be confirmed.
Junior League: Borris take on Silvermines in the first round of the County league on Saturday afternoon at 4pm. The game will be played in Borrisoleigh .
Date for the diary: The first round of the County championship is scheduled to take place on the weekend of the 12th of April. We will be playing Drom-Inch in the first round of the group stage. Two rounds of the County championship will be played before the North championship will commence. In the North championship we will be playing Moneygall in the first round. A date for this will be released soon.
Inter-county: Hard luck to Brendan , Paddy and Conor who were all involved in Tipperary's defeat to Clare in the National league. Well done to Conor Kenny on making his league debut.
Local News: For all other local club news, including match reports and videos check out www.borris-ileighgaa.com
---
Borrisoleigh Historical Society
Borrisoleigh Historical Society will host a lecture in the Community Centre, Borrisoleigh on Wednesday next 26th March at 8pm. Title of Lecture "Continuity and Change in Agriculture in the Parish of Borrisoleigh". It will be delivered by Borrisoleigh native, Professor Gerry Boyle, Director of Teagasc. This lecture will give a great insight into the past and present methods of farming. Refresments will be served.
---
Pic of the Past………down memory lane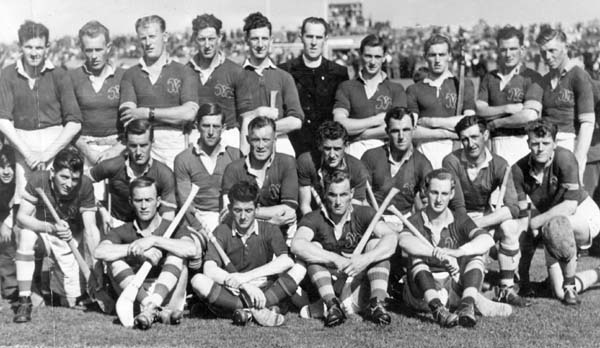 1949 County Champions – First Senior Title for the Club
Back: Jim Costello, Joe Ryan (R), Ned Finn, Raphel Ryan, Donal Meagher, Rev. John Ryan,
Philly Crowley, Paddy Kenny, Billy Stapleton and Hugh Bourke
Middle: Paddy Ryan Murray, Phibby Kenny, Jimmy Coffey, Mick Joe Dwyer,
Ned Ryan, Johnson Hackett, Martin Ryan and Philly Ryan
Front: Phil Maher, Tom Ryan Murray, Sean Kenny and Jimmy Finn

---
Reminder
Please note that news items received after 8pm on Tuesday night cannot be guaranteed to appear in that week's news, especially if they contain large numbers of photos.
---
Committee: Enda Ryan, Noreen Fahy, Margaret Cowan, Marie McGrath, Aileen Óg Groome and Derry O'Donnell
Many thanks to all those who contributed photographs and news items. Remember, we need you to continue to send us material so that we can keep our website current and interesting.
Send your email to: info@borrisoleigh.ie
Also, if you like what you see and want to leave a comment, remember to use the Guestbook!
While we make every effort possible to ensure that the information contained in this Website is accurate and complete, we cannot accept any legal liability as a result of the inaccuracy or incompleteness of the information presented to users of this site