Bush & Briar Ramblers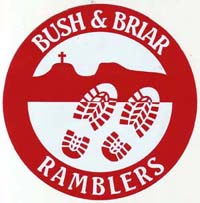 The group will be walking on next Saturday 15th and Sunday 16th February 2014 in Latteragh woodlands. All are welcome to join us on either or both days. We are still waiting for some favourable weather to accompany our walks. This weekend might just be that weekend.
Meeting for both walks at the rear car park of Shanahan's Service Station, Borrisoleigh at 08.50hrs for departure at 09.00hrs. Boots essential. Waterproofs and something to eat and drink are recommended. We look forward to seeing you out with us.
---
Open Evening at St Therese's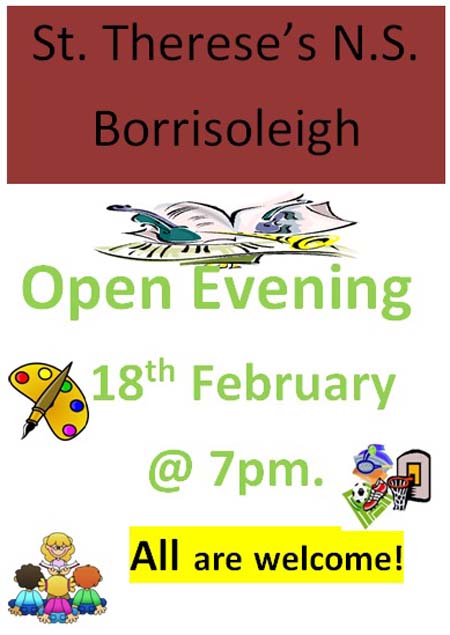 ---
Festival Committee AGM
The Borrisoleigh Festival Committee have cancelled its AGM scheduled for tonight Wednesday 12th due to bad weather conditions.
It has been rescheduled to Tuesday next February 18th at 8:15pm in the Bothy
---
Borris-Ileigh Camoige Club
Notes

Registration mornings will take place in the Pavilion on Sat March 1st and March 8th from 10 to 12 am. Please contact Paula Ryan club registrar to arrange payment of membership and collection of our Code of Ethics, Conduct and Best Practice outside of these dates if necessary. It is vital that everyone involved in the club is familiar with this document. The County Board requires full details of club registration ASAP. (€40 adults, €20 juveniles, €20 social members).
A huge congratulations to our Scór na nÓg Munster winners who won the Léiriú competition. The very Best of Luck to you all in the All Ireland Scór na nÓg Final on March 1st in Castlebar, Co. Mayo. COME ON TIPP!!
Camogie club merchandise now available Hoodies, tracksuits, t-shirts, jerseys and raincoats available. If interested please contact Caroline at 0861522716.
Also, we are holding A CLOTHING COLLECTION on March 1st from 10am to 1pm in the Pavilion. So between then and now, have a good spring clean, and help the club funding. As last year this collection is held in association with Canteen Ireland (Young Peoples Cancer Support Group). If you are unavailable to make it on this morning, please contact any committee member and we can store your contributions. Good quality used clothing, paired shoes, bags & belts are all welcome.
U14/U16 training has re-commenced, parents will be notified of training times by text. All other teams will commence training shortly and will be contacted by text of training times.
---
Social Media Talk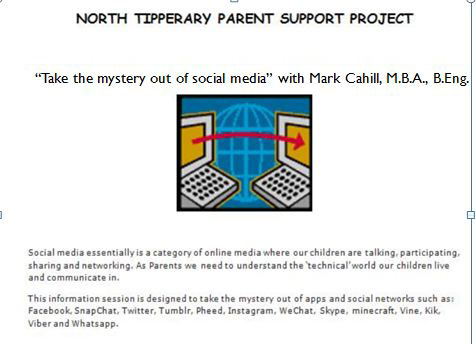 Venue: The Snooker Hall, Main Street, Templemore
When: Wednesday 19th February
Time: 7.30pm – 9.30pm

---
Scór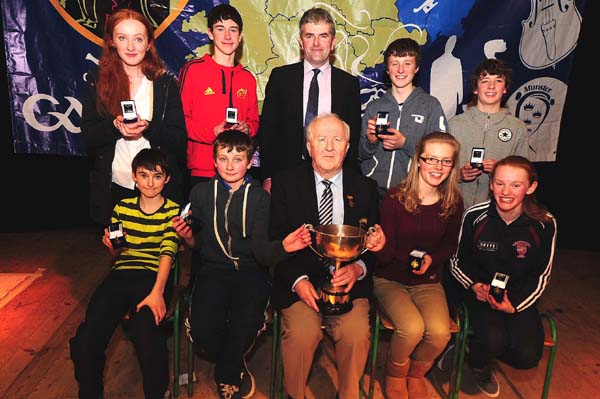 Borrisoleigh Léiriú Group – Munster Champions, Scór na nÓg, 2014
Congratulations to our Scór na nÓg Munster Champions in the Léiriú Drama competition which replaces the Novelty Act in Scór. Our talented Borrisoleigh group of Kate Delaney, Ciara Ryan, Orla Ryan, Luke Cooney, Nicky Cooney, Aaron Rabbitte, James Ryan and Ewan Young gave an excellent performance at the Munster Final on Sunday, January 26th which saw them emerge as winners over Cork, Clare and Kerry and prove to be Tipperary's only victory in the final. They now carry the hopes and good wishes of Borrisoleigh, Tipperary and Munster as they advance to the All-Ireland Final in Castlebar on Saturday, March 1st. Well done to all concerned and thanks to all who have supported the group in any way. Go n-éirí go geal libh go léir.
The Area Final of Scór na bPáistí takes place this Saturday night in Dunkerrin at 7pm. We wish everyone taking part the best of luck.
Well done to Katie Shanahan who got through to the next round of Scór Encore on TnaG last weekend. We look forward to seeing you again on the TV.
Dates for the diary:
Feb 15 – Area Final Scór na bPáistí in Dunkerrin @ 7pm
Feb 21 – North Final Scór na bPáistí inTemplederry @7pm
Mar 1st – All Ireland Final Scór na nÓg in Castlebar @3pm
Mar 8th – Co Semi Final of Scór Sinsear in Borrisoleigh
Mar 9th – Co. Final of Scór na bPáistí in Cashel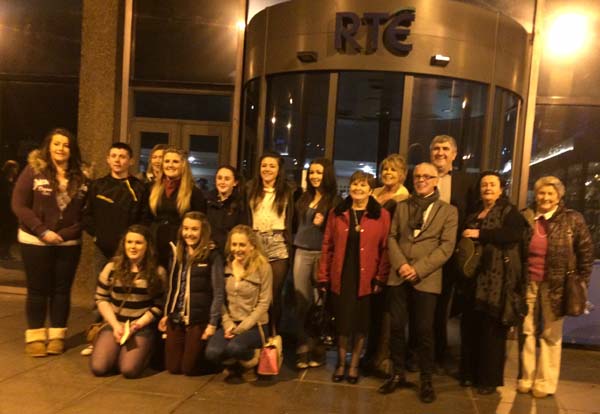 Katie Shanahan with her supporters outside RTE after qualifying for the next round
---
Knit & Natter @ The Bothy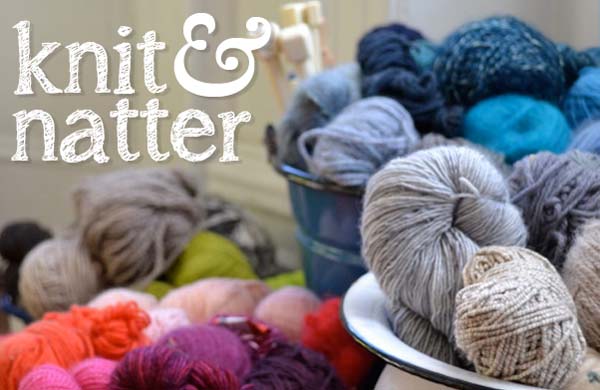 NEW for The Bothy – KNITTING GROUP taking place on Thursday 13th of Feb from 10:30…. perfect weather for cosy knitwear! Come along, knit away and enjoy the company and surroundings of The Bothy.
---
Scoil Bhríde Fantane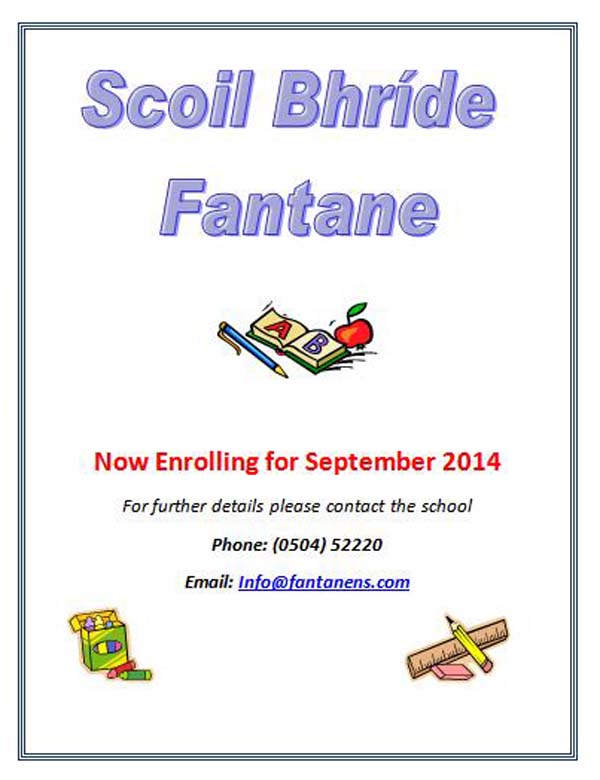 ---
Sr. Áine Historical Society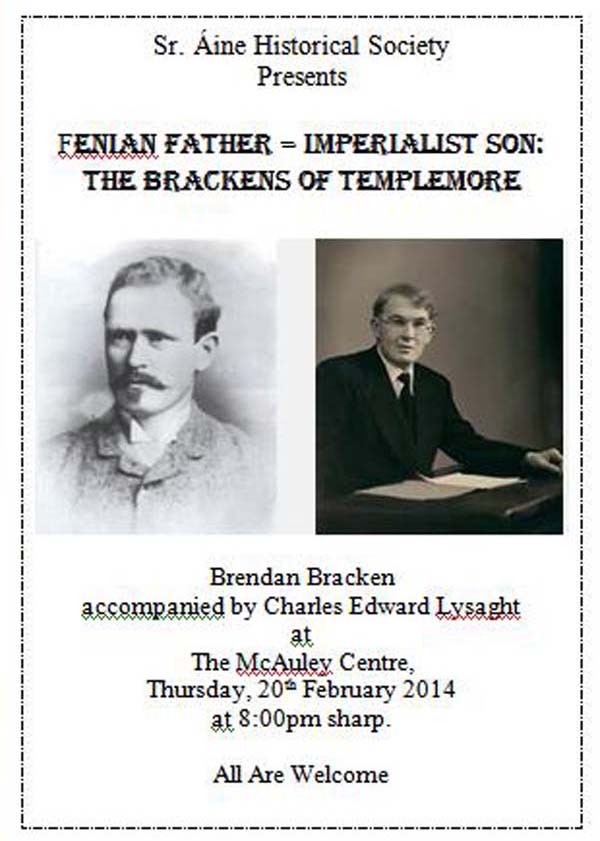 ---
Borris-Ileigh GAA Notes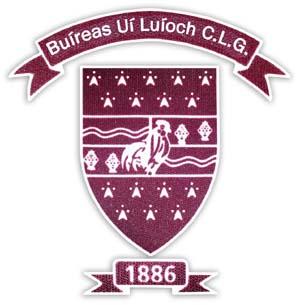 Walking Track: We would like to inform people that dogs are now banned from the new walking track and field as a number of people have being refusing to clean up after their dogs. We regret to have to come to this decision but a number of people have made complaints about the amount of dog dirt on the walking track and we had to take action.
Membership: Membership can now be paid to secretary Gerry Treacy or registrars John Bradshaw and Martin Fahy. We ask all players to have their membership paid as soon as possible as they will not be considered for selection without it. Please make contact if you have not paid your membership or you would like to join as a first time member

Tipperary Supporters Club: If there is anyone wishing to join or to re-join the Tipperary Supporters Club please contact TF Stapleton. The cost is just €30 and comes with a number of benefits regarding the Tipperary hurling set up.
---
Pic of the Past…..down memory lane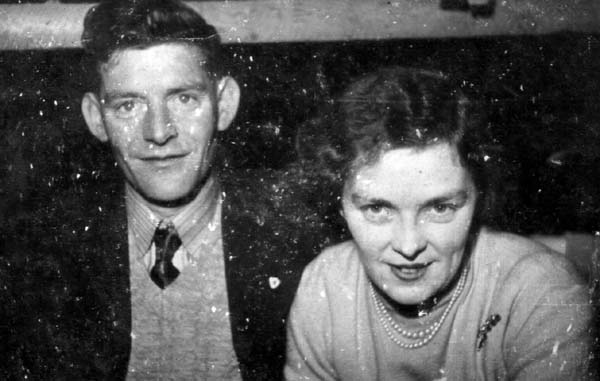 Connie and Joan Campion, Main Street
---
Your Website Needs You!


Committee: Enda Ryan, Noreen Fahy, Margaret Cowan, Marie McGrath, Aileen Óg Groome, Derry O'Donnell and Michael Carey

Many thanks to all those who contributed photographs and news items. Remember, we need you to continue to send us material so that we can keep our website current and interesting.
Send your email to: info@borrisoleigh.ie
Also, if you like what you see and want to leave a comment, remember to use the Guestbook!
While we make every effort possible to ensure that the information contained in this Website is accurate and complete, we cannot accept any legal liability as a result of the inaccuracy or incompleteness of the information presented to users of this site