Open Evening at St. Therese's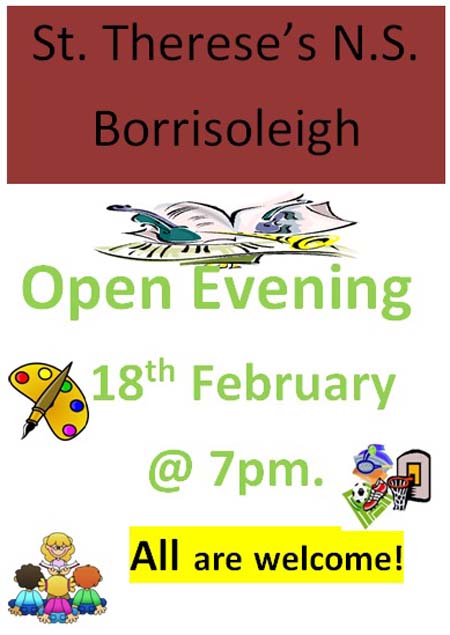 ---
Scor na bPaisti

We had a very entertaining afternoon last Sunday with the parish final of Scor na bPaisti. It started with set dancing and first to take to the stage were the beginners class. For most of these kids it was their first time on stage and they performed very well.
The results of the competitions are as follows and the winners go forward to the Area Final in Dunkerrin on Sat Feb 15 @ 7pm.
Set Dance: Maeve Stapleton, Aoife Ryan, Kayleen O Dwyer, Sinead Ryan, Laura Kennedy, Antoinette Atik, Derbhila Donnelly & Shaneen Stapleton.
Solo Song: Sinead Ryan.
Instrumental Music: Maeve Stapleton, Shaneen Stapleton & Cian Stapleton.
Recitation: Razuk Atik.
Question Time: Cian Stapleton, James Kelly & Dan Ryan.
Ballad Group: Aoife Ryan, Shaneen Stapleton, Antoinette Atik, Katie Fitzgerald and Sinead Ryan.
Novelty Act: Sinead, Eddie & Niamh Ryan, Pauric Stapleton, Jane Delaney, Dan Ryan, Emma Doolan & Chantal Feighery.
A big thank you to everybody who helped out at the parish scor and to everybody who brought sandwiches, cakes etc.
A date for the diary is March 8th when we will host a County Semi Final of Scor Sinsear. So get practicing if you are wishing to take part in any of the events.
Well done to Katie Shanahan who performed at Scor Encore during the week. If you would like to see the show tune into TnaG this Sunday evening.
---
Runners up for Scor na bPaisti Novelty Act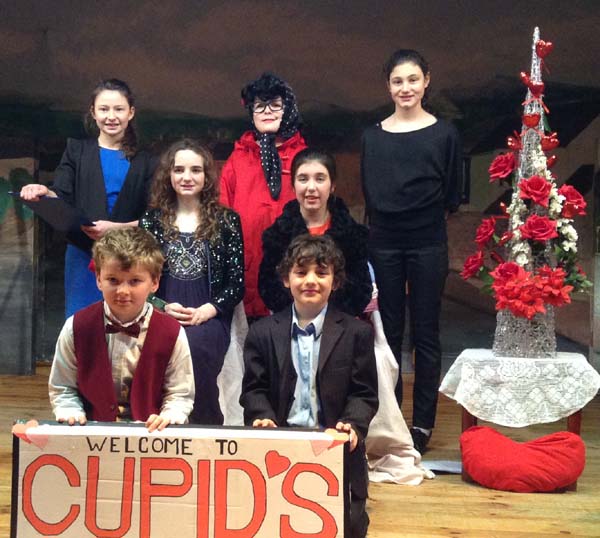 Cupid's Dating Agency
---
Centra Conference in Killarney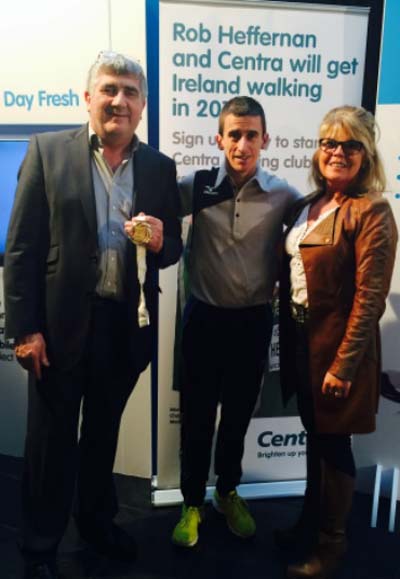 Sean and Marie Shanahan with Rob Heffernan at the Centra conference in Killarney over the weekend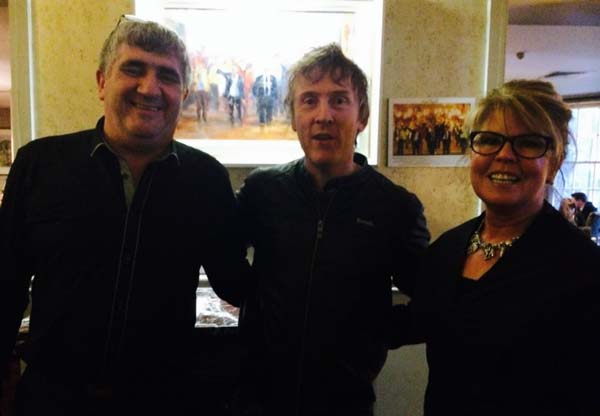 Sean and Marie with Hector

Marie in all her glam going to banquet after the conference

---
Borrisoleigh Book Club

Welcome all Book lovers
Due to the power failure last week The January meeting was Cancelled
Our next meeting is on Feb 12th at 7.30pm, we have a wide selection of books to suit all tastes.
So come along to the Community Centre and feel free to take a book or bring a book. We will hold monthly meetings to chat and discuss recommended books

---
Borrisoleigh Community Development Association Ltd AGM
The Borrisoleigh Community Development Association Ltd will hold their AGM at 8pm in the Parish Centre on Feb 24th.
All members new and old and anyone interested in contributing to the Association are more than welcome.

---
St Josephs College Notes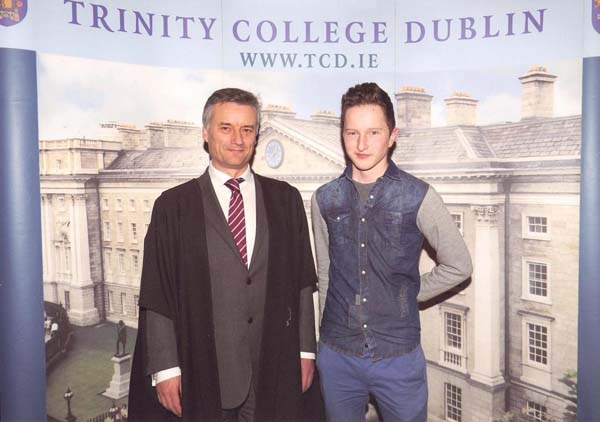 Michael Ryan of Killavilla, Templederry receives his Entrance Scholarship from Trinity College, based upon his excellent Leaving Certificate points received form St Joseph's College, Borrisoleigh . In the picture with Michael Ryan is the Provost of Trinity College Dublin, Dr Patrick Prendergast.
Congrats to Katie Shanahan, Borrisoleigh who qualified for the next stage of Scor Encore last Thursday. The overall winner will sing at the All Ireland Final. Watch how she qualified on TG4 on February 9th.
Also, Congrats to Richard O Donoghue who finished 2nd in the East Munster Cross Country Inter Boys (4.5km) competition and qualifies for the Munster final.
---
Borris-Ileigh GAA Notes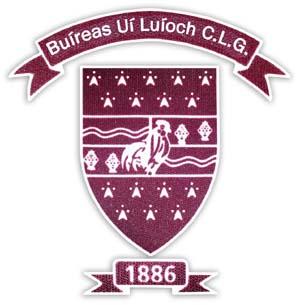 Walking Track: We would like to inform people that dogs are now banned from the new walking track and field as a number of people have being refusing to clean up after their dogs. We regret to have to come to this decision but a number of people have made complaints about the amount of dog dirt on the walking track and we had to take action.
Membership: Membership can now be paid to secretary Gerry Treacy or registrars John Bradshaw and Martin Fahy. We ask all players to have their membership paid as soon as possible as they will not be considered for selection without it. Please make contact if you have not paid your membership or you would like to join as a first time member
Tipperary Supporters Club: If there is anyone wishing to join or to re-join the Tipperary Supporters Club please contact TF Stapleton. The cost is just €30 and comes with a number of benefits regarding the Tipperary hurling set up.
---
Abu Dhabi GAA Tournament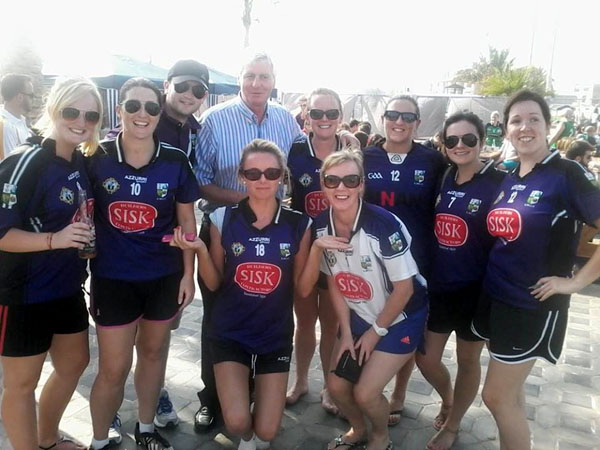 The Abu Dhabi GAA tournament took place last weekend. Teams from all over UAE played in it. It was a great day out. Caroline (Shanahan) Ryan, Currnaboula, pictured above played in goals for Al Ain team.
Caroline's brother Jimmy Shanahan plays for the men's team. Teams from Sharjah, Riyadh, Kuwait, Dubai, Al Ain, Abu Dhabi, Oman, Saudi played in Sheikh Zayed Sports City, Abu Dhabi. The night was topped off with Walking on Cars playing.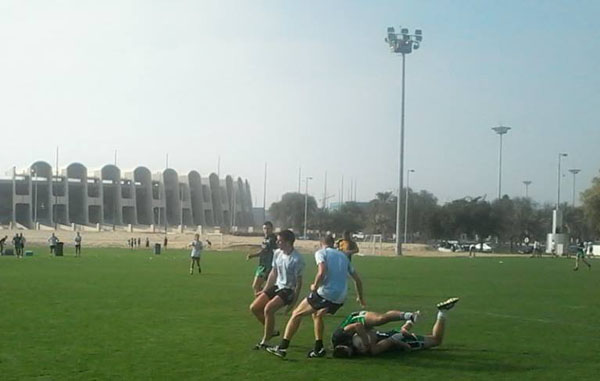 Some of the action from the tournament.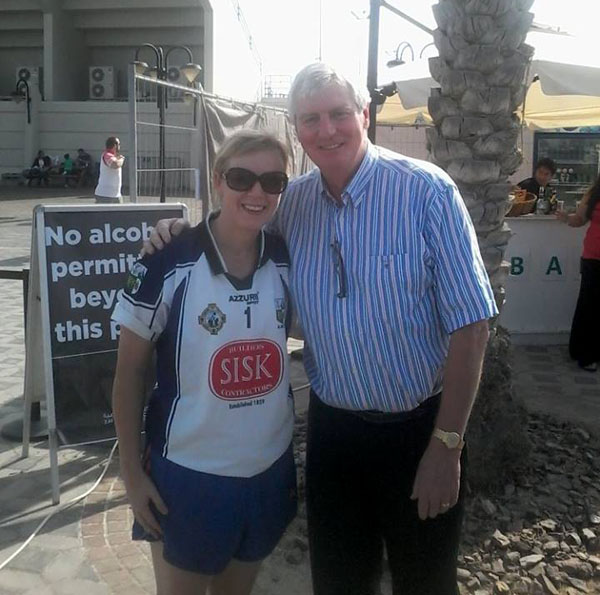 Met a celebrity guest between matches! Caroline and Michael Lester.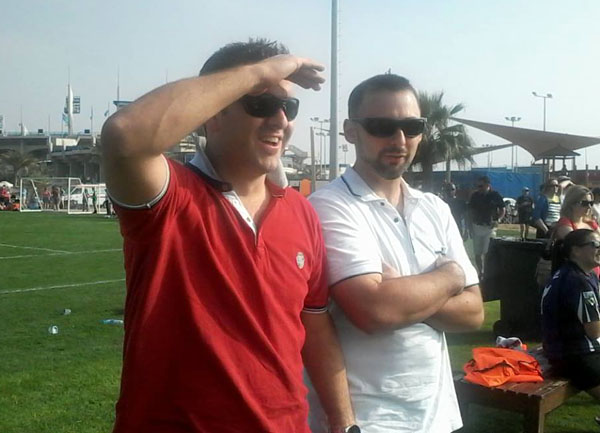 Caroline's husband Paul Ryan from Drom is in white tshirt.
---
Borrisoleigh festival committee will hold their AGM on Wednesday February 12th at 8:15pm in the Marian Hall.
All are welcome to attend.
---
Hearing Voices Support Group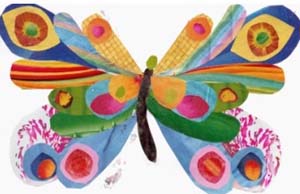 HEARING VOICES?
"Hearing voices is a normal, though unusual human experience. Hearing voices makes sense in relation to personal life experiences. The problem is not 'hearing voices', but how we cope with them. People who hear voices can cope with these experiences by accepting and owning their voices" (Intervoice, 2013).
Join our weekly 'Hearing Voices Group'
First Meeting: Thursday, 27th February 2014 7-9pm
In Colaiste Mhuire Co-Ed School, Castlemeadows, Thurles, Co.Tipperary
The group will give people the opportunity to talk freely about their 'voices' and to share what works, and what doesn't work. Talking about how we can live life with 'voices' helps with the fear and isolation often felt, and replacing that with knowledge and understanding encourages people to find the meaning in their own 'voices'.
Would you be interested in coming to this group to share your experience?
If so contact 0504 27617/086 8396292 for further information.
Joint initiative run by Service User and the North Tipperary Community Mental Health Services, St. Mary's Health Centre, Thurles, Co. Tipperary.
---
Pic of the Past……….down memory lane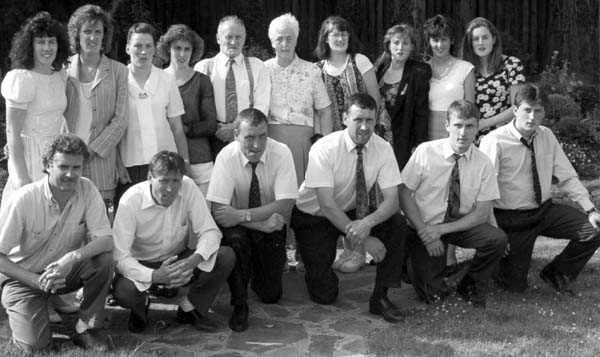 The O'Dwyer Family, Currabaha
Back: Maura, Breda, Kathleen, Ailish, Mick Joe, Bridget, Therese, Noreen, Christina and Patricia
Front: Seamus, Donnacha, Micheál, Rory, Francis and Billy
---
Committee: Enda Ryan, Noreen Fahy, Margaret Cowan, Marie McGrath, Aileen Óg Groome, Derry O'Donnell and Michael Carey
Many thanks to all those who contributed photographs and news items. Remember, we need you to continue to send us material so that we can keep our website current and interesting.

Send your email to: info@borrisoleigh.ie

Also, if you like what you see and want to leave a comment, remember to use the Guestbook!
While we make every effort possible to ensure that the information contained in this Website is accurate and complete, we cannot accept any legal liability as a result of the inaccuracy or incompleteness of the information presented to users of this site