Launch of the Borrisoleigh Annual 2013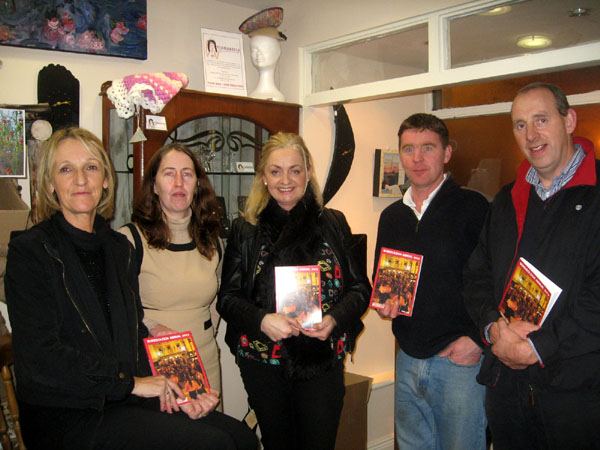 Pictured at the launch of the 2013 Annual in The Bothy last Friday night. It is available locally for €10
On Friday evening last, November 29th, the launch of the 2013 Borrisoleigh Annual took place in The Bothy. It was a very enjoyable occasion which was preceded by a cheese and mulled wine reception. The Annual was launched by Mary Lanigan Ryan, an esteemed member of Borrisoleigh Community Development Association. The Association would like to thank all those who attended the launch, The Bothy committee, especially Paddy, Jenny and Sean for making the facilities available to us, and also a special thanks to everyone who contributed articles and photographs for the Annual. We hope members of our community at home and abroad will enjoy this years' publication. The Annual is now on sale in Walsh's Costcutter, Hurley's Gala, Shanahan's Centra, O'Connell's Pharmacy, The Creamery and the Post Office. Cost €10.

For anyone wishing to post an Annual the last dates for postage to ensure delivery before Christmas are
Ireland & Northern Ireland December 20th
Great Britain & Europe December 19th
USA December 11th
Rest of the World December 6th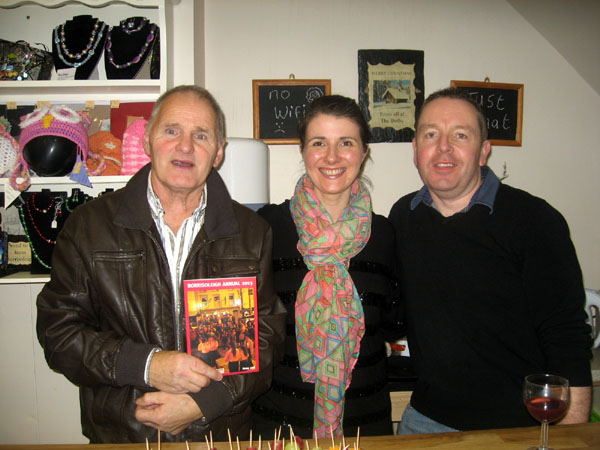 Paddy Dolan with Jenny and Sean Ryan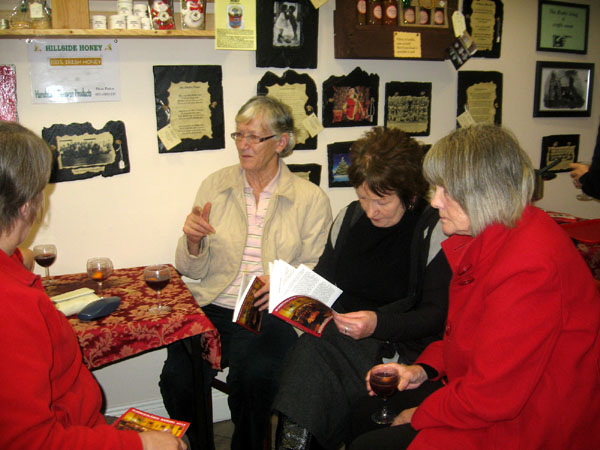 Mary Kiely, Delia Ryan, Biddy Hurley and Ann Ryan enjoying the launch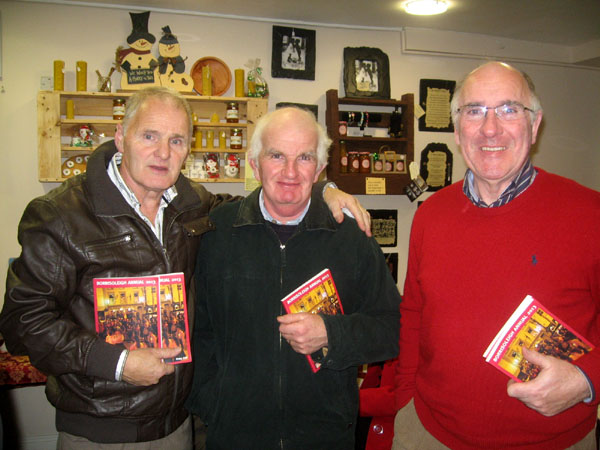 Paddy Dolan, John Hackett and Michael Delaney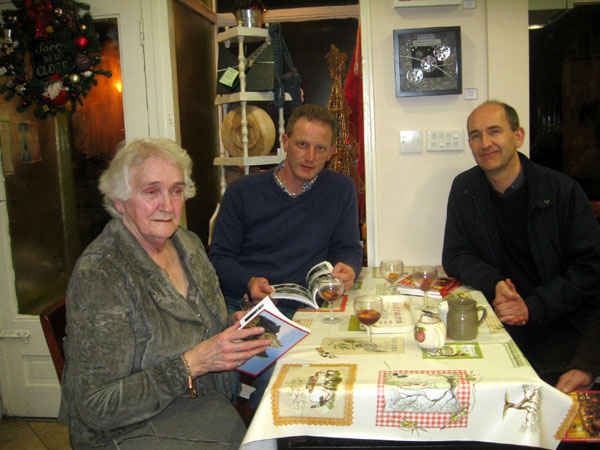 Mary Lanigan-Ryan, Jimmy Stapleton and Fr. Tom Lanigan-Ryan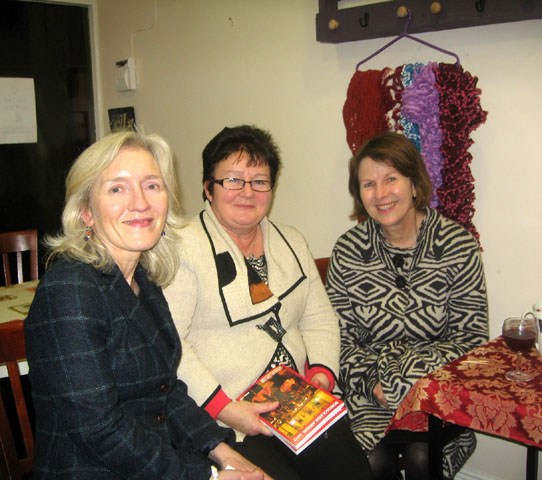 Mary Costello, Nuala Ryan and Marie Hackett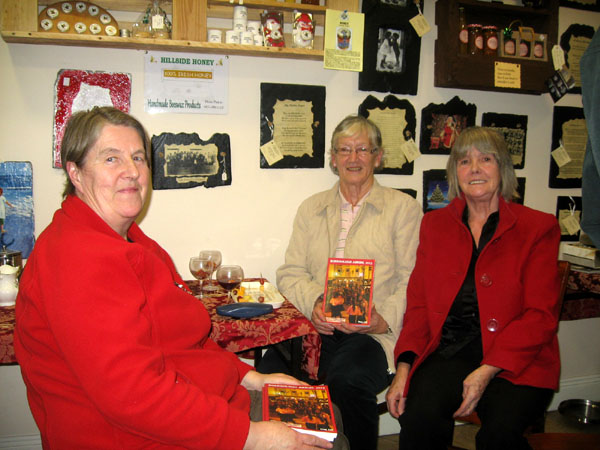 Mary Kiely, Delia Ryan and Ann Ryan
---
Happy 21st!!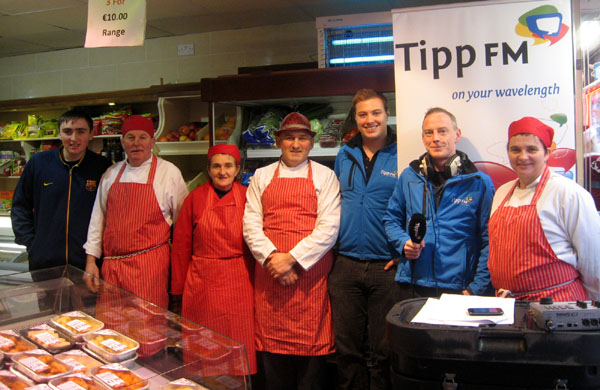 The O'Dwyer Team with Tipp FM in store


Joey O'Dwyer's Butchers is celebrating 21 years in business and Tipp FM were broadcasting from the premises on Tuesday 3 December. Congrats folks!!
---
Parish Mission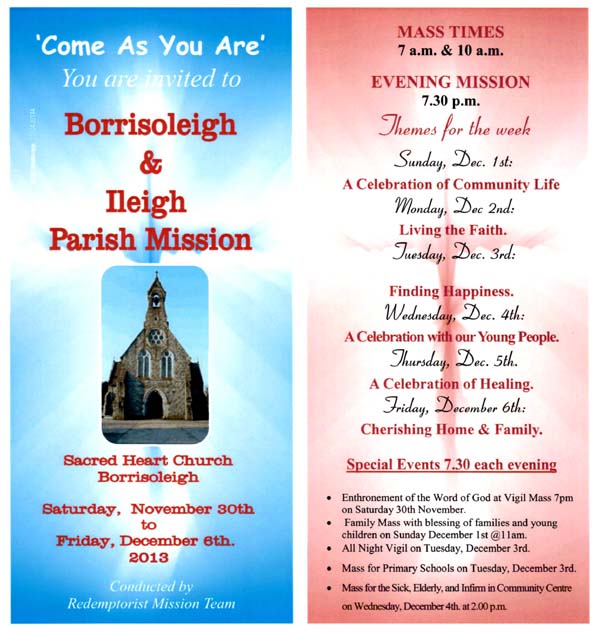 ---
St Cualan's Christmas Party
St. Cualans' social club will hold their annual Christmas party on December 8th commencing with mass at 2pm followed by dinner, music and a bit a craic. If you or someone you know would like to join us please give names to Fiona on 087 2169150 or any committee member.
---
Scór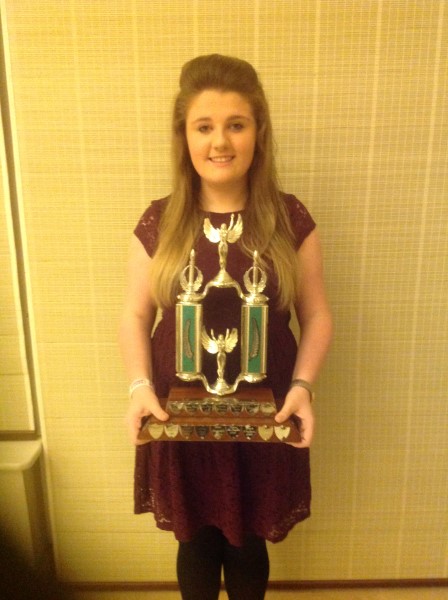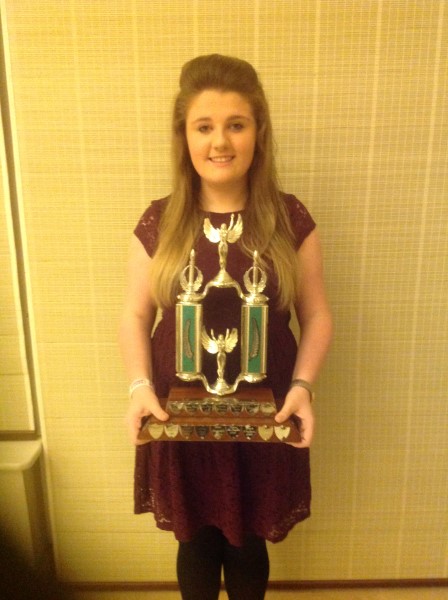 Katie Shanahan winner of the Solo Song
The North Final of Scor na nÓg took place last Friday night in Birdhill. Borrisoleigh were well represented in Solo Song, Instrumental Music, Leiriu(formerly Novelty Act) and Set Dancing. First up for Borrisoleigh was Katie Shanahan in the Solo Song. Katie gave a wonderful performance singing Lovely Derry and well deserved to take the North title.
Next up for us was the Instrumental Music. Our group of Liam Ryan, Joseph Boyle, Ciara Doolan, Leah Harkin and Gretta Atik gave a great display but were very narrowly defeated by Newport. We then had Leiriu. Our group (Kate Delaney, Ciara Ryan, Orla Ryan, Ewan Young, James Ryan, Nicky Cooney, Luke Cooney and Aaron Rabbitte) gave a great performance of history, culture and humour. The night finished up with our set dancers giving a good performance and progress as North Champions to the Co. Final this Friday night in Holycross at 8pm.
We would like to wish all participants the best of luck in the Co.Final and hopefully bring home some silverware to Borris.
Set dancing classes will continue this Mon night starting at 6.45pm.
---
"Lights are Shining"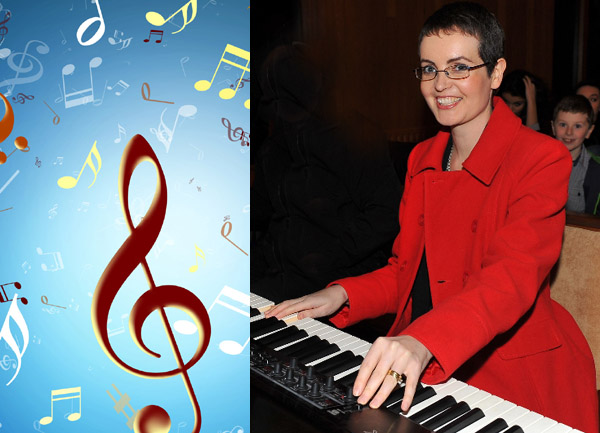 On Tuesday 10th December at 7.30pm ,Barnane National School will have a very special night in Drom Community Centre. The school will be proudly launching a Christmas cd for 2013.The cd is called "Lights are Shining" and it contains five soundtracks. The cd will feature two original compositions by the late Ann Gough ( née Kenny, Pallas Street, Borrisoleigh). Ann died in May 2013 aged 33 years following a brave battle against cancer.
The children from Barnane school choir and their teacher Maria Bevans (soloist) recorded all five tracks, live in Saint Mary's Church, Drom recently. A very special guest, 4 year old Sophie Gough (Ann's daughter) attended on the day and she was very impressed with the beautiful singing and music playing. The cd will be on sale on the night and can be ordered from the school on 0504 31196 or 086 8410855. It will also be available for sale in a number of the local shops in Borrisoleigh and Templemore. The cd costs €10. Proceeds from the sale of our cd are in aid of Barnane N. S. and The Irish Cancer Society.
Anyone who wishes to attend our special concert/launch will be most welcome to attend at Drom Community centre at 7.30pm on Tuesday 10th December.
---
Borris-Ileigh GAA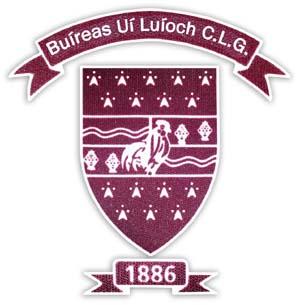 AGM:
The AGM of Borris-Ileigh GAA Club will take place on Sunday 15th of December in the pavilion. This is a very important meeting and we ask all members to turn up. All motions and nominations are to be with secretary Gerry Treacy no later than Sunday 8th of December at 10pm.
Walking Track: As you may have seen, the lights on the new walking track have been put up. We are just waiting for the connection to the ESB so hopefully the lights will be in operation shortly. There is also the problem of dogs fouling on the new track. We have asked in the last few weeks that people respect the facilities. If this continues to happen dogs will be banned from the track.

---
St Joseph's College Christmas Concert
St Joseph's College Transition Year students present a Very Merry Christmas Concert on Thursday 12th December featuring the best talent from the school. The student performance is on from 1:45 pm to 3:45pm and for parents and families from 7:30pm to 9:30pm. The costs involved are €5 per student, €10 per parent or €20 per family. The night involves raffles, tickets and refreshments.

---
Bush & Briar Ramblers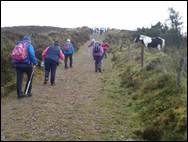 Following on from our very successful November walks we have put together a small calendar of walking events happening between now and the end of December:
1. Bush and Briar Ramblers Outing:
On Saturday 14th Dec, leaving Borrisoleigh at 9.00am the Bush and Briar Ramblers will be travelling to Kilcommon to walk the Pilgrim Loop walk. Boots are essential to join our walks. We recommend you carry some rain proof clothing and something to eat and drink for the walk. New comers welcome! There was some confusion last month about timings, so we the meeting times are as follows:
Meeting Place: Rear Car Park of Shanahan's Service Station
Timings: Meeting at 8.50am for departure at 9.00am
——————————————————–
2. Mid Tipp Hillwalkers:
On Sunday 22nd Dec – Annual Holly Walk
This easy ramble is designed to suit the entire family. This year's walk takes place among the lovely woodland trails of spectacular Glenpatrick, and is always a great social occasion. Wear something Christmassy for a memorable day. For further information contact: Carmel 086-2602133
———————————————————
3. Annual Devils Bit Charity Walk:
On Friday 27th December – In aid of LARCC (Cancer Support Centre)
There are two walks, a long walk and a short walk. For those who want a bit of a challenge the long walk departs at 10.30am and for the recommended and gentler walk the departure time is 12.00 noon. For both walks the meeting place is in the square in Templemore near the Arms Hotel. Your support would be greatly appreciated.

---
Borris Bothy & Christmas Lights
THE BOTHY IS OPEN SUNDAY 8TH OF DECEMBER FROM 6PM-8PM – Borrisoleigh are lighting up this year with a remembrance Christmas tree in the square on December 8th. Remembrance books will be located in O'Connells Pharmacy, in the Adoration chapel in the Church in Borrisoleigh & Borrisoleigh Post Office for anyone who would like their departed loved ones names to be included in our Christmas activity. No donations necessary.
Festivities will commence about 7pm with children from the local primary schools who will sing some Christmas songs, followed by a blessing of the tree by Fr. Liam and then Santa Claus will turn on the lights. MORE GREAT TIMES IN BORRISOLEIGH!

---
Wedding Bells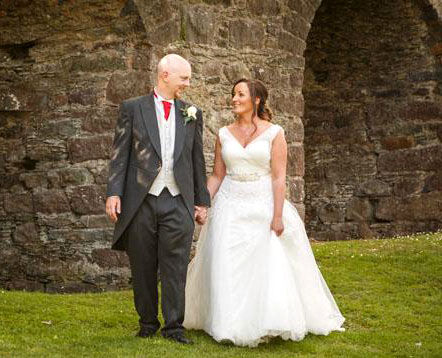 Mairead & Mark on their wedding day
Mairead Ryan, daughter of Jimmy and Margaret Ryan got married in July to Mark Roche in St Nicholas Church, Waterford. Their reception was held in the Woodlands Hotel, Waterford. Fr Denis Kennedy celebrated a very joyous and moving mass. Mairead and Mark would like to thank everyone that helped them have such a magical day.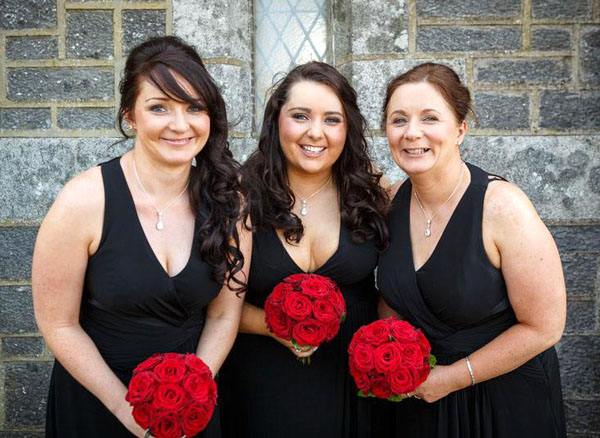 Bridesmaids Róisín Ryan, Karina Kennedy & Bridget Cunningham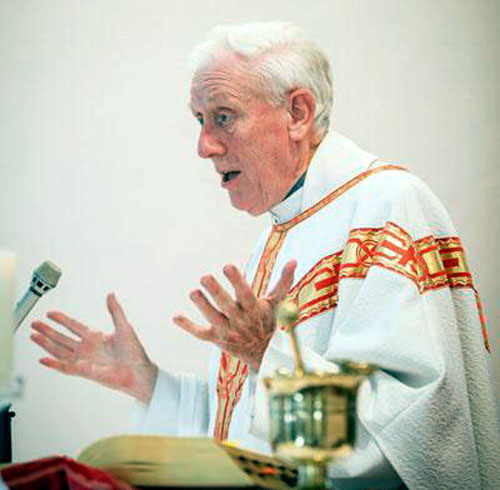 Fr. Denis Kennedy, uncle of the bride celebrated the wedding mass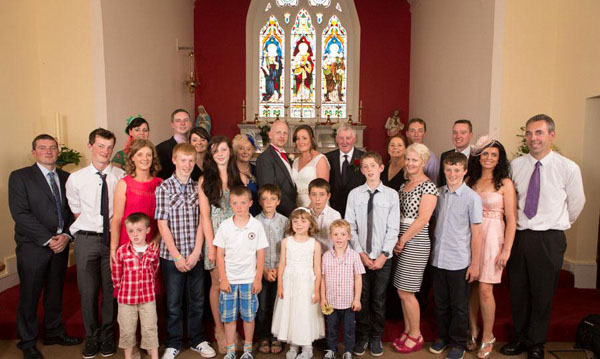 The Ryan Clan
---
Borrisoleigh Historical Society
Seán Hogan, the author of best-selling book "The Black and Tans in North Tipperary, Policing, Revolution and War 1913 – 1922" will be the guest speaker at Borrisoleigh Historical Society's second lecture of this season on Tuesday night, 10th December 2013 in the Community Centre at 8pm sharp.
As well as presenting an introduction and overview of his book, Hogan will focus on the events and people in the Borrisoleigh area during this very disturbed period. The national significance of events at the Ragg in March 1920 which saw a young RIC man, John Heanue from Galway and a local IRA volunteer, Tom Dwyer, shot dead will be covered. The story of the shooting of Michael Small near Shevrie in July 1920 and the link to the subsequent shooting of District Inspector Wilson in Templemore will be explained. The ambush at Killoskehane in which two RIC constables were killed will be included. The killing of Patrick Maher a few days before the major attack on Borrisoleigh RIC barracks in June 1921 will feature, as will the importance of the geographical location of Borrisoleigh to the conflict.
Hogan will be hoping to gather additional information on the events and people in and around Borrisoleigh and will be signing copies of the book on the night. As well as being available in the bookshops in Nenagh and Thurles, Hogan's book is available in Walsh's shop in Borrisoleigh, Guilfoyles in Templetuohy and Walsh's Toymaster in Templemore.


---
St Patrick's BNS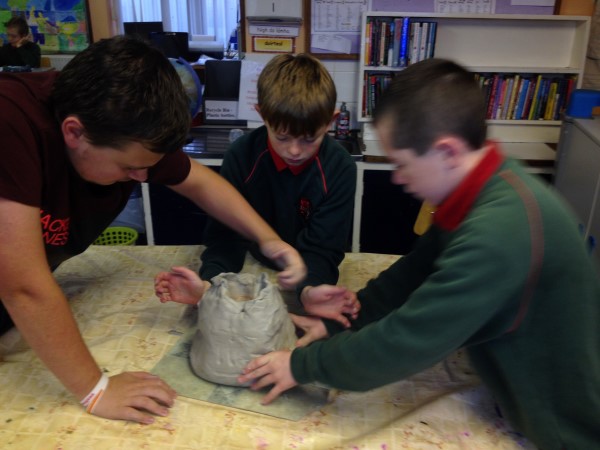 Ryan and David helping our TY student Daniel to make our volcano from clay
The boys learned lots and had great fun during our recent Science week.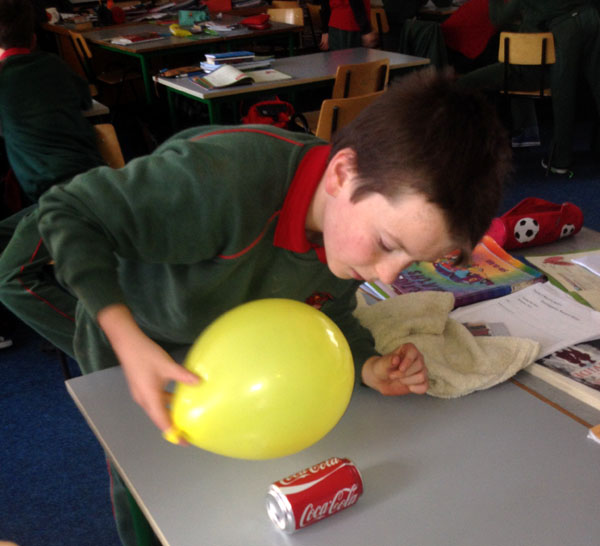 Eddie moving a can with static electricity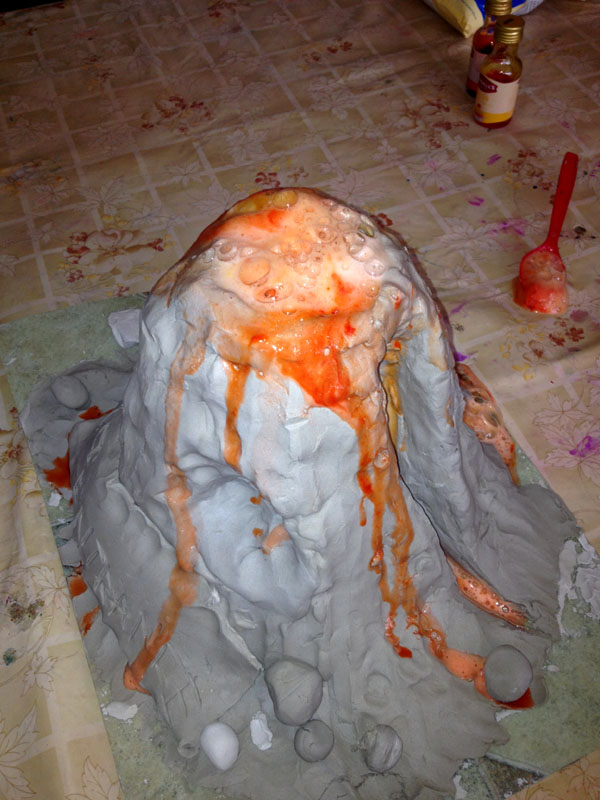 BOOOM!! Our volcano erupts!
The boys have been having great fun in the gym. They have been attending gymnastic lessons over the last few weeks and are loving every second of it! They are learning rolls, tumbles, balances etc. Maybe one of our boys will represent Ireland in the Rio Olympics in 2016!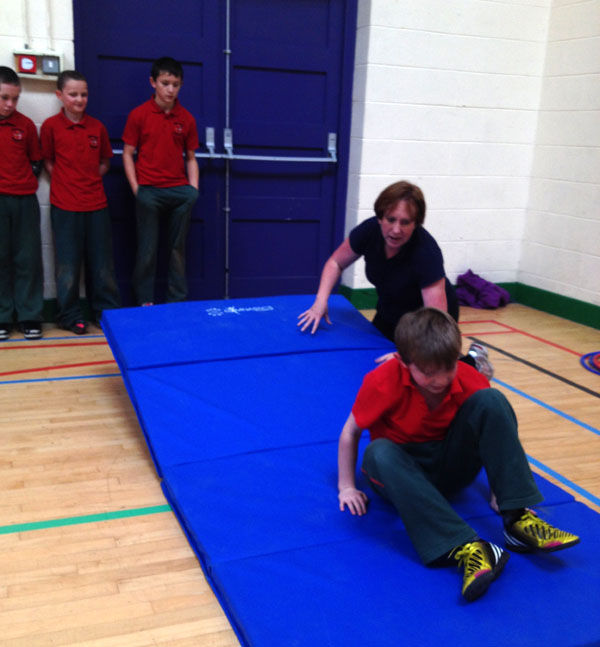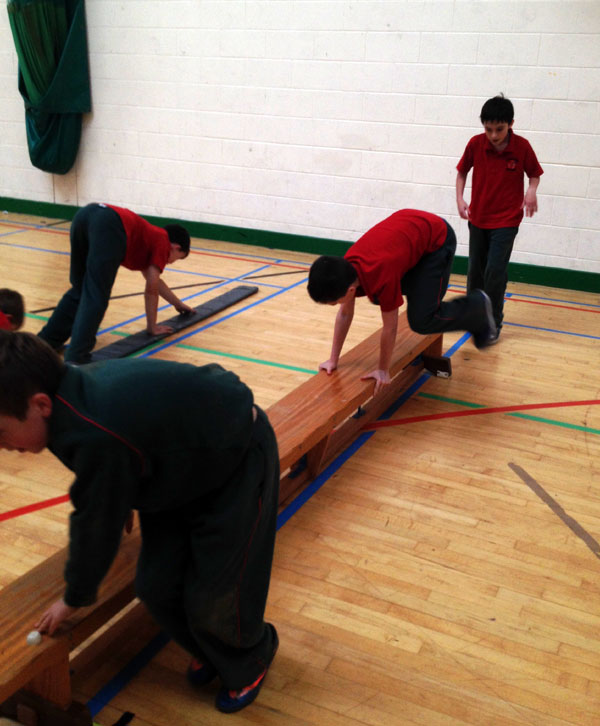 ---
Pic of the Past………..down memory lane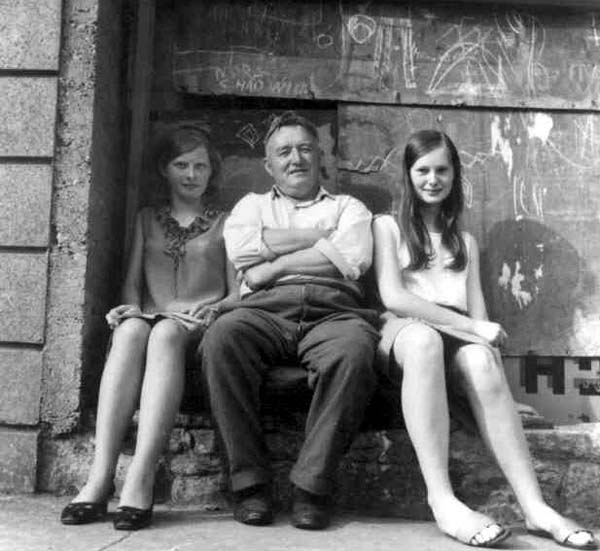 Bridget Ryan, Chapel St., John Young, Main St.
and Colette O' Dwyer, Main St. in the 1960s


---
Your Website Needs You
Committee: Enda Ryan, Noreen Fahy, Margaret Cowan, Marie McGrath, Aileen Óg Groome, Derry O'Donnell and Michael Carey
Many thanks to all those who contributed photographs and news items. Remember, we need you to continue to send us material so that we can keep our website current and interesting.
Send your email to: info@borrisoleigh.ie
Also, if you like what you see and want to leave a comment, remember to use the Guestbook!
While we make every effort possible to ensure that the information contained in this Website is accurate and complete, we cannot accept any legal liability as a result of the inaccuracy or incompleteness of the information presented to users of this site