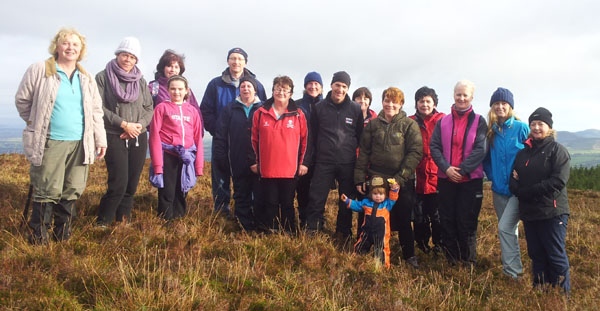 Saturdays Hillwalking Group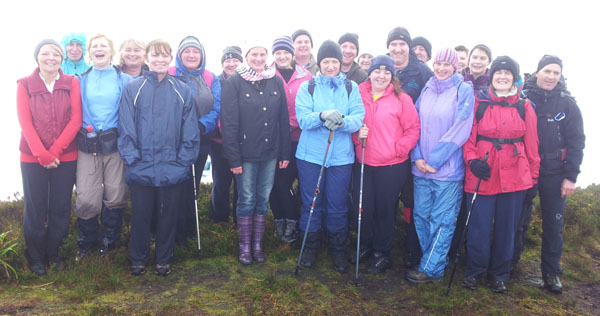 Sundays Hillwalking Group
The new Borrisoleigh hillwalking club, the "Bush and Briar Ramblers" held our first outings on Saturday 23rd and Sunday 24th November and were very successful two to two and a half hour hill walks as we rambled in Knockanroe Woods, Silvermines enjoying beautiful scenery, plenty of fresh air and great exercise. Special thanks to everyone who took part and made our walks such a success on both days. Thanks also to our leader, John F. Kennedy, for organising and leading the groups each morning and ensuring everyone's safety and enjoyment. We will advertise future outings on 'Borrisoleigh.ie' so watch this space for information, and come and join us!
---
Borrisoleigh & Ileigh Parish Mission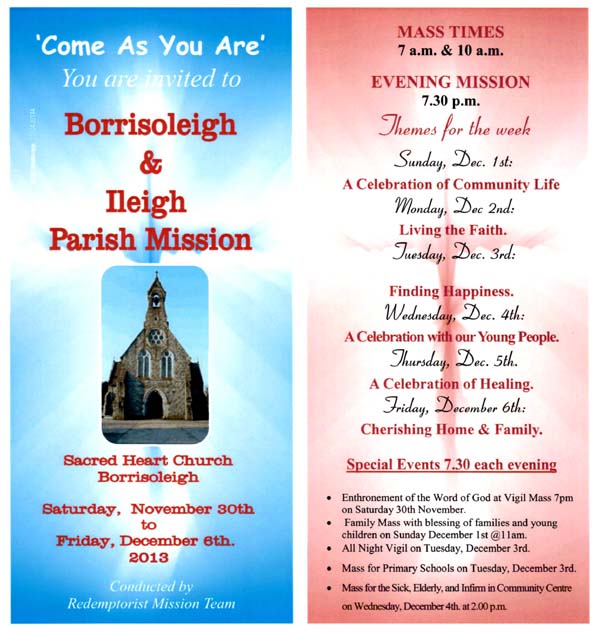 ---

First Steps Montessori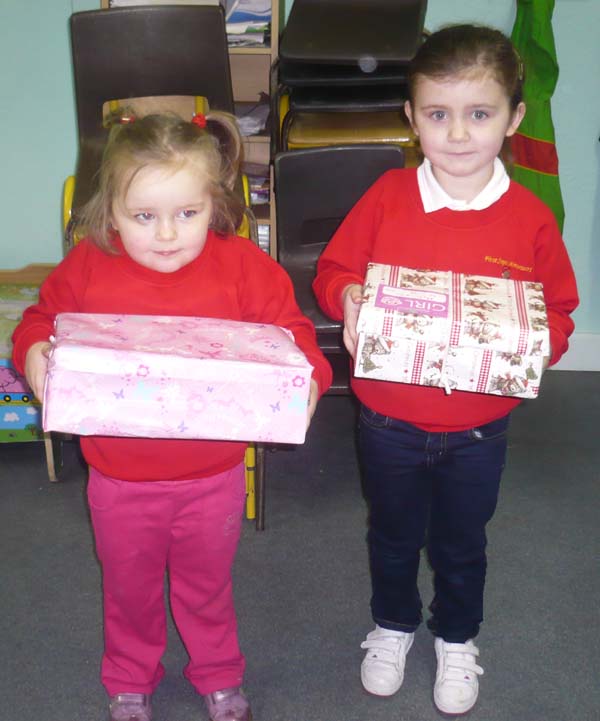 Emma Jane, who has a present for a 3 year old girl and Eva who has a present for a girl of 9 years old as part of Team Hope Christmas Shoe Box Appeal.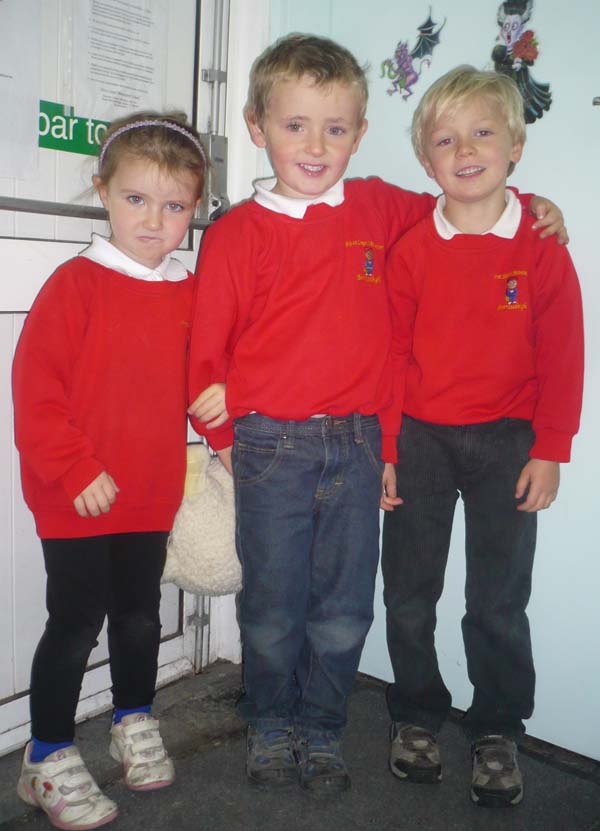 Three cousins, Ella, Jack and Daniel.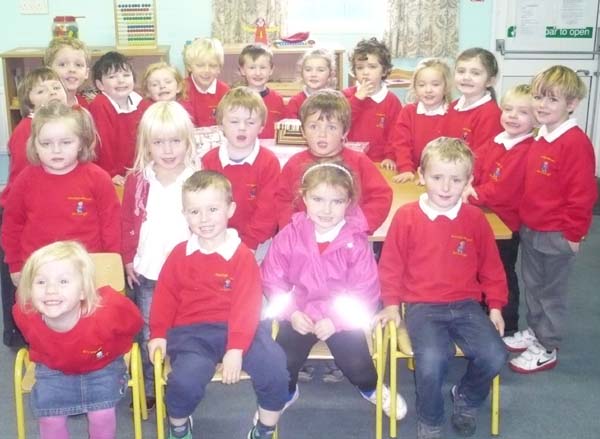 All Smiles from the entire group of children in First Steps Montessori, Borrisoleigh who brought in shoe boxes as part of the appeal.
---

Borris-Ileigh Camogie Club's A.G.M. was held in the Town Park on Saturday 23rd November 2013.
The following officers were elected: Carmel Harkin (Chairperson), Michael Galvin (Vice-Chairperson), Joanne Treacy (Treasurer), Louise Delaney (Secretary); Catherine Delaney (PRO), Paula Ryan (Registrar).
The Club would like to sincerely thank John Walsh, Christine O'Brien and Teresa Kiely who have stepped down as Chairperson, Secretary and P.R.O. We thank them for all their endless work throughout their years of service.
The AGM was well attended it was great to see continued enthusiasm and interest in the Club.
Managers elected for 2014, are as follows:
U8 – Brendan Fanning, U10 – Michael Galvin, U12 – Carmel Harkin, U14 – Martin Hayes, U16 – TBA, U18 – Shauna Rabbitte, Intermediate – David O'Connor.
We would really like to thank our outgoing team managers for all their commitment and time.
Date for Adjourned A.G.M. has been set for Friday January 17th 2014 at 8.30.
Club Merchandise available to order before Thursday November 28th 2013, in order to be delivered for Christmas, please contact: 086 1522716
Managers hope to get back training early in 2014, so have a Happy Christmas and New Year and we will see you all then…!
---

Borris-Ileigh GAA Notes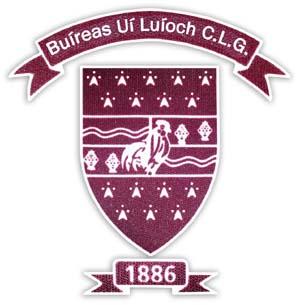 AGM: The club AGM will take place on Sunday 15th of December in the pavilion. This is a very important meeting and we encourage all members to attend. All nominations and motions are to be sent to secretary.borrisileigh.tipperary@gaa.ie

Club Gear: Anyone who wishes to purchase club gear for Christmas can put in orders with Mark Stapleton. All gear must be paid for up front. Please don't delay with your orders as you may miss out on the deadline.

Junior C: Hard luck to out junior c team who were defeated in the north final by Silvermines last Saturday. Many thanks to all players and management who worked hard through the year
Sean Gael Awards: The Sean Gael Awards were recently handed out in The Dome, Semple Stadium. These awards recognise the hard work and many hours put in by people across all aspects of the GAA. We would like to congratulate Mark Kenny, Greenlawn who was presented her award for her great work down through the years in Scór. Well done Mary, it is a well deserved award.
GAA Season Ticket 2014: The GAA has confirmed that the GAA Season Ticket for 2014 is now available. This is the sixth year of the Season Ticket with almost 14,000 members and supporters purchasing tickets last year. The base price of €85 for adults and €10 for juveniles provides access to the following games for your selected county and code (hurling or football); 1) Allianz League matches in the selected code including semi-finals, finals or relegation play-offs. 2) AIB GAA Club Championship Finals on St. Patrick's Day in Croke Park. 3) AIB GAA Club Junior and Intermediate All-Ireland Finals in selected code. 4) Further special offers for various GAA fixtures. 5) Bring a friend (a friend can join you in the Season Ticket section subject to availability of space).
Walking Track: The new walking track continues to rise in popularity and usage. It is hoped that the lights will be up in the next week. We also ask that people respect the new facilities and keep it clean of litter. We also ask that anyone who brings a dog that they are kept on a leash at all times and that any dog dirt is cleaned up. If it is found that people let dogs run loose on the field we will have to ban dogs completely from the development.
---

Borrisoleigh Text Alert

The newly formed text alert committee are hosting an Information night in the Marian Hall on
Friday 29th November at 7.30pm.
A representative from Muintir na Tire will be present and will provide information on how to expand text alert to the entire Parish.
All are Welcome.
For more information contact Michael Ryan 087 – 2898873 or Mary Ryan 087 – 7667040
---
Borrisoleigh Tidy Towns
Following our last meeting we are looking for representatives from each area of Borrisoleigh to come to a meeting on
November 28th at 8pm in the community centre
to discuss ideas to enhance all parts of our town.
A good turnout is necessary to ensure that nowhere is excluded.

---
St. Cualans Social Club
St. Cualans' social club will hold their annual Christmas party on December 8th commencing with mass at 2pm followed by dinner, music and a bit a craic. If you or someone you know would like to join us please give names to any committee member.

---
Borrisoleigh are lighting up this year with a remembrance Christmas tree in the square on December 8th.
Festivities will commence about 7pm with children from the local primary schools who will sing some Christmas songs, followed by a blessing of the tree by Fr. Liam and then Santa Claus will turn on the lights.
Remembrance books will be located in O'Connells Pharmacy, in the Adoration chapel in the Church Borrisoleigh & Borrisoleigh Post Office for anyone who would like their departed loved ones names to be included in our Christmas activity. No donations necessary.



---
Borrisoleigh Community Development Association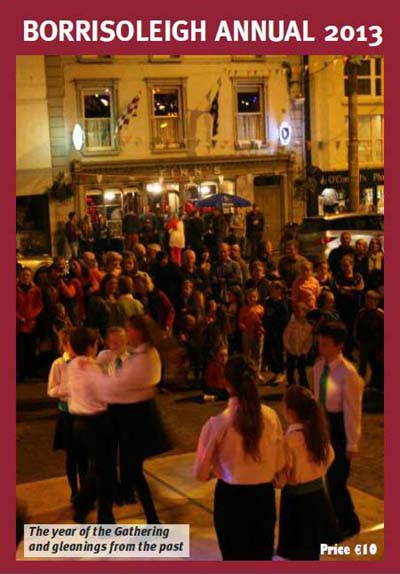 Annual Launch
Borrisoleigh Community Development Association would like to sincerely thank all individuals and organisations who contributed articles to our 2013 publication. The Annual will be launched on Friday 29th November in The Bothy at 7.30pm. Cheese and wine reception. The Annual will be on sale on the night for €10.
All are welcome.
---
All roads lead to Birdhill for the North final of Scór na Nóg this
Friday night at 8pm
. Borrisoleigh are being represented in Solo Song, Instrumental Music, Novelty Act and Set Dancing.We wish all our participants the best of luck. All support on the night would be appreciated. Also if anyone still wants to give in their name for the question time, which is being held at a later date, please do so to any committee member.
Again we are asking if anyone has any set dancing shoes surplus to their requirements we would love to get them for the set dancing classes on Monday nights. Contact any committee member and we could arrange to pick them up.
---
Borrisoleigh Historical Society
Following on from our very successful lecture on Corporal Lewis Ryan delivered by Mr. John Flannery, Ormond Historical Society, we are delighted to present another very exciting lecture in the Community Centre, Borrisoleigh, on Tuesday 10th December at 8.pm sharp.
It will be delivered by Mr. Sean Hogan author of the recently launched book "The Black & Tans in North Tipperary". This promises to be a great night and we look forward to seeing you all.

---
St. Stephen's Day Run/Walk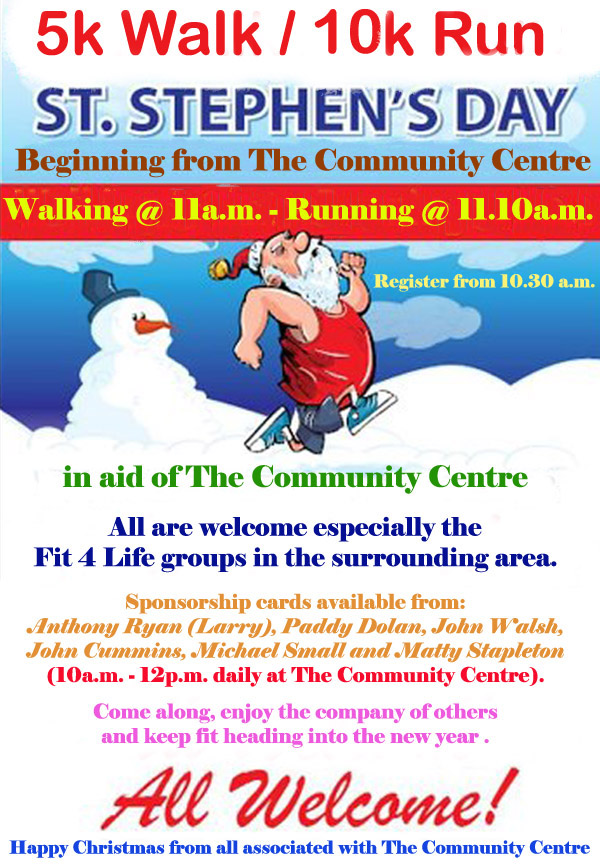 More information to follow
---

Pic of the Past….Down Memory Lane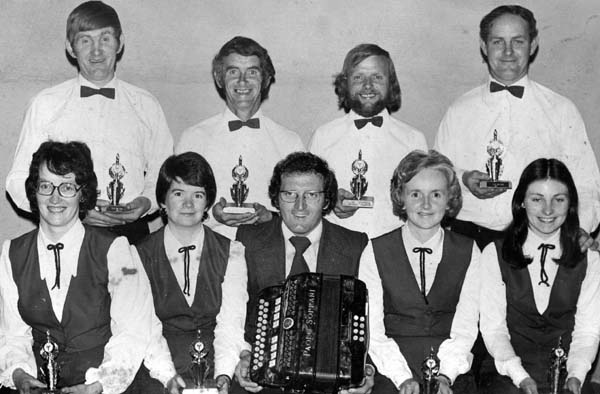 Set Dancers
Back: Gerry Ryan, Peadar Cummins, Paddy Hennessy and Jimmy Molumby
Front: Delia Ryan, Biddy Stapleton, Phil Maher, Mary Kenny and Una Molumby
---
Your Website Needs You
Committee: Enda Ryan, Noreen Fahy, Margaret Cowan, Marie McGrath, Aileen Óg Groome, Derry O'Donnell and Michael Carey
Many thanks to all those who contributed photographs and news items. Remember, we need you to continue to send us material so that we can keep our website current and interesting.
Send your email to: info@borrisoleigh.ie
Also, if you like what you see and want to leave a comment, remember to use the Guestbook!
While we make every effort possible to ensure that the information contained in this Website is accurate and complete, we cannot accept any legal liability as a result of the inaccuracy or incompleteness of the information presented to users of this site