50th Anniversary of Juvenile Championship Win
This article first appeared in The Guardian newspaper 50 years ago after the great win by the local juvenile club in the North Tipperary rural juvenile hurling championship. They beat Kilruane 6-8 to 2-5.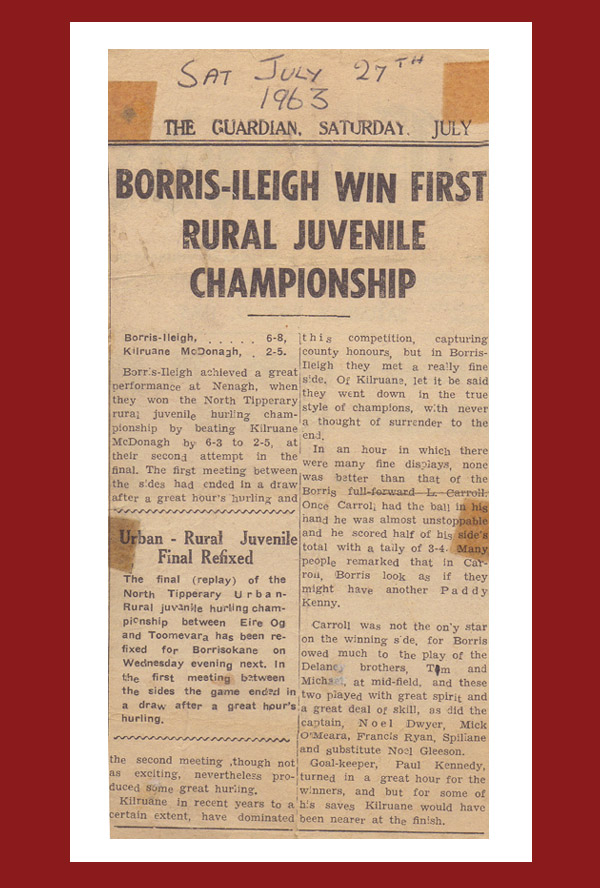 ---

Borris-Ileigh GAA Notes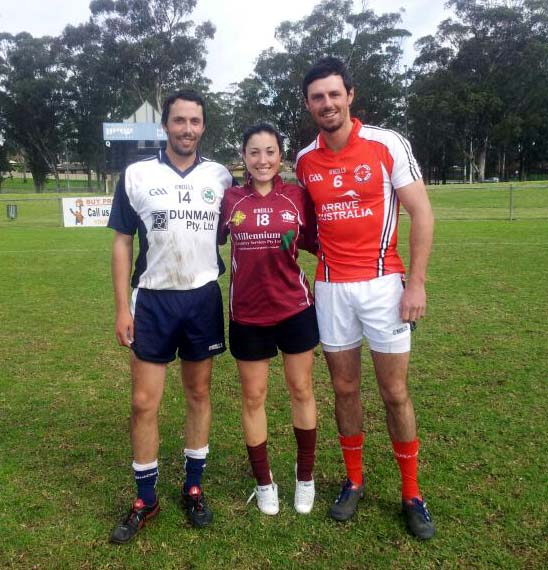 Paul Maher, Michelle Stapleton and Ciaran Cowan playing our national game "down under"
Hurling Down Under: Our pictures show some of our fellow club men and women in action for different teams in Sydney. The Sydney Championship is currently under way with 3 rounds played. Ciaran Cowan is lining out at centre back for Michael Cusacks and recently gave a man of the match performance in their league final win over Syndey Shamrocks, for whom Paul Maher was playing for. The two lads also lined out against each other the following week in the first round of the championship which ended in a draw this time. Also pictured below is former Borrisoleigh Camogie captain Michelle Stapleton who is playing for Clan na nGael. Unfortunately we have lost some players due to emigration but it is good to see that they are still playing our national game thousands of miles away. Hopefully we will see them back in the maroon of Borris sometime soon.

Development:
As some may have seen, machinery has moved into the park in the past weeks. This is the start of the development of our new field and will be ongoing over the coming weeks. The initial phase will see the removal of both ditches in the new field, grading of the bank and development of the field. This is an exciting new phase for the club and we hope everybody gets behind it and helps support it when called upon. This will be a project that will benefit everybody in the community and will stand for generations. We also ask that parents be vigilant of children in the park over the coming weeks as there will be an amount of heavy machinery operating in the vicinity.
Lotto: Our club lotto continues to grow and now stands at €12400. Tickets can be purchased locally and online and cost just €2. It is a vital time for club finances as major development is taking place and we encourage people to play as often as possible and to try and get new people to play evey week.
Online: Hits continue to rise for our new website www.borris-ileighgaa.com Check it out every Tuesday night for all the new news, fixtures, photos and match reports. You can also follow us on twitter at @Borris_GAA or find us on Facebook.

---
All-Ireland Tug of War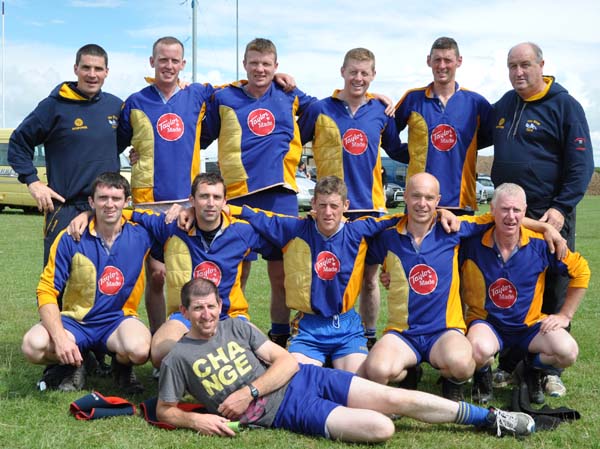 The winning team "The Shop"

Streamstown, Farrenreigh, The Mill, Ballinagh, The Shop and Cuan Rithe
were the teams that took part in a very entertaining day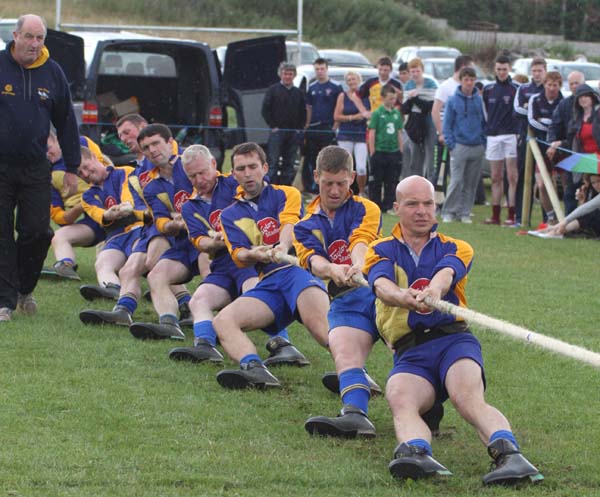 Such strength!!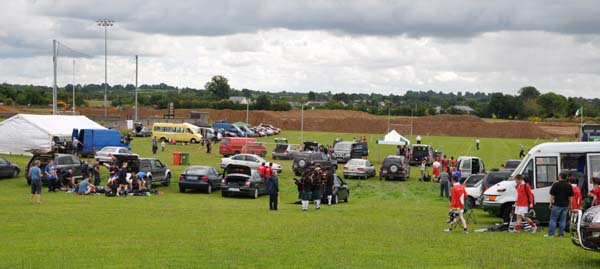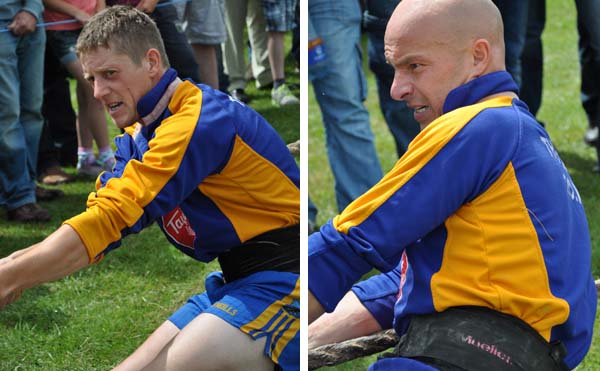 Concentrate boys!!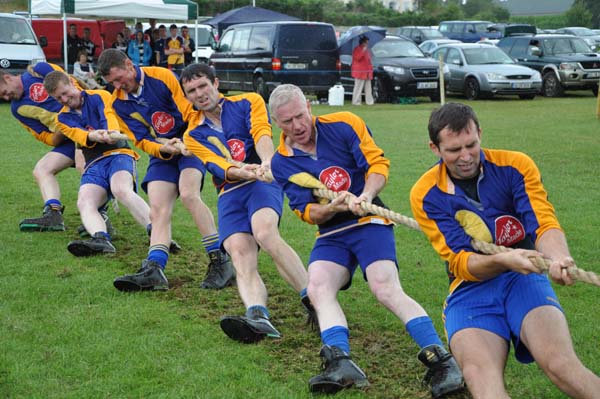 All-Ireland Tug of War which took part in Bishop Quinlan Park Borrisoleigh on Sunday 28 July
with Team The Shop winning the Tournament
To view more photos click here

---
Tipperary Mini Marathon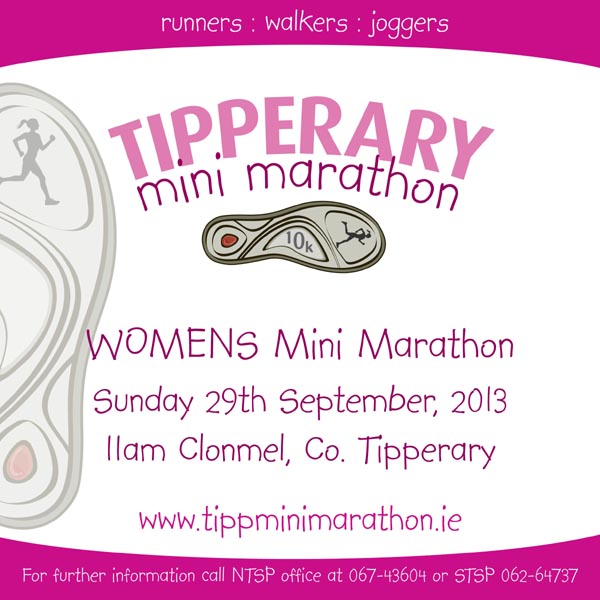 ---

Borris-Ileigh Camogie Club


Underage: The under 8's, 10's and 12's will have challenge match's away against Holycross-Ballycahill on Thursday 1st August at 6.30pm. The under 12 blitz which was scheduled for Saturday 27th July, will be re-scheduled. Our under 13's next match which was due to be played on Monday is now set to be played this Thursday the 1st August at 7.15 pm girls to be in the park for 6.45. This matach is still at home against Kildangan.
Our next minor match in the championship was re-arranged we played Moycarkey-Borris in Littleton at 8pm on Tuesday the 30th July. Moycarkey had a strong first half but Borris came back strong in the second half, however the score at full time was Moycarkey 3-5 Borris 3-1. Best of luck to all our teams playing during the week.
Intermediate Team: Had a challenge match against Drom N'Inch in the Ragg on Sunday morning the 28th July. Drom were the better team on the morning and they won the challenge well. Preparations continue for the championship with our first round due to be played at the weekend of 10th /11th August in Annacarthy against Annacarthy.
Administration: Camogie club merchandise now available Hoodies, tracksuits, t-shirts, jerseys and raincoats available. See Advertising Section of www.borrisoleigh.ie for pictures. If interested please contact Caroline at 086 1522716. You can also follow us on Facebook.

Best of luck to the Tipperary Senior Team, Nicole and Teresa who play Galway in an All Ireland Quarter final at O'Moore Park, Portlaoise on Saturday the 3rd August at 3.30 pm

---

The Borrisoleigh Festival Gathering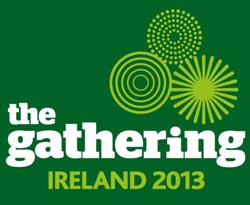 Next meeting will be held in the Marian Hall
on Monday the 5th August at 9 p.m. all are welcome.
Dates have been set the FESTIVAL will take place from 4th October to 6th October 2013.
Watch this space for more details.

---
Saints All Stars 2013


The whole bunch

Girls and boys learning new skills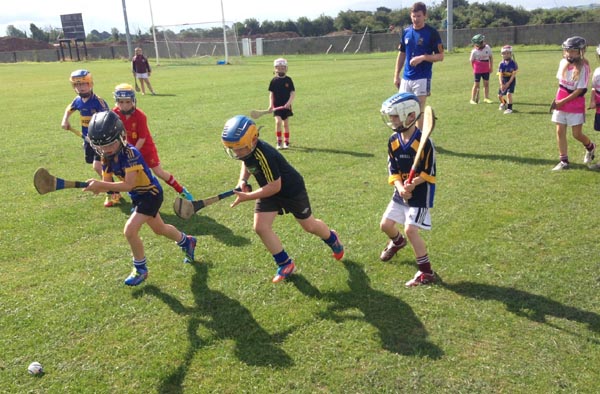 Showing off their skill!!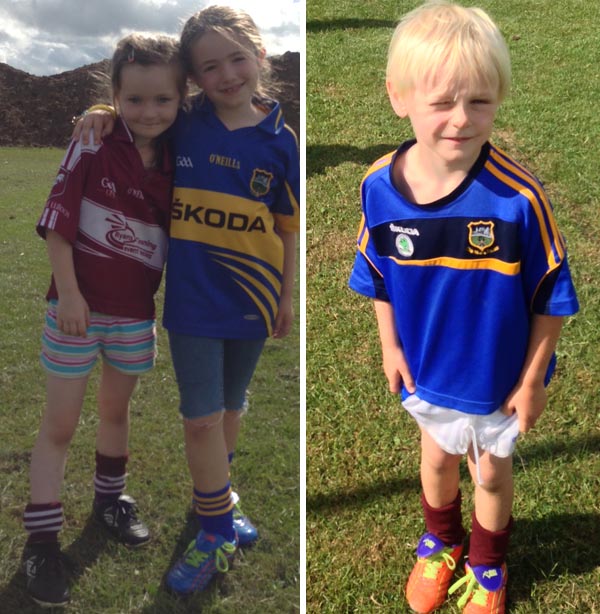 Some happy faces at the camp!!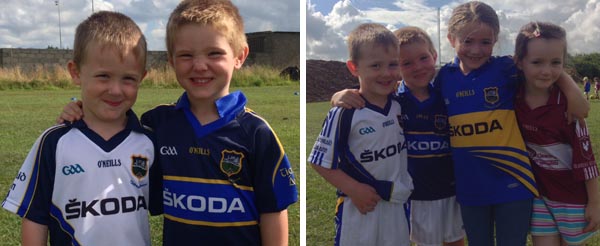 A great week was had by coaches and kids at this years activity camp. Although the weather was not always bright, the attitude of the (100 approx) kids and parents was. The kids engaged in hurling, football, soccer and rugby from the little 5 year olds to the very mature 14 year olds.

I want to thank the coaches Denis, Jody, Martin, Aisling and Barry for the great work throughout the week, especially when I could not be there on Monday. Special thanks to my mother Patricia and brother Paul for giving a great hand out.

I'd like to thank the town park committee for the use of the facilities throughout the week, and it was great to see the work in the park commencing, and beginning to take shape.

Lastly I'd like to thank the parents for their support for the camp in the past three years, it is much appreciated.

I hope to have new activities for the camp next year please God.

Paddy Stapleton.

---
Marian Hall Lotto
30/07/2013
7, 14, 22, 23
No Jackpot Winner
1 Match 3 @ €150
Noreen Dunne, Thurles
Next Week's Lotto Jackpot
€13,000

---

Pic of the Past ………..down memory lane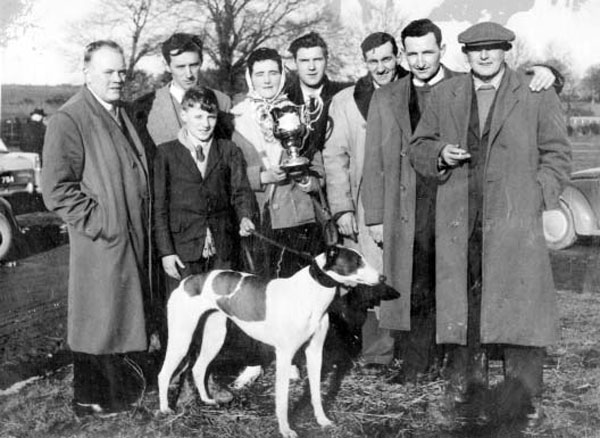 "Simply Terrific"

Pictured here with "Simply Terrific", a greyhound owned by Seán and Phibby Kenny are:
John Fielding, Phibby Kenny, Pat Harty (in front), Imelda Kenny, Bookmaker's Clerk, Jimmy Kenny, Seamus Hynes and Lukie Larkin.
This greyhound won The Oak's in 1961 and The Irish Cup in 1962. It was the only greyhound bitch ever to achieve this.

---
Committee: Enda Ryan, Noreen Fahy, Margaret Cowan, Michael Barry, Marie McGrath and Aileen Óg Groome
Many thanks to all those who contributed photographs and news items. Remember, we need you to continue to send us material so that we can keep our website current and interesting.

Send your email to: info@borrisoleigh.ie
Also, if you like what you see and want to leave a comment, remember to use the Guestbook!
While we make every effort possible to ensure that the information contained in this Website is accurate and complete, we cannot accept any legal liability as a result of the inaccuracy or incompleteness of the information presented to users of this site