"The Borrisoleigh Festival Gathering"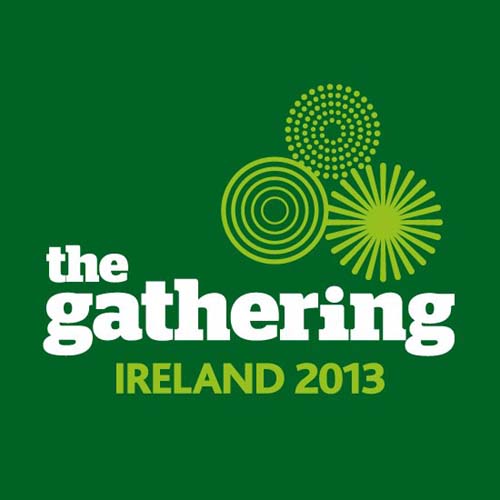 Next meeting will be held in the Marian Hall
on Monday the 29th July at 9 p.m. all are welcome.

Dates have been set the FESTIVAL will take place from 4th October to 6th October 2013.

Watch this space for more details.
---
Borris-Ileigh Camoige Notes

Underage: The under 12's have a blitz in the park on Saturday 27th July at 10am. Our under 13's played on Monday the 22nd July away against Lorrha. Unfortunately things didn't go right them on the night and they lost the game. Their next match is Monday the 29th July at 7.15pm at home against Kildangan.
Our minor panel match in the championship due to be at home against Ballingarry on the 23rd July at 7.15pm was post-phoned by the County Board on account of the under 16 county final. Players will be notified when re-arrangements are made. Well done to the teams involved.
Intermediate Team: Training continues.
Administration: Thanks to everyone who contributed to our church gate collection on the weekend of the 20th & 21st July and thanks to committee and players who were available to help out. Camogie club merchandise now available Hoodies, tracksuits, t-shirts, jerseys and raincoats available. See Advertising Section of www.borrisoleigh.ie for pictures. If interested please contact Caroline at 086 1522716. You can also follow us on Facebook.
---
Borris-Ileigh GAA Notes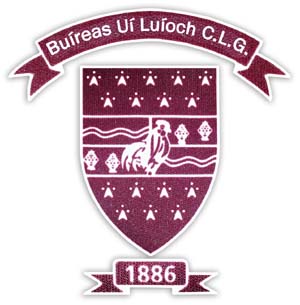 Development: As some may have seen, machinery has moved into the park in the past week. This is the start of the development of our new field and will be ongoing over the coming weeks. The initial phase will see the removal of both ditches in the new field, grading of the bank and development of the field. This is an exciting new phase for the club and we hope everybody gets behind it and helps support it when called upon. This will be a project that will benefit everybody in the community and will stand for generations. We also ask that parents be vigilant of children in the park over the coming weeks as there will be an amount of heavy machinery operating in the vicinity.
Online: Hits continue to rise for our new website www.borris-ileighgaa.com Check it out every Tuesday night for all the new news and match reports. You can also follow us on twitter at @Borris_GAA or find us on Facebook
---
Contact
Can Martina Jones, who posted in our Guestbook on 3 May 2013, please make contact with info@borrisoleigh.ie again as we have some news for her.
---
Recycling Bins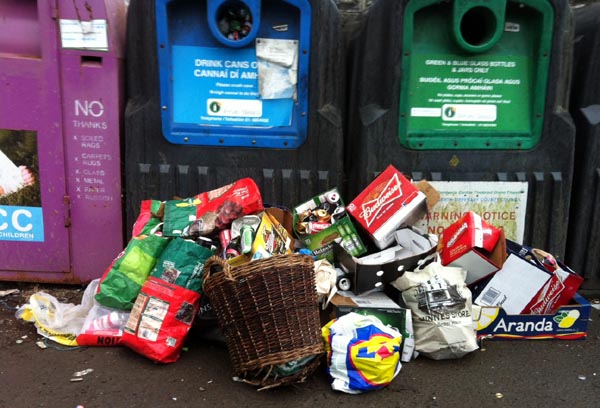 This photo was taken today 24 July and it shows yet again that some people are just dumping their rubbish in front of the recycling bins for glass and cans. Much of what is on the ground is cardboard which will now disintegrate in the rain we are getting. The bins here are for glass, cans and used clothing so the cardboard boxes used to carry these items to the bins should be taken home again and re-used or put in your domestic recycling bin not left to litter the approach to Borrisoleigh. If you see this type of littering taking place you can report it to the County Council on 1800 250 350
---
Marian Hall Lotto
23/07/2013
7, 8, 24, 28
No Jackpot Winner
5 Match 3
Clare Ryan, Pallas, Borrisoleigh
Mark O'Connell, O'Connell's Pharmacy, Borrisoleigh
Rose Stapleton, The Ragg, Thurles
Kay Ryan, Drombane
Peggy O'Leary, Killaloe
Next Week's Lotto Jackpot
€13,000
---
Your Website Needs You!
Committee: Enda Ryan, Noreen Fahy, Margaret Cowan, Michael Barry, Marie McGrath and Aileen Óg Groome
Many thanks to all those who contributed photographs and news items. Remember, we need you to continue to send us material so that we can keep our website current and interesting.
Send your email to: info@borrisoleigh.ie

Also, if you like what you see and want to leave a comment, remember to use the Guestbook!
While we make every effort possible to ensure that the information contained in this Website is accurate and complete, we cannot accept any legal liability as a result of the inaccuracy or incompleteness of the information presented to users of this site