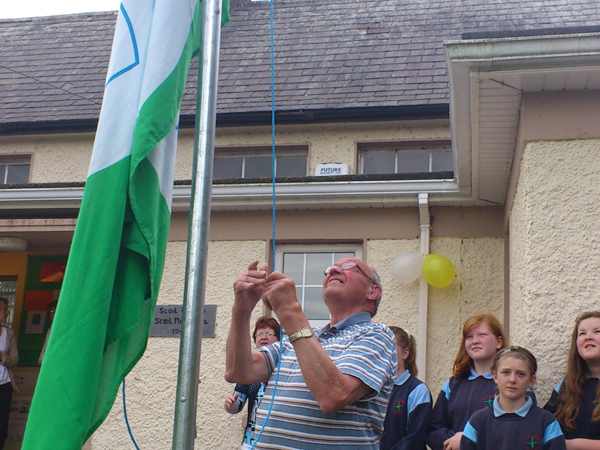 There was a great sense of excitement in Scoil Bhríde on Thursday June 20th when we had the raising of our second green flag awarded to the school for our work on the theme of 'energy'. Staff, parents, grandparents and pupils – past and present, gathered for the occasion. Deirdre Cox from North Tipperary Co. Co. and Charles Stanley Smith from An Taisce joined us and complimented the entire school community for the excellent work which has been done. Our green flag was raised by a past pupil of Scoil Bhríde – Bud Hodgins, who also complimented the staff and pupils for their great work. We are very grateful to Bud for doing the honours for us.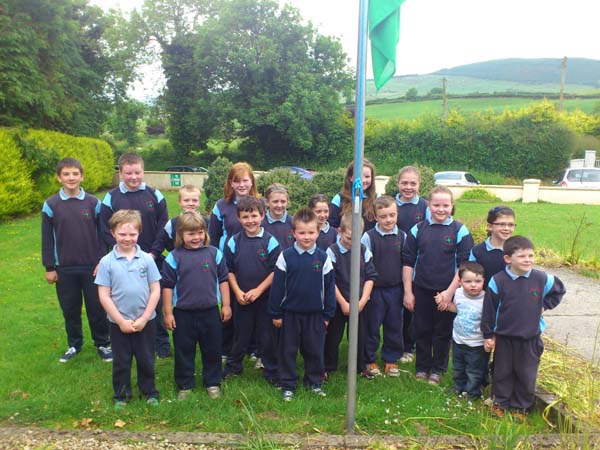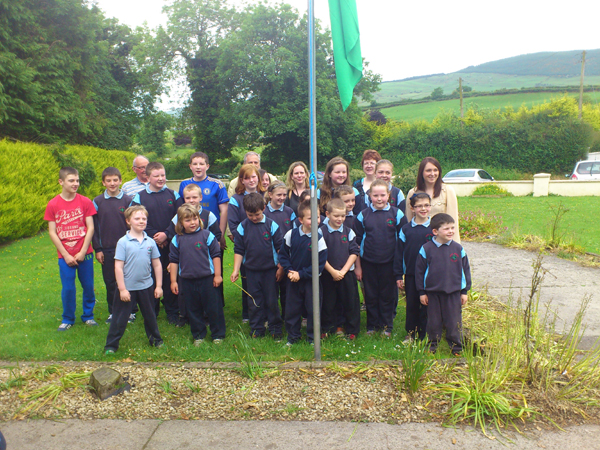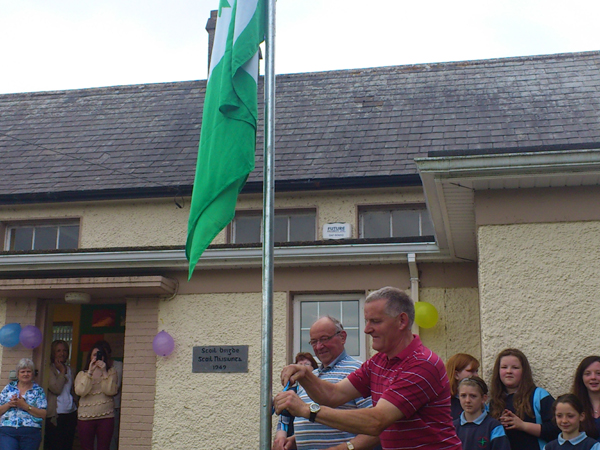 Mrs Ryan spoke of the huge changes which have taken place in the area of 'energy' since Bud was a pupil at the school. When the school initially opened in January 1950 there was no electricity in the locality, which is difficult for us to comprehend today – no lights or central heating. Autumn 1956 saw electricity come to the area which brought huge changes which we have come to take for granted.
Our celebrations were rounded off by refreshments for all served in the school by the Parents' Association. Sincere thanks to all concerned.

---

"The Gathering"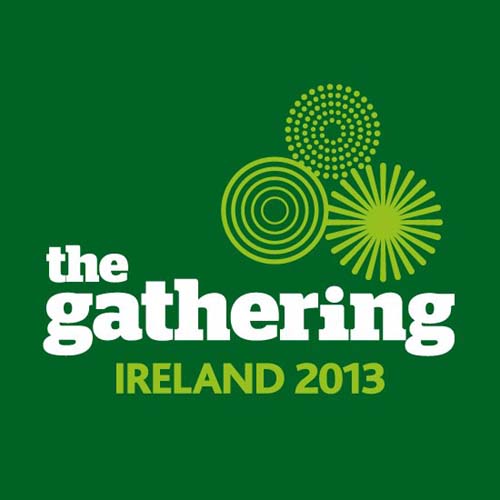 A second public meeting will be held
in the Marian Hall
on Monday the 15th July at 9 p.m.
with a view to organising a Gathering weekend over the October bank holiday weekend.
All interested people are invited to attend. A representative or two from each club/organisation/group in the community would also be appreciated.
Please come along and bring a friend.


---

Retirement at St Therese's N.S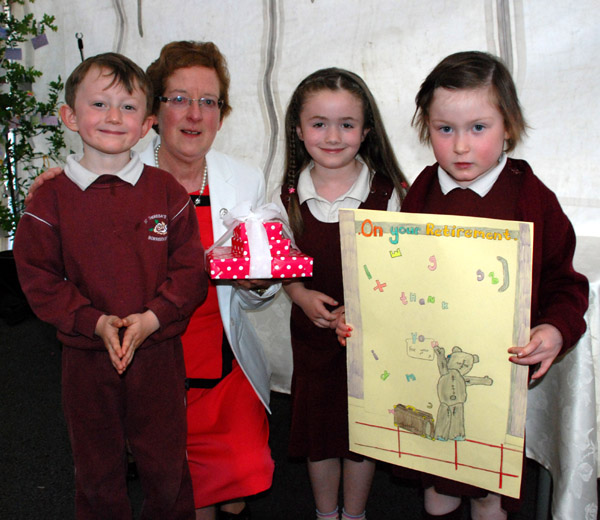 Mrs Shanahan being made a presentation by the pupils of St. Therese's National School on the occasion of her retirement

Zita calls time on her teaching career
At the end of the 2012- 2013 school year Ms Zita Shanahan has decided to call time on her teaching career after 15 happy and fulfilling years at St. Therese's and St. Patrick's primary schools. Zita, who previously taught in Nenagh before taking time out to rear her children, worked in learning support in Borrisoleigh and will be remembered as a diligent and caring teacher who worked tirelessly to help the students in her care grow in confidence and reach their learning potential.
Zita was highly regarded by her colleagues in both schools for her work ethic, her wisdom, and her commitment to the highest ideals in all aspects of education. She will be missed by her friends on the teaching staffs of St. Therese's and St. Patrick's as well as by the children and parents at both schools.
We wish to thank Zita for her great contribution to teaching in Borrisoleigh over the past 15 years and we wish her and her husband, Willie many happy years together in retirement.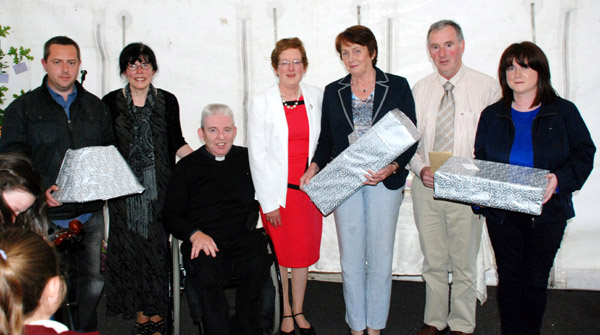 Mrs Shanahan being made a presentation by The Board of Management of St. Therese's National School on the occasion of her retirement.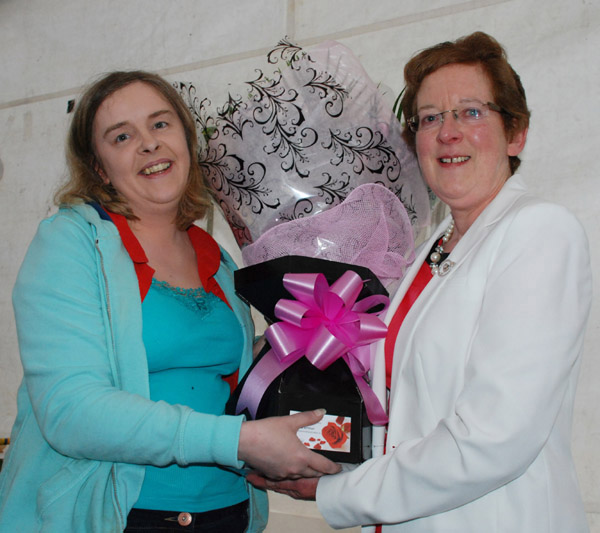 Mrs Shanahan being made a presentation by Lisa Ryan on behalf of The Parents Association of St. Therese's National School on the occasion of her retirement.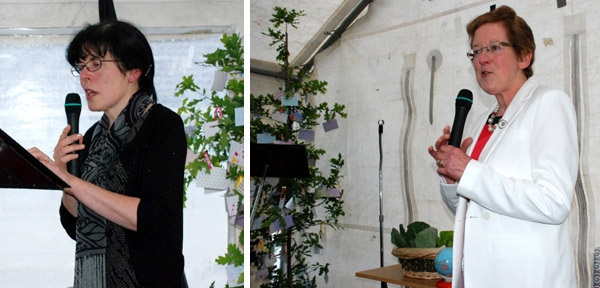 Mary Butler (Principal) speaks on behalf of the school staff and Board of Management. Zita Shanahan thanks everyone for all their kindness and generosity on the occasion of her retirement.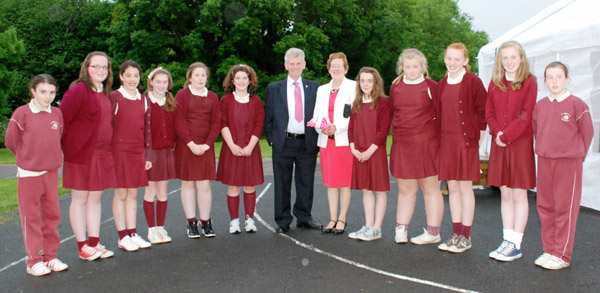 Zita Shanahan with her husband Willie and the girls of 6th class who will soon graduate from St. Therese's National School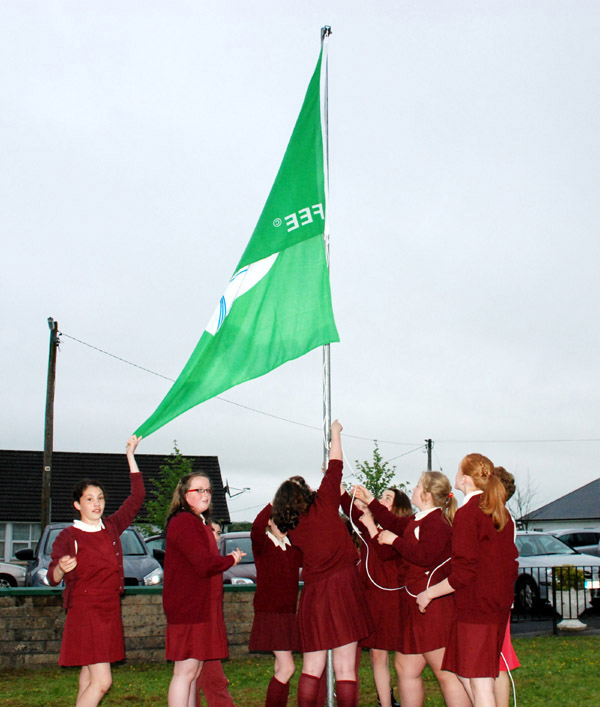 The girls of 6th class and Mrs Shanahan raise the green flag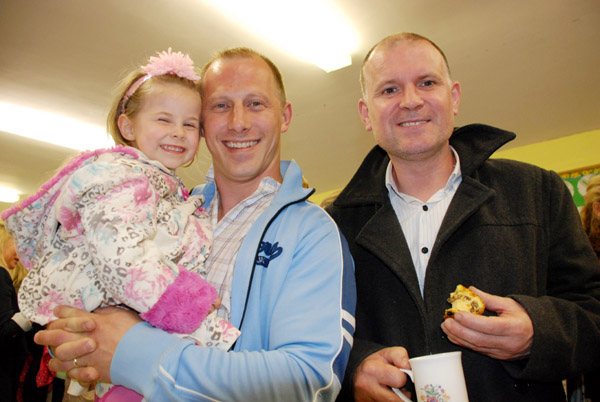 All smiles while havin' the cuppa on the occasion of Zita Shanahan's retirement.

Diarmuid, Noreen, Barbara and Triona at the retirement celebrations.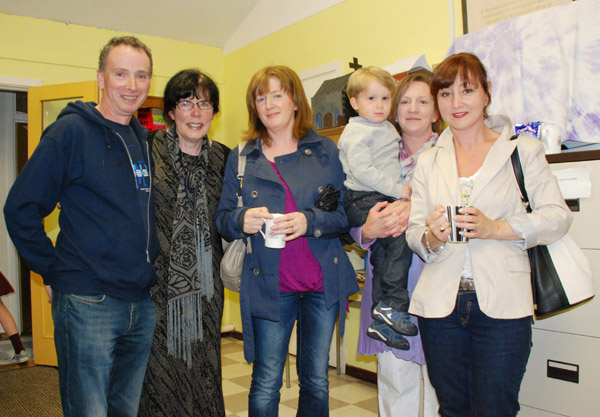 Mary Butler (Principal) and other well-wishers on the occasion of Zita Shanahan's retirement.
---

Ileigh Gathering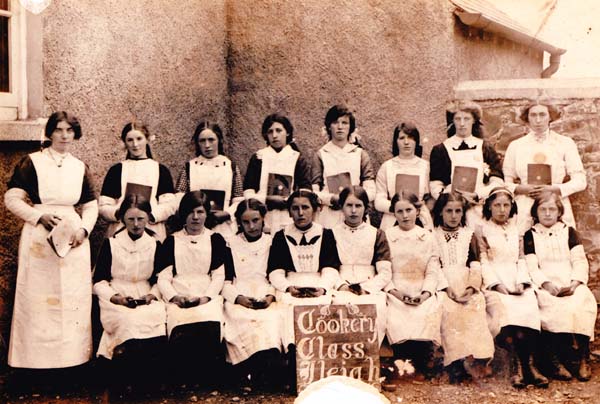 School Re-Union 2013
Saturday July 27th
Mass at 8p.m. in Sacred Heart Church, Borrisoleigh
Refreshments afterwards in the Community Centre
Come along and renew old friendships
Admission €5

---

Borris-Ileigh Camogie Club

Underage: Our under 13's had their first competitive league game on Monday the 1st July, in Roscrea against St. Cronan's at 7.15 pm. They got their league campaign off to a great start with a win, the final score was Roscrea 1-1, Borrisoleigh 2-0. Well done to the girls and their mentors. Their next match is set for Thursday the 11th July at home against Templemore.
Our minor panel had their first competitive match against Shannon Rovers on the 9th July at 7.15 pm in Ballinderry. The girls got off to a great start opening the scoring, there was only a couple of points between both the at half time. However Shannon Rovers had a very successful start to the second half, our girls then came back into the game but unfortunately for us the score at full time was Shannon Rovers (6-8) Borris-Ileigh (3-5). This is our first time fielding a minor team since the club reformed in 2007.

Intermediate Team: Training continues they had a challenge match against Harps of Laois on Monday the 8th July in Durrow. The match went very well for us with the score at full time being Harps 3-9 Borris-Ileigh 8-16, well done to all.
Administration: Church gate collection will take place on the weekend of the 20th & 21st July. Camogie club merchandise now available Hoodies, tracksuits, t-shirts, jerseys and raincoats available. See Advertising Section of www.borrisoleigh.ie for pictures. If interested please contact Caroline at 086 1522716. You can also follow us on Facebook.



---
Map Launch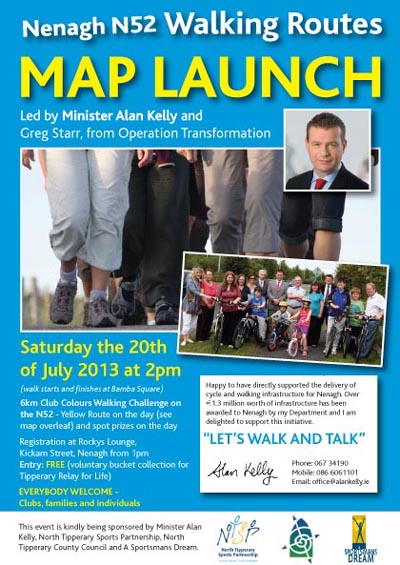 ---
Pic of the Past… down memory lane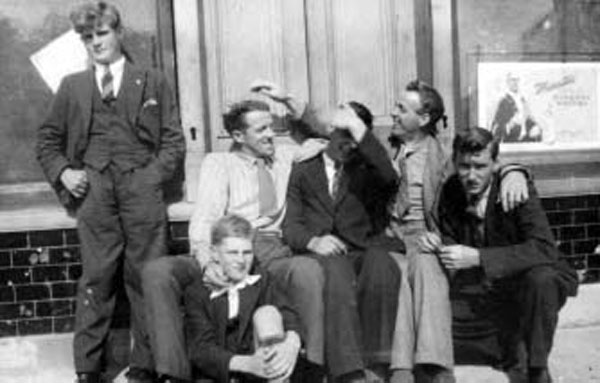 Paddy Maher, Jack O'Shea, Donal Meagher, Vincent Kearney and Phibby Kenny
Front: Dinny Maher (Picture taken in the 1940s)

---

Your Website Needs You!

Committee: Enda Ryan, Noreen Fahy, Margaret Cowan, Michael Barry, Marie McGrath and Aileen Óg Groome
Many thanks to all those who contributed photographs and news items. Remember, we need you to continue to send us material so that we can keep our website current and interesting.
Send your email to: info@borrisoleigh.ie
Also, if you like what you see and want to leave a comment, remember to use the Guestbook!
While we make every effort possible to ensure that the information contained in this Website is accurate and complete, we cannot accept any legal liability as a result of the inaccuracy or incompleteness of the information presented to users of this site