Borrisoleigh Drama Group are "Spreading the News"

Borrisoleigh Drama Group at rehearsals

Derry O'Donnell, Antoinette McMahon, Patricia Ryan, Teresa Kiely, Gerard Ryan, Joe Holland, Paul Boyle, Michael Kinnane, Ollie Delaney, Mary Bourke, Paddy Dolan, Dolores Delaney, Paula Stapleton, (in front) Kellie Kelly and Christina O'Dwyer.


What do you do when people keep saying 'we should', 'why don't we' 'wouldn't it be great if..'? You get up and do something about it! And so it is that the newly formed Borrisoleigh Drama Group came to be. A lot of people expressed an interest in a drama group, a meeting was arranged and 35 people turned up. Some of those involved in the Group have never been on stage but have always had a burning ambition to be the next Pierce Brosnan or Meryl Streep and decided to give it a shot. Having a laugh and going home with a smile is the main aim of the group. And in the times we have now that is no bad thing for anyone! To promote this feel good factor the group decided to take the bull by the horns and get a play ready for stage. This has resulted in Borrisoleigh Drama Group proudly presenting it's first production. "Spreading the News", a one-act comedy by Lady Gregory, on Thursday the 13th and Friday 14th June in the Marian Hall, Borrisoleigh.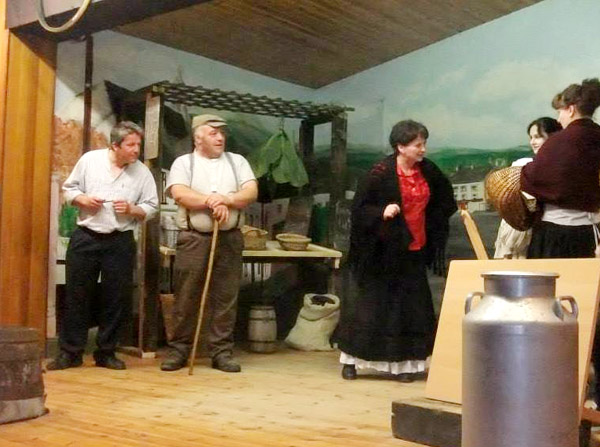 Borrisoleigh Drama Group enjoying rehearsals
Someone doesn't like the gossip being spread!



Spreading the News is a comedy which Lady Gregory wrote for the opening night of the Abbey Theatre in 1904. The play is set in a rural village on fair day with the arrival of a new magistrate, the unluckiest man in the village, a group of nosy gossiping neighbours and a stall owner with a hearing impairment. The characters are happy to believe the worst of their neighbours and tend to talk before they think resulting in chaos. Borrisoleigh Drama Group does its version of Chinese whispers in "Spreading the News".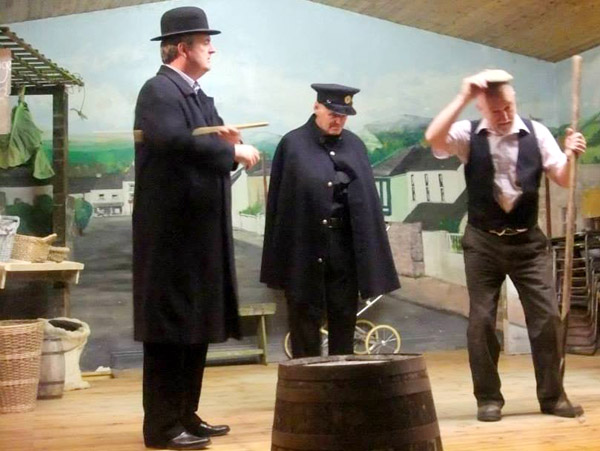 Support acts by local talent will be performing on both nights. Doors open at 8.00pm and curtains up at 8.30pm. See Borrisoleigh.ie for more information. Two great nights of entertainment are guaranteed and everyone will go home smiling. Hope to see you there!


---
Camogie Club News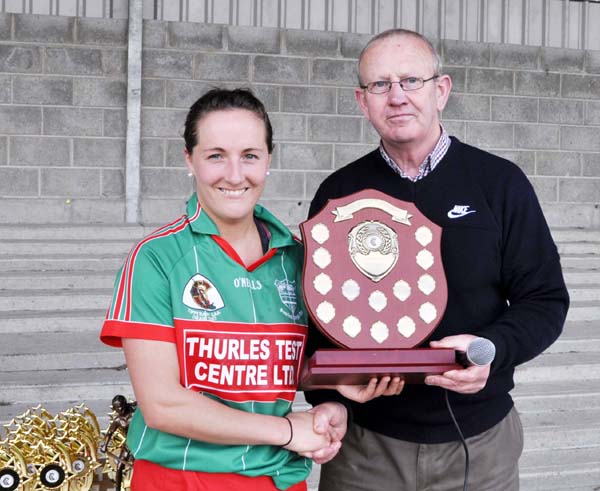 Vinny O'Connor presents the Memorial Shield to the Drom & Inch Captain
The Linda O'Connor memorial tournament went ahead on Saturday the 1st of June at 2.30pm. It was an ideal day for camogie with the weather staying dry and not too hot. The visiting teams were our next door neighbours Drom N'Inch and St. Bridget's from Westmeath, St. Bridget's is a newly formed club with a Borrisoleigh connection namely Margaret Kirwin. Unfortunately last year's winners Harps were unable to attend this year. The programme of events for the day was each team play each other with the top two teams playing in the final. Results were first game Borris-Ileigh (3-06) Drom N'Inch (4-07), second game Borris-Ileigh (5-05) St. Bridget's (0-01), third game Drom N'Inch (0-12) St. Bridget's (0-00) This lead to a final play off between Borris-Ileigh and Drom N'Inch, this was a hotly contested final with only a puck of a sliothar between either team throughout the game, with Drom emerging as the victors on the day with the score at full time being Borris-Ileigh (0-04) Drom N'Inch (1-05). John Walsh Chairperson of our club thanked all those involved in organising the tournament and our visiting teams, the O'Connor family and referees. Vinny O'Conor Linda's father presented the winning team with the shield and their trophies, the referees were also presented with trophies. The referees on the day John Lillis and Philip Bergin chose the player of the tournament Miriam Champion (Drom N'Inch). A fine spread of food was provided on the day by our team and committee. Many of the St. Bridget's team remained down for the night and a session was had in Stapleton's Bar with finger food provided. It was a fine afternoon of good camogie followed by some bonding with the visiting team from Westmeath. Again thanks to all who helped to make this tournament a success.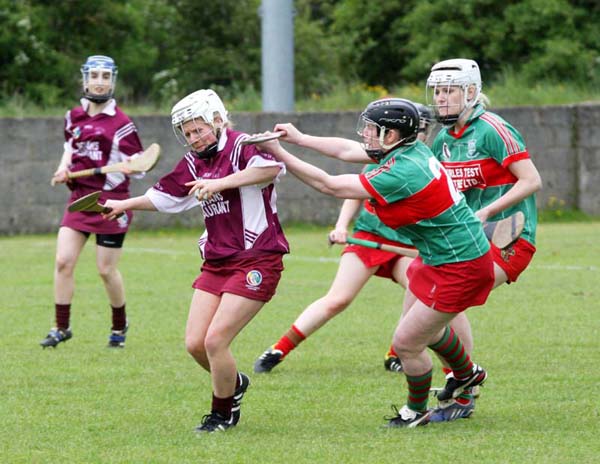 Borris-Ileigh and Drom & Inch battle it out in the Linda O'Connor Memorial Tournament in The Park on Saturday 1st June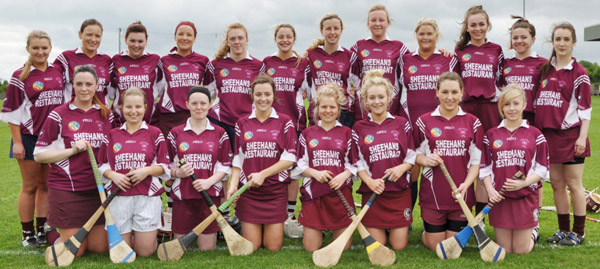 Borris-Ileigh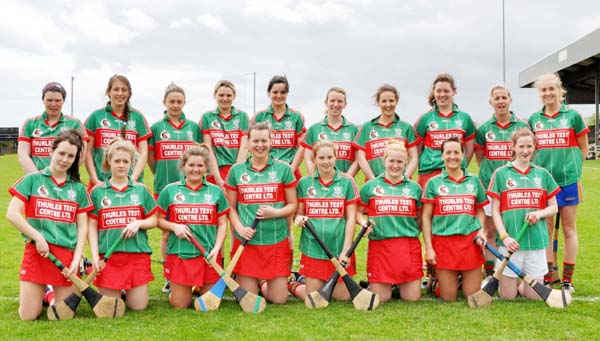 Drom & Inch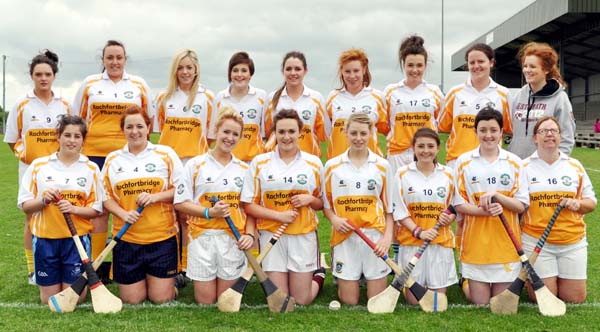 St. Brigid's Westmeath

To Siobhan,John and all the girls,

On behalf of St Brigids Camogie Club I would like to thank you all for the invite to attend the Linda O'Connor memorial tournament on the 01st June. The welcome, encouragement and friendship you showed us all was second to none. Thanks to Liam and Marion, Don and Della and Michael and Marion for giving the girls a bed and plenty of food. As always thanks to Brid for the food in Stapletons on the Saturday night. To all who provided food during the day.

A huge thanks to all the Borris girls our girls think you're all EPIC and earlier in the day got a bit worried as it was said to me "My God Marion they're so much better than us they have two hurleys each". I always knew we would get a great welcome, the problem with Borris is the crack is so good you don't want to leave.

Finally the girls can't wait to return the favour so looking forward to having you all up to Westmeath. Many thanks again and especially to Rocky for arranging it all.




Regards
Marion O'Riordan(Kirwan)
St Brigids Camogie Club,
Dalystown,
Rochfordbridge,
Co. Westmeath.
Underage

We hosted The Tomás Max tournament on Friday the 7th June in the park at 7.30 pm. This is a tournament for our under 10's. Visiting teams were Toomevara, St Cronan's Roscrea and Moycarkey-Borris. Referees on the evening were Gerry Treacy and Aisling Kiely. In the first round Borris-Ileigh played Roscrea (last year's champions) and Toomevara played Moycarkey-Borris. Then Borris-Ileigh played Moycarkey-Borris while Roscrea played Toomevara. Moycarkey –Borris were the champions on the evening. Thanks to everyone who helped out on the evening to make the tournament such a success. All the girls who played received a medal. A fine spread of food was provided for our visiting teams. Particular thanks to the Max family. Tomás Max was chairperson of our club at the time of his premature death. We hold this tournament in memory of his contribution to camogie in Borris-Ileigh; it was fitting to see the trophy go this year to his original club Moycarkey-Borris.
The under 16 panel won't be playing again until after the junior cert.
Our minor panel continue to train; their first competitive matches won't be until after the leaving cert.

Intermediate Team
Training continues and it is hoped to have a challenge match at the weekend. The club wishes Louise who picked up an injury last weekend a speedy recovery.
Administration
Camogie club merchandise now available Hoodies, tracksuits, t-shirts, jerseys and raincoats available. See Advertising Section of www.borrisoleigh.ie for pictures. If interested please contact Caroline at 086 1522716. You can also follow us on Facebook.
---
Saints All Stars Summer Camp 2013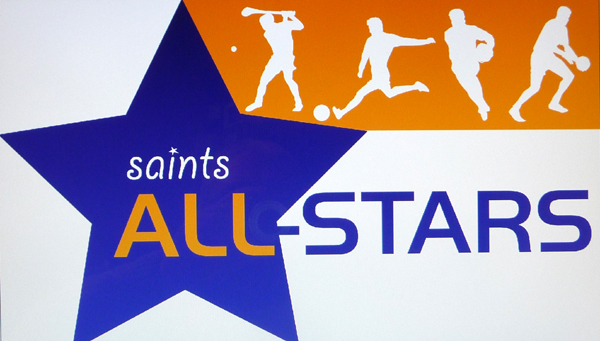 Saints All Stars Summer Camp 2013 will run from
Monday 22nd of July – Friday 26th of July
. It will take place in Bishop Quinlan Park Borrisoleigh
starting at 10am and finishing at 2pm
. The cost is
€50 per child
, if there is
more than one child per family the price is €45 per child.

There will be a wide mixture of games incorporated into the
Hurling, Football and Soccer
, with specialist coaches provided for each. Like every year there will be
special guests
attending and
gifts
given to the children. I will be taking bookings from now until the
22nd of June
, as otherwise I will not be able to order the correct amount of gifts for the kids, and I do not want anybody left disappointed.
If you have any further queries contact me by call or text on 086-3328697. To book a child in call or text the above number with name, age and parish of child. Paddy Stapleton
---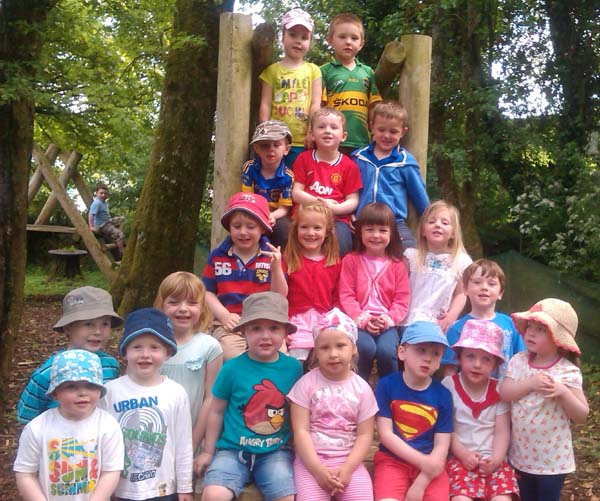 Children of Fifi's Tots Preschool visited Pallas Hill Open Farm recently on their school tour. Great fun was had by all in the beautiful sunshine.
We are now enrolling for Sept'13. Contact Fiona on 0872169150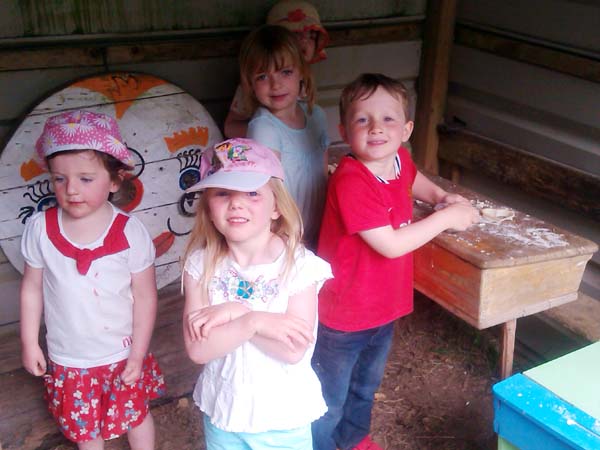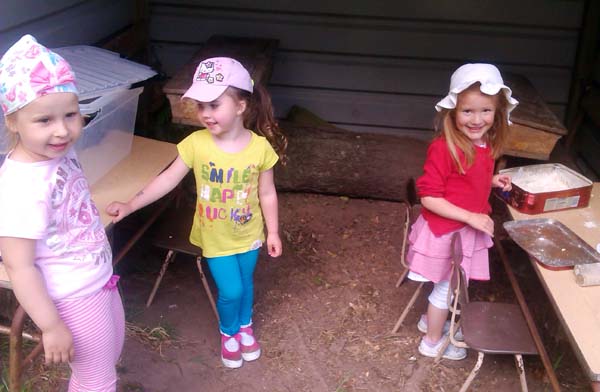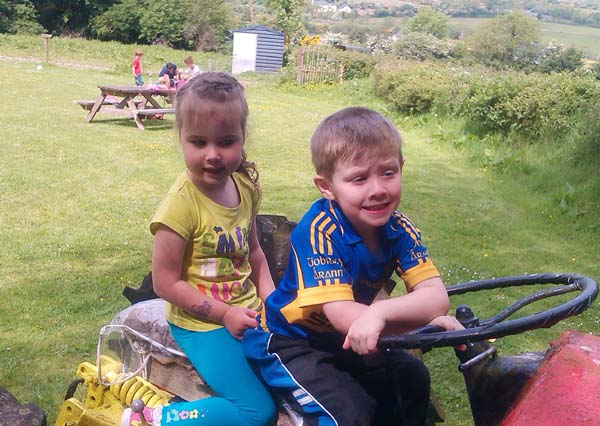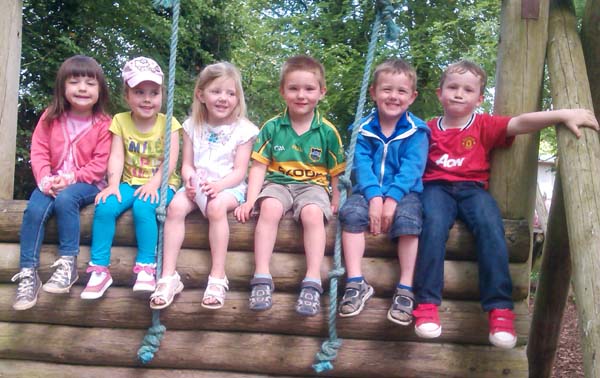 Photos of some of our fun activities on the day
---
Cemetery Masses in the parish


Masses will be celebrated in our local graveyards in the coming weeks. Ileigh Cemetery Mass on Tuesday 25 June at 8p.m. – St. Brigid's Cemetery Mass on Wed. 26 June at 8p.m. – Glenkeen Cemetery Mass on Thursday 27 June at 8p.m. Borrisoleigh Churchyard Cemetery Mass on Friday 5 July at 8p.m.
---
St. Patrick's BNS finish with a bang!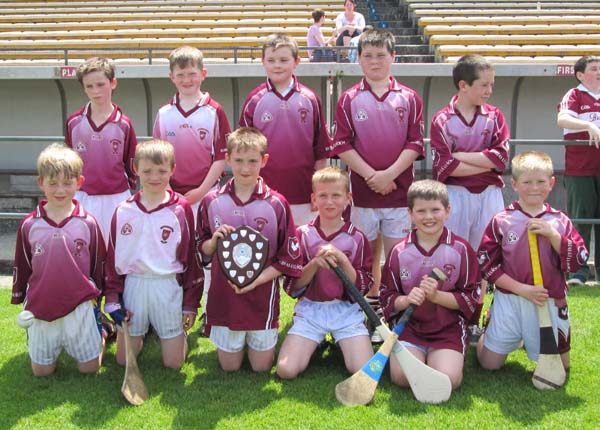 U-11 C1 champions
Last Thursday our U-11 C and C1 teams played in Semple stadium in their respective county finals. It was great reward for the boys, their coaches and teachers for all the hard work that was put in throughout the year.
In the first game the U-11 C final, St. Patrick's BNS put on a brave, battling performance against a very strong Upperchurch NS team. It was all square at half time in very hot conditions. Unfortunately in the second half Upperchurch began to pull clear with a series of well taken points and ran out winners in the end. It was a great display from the Borris boys who gave their all for their team mates and school.
The second final saw the meeting of St. Patrick's BNS and New Inn NS. St. Patrick's got off to a great start with a quick goal and a number of points. These scores had New Inn on the back foot and the half ended with a strong lead for Borris. The second half was much different however, New Inn began to hurl much better and quickly cut back the deficit. However the Borris boys stood firm and finished the stronger of the two teams to secure the win and retain the U-11 C1 championship.
Well done to all involved; players, mentors and teachers!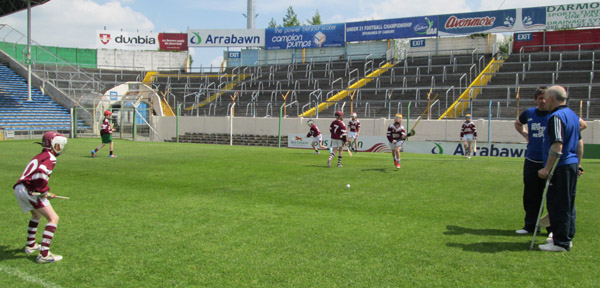 Manager and Coach negotiate terms and conditions before the games begin!

Local support for our local heroes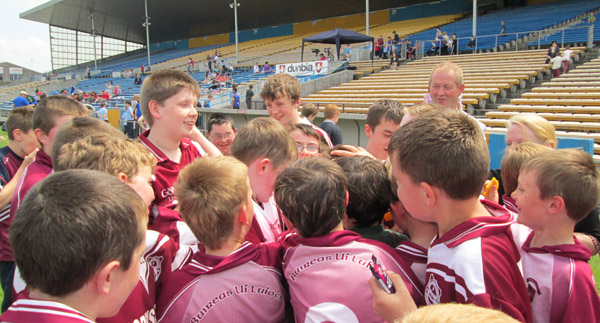 United we stand!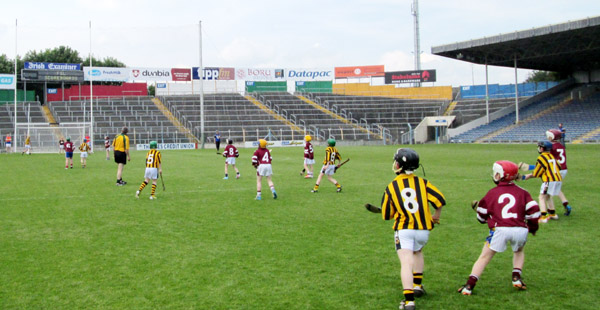 On the fireld of play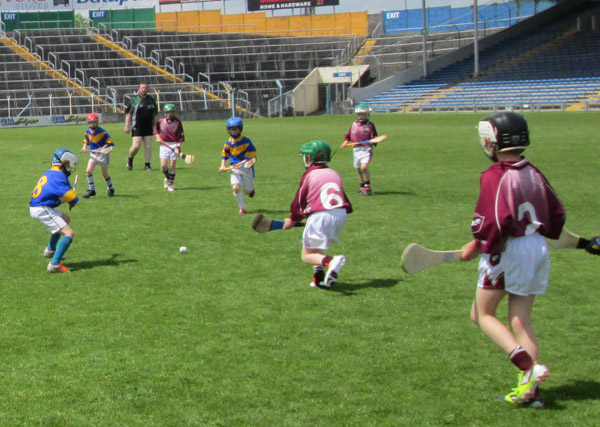 Any man's ball!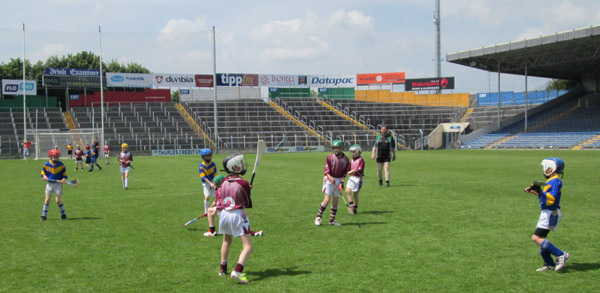 Proud to ber playing at Semple Stadium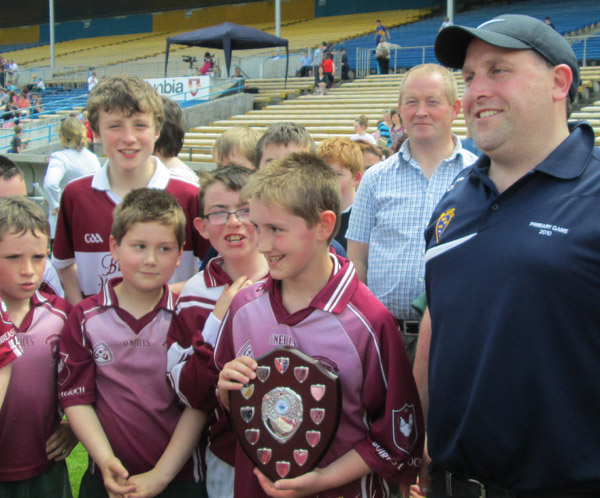 Captain Bryan receiving the U-11 C1 trophy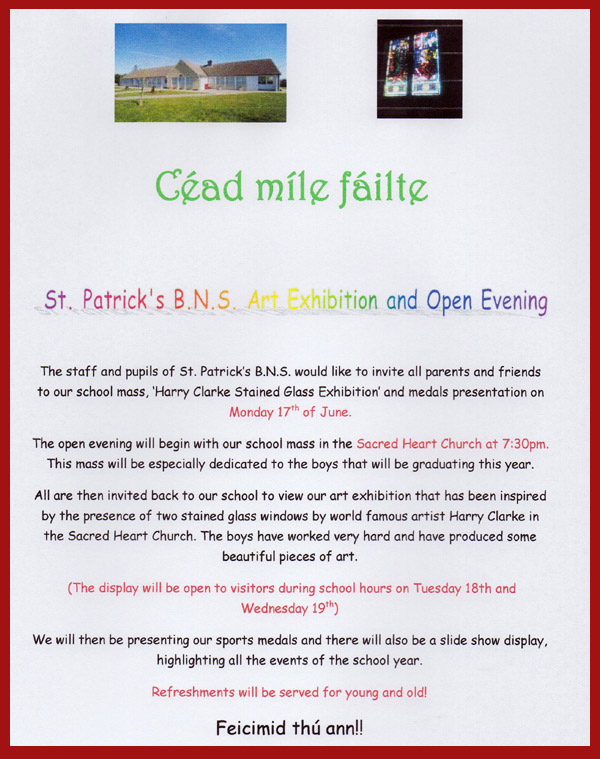 ---
Pic of the past… down memory lane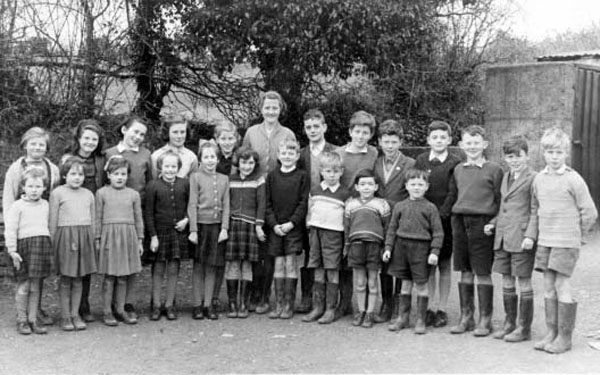 Coolderry National School – 1966

---
Your Website Needs You!
Committee: Enda Ryan, Noreen Fahy, Margaret Cowan, Michael Barry, Marie McGrath and Aileen Óg Groome
Many thanks to all those who contributed photographs and news items. Remember, we need you to continue to send us material so that we can keep our website current and interesting.
Send your email to:
info@borrisoleigh.ie
Also, if you like what you see and want to leave a comment, remember to use the Guestbook!
While we make every effort possible to ensure that the information contained in this Website is accurate and complete, we cannot accept any legal liability as a result of the inaccuracy or incompleteness of the information presented to users of this site