Meeting Jesus in The Blessed Sacrament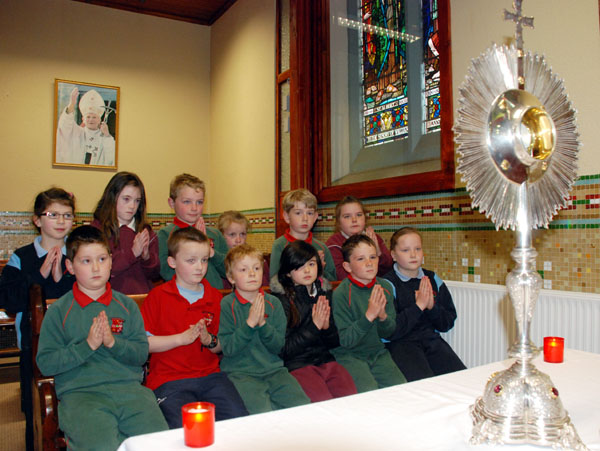 Children preparing for their First Holy Communion pay a visit to our Adoration Chapel to adore Jesus


This year we have twelve children from our three primary schools who will receive their First Holy Communion next Sunday May 26th. They have been preparing for this big day for a long time and great credit is to be given to their teachers Ms Harrison, Ms Lanigan and Mrs Slattery who do an excellent job with them. We wish all concerned the very best of luck for next Sunday.
---
Preparing for Parish Mission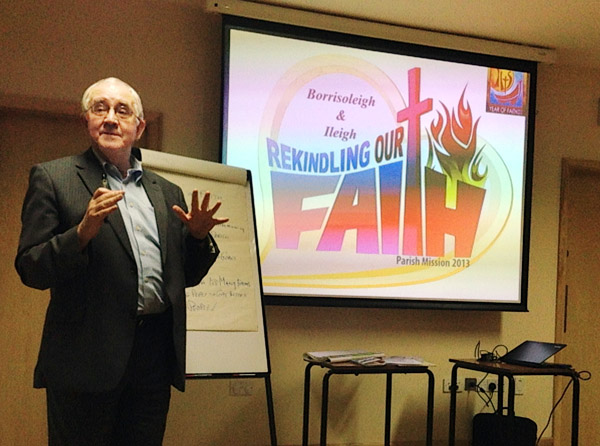 Fr. Seamus Enright leadeing us at our last Mission Preparation Meeting in the Community Centre
Fr. Seamus Enright from the Redemptorists Order in Limerick helps us to prepare for our parish mission which will take place at the end of this year. We encourage lots of people to get involved in this The Year of Faith so that our Parish Mission will be a great success and have a positive lasting effect in our parish and in our lives. A variety of groups are being set up to plan each night of the Mission. If you would like to be part of this preparation you would be very welcome to come along and offer your ideas and support. The more people that get involved the better. It can also be an opportunity to socialise with fellow parishioners and to have a little fun.
---
Fodder crisis – a disaster for Irish agriculture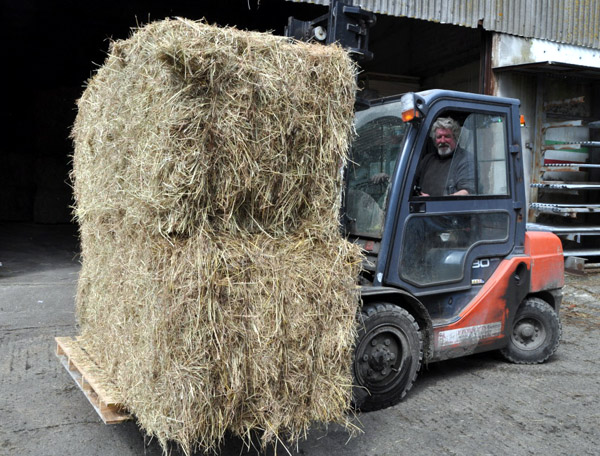 Billy, on his sturdy steed, is doing his bit to ease the fodder crisis in the local area


The scale of the fodder crisis on farms has not been seen in living memory. Irish agriculture is facing its most serious difficulties in half a century, with Irish farmers being unable to feed their animals, as their own stores have been exhausted. The crisis has become a disaster for Irish agriculture.The IFA also wants the subsidy extended to private merchants and co-op marts, which are importing feed to assist farmers. IFA delegates are in the UK and France seeking more sources of forage, in the event of the crisis continuing well into May. Deliveries of fodder will continue to arrive into most co-ops, as well as into private merchants and co-op marts, in the coming days.


Bales of Hay arrive to Borrisoleigh Co-Op from Nottingham England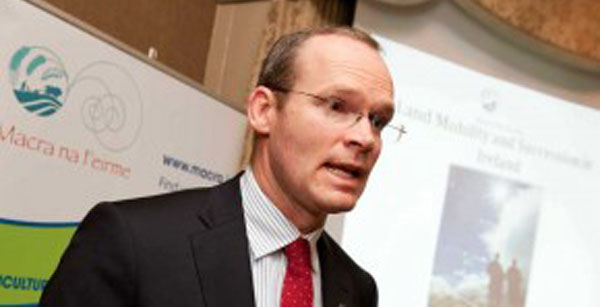 Minister for Agriculture Simon Coveney


The Minister says: "Following a very wet summer and an extended winter, conditions for farmers are very challenging. My department has been working on this over the winter and continues to monitor the situation very closely on a daily basis. I am acutely aware of the challenging conditions farmers have been working under for the past months. The bad weather has been unprecedented, and we now find ourselves having to import fodder from the UK, a situation that has not occurred before. The strong sense of neighbour helping neighbour, which rural communities are known for throughout the country, has been evident in recent weeks and the farming community is to be commended for pulling together to get through this fodder crisis."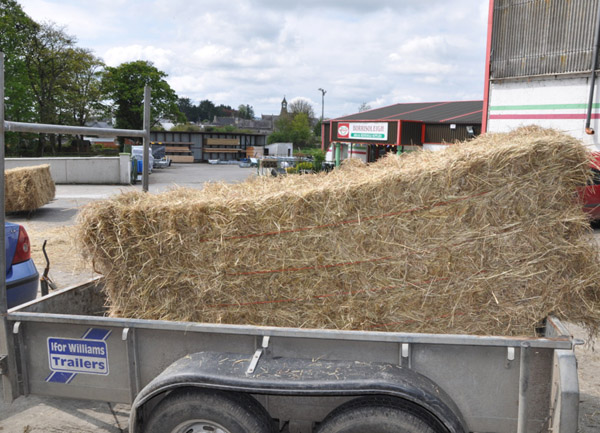 Hay on the move to feed local livestock on account of the shortage of fodder caused by the current crisis
---
May They Rest in Peace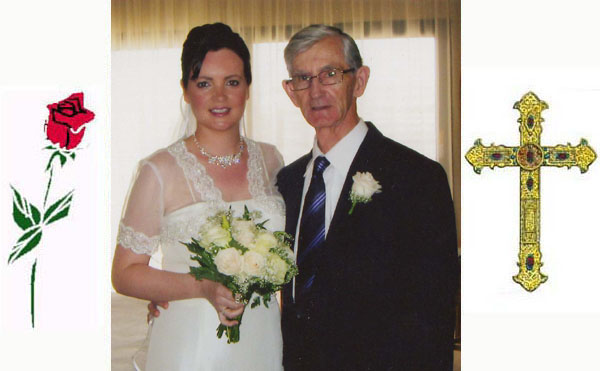 Ann Gough (Kenny) and her dad Joe Kenny of Pallas Street RIP

The deaths of Joe Kenny of Pallas Strteet and his daughter Ann Gough, late of Murroe Co. Limerick have taken place on 17th April and 16th of May respectively. Their funeral Masses took place in The Sacred Heart Church, Borrisoleigh with burial in St. Brigid's Cemetery. We offer our deepest sympathies to their families and friends. May they rest in peace

Ann (our Church organist for 11 years) doing what she loved best – making music!
---
County Fleadh Winners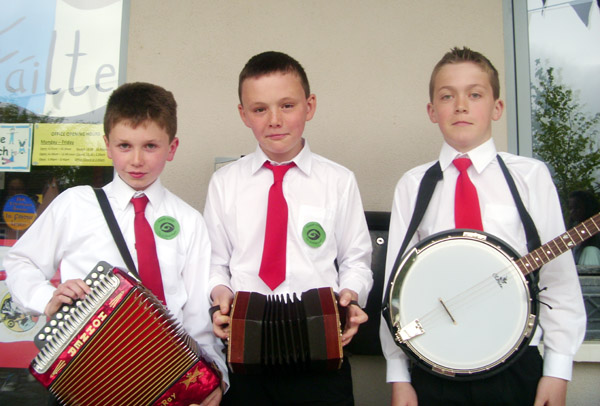 Cian Stapleton – on accordion, James Fogarty (Rahealty) – on concertina and Ciaran Byrne (Templemore) – on banjo
This under 12 Trio won first place in The County Fleadh held in Ballina last weekend. Representing Loughmore C.C.E they will now go forward to compete in The Munster Fleadh in University of Limerick in July.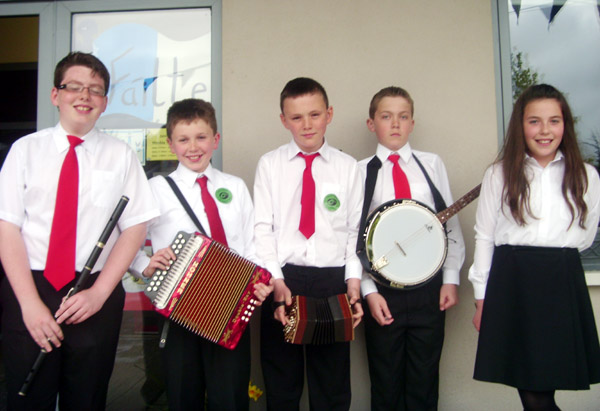 Joseph Boyle, Cian Stapleton, James Fogarty, Ciaran Byrne and Katie Boyle.
All winners qualifying for Munster Fleadh. Congrats to all.
---
Local Camoige Club News


Underage
We are looking forward to hosting The Tomás Max tournament which will be held on Friday the 7th June in the park. This is a tournament for our under 10's. Visiting teams are Toomevara, St Cronan's Roscrea and Moycarkey-Borris.
Our under 12's had their semi-final against Shannon Rovers on Monday the 20th in the Camogie Grounds The Ragg, unfortunately they were defeated by Shannon Rovers. Final score was 2-4 to 1-0, however they played very well. This is our first underage team to reach a semi-final this year, well done on getting this far and better luck next time.
The under 16 panel won't be playing again until after the junior cert.
Our minor panel continue to train; their first competitive matches won't be until after the leaving cert.
Intermediate Team:
The Linda O'Connor tournament is set for Saturday the 1st of June the ladies will be hoping to regain the shield. Visiting teams will be confirmed soon.
Administration:
This being the national week of the volunteer. The club would like to thank all those who freely volunteer their time and expertise for the benefit of the club. It is very much appreciated.
---
Lourdes Church Gate Collection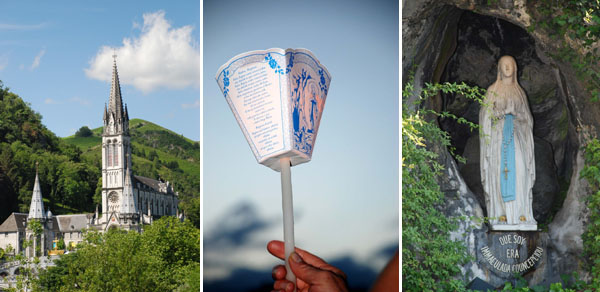 The Cashel and Emly Diocesan Pilgrimage to Lourdes takes place in June (16th – 21st). The Borrisoleigh Lourdes Committee will be holding their annual Church gate collection on Saturday and Sunday 1st and 2nd June in Borrisoleigh and Ileigh. As this is our only means of meeting the costs involved in sending local deserving cases to Lourdes we very much depend on your generosity and we thank you for the support that you give to this worthy cause.

---
Borris Ileigh Juvenile GAA


Best wishes to Jamie Corcoran who represents the Club in the annual Peadar Cummins Inter Divisional U14 Hurling Tournament which takes place this Saturday in Borrisoleigh. On Saturday morning in the semi final the North will play the West in Borrisoleigh at 11am and the Mid will play the South in the other semi final in the Ragg also at 11am. The shield final is scheduled for 12.30 in Borrisoleigh with the Peadar Cummins final scheduled for 1.30pm in Borrisoleigh. We are asking Committee members to drop down refreshments to the park on Saturday morning from 10.30 onwards. All help on the day is appreciated.
Our U14 footballers recorded a win over Burgess last week in the North quarter final. We progressed to play Ballina in the semi final on Friday night last however after putting in a big performance we were beaten by a couple of second half goals on a scoreline 4-06 to 1-06.
It was great to see such a big turnout from the club at the Foundation level coaching course last Thursday night. The foundation course will continue in St Josephs secondary school on this Thursday evening.
The groups for the u12, U14 and U16 hurling competitions will be sorted at a North Board meeting later this week. Fixtures will commence shortly thereafter more details next week.
---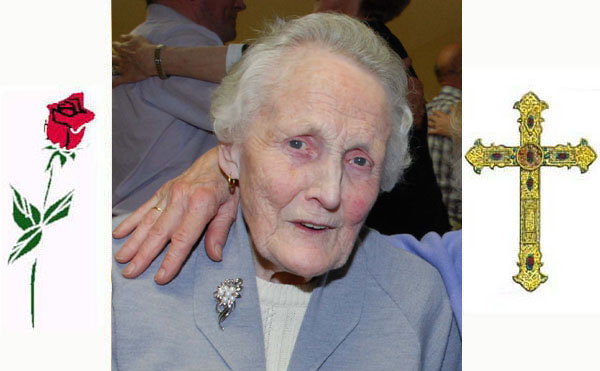 Mary Ryan (Rody) of Main Street RIP


The death occurred on Sunday 5th May of Mary Ryan (Rody) of Main Street. Her Funeral Mass took place in the Sacred Heart Church Borrisoleigh with burial in Ileigh Cemetery. We offer our deepest sympathies to her family and friends. May she rest in peace.
---
Boys' School Blitz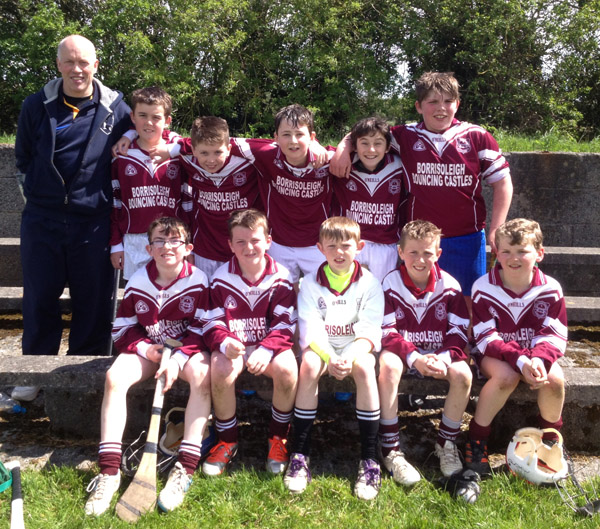 Our victorious U-11 Team A who won a blitz that was hosted in Borris last week. We now play Lissenhall NS in the County Semi-final this Thursday in Kilcolman. Best of luck boys!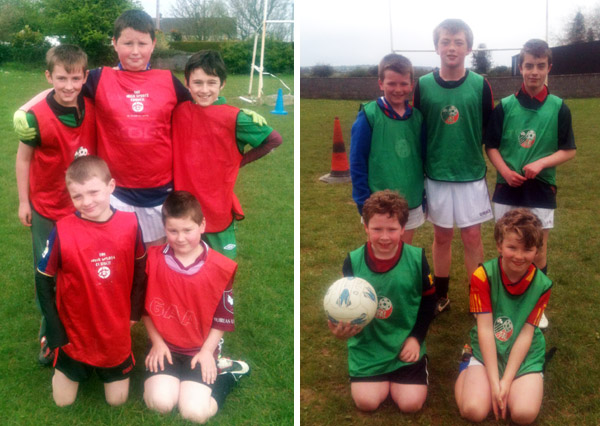 The runners up, Hugh's team, hard luck boys! & The winners, Killian's team, well done lads!
The school soccer league: Captains of the two finalists, Hugh and Killian shaking hands before the game.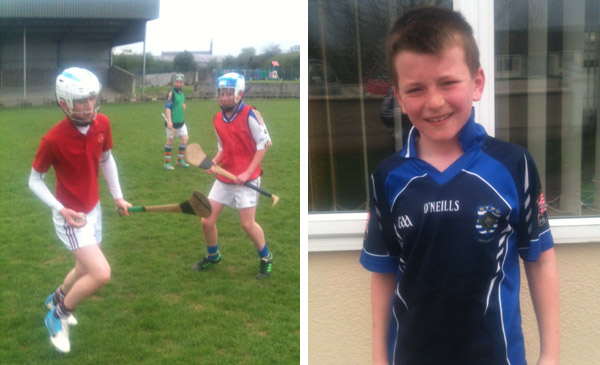 A training session & Player of the tournament: for a series of outstanding displays, well done Eddie!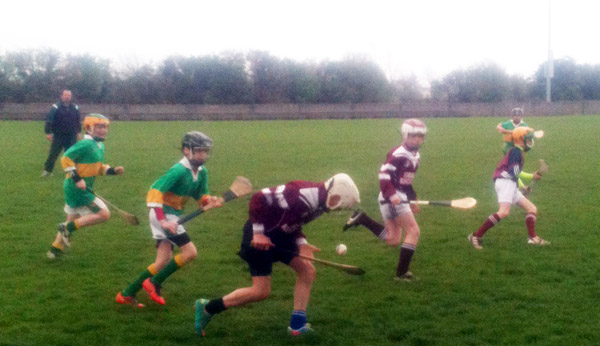 Action photo from our North Semi-final against Dromakeenan. The U-13's won a great match and are now playing Carrig NS in the North Final next week. They will do us proud!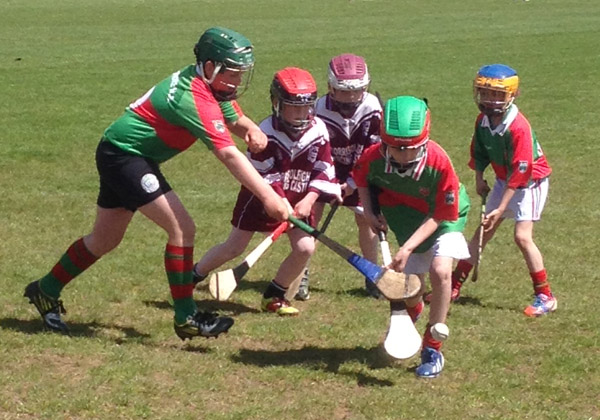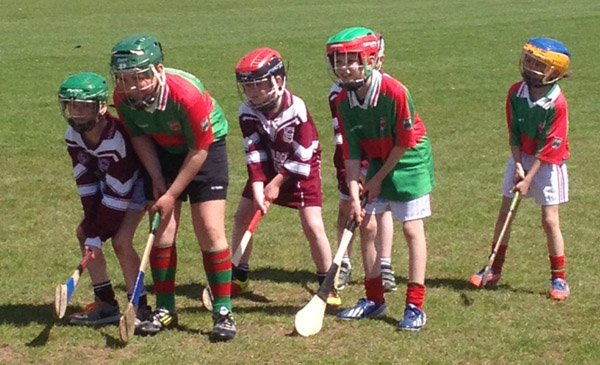 Our under 11 Team B boys who took part in a county semi-final blitz in Drombane today. We won it out and we'll be in the county Final in Semple stadium in June. Congratulations to the boys.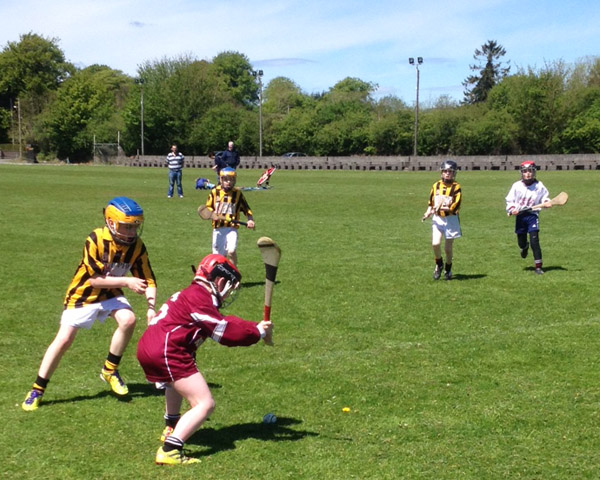 Ready for the chop! C'mon Borris!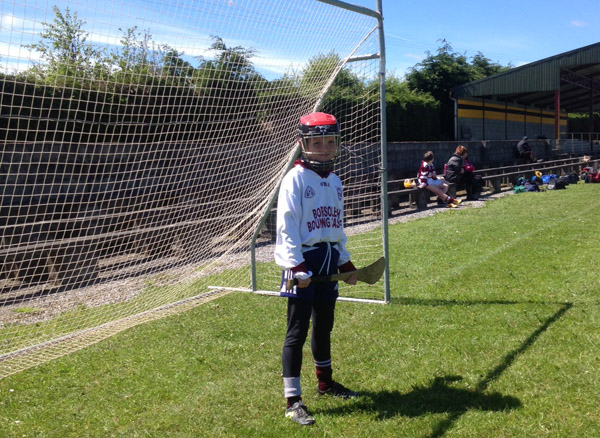 The last line of defence!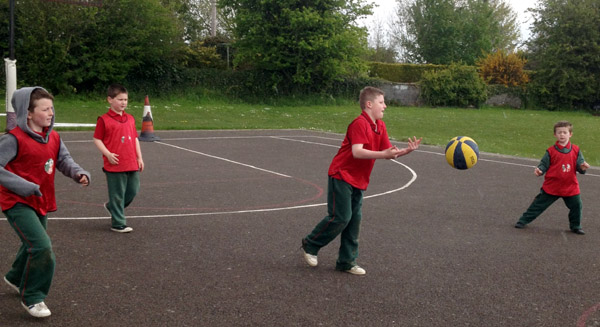 Action from our school basketball league


St Patrick's BNS 5-a-side soccer team who took part in the FAI blitz in Two-Mile-Borris recently.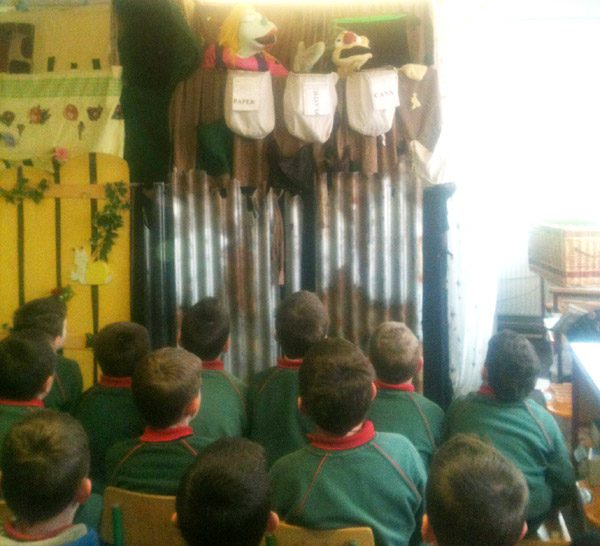 The boys enjoying a recent puppet show about recycling. It was very educational and funny!
---
Cemetery Masses in the parish

Masses will be celebrated in our local graveyards in the coming weeks. Ileigh Cemetery Mass on Tuesday 25 June at 8p.m. – St. Brigid's Cemetery Mass on Wed. 26 June at 8p.m. – Glenkeen Cemetery Mass on Thursday 27 June at 8p.m. Borrisoleigh Churchyard Cemetery Mass on Friday 5 July at 8p.m.

---
Marian Hall Lotto
21/05/2013
2, 6, 21, 28
No Jackpot Winner
2 Match 3
Helen Hurley, Borrisoleigh
Liz Cromer, Toomevara
Next Week's Lotto Jackpot
€13,000
---
Pic of the past… down memory lane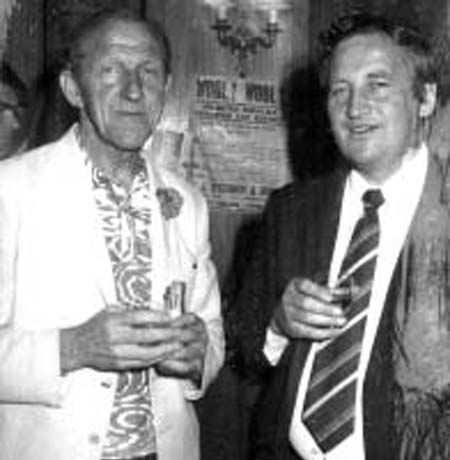 Jack O'Shea and Joe Prior pictured at the Clodagh Bar in the 1970s
---
Your Website Needs You!
Committee: Enda Ryan, Noreen Fahy, Margaret Cowan, Michael Barry, Marie McGrath and Aileen Óg Groome
Many thanks to all those who contributed photographs and news items. Remember, we need you to continue to send us material so that we can keep our website current and interesting.
Send your email to: info@borrisoleigh.ie
Also, if you like what you see and want to leave a comment, remember to use the Guestbook!
While we make every effort possible to ensure that the information contained in this Website is accurate and complete, we cannot accept any legal liability as a result of the inaccuracy or incompleteness of the information presented to users of this site