Baby Lamb visits Fifi Tot's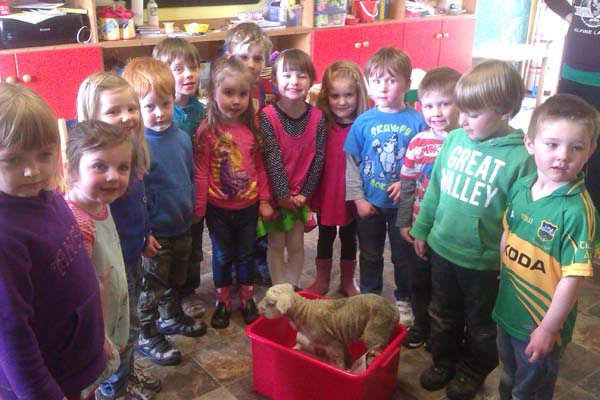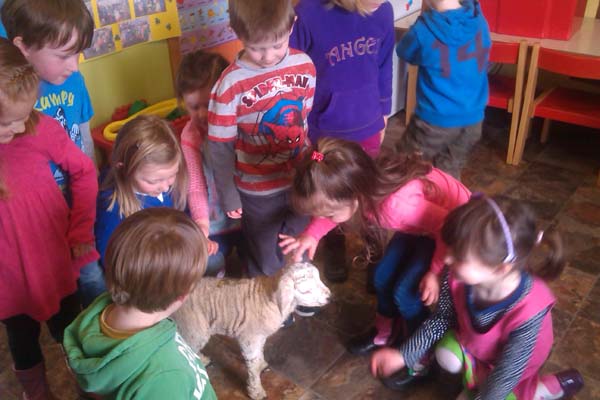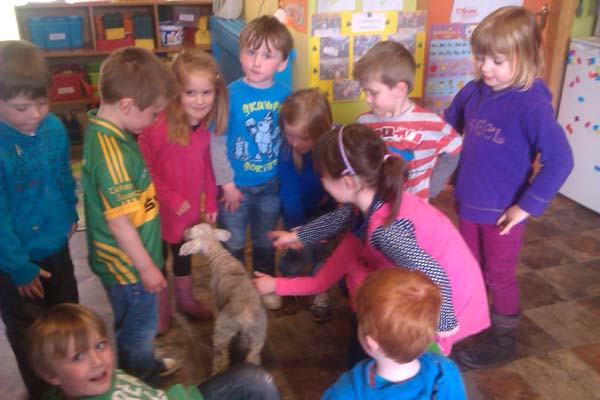 The children of Fifi's Tots preschool had great fun playing with a little lamb on Monday in preschool.
Some were a little apprehensive to begin with but got braver.
Thanks to John who brought the lamb in to show us.

---

Marathon Man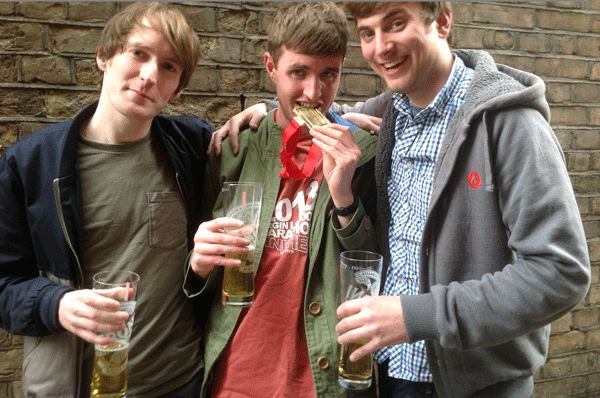 Here is a picture of Michael Kiely (Knockanevin) enjoying his success (and a pint or two!) after posting an amazing time of 2:38:50 at the London Marathon. He's pictured here with fellow Borrisoleigh men Liam Connors (Rathmoy) and Diarmuid Carter (Ballydaff).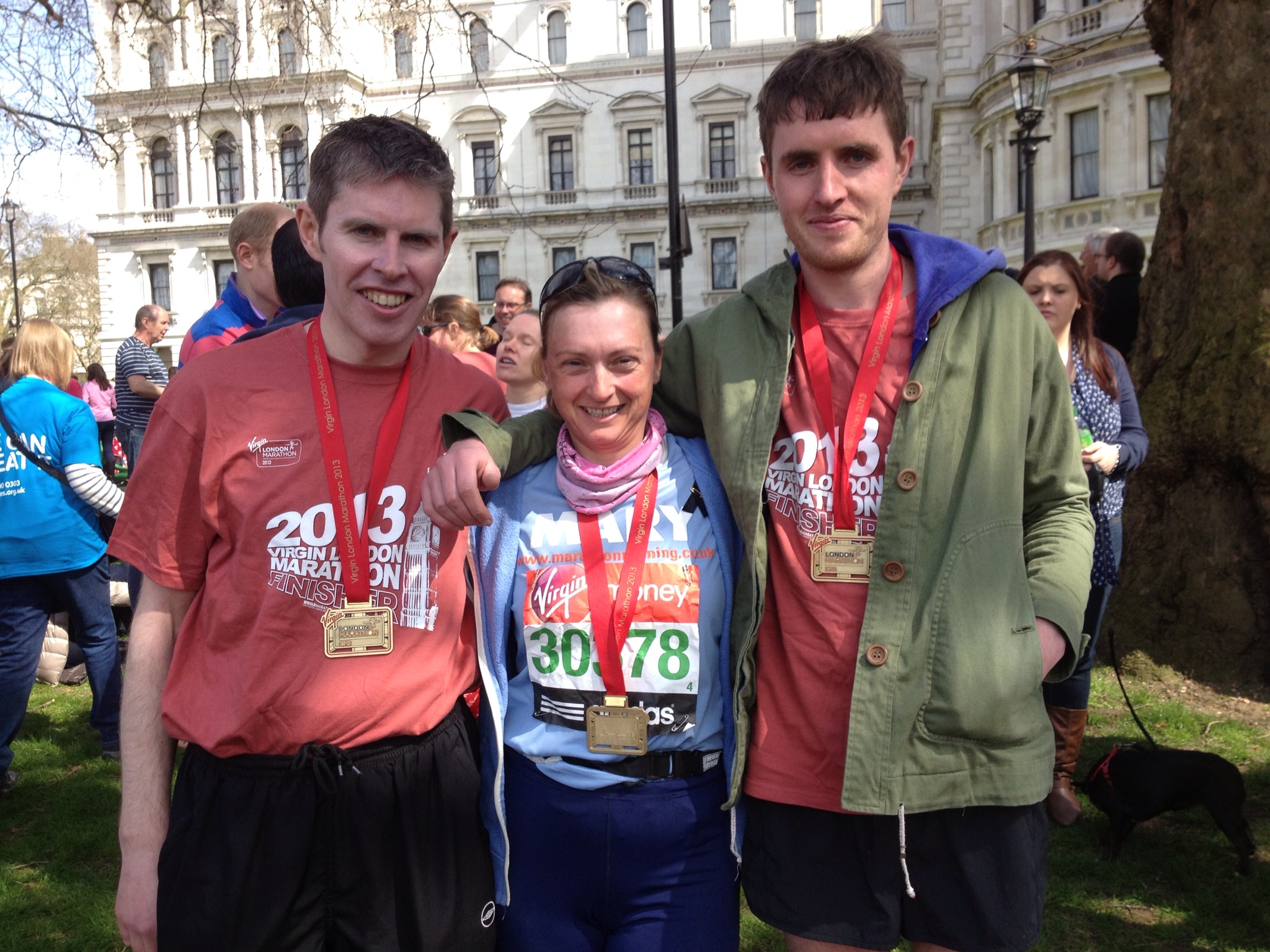 Thomas Kiely who also took part in the London Marathon and finished with a personal best of 2:57:37, his wife Mary Kiely finished with a personal best of 3:28:56, and Michael.
---
St Josephs College Hurling Stars of the Future

St Joseph's College took part in the annual 1st & 2nd Yr Hurling Blitz organised by Tadhg O Connor (Tipperary GAA) last week and emerged with victories in all three matches. St Josephs College played all their matches in the Sarsfield pitch. A strong breeze blew the length of the field and this aided in making the opening match in St Josephs College group looking one sided with Roscrea outclassing Thurles CBS selection, winning comfortably in the end. Not knowing the strength of the Roscrea team, St Josephs fielded a strong team, consisting of many players in contention for North Under 14 & 15 panel places. However despite the strong breeze favouring Roscrea and their early dominance, Borrisoleigh took over and ran out comfortable winners. With Thurles remaining in the group to play and a spot against a top team from the other group, Borrisoleigh rested several player to give some fringe players a chance to shine. Patrick O Connell and Kevin Cleary were industrious in midfield setting up attack after attack and with Sean Flaherty at centre forward and Alan Ryan at full, in fine form, the scores were easy to come by.
Onto the final game for St Josephs College, word from Dr Morris Park was that the group was tough and the standard high, with Ballingarry having a cracking final match tied 7 points a piece near the end.
Having played Ballingarry in the under 15 Championship this year, we knew that this team would be tough to beat, but whilst this was the toughest match for Borrisoleigh, impressive displays from the Aidan Coffey, Jack O Meara, Jerry Kelly at the back snuffed out the Ballingarrry attack and with Adam Hogan playing well in midfield this enabled the forwards to take their score aided in no small measure by the workrate of wing forwards Richard O Donoghue and Conor Looby.
Our 1st & 2nd Yr hurlers played Thurles CBS B team in a challenge this week. With one eye on next years under 15s team, some more established 2nd years were rested and the team consisted of 11 1st years. Matthew Ryan, who lined out as wing back for the 15s this year, playing his first match at centre back for the school or club, put in a dominant display aided by the two wing backs, Aaron Reid and Eoin Grace. 1st year Nicky Cooney slotted in for Eoin Grace and John Ryan for Aaron Reid after twenty mins and both played well. Tim McCutcheon, a towering young man, comfortably at home between the posts, lined out at full back. His pace and strength, gave him a comfortable match. Our two cornerback, Kevin Cleary and Daire Kavanagh played little for the 15s this year but were solid when asked. Our midfield partnership of Adam Hogan and Patrick O Connell, were hard working, with the considerable skills of Adam coming to the fore as the match wore on. Sean Flahertys form from last Wednesday continued and he slotted over a few lovely points from centre forward. With our wing and corner forward positions taken by 1st years, the pick of the performances were from Jamie Corcoran, whose direct running style lead to 1-2 being scored and Billy Seymour scoring 2-3. Billy was switched to midfield after Adam Hogan picked up an injury and he continued to impress, setting up Adam, now playing at corner forward for two points and Alan Ryan, at full for a goal. Conor Looby and Cathail Ryan occupied the other two forward positions, their workrate and movement never allowed a easy clearance for Thurles and this enabled St Joseph's College to comfortable win the match on a scoreline of 4-11 to 7 points.
With displays like these above, it won't be long before another successful team emerges in St Josephs College colours.

---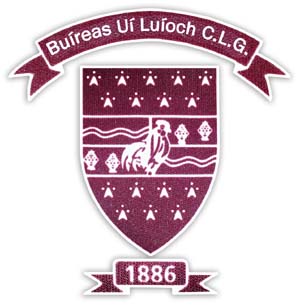 Golf Classic:
Our Golf Classic takes place on Friday the 31st of May and Saturday the 1st of June in Thurles Golf Course. This promises to be a great weekend of golf with some fantastic prizes on offer. The first prize is a fourball in Mount Juliet, with dinner and over night stay included. Other prizes include a fourball at The Old Head of Kinsale, a fourball at the K Club and Fota Island. These are prizes that won't be matched any where else. We urge all golfing enthusiasts to sign up. Martin Fahy shall be running the time sheet and can be contacted on 087 2608780. We ask people to spread the word about this also. We feel it is fantastic value at just €120 per team with such great prizes up for grabs. Also if anyone is interested in sponsoring a tee box the cost is just €30
Clean Up Day: On Saturday week the club will hold a clean up day in the park. It shall begin at 9am and will go on for the day. We ask anyone who can lend a hand, a shovel or a few hours to come down and help out. Our park is a place of pride in the parish and it is only right that it looks well, especially coming into the busy summer months.
Website: We continue to publish news on www.borris-ileighgaa.com. This news is uploaded weekly and also contains match reports and photos. We urge everybody to check it out and if you have any old photos you would like to submit please send them to pro.borrisileigh.tipperary@gaa.ie

---
Annual Spring Clean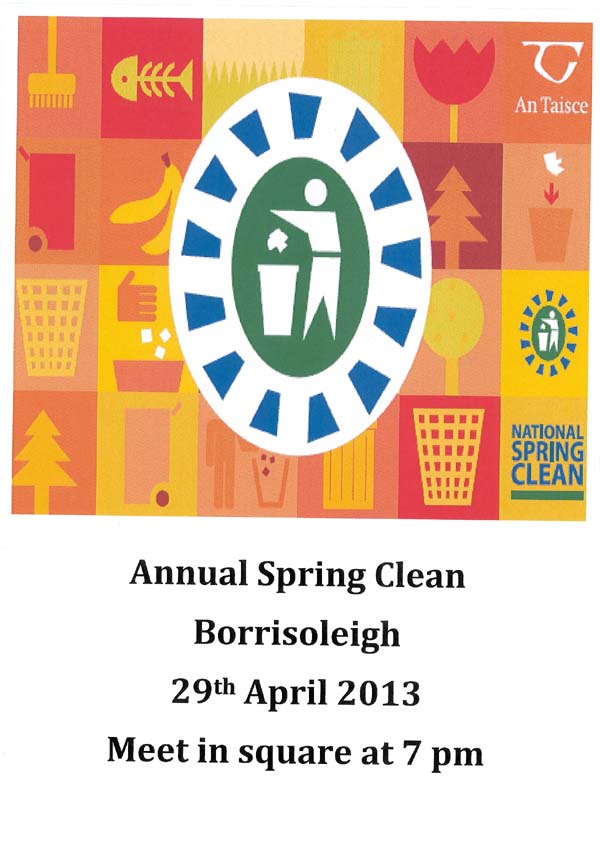 The 15th National Spring Clean campaign gets underway this April. The National Spring Clean, Ireland's largest anti-litter initiative has grown in size and scope over the years with last year's campaign being the largest to date. This is down to
you, the volunteer, who give up your time and energy to make Ireland a cleaner, greener, more beautiful place to live. Borrisoleigh Community Development Association would like to thank everyone who has participated over the years and we are looking forward to this year's spring clean on the 29th April. By volunteering for the Spring Clean campaign, YOU are actively helping to make and keep your local environment a cleaner and more enjoyable place to work and/or live in. Your participation in Ireland's largest anti-litter initiative is very important. Spring Clean is entirely dependent on the
fantastic support and work of North Tipperary County Council and An Taisce. Not only do they supplement supplies of materials but they also ensure that our rubbish is properly disposed of.
Borrisoleigh Community Development Association is once again delighted to organise this spring clean. To participate in this year's annual clean-up meet in the square at 7 pm on Monday the 29th April. There you will receive your supplies of gloves, bags litter pickers etc. Please come in a hi-vis vest for safety.
---

Underage:
Our under 16's game on the 18th April against Moneygall was called off on account of the weather. Their next game is against Holycross in Ballycahill on Thursday the 25th April at 7pm.
The under 12's first match of the league was played on Mon 22nd April at 6.30 in the park like all our teams they got the year off to a winning start. Final score was Borris-Ileigh 3-1, Thurles 0-0. Their next match is at home against Roscrea on the 27th April parents/guardians will be texted with time.
Our under 14 game against Gortnahoe at 6.45 p.m. on Wednesday the 17thApril was called off Borris-Ileigh got the points. They played Clonoulty on Tuesday the 23rd at home at 7pm they a good game and the girls played very well they were in hard luck to lose by one score, final score Borris-Ileigh 3-1, Clonoulty4-1.
Intermediate Team: The intermediate team continue to train for the league semi-final on the 28th April against Templemore at 1pm in Templemore referee Donal Leahy. Please note venue change. Best wishes to all teams playing during the coming week.
Administration: Club membership is now due adults €35 and juveniles €15. All players and adults involved with the club are required to pay membership which covers the cost of insurance and registration. No player will be permitted to play without membership paid. Committee meeting Monday the 29th April.
Fashion Show: Thanks to the shops who came on board, sponsors of our programme, models, makeup artists, hairdressers, raffle ticket sellers, DJ, MC, photographers, donators of prizes, those who provided stalls on the night,those who bought tickets and those who came out on the night. A more detailed account will be done for next week's news.
---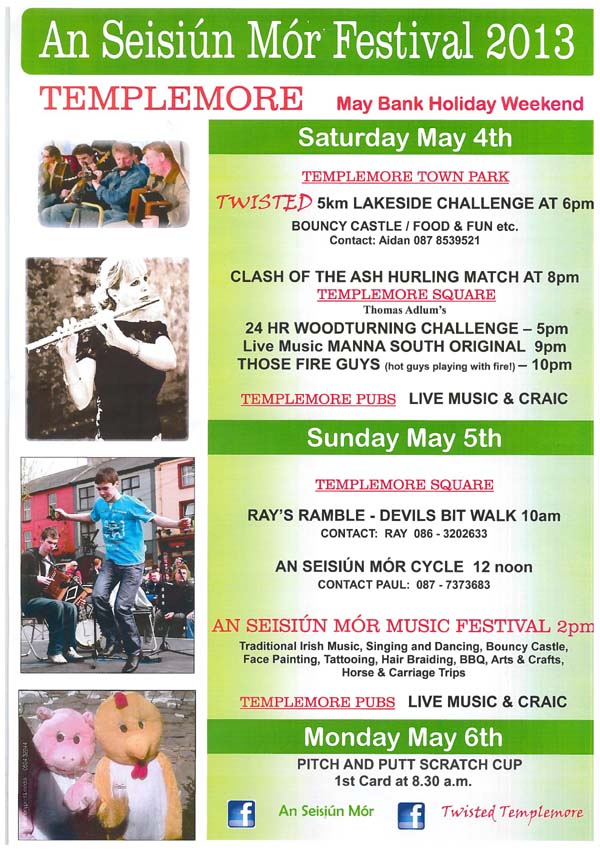 ---

Appeal for Information
From: Michael Ryan
Phone: 0353470166
Email: mike@ryanemail.com
address: 79 Natimuk Road Horsham Victoria Australia 3400
Hi to all at Borrisoleigh. I will be visiting Ireland from 10 May 2013 for three weeks. My great grandparents emigrated to Australia in 1852. They arrived in Ballarat and were on the goldfields prior to the Eureka Rebellion. My great grandfather John Ryan was born in 1823 at Rusheen. He was one of eight children baptized at Drumhill, Rusheen and Curraghleigh to Patrick Ryan Borrisoleigh and Margaret Hourigan from Templemore between 1823 and 1840.My great grandmother Mary Clohesy was born at Killamoyne in 1830. She was one of seven children Baptized at Killamoyne between 1828 and 1836 to Edmund Clohessy and Bridget Ryan. I would love to hear from anyone who may have knowledge of these areas, the families or their ancestors. Please email me if you can assist me in any way in my search or visit to these areas. I look forward to my visit.
Kind Regards, Mike Ryan


---
Marian Hall Lotto
23/04/2013

1, 5, 8, 22

No Jackpot Winner

2 Match 3

Mary Ryan, Curreeny
Isabelle Sage, Woodville Crescent, Templemore

Next Week's Lotto Jackpot

€13,000
New Jackpot starting at €2,000
---

Pic of the Past…..Down Memory Lane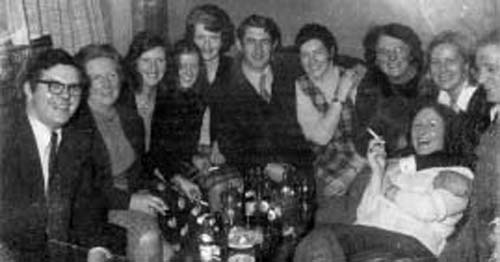 Tom Maher, Mary Ryan, Currabaha, Sheila Ryan,
Nora O'Connell, Nonie Bourke, Ailbe Hogan, Carmel Hogan,
Josie Maher, Patricia Maher, Pat Maher and Mary Duignan
---
Your Website Needs You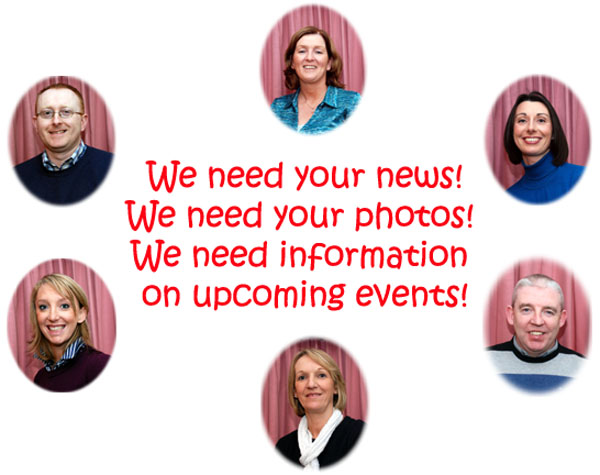 Committee: Enda Ryan, Noreen Fahy, Margaret Cowan, Michael Barry, Marie McGrath and Aileen Óg Groome
Many thanks to all those who contributed photographs and news items. Remember, we need you to continue to send us material so that we can keep our website current and interesting.
Send your email to: info@borrisoleigh.ie
Also, if you like what you see and want to leave a comment, remember to use the Guestbook!

While we make every effort possible to ensure that the information contained in this Website is accurate and complete, we cannot accept any legal liability as a result of the inaccuracy or incompleteness of the information presented to users of this site