St. Joseph's College
Basketball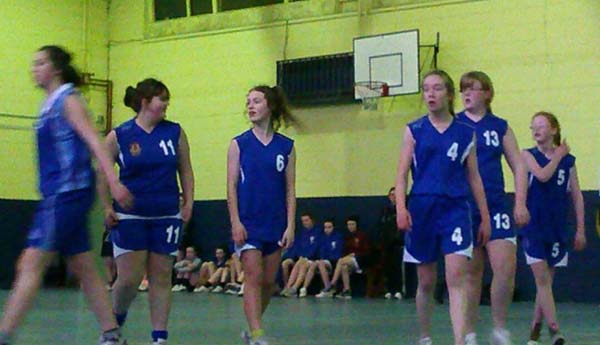 Megan Fairbrother,Eimear Murphy, Annabelle Wynn Jones, Niamh Bourke, Amy Kennedy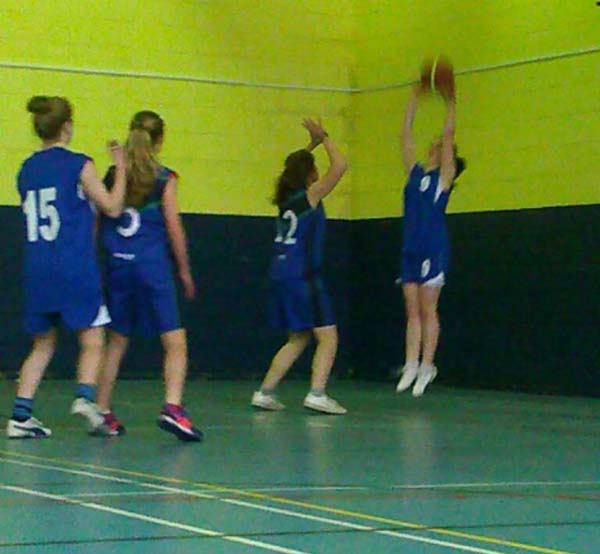 Elaine Gleeson, Rachel Darcy jumping for the ball
2ND YEAR GIRLS BASKETBALL BLITZ By Marguerite Ryan Pictures by Lauren Rusk
On Friday 22nd March, thirteen 2nd year girls headed down to Rockwell College in Cashel to represent St. Joseph's College in a 2nd year basketball blitz. These thirteen girls were Niamh Bourke, Rachel Darcy, Sarah Dunne, Megan Fairbrother, Elaine Gleeson, Annabelle Wynn Jones, Amy Kennedy, Norma Lavery, Siobhan Maher, Eimear Murphy, Ciara Ryan, Orla Ryan and Katie Shanahan.
Four teams participated in the blitz-St. Joesph's, Rockwell College, St. Anne's Secondary School(Tipperary Town) and Presentation Secondary School (Thurles). Each team would play two matches at first and if a team won one or both of these two matches, they would then commence further in the competition.
The Borrisoleigh girls' first match was against Rockwell College. Rockwell had the home advantage and the cheers of their supporters spured them on as they scored 8 points in the first quarter. However, St. Joseph's weren't going down without a fight. Excellent defence by Orla Ryan and Sarah Dunne slowed down the onslaught on Borrisoleigh and Rockwell had to fight much harder to score. Borrisoleigh's first basket of the day was scored by an excellent Eimear Murphy. Eimear's score perked up Borrisoleigh and some excellent basketball was then played, particularly by Annabelle Wynn Jones,Elaine Gleeson and Megan Fairbrother. The match ended on a high, thanks to a fantastic basket scored by Rachel Darcy. Shot from nearly the center line, it would have been a definite three-pointer if the girls were playing zone. The final score was Rockwell: 22, Borrisoleigh 4.
The second match of the day for Borrisoleigh was against St. Anne's. St. Anne's started off strong, with a ten point lead at the end of the first quarter, but the Borrisoleigh girls were determined to make life difficult for St. Anne's. Niamh Bourke started off the second quarter with a bang, scoring a fantastic basket-the first Borrisoleigh one of the match. Fantastic temwork was displayed during this quarter by Eimear Murphy, Norma Lavery, Orla Ryan, Katie Shanahan and Niamh Bourke. St. Anne's began to feel the pressure and fouled Norma Lavery, which resulted in a free shot for Norma, which she promptly drived into the basket.
In the third quarter, St. Anne's only scored one basket, thanks to brilliant defence by Orla Ryan, Amy Kennedy and Ciara Ryan. Annabelle Wynn Jones and Sarah Dunne constantly put pressure on the St. Anne's defense, resulting in an excellent score for Sarah Dunne. A final basket was scored in the last quarter by Siobhan Maher-the end result of a terrific passage of play by Katie Shanahan, Rachel Darcy and Siobhan Maher. The match ended with the score of Borrisoleigh: 7 St. Anne's: 22.
---
Borris Ileigh Juvenile Notes
Our table quiz went ahead last Friday night and was a great night with 28 teams taking part. Winners on the night were Laura Ryan, Alan Ryan and Denise Ryan who incredibly answered all questions correctly. In second place after a tie breaker were 59 questions answered correctly were Martin Ryan, Mark Stapleton, Mattie Stapleton and PJ Kiely. In third place were Joe Kennedy, Paul Boyle, Anthony Ryan and Gerry Treacy. Winners of the juvenile prize were Kate Delaney, Aedin Hogan, Tara Mockler and Cliona o' Connell. The club would like to thank all the businesses that donated prizes for the raffle and all of those who attended on the night.
Last Saturday morning the Thomas Gleeson Cup was played in Bishop Quinlan park. The first round games saw Oisin Stapleton's team take on Adam Galvin's team with Oisin's team emerging as winners to qualify for the final. In the second game Darragh Quigley's team played against Bryan Murray's team and also qualified for the final. The final was an exciting game with some great hurling and plenty of goals scored particularly in the last few minutes. The victorious Captain Darragh Quigley was delighted to accept the Thomas Gleeson trophy from Paul Boyle. Thanks to all the teams and their managers who helped out in any way on the morning.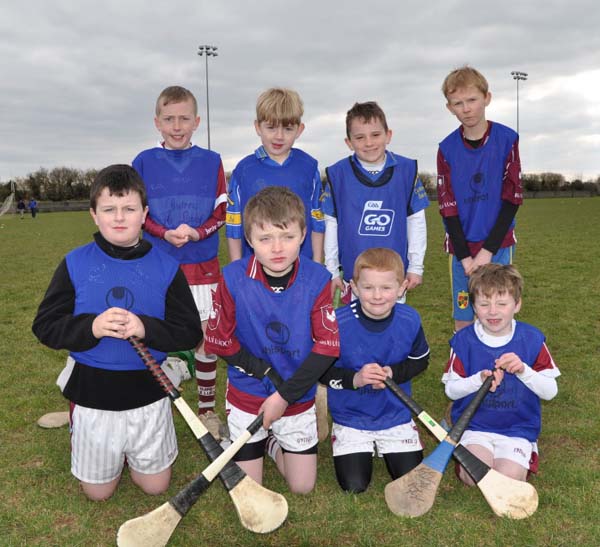 Oisins Team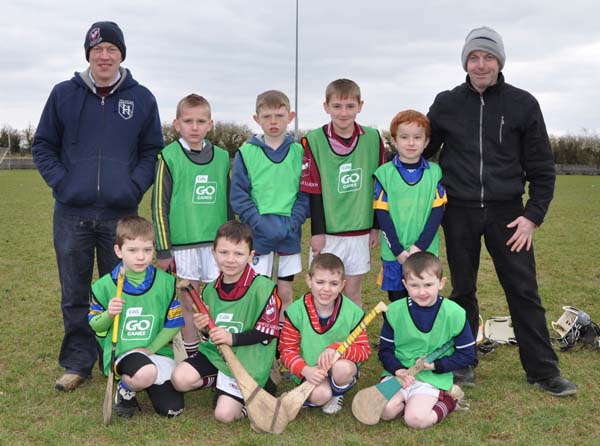 Bryans Team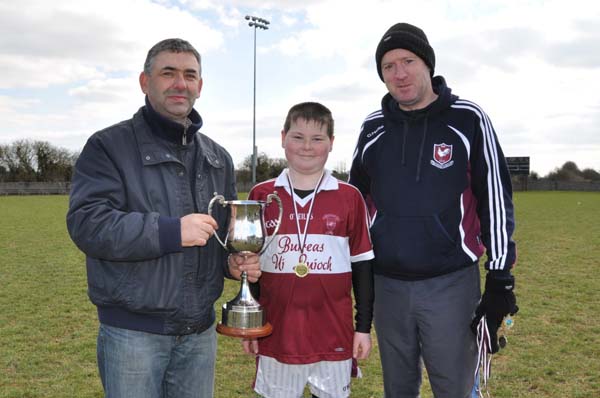 Paul presents the Thomas Gleeson cup to Darragh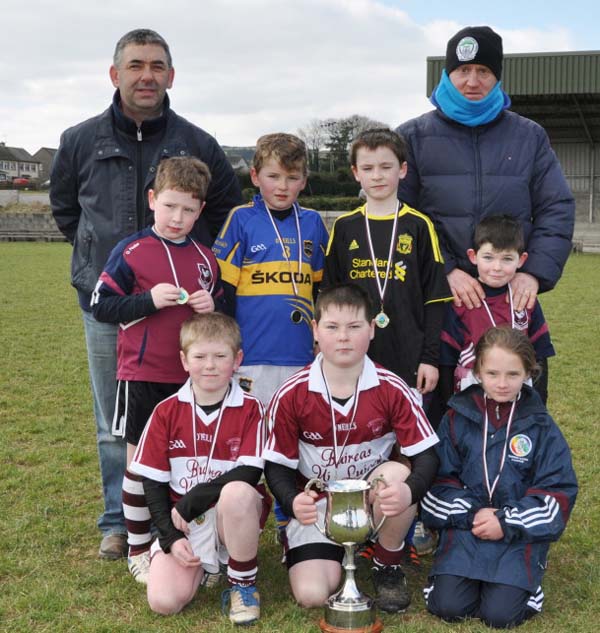 The winning team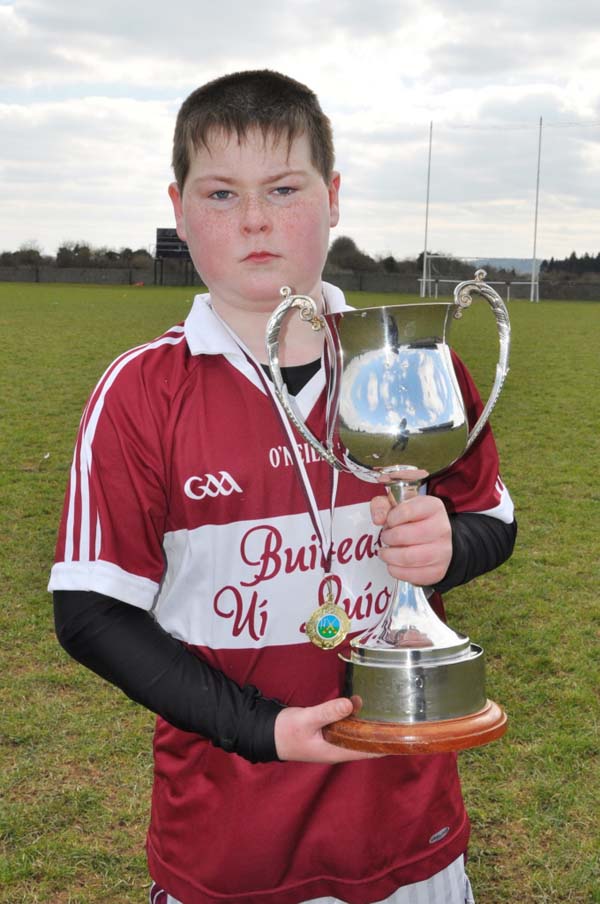 Darragh with the cup
The U16 Footballers had a busy week loosing out narrowly to Burgess on Thursday evening last. They were also comprehensively beaten by Portroe on Monday evening. The U16 hurlers drew with a West Tipperary selection in a friendly game over the week end also.
The U12 Footballers are away to Moneygall on Friday night with the throw in at 6.30pm.
---

The under 12 panel had a successful first blitz of the season on Saturday the 30 th March in the Ragg
at 12.30 pm. They played Drom n'Inch, Toomevara and Nenagh. They won some lost some but
more importantly they got plenty of match experience which will stand to them when the league
starts up towards the end on the month, well done to the girls and the trainers. They have their
next blitz in Moneygall on Saturday the 6th April where they will be playing Moneygall, Holycross and
Newport. Parents/Guardians will be texted with time when confirmed.
The intermediate panel had their second round of the league on Monday the 1 st April at 12 noon at
home against Annacarthy on a bitterly cold afternoon with a strong wind which we played against
in the first half. We were a point down at the end of the first half, however with the wind behind us
in the second half we kept Annacarthy to no score and went on to win the match 1-10 to 1 -3. We
wish Nóirín Stapleton injured during the match a speedy recovery. Well done to the team and their
trainers. The third round of the league is on Sunday the 7th April at home against Shannon Rovers at
12 noon.
Our under 14's had their first outing of the season in the championship on Monday the 1 st April
against Roscrea in Roscrea at 6.30pm. They kick started the season with a comprehensive win over
Roscrea final score Borris-Ileigh 2-7 Roscrea 1-1. All players played very well on the evening. Well
done to the team and trainers. Their next game is against Holycross on the 9th April at 6.45 pm in
Borrisoleigh.
Our under 16's have their first round of the championship on Thursday the 4th April at 6.45 pm in
Roscrea against Roscrea.
Best of luck to all teams next week.
Our under 8's will started back training this Tuesday the 2nd April at 6.45 pm to 7.45 pm please
remember to bring your helmets and shin guards.
Club membership is now due adults €35 and juveniles €15. All players and adults involved with the
club are required to pay membership which covers the cost of insurance and registration. No player
will be permitted to play without membership paid.
The Club will be holding a fashion show in the Templemore Arms Hotel on Friday the 19 th April
tickets are €10 (this includes a cheese and wine reception) and are available from any of the
committee (John Walsh- Centra, Christine O'Brien, Joanne Treacy- Stapletons Bar, Teresa Kiely, Paula
Ryan, Carmel Harkin, Denise Hogge, Kathleen Scanlon, Liam Stapleton, Siobhan Stapleton, Triona
Fitzgerald, Catherine Delaney, Caroline Harkin) or intermediate team member. Doors open at eight
show commences at half eight.
Camogie club merchandise now available Hoodies, tracksuits, t-shirts, jerseys and raincoats
available. See Advertising Section of www.borrisoleigh.ie for pictures. If interested please contact
Caroline at 086 1522716. You can also follow us on Facebook.
---
Pic of the Past….Down Memory Lane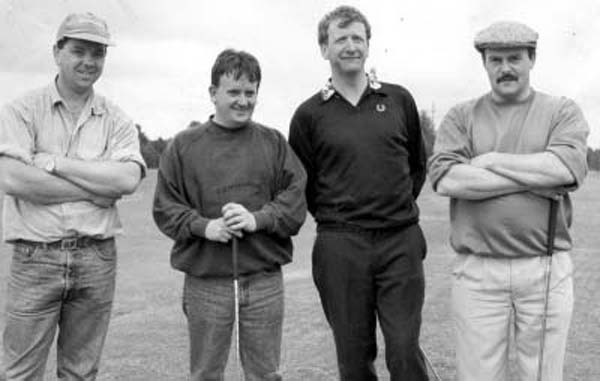 Harry Joe's Golfing Society

Tom Everard, The Ragg, Dinny Reid, Michael Carroll and Noelie Maher
---
Your Website Needs You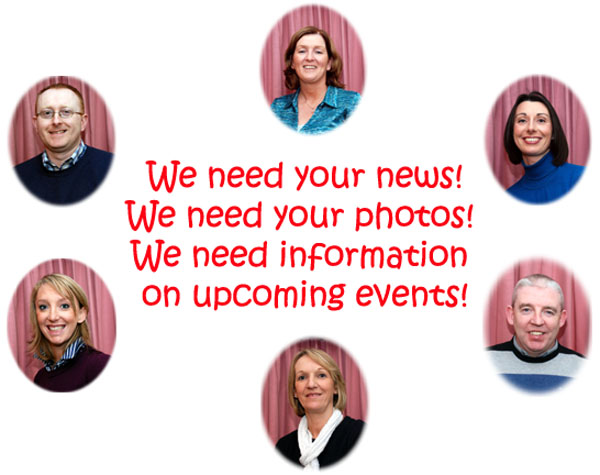 Committee: Enda Ryan, Noreen Fahy, Margaret Cowan, Michael Barry, Marie McGrath and Aileen Óg Groome

Many thanks to all those who contributed photographs and news items. Remember, we need you to continue to send us material so that we can keep our website current and interesting.
Send your email to: info@borrisoleigh.ie
Also, if you like what you see and want to leave a comment, remember to use the Guestbook!
While we make every effort possible to ensure that the information contained in this Website is accurate and complete, we cannot accept any legal liability as a result of the inaccuracy or incompleteness of the information presented to users of this site