Happy Easter


Easter Ceremonies in Borrisoleigh & Ileigh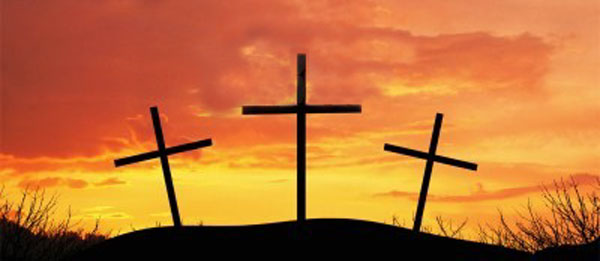 Father, into your hands I commend my spirit.
Sacred Heart Church, Borrisoleigh
Holy Thursday: Mass of The Lord's Supper – 7.30p.m.
Holy Thursday: "Watch with me" Holy Hour – Immediately after Mass
Good Friday: Celebration of the Lord's Passion – 3p.m.
Good Friday: Stations of the Cross – 7.30p.m.
Holy Saturday: Easter Vigil Mass – 8p.m. Please note change of time
Ileigh Church
Good Friday: Stations of the Cross 7p.m.

---
St Therese's National School
THE PARENTS COUNCIL OF ST. THERESA'S N.S.
are holding their annual CAKE SALE on
Easter Sunday 31st March in the
Parish Centre immediately after 11.30am Mass
Your support would be greatly appreciated


---
St. Joseph's College News

All Ireland Hunter Trials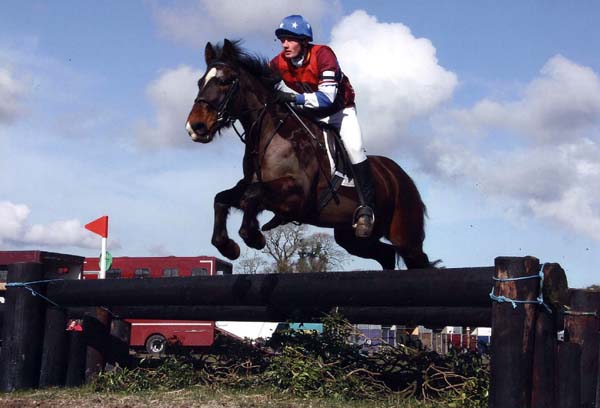 St Joseph's College, Borrisoleigh took part in the All Ireland Inter-schools Hunter Trials in New Ross, Co. Wexford. A team of three, Senior Singles, Sean Ryan and Junior Singles, Billy Seymour and Richard O' Donoghue were entered.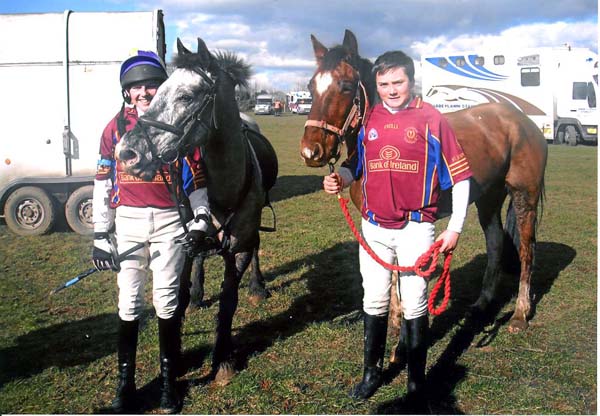 The team of three had to withdraw due to an injury to Mary Meagher, but luckily Richard O' Donoghue was able to compete in the Junior Singles.
With the team of three program commencing at 8am, our first rider of the day, Sean Ryan, competed in the Senior Singles about noon. Sean also has the honour of competing for the Irish Pentalon team. Sean represented St Joseph's Borrisoleigh on Gooseberry Hill Gonzo and had a great round. Unfortunately Sean knocked one of the three knockable fences, which pushed him down the field.
Billy Seymour, a first year student, competing in his first Schools Hunter Trials put in an admiral effort. The winning rider is the one who knocks none of the three knockable fences and has the fastest time.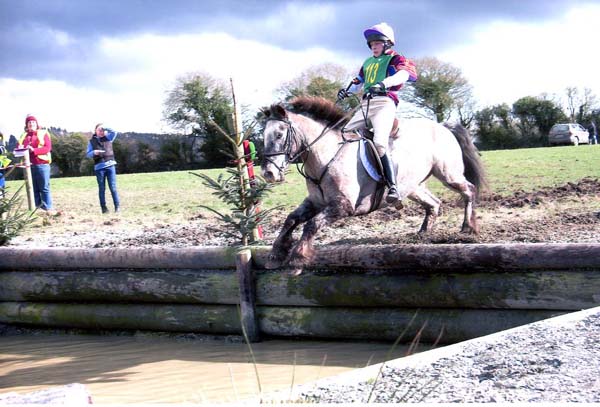 Richard O' Donoghue, an accomplished rider, raised our hopes of claiming a rosette, by posting a clear round and a fast time. Wearing 113 on this back and 170 competing, Richard was sitting in the top ten. However, he was edged out of the top ten, to fifteenth overall, losing out by just two seconds on a rosette.

---
Anniversary Mass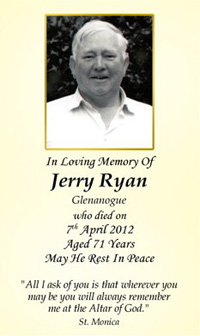 First anniversary mass for the late Jerry Ryan of Glenanogue, Borrisoleigh will take place on Saturday 06 April at 10:30 am

---

St. Therese's N.S. Trip to the Library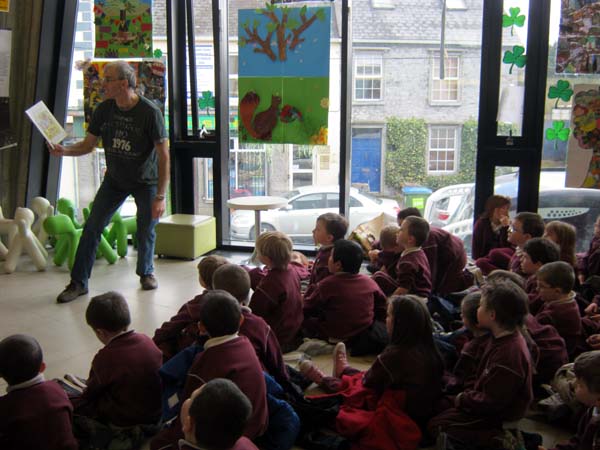 The children from junior infants, senior infants, first class and second class took a trip to Thurles library on Wednesday, 20th March. There was great excitement on the bus ride to the library. The children got to take part in storytime. They listened to many different funny and enjoyable stories that were suitable for all the classes. They were then given the chance to have a look around library and pick some books of their own. They all had a great time in the library and can't wait to go back themselves.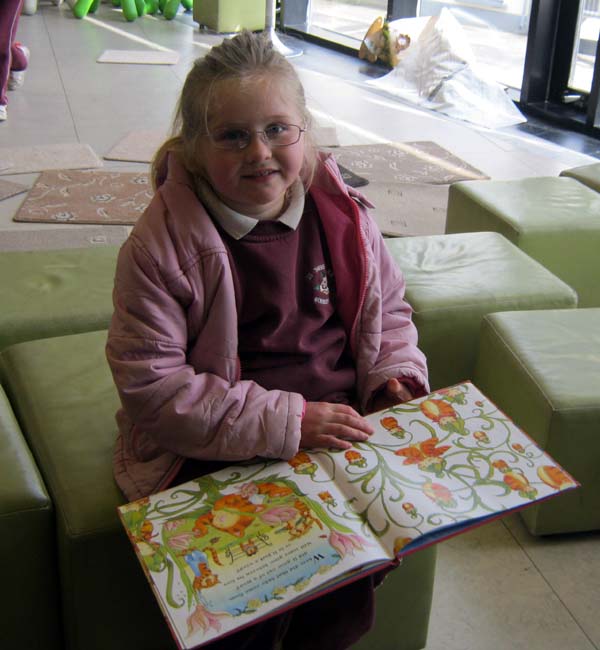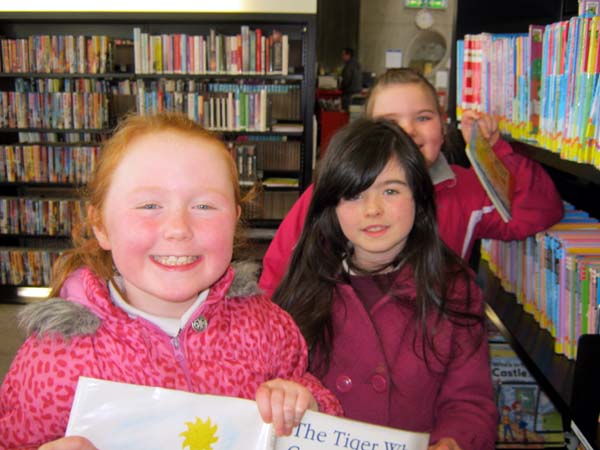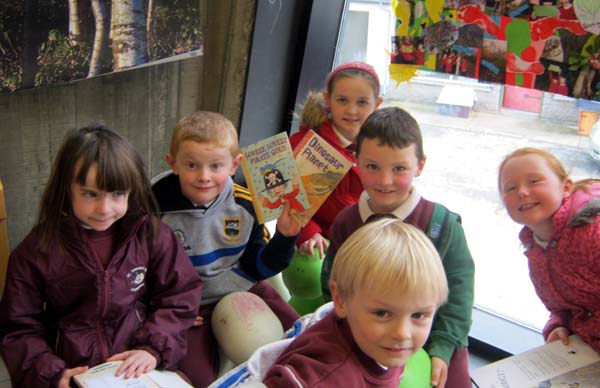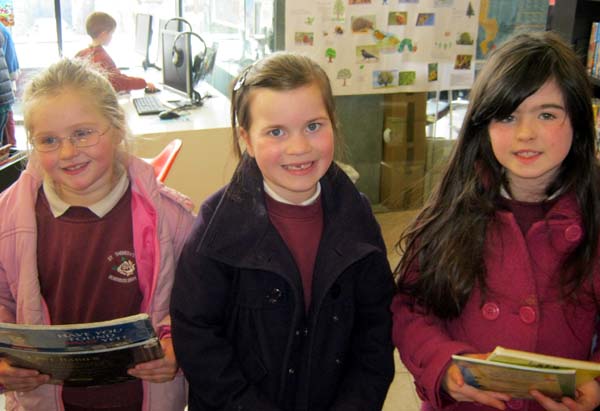 ---
Borris Ileigh Juvenile Club
Borris Ileigh Juvenile Club will hold its Annual Table Quiz in the Marian Hall on Good Friday night at 8.30pm after the Easter ceremonies. The table quiz is a great night out for all the family. Tables of 4 cost €20. Come along and support the Juvenile Club on the night.

The postponed 2012 Thomas Gleeson Cup for U10 players will take place this Saturday in the park at 11am.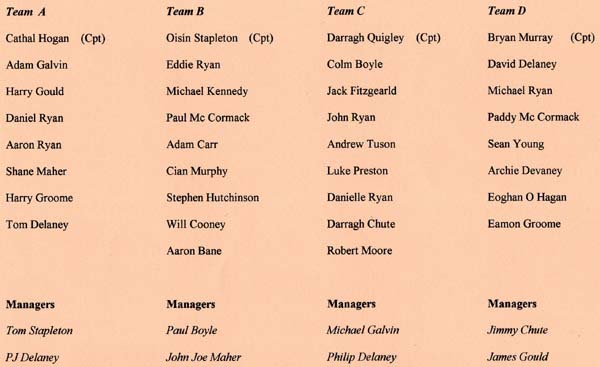 The
U14 Football Championship
is due to start on Wednesday 3 April away to Burgess.
The first round of the
U12 Football
premier games is due to take place on Friday 5th of April away to Moneygall.
The U12 panel have been selected to play an
U12 Football Blitz
in Croke Park on Wednesday 3 April. They will play three short games against, Killavullan (Cork) Adare (Limerick) and Tramore (Waterford). Once the games are finished the players will be treated to a tour of Croke Park.
Our U16 Football match against Burgess has been rescheduled for this Thursday evening in Borris at 6.30 PM.

---
Visiting Borrisoleigh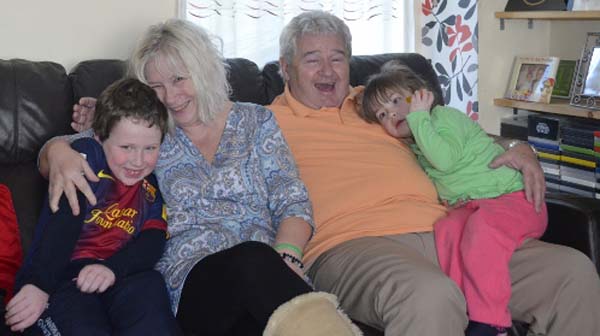 Luke and Holly with Grandparents Rosina and Jimmy Preston on a recent visit from England

---
Family Fun Cycle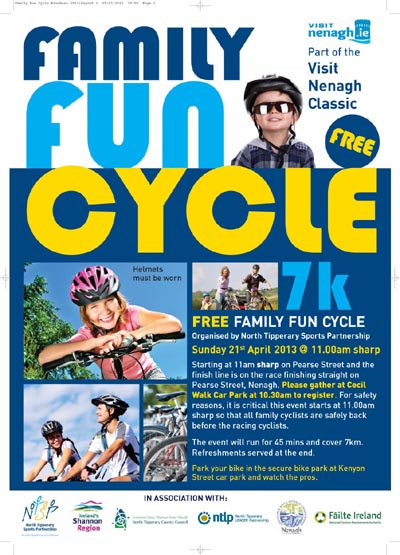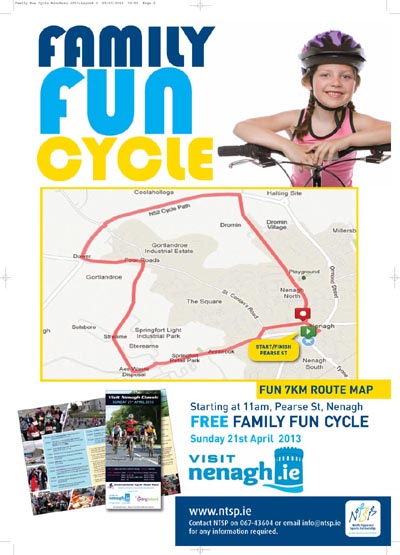 ---
St. Cualan's Social Club Outing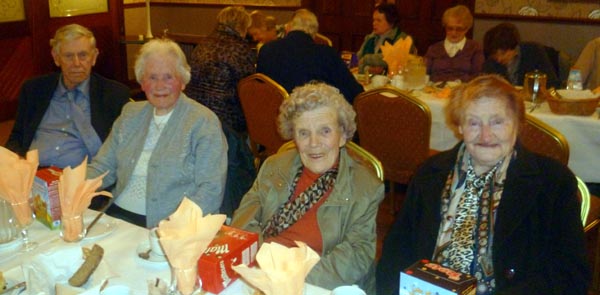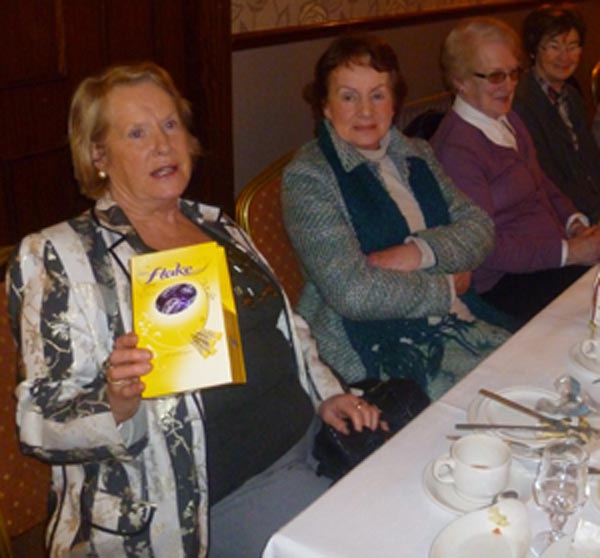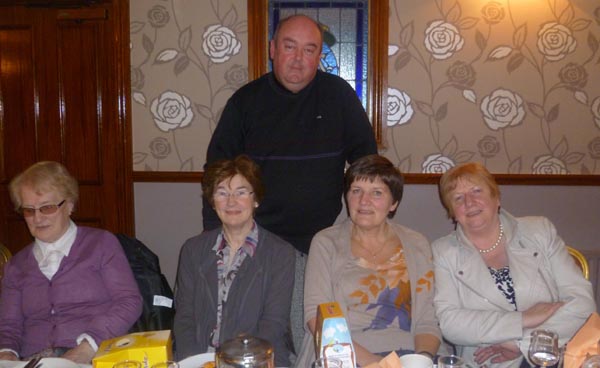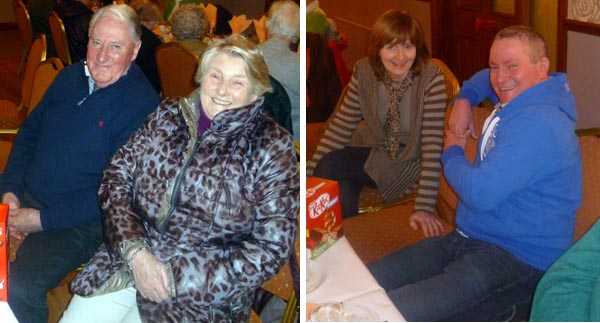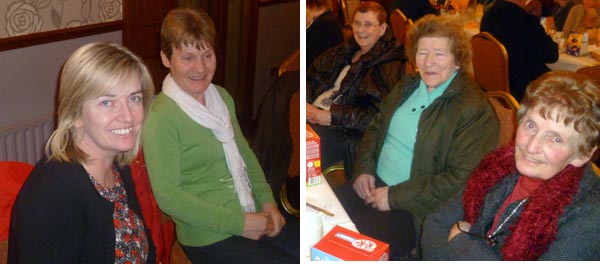 St. Cualan's Social Club made a trip to Mount St. Joseph's Abbey last Saturday and a very enjoyable day was had by all. Many a story and memory was shared over tea and scones at the Abbey prior to Confessions and again in the Templemore Arms where we had our meal. It was a light hearted group that returned to Borrisoleigh with many admitting to feeling stones lighter after Confessions!! We have our next event coming up in May so keep an eye and ear out for further information on same.


---
Borris-ileigh Camogie Club

We have a very busy week ahead of us on the camogie front our under 12 panel will have their first blitz of the season on Saturday the 30th March, in Borrisoleigh at 2 0'clock. The teams are Borris-Ileigh, Nenagh, Drom and Inch and Toomevara . Rules are max of 11 a side, 12 minutes per side, 24 minutes per game. More comprehensive rules on www.camogie.tipperary.gaa.ie The blitz scheduled for the 23rd in Roscrea was cancelled as pitch was flooded.
Our under 14's will have their first outing of the season in the championship on Tuesday the 2nd April against Roscrea in Roscrea at 6.45pm.
On Thursday the 4th April our under 16's also have their first outing of the season in the championship again in Roscrea against Roscrea at 5.45pm.
The intermediate panel have their second round of the league on Monday the 1st April at 12 noon at home against Annacarthy.
Committee meeting will be held directly after the intermediate game on Monday.
Best of luck to all teams.
Club membership is now due adults €35 and juveniles €15. All players and adults involved with the club are required to pay membership which covers the cost of insurance and registration. No player will be permitted to play without membership paid.
The Club will be holding a fashion show in the Templemore Arms Hotel on Friday the 19th April tickets are €10 (this includes a cheese and wine reception) and are available from any committee or intermediate team member. Doors open at eight show commences at half eight.
Camogie club merchandise now available Hoodies, tracksuits, t-shirts, jerseys and raincoats available. See Advertising Section of www.borrisoleigh.ie for pictures. If interested please contact Caroline at 086 1522716. You can also follow us on Facebook.

---

Borris-Ileigh GAA Notes

A note from the chairman:
I am writing to you to outline our plans for the short, medium and long term for our GAA Club. This club belongs to everybody in the community and it is all these people that we are here to serve and to give the finest facilities and amenities to. As many of you may know we have recently purchased a new field. This is the one running directly beside the current hurling field on the Rathmoy side. This adds to the land we bought joining the soccer field at the top of the town park. It is our hope, that with your help, that we will have a top class facility available to everybody within the community and parish in the very near future.

As it stands, planning permission has been submitted for the development of two full sized hurling pitches and a walkway that shall incorporate new and existing lands. We are waiting on the response from the county council and as soon as we get the go ahead we shall be commencing the work. It is our intention to develop the field running parallel to the current pitch first followed by the one where the soccer field now stands. The walkways shall be developed as the pitches are being done. In the long term it is our aim to facilitate the building of the sports complex centre and also a hurling wall within the grounds. While these are ambitious plans that will no doubt take time and much effort we fully believe that we can achieve our targets and give to the people of Borrisoleigh the top class facility that they deserve. We want this to be a community project and hope that everyone will feel involved in the process. It is going to be the community who will be the biggest benefactor of this project with playing pitches for children, schools and adult teams, a sports complex with teenage social areas and gym, a hurling wall, an extensive floodlit walking path for all the family adding to the already in place amenities.

However, these plans will only remain as plans without your assistance. While fundraising is necessary we do not want to burden people heavily as we are well aware of the lack of surplus money in households. We have in place an excellent finance committee that has so far carried out fantastic work. Their most recent event, the White Collar Boxing, was a fantastic success that was both great value for money but also a huge benefit to the club finances. The next big event is our Golf Classic which shall take place on Friday 31st of May and Saturday 1st of June in Thurles. This is a fourball competition and a team of 4 costs just €120 while tee box sponsorship costs just €30. If that doesn't entice you enough the top prize is a fourball at The Old Head of Kinsale while other prizes include fourballs at Foto Wildlife Park, The K Club and many more.

Our long term finance plan shall focus on the club lotto, membership and the Tipperary draw. These are simple and effective ways of raising income but also give those signed up a chance to win thousands of euro. We have compiled a number of packages that include some and all of the above. The club lotto costs just €2 per week and is our most vital source of income. We appeal to everyone to purchase a ticket every week and to encourage anyone they know with any connection to Borris to also purchase one. These can be bought online on both www.borrisoleigh.ie and
www.borris-ileighgaa.com
The packages are as follows:

€120-Membership and yearly club lotto
€120-Membership and Tipp draw
€200-Membership, yearly club lotto and Tipp draw

We know we have come to you for money in the past and will have to come to you in the future but we want to offer as much as possible in return for your hard earned money. It is your money that shall help build this amazing facility that we have planned and it is you and your children that will enjoy it for many years to come. We hope that you will all get behind our plan and help us see our project through to the end. It shall be a great source of pride for everybody in the parish and we hope you will be able to look back and say that it was with your help that this venture succeeded.
Kind Regards,
Mark Stapleton,
Chairman Borris-Ileigh GAA Club

Senior Hurling: We had a busy week in the Challenge Cup. On Wednesday night we hosted Moneygall. There was rarely much more than the minimum between the two sides throughout the game. At full time it stood at 0-14 to 2-08 so extra time beckoned. It was here where Borris took off and finished the stronger. The final score was 1-21 to 2-12. On Sunday afternoon we travelled to Littleton to take on Moycarkey-Borris. Played in Baltic conditions it was hard for players to get going. Much like Wednesday evening there was rarely a big gap between the two teams. It was a draw game at both half time and full time. Again we were faced with extra time but it was the turn of the opposition to finish stronger. The final score was 1-22 0-16. Our next competitive game shall be the first round of the North Championship against Borrisokane on the 6th of April. On Saturday morning we will play the Tipperary Intermediate team in Dr Morris Park at 11:30am.

Junior League: We play Lorrha next Sunday in the first round of the junior league at 5:15pm in Lorrha. All support is most welcome

Membership and Insurance: The deadline for membership and insurance is fast approaching. We ask all those interested to make contact with John Bradshaw on 086 8048429, Mark Stapleton on 086 8143486 or Gerry Treacy on 086 3958405 before 31st of March. Players wishing to play shall not be allowed to play have they not their insurance paid. Adult player rate is €50 and for students €30. We also hope as many non-players as possible sign up for membership.

White Collar Boxing DVDs-DVDs are now on sale of our very successful White Collar Boxing against Drom-Inch. They cost €10 and money is to be paid up front. Anyone wishing to purchase one please contact Mark Stapleton on 086 8143486 or Henry Groome on 086 0672743.

Club Merchandise: A bumper sale of all club merchandise shall take place this Saturday morning in the pavillion. There shall be up to 50% off on gear. The sale begins at 11am.

---
Daffodil Day 2013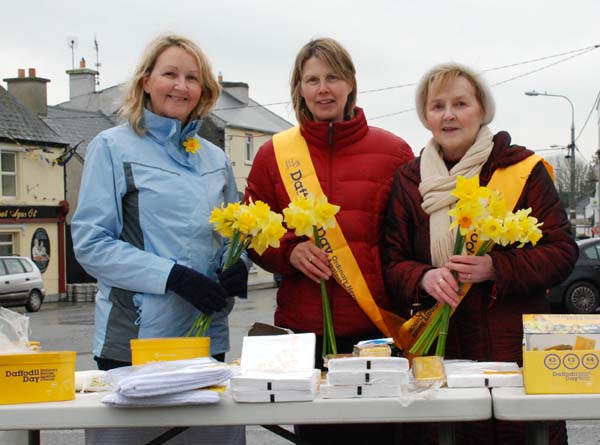 €3,580 donated

A huge thank you to everyone who came out to support us on Friday 22nd March.
Very special thanks to all the volunteers who gave up their time on such a inclement day. Thanks to all those who provided much needed refreshments to the volunteers throughout the day.

---
Pic of the Past ……….down memory lane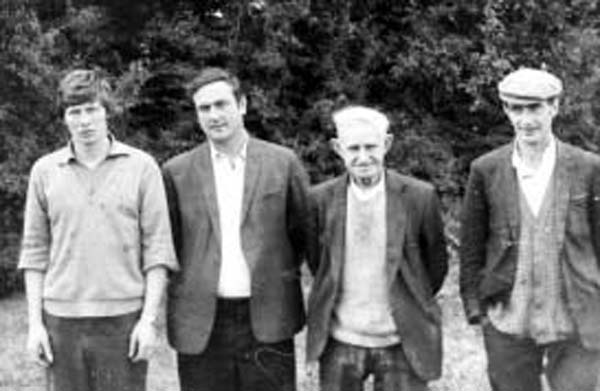 John Kinane, Martin Manning, John Young and Martin Young

---
Committee: Enda Ryan, Noreen Fahy, Margaret Cowan, Michael Barry, Marie McGrath and Aileen Óg Groome
Many thanks to all those who contributed photographs and news items. Remember, we need you to continue to send us material so that we can keep our website current and interesting.

Send your email to: info@borrisoleigh.ie

Also, if you like what you see and want to leave a comment, remember to use the Guestbook!
While we make every effort possible to ensure that the information contained in this Website is accurate and complete, we cannot accept any legal liability as a result of the inaccuracy or incompleteness of the information presented to users of this site