St Patrick's Day Parade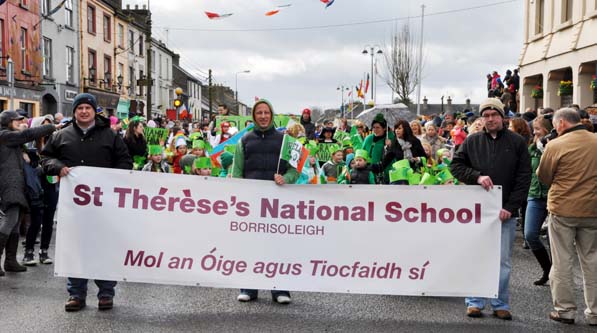 It was the children from St. Therese's NS first time entering the parade. Our theme was" Bliain na Gaeilge". The children and teachers worked very hard in putting their costumes and props together. The smaller children dressed as leprechauns and shamrocks. We had snakes, a rainbow and a pot of gold as well as our very own St. Patrick (Tom Delaney). The older girls performed music on their instruments and did Irish and Sean Nós dancing. Different groups of children portrayed different Irish Legends including Oísín in Tír na n-Óg and The Children of Lir. We had Molly Malone with her wheelbarrow. As well as some of the great Irish talents from the world of sports, including Katie Taylor, Lar Corbett and Tommy Walsh and Irish heroes Jedward. Overall the day was a huge success and was greatly enjoyed by parents, teachers and children. St. Therese's did extremely well, coming joint third on the day. A huge thanks to all!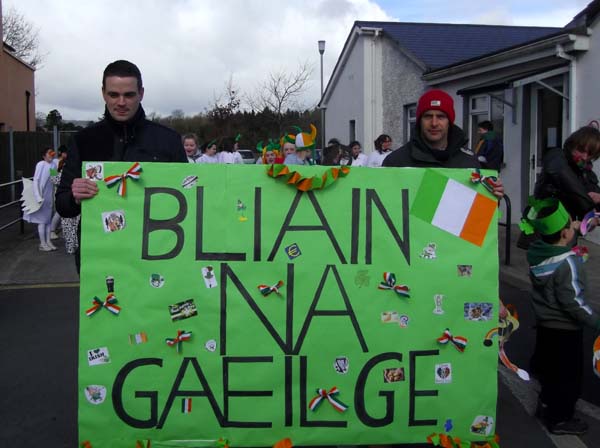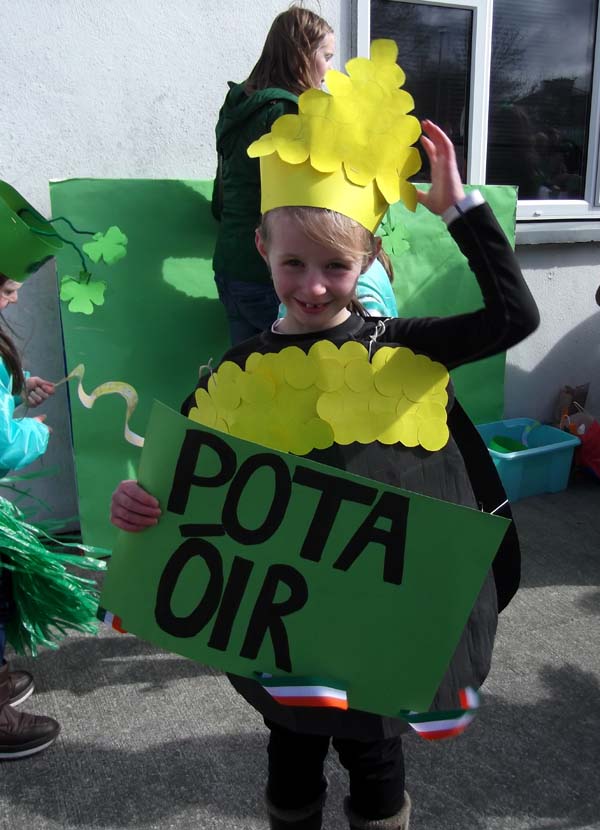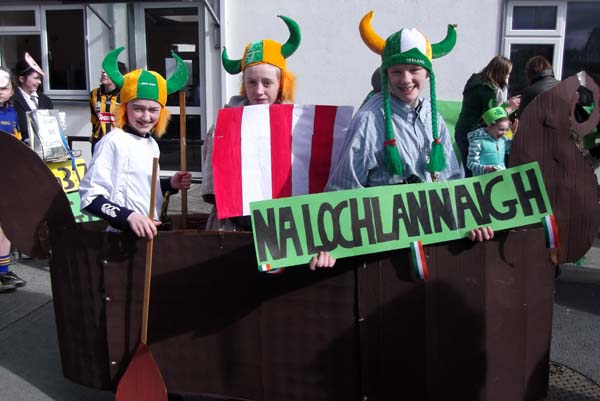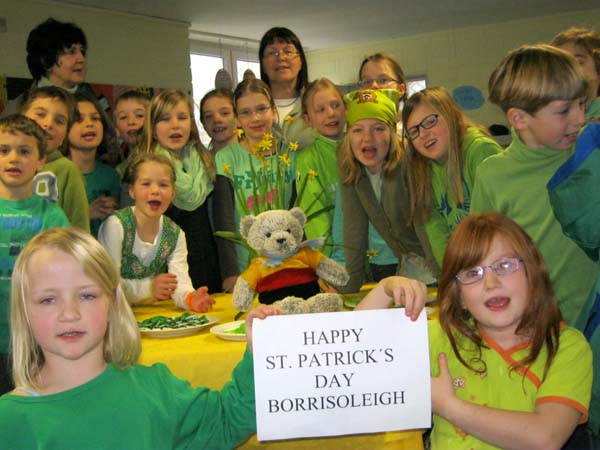 Happy St. Patrick´s Day to all the people in Borrisoleigh from Grundschule Stahringen in Germany, the partner school of St. Therese´s School
Fifi's Tots also took part in the Parade as can be seen below! More pics from the Parade are available in a
gallery
.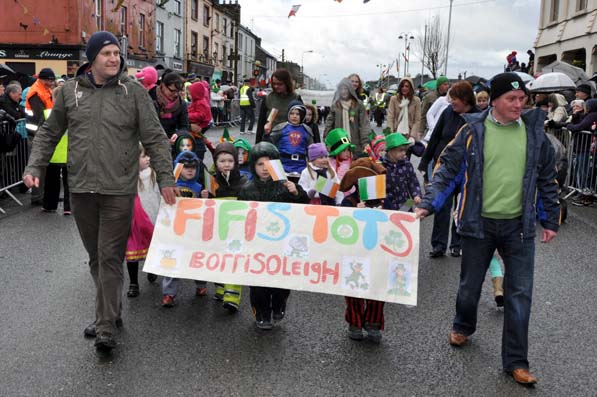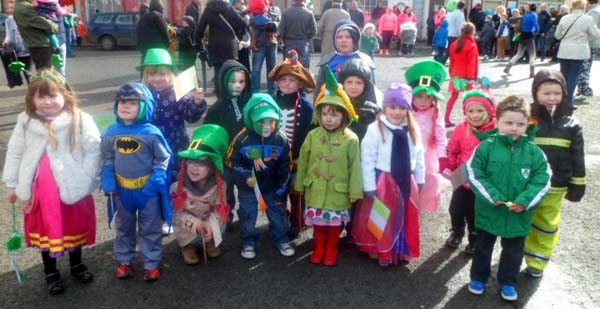 ---
Inch Players
Inch Players present:
MY WIFE'S FAMILY
A 3 act comedy
Inch Community Hall
at 8.15pm sharp!
on Sat 23rd, Sun 24th & Mon 25th March.
Prepare to be Elevated & Exalted to Comedy Heaven!
---
Saints All Stars Easter Camp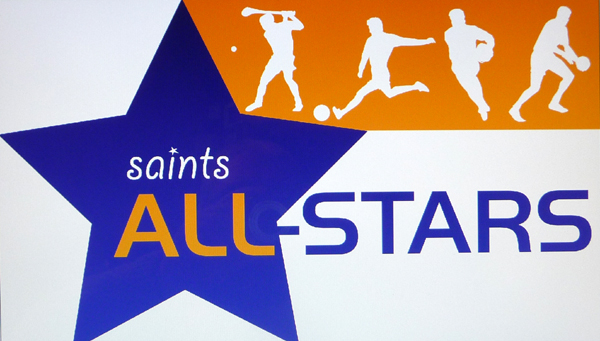 Just a reminder to book in for the Saints All Stars Easter Camp if you have not already. Unfortunately I could not make it around to the schools early this year as I am busy with college so could not meet the kids personally.
It is starting this coming Monday 25th and running to Friday 29th. The time is 10am to 2pm. If you have not booked in or are late booking in it is OK to come on the morning as per usual. The cost is 40 euro per child with reductions for more than one per family. There will be hurling, football, soccer and rugby played, as well as other smaller games.
For any bookings or queries contact me on 086 3328697
Bookings can be also text in with name, age and location of child.
---
Scoil Bhríde Fantane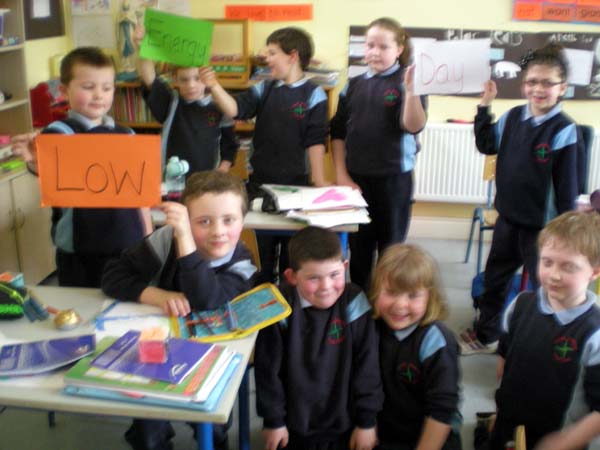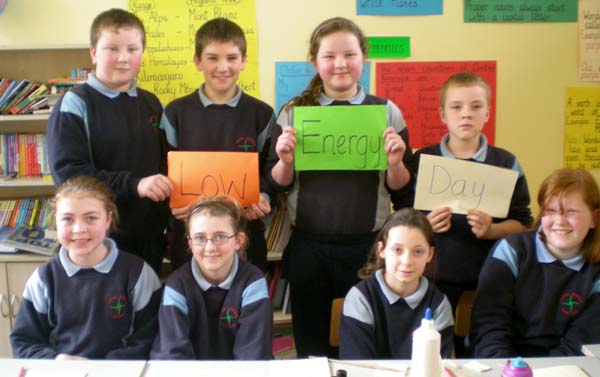 Scoil Bhríde, Fantane applying for their second Green Schools Flag for Energy
Here are some "Energy Saving Tips"
Don't leave televisions and computers on stand-by.
Don't leave lights on when you are not in the room.
Use energy efficient bulbs.
Turning down the thermostat by 1 degree can reduce your heating bills by 10%
Open/Fun Day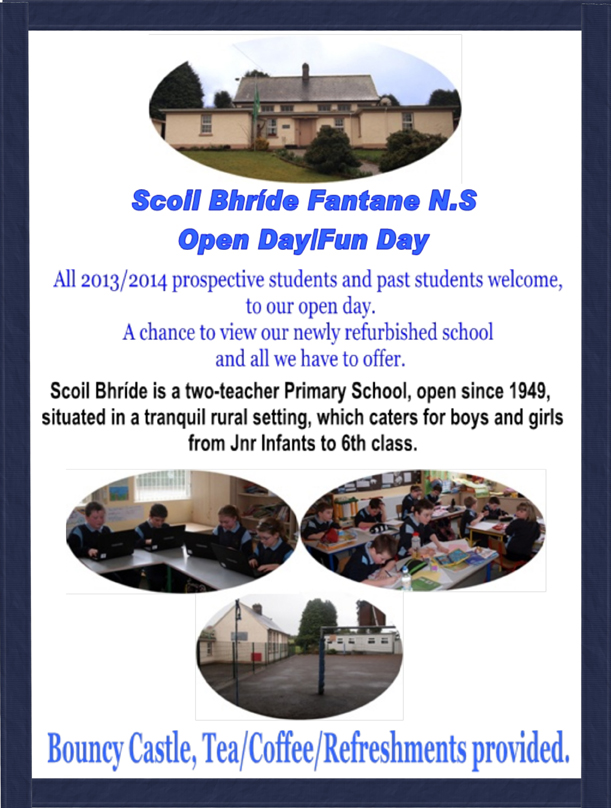 ---
Borris-Ileigh GAA Notes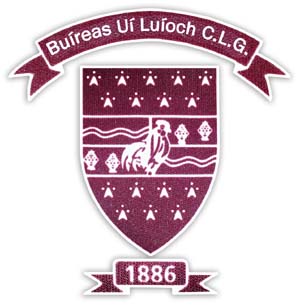 Senior Hurling: We are due to play Moneygall on Wednesday night in Borrisoleigh at 8pm in the second round of the Challenge Cup. If we win we shall be playing Moycarkey at the weekend. If we lose we shall be playing Drom-Inch, also at the weekend. On Sunday morning last we defeated Lismore of Waterford on a score of 2-18 to 2-13.

All county table quiz: Last Friday night we held the Borrisoleigh leg of the All County Table Quiz in the Clodagh Bar. There was a disappointing turn out on the night but those in attendance enjoyed a great night. The winning team that will go forward to the county final are "Kelly's Hero's" consisting of Sean Kelly, James Gould, Henry Groome and Philip Delaney. Well done to the lads and best of luck
Membership and Insurance: The deadline for membership and insurance is fast approaching. We ask all those interested to make contact with John Bradshaw on 086 8048429, Mark Stapleton on 086 8143486 or Gerry Treacy on 086 3958405 before 31st of March. Players wishing to play shall not be allowed to play have they not their insurance paid. Adult player rate is €50 and for students €30. We also hope as many non-players as possible sign up for membership. We have also agreed on deals for membership tied in with club lotto and the Tipperary draw. The deals are as follows;
€120-Membership and club lotto
€120-Membership and Tipp draw
€200-Membership, club lotto and Tipp draw
It is a great honour to be a member of your club and you can also avail of the many benefits that will go with it.
Lotto: We encourage as many people as possible to play our weekly lotto. This is a fantastic was of raising vital funds and only costs €2 a week to be in with a chance to win thousands of euro. It is a quick and easy to play and can be done online on both this website and our own website www.borris-ileighgaa.com
Planning: Planning permission has gone in this week for development works on our grounds. This includes 2 full playing pitches and a walking track around the bounds. We hope to get to work as soon as possible and have wonderful facilities for all to enjoy.
The club would also like to wish Philip and Mary Rabbitte and their family all the best on their move to Australia this week. Philip is a former club captain who was always a big presence both on and off the field. He also led Borris to victory in the 2005 North Final. We wish them well and hopefully we will see them again.
---
St Joseph's College News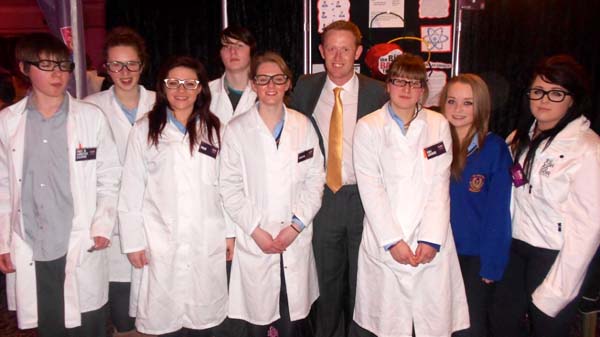 St Joseph's students with Colm "Gooch" Cooper
TY students of St. Joseph's College Borrisoleigh took a trip to the Silversprings Hotel in Cork to take part in the Regional Finals of The AIB Build a Bank Challenge. The AIB Build a Bank Challenge is an enjoyable and exciting way for Transition Year students to run their own School Bank, with the support of AIB, and at the same time learn a whole lot about managing their own business. The AIB Build a Bank Challenge sees a team of six students selected to set up and manage a bank in their school, getting involved in everything from sourcing new customers and opening AIB accounts to encouraging regular savings and exploring new ways to bank, such as AIB Phone & Internet Banking.
Each School Bank Team was given a marketing budget to get them up and running and were given full guidelines as to what it could be used for in the context of the AIB Build a Bank Challenge. Each school participating in the competition were required to base their bank on an original idea without using the AIB logo. The students came up with the idea of THE BIG BANK THEORY as their theme for the bank, based on the popular TV series "The Big Bang Theory".
Students set up an exhibition for the Regional Finals in order for judges to examine the concept and running of their bank. St. Joseph's College was selected as one of the top ten schools in the Regional Finals – a great success for its first year in the competition. Students have plans to run the bank for the remainder of the school year and into next year.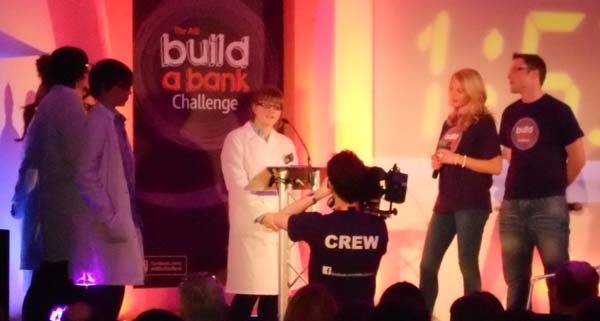 Non-Uniform Day:
The Transition Year Students of St. Joseph's College Borrisoleigh recently hosted a non-uniform day in memory of Baby Lucy Anne Murphy. It was a story that really touched them and they were determined to do something in recognition of the wonderful work and support that the Jack and Jill Foundation undertake. In 2012, Jack and Jill cared for Baby Lucy, allowing her to be cared for at home until she passed away peacefully in her family's arms. At just two-weeks old, Baby Lucy was diagnosed with Edwards' Syndrome, a chromosomal disorder which would not allow Lucy to live for very long. Having met with Íde, Baby Lucy's mother, the T.Y. students were determined to show their recognition for the amazing work done by The Jack and Jill Foundation. They raised the sum of €1000 which was in turn donated to Fun Day for Lucy, held in Kilmallock, Co. Limerick on March 9th. The aim is to raise enough funds to provide home-nursing care for one baby for one year. If you wish to donate to this wonderful cause you may do so online at http:/www.mycharity.ie/event/ide_osullivans_event
Our sincere thanks to the students, parents and staff of St. Joseph's College for raising this money.
---
Borris-Ileigh Camoige Notes

Our under 12 panel will have their first blitz of the season in Roscrea on Saturday the 23rd March. Parents/Guardians will be texted when time confirmed.
The intermediate panel continue training on Friday at 7pm and again on Sunday morning. Our under 16's and 14's continue training at 11 am Saturday morning. Training will resume for all our other age groups shortly.
Club membership is now due adults €35 and juveniles €15. All players and adults involved with the club are required to pay membership which covers the cost of insurance and registration.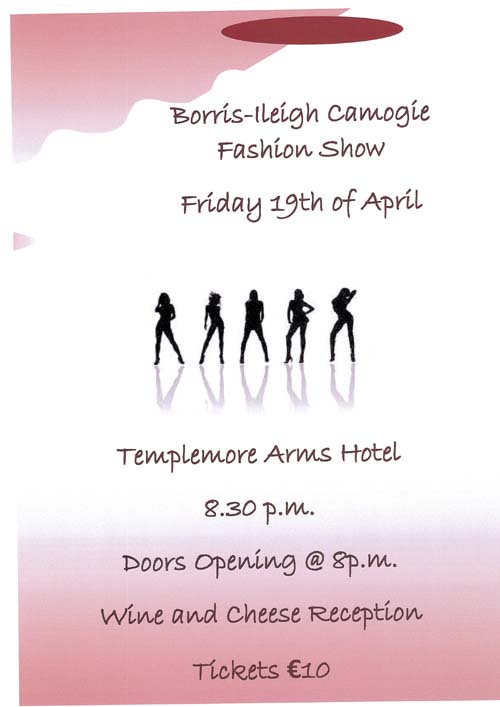 The Club will be holding a fashion show in the Templemore Arms Hotel on Friday the 19th April tickets are €10 (this includes a cheese and wine reception) and are available from any camogie committee member. The GAA club are also selling tickets for us. Borris-Ileigh Camogie Club last held a fashion show in the Templemore Arms Hotel in 2009 as a fund raising event for the club it was a great success. We hope that the 2013 show will be as successful. The night will begin with a cheese and wine reception, followed by men, women and children from the parish taking to the catwalk to model clothes from local shops. Tickets are only €10.
Camogie club merchandise now available Hoodies, tracksuits, t-shirts, jerseys and raincoats available. See Advertising Section of www.borrisoleigh.ie for pictures. If interested please contact Caroline at 086 1522716. You can also follow us on Facebook.
---
International Youth Pentathlon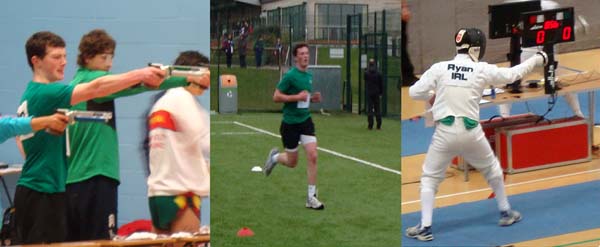 Sean Ryan in action at the Pentathlon

Sean Ryan, Rathmoy recently travelled to Hartpury in the UK to represent Pentathlon Ireland at an International Youth Pentathlon Competition. The Modern Pentathlon requires athletes to run, swim, ride, shoot & fence.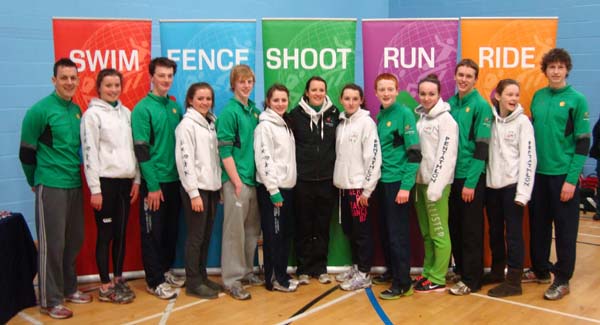 Sean with fellow Irish competitors on the Youth A & B Boys & Girls Teams
---
St. Cualan's Club
St. Cualan's Social Club outing, to Mount St. Joseph's Abbey in Roscrea, is taking place next Saturday, 23rd March. A bus will leave the square at 12 noon, head to the Abbey for Confessions and then to Templemore Arms for refreshments. We aim to be back in Borrisoleigh by 5.30pm. There are volunteers available to collect people from their homes and back again in the evening. Anyone interested in going on the outing is asked to contact a committee member. A list of those on the committee is in the church porch and here on the website. Hope to see you on the day!
---
Daffodil Day

Daffodil Day comes to Borrisoleigh on Friday, 22nd March, 2013
Merchandise on sale again this year and of course Daffodils!
---
Progressive 25 Drive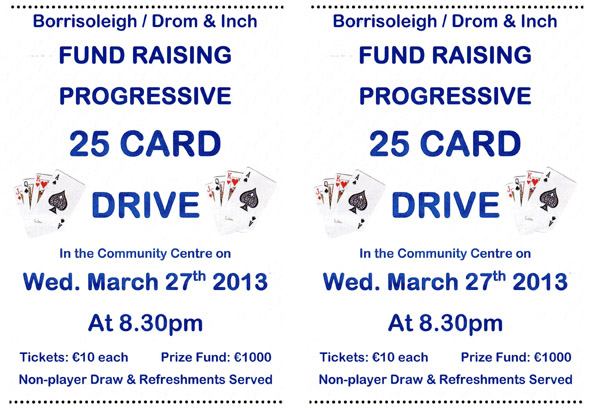 ---
Scór na nÓg
Templederry Novelty Act will perform on Saturday 23rd March at 8.30pm in the Kenyon Centre Templederry.
All welcome.
---
Pic of the Past……down memory lane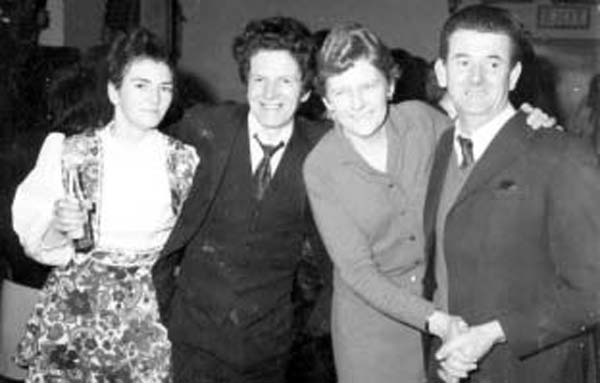 Nancy and Michael Hogan, Pallas Street,
with Lizzie and Tom Ryan Murray, Nenagh Road
---
Your Website Needs You!
Committee: Enda Ryan, Noreen Fahy, Margaret Cowan, Michael Barry, Marie McGrath and Aileen Óg Groome
Many thanks to all those who contributed photographs and news items. Remember, we need you to continue to send us material so that we can keep our website current and interesting.
Remember to please send your news item to us by 8.00pm on Tuesday evening as items received after this time may not make it onto the website.
Send your email to: info@borrisoleigh.ie
Also, if you like what you see and want to leave a comment, remember to use the Guestbook!
While we make every effort possible to ensure that the information contained in this Website is accurate and complete, we cannot accept any legal liability as a result of the inaccuracy or incompleteness of the information presented to users of this site