St. Therese's NS World Book Day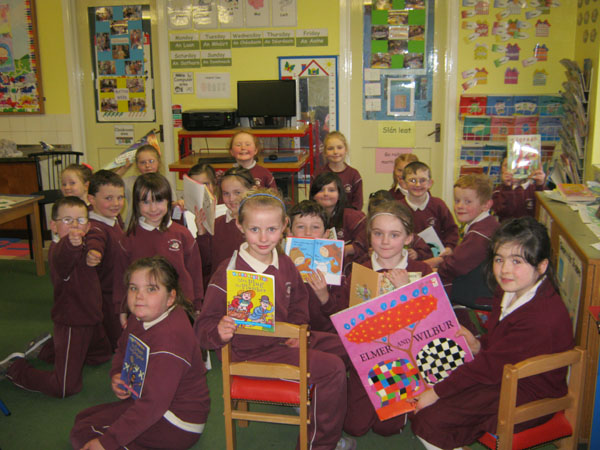 All the children in the class reading together.


For World Book Day on March 7th the children in senior infants, first class and second class enjoyed some time to explore the books in their library.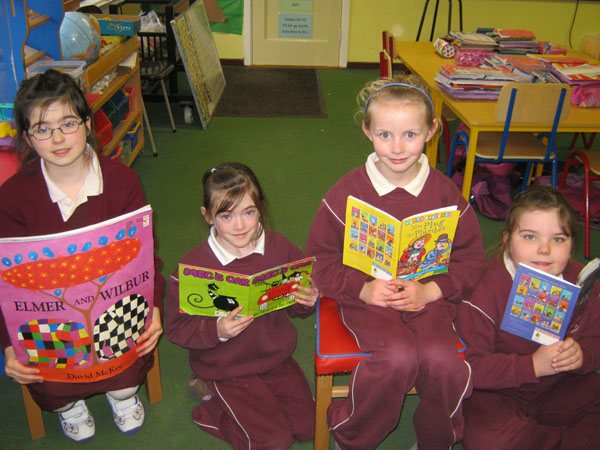 The girls from second class each reading a book of their choice.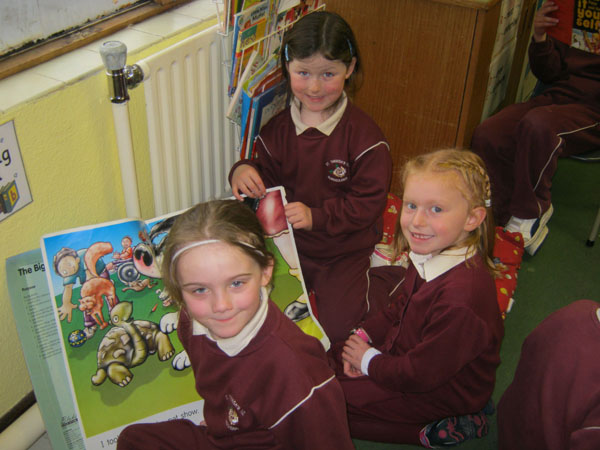 Girls from senior infants enjoying a big book.

---
---
St. Joseph's College News

Two in a row adds up for Borrisoleigh Maths Students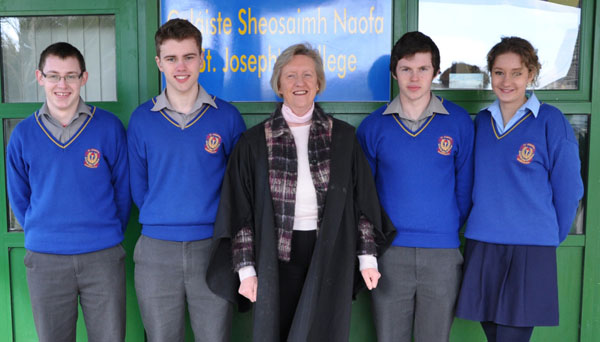 On Friday 28th January 2013, St Josephs College, Borrisoleigh emerged winners at the team maths quiz regional final. The quiz is based on the higher level Leaving Cert Maths course, which was held in Clonmel and is organised by the Irish Maths Teachers Association. The winning team consisted of Michael Ryan, Borrisoleigh; Brian Ryan, Thurles; James Moran, Templetuohy and Shannon Browne, Drom. Team coach: Alice Regan (maths teacher).
The winning team were presented with a cheque for 100 euro by Donal Coughlan (IMTA).
These students from St. Joseph's College, Borrisoleigh will represent Tipperary in the National Final of the higher maths team quiz at the University of Limerick on Saturday 13th April 2013 – a distinction which was also achieved by last year's leaving cert student at St Joseph's College, Borrisoleigh!!

Sailing for Ireland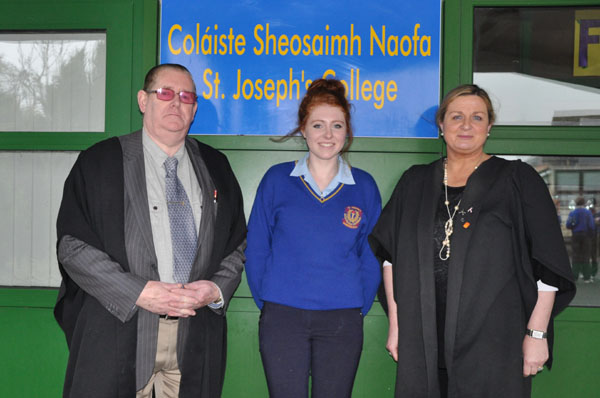 St Josephs College, Borrisoleigh student Aisling Keller has been selected to join the B-Cademy transition year sailing program as an invitee to compete at the largest laser event of the year in Lake Garda, Italy.
TCSailingcoach runs the program with the support of the Irish Sailing Association with the aim of developing youth sailors sailing skills as well as personal life skills. The program starts on February 24th and concludes on March 22nd. It is a journey through the UK, France, Italy and Slovenia including 3 major regattas and 3 training clinics… Focus is on sailing skills, building experience, fitness development and life skills. One of the major aims is to develop self responsibility and decision making. Aisling will join B-Cademy on March 10th and return to Ireland on March 19th 2013.

---
News from St. Patrick's BNS


What a busy time it has been for the boys at St. Patrick's BNS recently. Boys from all classes were delighted to receive their certificates and prizes for participation in the MS Readathon earlier in the year. What a great way to raise money for a good cause while enjoying the world of books and improving our reading skills.
Having just finished their swimming lessons at Thurles Leisure Centre our School Soccer League is underway and is proving to be a great source of excitement and skill as young and old combine to provide a feast of entertainment .
Our Parents' Association have also been busy organising our Annual Sale of Work in conjunction with Sixth Class and their efforts provided us with a fun-filled day last Friday where we raised funds for our School Tour and Art Project. We are really grateful to all who helped out in any way through donations, assistance and, in particular, by baking such a delicious array of cakes and buns which were thoroughly enjoyed by all.
Ar scáth a cheile a mhaireann na daoine-go raibh mile maith agaibh go léir!
Participants in the MS Readathon receive their certificates of recognition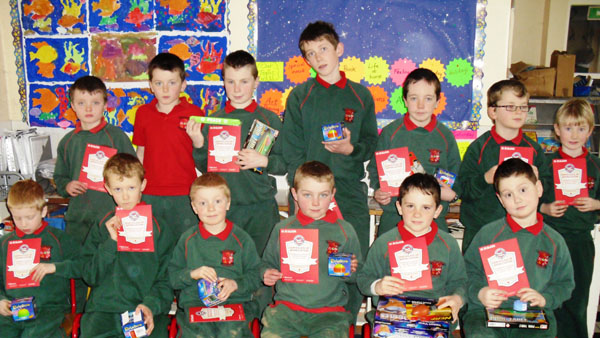 Even better than certificates-look at the prizes we won while enjoying ourselves and raising money for people with MS!

Business is booming! Bargains everywhere!

Our Parents Association make this a brilliant day every year. Name the county and win a prize!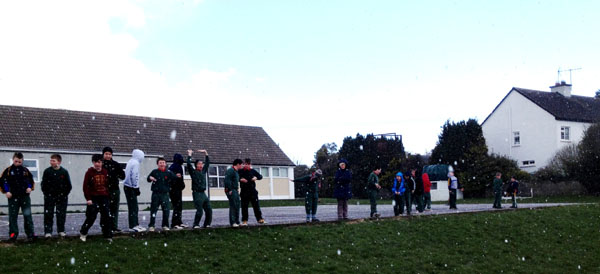 Plenty of excitement from the spectators despite the conditions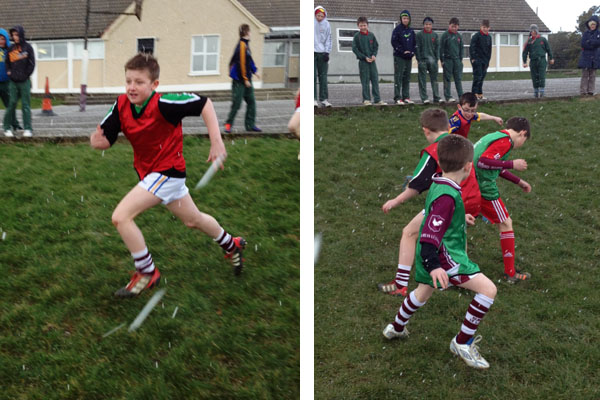 Some action from the soccer league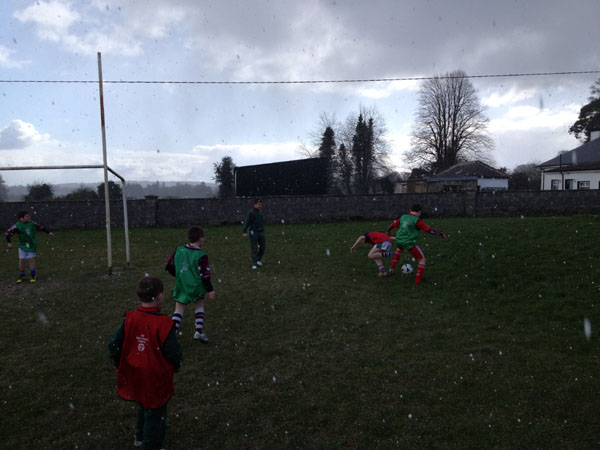 Even the snow didnt spoil the fun!
To view more pictures, click here

---
Fantane NS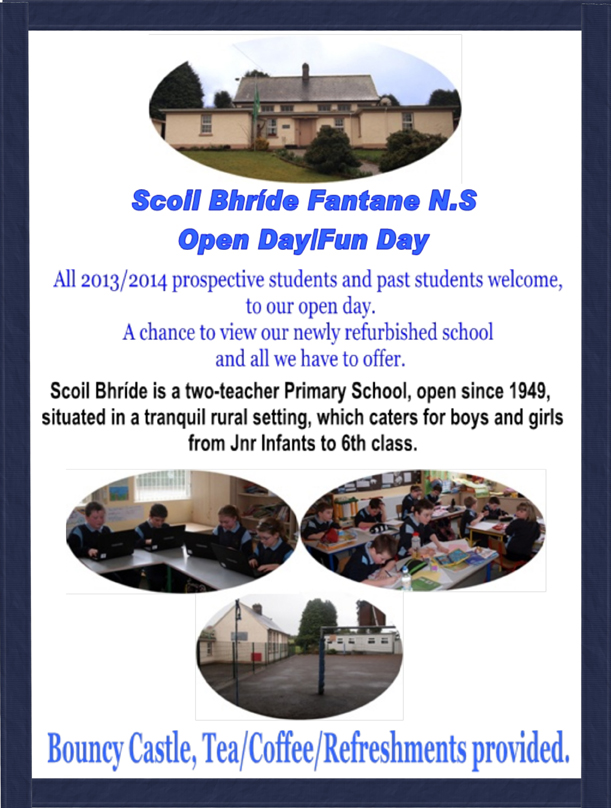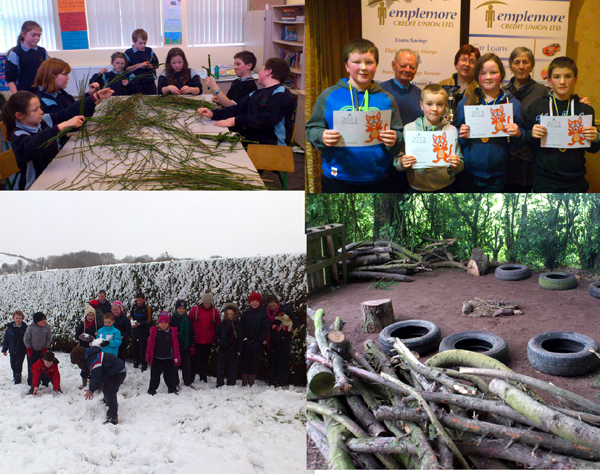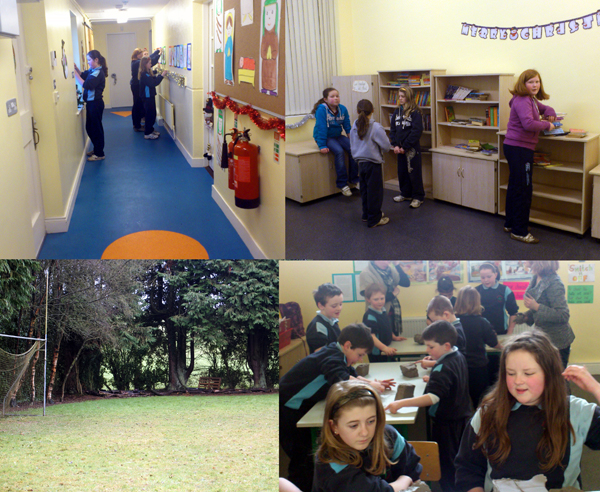 ---

Borris-Ileigh GAA Notes

Senior hurling: Our senior hurlers had a good win over Toomevara in the Hogan Cup in Borrisoleigh last Friday night. It was a strong performance with a solid work rate throughout. It finished on a score of 1-22 to 1-13.
County Wide Table quiz: Tipperary GAA is holding a county wide table quiz this Friday night. Questions will be asked live on Tipp FM starting at 9pm sharp across the county. Borrisoleigh are hosting the quiz in the Clodagh Bar and a table costs €40. Those attending are asked to have their seats taken by 9pm.
Supporters Club: Applications are now being made available for the 2013 Tipperary Supporters club. The club offers financial support to the Tipperary senior team and membership is available from €30. If you would like to join please contact TF Stapleton on 089 3334826 or check out
www.tippsupportersclub.com
Membership: The closing date for membership is fast approaching. Those wishing to become a member or renew their membership please contact John Bradshaw, Mark Stapleton, Gerry Treacy or any other committee member. Adult players membership is €50 and students €30. Normal adult membership is €30. We encourage as many people as possible to sign up and become a member.
Lotto: Our Lotto numbers have begun to slow in the past few weeks. We ask as many people as possible to play it as it is a vital source of income for the club at this financially pressing time. For €2 a week you are in with a chance of winning thousands of euro. Many people are signing up with committee members for 5 to ten weeks and thus removing having to remember to do it every week, or alternatively you can play online on both
www.borrisoleigh.ie
or
www.borris-ileighgaa.com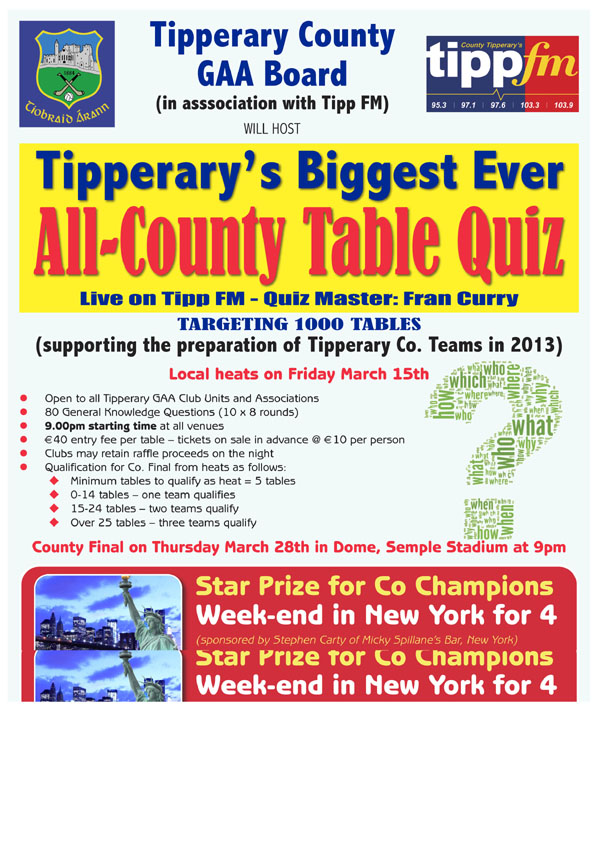 This month's Tipperary GAA Draw shall take place in Coffey's Bar this Thursday night at approximatly 9:30pm. The draw is taking place in Borrisoleigh due to Catherine Kennedy, Kilfithmone winning a Skoda Fabia in last month's draw. Congratulations to Catherine. We hope to see you there on the night.
---
Scór Sinsear


The Co. Semi final of Scor Sinsear held in Borrisoleigh last Friday night provided great entertainment. Borrisoleigh Club have qualified to take part in four competitions in the County Final of Senior Scór which will be held in the Templemore Arms Hotel on Saturday next 16th March at 8pm. Borrisoleigh will feature in the Ballad group, Question Time, Novelty Act and Set Dancing. Go n-éiri go geal leo.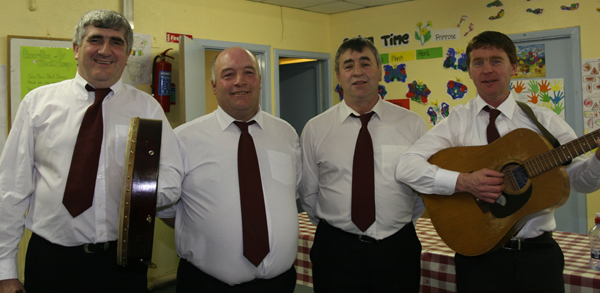 Ballad Group: Sean Shanahan, Joseph Holland, Tony Murray and Joe Loughnane.
Question Time: Paddy Dolan, Pat Kavanagh & Martin Ryan.

Novelty Act: Una Shanahan, Joe Kennedy, Paddy Dolan, Joseph Holland, Paul Boyle, Thomas Ryan & Rory Ryan.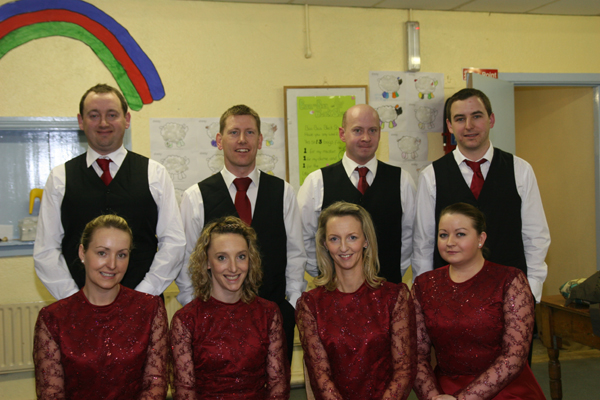 Set Dancers: Henry Groome, Michael Brown, Peter Ryan, Pauric Maher, Michelle Maher, Aileen Og Groome,Julie Treacy, Pauline O Brien.
Set dancing classes finished up last Monday night for this season. There was good entertainment with the Co. Winners of Scor na bPaisti in Novelty Act and Sean-Nos performing. The committee made a presentation to each of the acts in recognition of they winning these titles.

---
Borris Ileigh Juvenile GAA
Training continues for U8 and U10 players in St Josephs Secondary School on
Wednesday evenings and in the field on Saturday mornings. New players are always
welcome. The deferred 2012 U10 Thomas Gleeson Cup will take place on Saturday
30 March at 11am. The teams will line out as selected previously.
All players are reminded that Gum Shields are compulsory for football training and
matches this year. As the football competitions will be getting under way in three
weeks time it is important to get the gumshields sooner rather than later. The U16
footballers will be first into action on week end of 23 / 24 of March.
Thanks to Durlas Og B who travelled over at the week end to play our U16 Hurlers in
a friendly game.
Membership forms have been distributed and should be returned to team managers at
training as soon as possible. Membership is €10 per child or €20 for more than one
child.
Thanks to everyone who supported our church gate collection recently.
---

The club would like to sincerely thank everyone who helped out with our clothing collection. We have raised some much needed funds for our club and CanTeen (Ireland's Young peoples' Cancer Support Group). We collected over 1,300 kilos of clothes which will be reused in Africa and Asia and Eastern Europe. Plus these unwanted clothes have not ended up in land fill. Our next fundraising event will be a fashion show in the Templemore Arms on the 19th April more details shortly.
Our under 12 panel will have their first blitz of the season in Roscrea on the 23rd March. Exact time to be confirmed.
The intermediate panel continue training on Friday at 7pm and again on Sunday morning. Our under 16's and 14's continue training at 11 am Saturday morning. Training will resume for all our other age groups shortly.
Well done to Borris-Ileigh Scor club who will be sending a ballad group, question team, novelty act and set to the County Final in the Templemore Arms on Saturday the 16th March. A great night's entertainment was had at the area final on the 8th March. Happy Saint Patrick's Day to all our members and supporters.
Camogie club merchandise now available Hoodies, tracksuits, t-shirts, jerseys and raincoats available. See Advertising Section of www.borrisoleigh.ie for pictures. If interested please contact Caroline at 086 1522716. You can also follow us on Facebook.

---
An inaugural meeting of the Historical Society will take place on Wednesday 20th March at 8.30pm in the Parish Centre. All are welcome to attend.
---
Pic of the Past….Down Memory Lane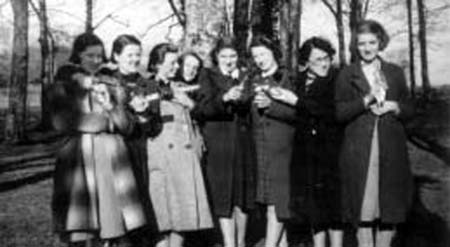 Maureen Delaney, Eileen Ryan Murray, Josie Stapleton,
Nora Ryan, Josie Shanahan, Bridget Meagher,
Nora Burns and Gertie Delaney

---

Your Website Needs You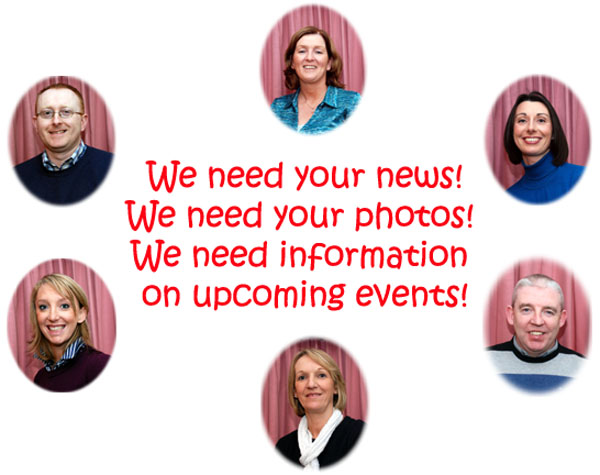 Committee: Enda Ryan, Noreen Fahy, Margaret Cowan, Michael Barry, Marie McGrath and Aileen Óg Groome
Many thanks to all those who contributed photographs and news items. Remember, we need you to continue to send us material so that we can keep our website current and interesting.
Send your email to: info@borrisoleigh.ie
Also, if you like what you see and want to leave a comment, remember to use the Guestbook!


While we make every effort possible to ensure that the information contained in this Website is accurate and complete, we cannot accept any legal liability as a result of the inaccuracy or incompleteness of the information presented to users of this site