Progressive 25 Drive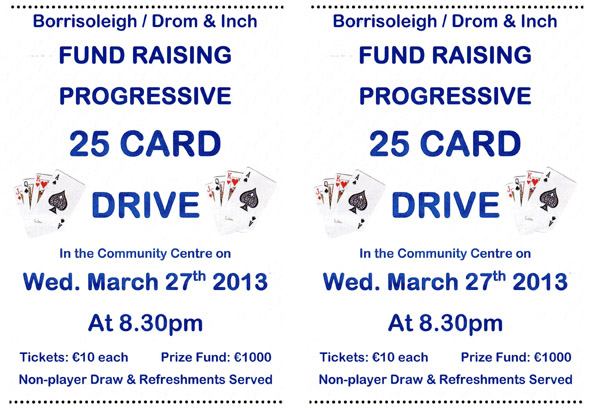 ---
Pilates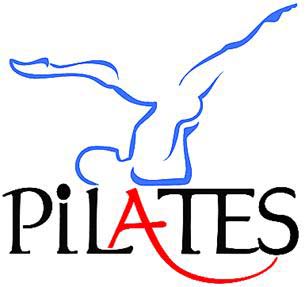 Pilates classes shall resume in the parish centre from Tuesday next 12th of March at 7:30pm. All those wishing to attend are most welcome. The classes can be paid for on the night at a cost of €10 per night. We hope to see you there.

---
Local Historical Society
An inaugural meeting of the Historical Society will take place on Wednesday 20th March at 8.30pm in the Parish Centre. All are welcome to attend.
---
Borris-ileigh GAA News
A note from the Chairman
: I would like to take this opportunity to offer my thanks and gratitude to all those who made our White Collar Boxing night the massive success that it was. Saturday night was one that will live long in the minds of people from both Borrisoleigh and Drom-Inch and without the hard work and commitment of a lot of people we would not have seen the event happen. I would like to firstly offer my thanks to Donal and Rose Young and all their staff for their marvellous hospitality. I would like to thank Star System for their work on the night recording the night and looking after all things technological. I must give great credit to White Collar Boxing for their continued professionalism and assistance over the last six weeks to ensure the night ran as smoothly as it did. To all our sponsors I offer massive thanks for your never ending generosity. We are so lucky to have people such as you that will put your hands into your pockets for the sake of the club and the community. I would also like to express my appreciation to all those who bought tickets for the event. We hope that you found your €20 was good value for money. I would like to thank the Drom-Inch GAA club for all their hard work in organising the event. I would like to offer special praise to Trevor Hassett, Barnane and Pat Egan, Inch House who were to the fore on the Drom side and could always be found when the work was to be done. I would also like to thank my own committee and especially the finance committee for making this venture such a fantastic success. The volume of work that was put in is hard to put into context and it was work that was never left undone. I would like to especially mention Diarmuid Kinnane and Martin Ryan; great credit must go to them for the success of the night. Finally and without doubt, most importantly I would like to offer the greatest thanks of all to the boxers, all 24 of them, who without them none of this would have happened. To get into the ring and put your body and pride on the line for the sake of your club is a feat that is beyond admiration. Whether you won, lost or drew you won the praise of everyone there for your bravery, commitment and your will to win for your parish and your people. To put into context there was approximately 2000 people at the National Finals a few weeks ago where there were many Olympians on view-there was 1500 people in The Ragg Saturday night! Your feat will be hard to be matched. We hope you enjoyed your experience and that you will always remember it. Again, my unending thanks and gratitude.
Kind Regards
Mark Stapleton, Borris-Ileigh GAA Chairman.
——————————————————————————
White Collar Boxing: Our boxing night was a marvellous success and as seen above our thanks go to all involved. Photos are emerging from the night and I ask anyone who has ones they feel people would like to see please forward them on to pro.borrisileigh.tipperary@gaa.ie In the end victory fell to Borris on a scoreline of 6-4. Hopefully we can replicate this kind of result when we meet Drom on the field as opposed to the canvas.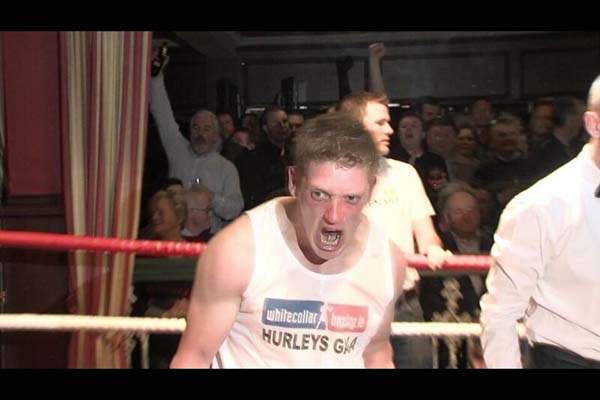 The moment Ailbe won the night for Borris
Senior Hurling: As the year rolls on, our fixture list is building up. On last Friday night we defeated J.K. Brackens in a challenge match on a scoreline of 2-20 to 0-14. On Monday night we made the long trip down to Carrick on Suir to take on Carrick Davins in the first round of the Challenge Cup. This match was something of a first as it took place on Waterford soil. The fixture was moved to St. Mollerans GAA grounds on account of the necessity for floodlights. We came away with a win on a scoreline of 0-16 to 1-10. The draw has been made for the second round where we have been drawn to play Moneygall at home on the 17th of March at 12pm. Closer to today, we have been drawn to play Toomevara at home in the Hogan Cup. This match will take place on Friday 8th of March in Borrisoleigh at 8pm. We hope there shall be great home support there on the night against our near neighbours.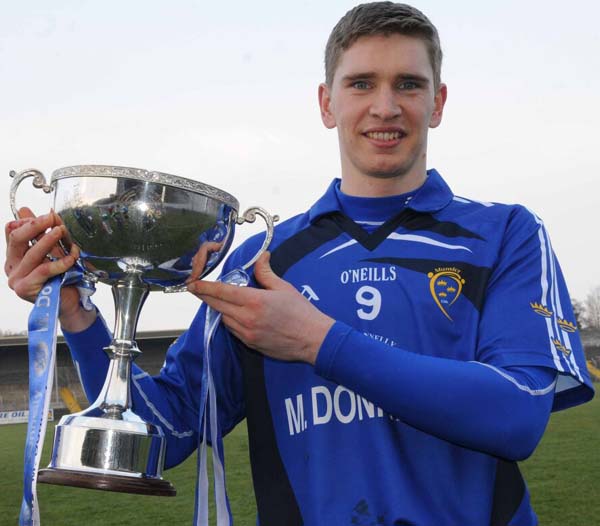 Captain Brendan Maher with the Railway Cup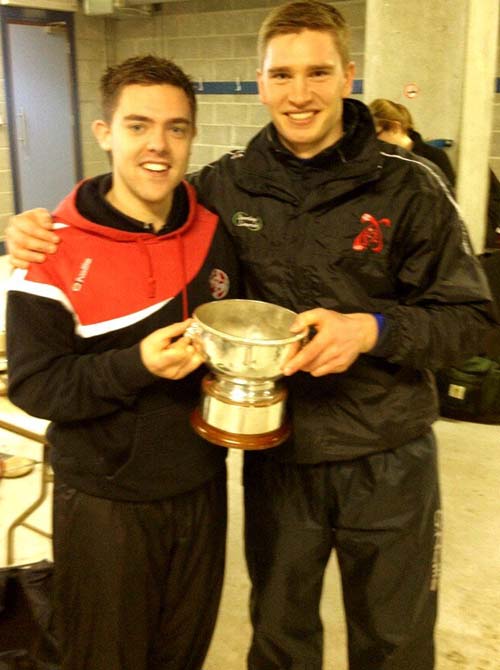 Brendan and Toby with the Ryan Cup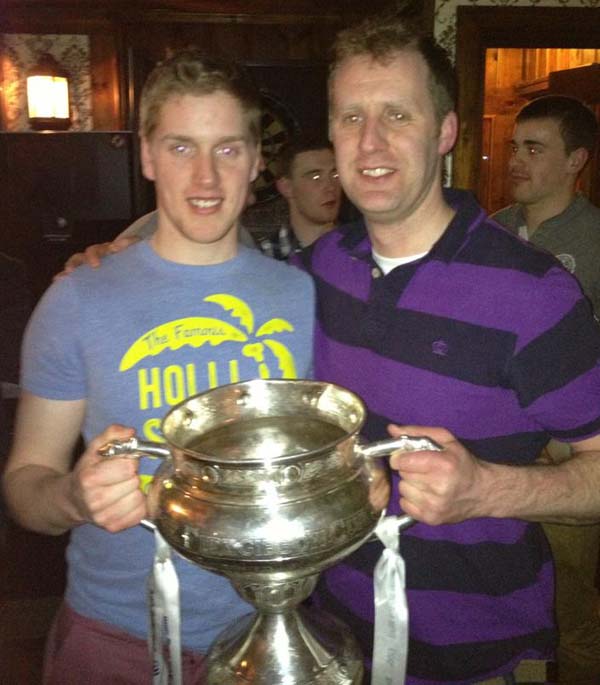 Dan and manager Eddie Enright celebrate with the Fitzgibbon Cup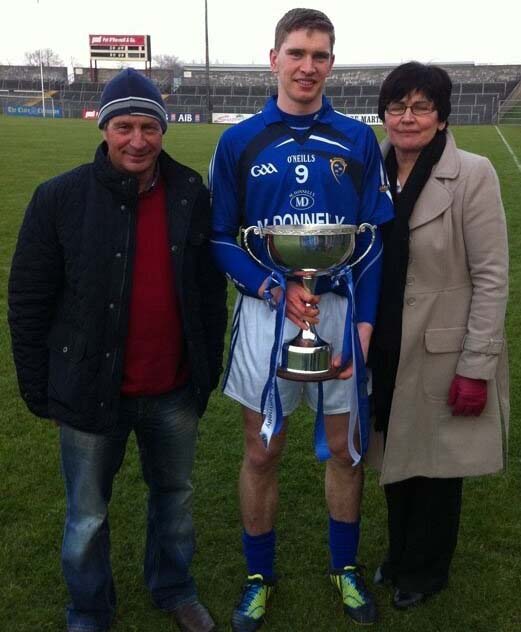 Johnny and Anne-the proud parents
Winning Weekend: We had a weekend to remember with big wins for our players on my different levels( and codes). On Saturday, along with our boxing victory, Dan McCormack collected a second Fitzgibbon Cup medal with UCC. In a hard fought victory the Cork students overcame Mary Immaculate on a scoreline of 2-17 to 2-12 with Dan chipping in with a point from centre forward. In the second tier of the college competition-The Ryan Cup, local college LIT Tipperary were victorious over IT Tralee on a scoreline of 1-25 to 2-09. The side is managed by Brendan Maher, who has Toby Kavanagh as a selector along with former curate Fr. Jimmy O Donnell. Well done to the lads and their great work the past few months has been well rewarded. It was a very productive weekend for Brendan Maher as following on from his debut managerial success on Saturday he travelled to Ennis to take part in the Inter-Provincial final between Munster and Connaught. In the absence of the injured Shane McGrath, Brendan was handed the captains armband and duly led a captain's role as Munster emerged with a win on a scoreline of 1-22 to 0-15. Well done to Brendan on this great honour and hopefully more silverware will follow on throughout the year.

Supporters Club: Applications are now being made available for the 2013 Tipperary Supporters club. The club offers financial support to the Tipperary senior team and membership is available from €30. If you would like to join please contact TF Stapleton on 089 3334826 or check out www.tippsupportersclub.com
New Website: We recently launched our new club website and it can be viewed by logging onto www.borris-ileighgaa.com for all the up to date news and information. Readers of this website need not be alarmed as we will continue to keep the news sent to this website along with our own. We intend to update the news every week. Updates shall be uploaded on a Wednesday night so you can now set aside your Wednesday night for all the local news through both websites. You can also follow us on Twitter by following @Borris_GAA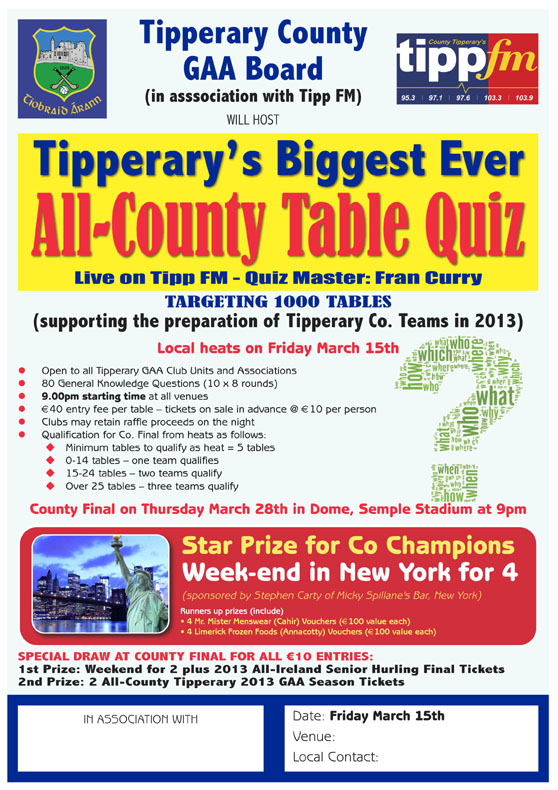 All County Tipp GAA Table Quiz: Tipperary County GAA Board are targeting 1000 tables in the local heats of their all county table quiz being held on Fri March 15th. On that night Fran Curry will call out the questions live on Tipp Fm to thousands of quiz enthusiasts all over the county who will convene in their local venues. In Borrisoleigh the quiz shall take place in the Clodagh Bar. Participants must be seated on Fri Mar 15th at 9pm to be ready for the first round of questions on Tipp Fm. The questions are on general knowledge and it costs €40 per table. All individual €10 entries will be entered in a special draw to be held on Co Final night with an All Ireland Weekend plus match tickets as first prize and a runner up prize of 2 Tipp Club Season tickets. Local winners from the heats will go forward to the Grand County Final being held in The Dome, Semple Stadium on Thurs March 28th where the outright winning table will receive 4 tickets to New York. Clubs must have a minimum of 5 tables to send forward a winning team to the county final with the added incentive if they get over 15 tables they can send forward 2 winners and 3 for over 25.

---
Borris-ileigh Camogie Club
The intermediate panel continue training on Friday at 7pm and again on Sunday morning. Our under 16's continue training at 11 am Saturday morning. Training will resume for all our other age groups shortly.
The intermediate team were out in the first round of the league on Sunday the 3rd March at 12 in Templemore against Templemore the final score was 3-3 to 2-10 well done a good result and a good start to the season. The Club wishes Marie Ryan a speedy recovery. Next League Match is at home against Annacarthy on 1st April at 12 noon.
We are running a clothing collection in conjunction with Bag2TheFuture Fundraising.
By getting involved in our Bag2TheFuture collection you have an opportunity to sort through your cupboards and wardrobes and donate any unwanted textiles. These can be returned in any kind of bag. This can include adult and children's clothes, shoes (tied together please), hats, belts, bags, small amounts of bedding and teddies (no duvets, pillows, curtains and towels). The clothes have to be of good quality for reuse in Africa, Asia and Eastern Europe. Our funds will receive 60c a kilo / €600 per tonne which will be a great boost for our fundraising. CanTeen Ireland will also receive an additional 10% from Bag2TheFuture. CanTeen Ireland is a nationwide support group for teenagers affected by Cancer. Please try to fill as many bags as you can, don't forget to ask grandparents, friends and neighbours to have a sort out as well! (You can return clothes in any kind of bag). Please return your bag (or bags!) to us at The Park on Saturday 9th March between 9.30 and 12.30 and help us have a really good collection! Many thanks indeed for helping us with this unique fundraising opportunity.
Well done to Borris-Ileigh GAA club on their Rumble in the Ragg, it was a very enjoyable night. Once again the camogie girls led by example with our Nora O'Brien winning the first round for Borrisoleigh.
Camogie club merchandise now available Hoodies, tracksuits, t-shirts, jerseys and raincoats available. See Advertising Section of www.borrisoleigh.ie for pictures. If interested please contact Caroline at 086 1522716. You can also follow us on Facebook.

---
Scór Sinsear
The Co. Semi-final of Scor Sinsear between the North and South will take place this Fri Mar 8 at 8pm in the Marian Hall Borrisoleigh. We have representatives in Solo Singing, Ballad Group, Question Time, Novelty Act and Set Dancing. Best of luck to everyone involved and hopefully there will be lots of support. Winners on the night will go through to the Co. Final which will take place in the Templemore Arms on Sat Mar 16.
Set Dancing Classes: We are coming to the end of our season with our last class taking place next monday night. Classes will be as normal until 8.30pm and then we will be having a performance by our Co. Scor na bPaisti Novelty Act and Sean Nos Winners. All Parents and children are invited to view these performances on Monday night. We would like to take this opportunity to thank all children and parents for their commitment every week. Also thanks to all to helped with the door rota and especially our helpers with the dancing teacher every week. Enjoy the summer and hopefully we will see everyone back in the autumn.

---
Request for help please!


The stolen car ressembles the colour, make and model of the car in these photos
The owner of a stolen car is asking for your assistance in trying to retrieve it. The details are as follows:
The car, a Green Coloured Ford Fiesta, registration number 03 MH 7589, was stolen from a private residence in the Upper Main Street area of Borrisoleigh between the hours of 7p.m. and 9p.m. on Sunday evening last 3rd March.
Any information that you can give, no matter how insignificant it may seem to you, would be greatly appreciated. If you can assist in any way please contact The Gardai at Borrisoleigh (0504) 51295 or Templemore (0504) 32630. Thank You.
---
St. Cualan's Social Club
A new committee of St. Cualan's Social Club, formerly St. Cualan's Senior Citizen Club, has been formed to continue the great work which has been carried out over the past 22 years. New members are always welcome to join the Social Club and/or the committee.
Date for your diary!!!
Our first outing will be to Mount St. Joseph's Abbey in Roscrea on Saturday 23rd March. A bus will leave the square in Borrisoleigh at 12 midday and we will head to Mount St. Joseph's Abbey for confessions and a stroll. Afterwards we will have refreshments in the Templemore Arms. A group of volunteers are available to collect people from their homes, bring them to the square to meet the bus and to drop back home at the end of the day. If you are interested in joining the group on the day please give your name to any committee member.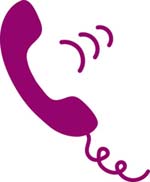 Committee Members and contact numbers
Fr. Tom Herne (087) 2840217
Francis Kennedy (087) 6411017
Teresa Stapleton (087) 0683318
Angela McSherry (086) 8247972
Margaret Kelly (087) 7546575
Phil Mason (085) 1605143
Fiona Max (087) 2169150
Lucia Ryan (086) 3961211
Úna Shanahan (087) 9768724
Eileen Slattery (087) 9849848

---
Harry Joes Golf Society Trip to Portugal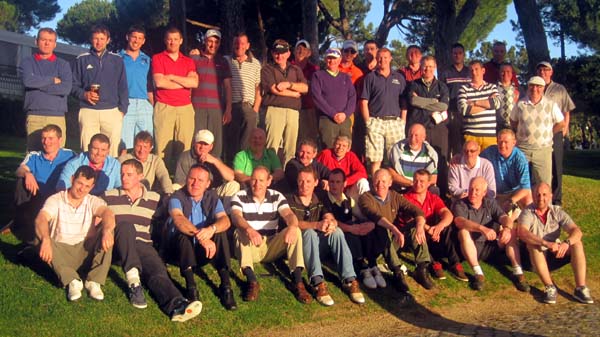 Members of Harry Joes Golf Society who enjoyed a recent golfing trip to Portugal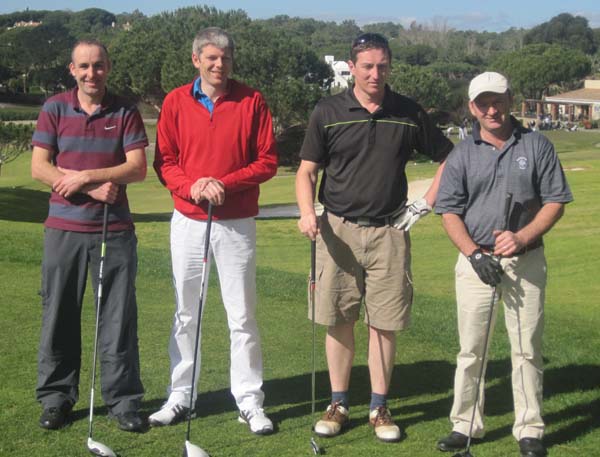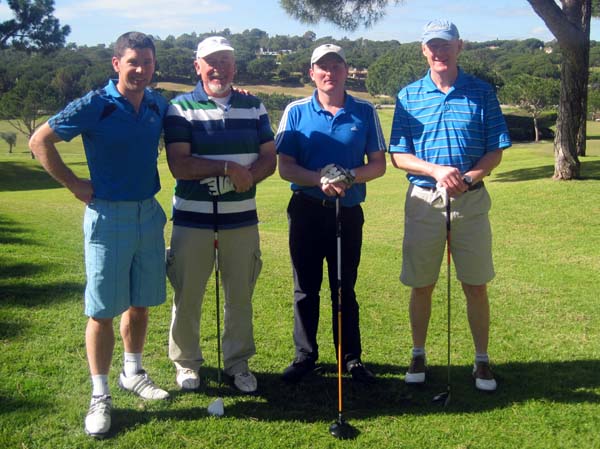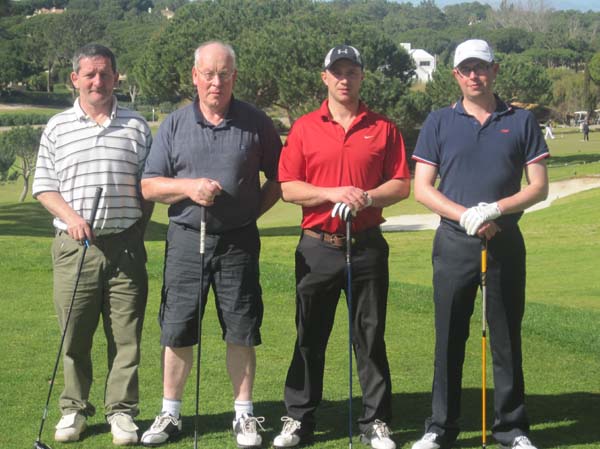 Some photographs taken on the recent golfing trip to Portugal

---
Pic of the Past…………down memory lane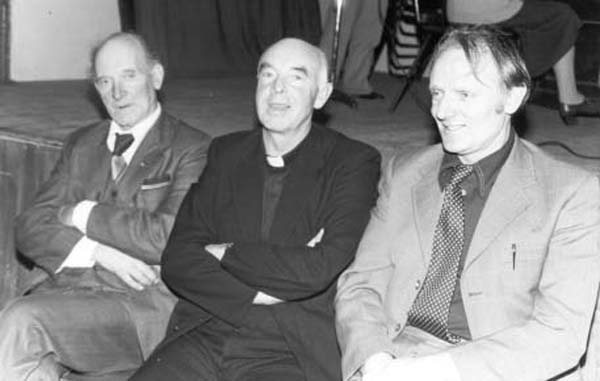 Marion Hall
John Delaney, Very Rev. Tom Kennedy PP and Austin Kearney
---
Your Website Needs You!
Committee: Enda Ryan, Noreen Fahy, Margaret Cowan, Michael Barry, Marie McGrath and Aileen Óg Groome
Many thanks to all those who contributed photographs and news items. Remember, we need you to continue to send us material so that we can keep our website current and interesting.
Send your email to: info@borrisoleigh.ie
Also, if you like what you see and want to leave a comment, remember to use the Guestbook!
While we make every effort possible to ensure that the information contained in this Website is accurate and complete, we cannot accept any legal liability as a result of the inaccuracy or incompleteness of the information presented to users of this site