Snow snow snow!!!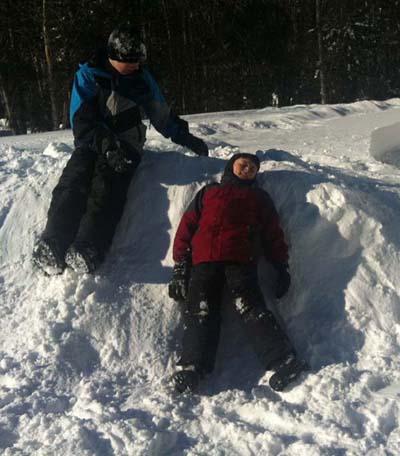 Declan and Padraig enjoying a recent fall of 28 inches(and they had school the next day). Temperature this week to go down to -24c ( in Ellsworth, Maine) They built a new '
Fort'!!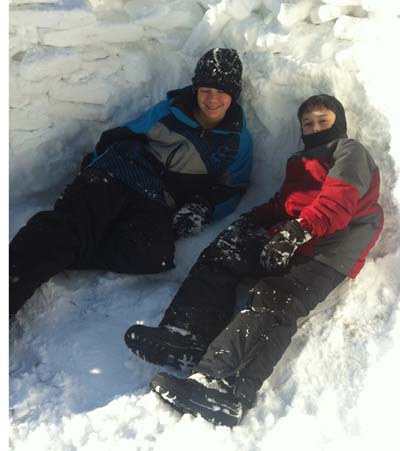 Declan and Padraig are grandsons of Mrs. Bridget O' Dwyer, Currabaha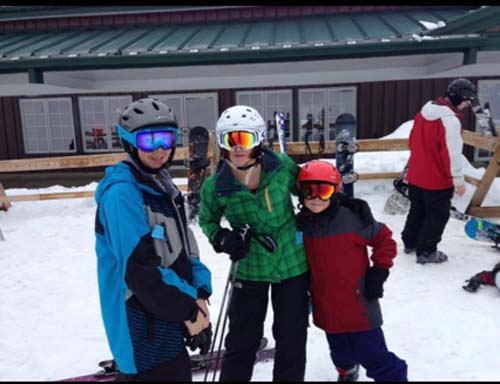 Christena, Declan and Padraig getting ready to hit the slopes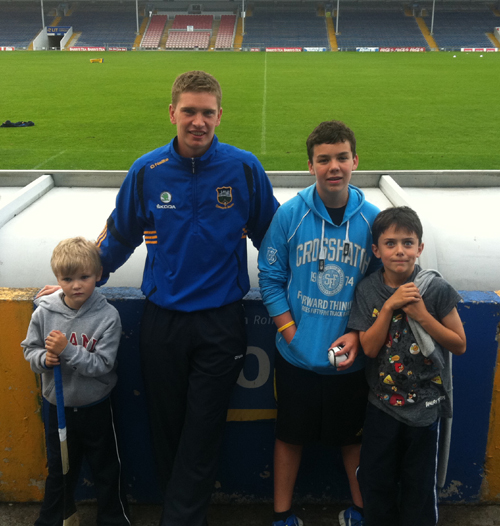 Aodan, Padraig and Declan with their cousin Brendan at Semple stadium Thurles, August 2012
---

Borris-Ileigh GAA Notes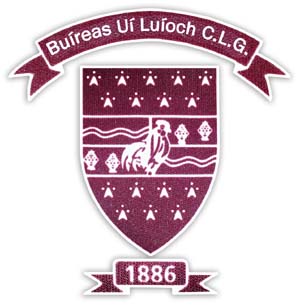 The adjourned
AGM
took place on Sunday night 20th of January. Any business left over from the AGM was tied up on the night and was followed by the first official committee meeting of the new year.
Strategic meeting– A strategic meeting shall take place on Wednesday the 6th of February in the Marian Hall. This shall be a very important meeting for the future of the club and we encourage all members and people of the wider community to attend.
White Collar Boxing- Our boxers commenced their training on Saturday evening and were put through their paces. They will train twice a week until the fight night which takes place on 2nd of March. We shall also be having a launch night to promote the bout in Stapletons Bar on February 8th. A big turnout for this very novel event would be most welcome.
Referees- If there is anyone in Borrisoleigh interested in becoming a referee please get in touch with any committee member as there is a referees course commencing shortly. We would encourage anybody who has the interest to come forward.
Membership- The club is currently collecting membership and would ask any players who have not yet paid their membership to come forward and do so. Membership and insurance is vital for any player who wants to play in 2013. We would also encourage anyone in the parish who are not members or have not been in the past to sign up. We are always looking for new members and would be delighted to see new people get involved.
A Presentation Night shall be held in Stapletons Bar on Saturday night to honour our victorious camogie team who won the Junior A County Final before Christmas. The girls have always garnished great support within the parish and hopefully Saturday night shall be no different
At a North Board Meeting held on Monday night it was decided by delegates that the format of the North Championship would change for 2013. With the promotion of Silvermines to senior ranks there are now 13 senior teams in the division, so it was felt that a change was needed to ensure a more competitive championship. There shall now be 3 groups of 4, 4 and 5 teams. The top two teams in groups of 4 qualify for quarter finals. The top three teams in group of 5 qualify for quarter finals. The two teams in 3rd place in groups of 4 play off for the last quarter final spot (the playoff can be played while group of 5 is finishing). For the quarter finals the top teams from the 3 groups shall be seeded while a draw will be held amongst the 2nd place teams for the final seeded spot. Repeat pairings shall be avoided where possible. The semi finals shall be an open draw but again repeat pairings will be avoided where possible. There has not yet been a date finalised for the beginning of the championship but it is hoped that there will be confirmation of the dates after next Monday night's CCC meeting. The group draw shall not take place for a few weeks.
The club are delighted to announce that the transfer for Conor Kenny has been ratified by Croke Park and Conor is now officially a Borris-Ileigh player. Conor comes from a long line of Borrisoleigh hurlers. His father Philip tasted great success throughout the 1980s and his grandfather Phibby being a focal point of the team of the late 1940s and early 1950s. Conor has excelled with Celbridge, Kildare and Carlow IT and hopefully he shall have many happy and successful years wearing the maroon jersey. We wish him all the best fortune.



---

Borris Ileigh Juvenile GAA Club
Our Juvenile Club's annual general meeting takes place on this Saturday 26th of January @ 8.15pm in the pavilion. The Club would like to encourage as many parents and supporters as possible to make the effort to attend the on the night.

---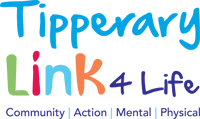 Tipperary Link 4 Life

Connecting communities to support their physical & mental well-being.

1 in every 4 people will experience mental health problems in their lifetime (Department of Health and Children, 2011).

North Tipperary averages the third highest rate of suicide in Ireland.
Tipperary Link 4 Life is a new initiative developed by the North Tipperary Sports Partnership (NTSP) in association with the HSE and Áras Folláin to connect volunteers from the physical activity and sporting community with the training and information to help them understand both the physical and mental well-being of current and potential members.
Tipperary Link 4 Life emphasises the benefits of physical activity for the mental health and well-being of every person. Physical activity and participation in clubs, organisations and fitness classes offers the opportunity to improve self-confidence, self-esteem and over all well-being by socialising and connecting with the people, the facilities and the amenities in the area.
NTSP is offering a 3 day training package to all members of the sporting and physical activity community – sports clubs, coaches, volunteers, leisure centre staff, fitness class instructors and tutors, teachers, parents etc. This offer includes:
A SafeTALK "Suicide Alertness for Everyone" workshop on Saturday 9th February 2013.
At this workshop, learn how to provide basic and practical help to persons with thoughts of suicide. It prepares you to be a suicide alert helper and provides you with the awareness that opportunities to help someone at risk are often missed, dismissed and avoided. It also teaches you the awareness of TALK steps (Tell, Ask, Listen and Keep-safe) and the ability to activate a suicide alert. As part of keep-safe, you connect the person with thoughts of suicide to someone trained in suicide intervention (ASIST). The ASIST carer completes the helping process or connects the person to further supports.
Donna Duffield will also present and discuss the benefits of physical activity for mental well-being and detail her experience in this area.
A 2 day Peer Support and Self Advocacy training course on Saturday, the 16th & 23rd February 2013
Peer support is about people supporting each other on an equal level in respect to their well-being. Self-Advocacy occurs when an individual speaks up for his or her own rights and what is important to them. On conclusion of this course, the participant should be able to recognise their ability to give and accept peer support, develop an awareness of the core principles of peer support & self-advocacy, list the core skills used in both, demonstrate through practice the core skills of both and be able to advocate on their own behalf. Self-care and boundaries are also key components of the course.
All training will take place in Áras Folláin, Nenagh from 9.30am – 3.30pm. Participants will receive a certificate of attendance on successful completion of the training. All participants must be over 18 and there will be a small fee of €5 for refreshments.
With Tipperary Link 4 Life, North Tipperary can unite to take action to improve the mental well-being of its community.
Places are limited. To book a place or for further information, contact Elaine Cullinan, Sharon McLoughney or Tara Warren on 067-43604 or e-mail info@ntsp.ie before Tuesday 5th February 2013.
---
Help wanted – Irish Wheelchair Association
The Irish Wheelchair Association, North Tipperary are looking for volunteers to help them with their upcoming church gate collection in Borrisoleigh & Ileigh churches. They are hoping that the community want to become involved or may know of someone who can help or may even with the group carry out the church gate collection for IWA.
Funds are greatly needed to continue their many services to their members in North Tipperary. They have been granted a permit by An Garda Siochana to hold a collection on the weekend of Saturday 16th & Sunday 17th February. The funds raised from these collections are used to help operate Day Resource Centres in Roscrea, also centres in Nenagh & Thurles. They also have members of the community receiving Assisted Living Services in their own homes.
Please contact Charlene Hurley on 087 2600802 or email charlene.hurley@iwa.ie. if available to collect on either the 16th or 17th February 2013.
---
Scór na bpaistí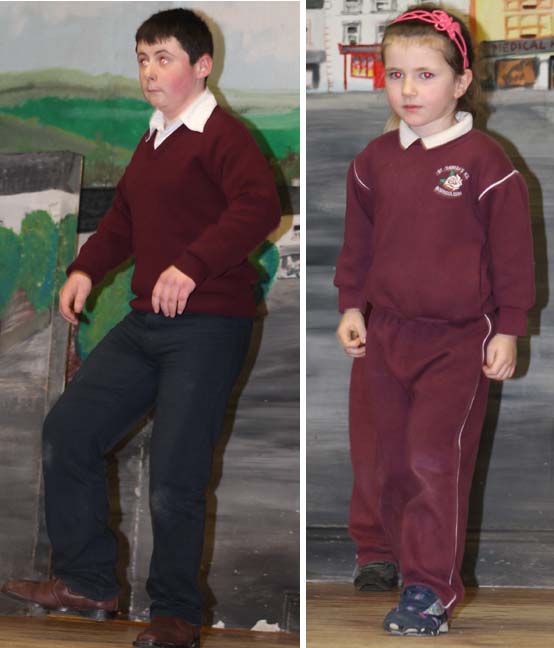 Scór na bpaistí took place on Saturday last in the Marion Hall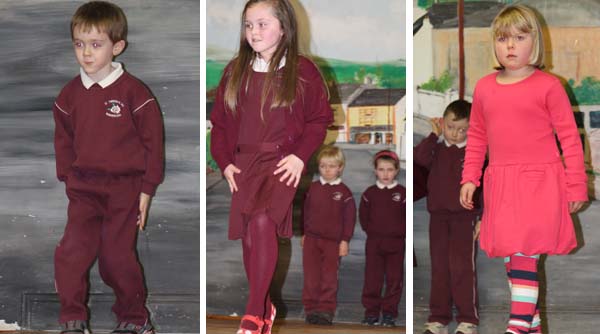 Some of the great dancers on the evening!!!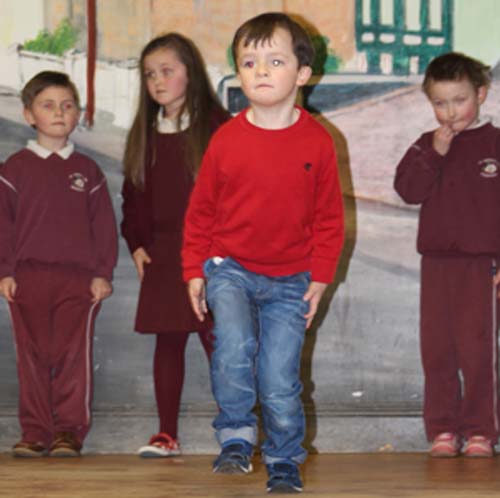 Another great dancer with more waiting patiently for their turn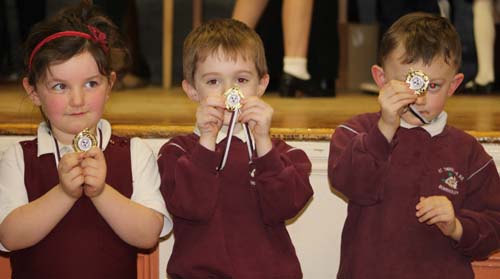 Some of the medal winners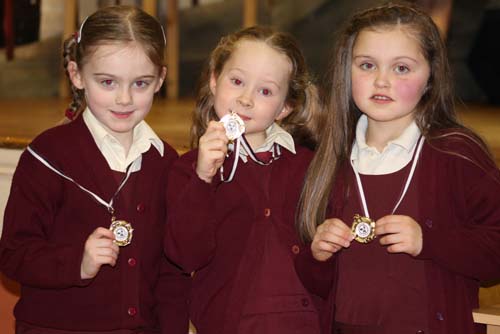 Happy faces from the girls after being presented with their medals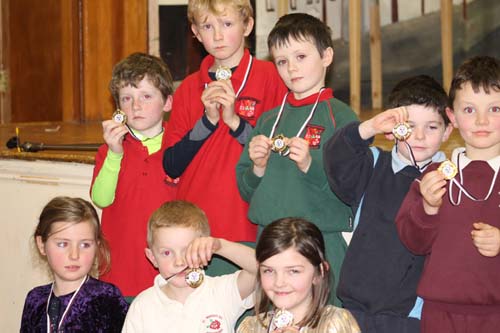 A great evening was had by all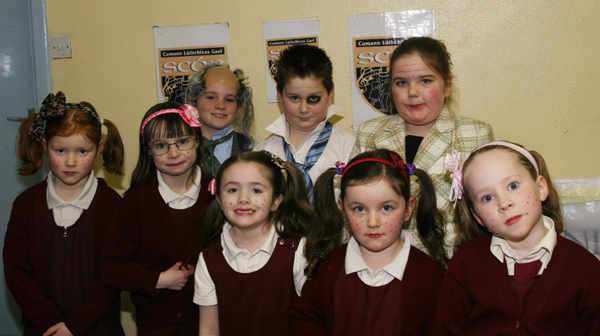 Enjoying the Scór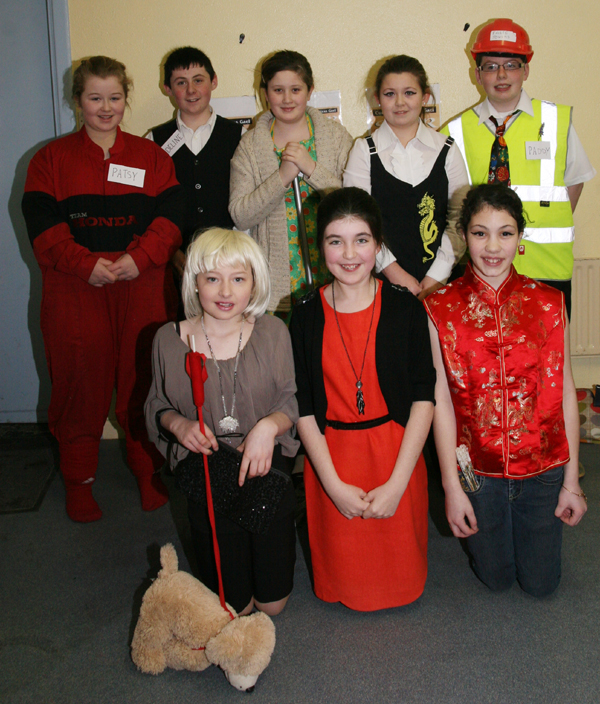 Participating in the Novelty Act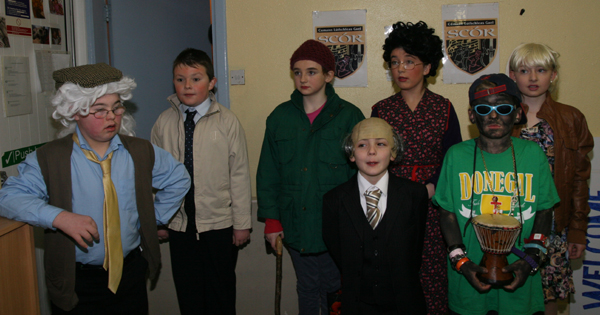 All dressed up for the Novelty Act!!
For more photos from the Scór please click here
---

A presentation night will take place in Stapleton's Bar on the 26th January 2013 at 9pm. The ladies will be presented with their County Medals. All are welcome.
Camogie club merchandise now available Hoodies, tracksuits, t-shirts, jerseys and raincoats available. See Advertising Section of www.borrisoleigh.ie for pictures. If interested please contact Caroline at 086 1522716. You can also follow us on Facebook.
---
Pic of the Past….Down Memory Lane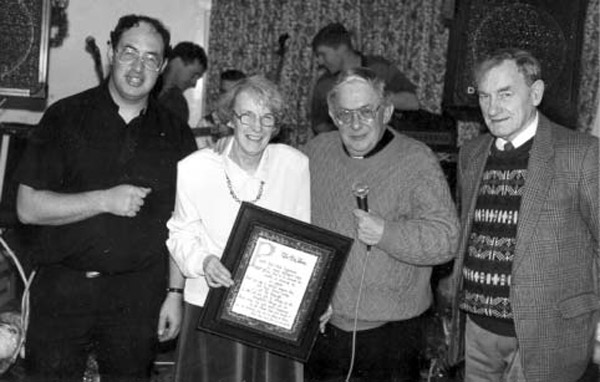 Rev. Jimmy O'Donnell, Dr. Joan Power Kenny, Very Rev. John Gleeson PP and Sean Kenny, pictured at a
presentation to Dr. Joan by St. Cualan's Club in 1995, in recognition of her dedicated service to the community.

---
Your Website Needs You!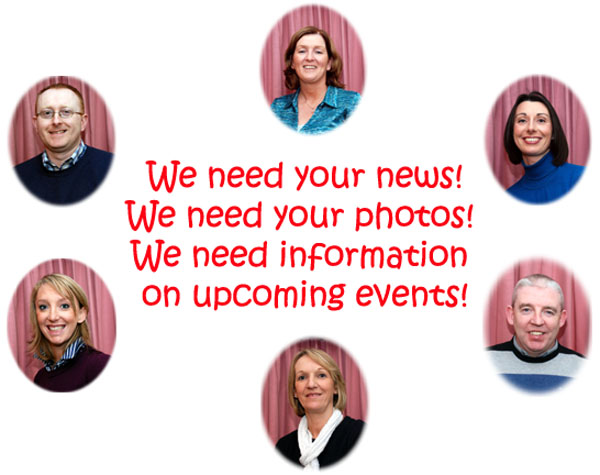 Committee: Enda Ryan, Noreen Fahy, Margaret Cowan, Michael Barry, Marie McGrath and Aileen Óg Groome
Many thanks to all those who contributed photographs and news items. Remember, we need you to continue to send us material so that we can keep our website current and interesting.
Send your email to: info@borrisoleigh.ie

Also, if you like what you see and want to leave a comment, remember to use the Guestbook!
While we make every effort possible to ensure that the information contained in this Website is accurate and complete, we cannot accept any legal liability as a result of the inaccuracy or incompleteness of the information presented to users of this site