We wish you a Merry Christmas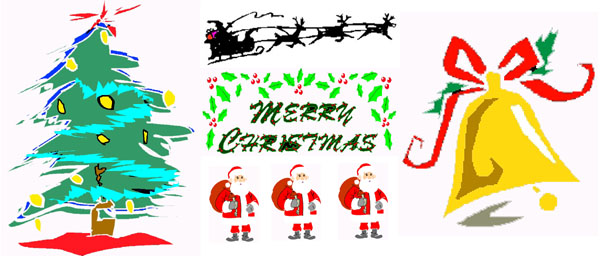 The Borrisoleigh Website Committee wish you a very happy and peaceful Christmas wherever you may be in the world


---

Santa visits Mother and Toddler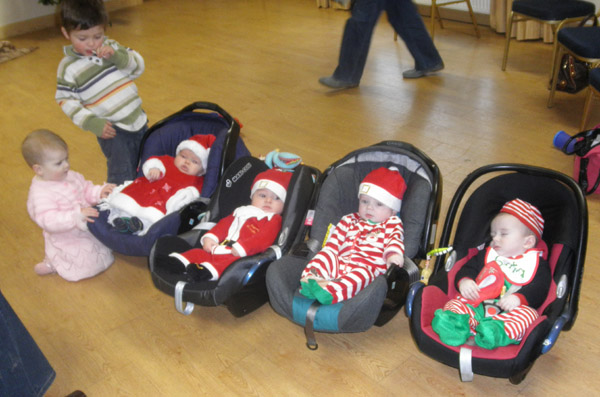 All dressed up for the occasion!

Santa heard all requests and reminded the boys and girls to be very good!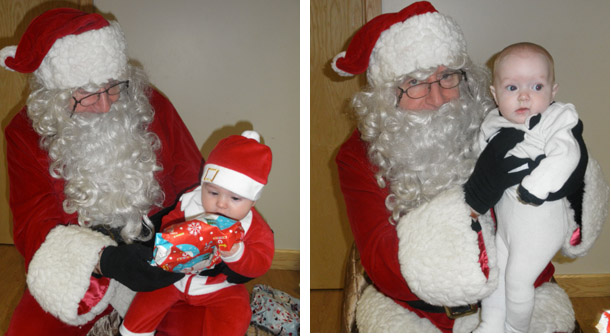 Some of the younger members of the group!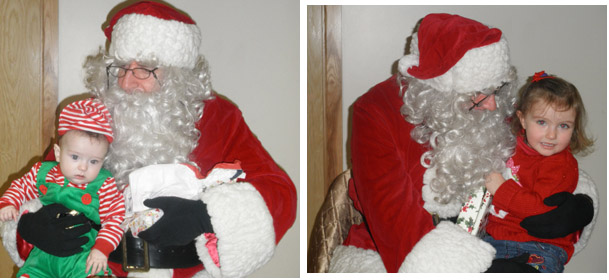 Santa told the children to remember to leave something out for Rudolph. The reindeers work really hard Christmas Eve.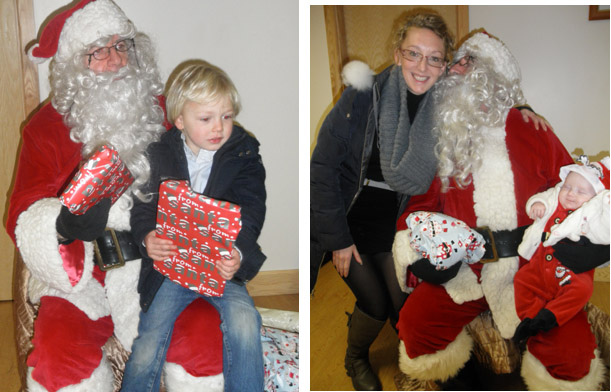 Daniel reminded Santa of his wish list and Aileen even got a kiss!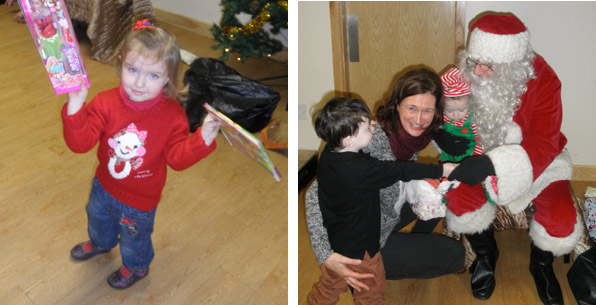 Santa gave Ella a doll and Ed reminded Santa of his brothers!

Neighbours Edel with Joanne and Janet with James hopes Santa makes it to Garrangrena for Joanne and James first Christmas.
---
St. Patrick's BNS Christmas Concert
St. Patrick's BNS would like to thank all who supported our recent Christmas Concert or who helped in any way to make the night such a great success. Enclosed are some photographs of the boys who entertained the audience with their singing, dancing and acting in our two school musicals, Born in a Barn and Daniel, proving that, without a doubt, Borris boys have got lots of talent! Thanks to all for your support throughout the year. Nollaig shona agus ath-bhliain faoi mhaise do chách.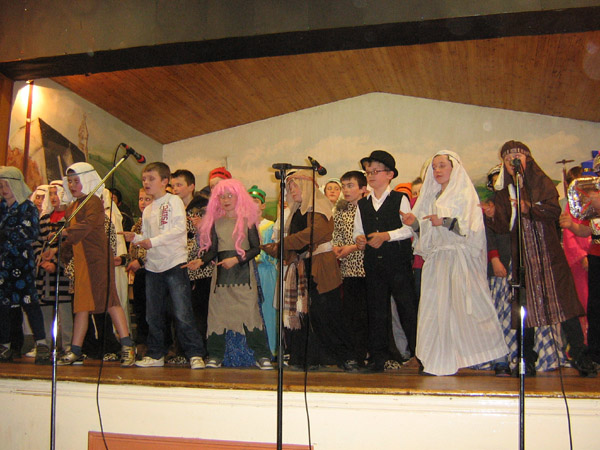 By the Rivers of Babylon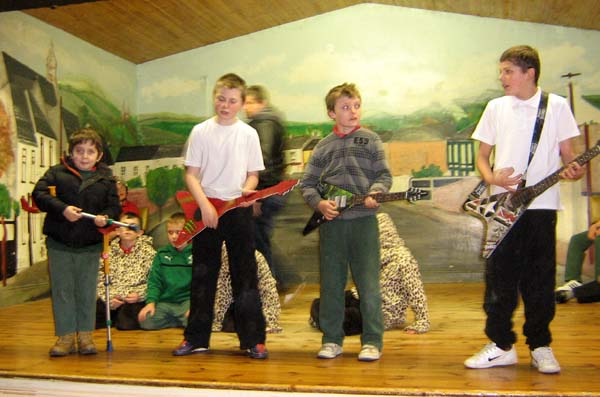 Bon Jovi Rock Guitarists to the rescue!


Let's hear it for 'the girls! No room at the inn..


Rock and Roll to the Rescue. Shepherds came to visit..


Something very special happened!. When you've got a camel who needs a car!.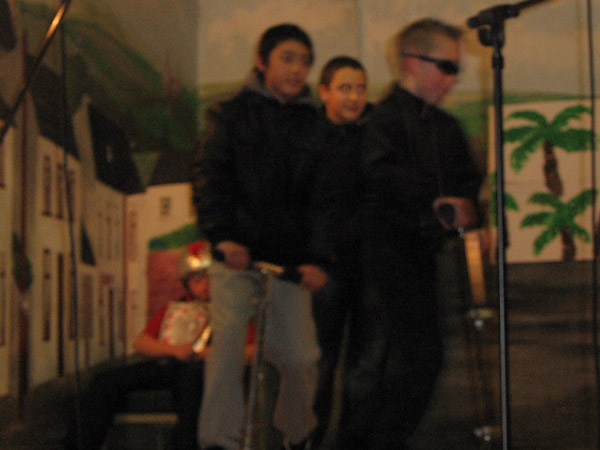 Boy racers Babylonian -style!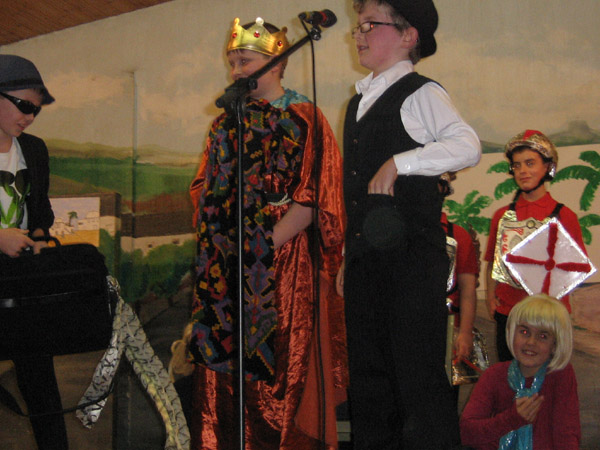 Calvinus and Kleinus dress the king.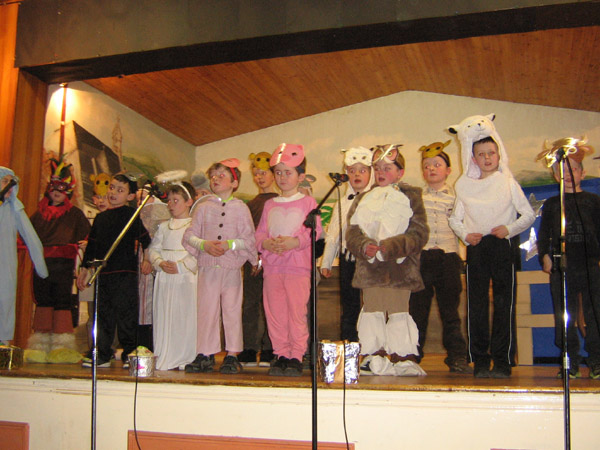 Great excitement-a baby born in a barn!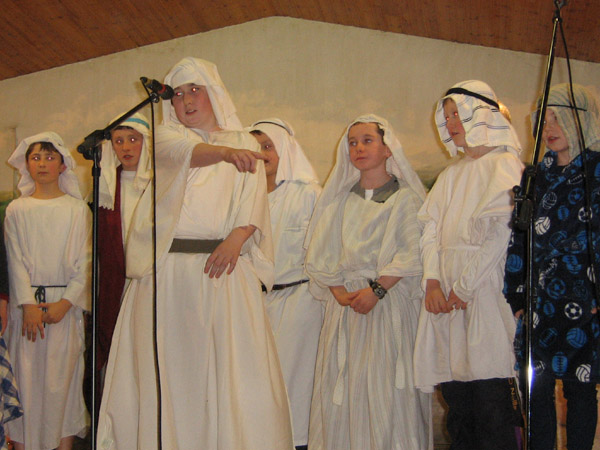 Hebrew exiles in Babylon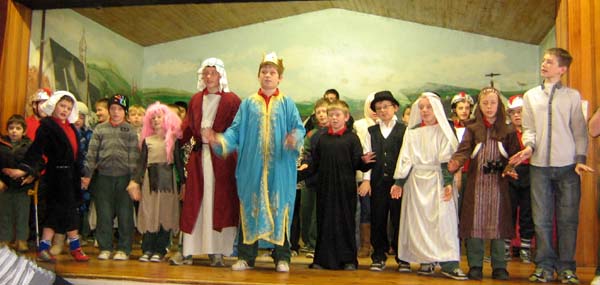 Looks like things all worked out well in the end!
To view more pictures from the concert click
here
---
Community Centre Walk/Run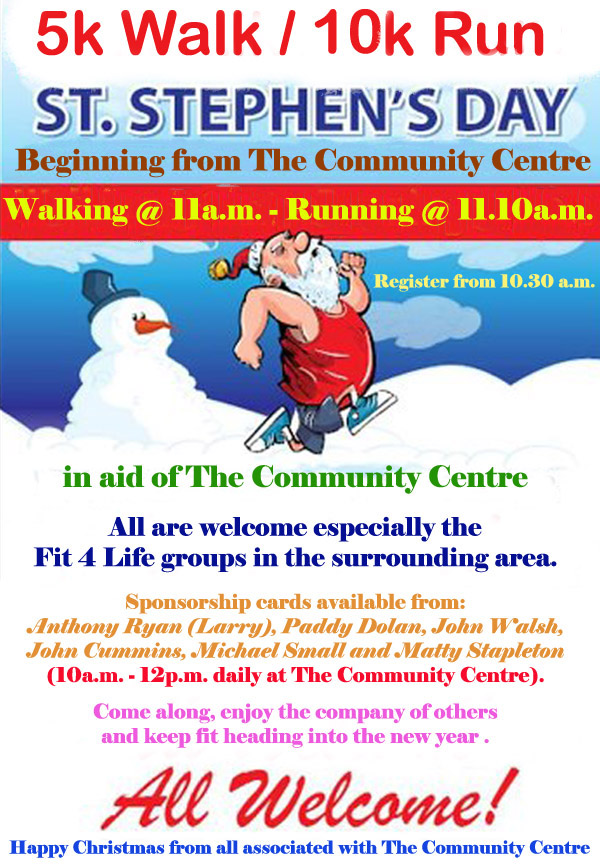 The Community Centre will be open from 10:30 am for registeration. Toilet and storage facilities will also be available.


---

Borrisoleigh Camogie Club will have a medal presentation night early in the New Year when our members have returned from their travels. Well done to Julie Kelly who was named player of the match (County Junior A Final) in last week's Nenagh Guardian. Watch this space for further details of presentation night. We would like to take this opportunity to wish our members, supporters and sponsors their families and friends a very happy Christmas.
Camogie club merchandise now available Hoodies, tracksuits, t-shirts, jerseys and raincoats available. See Advertising Section of www.borrisoleigh.ie for pictures. If interested please contact Caroline at 086 1522716. You can also follow us on Facebook.


---
Borris-Ileigh GAA Notes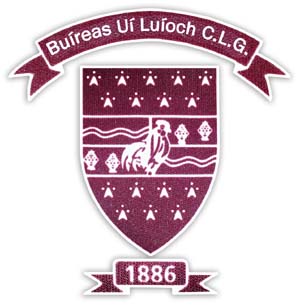 The club recently held their annual general meeting in the pavilion on Sunday 9th of December. In front of a good attendance of members outgoing chairman Noelie Maher welcomed everyone to the convention and the formalities began. After hearing very detailed reports from our treasurer Johnny Maher(also outgoing) and secretary Gerry Treacy the election of officers began.
With three of the five officers stepping down, Chairman Noelie Maher, Treasurer Johnny Maher and PRO Philomena Maher, a new look committe was welcomed in. Mark Stapleton was elected Chairman; Henry Groome elected Treasurer and Martin Ryan as PRO. Great tributes were paid to the outgoing officers especially Johnny and Noelie Maher who were stepping down after many many years service. Both have been involved at many different levels in the club and their unrelenting service to the club and community won't be forgotten. It was also announced the Jimmy Finn had been appointed as President of the club. Very few parishes are as lucky to have the calibre of men of Jimmy in their club and we are delighted to have him in the role of President. Joe Kennedy and Sean Prior were also elected on to the committee.
The election of team managers was then attended to and the following were elected: Senior-Michael Ferncombe, Junior A-Michael Tierney, Under 21-Tom Stakelum, Minor-Brendan Kenny.
The meeting was then brought to a close and everyone went home looking forward to the coming year. The club would also like to wish everyone a very Happy Christmas and prosperous 2013.

---
Borrisoleigh Community Development Association
Our Annual General Meeting was held on Friday the 14th December 2012 at 8.30pm in the Community Centre. It was great to see new members on the night. The following officers were elected Chairperson Jimmy Stapleton, Secretary Rena Ryan and Treasurer Teresa Kiely.
The Association at would like to thank all those who volunteered with the annual spring clean, the FAS workers, all who contributed to the annual. The 2012 Annual is available in the local shops or if you are away and wish for a copy to be posted please e-mail
borrisoleighannual@gmail.com
.Merry Christmas and a Happy New Year to all our community both at home and away. Also safe travels to all over this festive season.
---
Eamon an Chnoic On Stage In Upperchurc​h
The mountain village of Upperchurch is going back in time 300 years to the days of raparees, redcoats and rebellion with the staging of a new two act play about the life, loves and betrayal of the local heroic outlaw, Ned of the Hill. The play will be staged in the local community centre on Friday, Saturday and Sunday Dec. 28th, 29th and 30th. The curtain goes up at 7.30 p.m. on Friday and at 8.30 p.m. on Saturday and Sunday. Phone 087 6158937 for booking or further information.

---
Marian Hall Lotto
18/12/2012
Numbers: 2, 15, 21, 26
No Jackpot Winner
No Match 3
2 Name Draw
Lillian Treacy, Fantane
Mary Cummins, c/o Shanahans Centra
Next Week's Lotto Jackpot
€10,700
Next draw takes place on 08/01/2013
---
Pic of the Past….Down Memory Lane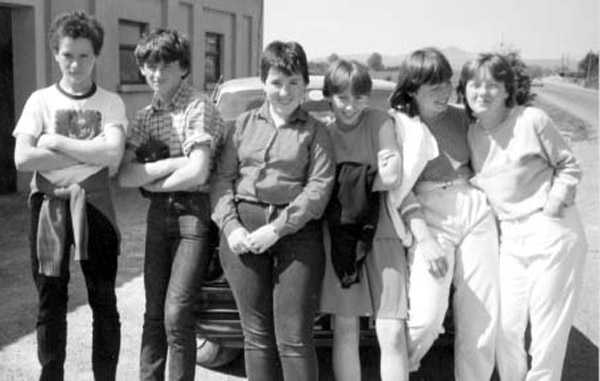 Joe Kennedy, Eamonn McGrath, Angela Butler,
Mary Reid, Clare Ryan and Tara O' Neill
---

Your Website Needs You!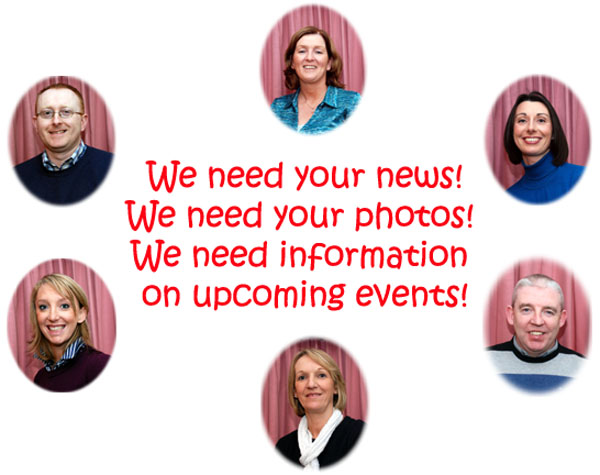 Committee: Enda Ryan, Noreen Fahy, Margaret Cowan, Michael Barry, Marie McGrath and Aileen Óg Groome
Many thanks to all those who contributed photographs and news items. Remember, we need you to continue to send us material so that we can keep our website current and interesting.
Send your email to: info@borrisoleigh.ie
Also, if you like what you see and want to leave a comment, remember to use the Guestbook!