2012 Junior A County Camogie Champions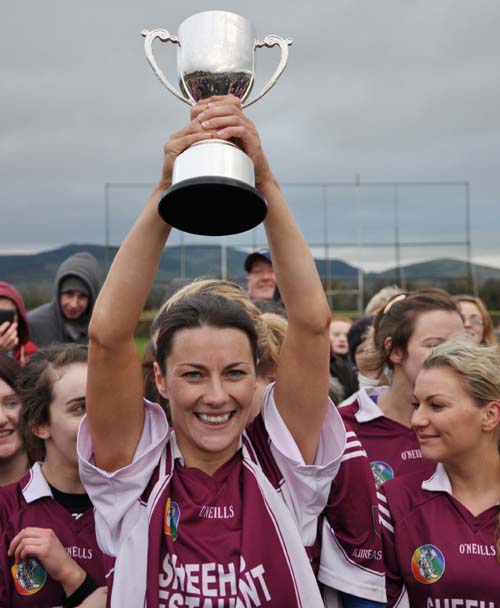 Captain Michelle Ryan lifting the new Junior A Championship Cup for the first time

Carmel Harkin County Board Secretary presenting Cup to Michelle Ryan Borrisoleigh Captain.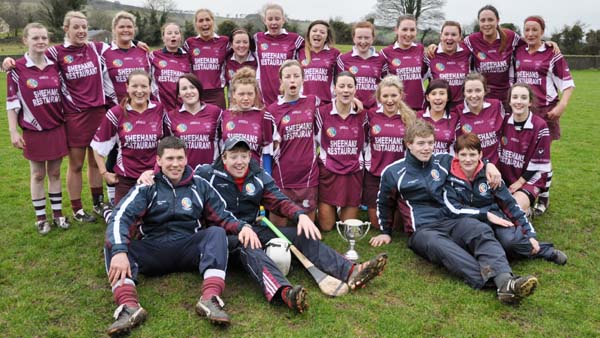 Back row: Nora O'Brien, Sarah Cowan, Shauna Rabbitte, Carmel O'Brien, Moira Dooley, Sinead Ryan, Lauren Butler Ryan, Clóda Scanlon, Noreen Treacy, Niamh McGrath, Louise Fahy, Mary Bradshaw and Julie Kelly,
Front row: Deirdre Corcoran, Clíodna Burke, Jane McCormack, Nicole Walsh, Michelle Ryan, Noirín Stapleton, Aisling Kiely, Marie Ryan and Grace O'Mahony
Seated Declan Maher, Jody Harkin, Benny Harkin and Paula Ryan. Missing from the photo Siobhan Stapleton and Joanne Cowan Treacy

Borrisoleigh Camogie Club created history on Saturday afternoon by winning the County Junior A camogie title for the first time ever. This was a tough and exciting game that served up some wonderful displays throughout. Nothing was spared from either side with the marking very tight. Both teams had to wait a long time for the final. The Junior A competition was the most competitive ran this year, games were very tight with playoffs and replays required for our opposition on the day.
Borrisoleigh were first out of the traps within the opening minutes with a fantastic goal opening the scoring. Kilruane replied at the other end soon after with a goal. Going in at half time playing with the wind Borrisoleigh had a four point lead of 1-6 to 1-2.
The team came out stronger in the second half with Kilruane only let score one point from play. The Borris ladies played very well in all positions on the pitch. The final score at full time was Borrisoleigh 1-13 to Kilruane 1-6. The new Junior A Championship Cup was presented by Carmel Harkin County Board Secretary to Michelle Ryan Captain.
The team on the day was Carmel O'Brien, Niamh McGrath, Shauna Rabbitte, Michelle Ryan (Capt) Louise Fahy, Julie Kelly, Nora O'Brien, Maria Ryan, Moira Dooley (0-1), Sinead Ryan(0-1), Mary Bradshaw, Nicole Walsh (0-7, 6f), Noreen Treacy, Deidre Corcoran (1-4), Noirin Stapleton. Subs Jane McCormack, Grace O'Mahoney and Sarah Cowan. Also on the panel Cliodna Burke, Aisling Kiely, Clóda Scanlon, Lauren Butler Ryan and Joanne Cowan Treacy.
A lot of hard work has gone into preparing the team for the final and great credit is due to the players, mentors and committee. As this was our last game of the season we would like to take this opportunity to thank everyone for your support throughout the year. It is wonderful to end the season on such a high note. We look forward to building on this success in 2013.
Camogie club merchandise now available Hoodies, tracksuits, t-shirts, jerseys and raincoats available. See Advertising Section of www.borrisoleigh.ie for pictures of same. If interested please contact Caroline at 086 1522716. You can also follow us on Facebook.
---
St. Theresa's N.S. Christmas Variety Concert
St. Theresa's Girls
National School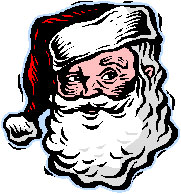 Christmas
Variety
Concert
Friday 14th December @ 7pm
in the Marian Hall
All are welcome!
---

St. Cualan's Christmas Party 2012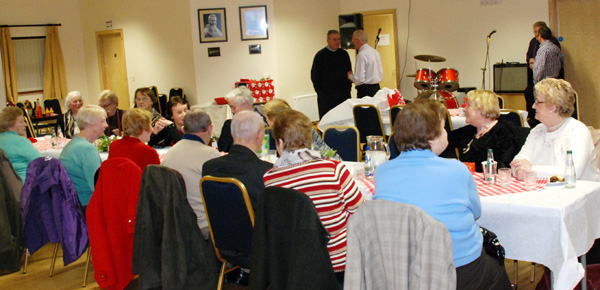 The Gathering of St. Cualan's for their Christmas Party on Sunday 2 Dec.



Our Annual Christmas Party was held in the Community Centre on Sunday last 2nd December. This great occasion commenced with the celebration of Mass by Fr. Liam Everard PP and was joined by our local choir who enhanced the liturgy with their singing. As usual Santa Claus was there to greet all our friends and had a gift for everyone. We thank Brian O'Farrell and his staff who excelled with their food and service. The atmosphere was electric. It was great to see all age groups from under 8's to over 80's enjoying the night together. Wherever you looked in the hall there was happy and smiling faces.
We sincerely thank all our participants for giving freely of their talent and time on the evening. Borrisoleigh's Got Talent no doubt. It was one of the occasions that you would like to remember with joy many years after and be proud of both your community and having such a facility like the Community Centre to host such an occasion.
Thanks to Phil Maher, John Maher and P.J. Ryan for their wonderful music. The variety of entertainment was absolutely incredible. No doubt this was a great evening, great band, great food, great talent, great company in fact everything was GREAT. Well done to all the Committee.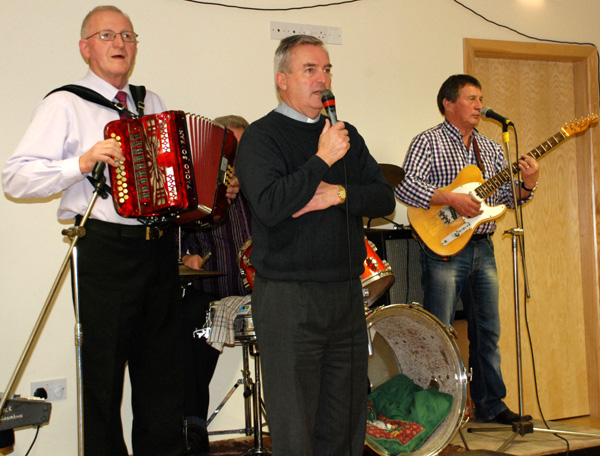 Fr. Liam adds his tuppence hal'penny to the proceedings!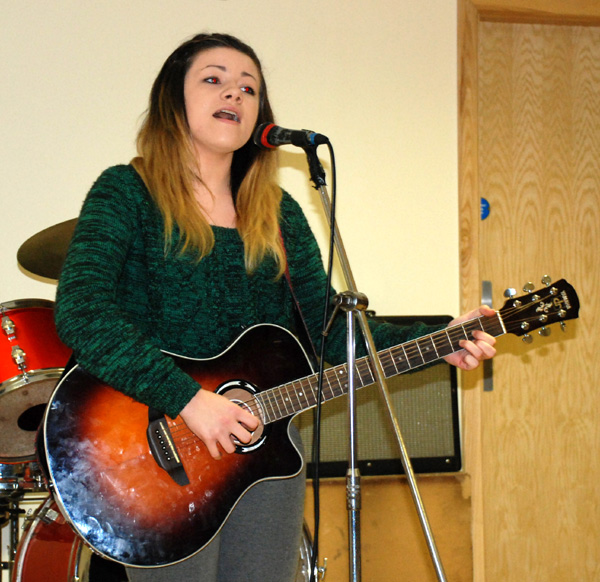 Clóda shares her singing talent at The St Cualan's Christmas Party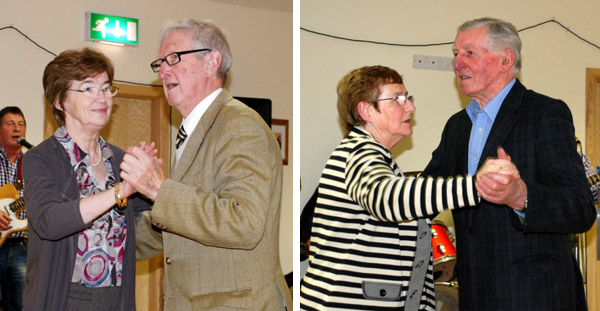 Around the house n mind the dresser!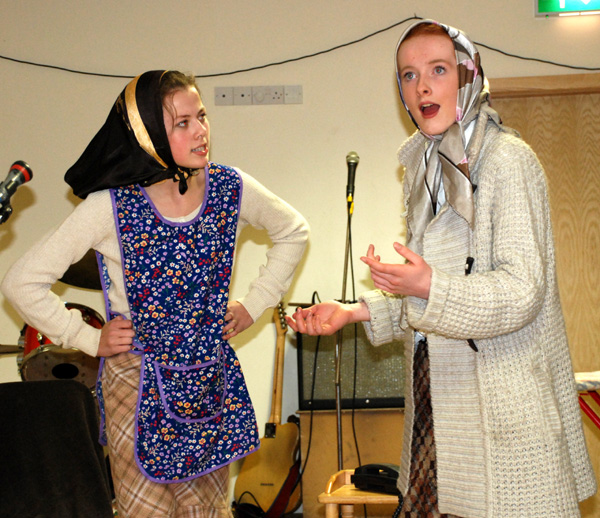 Impassioned acting by Lorna and Orla at The Community Centre for The St Cualan's Christmas Party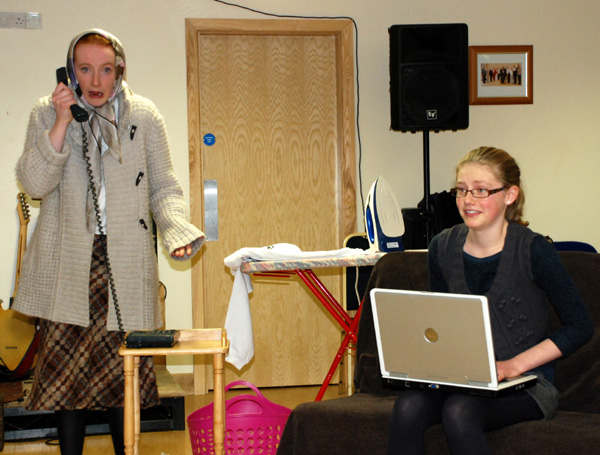 A look of dread on the faces of Orla and Ciara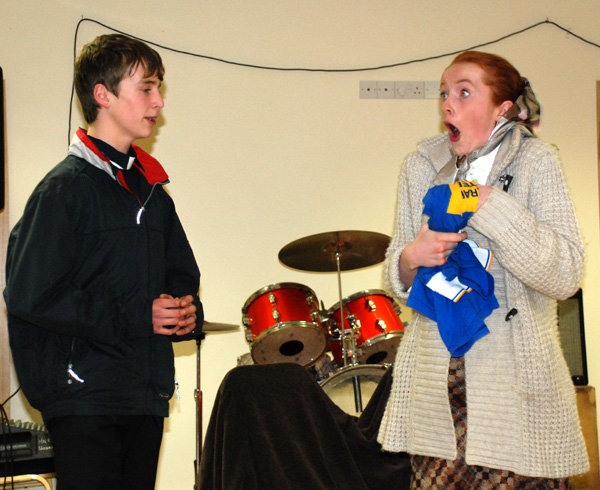 Fr. Arron (The new Curate!) has a few words with herself! "And now for your penance dear child!!! Kneel your way up to the Devil's Bit and go and sin no more!!! – Oh and I'll have my Tipperary Jersey back if you don't mind!!!"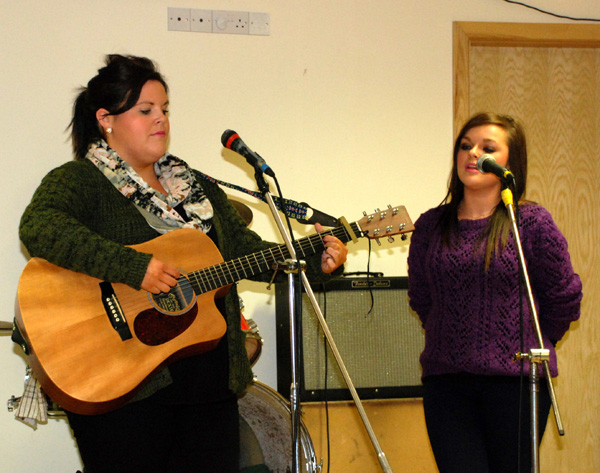 The Kavanagh girls share their talents with the senior citizens of St. Cualan's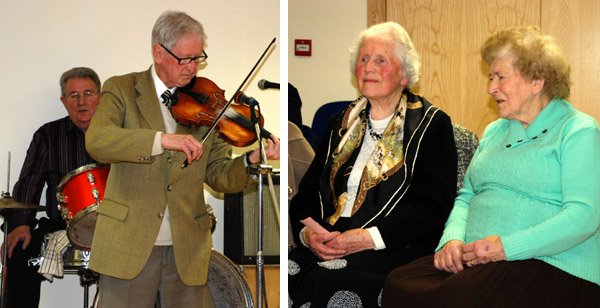 PJ takes a break from the drums in the background while Timmy makes stringed music with his violin much to the amusement of Peggy and Mary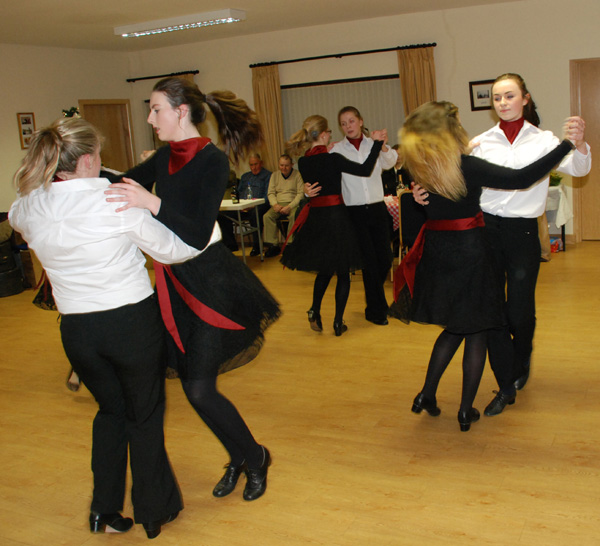 Borrisoleigh's Scór na nÓg Set Dancers demonstrate their dancing skills at The Christmas Party
The new curate doesn't leave a tooth in it!!!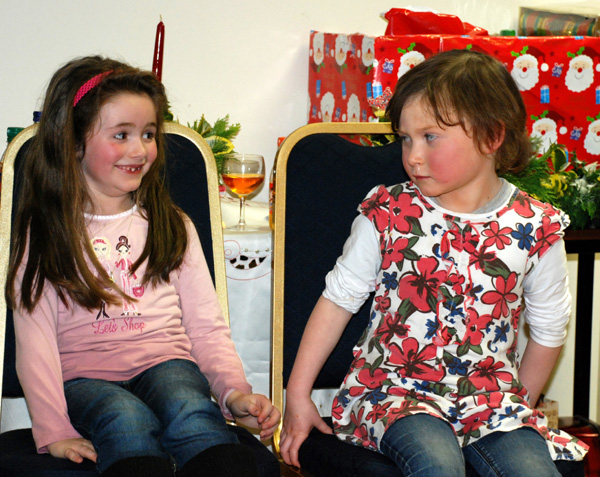 (Notice the glass of whiskey in the middle) "I saw it first" – "yeah but I'm nearer to it!" ready, steady…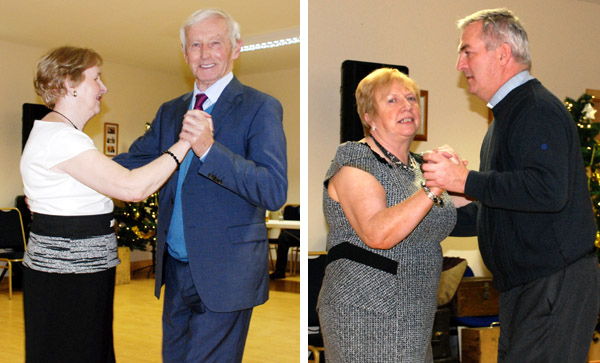 Dancing the evening away at The St. Cualan's Christmas party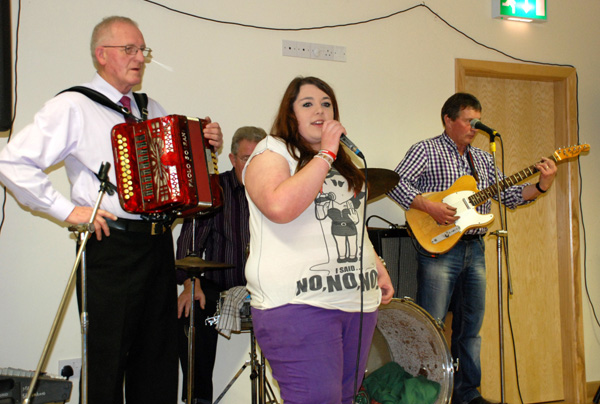 Hazel regails the guests at the Christmas Party
Avril shows her amusement at Orla's antics while Martina is wondering if it fits her!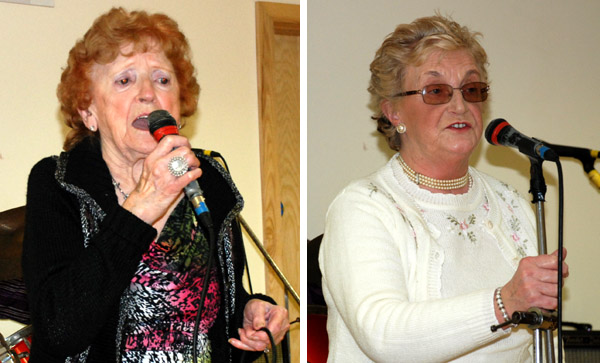 The sing-off between Mary and Mai!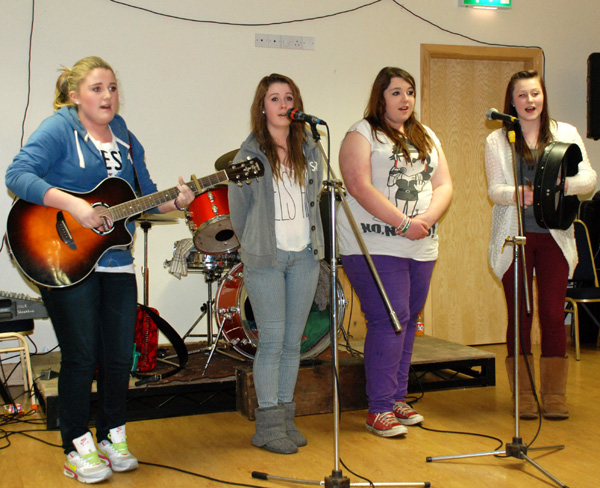 Borrisoleigh's Scór na nÓg Ballad Group entertaining the St Cualan's guests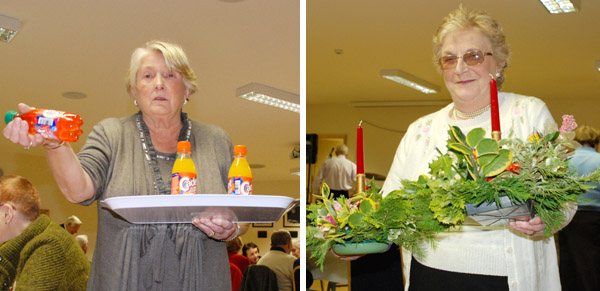 Ah g'wan g'wan g'wan, ya will ya will ya will! Margaret tries to pedal her wares while Mai has just sorted her Christmas dinner table decorations!

---

St. Brigid's N.S. Fantane Nativity "Hosanna Rock"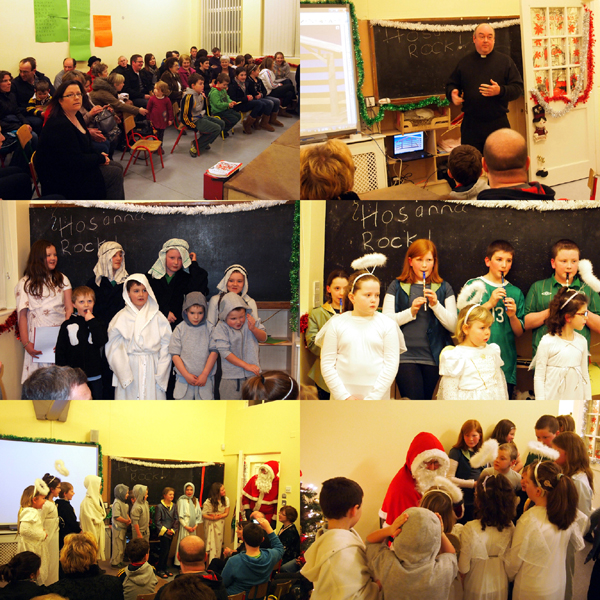 Last Wednesday night family and friends were highly entertained by Fantane NS Nativity "Hosanna Rock". A big thank you and congratulations to the children and staff for putting on a wonderful show. It was also the perfect time to show off the newly refurbished school. Afterwards we had a surprise visit from Santa himself, a lovely way to start getting into the Christmas Spirit! Wishing everyone a Safe & Merry Christmas from Fantane NS.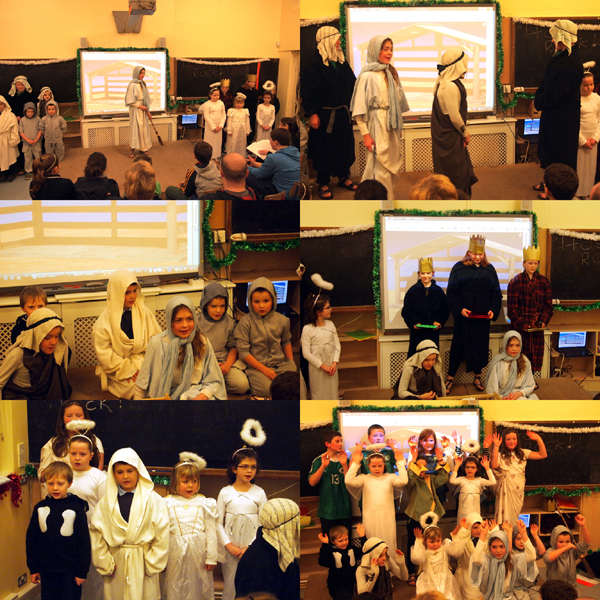 ---

Borrisoleigh Community Development Association

Borrisoleigh Community Development Association will be holding it's Annual General Meeting on Friday the 14th December 2012 at 8.30pm in the Community Centre. New members welcome.

---
The Blessing of Johnny's Crib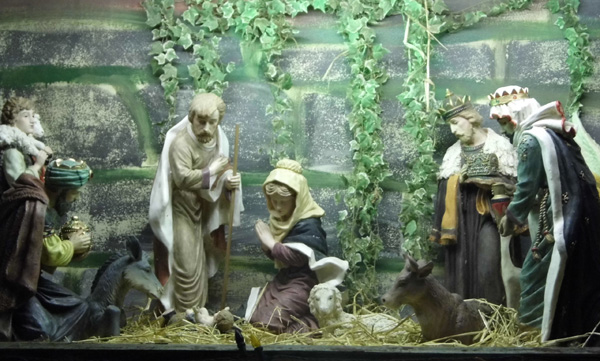 Johnny's beautiful Christmas Crib – for all passing traffic to ponder on during this festive season


On Sunday afternoon last (9 Dec) the annual blessing by Fr Liam of Johnny Connors Christmas Crib took place in his workshop in the midst of all the local neighbours from the Castlequarter / Rathmoy area. It was a great local neighbourly event giving the locals an occasion to come together, partake in the Crib blessing, have a chat and a laugh with a singsong thrown in for good measure while the tea and refreshments were served.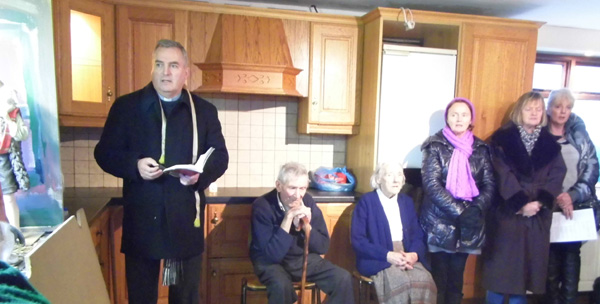 Fr. Liam blesses the Crib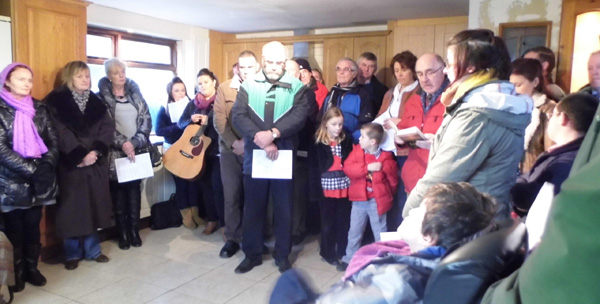 The Rathmoy / Castlequarter neighbours gather for the blessing of The Crib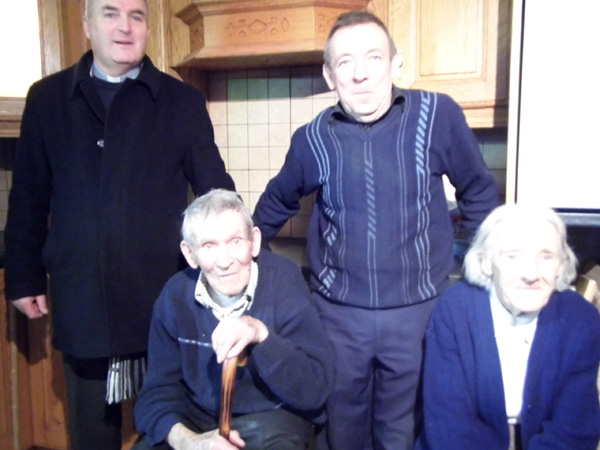 Fr Liam with Johnny and his parents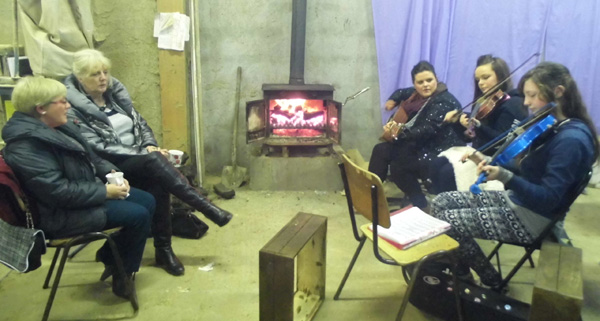 'The Gathering' around a cosy fire with local musicians adding to the occasion

---

Church at Christmas
Confessions
Confessions will be heard on Saturday evening (22nd Dec) at 7p.m. in The Sacred Heart Church and will continue during 7.30p.m. Mass and for as long as is necessary afterwards.

Christmas Masses

Christmas Eve: 7.30p.m.
Christmas Day: 9a.m., 10.30a.m. (Ileigh) & 11.30a.m.
Weekday morning Masses for Christmas week: 10.30a.m. only

---
The Family Giving Tree is now a well-established feature in our Parish in the lead up to Christmas. It offers people the opportunity of giving with a difference. Families or individuals can purchase a Trócaire life changing gift which will benefit the poor of the developing world. We live in recessionary times, of that there is no doubt, but our Family Giving Tree is just an option that you might like to consider in the run up to Christmas.
This year's selection of gifts include:
the gift of chicks to a family in Malawi (€5);
the gift of light to a family in Uganda (€10);
gift of olive trees in Palestine (€20);
the gift of school fees to a child in Zimbabwe (€30);
the gift of goats to a family in Malawi (€50);
the gift of a bike in Zimbabwe (€70);
the gift of safe motherhood in Somalia and Guatemala (€100);
the gift of water worldwide (€150);
the gift of a cow to a family in DRC (€200).


Gifts can be purchased in the usual places: The Post Office; O'Connell's Pharmacy; Stapleton's and Coffeys. On the purchase of a gift you will receive a Card to send to the person in whose name you purchased the gift and a ribbon representing your gift to be attached to the Family giving Tree in the Sacred Heart Church.


---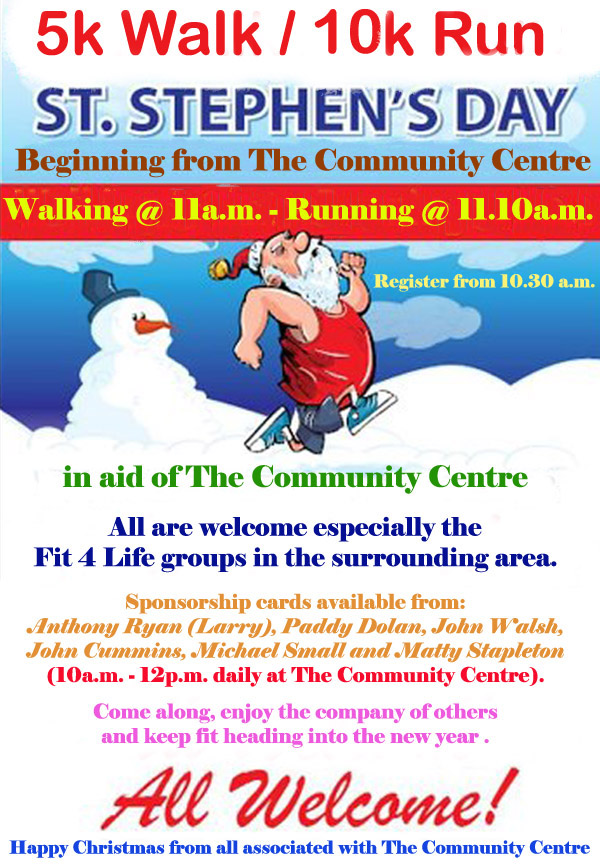 ---

Pic of the Past ………….down memory lane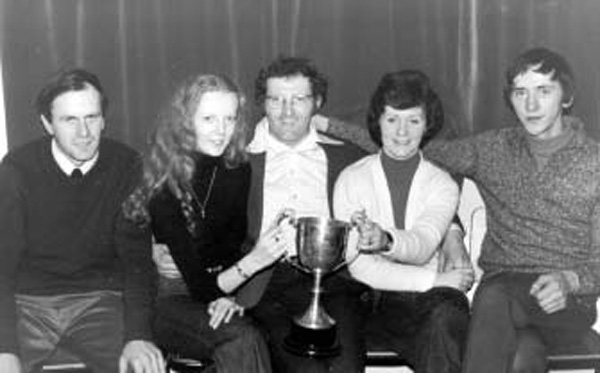 Lar Brien, Ann Kearney, Phil Maher, Eileen Glasheen and Gerard Ryan, Cooleen



---
Your Website Needs You!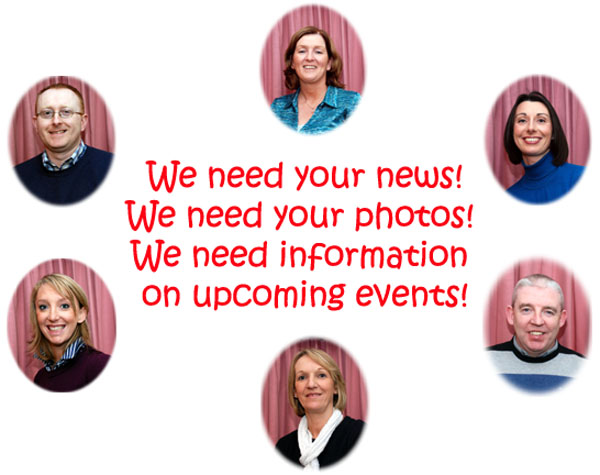 Committee: Enda Ryan, Noreen Fahy, Margaret Cowan, Michael Barry, Marie McGrath and Aileen Óg Groome
Many thanks to all those who contributed photographs and news items. Remember, we need you to continue to send us material so that we can keep our website current and interesting.
Send your email to: info@borrisoleigh.ie
Also, if you like what you see and want to leave a comment, remember to use the Guestbook!