Congratulations Lads!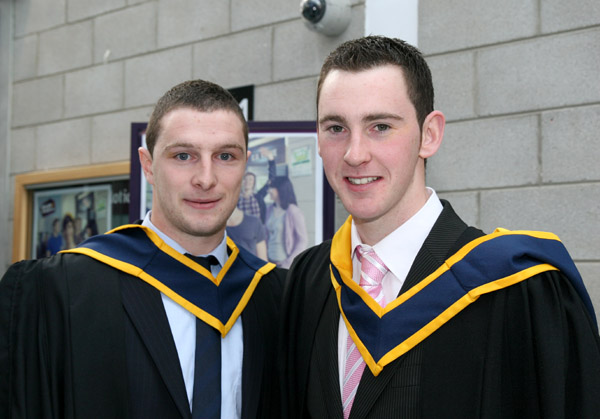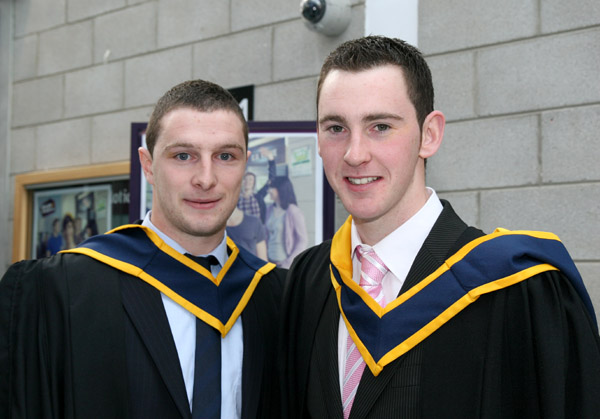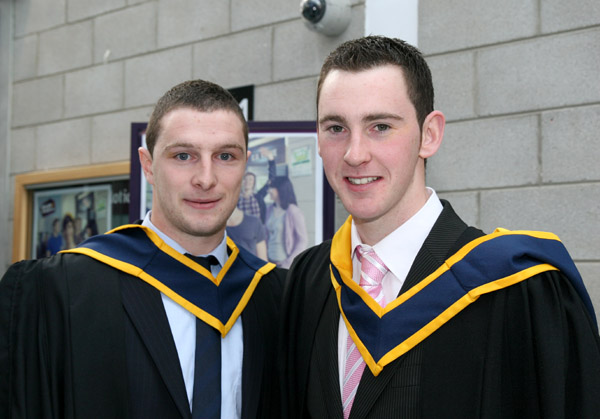 Adrian Ryan, Templederry and Cathal Bourke, Borrisoleigh on the occasion of their recent Graduation
Congratulations to Adrian Ryan,Templederry who graduated recently as Bachelor of Science Hons. in Civil Engineering Management and to Cathal Bourke, Borrisoleigh who graduated as Bachelor of Science Hons. in Quantity Surveying. Well done lads!
---
Sharon is victorious in Dubai!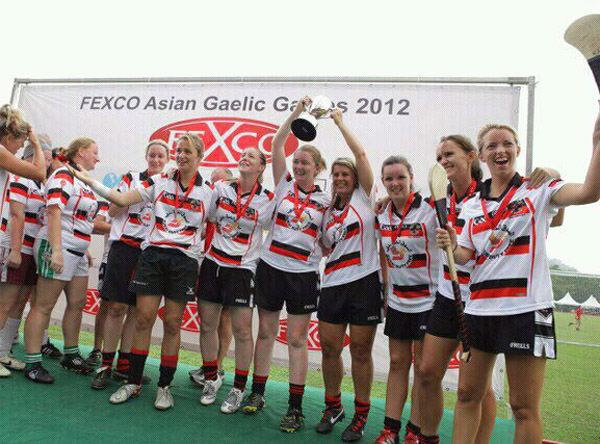 Sharon Madden (holding the cup) with the Dubai camogie team. This photo was taken at the medal presentation by the Asian county board in Kuala Lumpur for the Asian camogie championship.
---
Annual Mass of Remembrance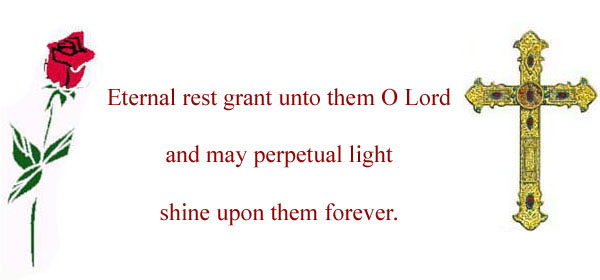 The annual Mass of Remembrance for those who died in the parish during the past year will take place on Friday night, November 16th at 7.30p.m.



During the Mass a lighted candle in memory of your loved one will be placed on the altar. We invite all family members to attend this special celebration. After Mass, refreshments will be served in the Community Centre to which all are welcome.
---

Praying of the Rosary in our parish cemeteries during November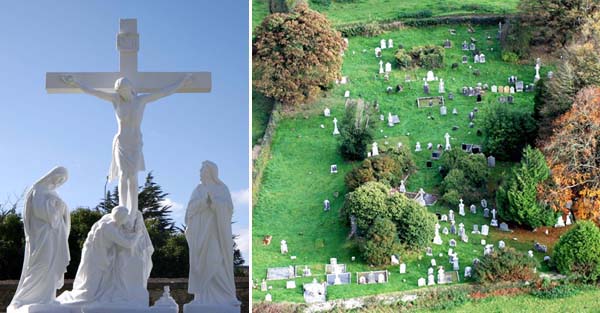 During the month of November the Rosary is being prayed in our parish cemeteries

The times and dates are as follows:
Glenkeen Cemetery on Sunday November 18th at 3 p.m.
Ileigh Cemetery on Sunday November 25th at 3 p.m.
---

The Borrisoleigh & Ileigh Volunteers of The Irish Cancer Society wish to thank everyone who contributed to the Irish Cancer Society National Collection last weekend (Nov. 3rd/4th). The amount raised was €1,200. Thank you.
The Irish Cancer Society is the national charity dedicated to preventing cancer, saving lives from cancer and improving the quality of life of those living with cancer through patient care, research and education. The Society is financed entirely by voluntary contributions from the public and receives no government funding. We rely on thousands of dedicated volunteers from around the country to help with our fundraising activities. We are the largest voluntary funders of Cancer Research in Ireland, and we also provide support and nursing care for people at every step of their cancer journey.


---
Medals Presentations to The Victorious u14 Hurling Panel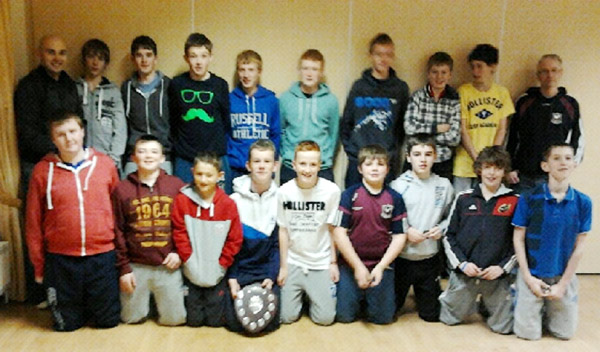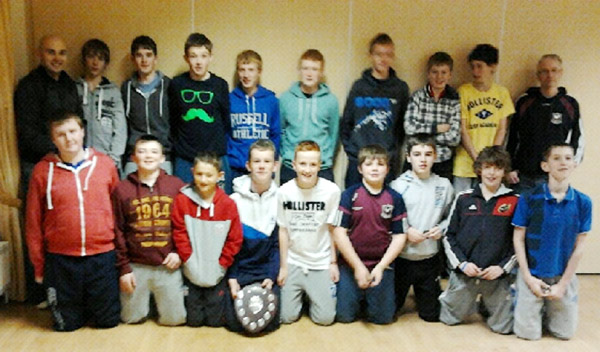 Under 14s Champions with their mentors
The victorious u14 hurling panel received their medals after a successful campaign, beating Burgess in the North Plate Final. They had a great year reaching North-semi finals in both hurling and football. Thanks to Denis Kelly and Christy Reid for training the team. Thanks to Joe Kennedy, Geraldine and Philip Delaney for providing refreshments. Best of luck to these players in the future sporting careers.
---
50th Wedding Anniversary celebrations at Trim Castle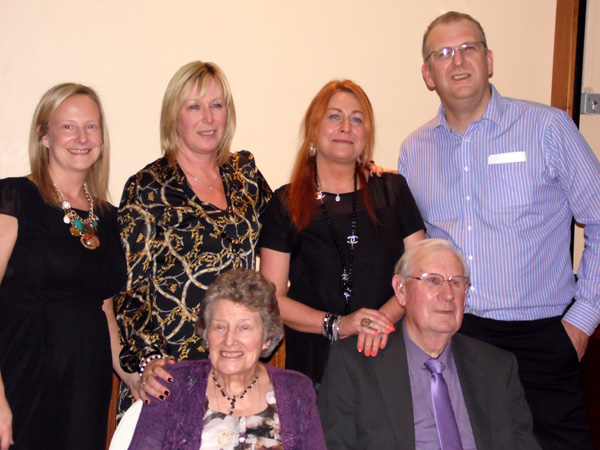 Phyllis and Liam Meagher celebrate their 50th wedding anniversary with family and friends at Trim Castle
A great night on Sunday 4th Nov was had in Trim Castle Hotel for family & friends of Liam & Phylis Meagher to celebrate their 50th Wedding Anniversary. Liam originally from Lower Street was delighted to celebrate with Phylis and their children, Joseph, Mary, Rosemond and Olivia and their families. People came from far and near to wish Liam & Phylis many more years wedded happiness.
---
Tommy Gleeson Cup – U10 Parish Final
The Tommy Gleeson Cup – U10 Parish Final will be held on Sunday 18th November at 3pm in The Town Park. Players should be in the dressing room at 2:30 p.m. The teams playing in the semi-finals are: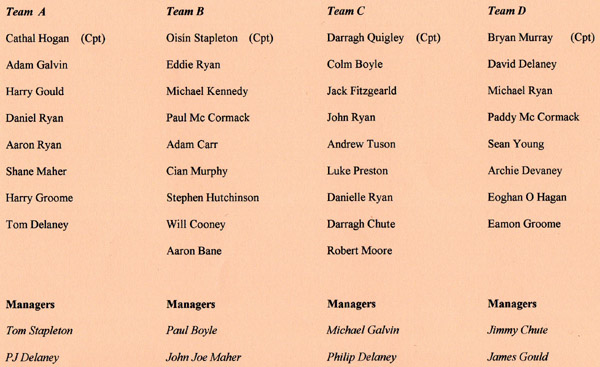 Semi- Finals
Team B v Team C
Team A v Team D
---
Borris-Ileigh G.A.A. Music Fest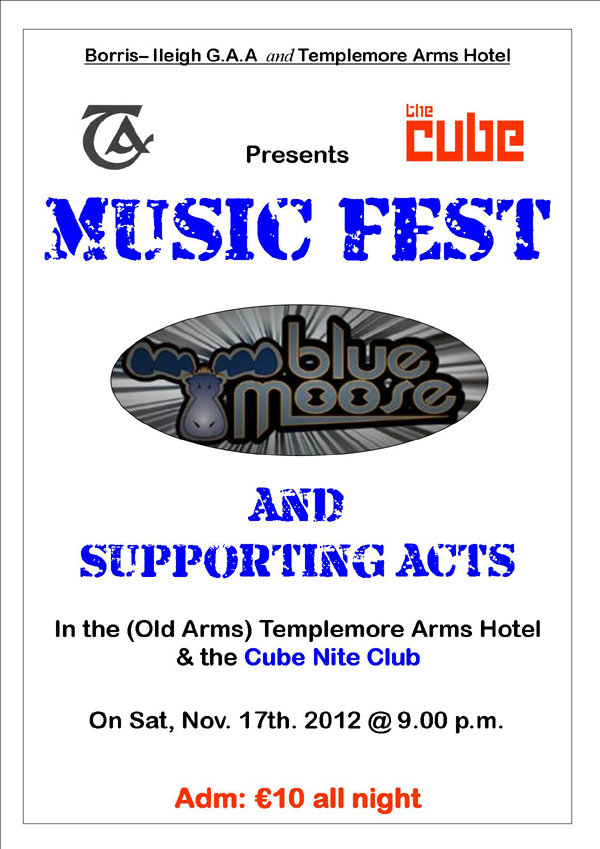 Hello all. Join us this Saturday, the 17th of November for a fantastic night of music, fun and frolics in The Templemore Arms with Bluemoose and Borris-Ileigh GAA. A highly entertaining night is promised with Ireland's top cover band and many more for just €10 (also includes access to The Cube nightclub). Doors open at 9pm. So come along, bring a friend and enjoy what will be a great night.

Tickets available from:
Toby Kavanagh, Brendan Maher, Diarmuid Kinane, Cecil Tierney, Mark Bourke, PJ Kiely, Declan Maher, Cathal Bourke and Gerry Treacy
---
Borrisoleigh Camoige Club News



Our AGM was held in the Town Park on the 9th November 2012 and the following officers were elected: John Walsh (Chairperson); Joanne Cowan (Treasurer); Christine O'Brien (Secretary); Teresa Kiely (PRO); Denise Hogge (Child Welfare Officer). The Club would like to sincerely thank Siobhan Stapleton, who has stepped down as Chairperson she did Trojan work during the year we also wish her all the best on her travels. The AGM was well attended it was great to see such interest in the Club. Managers were selected for all age levels.
The date of the County Final for the Junior A team is set now for the 1st December 2012 at 2.30 pm in the Camogie Grounds The Ragg. Holycross and Kildangan will play for the runner up position of our group on the 18th November. The winners of this match will then play Kilruane in the semi-final on the 25th November. Both these matches will be in the Camogie Grounds The Ragg at 2.30 pm and extra time will apply in the event of a draw.
It will be almost two months from our semi-final to the final. The team continues to train and had a challenge match on Sunday the 11th November against the Presentation, Thurles in the Camogie Grounds The Ragg at 10.30 am. Unfortunately the team didn't perform on this occasion and they were comprehensively bet.
The Club in support of Borris-Ileigh Gaa (who are a great support to us) is selling tickets for Music Fest (€10) which takes place in the Templemore Arms on the 17th November at 10 pm contact any committee member for a ticket.
Many thanks to Christina O'Dwyer for first aid course which is being held in the park at 9am on Saturday. Christina is volunteering her time and expertise so it is vital that all those who have committed to the course turn up on time on the day.
Camogie club merchandise now available Hoodies, tracksuits, t-shirts, jerseys and raincoats available. See Advertising Section of www.borrisoleigh.ie for pictures. Deadline for Christmas delivery is the 26th November, an ideal Christmas gift. If interested please contact Caroline at 086 1522716. You can also follow us on Facebook.
---
Borris-Ileigh GAA News


U21 Hurling
We were comprehensively beaten by Nenagh last Saturday afternoon. This ends our participation in this competition for the year. It is very difficult to win matches without your full compliment of players. We expected good things from this team but unfortunately it was not to be. Thanks to all who were involved during the year.
Junior C Hurling
We are still waiting for this fixture to be confirmed. Training is still continuing and hopefully this will stand to the team in the next match.

Congratulations Jimmy
Congratulations to Jimmy Finn who has been confirmed as our new President. This was a unanimous decision by the officers and committee.
The Tipp GAA Draw was held in Stapletons pub last Friday night and Donal O Driscoll was presented with his prize. The Comhaltas and friends entertained on the night and a great night of music and song ensued. We thank Stapletons for the food they layed on. We also thank all who turned up on the night. We thank the Tipp GAA Draw for all the spot prizes they raffled.This is a great fundraiser and we urge people who are not joined to do so. Our Music Fest is on this Saturday in the Templemore Arms so come along, your support would be appreciated. Our AGM will be held in the pavilion on Sunday the 9th of December at 6pm. All nominations and motions to be with our Secretary one week before.
---
Congratulations Donal!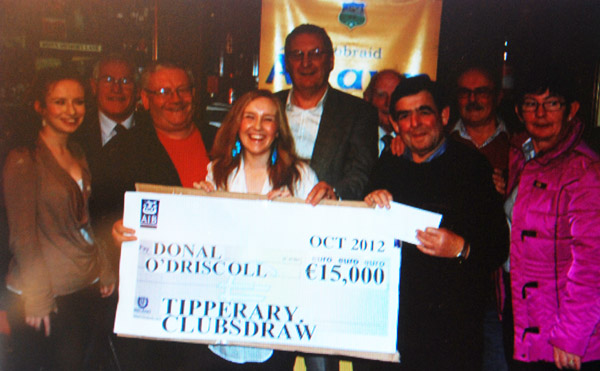 Donal O'Driscol or St. Brigid's Villas receiving his cheque for €15,000 in the Tipperary GAA November Draw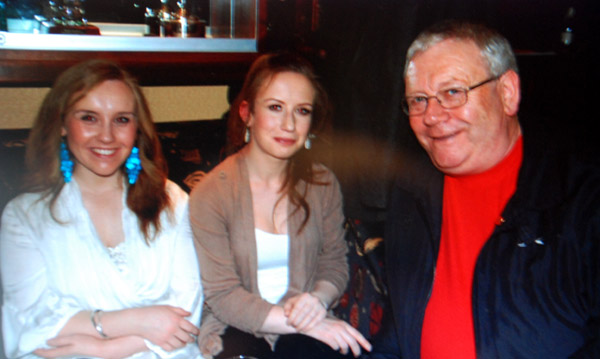 Donal with his daughters Danielle and Ava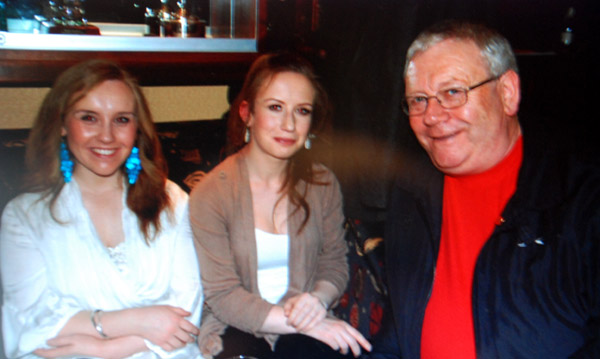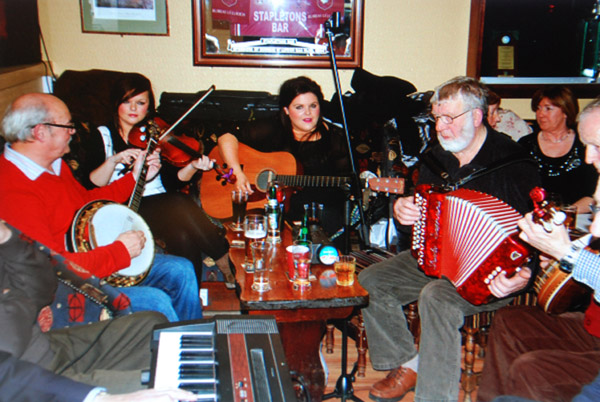 The music-makers at the Cheque Presentation Night in Stapleton's Bar, Main St.
---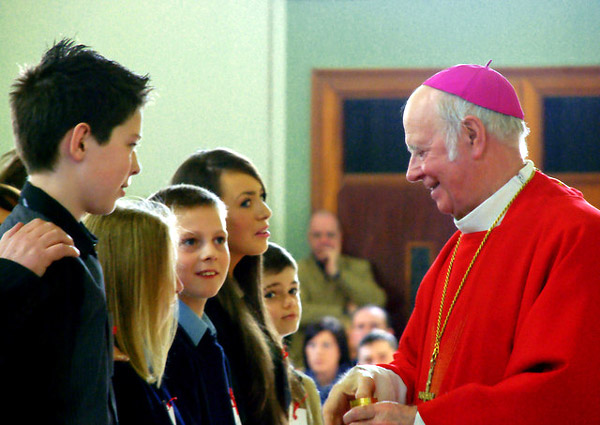 Confirmation Day in Borrisoleigh & Ileigh in 2013 will be Wednesday April 10th
---
BORRISOLEIGH CHARITY CYCLE 2012 CHEQUE PRESENTATION

The final balance of the sponsorship raised from this year's cycle for the Autistic Spectrum Disorder Unit in Killenaive NS, was forwarded to the Unit last week. The total amount raised for the Unit came to €8,816. This money will go a good way to providing some much needed equipment for the children attending the Autistic Spectrum Disorder Unit and the staff and children are very appreciative of all our efforts. Well done to all concerned.
---
Sports First Aid Course in Nenagh

A Sports First Aid Course takes place on Saturday 24th November in Nenagh. To register, please contact the NTSP office.
Also
FREE Sports Workshop Series taking place in LIT Tipperary, Thurles on Monday 19th November at 7.30pm sharp.
This Second Event will Feature:
"Movement Skills and Fitness for Children" Workshop by Damien Young and Keith Hennessy, Setanta College.
This is a practical workshop which will examine movement restrictions common in children and will demonstrate the exercises and activities that can be completed to improve movement skill and overall fitness.
Please note, the last event of this series will be held on 5th December so keep your eyes peeled for more announcements….
For further information please contact:
Sharon Mc Loughney
Local Sports Administrator
North Tipperary Sports Partnership, c/o Lifelong Learning Service, Martyrs' Road, Nenagh, Co. Tipperary
Tel: 067-43604 l fax: 067-46026 l web: www.ntsp.ie
Companies Registration Number 353610
---
New Website for Tipperary Libraries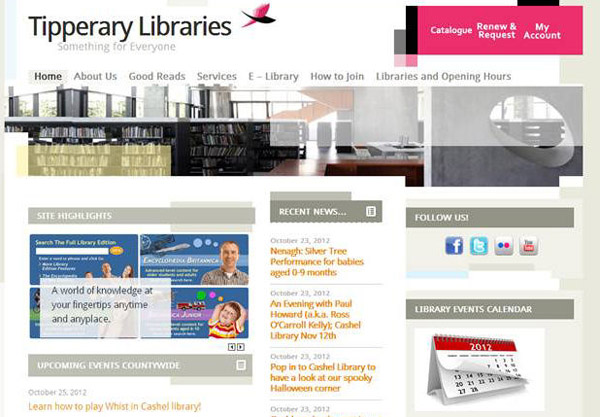 "Tipperary Libraries has a new website, www.tipperarylibraries.ie. This site is designed to give all customers easy and quick access to information about library events in their town and across the county. The site is also a facility in its own right with access to the catalogue, free Britannica Online and the option to watch and listen to podcasts from author visits and lecture series."
There are lots of resources for parents, children, teenagers, older people, everyone really! and up to date news about events and clubs.
---
Pic of The Past… down memory lane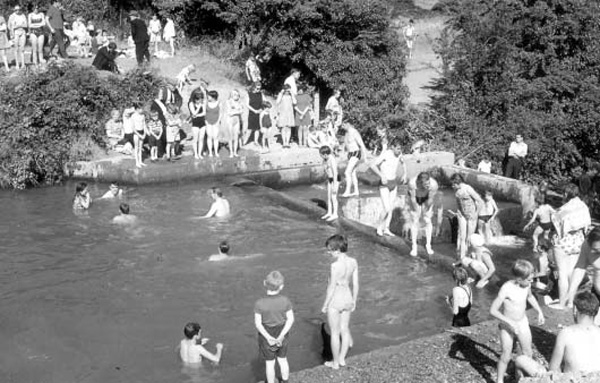 A busy day at the Sandtrap
---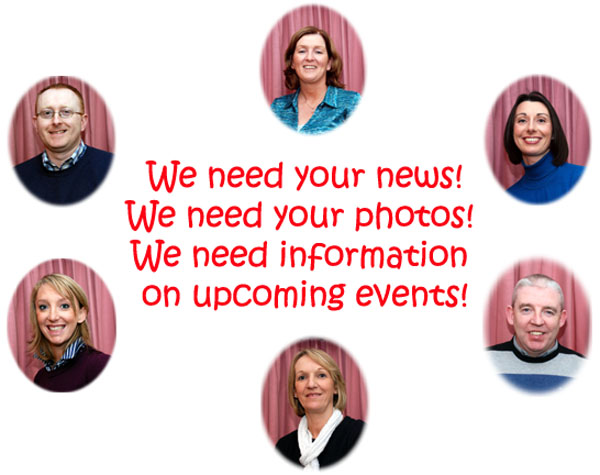 Committee: Enda Ryan, Noreen Fahy, Margaret Cowan, Michael Barry, Marie McGrath and Aileen Óg Groome
Many thanks to all those who contributed photographs and news items. Remember, we need you to continue to send us material so that we can keep our website current and interesting.
Send your email to: info@borrisoleigh.ie
Also, if you like what you see and want to leave a comment, remember to use the Guestbook!