Tomathon 250 Km Walk for Pieta House / Suicide Awareness and Prevention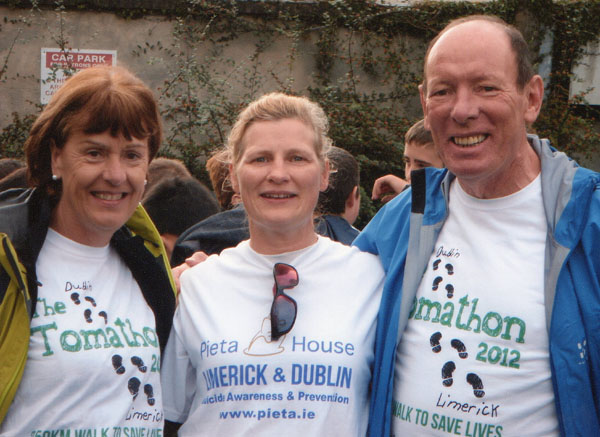 Teresa Ryan with Tom and Shiela Moran (Moran Hotel Group and Bewleys Cafes)
Teresa Ryan of Castlecourt and Sheila Devaney of Drom recently took part in a sponsored walk (250km from Athea Co. Limerick to the The Red Cow Moran Hotel in Dublin from Sept 15th – 21st).
This walk was organised by Tom Moran (Lim
erick man of the year – 2011) and it was in aid of Pieta House.
The aim of the walk was to raise €100,000 and to highlight suicide awareness and prevention.
Teresa initially took part in the walk for one day, but ended up walking for six days, all because of the wonderful atmosphere that she felt and the camaraderie of those who took part in the walk.
Teresa wishes to thank all those who gave them lifts to and from various destinations to link up with the walk each day.
Thanks also to those who gave sponsorship for Pieta House. Teresa is still accepting donations for this very worthy cause. She can be contacted at 087 – 6409801.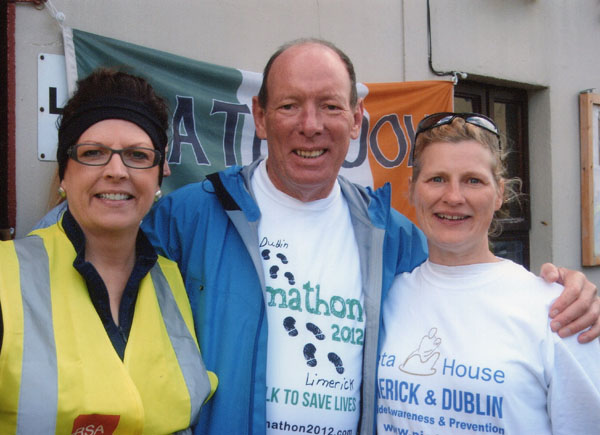 Teresa with Shiela Devaney and Tom Moran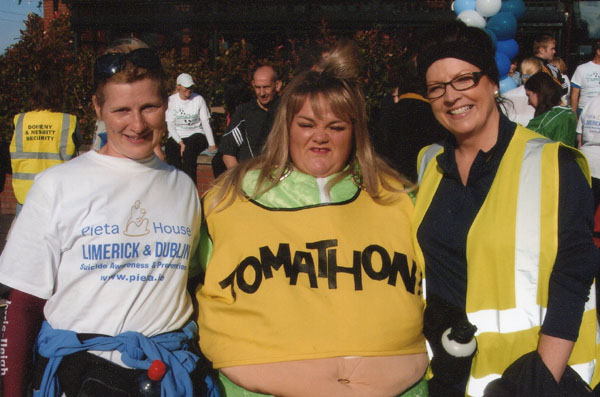 Teresa and Shiela with celebrity comedienne June Rodgers at the Red Cow Moran Hotel at the finish of the walk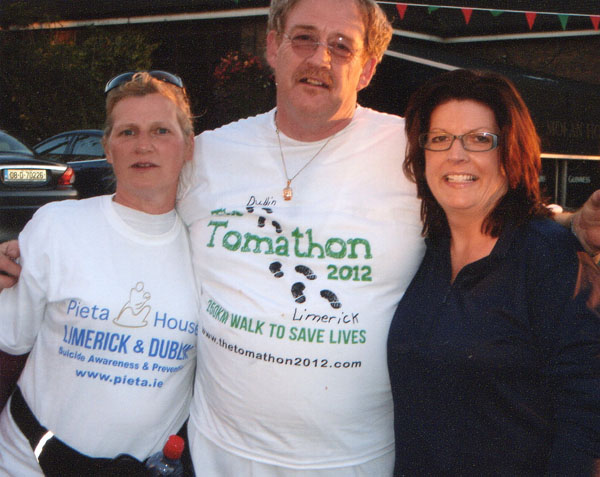 Teresa with Peter (The Magician) and Shiela Devaney at the end of the 250km walk
---
U21 Hurling: We are still waiting for this fixture to be made. This weekend we have two challenge games arranged. On Friday we play Holycross in Borris at 7pm. players to be in dressing room at 6.30pm. On Saturday we play Roscrea in Borris at 6pm. players to be in pavilion at 5.30pm. At present only half of players are turning up for training so we need to get everyone to turn up for these matches. The championship is just around the corner so its vital that all players attend if they want to win first round.

Junior C Hurling: Again we have not recieved fixture for the semi-final.
Congratulations to the Tipp Minors on winning the All-Ireland and to our own Martin Maher who is a selector with same. This was a great win.
Club merchandise is available every Saturday morning between 11am to 1pm or contact 087 9439531.


We intended to progress this summer with development of new field but unfortunately the weather was not kind to us. Land at present is saturated and its impossible to carry out any work. We had hoped September might be a dry month so we could make a start but it was not to be.
---
Borrisoleigh Camogie Club News



Congratulations Nicole!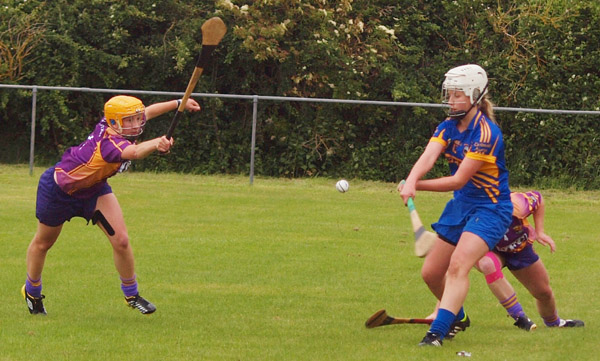 Nicole in action against Wexford in the All Ireland Senior Championship earlier this year
Congratulations to Nicole Walsh who has been nominated for a Camogie All Stars Award along with Jill Horan (Cashel) and Mary Ryan (Moneygall). The Club wishes Nicole and the other Tipperary girls every success.
Well done to Thurles Fresh Milk on being shortlisted for the Q mark, this is a major achievement.
Our Junior team are in the semi-final of the Championship on Sunday the 7th October at 1.30 p.m. in the Camogie Grounds the Ragg, they will be playing Toomevara the runners up of the other group. Best of luck to the girls and their mentors. A strong home crowd would be of great help to the team.

Don't forget the trip to Cork on the 6th October for under 8's to 13's inclusive bus leaves park at 10am. We wish the girls and mentors a safe and fun trip.
Committee meeting Wednesday the 3rd of October at 8.30 pm in the park. On Saturday last 29th September 2012 the under 12's played Knockavilla away. Knockavilla were victorious on this occasion.
Our under 12's have their third match of the championship away against Arravale Rovers at 12 noon on Saturday the 12th October. Best of luck to the girls and their mentors.
Camogie club merchandise now available Hoodies, tracksuits, t-shirts, jerseys and raincoats available. See Advertising Section of www.borrisoleigh.ie for pictures. If interested please contact Caroline at 086 1522716. You can also follow us on Facebook.
---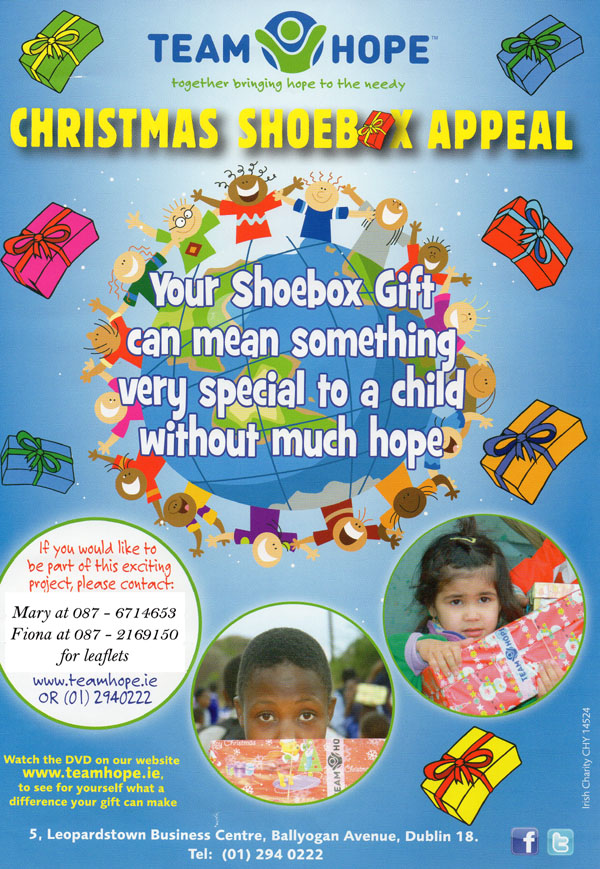 Fill a Box
WHAT DO I DO?

Get an average size shoebox (or a plastic storage container would also be great), and wrap it with Christmas paper. Please wrap the box and lid separately. Choose who you'd like to receive your gift – a boy or a girl, in one of three age groups: 2-4 years, 5-9 years or 10-14 years. Cut out the appropriate sticker from our promotional leaflet, available from your local teams, or by calling 01 2940222 (or download it from this website), and stick it to the top of your box
Fill your box with appropriate gifts

Include €4* (in the attached envelope, either on top of the gifts, or taped to the inside of the lid).
Close the box with an elastic band, but please don't seal it with tape, as we need to check it
Drop the box into your local drop off point before November 11th.
* Your €4 goes towards the promotion, transport, processing and distribution of your shoebox. Anything extra you can give is very welcome and will be used by Team Hope in our year round work with similar needy children and families in the same countries.
WHAT CAN I PUT IN MY BOX ?
Please put in a selection of small gifts from the options below: (but out of respect for the children we ask that all items be new, or good as new)
TO WRITE – Items for school – like a pen, pencil, copy book, paper, colouring book, felt pens, sharpener, eraser, solar calculator.
TO WASH – Some hygiene items – toothbrush and toothpaste, soap (wrapped please), facecloth, hairbrush, comb.
TO WEAR – Small clothing items – a hat, scarf, gloves, socks or underwear
WOW ! – A treat – sunglasses, game, small Irish gift, a photo of yourself, sweets (must be in date until at least March 2013), make up, a small musical instrument, toys like a doll, a car, cuddly toy, skipping rope, yo-yo, a finger puppet.
PLEASE DON'T PUT IN:
Food (apart from sweets), chocolate, medicines of any kind, war related items, large clothing items, anything breakable, any liquids that could spill or freeze, sharp items, scary things (like halloween stuff, or skull and crossbones or books with words.
We reserve the right to remove any items listed above that are not suitable or dangerous for the receiving child.
If you require any further information please contact Mary at 087 – 6714653 or Fiona at 087 – 2169150 and they will only be too delighted to answer your query.

---
Borris Ileigh Juvenile GAA Club
U10: The annual Mick Prior U10 hurling tournament took place last Saturday morning in Borrisoleigh. In the opening games Borris Ileigh defeated Templederry and Drom Inch got the better of Upperchurch. In the final we were defeated by a strong Drom & Inch team despite our best efforts. Sean Prior on behalf of the Prior family presented a delighted Drom & Inch Captain John Campion with the Mick Prior Cup. In the plate final after a very tight game Upperchurch emerged victorious thanks to a late goal.

The juvenile Club Chairman Michael Carey thanked all of the Clubs for participating and for making the tournament such a success. Thanks also to the referees on the morning Sean and Dan Mc Cormack. Our appreciation also to the parents who donated and served the refreshments afterwards.
Our U14 team are in the plate final and will play Burgess in Borrisoleigh on this Thursday 4th of October at 6pm. Your support at this fixture would be appreciated.
---
Borrisoleigh Charity Cycle 2012 Cheque Presentation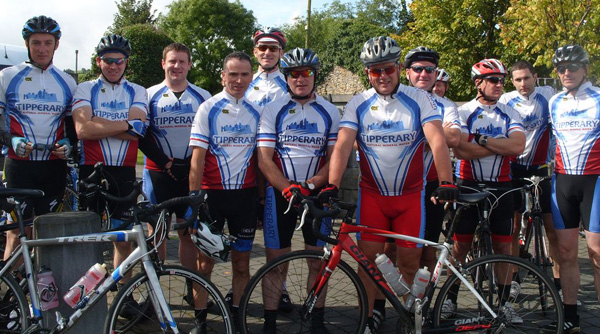 Some of this year's charity cyclists

The presentation of the proceeds of this year's cycle for the Autistic Spectrum Disorder Unit in Killenaive NS, will take place next Saturday 6th October in the Clodagh Bar at 9.30pm. Currently we have close to EUR7,000 and would like to have all sponsorship collected before we present the cheque. If you have sponsorship cards and money outstanding please give to Ruairi O'Connell or P.J. Delaney before tomorrow Thursday. All are welcome to attend and we hope to have a big turnout on the night for the presentation and photo.


---
8, 14, 16, 24
No Jackpot Winner
No Match 3
2 Name Draw
Eileen Hassett, Nenagh
Sharon Lawlor, Drom
Next Week's Jackpot
€9,050
---
Pic of the past… down memory lane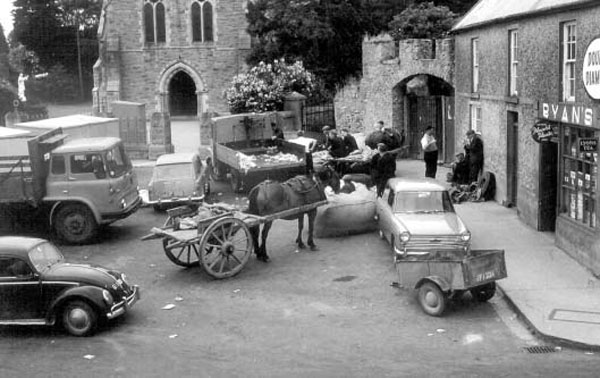 Wool Market in McDonagh Square – 1960s
---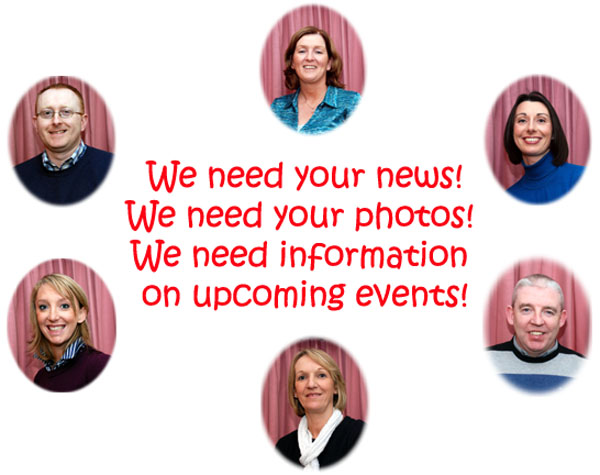 Committee: Enda Ryan, Noreen Fahy, Margaret Cowan, Michael Barry, Marie McGrath and Aileen Óg Groome

Many thanks to all those who contributed photographs and news items. Remember, we need you to continue to send us material so that we can keep our website current and interesting.

Send your email to:
info@borrisoleigh.ie
Also, if you like what you see and want to leave a comment, remember to use the Guestbook!