A trip to Lanigans Tower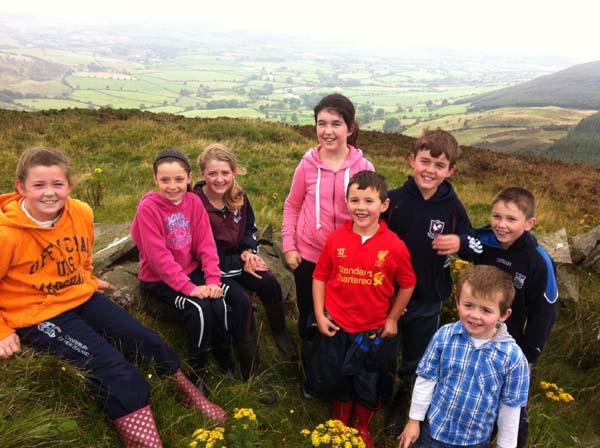 Borrisoleigh cousins enjoyed a trek to Lanigans Tower recently.

---
Borris Ileigh Juvenile GAA Club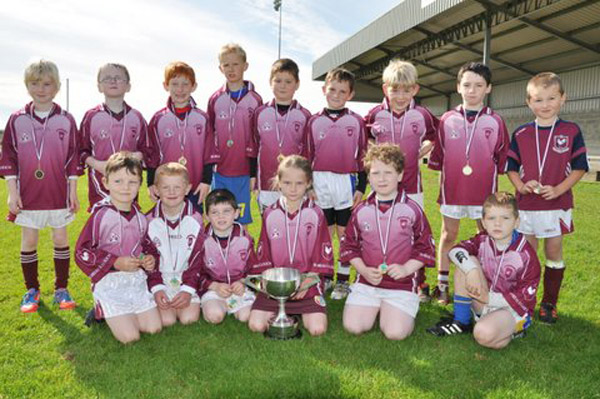 The winning team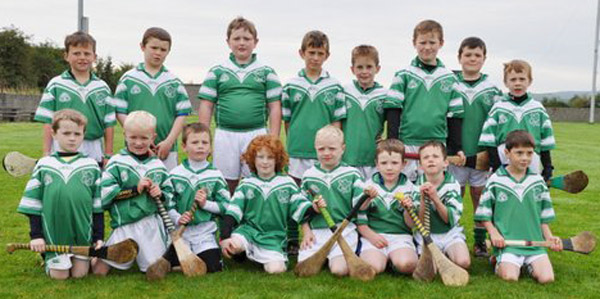 Drom U8's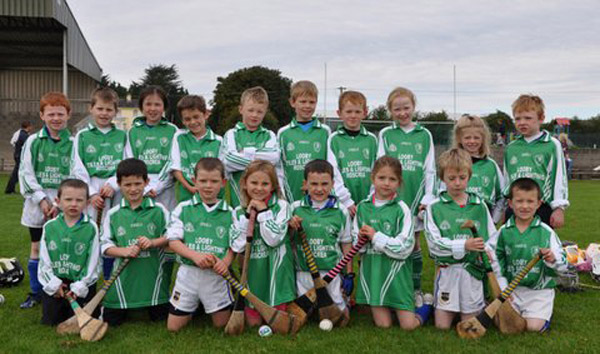 Templederry U8's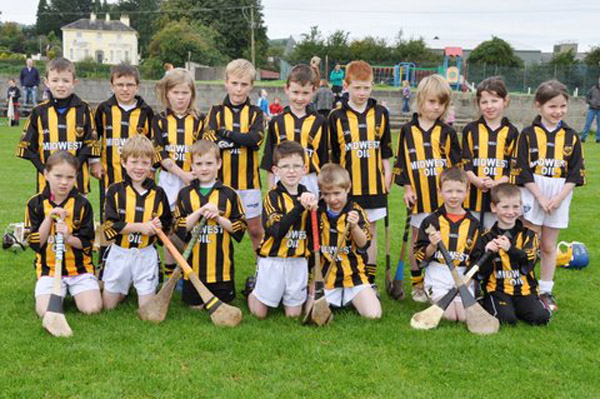 Upperchurch U8's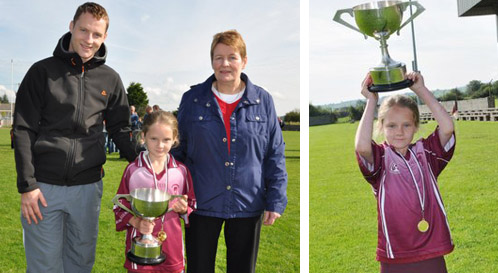 Borrisoleighs winning captain receiving the Meagher Cup from Rose Stapleton and special guest, Tipperary hurler Paddy Stapleton


Borrisoleigh's goalie in action!


Action from the final against Drom & Inch
The U8 Meagher Cup took place on Saturday morning last in Borrisoleigh with Borris Ileigh, Templederry, Drom Inch and Upperchurch taking part. In the semi finals Drom Inch beat Upperchurch and Borris Ileigh beat Templederry. This meant that Borris Ileigh played Drom & Inch in the final. In a very exciting game Drom & Inch got off to a great start but Borris responded well and a couple of goals just before half time gave Borris Ileigh a lead which they held onto until the end. Rose Stapleton presented the Meagher Cup to Daniella Ryan Captain of the Borris Ileigh team. In the plate final Upperchurch narrowly beat Templederry and Rose Stapleton presented the Upperchurch Captain Sean Ryan with the trophy. Thanks to Paddy Stapleton who attended to present medals to all four teams after a great mornings hurling. Thanks also to Cathal o'Connell and James Mc Cormack who refereed the games and to the those who got the field ready on the morning.
U10's: Next Saturday attention turns to the U10's as the same four clubs will compete in the annual Mick Prior tournament. It would be appreciated if parents and Committee members could drop down a few sandwiches buns or cakes to the pavilion on Saturday morning.
U14 Plate on Monday evening we lost to Burgess on a scoreline of 3-08 to 2-08. This means that three teams have finished level at the top of the group Borris Ileigh, Silvermines and Burgess. A draw has now to take place with one side going straight to the final and the other two teams playing off for the second place in the final.
All the teams showed great skill


More action from the final
---
U21 Hurling: We are drawn against Kilruane in the first round. The fixture and venue are not known yet. Next Friday the 28th a challenge has been arranged versus Holycross at 7.30pm. in the Park. All players please turn up in time.
Junior C Hurling; On the back of two good wins we now find ourselves in the Semi-final. This team is progressing nicely so lets hope it will continue. Its nice to see some of the older retired players back again and with a mix of the younger players things are looking up. Best of luck to all concerned.
Club merchandise is available every Saturday in the pavilion between 11am to 1pm or contact 087 9439531.
Lotto: We thank all our sellers and the people who support us week in week out. Sales are going nicely at present but we urge more people to buy as this is our only source of income at the moment. In these recessionary times its difficult to fundraise but a lotto ticket is available for €2 which is reasonable enough.
The club extends its deepest sympathies to the family and relatives of Billy O Brien who passed away recently. Ar dheis de go raibh a anam dilis.
---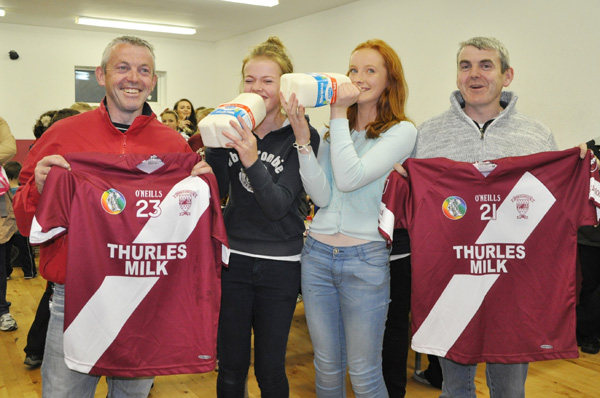 Captains with Jimmy & Freddie Chute from Thurles Milk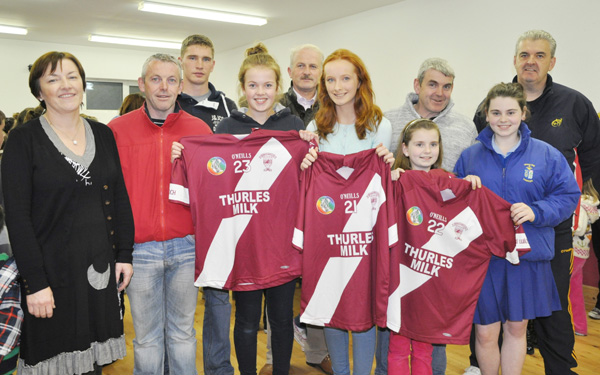 Jersey's being presented to under 14 & 16 captains along with their coaches Kathleen Scanlan, Micheal Kinnane, Fitz Ryan. Jimmy & Freddie Chute from Thurles Milk and Brendan Maher.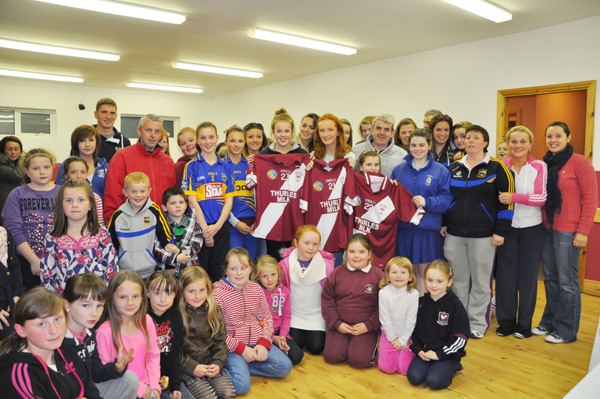 Some of the crows there for the occasion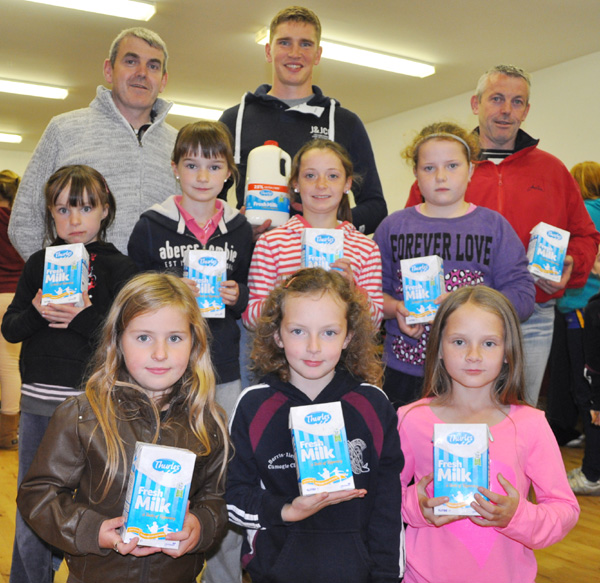 Some of our younger members proud to be associated with Thurles Milk

We had another very busy Saturday on the 22nd with three of our teams out playing. It was a fine day for playing camogie from the under 8 Blitz right through to the junior's fifth round of the championship with mixed results for our teams.
At 9.45 am our under 8's had a blitz in the Ragg where they competed against Ballybacon Grange, Boherlahan and St. Mary's Clonmel. The girls enjoyed their last Blitz of the 2012 season and all our girls got Medals. They've performed well throughout the season and have shown improvement as the year went on. Well done to the girls and their trainers and the under 8 hurling team who won the Meagher cup on Saturday.
Then at 12 noon our under 12 team had their first game of the championship. They played Templemore in Templemore. They got on very well with a convincing win over the opposition. The final score being Borrisoleigh 3-3, Templemore 1-4. This was a great start to the championship and should give the girls plenty of confidence going forward. Again well done to the girls and trainers.
Our Junior team were out against Holycross at home in the Park on Saturday at 5.30 pm. It was a very low scoring game when compared with our games from the previous rounds. Unfortunately things did not go our way this time round. In spite of Borris having possession of the sliothar for most of the first half we lead by just one point when the whistle blew. The second half saw fewer scores again and we had only that point to spare for most of the second half. However Holycross drew level with less than 5 minutes left to play then then got two frees which they converted into points. This left the score at full time Borrisoleigh 1-8, Holycross 1-10. Scorers for Borrisoleigh were Nicole Walsh 0-5 (4f) Noirin Stapleton 0-2 and Deirdre Corcoran 1-1. The team was extremely disappointed with the result. However having won four of our five matches this sees us top our group and into the semi-final against the runners up of the other group.The date for the semi-final has been set for the 7th October time, place and opposition yet to be decided.
On Tuesday evening we had our draw for the two signed Tipperary Jersey's and a signed hurley. First prize Darragh Ryan Pallas Street, second prize Emma Ryan Ballyroan and third prize Tara Mockler Nenagh Road. The club raised €1511 thanks to everyone who supported same. Thanks to Brendan Maher who presented the prizes to the winners.
Best wishes to THURLES Fresh Milk (sponsors of jerseys for our under 14/16 teams) at this year's Q Mark ceremony on September 28th at Dublin's Burlington Hotel. The set of jerseys was presented to the team captains on the night. Many thanks to Thurles Milk and Jimmy and Freddie Chute for their generosity.
Trip to Cork on the 6th October for under 8's to 13's inclusive details are bus leaves park at 10am.Blitz from 12 to 14.30. Thanks to Ballinora Camogie Club who are then providing lunch. Then the girls will be taken to planet leisure & bowling in Blackpool where the girls will also get their tea. Cost €20 all girls need to bring packed lunch, helmet, hurley appropriate gear and a rain coat. Alternative arrangements will be made if weather is bad. Any queries contact your child's trainer. Have fun girls.
Camogie club merchandise now available Hoodies, tracksuits, t-shirts, jerseys and raincoats available. See Advertising Section of www.borrisoleigh.ie for pictures. If interested please contact Caroline at 086 1522716. You can also follow us on Facebook.

Danielle collect first prize for her brother from Brendan Maher
Emma collecting second prize
Tara collecting third prize
---
Borrisoleigh Charity Cycle 2012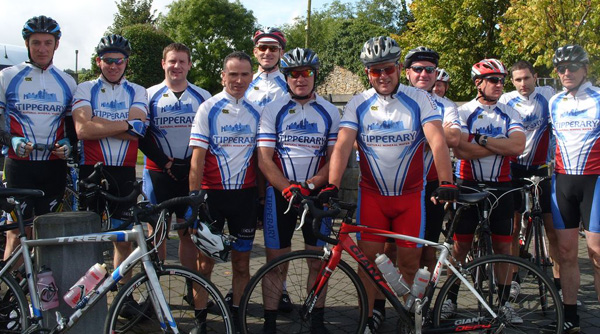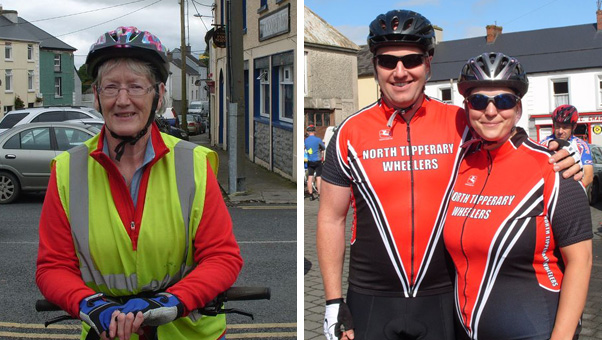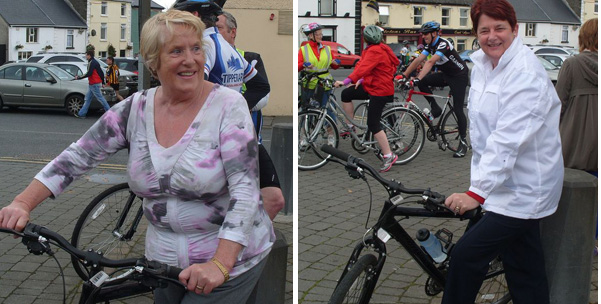 ---
Marian Hall Lotto
25/09/2012
Numbers: 8, 17, 24, 26
No Jackpot Winner
No Match 3
2 Name Draw
Teresa Coffey, Lower Street
June O'Meara, Cloughjordan
Next Week's Lotto Jackpot
€8,900

---
Your Website Needs You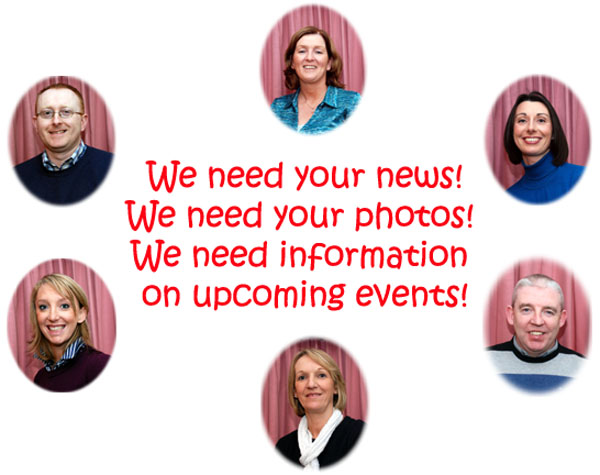 Committee: Enda Ryan, Noreen Fahy, Margaret Cowan, Michael Barry, Marie McGrath and Aileen Óg Groome

Many thanks to all those who contributed photographs and news items. Remember, we need you to continue to send us material so that we can keep our website current and interesting.
Send your email to: info@borrisoleigh.ie
Also, if you like what you see and want to leave a comment, remember to use the Guestbook!