Euro 2012 Greetings from Poznan

Sean Prior enjoying the atmosphere in the Old Town square in Poznan

Sean with Hector from 2FM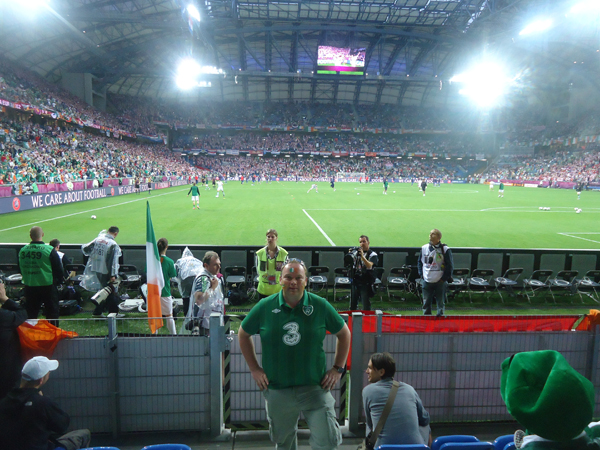 Inside the stadium just before Ireland played Croatia
---
Borrisoleigh BNS News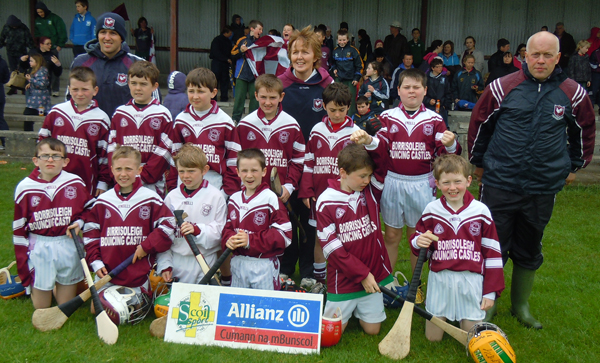 Borrisoleigh BNS-County U-11 Hurling Champions
Congratulations to the boys from St. Patrick's BNS who brought the first ever Cumann na mBunscol Co. title to their school on Friday last. On a wet and windy day the Borris boys showed skill, determination and sheer class to achieve a memorable victory over Ardfinnan NS on a scoreline of 4:03 to 2:00. Having to play in alternative colours never deterred the Borris boys who hurled their hearts out spurred on by loyal supporters. Losing the services of Fintan Holland through injury prior to the game made his teammates even more determined to bring home the title and they did it in style. There were great celebrations following the final whistle when team captain, Micheál Ryan, accepted the trophy – a just reward for a great team-effort. There was further reason to celebrate for Borris supporters when news broke that a stalwart display by Eddie Ryan had earned him the title 'Man-of-the-Match'. Well done to all involved. (Match report available at
cnmb.tipperary.gaa.ie
/)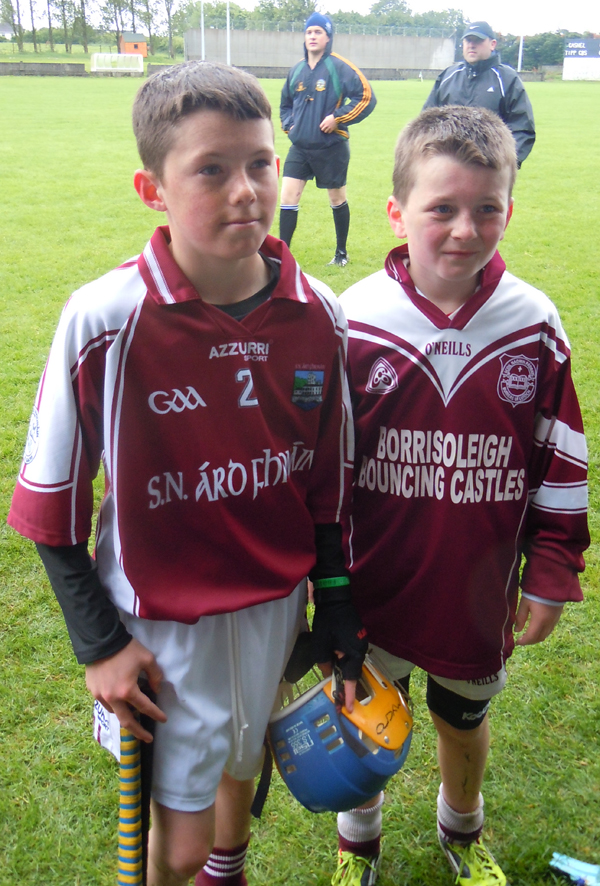 Eddie receives his Man of the Match award
To see more photos from the match go to our photo gallery or
click here
Our Special Olympics Champion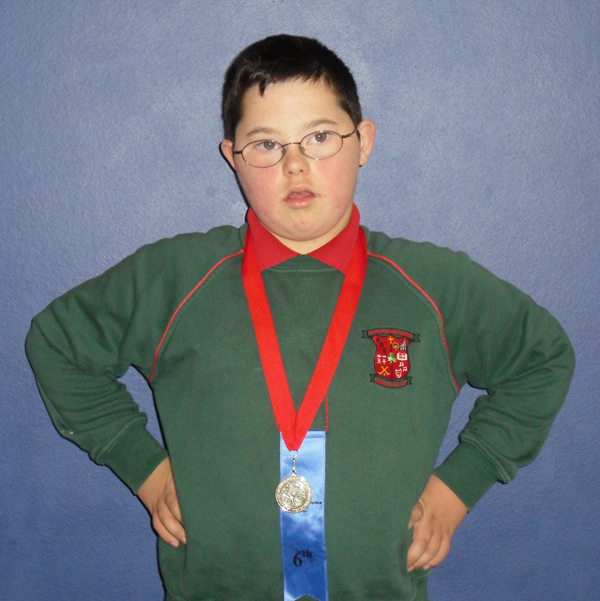 Special Olympics Awards for Diarmuid.
Well done to Diarmuid Boyle who received awards for Mini-Javelin and 50m Sprint in the Special Olympics at Waterford on Sunday. All at St. Patrick's BNS would like to congratulate him on his achievements and wish him every success in the future.
---
Borrisoleigh Playground
You may have noticed that for the last fews weeks some of the facilities in the playground in the Town Park have not been available for use as they had been damaged. While there is no conclusive proof that any damage to the equipment was as a result of vandalism, what is definite is that the damage was not all as a result of wear and tear.
The repairs to the equipment has not come cheap and we are grateful to the County Council for their support in this regard. In these times of cutbacks across all aspects of public services thankfully the Council has come up trumps this time. We would like to ensure that there will not be a need for any future repairs and would ask that parents advise their children to be aware of the age group for which the playground is intended. The playground is for use by young children up to and including the age of 11 or 12 as the equipment installed will not stand up to use by children older than that age group. Any older boys and girls using the playground really have no need to be there unless they are supervising younger brothers/sisters.
Local Gardai have also been notified of the damage and repairs and they will continue to keep an eye out on the playground to ensure that it is being used in a proper fashion. We would also ask people if they see any unsocial behaviour or damage been caused in the playground to notify gardai immediately.

The playground was installed in 2004 through the hard work and fundraising of the whole community of Borrisoleigh and with the help of North Tipperary Co Council. It has been admired and praised by locals and the many visitors to Borrisoleigh as being a facility that is a welcome and necessary addition to the already much used Town Park. It has been used and enjoyed by many local and visiting young children in the past and we hope with your help and vigilance will continue to be used by many more in the future.
Borrisoleigh Playground Committee
---
Mary meets An Taoiseach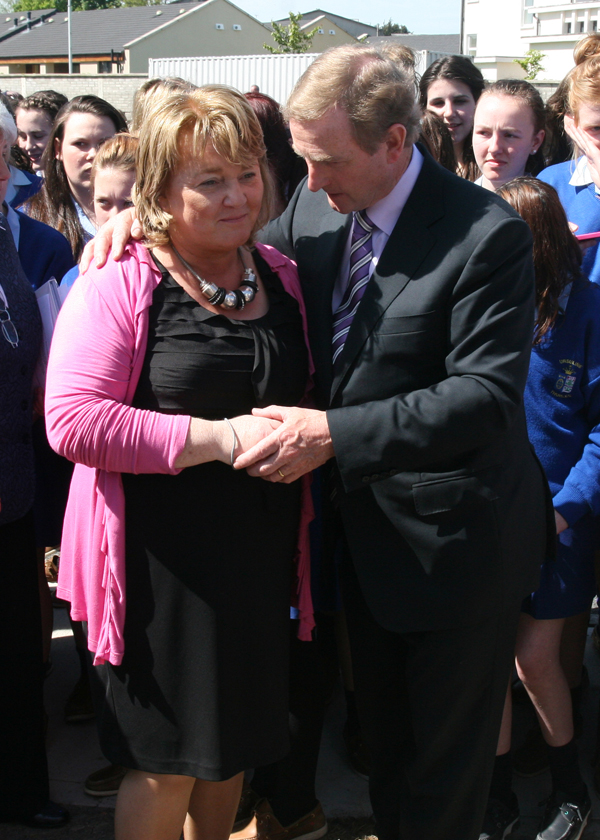 Mary Bourke chats to An Taoiseach , Enda Kenny on a recent visit to the Ursuline Secondary School, Thurles.
---
Borrisoleigh Camogie Club


It was a very quiet week on the camogie front with none of our teams competing.
Junior team will be texted about training.
Under 14 and 16 training in the park on Saturday at 12.
Under 12 training parents/guardians will be texted.
Under 10 training at 6.30 pm in the park on Tuesday evening.
The under 6 and 8 training continues on Tuesday evening at 6.30 pm to 7.30 pm, in the Park. Could all girls bring their helmets, hurleys and shin guards.
---
Up for the Congress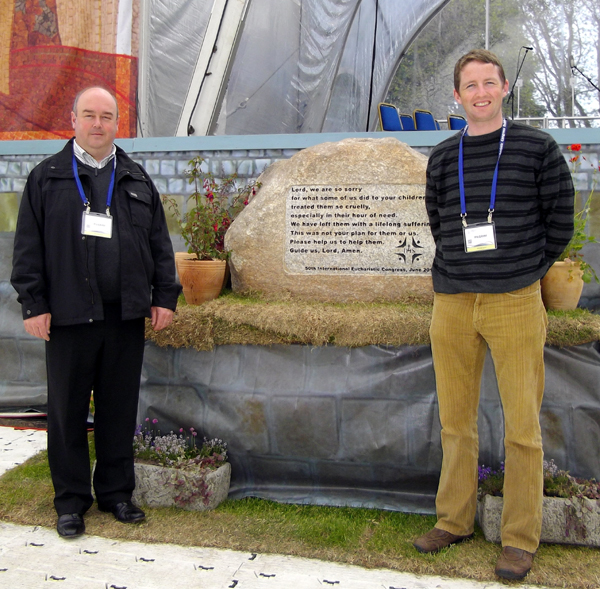 Fr. Tom with Vinny Stapleton at The International Eucharistic Congress in The RDS on Wednesday 13 June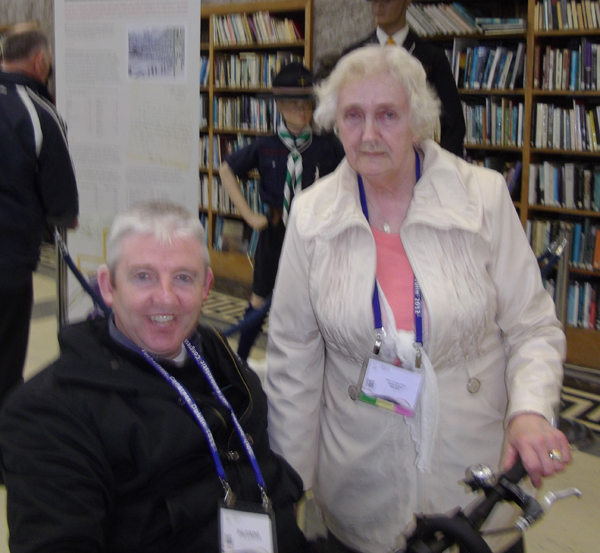 Fr. Michael with Mary Lanigan-Ryan at the 1932 International Eucharistic Congress Exhibition Stand at The RDS on Wednesday 13 June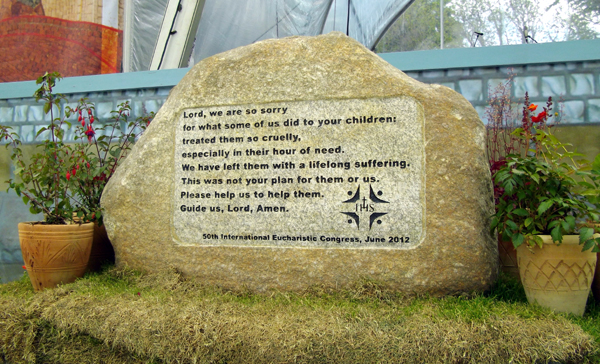 The Penitential Prayer Rock which was especially blessed by Archbishop Diarmuid Martin of Dublin Archdiocese at The Congress in The RDS, Dublin
---
Cemetery Masses

Masses will be celebrated in our local graveyards in the final week of June.
Ileigh Cemetery Mass on Tuesday 26th June at 8pm.
Glenkeen Cemetery Mass on Wednesday 27th June at 8pm
St. Brigid's Cemetery Mass on Thursday 28th June at 8pm.

---
St. Cualan's Coming of Age!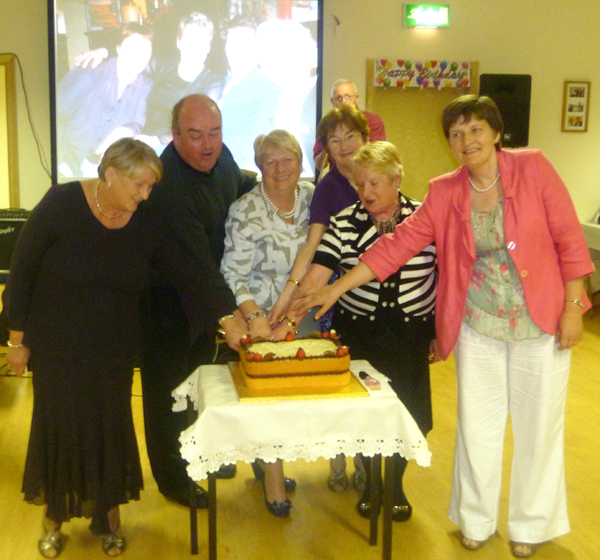 Cualan's Committee Cutting the cake!
St. Cualan's Senior Citizen's Club recently celebrated its 21st anniversary a Mass was celebrated in the Community Centre on Sunday June 3rd Tom Hearne who was joined by Fr. Everard PP, Fr. Irwin, Fr Jimmy O'Donnell and Fr George Bourke. A large number of people gathered for the Mass and Social evening including present members past and present members past and present and people from our community. An enjoyable evening was had by all and the committee wish to thank all those who made the evening possible. Looking forward to the future the committee are planning other events and new members are always welcome.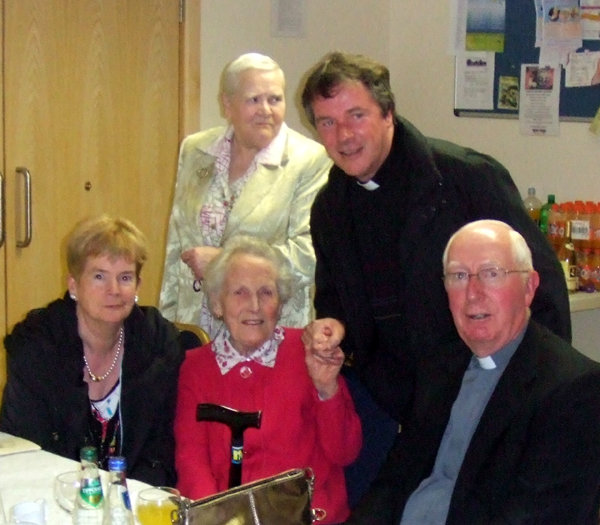 Fr. Nicholas and Fr. George (past chairpersons of St. Cualan's) with Biddy, Mary and Biddy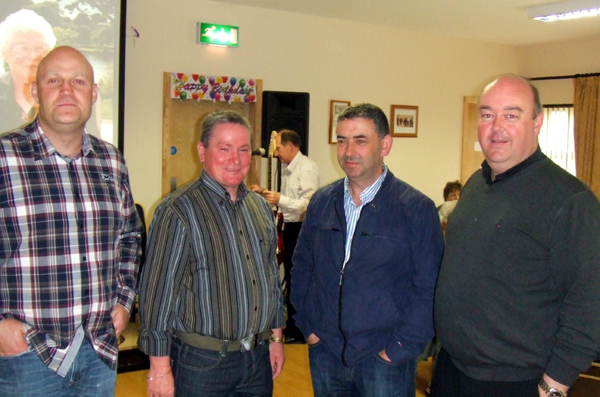 Three hardy buckoos joined by another hardy buckoo!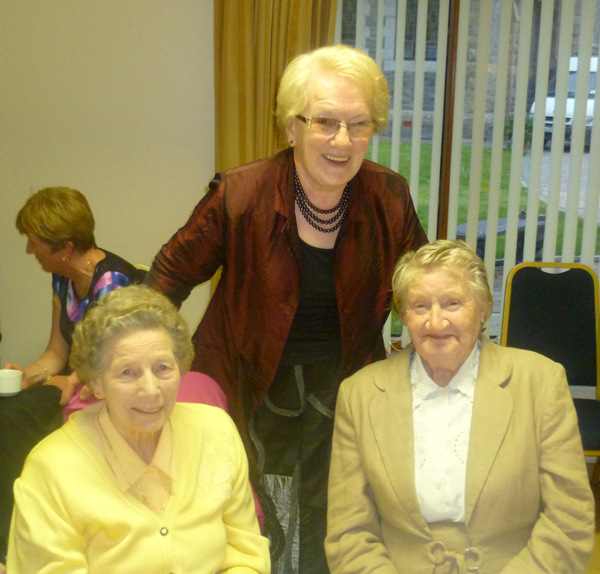 Three lovely lassies enjoying the coming of age party!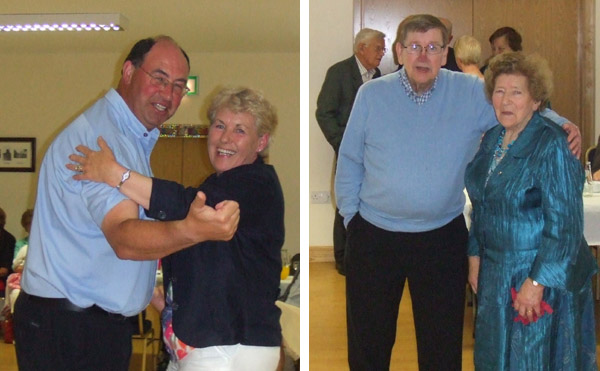 Fr. Jimmy regails Ann while Mick keeps a firm grip on Alice!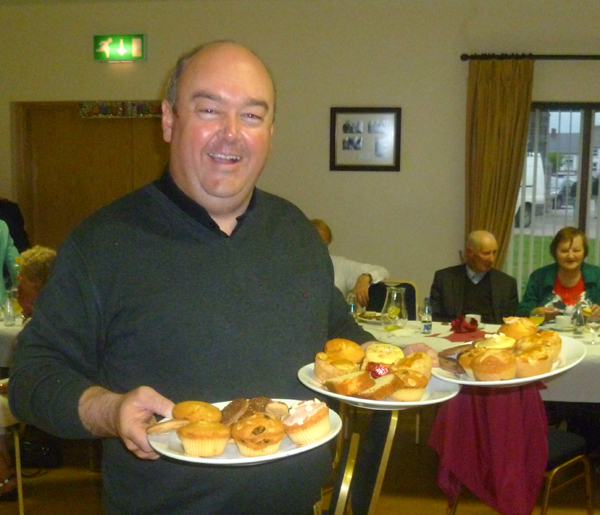 The new Chairman has his hands full but still manages to smile through it all!!!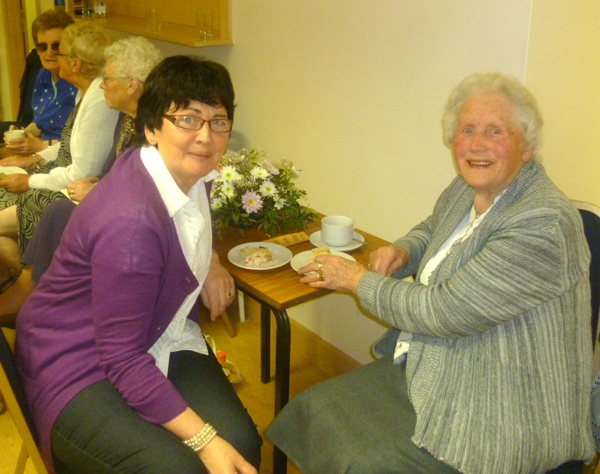 Ann and Peggy enjoying the festivities at St. Cualan's 21st birthday party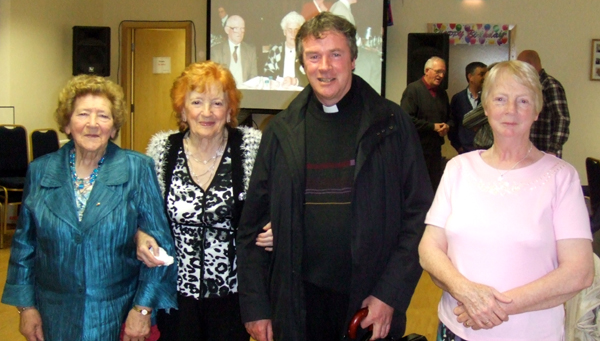 Fr. Nicholas with Alice, Mary and Christina at St. Cualan's birthday party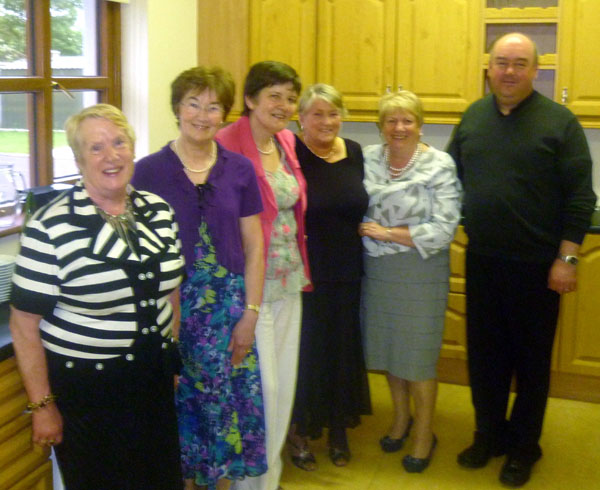 The hard-working committee that made it all happen! Well done to one and all!

(A gallery of all the photos of the party will be added to the website during the coming days)

---
May She rest in Peace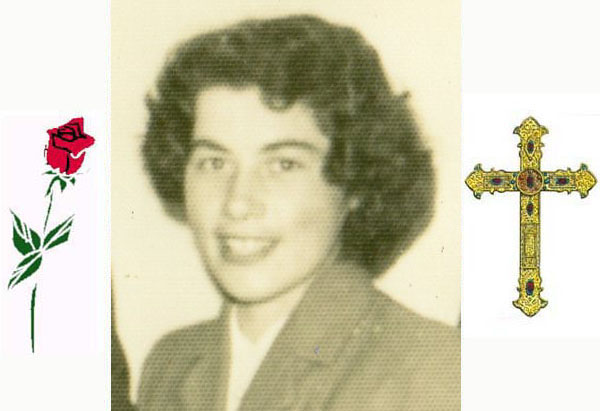 Brigid Devitt of Killamoyne RIP
The death occurred on Tuesday 5th June of Brigid Devitt of Killamoyne. Her Funeral Mass took place in the Sacred Heart Church Borrisoleigh on Thursday 7th June with burial in Glenkeen Cemetery. We offer our deepest sympathies to her family and friends. May she rest in peace.
---
Borris Ileigh Juvenile GAA Club
U12 Hurling: Our group two Hurling team who put up a good performance to defeat Borrisokane in their round two game last Friday evening. Our Group three team also had a busy week, losing to Silvermines at home on tuesday evening on a scoreline 3-03 to 1-04. However on Friday night they travelled to Newport and put up a great performance to win 3-03 to 1point. Both teams are away this Friday evening to Ballina and Roscrea respectively.
U14 Hurling: The U14 Hurlers recorded a second win in the Championship away to Burgess on Wednesday evening last. They have a bye this Wednesday evening.
Fundraising: The Juvenile Club has been granted a permit to carry out a bucket collection next Sunday 17th of June from 12 –4pm around the square in Thurles preceding the Clare and Waterford Munster Senior Hurling semi final. The club will be calling on members to assist by giving an hour or two of their time on the day. Please let any committee member know what time you are available on the day.
Congratulations to St Patricks Boys National School U11 team who defeated Ardfinnan to win their division in the Cumann Na MBun Scoil competition last Friday in the Ragg.
This year the Club will be hosting the Kellogg's Cúl camp from 2 July to 6 July. Full details can be obtained and places booked at
www.kelloggsculcamps.gaa.ie.
or by contacting Ruairí O'Connell Club Secretary @ 087 6708265. Forms can also be returned to Juvenile team mentors at training in the coming week.
---
Borris-Ileigh GAA News
Senior Hurling: We now know that Templederry are our opponents in the North qtr.final.The North Board are looking to play this on the Tuesday after the Tipp v Cork match. We played a few challenge games lately and with some intense training we seem to be shaping up nicely, so hopefully we will be ready for this game.
Junior A Hurling: Last weekend we played the first round of the c/ship against Moneygall. Again we were short players for this match and were beaten by one point .This was a match we could have won but unfortunately luck was not on our side.Our next match is against Toomevara and we need to win this one to keep our hopes alive.
Merchandise is available every Saturday in the pavilion between 11am and 1pm. or contact 087 9439531.
The club extends its deepest sympathies to the family and relatives of Bridget Devitt who passed away recently. Ar dheis de go raibh a anam dilis.
---
Marian Hall Lotto
12/06/2012
Numbers: 10, 12, 21, 22
No Jackpot Winner
1 Match 3 @ €150
Peggy Treacy, Fantane
Next Week's Lotto Jackpot
€6,650

---
Pic of the Past… down memory lane

Lizzie Patterson, Lower Street on the accordian.
Lizzie was a well-known accordian player who played at many
parish outings in days gone by. She was also a grand-aunt
of the famous tenor Frank Patterson.
---
Your Website Needs You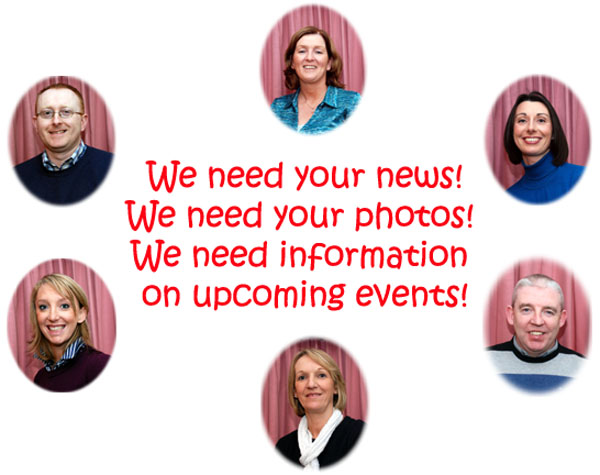 Committee: Enda Ryan, Noreen Fahy, Margaret Cowan, Michael Barry, Marie McGrath and Aileen Óg Groome
Many thanks to all those who contributed photographs and news items. Remember, we need you to continue to send us material so that we can keep our website current and interesting.
Send your email to
:
info@borrisoleigh.ie
Also, if you like what you see and want to leave a comment, remember to use the Guestbook!
While we make every effort possible to ensure that the information contained in this Website is accurate and complete, we cannot accept any legal liability as a result of the inaccuracy or incompleteness of the information presented to users of this site