Enda does Haven Build it Week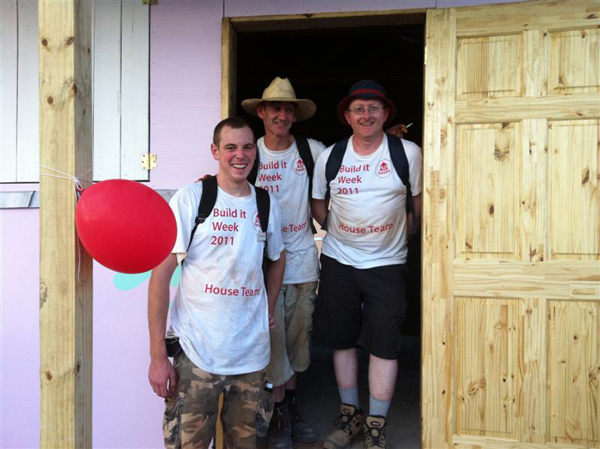 David Rourke, Noel Ryan and Enda Ryan
I returned from Haiti on Sunday morning 6th Nov after my second Build it Week with Haven. This time we were in Léogâne 29km west of Port-au-Prince. This area was at the epicenter of the earthquake on 12 January 2010 that killed approx 220,000 people and Léogâne itself had 85% of its buildings destroyed. Many of its residents are still living in temporary shelters ranging from wooden huts and tents provided by relief agencies to very basic structures of tarpaulin and sticks. 300 Haven volunteers from Ireland, the USA and the Cayman Islands together with an advance group from Habitat for Humanity (from the USA and Canada), completed 55 houses during the week that we were there, working in temperatures that reached into the 40's with 70-80% humidity. This project is a partnership between Haven, Habitat for Humanity and the Jimmy & Rosalynn Carter Work Project. Approx 800 Habitat volunteers supported by a core group from Haven are continuing the work for another week and hope to complete a further 100 houses on the same site. I am grateful to all who supported me and glad that I was able to return to Haiti this year and I hope to be able to do so again in the future. Thanks again, Enda.

A view down the site showing some of the houses Arriving for work on site early in the morning

Sign showing team numbers and Team 23(my team)

Handover ceremony of one house by Leslie Buckley (Haven Founder) on the final day on site. Some of the children living in shelters near the building site
---
Mass of Remembrance 2011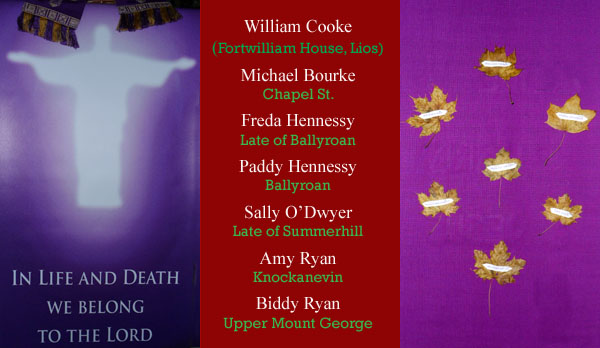 A special Mass of remembrance was celebrated on Friday night last Nov. 11th in The Sacred Heart Church for all those who died in our parish since Nov. 2010. Eternal rest grant unto them O Lord and may perpetual light shine on them forever.
---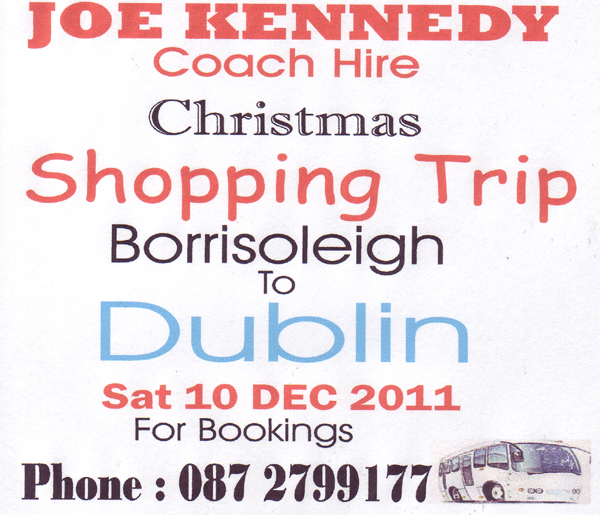 ---
Borrisoleigh Community and Development Association

The Borrisoleigh Community and Development Association are producing an Annual for 2011. We are asking all clubs and associations in the area to submit an article for the annual to include what happened within the club during 2011 with photos if possible. If any individuals would like to pen an article of something that happened in 2011 or an historical article we would also welcome these. Please e-mail all articles and accompanying photos to
news@borrisoleigh.ie
Please note that the deadline for submission of articles is 12 noon on Friday 2nd December 2011. We cannot guarantee that articles received after this date will be published.
---
Fair of Borris Dance
Tickets available in local shops or from any of the management committee members. Your support would be greatly appreciated

---

Cookery Class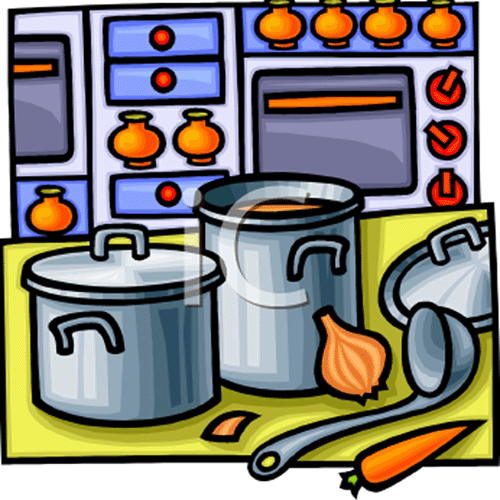 WANT TO BRUSH UP ON YOUR CULINARY SKILLS – WELL HERES YOUR CHANCE!!!
Please note we are running a course of 4 cookery classes in the Community Centre starting Wednesday 23rd November 2011 from 8.15 p.m. – 10.15 p.m.
Looking forward to a large attendance on all nights!
Community Centre Charge : €5.00 per class
---
Scór Na Nóg

Parish Scór Na Nóg is being held on Friday 18th in the Marian hall at 8pm sharp. The North final of Scór Na Nóg is also in the Marian hall on Friday 25th Nov. at 8pm
Adult set dancing continues on Monday nights at 8.30pm


---
Borris-Ileigh GAA News

Our
Annual General Meeting
is provisionally fixed for Sat. December 3rd in
the pavilion at 8.30.pm.
Camogie:
Even though they lost, the camogie team put up a brave performance
in the Co.Final recently. We would like to congratulate all concerned
in getting so far. Well done and better luck next year.
Lotto: Our lotto is going strong at present and we thank all who buy
tickets every week and also to our lotto sellers and anyone who helps
out in anyway. Jackpot is now 16800.00 euro this week and the next
draw is in Coffeys Bar on Thur.17th. approx. at 10.30pm. All are welcome.
---
Borris-Ileigh Juvenile GAA Club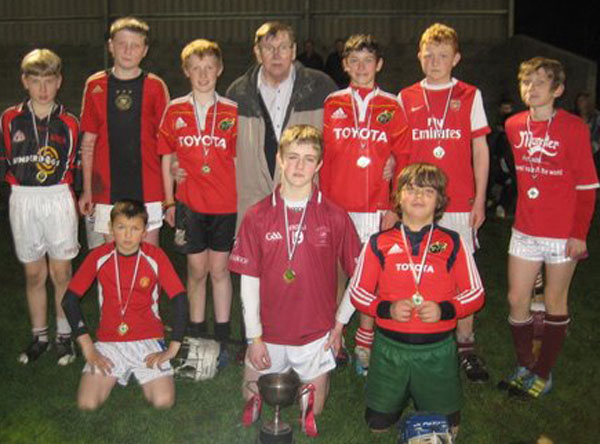 The winning team!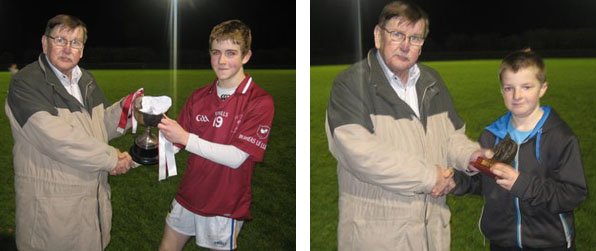 Mick Small presenting the shield and cup to the winning captains.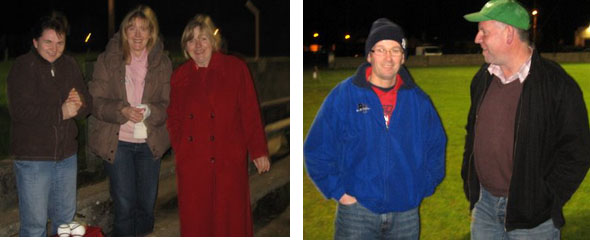 Some of the spectators!
The 2011 Hurling Parish League took place last week in the Town Park with the Plate and League finals completed on Saturday evening. This years teams were captained by Whites Brendan O'Dwyer, Greens Tom Fitzgerald, Reds Cian Murray and Blues Charlie Stapleton. Each team played each other in the qualifiers and following some vey close games,the Plate final was between the Greens and Blues and while the Reds and Whites qualified for the Parish League final. Under lights on Saturday the Blues and Greens played out a very close Plate final and the Greens led by a point with time running out. A last ditch Blues attack broke down and the ball broke up the field and was finished to the net by by Daniel Hogge to seal the game for the Greens. In the Parish League final the first half was dominated by the Reds who led by eight points at half time. However a great second half saw the Whites reduce the lead to 3 points. However the Reds steadied the ship and held on to take the 2011 title. Mr. Michael Small presented the Plate shield to Green captain Tom Fitzgerald and the Brother Albert Small cup and medals to Cian Murray and the Red Team. Thanks to all who took part and helped to make this year's tournament a success. Thanks to the parents who supported the teams on both days and also our referees Rory Ryan, Ruairi O Connell, Denis Kelly and Tommy Kavanagh. The winning Reds team was C Murray, D O'Connell, J Prior, R McCormack N Cooney, J Ryan, S Ryan, D Leimlehner and A Danko.
---
Congrats Sharon!
Sharon Madden recently graduated with a Bachelor of Education degree from St. Patrick's College, Drumcondra, Dublin. She is currently teaching in Dubai. Congratulations Sharon!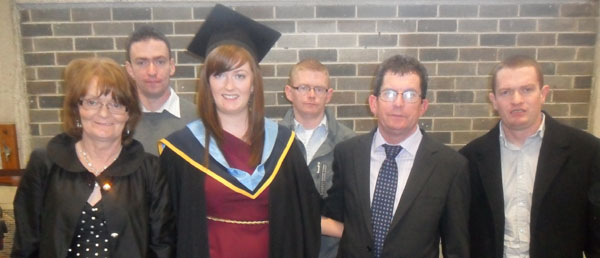 Sharon pictured here with her family.
---
St Josephs College First Years Win Shield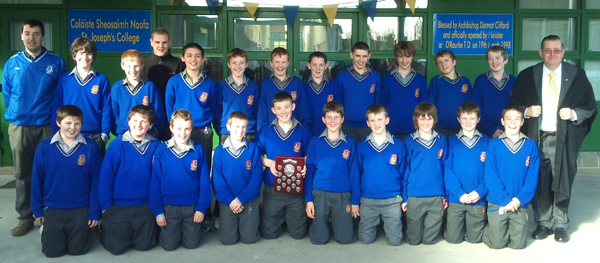 The first year boys from St Josephs College Borrisoleigh re-wrote their proud sporting history recently by ending a thirteen year wait for silverware at under 13 level, in claiming the 'Plata Ui Cathain for the 'A' section of the County first year hurling blitz. They beat a spirited Colaiste Mhuire, Johnstown in a thrilling final on a Templetuohy pitch that was in excellent condition to hold such a game of such quality. Following early victories over Thurles CBS 'B' and Colaiste Phobal Roscrea, in their opening two matches, St Josephs College faced Johnstown in their third match of the round robin series and following a good first half showing they were unable to deal with the physicality of the Johnstown half forward line and eventually lost out on a scoreline of five points to three. This result saw the entire group open up with three teams out of four that were left in the tournament still having the possibility of qualifying for the final. It set up a 'winner takes all' encounter between St Josephs College and Cashel Community School, following a whirlwind start and a powerful first half display by the boys from Borris they eventually eased to victory and in turn set up a final berth with Johnstown. Having previously lost to Coláiste Mhuire earlier in the day, St Josephs College management team seemed to make some astute tactical decisions prior to the final, which paid strong dividend in their eventual success. It was Johnstown who started much the stronger and got off to the perfect start with a goal inside the opening thirty seconds of the game. This however, seemed to really ignite the St.Joseph's challenge and within minutes they soon found themselves in a commanding position from which they never relented. They pushed on up through the gears and when push came to shove the Borris boys were well able to meet the challenge. The game finished on a score lone of St. Joseph's Borrisoleigh 5-04 to Coláiste Mhuire Johnstown 2-01.
The shield was presented by the County Board Secretary Tim Floyd to a delighted St Joseph's Captain Jerry Kelly. On a day of a very fine team performances, those who were to the fore were Aaron Reid, Daniel Meehan and centre back Richard O'Donoghue in defence. With the stylish Alan Ryan, industrious Eoin Grace and Jerry Kelly and the classy Adam Hogan were a continuous handful for any defence throughout the tournament.
By Shane Nolan

---
Shanahan's Relaunch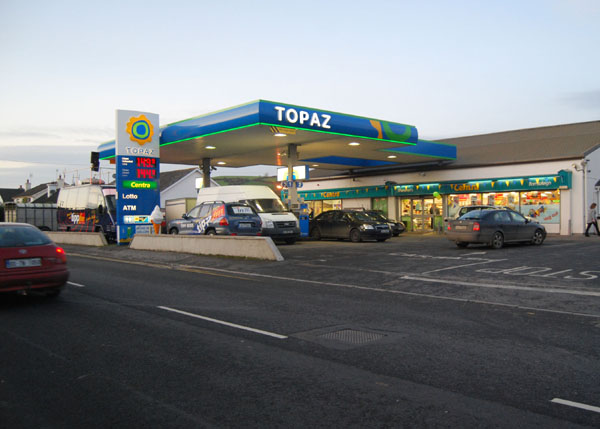 There was a big day in Shanahan's Service Station Saturday last. The shop has been extended and renovated.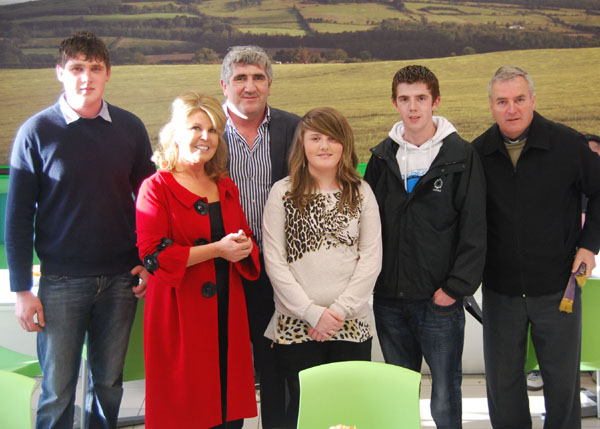 Sean, Marie and Family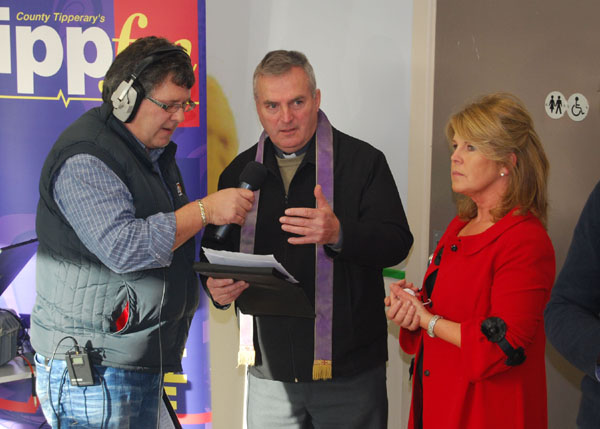 Fr. Everard blessed the new shop.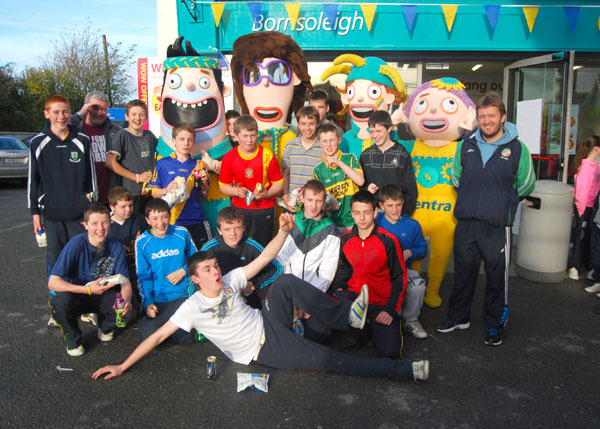 The boys enjoyed the fun and frolics!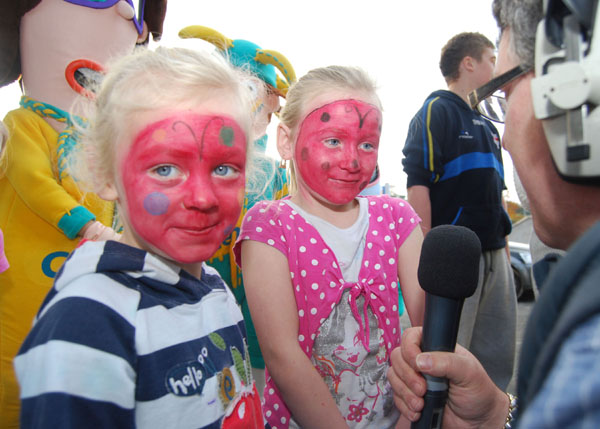 Two lovely ladybirds being interviewd by a Tipp FM Radio DJ. Tipp FM broadcasted from the forecourt.

---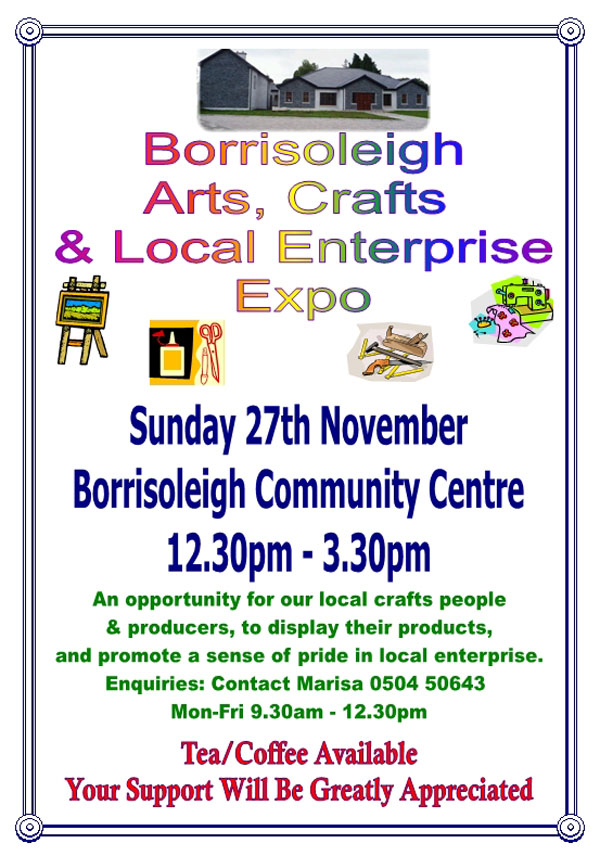 ---

Need Help Filling Your Christmas Stockings?
Yes it's that time of the year again and if you produce food you might be running out of space trying to produce for the busiest time of the year. We can help!
Here at North Tipperary Food Works, we have a fully equipped food production unit waiting for you. No strings, No commitment, simply bring your ingredients and packaging and just pay for the time you use.
– Rent by the hour – only €15 (excl. VAT)
– Flexible times
– Very best equipment at your disposal (even bowls and utensils)
– Ideal location, only 30km to Limerick and Thurles
Avoid the need to clutter your own kitchen and bring your production to us. Check it out on
www.northtippfoodworks.ie
All you need to do now is book and let the Christmas rush pass by you at ease. Please call Muireann on 067 33086 or email
northtippfoodworks@gmail.com
---
Marian Hall Lotto

15/11/2011
Numbers: 6, 11, 16, 18
No Winner
2 Match 3 @ €75
John Stapleton, Pallas
Nancy Connolly, Toomevara
Next Week's Lotto Jackpot
€2,450

---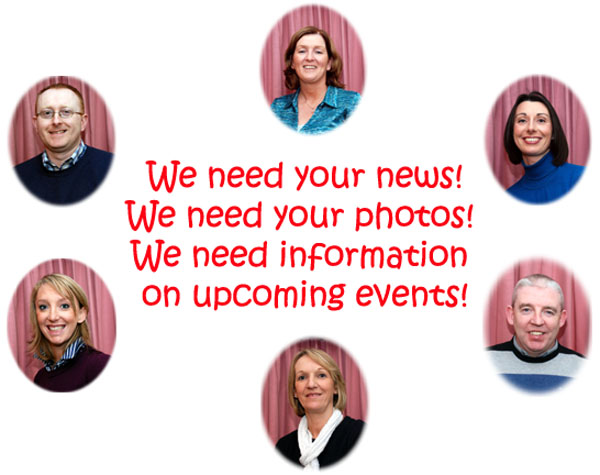 Committee: Enda Ryan, Noreen Fahy, Margaret Cowan, Michael Barry, Marie McGrath and Aileen Óg Groome
Many thanks to all those who contributed photographs and news items for this week's current news. Well done!
Send your email to: info@borrisoleigh.ie
Also, if you like what you see and want to leave a comment, remember to use the Guestbook!


While we make every effort possible to ensure that the information contained in this Website is accurate and complete, we cannot accept any legal liability as a result of the inaccuracy or incompleteness of the information presented to users of this site