Fr Matt writes from Brazil…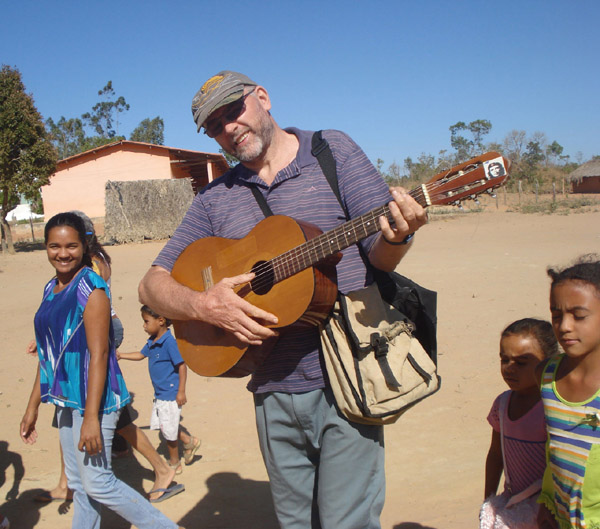 Fr Matt the guitar man!
The following is a piece that was sent to us by Fr Matt Ryan from Brazil. He writes…
These photos were taken during a recent trip I made into the interior. I had several masses marked for the month of September and after almost three months at home in Ireland it was great to get back to these people and spend a few days with them in each of the vllages in the remote interior . I went a certain distance on the my bike and after that I met up with another priest and from there on we used his car. I spent a few days in one of the villages and together with the two lay missionaries we visited the school morning and evening, and we had a great time with both the smaller children and the young people. They enjoyed the break from regular class work also. We took the kids out for ecological walks and picnics and it was the students that taught us the names of the trees the shrubs the birds and the animals. Brasil has come a long way at a certain level on the question of Ecological Awareness……if that could only be lived out in practise and in government projects it would be great !
It was sad to see how much forest devastation has taken place even over over a period of eight or nine months. One huge estate which they say has an area of sixty five thousand hectares, Fazenda Tropical, has been almost completely flattened of all trees and forestation, not to speak of the number of small land owners who were either bought out or driven out to make way for mega projects of Soya Bean, Maze or Eucalypte trees. And all that occurs so that Brasil can increase its exportatation levels especially to India and China. It reminds us of our own history in Ireland in pre-famine days !. The most frustating thing for us here is that there so little we can do revert this situation.
I would like to take the opportunity to tell all the people at home around that these more challenging adventures that I take on here from time to time are made possible because of the generosity of those who contibute to Mission Walk, which has been organised over the last number of years by a group of people from Templederry. I just wanted to say thanks to all of you who are helping me in my work out here. Greeting from an extremely warm Maranhão in Brasil – its almost 40 degrees out there today. Matt
Fr Matt and his young flock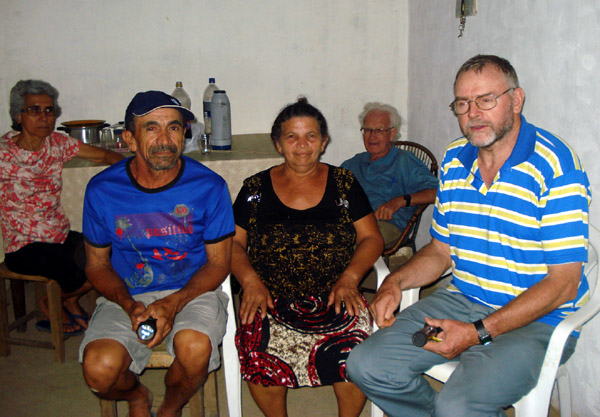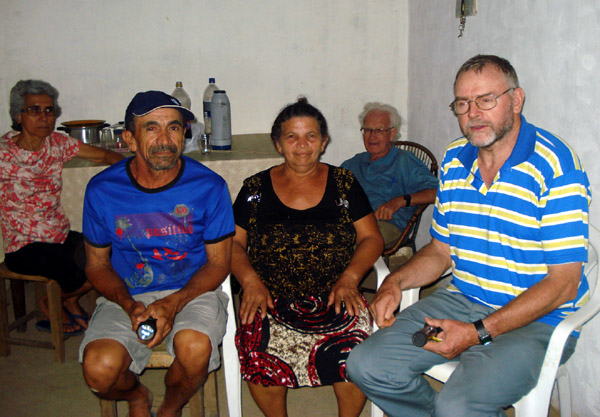 Having a chat with the locals!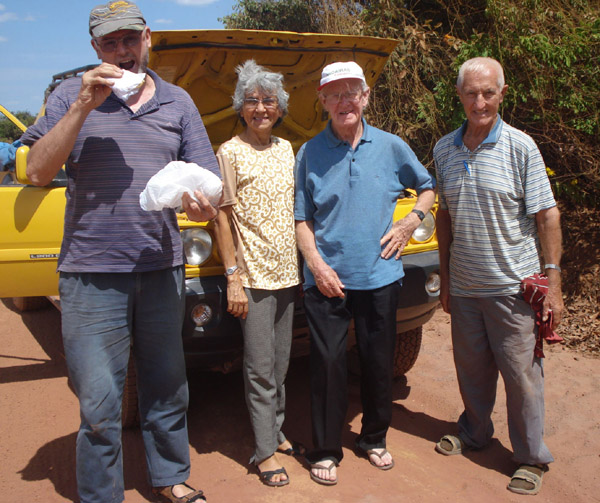 Taking some refreshments on one of his long journeys!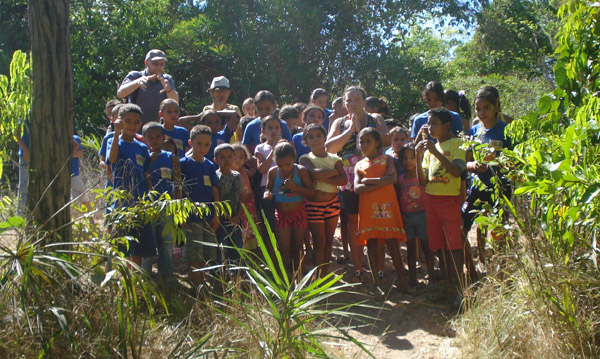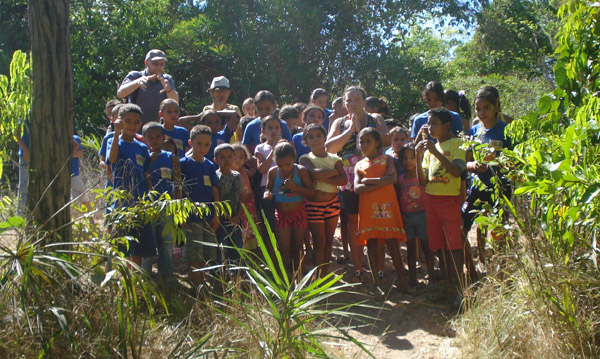 Making their way through the forest

The 'big' Fr Matt with a few 'smaller' women!
---
John runs in 'Bridge to Bridge' (12Km) in San Francisco



John McSherry running in San Francisco on October 2nd last in support of the Special Olympics
---
Borris Men in Sean Kelly Tour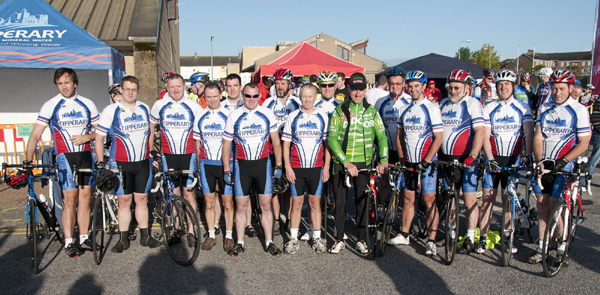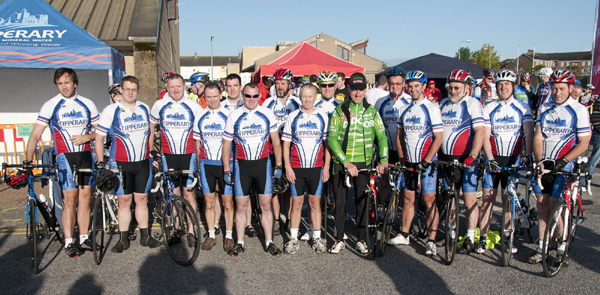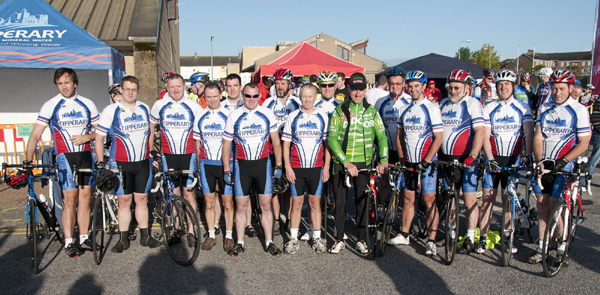 Tipperary Natural Mineral Water Cycling Team with the great Sean Kelly



On Sunday the 28th August 2011 the 5th Sean Kelly Tour of Waterford took place. As part of a cycling weekend where nearly 6,000 cyclists took part there are four events including a 10km Kelly family cycle, a 50km Kelly Cruise , a 90km Kelly Coast and a 160km Kelly Comeragh Challenge. Borrisoleigh and surrounding areas were well represented throughout the weekend both through participants in all events and also through Tipperary Natural Mineral Water and their continued sponsorship of the event. The company's involvment was extended for 2011 with its sponsorship for a team of cyclists wearing the Tipperary Natural Mineral Water colours. The team was represented in all the weekend's events and would like to thank Marie Cooney and Peter Cooney of Tipperary Natural Mineral Water for their support and sponsorship for the team. Before the start of the Kelly Coast event the team had the great privilege of meeting Sean Kelly and having their photo taken beside one of Ireland's greatest and toughest sportsmen.

---
Borris-Ileigh Juv GAA Club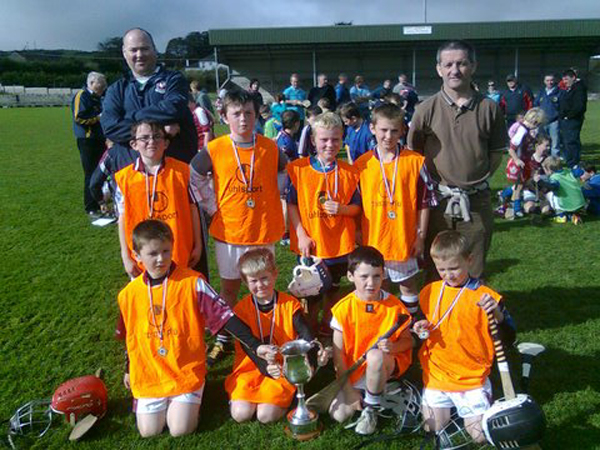 Thomas Gleeson Cup Winners 2011
The fifth annual Thomas Gleeson Memorial tournament for U10 to U8 players was held last Saturday 8th of October in Borrisoleigh. Following the two semi-finals, Fintan's team played Paidi's team in the Plate Final and Cillian's Team played Micheal's team for the Thomas Gleeson Cup. Both games were very close and the young players of all age groups put in a great effort and a great morning's hurling was enjoyed by all present. In the end Cillian's team did just enough on the day to win out the tournament. Well done to all the young players who took part, their managers, supporters and our referees. Thanks also to Seamus Gleeson who presented the Thomas Gleeson Cup to Cillian captain of the winning team.
"Santa Ponsa or Bust" Tickets for our fundraiser in the Ragg Lounge next Saturday the 15th of October are still available from committee members or on the door on the night. Show starts at 8:30p.m. SHARP!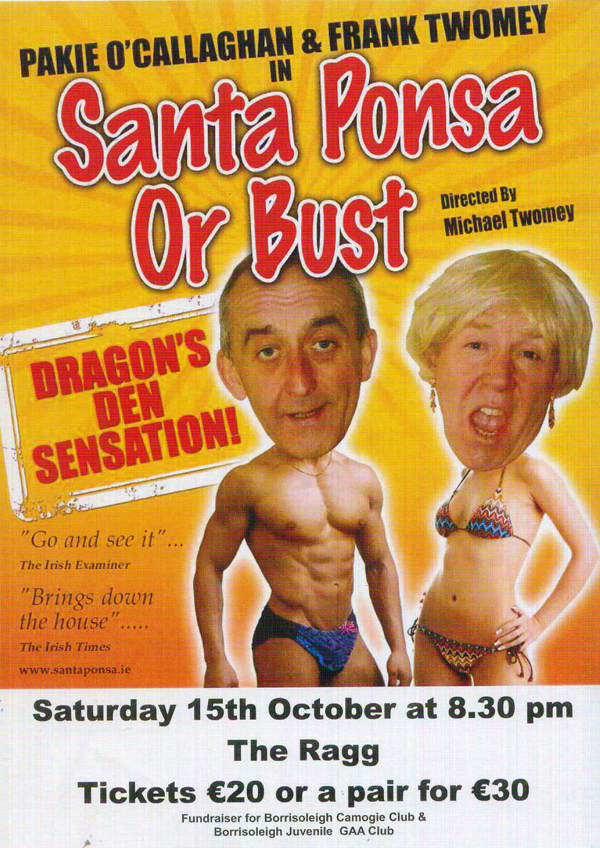 To view photos from the recent Meagher Cup and Mick Prior Cup tournaments referred to in last week's current news click on the following link: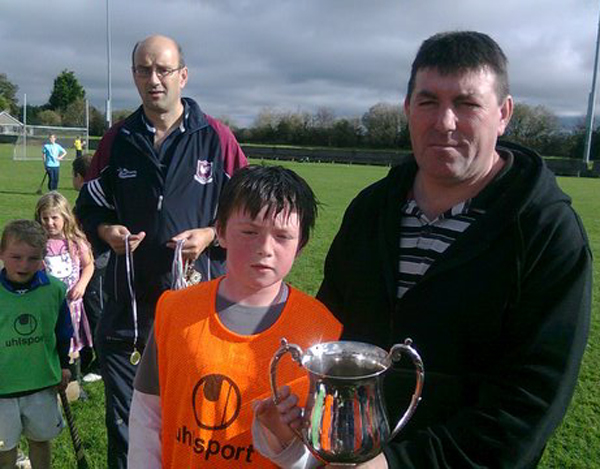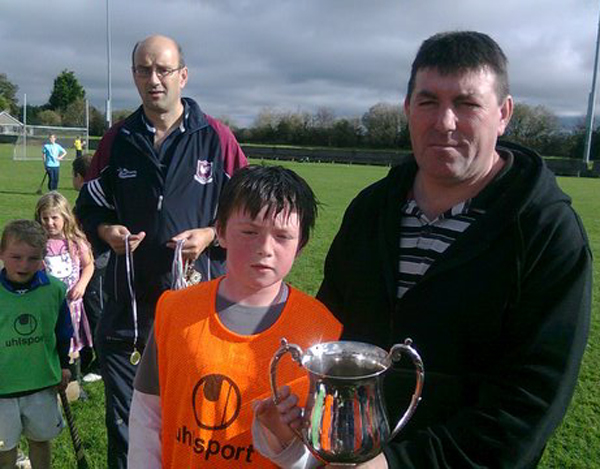 Cillian receives the Thomas Gleeson Cup from Seamus Gleeson
---
Local Website Designs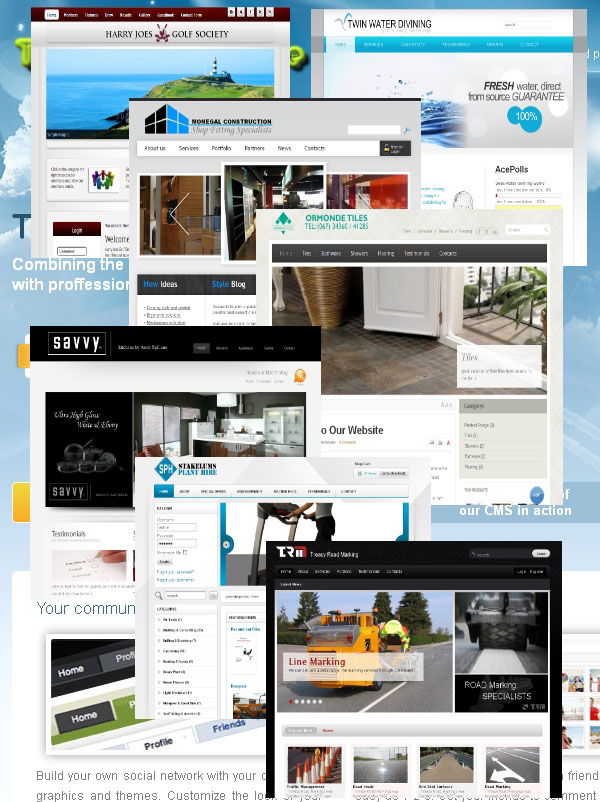 Website designer Sean Ryan (Rince) would like to showcase a selection of the designs he has completed for some local buisnesses.
---
Borrisoleigh Charity Cycle 2011
The presentation of the cheque to this year's charity TLC4CF in aid of Cystic Fibrosis will take place on Saturday week the 22nd of October in Finns Bar with the presentation and photograph at 10pm. All are welcome to attend. Well done and thank you to all who have returned sponsorship money. The amount collected to date is just over €8,000. If you still have any outstanding sponsorship cards and money please return to Ruairi or P.J. in the next few days. Hopefully we will have a big turnout on the night.
---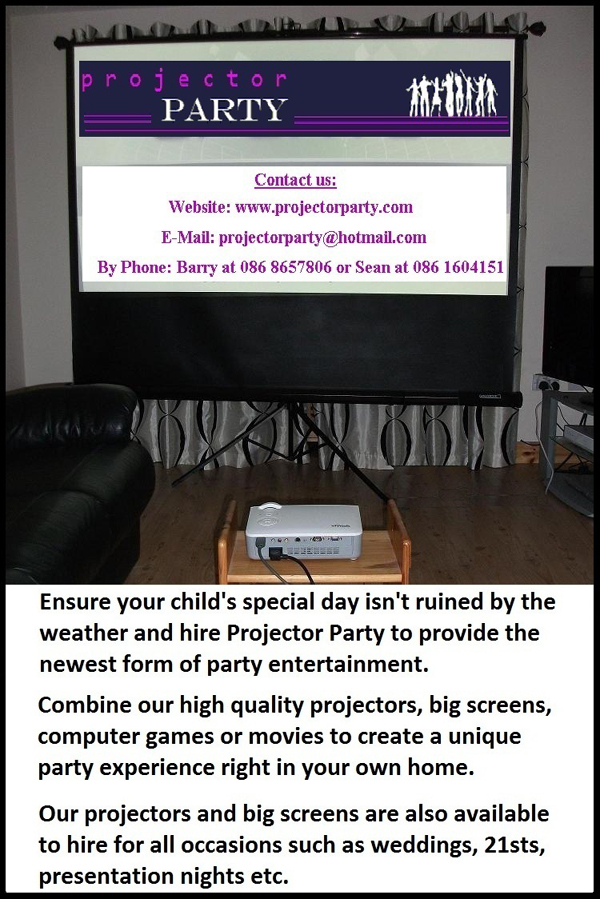 ---
Cheerios childline Breakfast at Fifi's Tots Preschool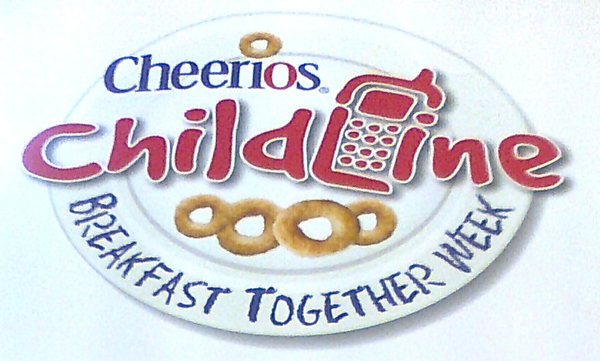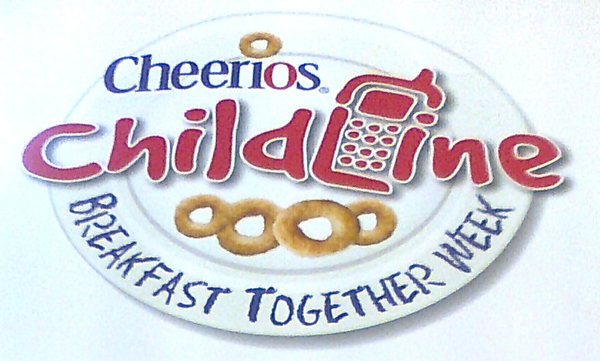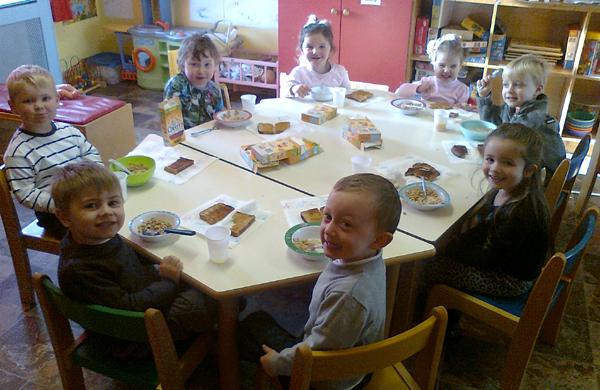 Cheers from the Cheerio Gang at Fifi's Tots Preschool!
Not quite breakfast at Tiffanies but we sure had fun at Fifi's Tots Cheerio Childline Breakfast morning!!!
---
Borrisoleigh Camogie Club News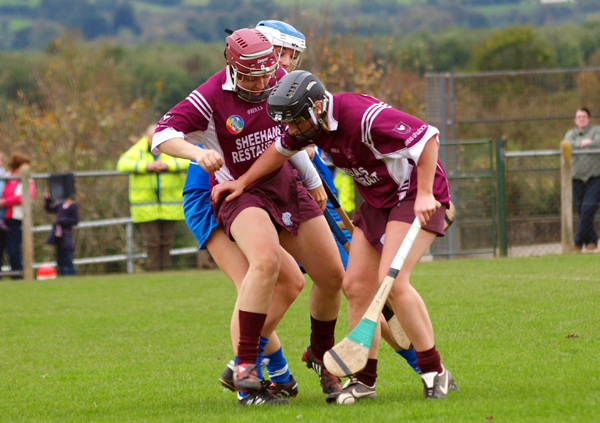 Borris fighting hard for every ball when they played Fethard recently
Borrisoleigh 1-9 Fethard 2-6
BorrisoleighJunior B Camogie team have to do it all again on, Saturday 22nd October time and venue not available, after the semi-final at the Camogie Grounds, The Ragg ended in a draw. Borrisoleigh were first to score with a point from play in the third minute by Deirdre Corcoran. Four minutes later Fethard's Audrey Conway scored a goal from a free. Borrisoleigh answered and started to dominate with Deirdre Corcoran scoring 1 goal and 3 points before Fethard's Sharon O'Meara scored their next point. This was quickly followed with a point from Noirin Stapleton.Eight minutes later Deirdre Corcoran scored another point and again in the 35th minute when Fethard' Emily Noonan also got a point . This left the score at half time Borrisoleigh 1-7 Fethard 1-2. The second half began Borrisoleigh's Deirdre Corcoran scoring a point five minutes in. This is when things stated to change for Borrisoleigh with no more scores until Deirdre scored a point from a free while Fethard scored 4 points from frees and a goal. Leaving the full time score Borrisoleigh 1-9 Fethard 2-6. The Borris girls showed great spirit played well and fought hard throughout the match. They had good support from the crowd on a nice autumn afternoon; hopefully they will prevail next weekend they have shown that they have the skill and determination to do so.
Borrisoleigh: Carmel O'Brien, Niamh McGrath, Louise Fahy, Michelle Ryan, Carol Treacy, Julies Kelly, Michelle Stapleton (Cpt), Moira Dooley, Noirin Treacy, Sarah Cowan, Deirdre Corcoran 1-7 3F, Nora O'Brien, Joanne Cowan, Noirin Stapleton 0-2, Cliodhna Bourke. Subs Emma Treacy for Cliodhna Bourke.
Fethard: Brenda Burke, Jean Morrissey, Edel Fitzgerald,Norah O'Meara, Fiona Conway, Sandra Spillane, Imelda Spillane,Karen Barry, Aimee Moloney, Kay Spillane (Cpt), Emily Noonan 0-1, Lylah Condon, Majella Croke, Sharon O'Meara 0-1, Audrey Conway 1-4 1-4F. Subs Marie Houlihan 1-0 for Majella Croke
Ref Savian Jones, Moneygall
Well done to St Joseph's College Camogie sevens on qualifying for the all Ireland sevens in Dublin Cloda Scanlan was representing our club on this panel.
The Camogie club is holding a fundraising night in the Ragg on Sat 15th October @ 8.30 p.m. tickets €20 or two for €30. Contact any committee member for tickets. Don't miss this opportunity to see "Santa Ponsa or Bust". Santa Ponsa or Bust is the stage show that took the Dragons fiery breath away. For the first time ever in the Irish version of The Dragons Den all five dragons invested in what is already being talked about as the smash hit comedy of the year. Santa Ponsa or Bust is the first part of the Santa Ponsa trilogy and it has captivated audiences wherever it has played.
Junior Training 8 pm Wednesday night.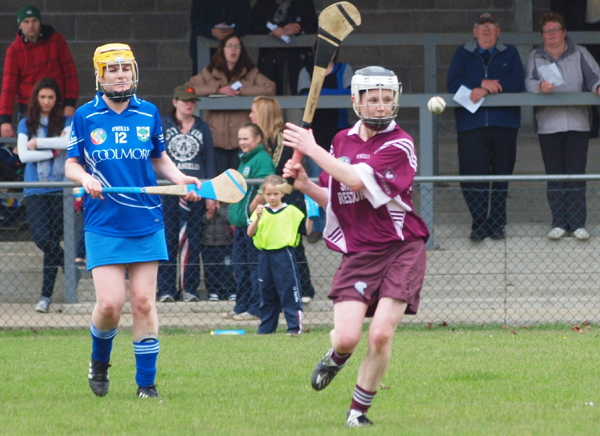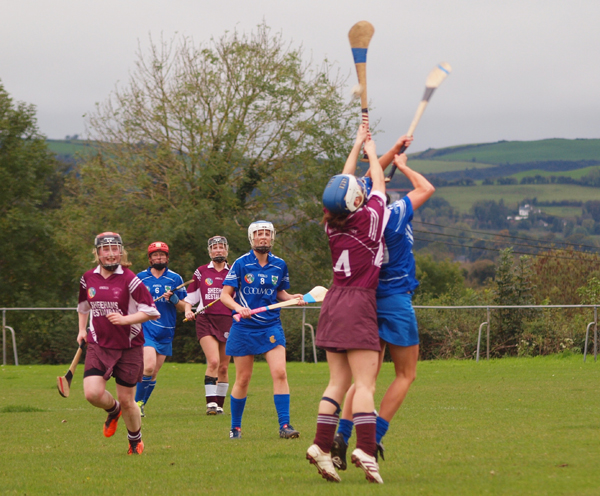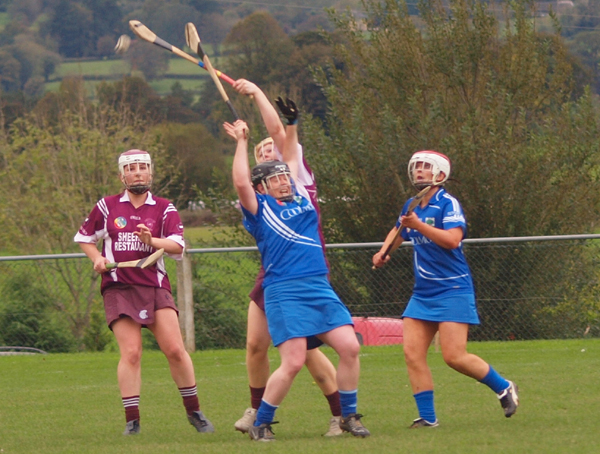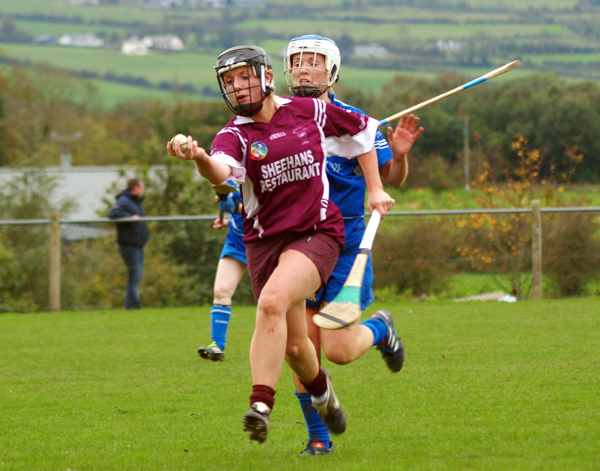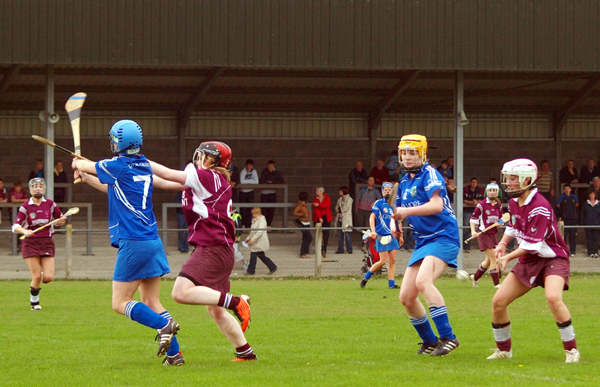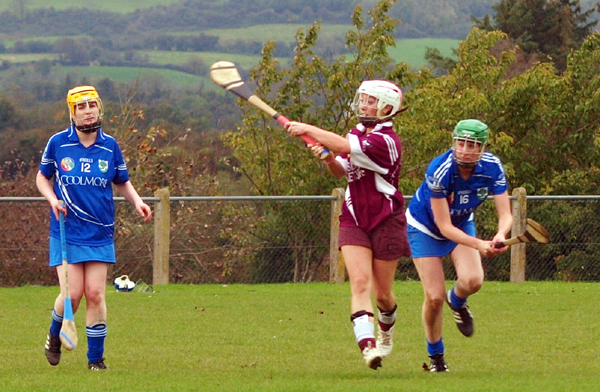 Photos from the battle between Fethard and Borrisoleigh which ended in a draw
---
Play the hand your dealt!!!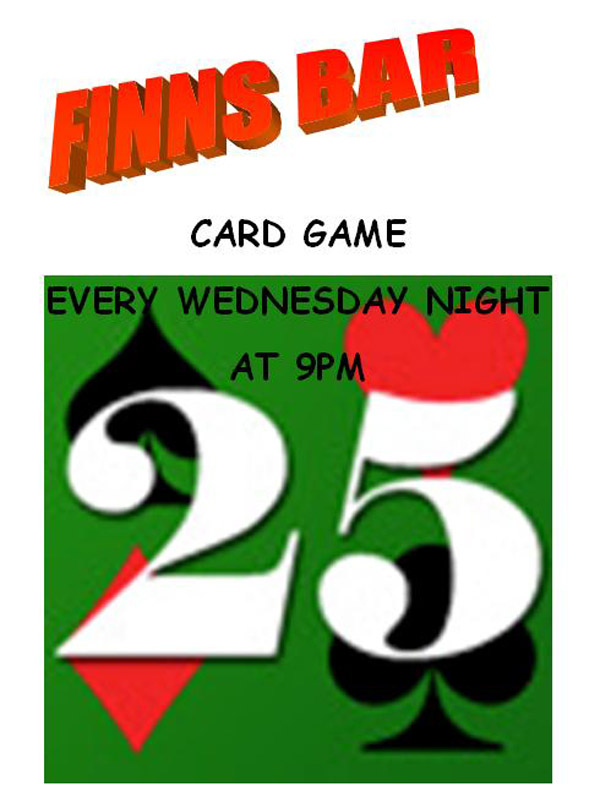 Come and try your luck at Finn's every Wednesday night!
---
Scór Dates for your diary
Scór na Nóg North final will be held in Borrisoleigh on the 25th November.
The County final will be in Cashel on the 9th December.
Scór na Paisti Parish final is on the 15th January 2012.
The area final is in Borrisoleigh on the 21st January 2012.
North final is on the 3rd February and the County final is on the 10th February
Anyone interested in Adult Set Dance classes contact Fiona on 087 1417263.
If enough adults attend we will hold a class on Monday nights at 8.30.pm.
Anyone who has dancing shoes gone too small and needs to get rid of them
please contact 086 3961211 or bring to the Marian hall on Monday night.

---
Christmas Shopping made easy!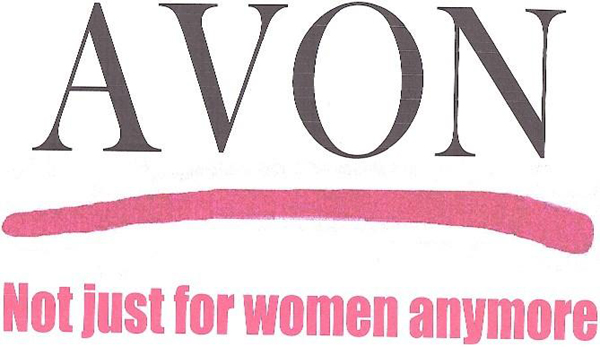 Its coming up to Christmas, and shopping for all the Gifts is such a hassle,
why not have your goods delivered to your door FREE of charge.
Call Ciara (after 5) or text (anytime) 0860662811 for A FREE Brochure, FREE Gift with all first time orders.
Why not take a look at the catalogue online to see the wide variety Avon has to offer..
---
Pick of the Past… down memory lane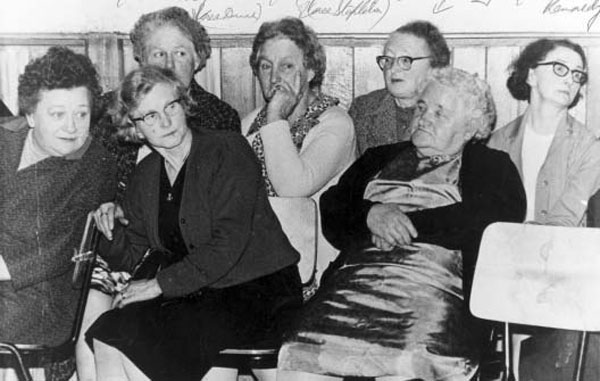 What do you think?

(Back): Ann Stapleton (nee Dunne), Mary Patterson (nee Stapleton), Ann Droney and Bridie Kennedy
(Front): Kathleen Carroll, Winifred Ryan and Eileen Quinn
All of the above were neighbours in St. Brigid's Villas
---
Your Website Needs You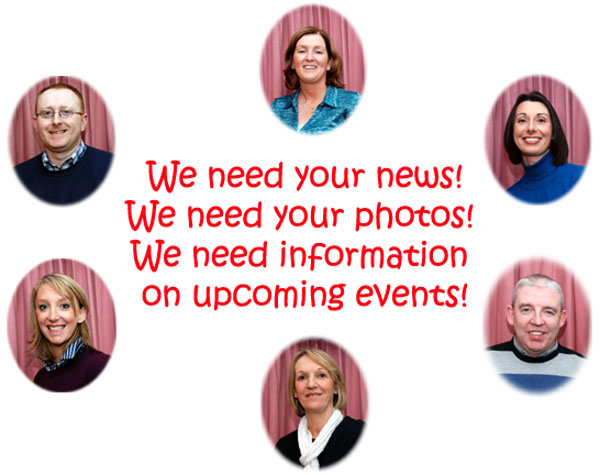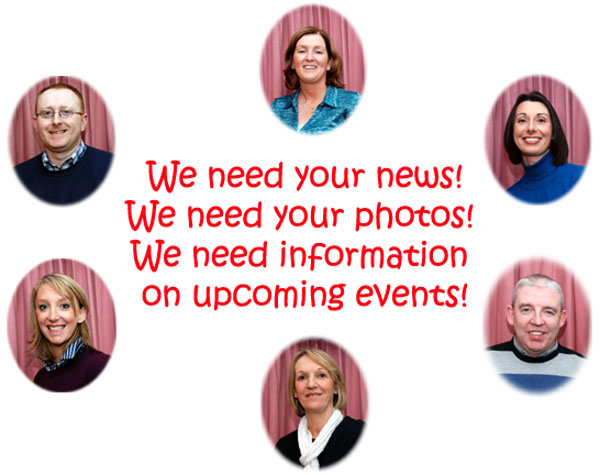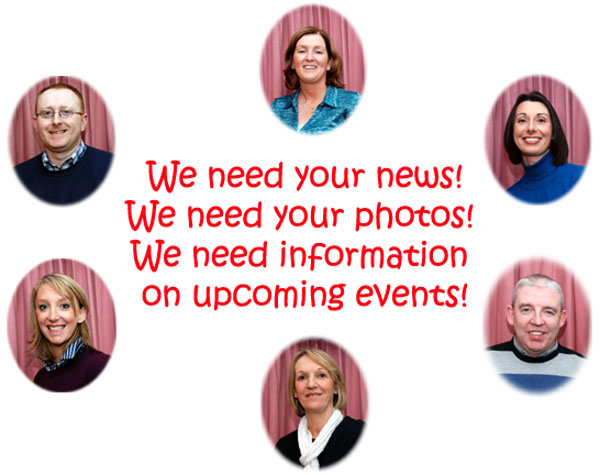 Committee: Enda Ryan, Noreen Fahy, Margaret Cowan, Michael Barry, Marie McGrath and Aileen Óg Groome
Many thanks to all those who contributed photographs and news items for this week's current news. Well done!
Send your email to: info@borrisoleigh.ie
Also, if you like what you see and want to leave a comment, remember to use the Guestbook!
While we make every effort possible to ensure that the information contained in this Website is accurate and complete, we cannot accept any legal liability as a result of the inaccuracy or incompleteness of the information presented to users of this site