A visit to the Áras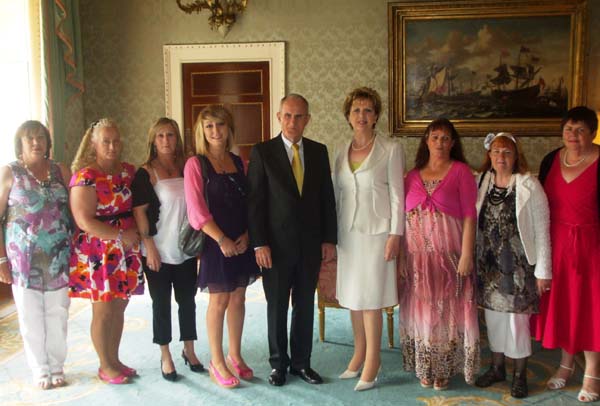 Elaine Hurley with Thurles Education Centre students visiting Áras an Úachtaráin
Staff and students of Thurles Education Centre were delighted to receive an invitation to attend a garden party in Áras an Úachtaráin on Friday the 1st of July last. There was great excitement that morning as we prepared to meet the President who is now in her final few months in office. On arrival at the Áras we were invited to view the presidential Rolls Royce and to enjoy an audio visual presentation of the history of Áras an Úachtaráin, the Phoenix Park and the Presidents who resided in these beautiful grounds over the years. We were then presented to President Mary McAleese and her husband Senator Martin McAleese. Both of them greeted us warmly and made us feel very welcome and enquired after their friends in Thurles.
Following our chat with the President we were brought into the garden where we were served a mouth watering selection of snacks, handmade chocolates and fruits and were pleasantly surprised to see Tipperary Mineral Water available there! Under the warm sun we were entertained by Bagatelle, Celine Byrne, the Drogheda Brass Band and Comhaltas group all of which were introduced by Kathryn Thomas. President McAleese addressed the crowd in the marquee and once again welcomed us to her home. She spoke of the innate friendliness of Irish people as being a gift and encouraged us to turn and introduce ourselves to our neighbours. This very special day was finished with a tour of the Áras. In each room we saw evidence of our rich Irish culture in the paintings and handmade Donegal carpets. We were a very happy group getting off the bus that evening in Thurles. It will be a day that none of us will ever forget.
---
Senior Hurling: We had a unconvincing win against Ballingarry last Sunday evening. It was a struggle to the end and we need to improve immensely for our next match.
Junior Hurling: Burgess defeated us rather easily last week. We now need to win our next game versus Nenagh.
Minor Hurling: Kildangan beat us by 5 points. This game was in the balance for fifty minutes but unfortunately we conceded a goal near the end which meant all the difference. Our next game is on the 28th July.
The club wishes all our injured players a speedy recovery. Club merchandise is available every Saturday morning between 11am to 1pm in the pavilion, or contact 087 9439531. We thank Templederry for the use of their jerseys last week-end.
---
Put 'Em Under Pressure


We received the following email looking for teams to enter a new RTE Sports Quiz and we thought you might be interested.
"I am working on a brand new RTE sports quiz show, Put 'Em Under Pressure, which will air on Sunday evenings in September on RTE 1 and we're looking for sports teams for the audience and I wanted to see if would be possible to get this information out to teams and clubs (from all sporting organisatations) around North Tipperary?
The show itself sees two teams of famous sports stars and pundits go head-to-head in this entertaining sports quiz. Consisting of 8 episodes, the quiz show will be filmed in studio in RTE in Donnybrook from the 8th to the 11th of August in front of an audience each day. For this, we are looking to get sports teams, clubs and supporters groups on board from right around the country to join the audience in each episode. The clubs give their own representation through this, by wearing their club or team colours, crests, sporting attire etc (something representative of what you do). The show is going to be entertaining and fun and will be a great day out for teams interested. We also want a good mix of sports involved, so whether the team or group consists 5 or 50!
As the show is being filmed in early August and places are limited, we would like to hear from teams as soon as possible who may be interested and would like more information.
I am contactable at any time on sharon.newman@shinawil.com or 01 2084646."
Sharon Newman
Audience Researcher
Put 'Em Under Pressure
Montrose House
RTÉ
Donnybrook
Dublin 4
---
Kevin Ryan from Ohio, USA sent us the following email looking for information. "My brother Dan left a post. I did get the opportunity to visit your beautiful community and saw the church and baptismal records where my great grandfather was baptised. I am wondering if there are any Ryan's there that are directly related to Thomas Ryan born Dec. 1843 and left for the United States in 1864. It would be fantastic to hear from you. (kryan1701@neo.rr.com)"
Another Ryan, Mike Ryan from Victoria, Australia also contacted us with the following information. "Hello from Oz, my great grandparents John Ryan & Mary Clohesy arrived in Australia in 1853. Shipping records show their parents were Patrick Ryan/Mary Hourigan and Edmund Clohesy/Bridget Ryan who were "Home at Ileigh" in 1853. If there is anyone out there that may connect or have information to these families and location I would love to hear from you. Best wishes to all at Borrisoleigh until I visit in 2012 (mike@ryanemail.com)"
---
Marion Hall Lotto

19/07/2011
Numbers: 5, 15, 16, 22
No Winner
2 Match 3
Eileen Martin, c/o Bingo
Nora Coffey, Ballycommon, Nenagh
Next Week's Lotto Jackpot
€4,250
---
Pic of the Past… down memory lane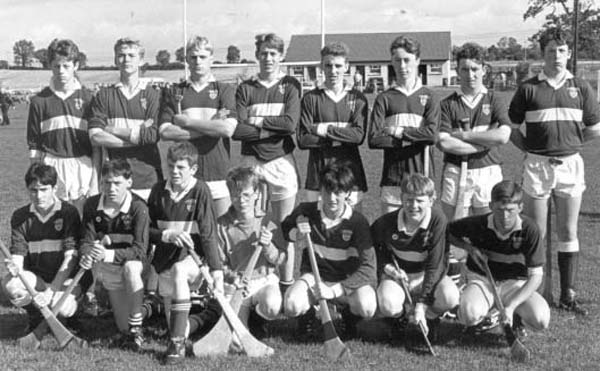 U/16 B County Final 1991

Back: John Cummins, Sean Prior, Thomas Ryan, Seamus Maher, Denis Kelly, Conor Ryan, Trevor Groome and Philip Rabbitte
Front: Conrad Kennedy, Michael Ryan, Mark Stapleton, Liam Small, Jimmy Ryan, Robbie Stakelum and Sean Maher
---
Your Website Needs You!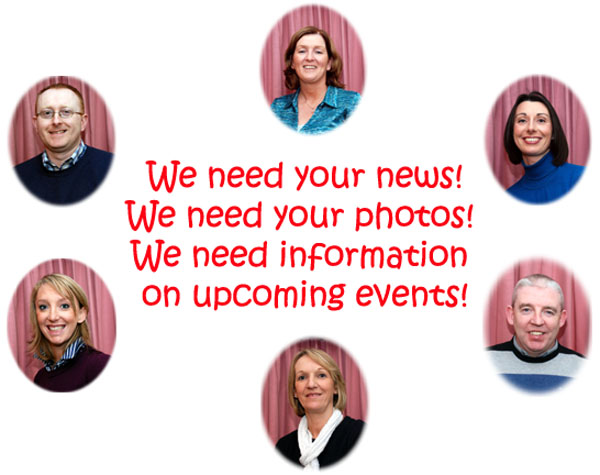 Website Committee: Enda Ryan, Noreen Fahy, Margaret Cowan, Michael Barry, Marie McGrath and Aileen Óg Groome

Many thanks to all those who contributed photographs and news items for this week's current news. Well done!

Send your email to: info@borrisoleigh.ie

Also, if you like what you see and want to leave a comment, remember to use the Guestbook!
While we make every effort possible to ensure that the information contained in this Website is accurate and complete, we cannot accept and legal liability as a result of the inaccuracy or incompleteness of the information presented to users of this site.