St. Patrick's Boys N.S. in County Final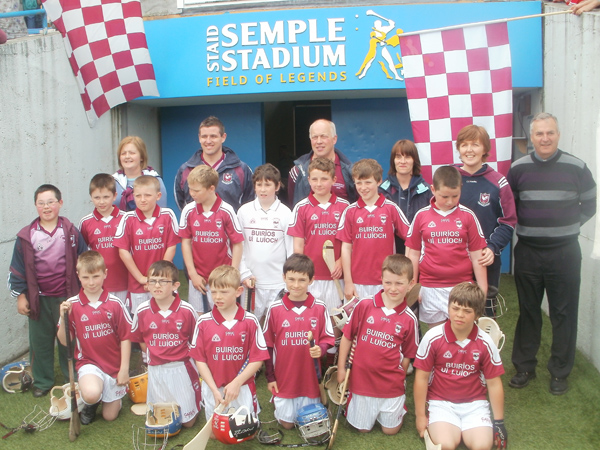 St. Patrick's Boys ready for action


Well done to St. Patrick's Boys' N.S. who put in a fine performance against Corville N.S. in the U-11 Co. Final at Semple Stadium last week. Despite falling victim to two early goals our boys never lost heart and skilfully contested every ball. Congratulations also to Dan Ryan who received the Player of the Match award. Sincere thanks to all who assisted in any way.
Beidh lá eile ag an bPaorach!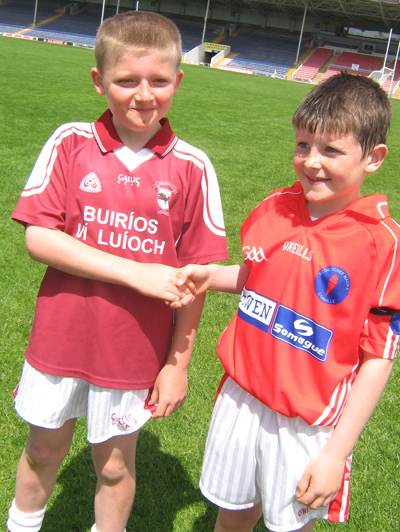 Borrisoleigh man of the Match winner, Dan Ryan, congratulates his Corville counterpart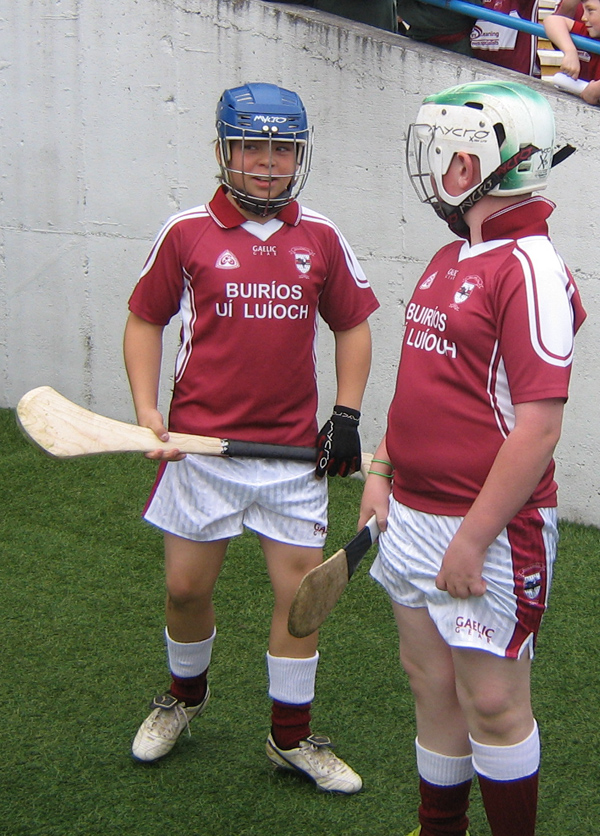 Captain Dirk discusses tactics with Hugh while the supporters cheer for their heroes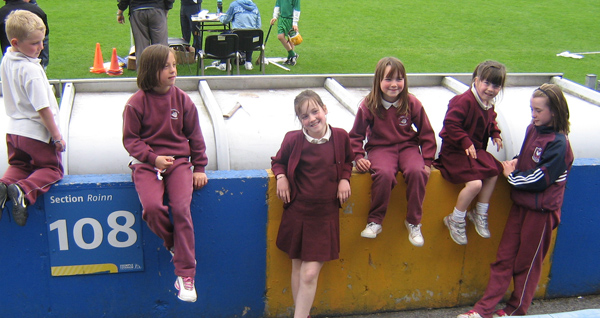 St. Theresa's girls and boys supporting the team

Supporting our boys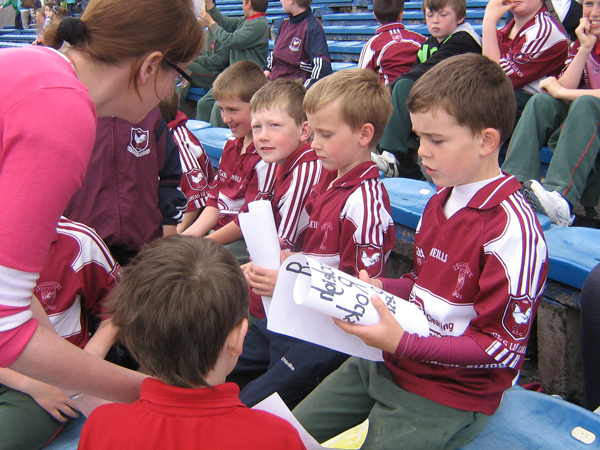 We made banners in Art Class

---
SAINTS ALL-STARS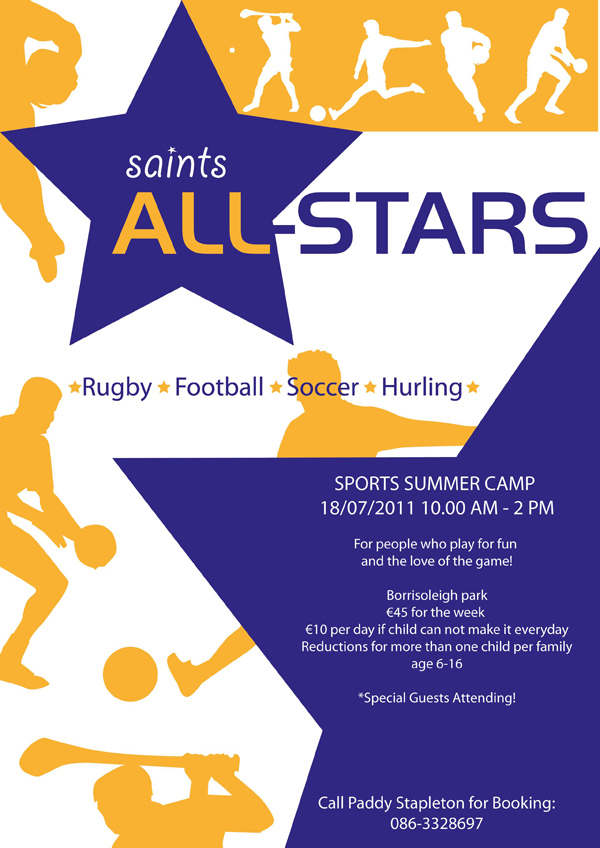 For people who play for fun and the love of the game. I'd like to invite all kids who wants a fun week to my sports camp at Bishop Quinlan Park, Borrisoleigh from Monday 18th of July until Friday 22nd of July.
The camp will be run through four main sports; Hurling, Football, Soccer and Rugby. Each age group will spend one day of the week participating in each of the four sports. Each sport will have its own specialist coaches so that the kids get the best experience possible from each day. On the last day then each age group will divide into small teams and play a blitz involving all sports!
The main aim is for children and teenagers to enjoy themselves and get used to being physically active. Although hurling is the main sport in our area it is not an activity that suits every child. In the past this has led to kids in rural areas going through their lives without getting used to being physically active. Nowadays we know this is very important so by getting to sample all sports
a child can decide what sport they might want to take up, which potentially benefits them for the rest of their lives. The age limit is from 6 – 16 years. Although I realise many teenagers may not have an interest in camps, I have been around enough of them to know some are very keen to participate.
The camp is for girls and boys so even though there is rugby involved it will be tag rugby for the most part. It is very competitively price at €45 per child. However, if there is more than one per family there is a €5 discount per child e.g. two kids = €80, three kids = €120 etc. You can book by calling me on 0863328697 and there is no need for a deposit, just pay when dropping off the
child. If you are away for a few days during the camp that is okay as you just have to pay €10 for each of the days present. The kids will also receive some gifts during the week of the camp as well as meeting All Star Noel McGrath and Hurler of the Year Lar Corbett. They will be there to talk to the kids, answer questions and sign autographs.
I am taking bookings at any time of the day so do not be afraid to ring me whenever you think of it.
Hope to see you there.
Paddy Stapleton

---
Tipperary v Clare

Paddy Stapleton in on the action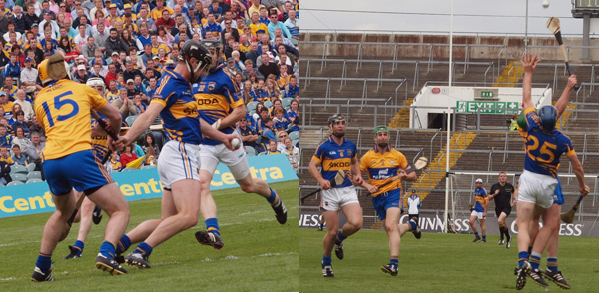 ---
St. Theresa's N.S. Sports Day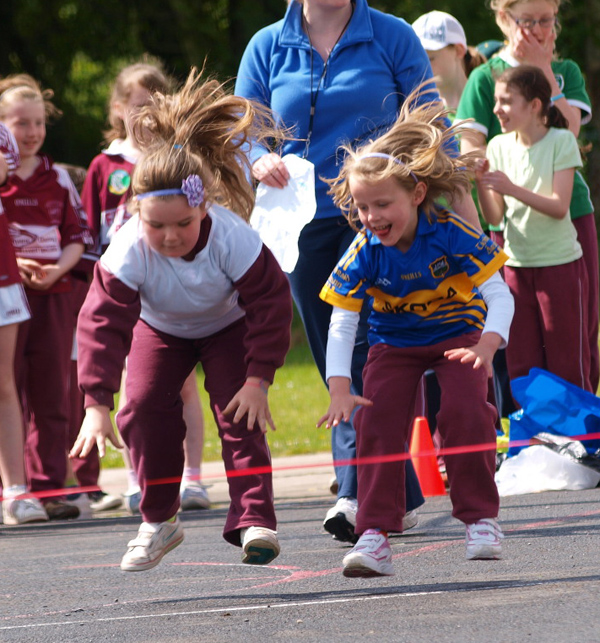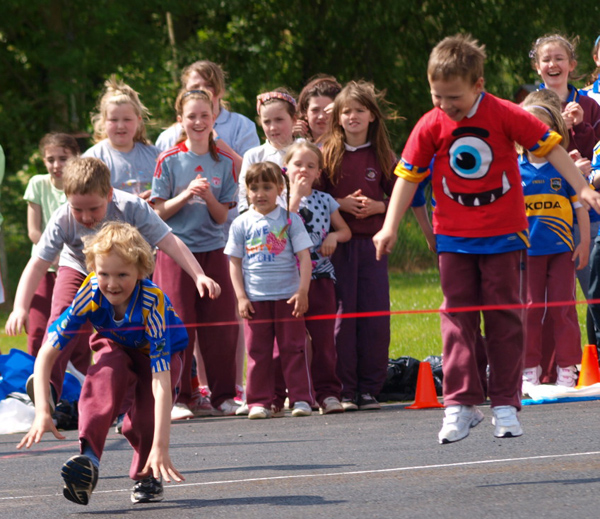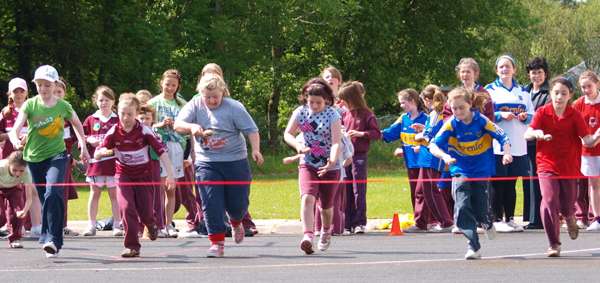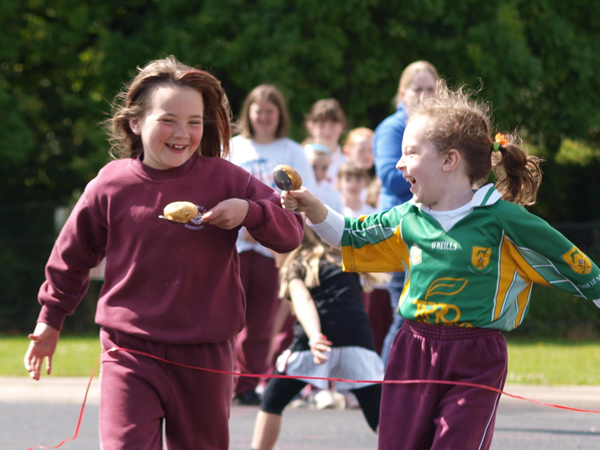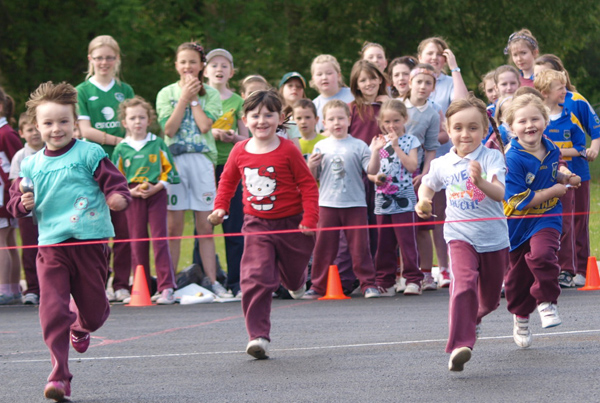 To see more Sports Day photos click here

---
Borrisoleigh Charity Cycle 2011 for Cystic Fibrosis Group TLC4CF


This year's cycle will take place on Saturday 17th September and will be in aid of the the Cystic Fibrosis group TLC4CF. TLC4CF was founded by friends and family of People with Cystic Fibrosis in Tipperary, Limerick and Clare. It is a regional branch of the Cystic Fibrosis Association of Ireland, dedicated to improving services for people with Cystic Fibrosis living in the Mid West.
The aims of TLC4CF are:-
*To raise Awareness of Cystic Fibrosis in the Mid West Region
* Raise over 4.2 million Euros to build a Cystic Fibrosis In-patient and Out-patient Unit at the Mid West Regional Hospital Limerick
* Improve Hospital facilities
* Lobby for the recommended number of staff to care for Cystic Fibrosis Patients
* To offer general support services to newly diagnosed families / existing families
The Cystic Fbrosis Unit at the Mid West Regional Hospital Limerick caters for nearly 120 patients and this includes approximately 80 children and 40 adults. When a CF patient reaches 16, s/he must transfer to the adult service in Limerick where despite the tremendous work of the staff the facilities are extremely poor. The health of adult patients attending Limerick are at risk because of the inadequate staffing levels for CF sufferers, an overloaded, overworked CF team and totally inadequate facilities, i.e. no outpatient clinic for young adult CF patients, aged 16 and over. Further information on the work done by this group is available at the following website www.tlc4cf.com
This is once again a very worthy cause and has a very strong connection with members of our local community and we are delighted to do the cycle on behalf of this group. Sponsorship cards will be available shortly so once again its time to get the bike in working order and start training. A few short spins two to three times a week between now and the 17th of September should be enough to get you around the traditional 25 mile course from Borrisoleigh to Thurles, Templemore and back to Borrisoleigh. Following on from the success of the 50 mile route last year, this will again be an option for the more serious cyclist. This route again will start from Borrisoleigh to Thurles, through Urlingford, Johnstown, Rathdowney, Errill, Templemore and meeting up again with the regular 25 mile cyclists before we return to Borrisoleigh. On-road support will be provided for both groups again and refreshments will be available during the cycle and also served when we return to Borrisoleigh. Sponsorship cards will be available from P.J. Delaney or Ruairi O'Connell in the coming weeks .
---

Finn's Bar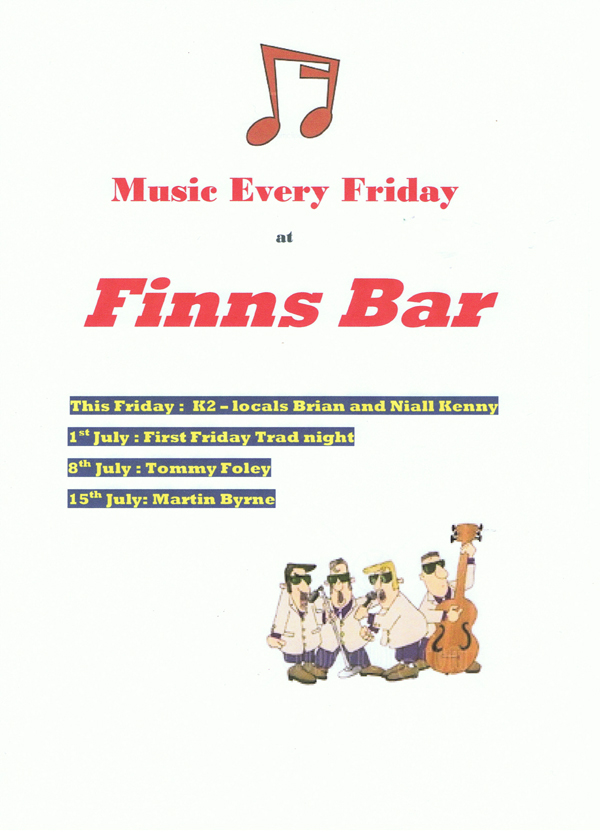 ---
KNOCK SHRINE

A bus will leave the Square, Borrisoleigh on Saturday June 25th at 8.15 a.m. (sharp).
Fare €20.00, for inquiries or bookings contact Mary Lanigan Ryan at 51241, or Mary Kiely at 51535.
All are welcome.
---
Borris-Ileigh GAA Lotto
Thursday 16th June

Jackpot: €12,400(Not won)

Numbers: 18, 19, 21, 22
€50 Lucky Dip winners:

Tony Slevin c/o Gleeson's
Eamon Ryan Jnr c/o Gleeson's
Frances Kennedy, Cullohill
Anne stapleton, Chapel Street

Next draw: Thursday 23rd June in The Clodagh Bar
Jackpot: €12,600
---
Marion Hall Lotto


21/06/2011

Numbers: 2, 8, 20, 24

No Winner

No Match 3

2 Name Draw @ €75 each

Eileen Kelly, Templetuohy
Mary Lanigan-Ryan, Main Street

Next Week's Lotto Jackpot

€3,650
---
Pic of the Past…..down memory lane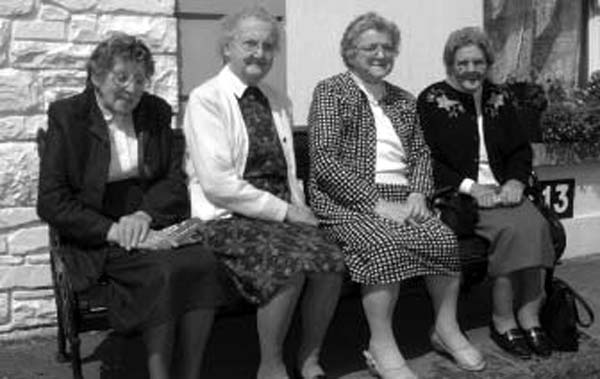 Senior Citizen's Outing to Bunratty Castle
Josie Maher, Nonie Kennedy, Mary Ryan, Corner House and Ellie Shanahan

---
Your website needs you!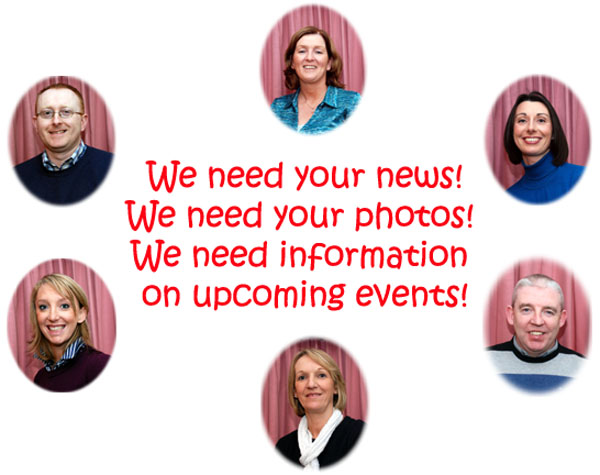 Website Committee: Enda Ryan, Noreen Fahy, Margaret Cowan, Michael Barry, Marie McGrath and Aileen Óg Groome

Many thanks to all those who contributed photographs and news items for this week's current news. Well done!

Send your email to: info@borrisoleigh.ie

Also, if you like what you see and want to leave a comment, remember to use the Guestbook!
While we make every effort possible to ensure that the information contained in this Website is accurate and complete, we cannot accept and legal liability as a result of the inaccuracy or incompleteness of the information presented to users of this site.