Daffodil Day in Borris

Good Man Paddy!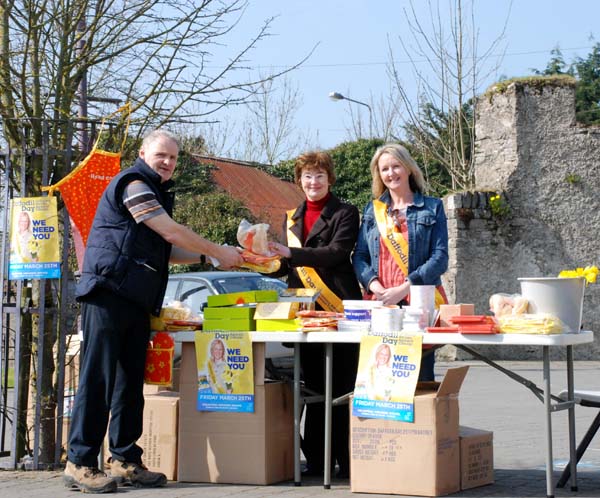 Paddy Dolan is happy to have been nabbed by the ladies (Angela McSherry and Paula Kinane) on the square!

Mobile Transaction!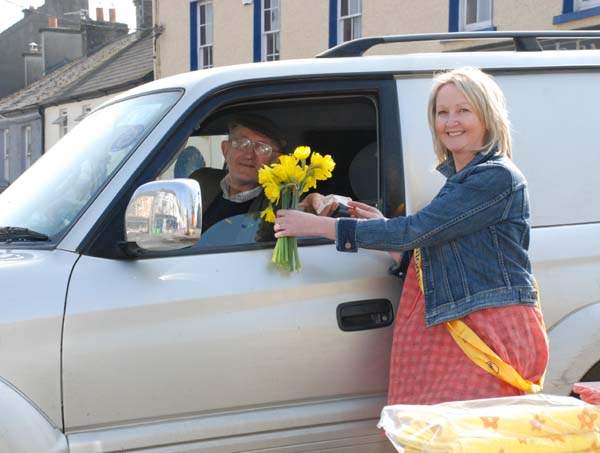 Matt Stapleton conducts his daffodil business from the comfort of his jeep!
A huge thank you to everyone who came out to support us on Friday 25th March.
Very special thanks to all the volunteers who gave up their time.
Thanks to Shanahan's Centra, Hurley's Shop, Chadwick's and Stapleton's Pub for providing refreshments to the volunteers during the day.
Every daffodil, pin or merchandise purchased by you on Friday allowed the Irish Cancer Society to continue to provide its free nationwide cancer information and patient care services.

€4,908 donated – thanks a bunch!
Thanks again for your continued support!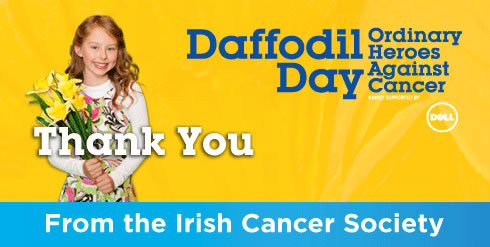 ---
Ceílí for Scór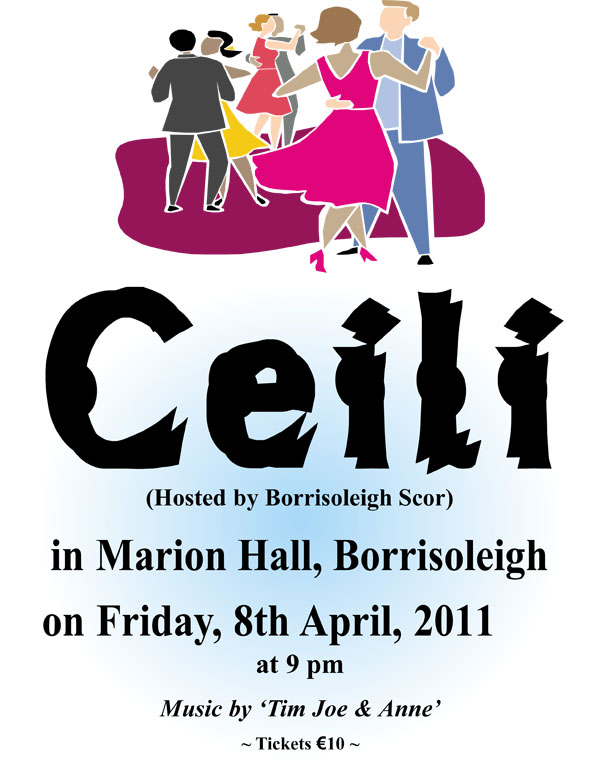 ---
Monster Easter Egg Raffle
John Walsh and Catherine Ryan displaying Monster Easter Egg which is for a raffle in aid of our Community Centre. Tickets are currently on sale and your generous support would be gratefully appreciated. Draw takes place in the Community Centre on Saturday 23rd April. Full details will be given at a later stage
.
---
Happy Birthday Bill

Eamonn and Deirdre with Bill and his wife Anna

Bill Corcoran (Templemore) joined with family and friends at his son Eamonn's and daughter–in-law Deirdre's home in Aughvolyshane, Borrisoleigh on Saturday afternoon last 26 March to celebrate his 80th birthday. Mass was offered by Fr. Michael Barry during which Eamonn and Deirdre's beautiful home was blest. It was a lovely family occasion and was thoroughly enjoyed by all. Happy birthday Bill and may you have many more of them.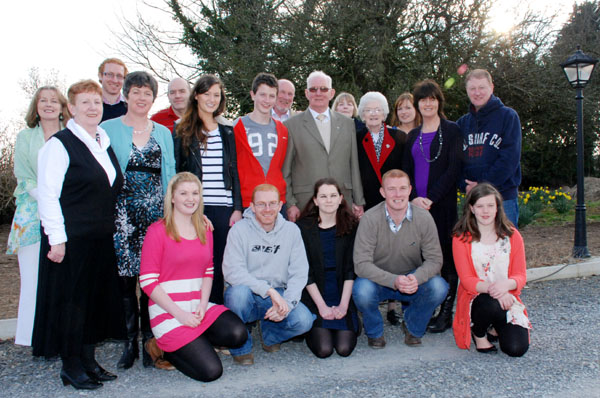 Bill Corcoran with family and friends on the occasion of his 80th birthday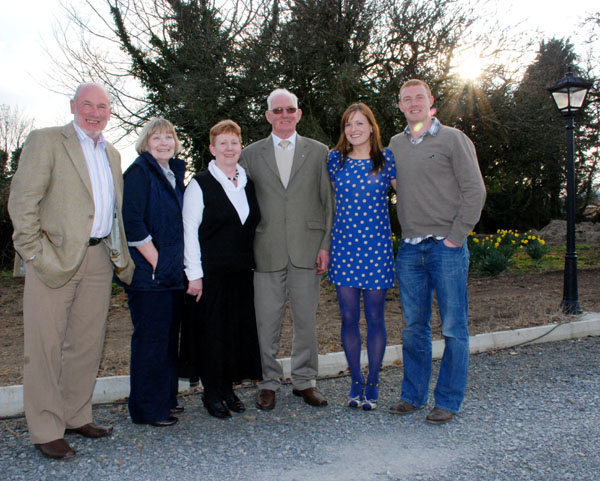 Timmy, Sheila, Anna, Bill, Deirdre and Eamonn on the occasion of Bill's eightieth!
---
Liam McCarthy Cup in San Francisco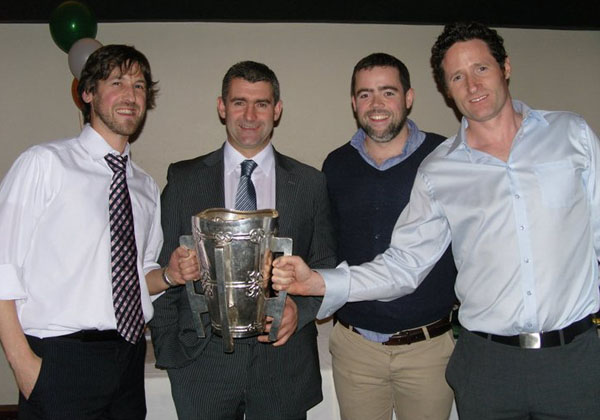 John McSherry, Borrisoleigh, Liam Sheedy, Niall Mac An Tsionnaigh (Dublin) and Shane Corban (Galway), pictured recently in San Francisco with the Liam McCarthy Cup.
Naomh Padraigs GAA club, San Francisco won the North American Senior Hurling Championship in September 2010. To celebrate, they had a victory dance in San Francisco at the end of last month. Liam Sheedy and Declan Fanning with the McCarthy Cup were the honoured guests .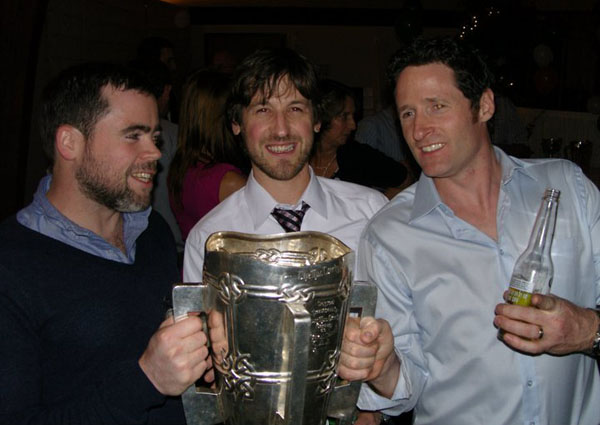 Niall, John and Shane with the Liam McCarthy Cup
---
Trad Night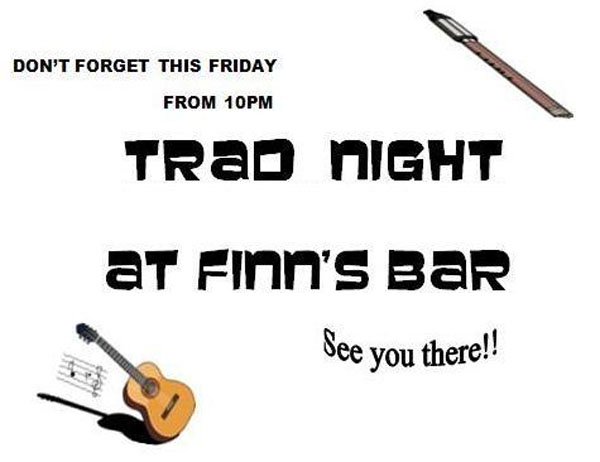 ---

Tiarabelle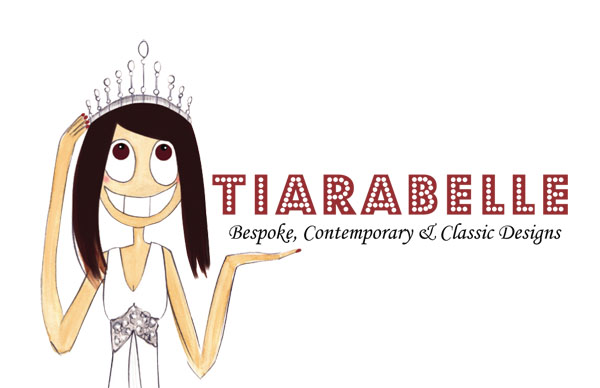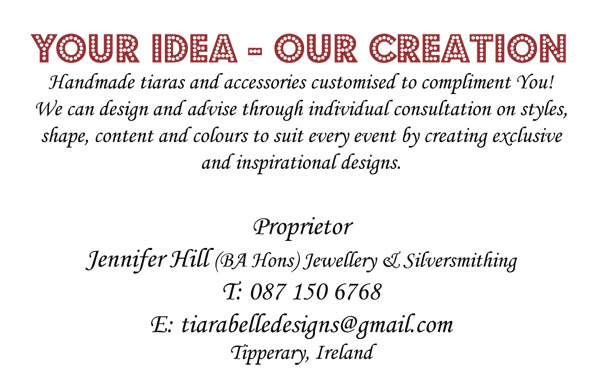 Tiarabelle is based in Mountkinane and offers consultations with customers so they can design their own tiaras to their tastes and budget.

---

This Week at Nenagh Arts Centre Film –'Restrepo'
8pm, Thursday 31 March, Admission: €6
The story set in 2008 sees Sebastian Junger (The Perfect Storm) and Tim Hetherington dug in with the men of Second Platoon for a year. Afghanistan's Korengal Valley, a stronghold of al Qaeda and the Taliban and has proven to be one of the U.S. Army's deadliest challenges.
"With unprecedented access, the filmmakers reveal the humour and camaraderie of men who come under daily fire, never knowing which of them won't make it home." – Winner – Grand Jury Prize of Sundance Film Festival, 2010
It's a Cultural Thing, or is it?' featuring Glenroe actor Michael Collins
8pm, Saturday 2 April, Admission: €12
The Play chronicles Michael's personal journey from living in a barrel-top wagon as a child on the road with his family, to their move to Dublin and the end of the traditional way of life.
It's a Cultural Thing, or is it? is "Entertaining, enriching and provocative—you could hardly ask for more from a show. These engaging, true tales portray the discrimination and hardship routinely experienced by the Travelling community.
Collins is an effective presence and tells his stories with humour, passion and a total absence of self-pity." – Dublin Fringe Festival, Irish Times
Book Online at www.nenagharts.com or Get Tickets at Nenagh Arts Centre, Town Hall, Banba Square.


---
Borris-Ileigh GAA Lotto


Thursday 24th March

Jackpot: €10,000(Not won)

Numbers: 6, 9, 15, 24

€50 Lucky Dip winners:

Teresa Coffey, Lower Street
Martin Ryn, Glebe House
Dan Ryan, Pallas Upper
Cathriona Fahey c/o Gleeson's

Next draw: Thursday 31st March in Stapleton's Bar (Cross of Pallas)
Jackpot: €10,200
---

Marion Hall Lotto
29/03/2011
Numbers: 9, 17, 18, 26
No Winner
1 Match 3 @ €150
Marian Howe, Templemore
Next Week's Lotto Jackpot
€2,150

---
Pic of the Past… down memory lane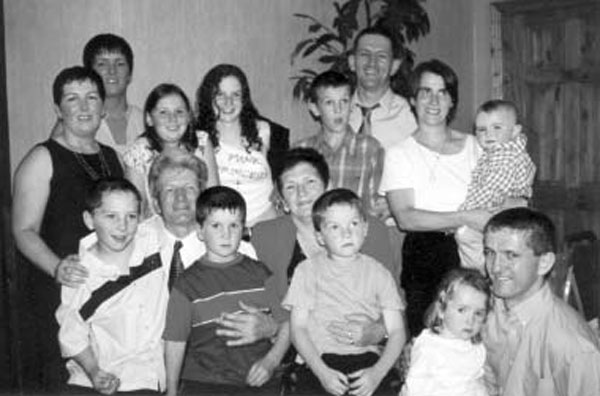 Family Reunion

Back: Teresa Maher, Noreen Fahy, Louise Fahy, Elane Maher
Thomas Fahy, Michael Hogan, Vera Hogan and Cathal Hogan
Front: James Maher, Michael Hogan, Ciaran Maher, Nancy Hogan
Jack Hogan, Aideen Hogan and John Hogan

---
Your Website Needs You!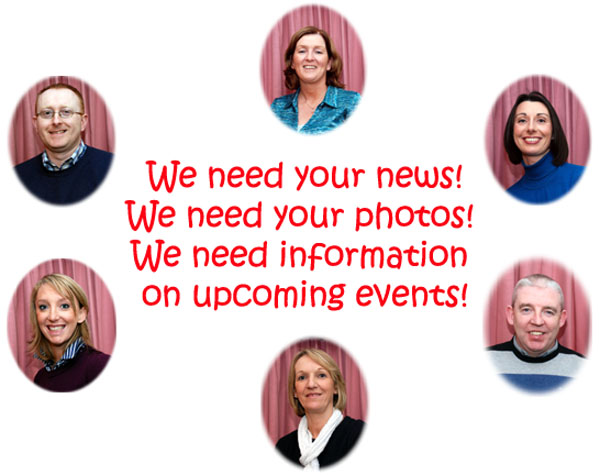 Website Committee: Enda Ryan, Noreen Fahy, Margaret Cowan, Michael Barry, Marie McGrath and Aileen Óg Groome

Many thanks to all those who contributed photographs and news items for this week's current news. Well done!
Send your email to: info@borrisoleigh.ie

Also, if you like what you see and want to leave a comment, remember to use the Guestbook!
While we make every effort possible to ensure that the information contained in this Website is accurate and complete, we cannot accept and legal liability as a result of the inaccuracy or incompleteness of the information presented to users of this site.