Well Done Aaron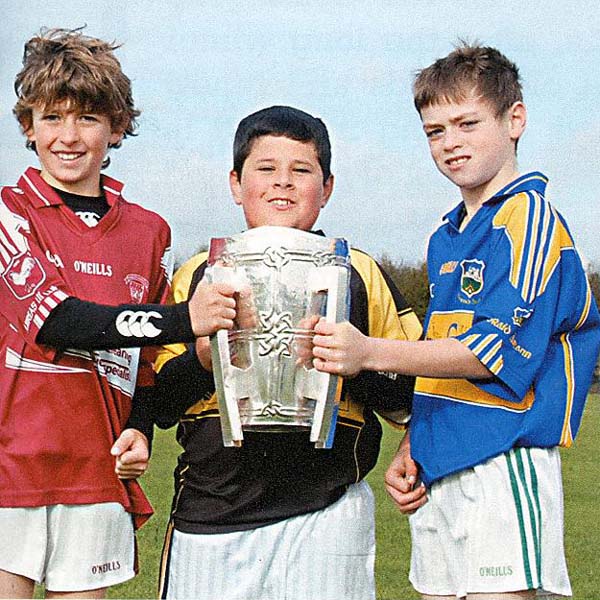 Aaron was presented with a medal at half time of the Tipperary v Kilkenny match on Saturday 12 February last after successfully being picked to compete in a County U Can Skills challenge. This took place during the October 2010 mid-term break.
---

Private lessons!!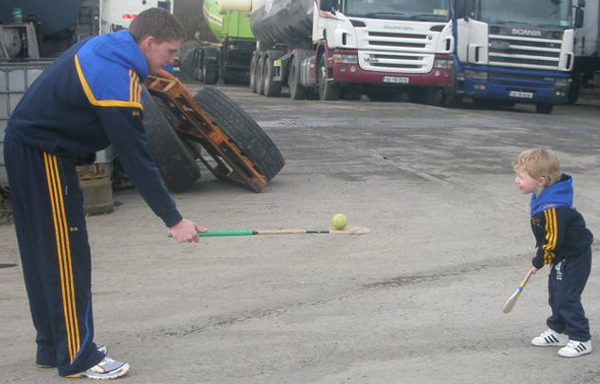 Look Bobby this is how it is done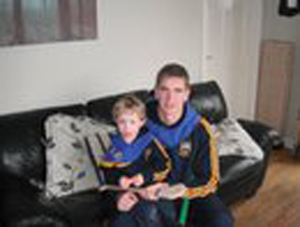 Bobby relaxes with Brendan Maher after his strenuous lesson on hurling skills. Bobby is grandson of Mick & Frances Kennedy, Cullohill.
---

Daffodil Day 2011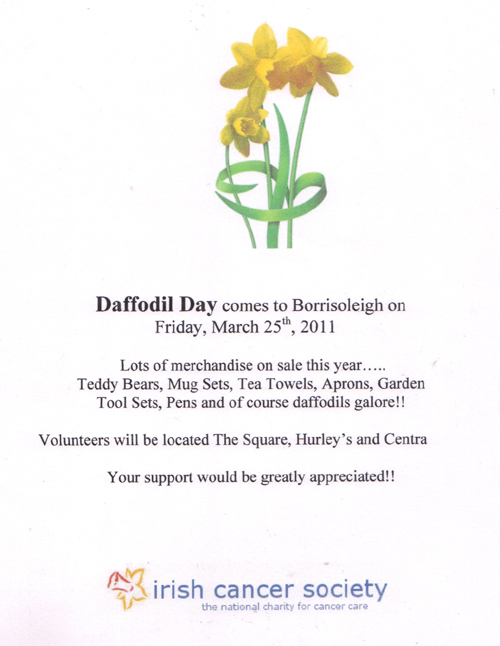 ---
St. Patrick's Day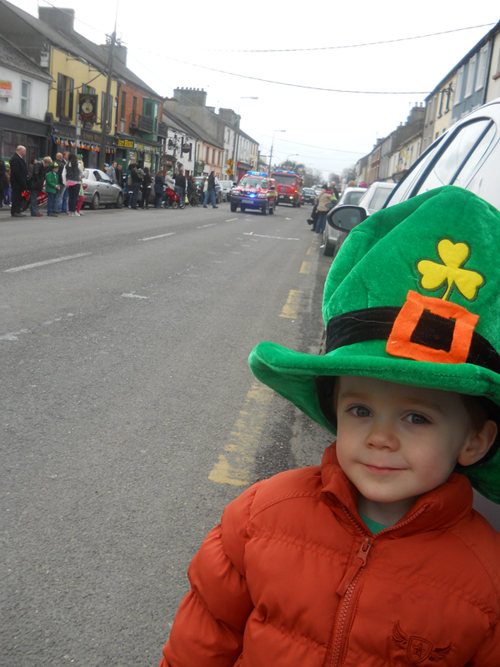 Daragh at the St. Patrick's Day Parade in Templemore
---

Borrisoleigh Community Centre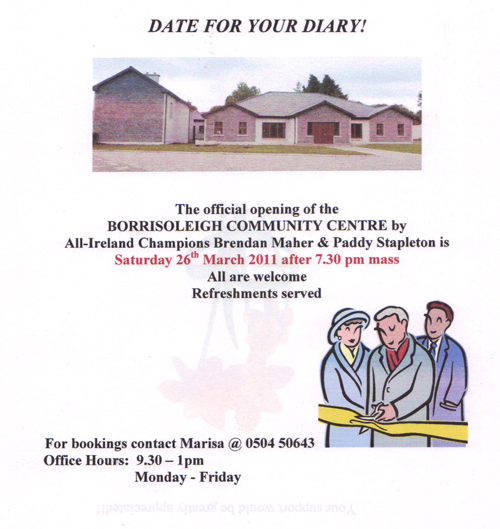 ---

Comhaltas Night in Stapletons


Ciara, Martina, Liam and Leah with Toni (Liam's little cousin) entertaining the crowd on St. Patrick's Night in Stapletons



---
Harry Joes Golf Society in Portugal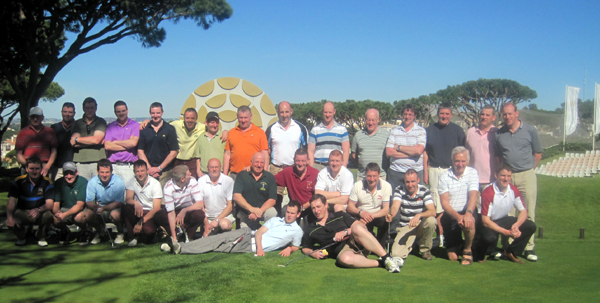 Members of Harry Joes Golf Society pictured here on a recent golfing trip to the Algarve



---

News from St. Theresa's N.S.


World Book Day

We celebrated World Book Day in the school on Thursday March 3rd. Paired reading was done between the older and younger children. Girls in the older classes brought in their favourite books and spoke about them. The girls also spent time reading the books that their friends had brought in. A bookmark competition was held in all classes. Each child had to design their own bookmark. All children were also given a book token which they can use to purchase a book.
Pancake Day

Children in the older classes had their hats and aprons on for Pancake Tuesday. The girls cooked delicious pancakes from scratch for everyone in the school. Even Father Everard could not resist the wonderful cuisine. The school raised €130 for Tallagh Hospital. Thanks to everyone who contributed.
Lent

Girls from first to sixth class visited the church for mass on Ash Wednesday. The children are currently trying their very best with their lenten promises. Each classroom has a Trócaire box which they hope to fill before Easter. This year the money collected will go to the people in Honduras. Pupils and staff have already started to collect money by having a 'Silly Hair Day'. Very interesting hair styles were on show on the day.
Poetry Winner

Well done to our fourth class pupil Gretta Atik who was our overall school winner in the Global Solutions poetry competition. Gretta's winning entry was entitled 'School'. Gretta showed super ability in the writing of the poem. Gretta received a medal and the school received a lovely plaque to mark her achievement.
Retreat

Our confirmation date, April 1st is fast approaching. All children are working very hard in preparation for the coming of the Holy Spirit. Father Everard recently organised a retreat in the parish community centre for all confirmation candidates. The retreat was led by Father Joe Walsh. The children enjoyed a very action packed day- there was song singing, quizzes, prayers, mass, meditation etc. Father Joe was fantastic with the children on the day. We thank him most sincerely.


Congratulations to our two fifth class pupils Tara Mockler and Aedín Hogan who were recently chosen to play at Semple Stadium during half time of the Tipperary and Waterford senior hurling match. This was such a great achievement for the girls. We are all so proud of them. It is wonderful to have such talented children in our school.
Seachtain na Gaeilge

Seachtain na Gaeilge was celebrated in the school recently. Everyone made an effort to speak more Gaeilge during the week. The annual quiz took place in the halla. Children dressed up in their green wigs, glasses, t-shirts etc. Well done to Hazel's team who were overall winners on the day. Our setdancers rounded off the week showing us their super steps.


Bruno

Bruno the teddy bear, all the way from Germany arrived to the school recently. The remaining letters from the German penpals also arrived during the week. We are all eagerly awaiting to see what's coming next!
Scór

Congratulations to all the children who competed in Scór na bPáistí. Many of the children in the school got through to the north final and did themselves extremely proud. Our sixth class pupil Orla Ryan with her recitation- 'Extracts from Angela's Ashes' got her through to the county final in Cashel next Sunday. Orla has shown excecllent ability in this area. We wish Orla all the very best on Sunday.
---
Borris-Ileigh Juvenile GAA Club
The 2011 season is gradually getting under way and all of our young players from U6 to U16 have returned to hurling and football training over the last few weeks. As well as training a number of other activities also took place. The U10 footballers played in a County Football Blitz in Dr. Morris Park on the 5th of March. Our U14s have played hurling challenge games V Ballyfin and Kilcotton of Laois and are due to play Newport in the North football Championship on March 30th and Nenagh in the North Feile na nGael on April 2nd. Our U16 footballers played a number of challenge games against Burgess and began their North championship with a win over Portroe. They will also play Templederry this week and Kildangan next week in the North Football Championship.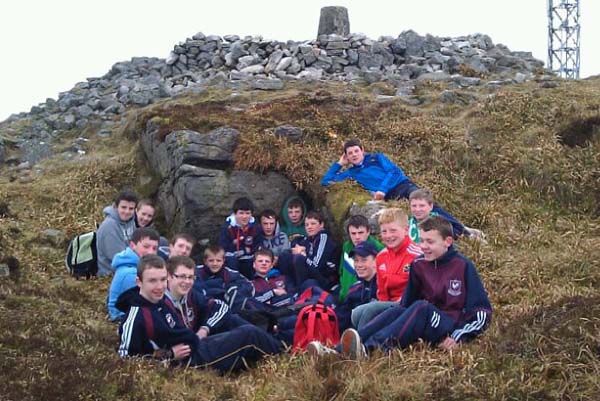 Resting after the climb!

Our U16s completed their sponsored climbs of Keeper Hill and Galtymore last weekend and in the processed fundraised to buy a much needed set of jerseys for the panel. Thanks to all who provided transport and supervision during both climbs ensuring all returned safely. Our churchgate collection took place in the beginning of March and our annual table quiz will again take place on Good Friday 22nd April in the Marian Hall. Your generosity in supporting these fundraisers is greatly appreciated by the Juvenile Club, particularly in the current climate, and it would be very difficult to run the juvenile club without such support from the local community.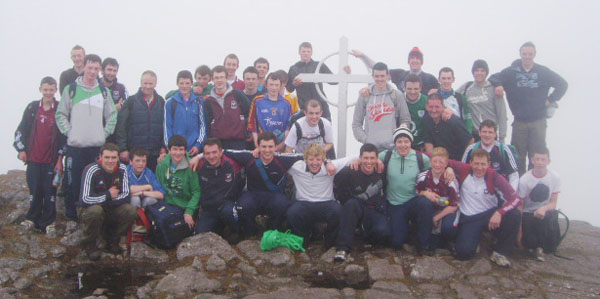 Reaching the summit!!
As part of the Respect games organised by the Tipperary Bord na nOg at the interval in the National Hurling League matches against Kilkenny and Waterford in Semple Stadium, the Juvenile GAA Club were asked to provide players from the U12 panel to participate. Alvis Danko and Dirk Leimlehner played at halftime in the Kilkenny match and Aedin Hogan and Tara Mockler played at halftime in the Waterford match. Well done to all the young players who enjoyed the occasion and the opportunity to participate and play in the Stadium.
Well done to James McCormack and Micheal Carey who represented the Juvenile Club on the U14 North Football panel that played in the inter-divisional tournament held in Ballylooby last weekend. While the North were defeated in both games both players acquitted themselves very well.
Most players have now forwarded their 2011 membership subscriptions and forms. However, there are still some forms and money outstanding. Please ensure that you return your form and membership as soon as possible as the text numbers have to be updated for this year.
---
Borris-Ileigh GAA News
U21 Hurling
:
The Under 21's had a good win over Templederry on St. Patricks Day. There was a good display of hurling by all concerned. Date and time to be fixed for next round.
Senior Hurling:

Annacarthy defeated Borris -Ileigh by four points last Saturday. It was a very poor display and a lot of players will have to step up to the mark especially coming up to c/ship when hurling gets much faster. Next match is against Upperchurch provisionally fixed for Tue. 29th of March at home under lights.
Junior A Hurling:

First league match is fixed for Sunday 27th March 2011
Minor B Football:
We will play Newport on the Wed. 30th March at 6pm in Borrisoleigh.
Senior Scor:

Commiserations to our participants in the Munster Final last Saturday night. Both performed with distinction and can be proud of themselves. Keep up the good work.The club wishes a speedy recovery to all its injured players at present.
Fantasy Cheltenham fundraiser:

The Borris-Ileigh GAA Club would like to thank everyone who participated in our recent Fantasy Cheltenham fundraiser.
We would also like to thank Erin's Own GAA Club in Castlecomer, Co. Kilkenny who were the main organisers and made it very simple and transparent for everyone who played.
Unfortunately we did not have an overall winner over the course of the few days but we did have Sarah Maher of Cullohill coming in with a Daily prize.
The winners of the Borris-Ileigh Leader board were – 1st Place – Tom Hurley, 2nd Place – Timmy Delaney and in 3rd Place – Sarah Maher.
All results are available on www.fantasycheltenham.ie
Thanks again for your support and well done to our prize winners.
---
Inch Drama Group
Inch Drama Group, The Ragg will stage an extra night of
'
The Two Loves of Gabriel Foley'

–
a three act comedy by Jimmy Keary at
8.15pm
sharp on
Saturday 26th March

.

A great natural anti-depressant guaranteed to banish the blues away, so welcome in the present times!
Come early as for past 3 nights, seats were full at 7.45pm
Everybody enjoyed themselves so far so we hope to have another great night this weekend.


---
Scór na bPáistí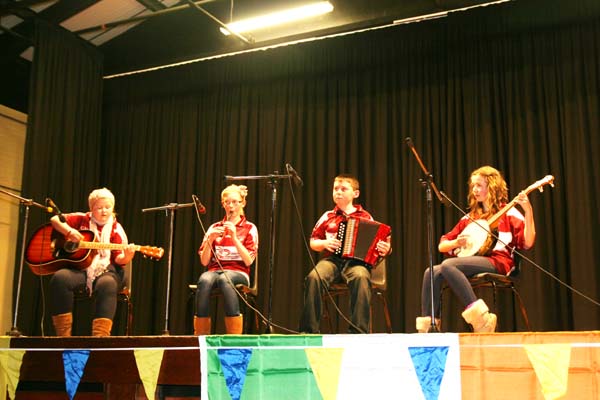 The instrumental group who performed so well in the North Final last Friday


The North Final of Scór na bPáistí was held in Newport last Friday night. Competitors performed brilliantly before a crowded hall of Scór enthusiasts. Borrisoleigh participated in the Figure Dance, Solo song, Instrumental Music, Recitation, Novelty Act, Question Time and Set Dance competitions. Congratulations to the Novelty Act and Set Dance groups who were runners-up in their respective competitions.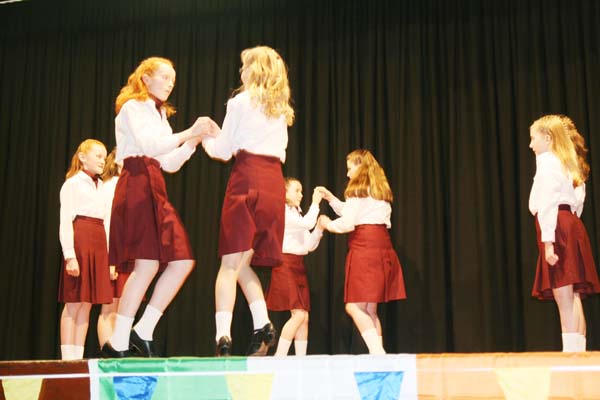 Well done to the Set Dancers who were runners up in the North Final

Congratulations Orla and best of luck in the County Final



Heartiest congratulations to Orla who had a well deserved win in the Recitation / Storytelling competition with her interpretation of an extract from " Angela's Ashes " by Frank McCourt. Orla will now compete in the County Final of Scór na bPáistí next Sunday 27th March at Halla na Féile, Cashel at 6 pm. She is wished the best of luck . Go néirí go breá léi.
---

Clodagh Macra News
Clodagh Macra have a busy few weeks ahead of them with lots scheduled to take place in March and April. Best of luck to our ladies basketball team who will compete in the national basketball final on the 27th March in Limerick. All support on the day welcome.
We also wish our ballad group competing in the Dublin City Talent Competition the very best of luck in the semi finals being held in Boru Bru, Cashel on Sunday 3rd April. This promises to be a great nights entertainment.
On Friday April 1st we will be holding a fundraiser tablequiz at 9pm sharp in the Clodagh Bar, Borrisoleigh with live music afterwards. All are welcome and all support would be very much appreciated on the night.
Well done also to club chairman, Eamon Ryan who raised money for Shave or Dye last weekend and is now sporting purple hair.


Question Time Team
Pictured are the Clodagh Club Question Time team of Teresa Kennedy, Laura Ryan, Antoinette Gleeson and AnneMarie Kavanagh, who competed in the National Round held recently in Waterford



---
Marion Hall Lotto


22/03/2011

Numbers: 6, 11, 14, 20

1 Winner

Jerry Ryan, Kilfithmone

1 Match 3 @ €150

Mary Walsh, Chapel Street

Next Week's Lotto Jackpot

€2,000
---
Pic of the Past…..down memory lane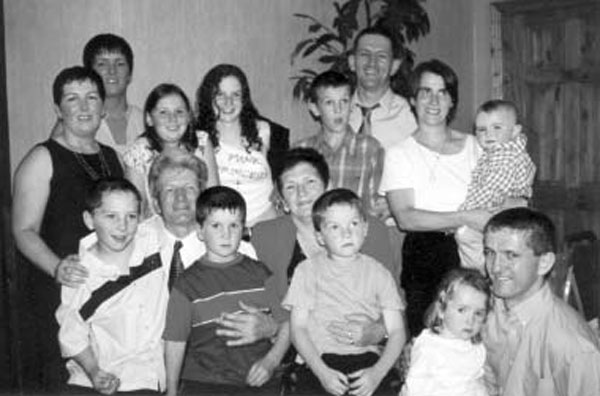 Family Reunion
Back: Teresa Maher, Noreen Fahy, Louise Fahy, Elaine Maher, Thomas Fahy, Michael Hogan, Vera Hogan and Cathal Hogan
Front: James Maher, Michael Hogan, Ciaran Maher, Nancy Hogan, Jack Hogan, Aideen Hogan and John Hogan

---
Your Website Needs You!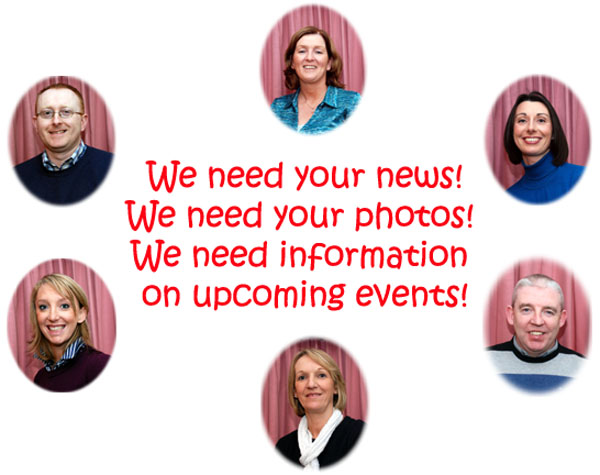 Website Committee: Enda Ryan, Noreen Fahy, Margaret Cowan, Michael Barry, Marie McGrath and Aileen Óg Groome
Many thanks to all those who contributed photographs and news items for this week's current news. Well done!
Send your email to: info@borrisoleigh.ie
Also, if you like what you see and want to leave a comment, remember to use the Guestbook!
While we make every effort possible to ensure that the information contained in this Website is accurate and complete, we cannot accept and legal liability as a result of the inaccuracy or incompleteness of the information presented to users of this site.
---