Mrs. Susan Hoare's Retirement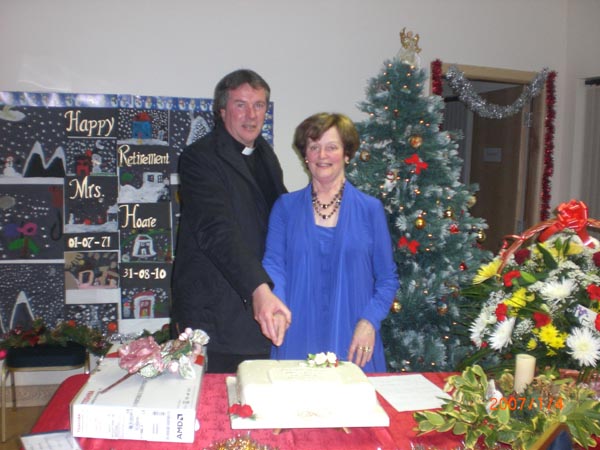 Fr.Nicholas Irwin and Mrs.Susan Hoare cutting the cake in celebration.

On Friday,10th December, the school community of Scoil Treasa Naofa joined in a Celebratory Mass marking the retirement of Mrs.Susan Hoare. In his homily, Fr.Nicholas Irwin paid tribute to Mrs. Hoare for her many years of service to education in the parish.Fr. Irwin was assisted by Fr. Liam Everard.PP . and Fr. Michael Barry CC. The Mass was enhanced by the beautiful singing and music of the School Choir.
All the congregation adjourned to the lovely Community Centre.Fr.Liam Everard presented Mrs.Hoare with a beautiful lamp and Mary Stapleton(Parent's Council) made a presentation of a laptop computer.Finally, Mrs. Mary Butler.(Principal)spoke on behalf of the Board of Management and gave Mrs.Hoare some Galway Crystal.
Mrs. Hoare graciously accepted the tributes and gifts from the parish.MC for the night was Mr.Liam O Mahoney and to conclude he introduced the Sixth Class and choir for a rendition of the song' Our Dear Mrs Hoare'.
A very special thanks to all the parents,children, staff, clergy and parishioners who helped to make this a fitting tribute for so many years of dedicated service.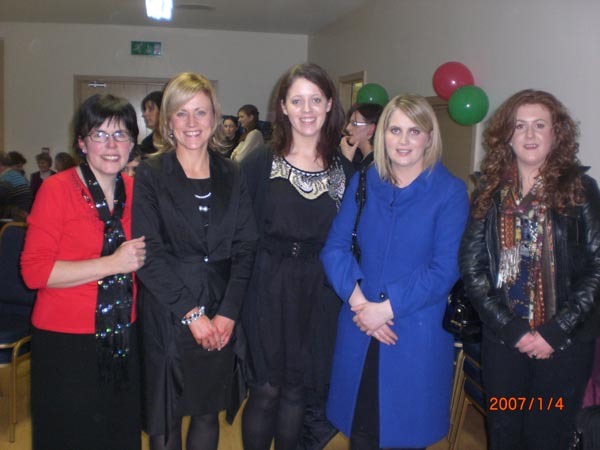 Mrs.Mary Butler(Principal),Mrs.Michelle Fitzpatrick,Miss Joan Cummins, Mrs Frances Kenneally and Miss. Patricia Clancy (Staff of Scoil Treasa Naofa) enjoying the celebrations.
---

Phone a friend or ask the audience!


Some of the locals enjoying the night


The popular quiz show Who wants to be a Thousandaire came to the Ragg Lounge Friday Nov 20th. The night was held to raise funds towards the building of the new Community Complex. The night was a huge success!
A special word of thanks to our 8 main sponsors Dr. Kevin delargy, Borrisoleigh Pharmacy, Shanahan's Centra, Tipperary Co-op, Kelly's of Fantane, The Stakelum Family, Tipperary Water and The Ragg lounge.
This event raised a total of €31,000. We'd also like to thank all the advertisers, people who donated and those who bought tickets for the event.
---
Borrisoleigh Boys NS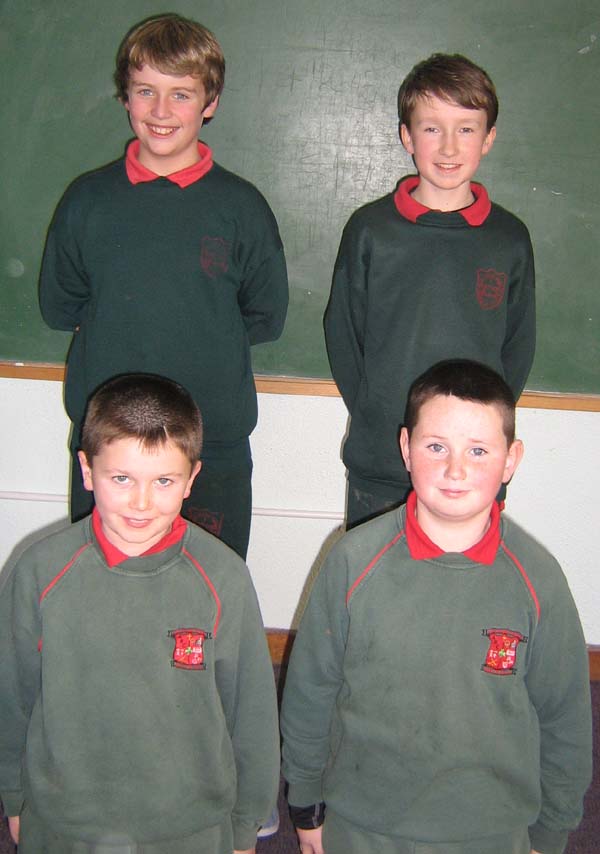 Congratulations to our two quiz teams who put in a fine performance at the North Tipperary Primary schools' G.A.A. Quiz on Friday last. St. Patricks B.N.S. was represented by Raymond Mc Cormack, James Kelly, Dylan Molloy, Aaron Rabbitte, Aaron Reid, Alex Smyth, Hugh Hurley & Cian Stapleton. Raymond, James, Dylan & Aaron now advance to represent us and North Tipperary in the County Final.
Well done lads!!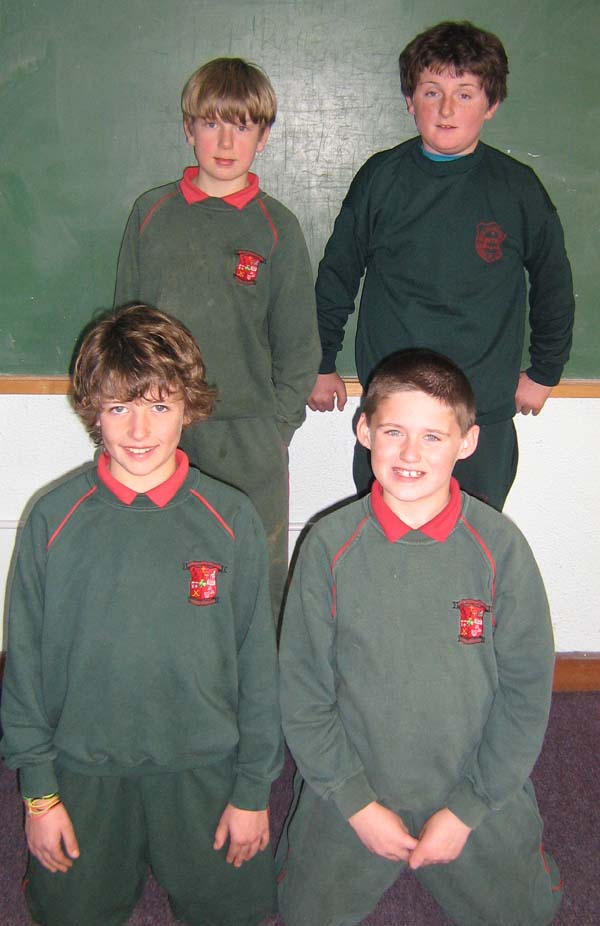 ---

Borrisoleigh Choir

On Friday evening last our Parish Church Choir travelled to Thurles Shopping Centre to sing Christmas carols to all the shoppers. This was a fundraising effort for our Community Centre and it also created a bit of Christmas spirit.


Thanks to all the choir members and to the volunteers who provided their time and energy so freely.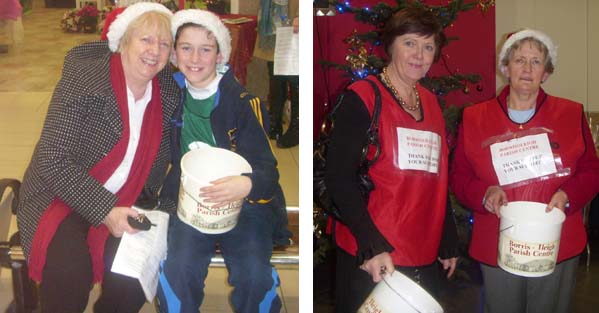 The Choir are singing once again in the Crescent Shopping Centre on
Saturday next December 18th from 2 pm to 6 pm.
All monies received will go towards the Community Centre.
Volunteers and helpers are more than welcome.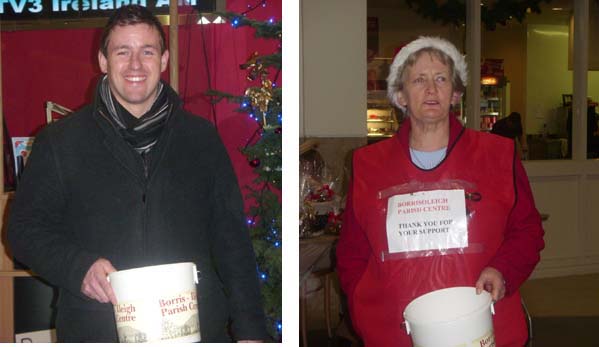 ---
Borris-Ileigh GAA News
The club are extremely grateful to all who contributed towards
the Church Gate collection recently.
Club merchandise is for sale, please contact 087 9439531.
North Scor na Og will take place on Friday 17th December in the Silvermines hall at 7.30pm.
The club held its A.G.M. recently and the following were elected for the coming year:
Chairman: Noel Maher
Vice Chairman:Diarmuid Kinnane
Secretary: Philip Delaney,
Assistant Secretary:Mary Stapleton
Treasurer: John Maher
P.R.O: Philomena Maher
Co.Board Rep:T.F. Stapleton
Insurance Rep: James Gould
Committee: P.J.Kiely,Tim Ryan,Joe Kennedy,John Vahey,Paddy Dolan,Joe Harkin,Phil Maher, John Keane,Carmel O Brien,Siobhan Stapleton,Michael Tierney, Jimmy Stapleton,Toby Kavanagh,Joe Loughnane,Denis Ryan.
Managers elected
Senior Hurling: Jim Williams
Junior A Hurling: Michael Tierney
U21 Hurling: Robbie Stakelum
Minor Hurling: Jimmy Stapleton.
Best of luck to all Managers for the coming year and to all involved.The club wishes a very Happy Christmas and a prosperous New Year to all its players,members,supporters and to everyone that is involved.We would like to thank all our lotto sellers and to all the people who buy tickets every week,also to the people who are in the Tipp GAA Draw.
The club extends its sympathies to the families and relatives of all
those who passed away during the year. Ar dheis de go raibh a
anamacha dilis.Mass for deceased members will take place on
Sat.29th.January 2011.

---
Greetings from Geelong, Victoria, Australia!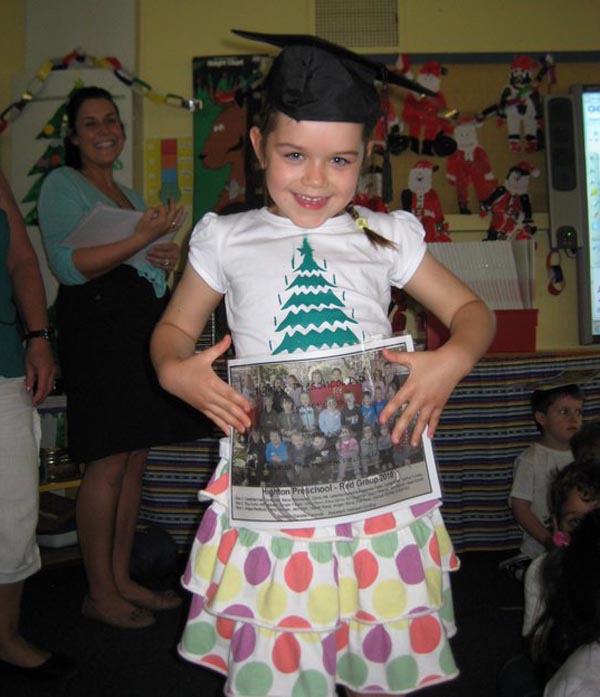 After a fantastic Aussie style Christmas concert Kenna Nolan graduated from Highton kindergarten. Concert songs included:
Santa's got the hiccups, G'day mate and I'm so excited cos Christmas is nearly here!
Kenna starts prep in February, after the Aussie summer holiday and is really looking forward to it!
Kenna's Nana is from Glenbreeda and her grandpa (Gandi) is from Cork and as such she has been taught to say "UP CORK" whenever the opportunity should arise!
---
Pic of the past….down memory lane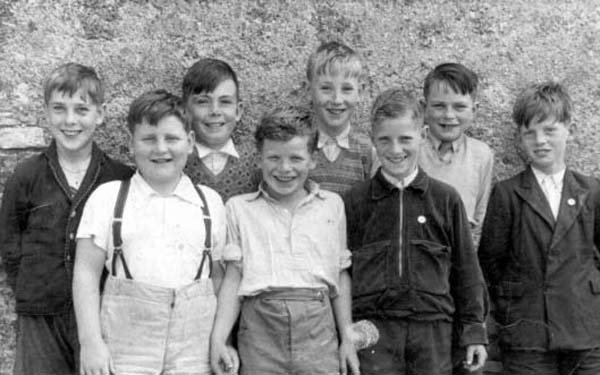 Late 1950s in the Boys' Old National School, Main Street
Back: Michael Delaney, Michael O' Meara, Ned Gleeson, Oliver Kent and Noel O' Dwyer
Front: Fitz Chadwick, Bill Carroll and Pat Harty
---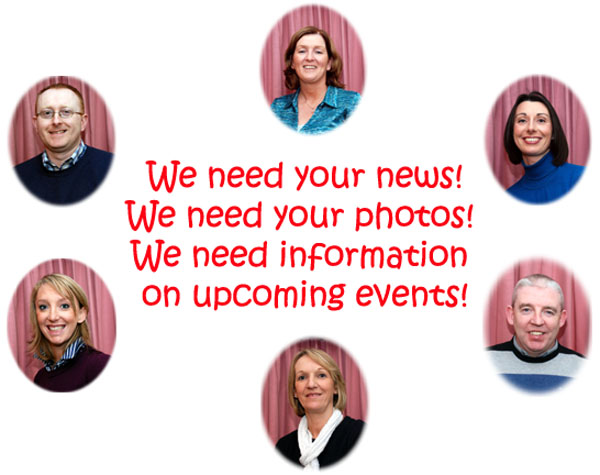 Website Committee: Enda Ryan, Noreen Fahy, Margaret Cowan, Aileen Óg Groome, Marie McGrath and Michael Barry
Many thanks to all those who contributed photographs and news items for this weeks current news. Well done!
Send your email to: info@borrisoleigh.ie
Also, if you like what you see and want to leave a comment, remember to use the Guestbook!

While we make every effort possible to ensure that the information contained in this Website is accurate and complete, we cannot accept any legal liability as a result of the inaccuracy or incompleteness of the information presented to users of this site.