Gathering once more at the Fountain!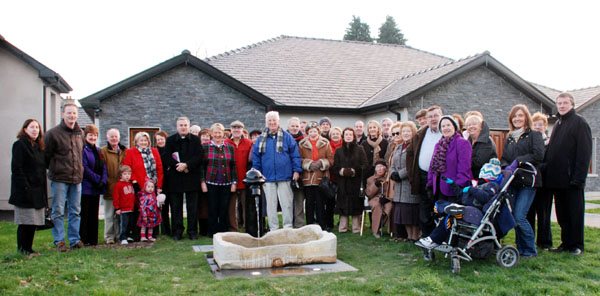 Gathering at the Fountain on Saturday afternoon last
It was 4 p.m. on 27th last. Snow flakes were falling with sub-zero temperatures prevailing. There were no animals or stalls to be seen. What then was a large gathering of people doing? They were here to unveil the refurbished fountain in its new location on the grounds of the Community Centre.
Jimmy Stapleton, on behalf of the Development Association, welcomed everyone and thanked the County Council for funding the project and Fr. Everard for providing the site.
Michael Delaney outlined the history of the fountain since its erection by the Thurles Board of Guardians 160 years ago. Fr. Liam concluded the ceremony with quotations form John O Donoghue (poet) and the Bible. He then blessed the fountain and all its users past and present.
As the water flowed once again everyone retired to the comfort of the new Community Centre where a welcome cup of tea was served up by the ladies of the various organisations.
Jimmy Stapleton sets the scene for the unveiling of the Fountain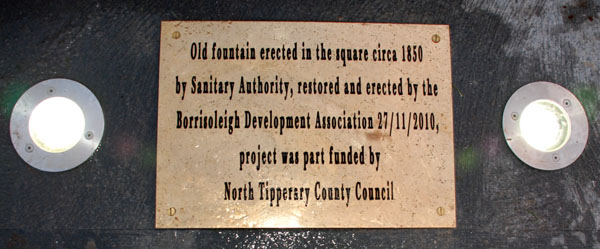 The Fountain Plaque detailing its history since 1850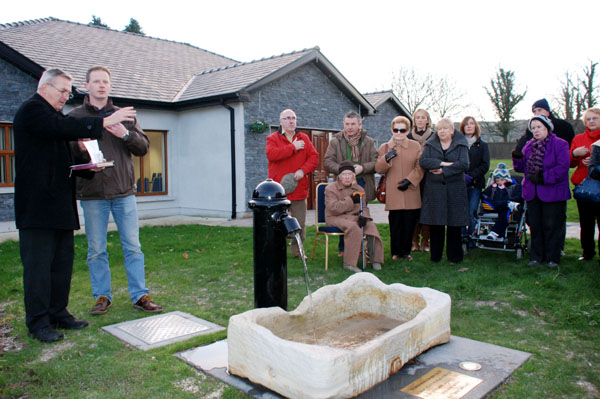 Fr. Liam Everard PP blesses the newly refurbished Fountain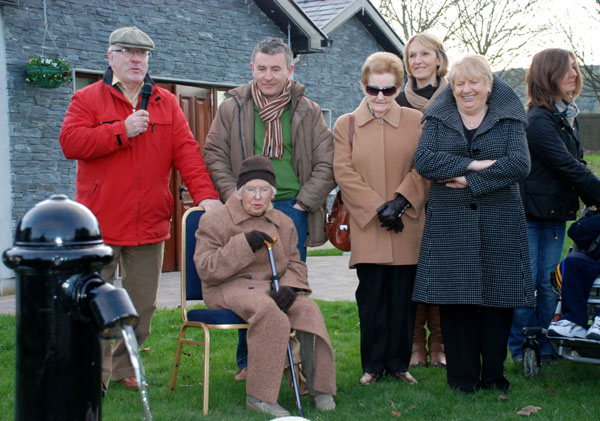 Michael Delaney gives the history of the Fountain and its pride of place in the Community of Borrisoleigh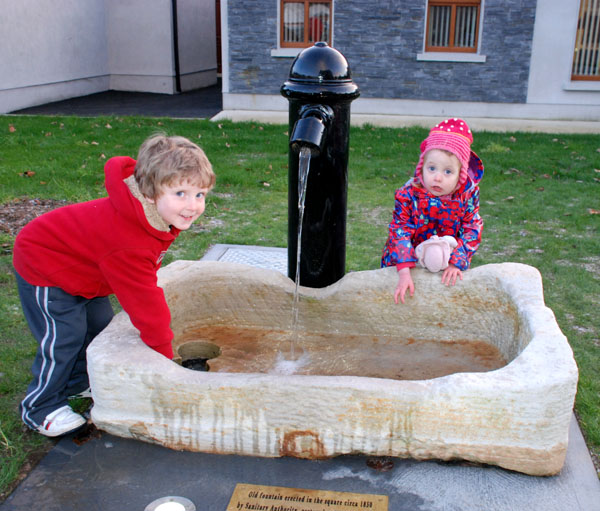 Cathal and Ava decide to give the Fountain a 'wet' run!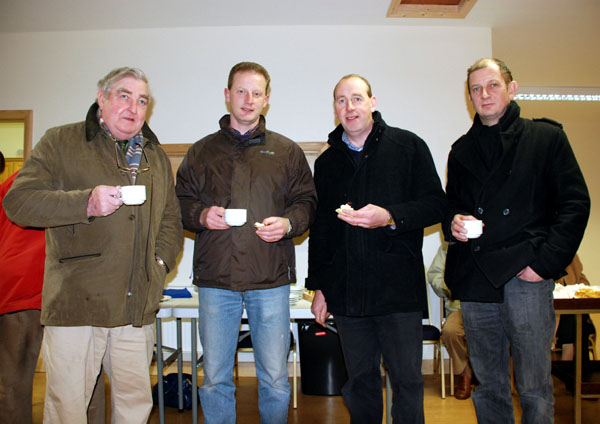 Albert Kelly, Jimmy Stapleton, Tom McGrath and Dave Carter enjoy a cuppa after the unviling ceremony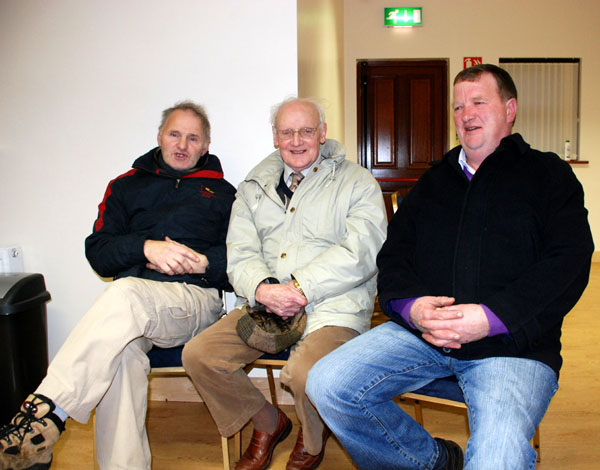 Paddy Dolan, Austin Kelly and Pat Kearney relaxing in the Community Centre last Saturday afternoon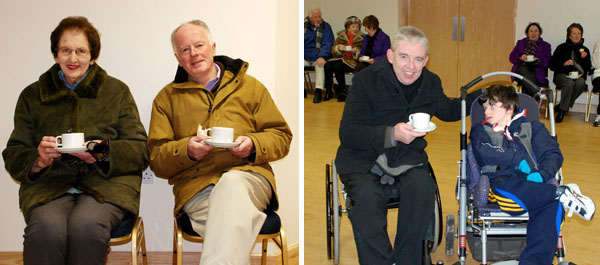 Teresa Coffey with Thomas Russell and Fr. Michael with Connie at the Community Centre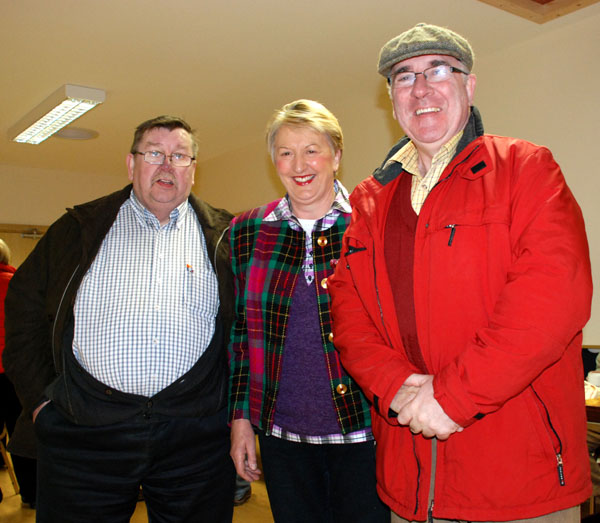 Mick Small, Nancy Lynch and Michael Delaney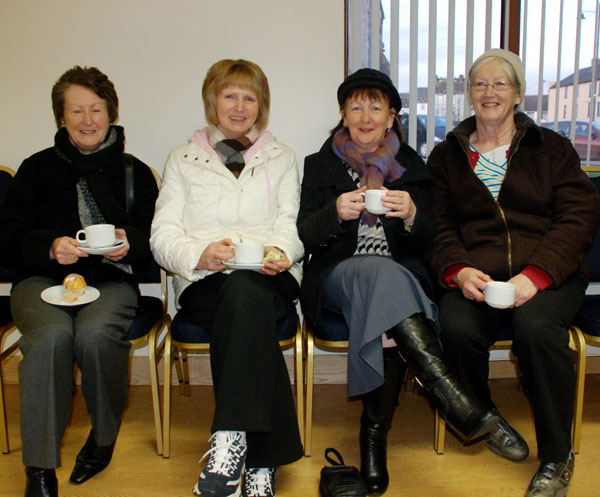 Maidy Duignan, Nora Ryan, Biddy Stapleton and Delia Ryan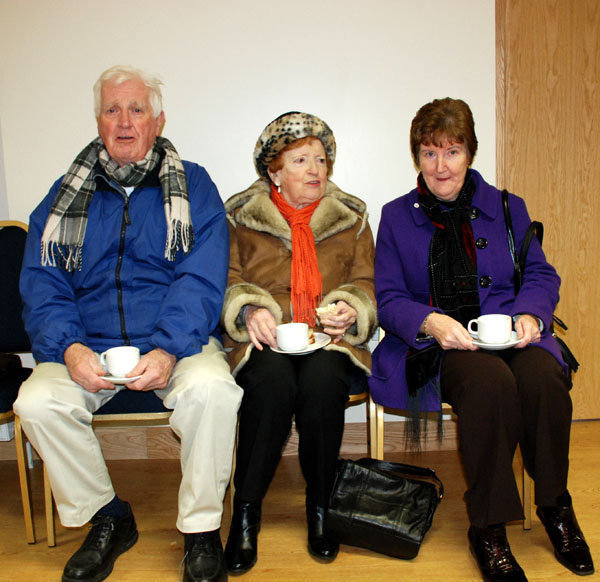 PJ & Mary Ryan with Sheila Ryan
---
Borrisoleigh AFC "Projector Party"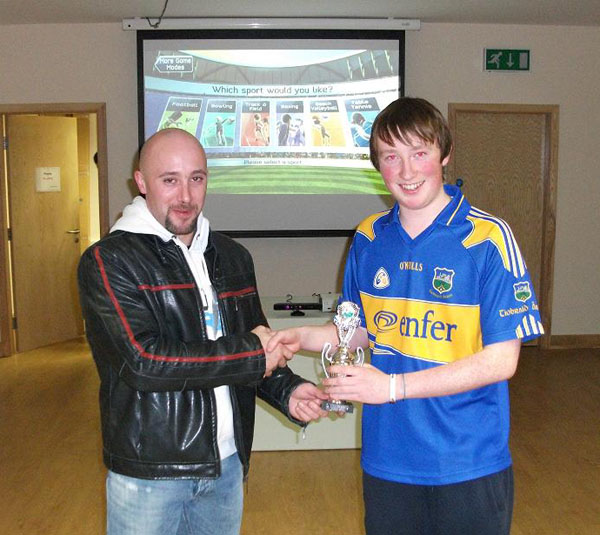 David Butler congratulates Tommy Mockler on his win
Last Friday night saw Borrisoleigh AFC and "Projector Party" combine to host a FIFA 2011 tournament in the new parish centre. A singles and doubles competition saw plenty of competition between gamers with high scoring classics and a few tentative 0-0 draws, a quarter final pairing between John Fogarty and Cathal O Connell standing out probably as one of the games of the tournament. The doubles final title was taken by Rory and Danny Ryan beating Paidi Scanlon and Denis Ryan. Denis Ryan also appeared in the singles final but again came up short against Tommy Mockler, who took the singles title. Many thanks have to go to Barry Walsh and Seán Ryan who, in their maiden adventure as Projector Party, provided a very novel way of passing an evening. We wish them the best with their recession busting business in the future.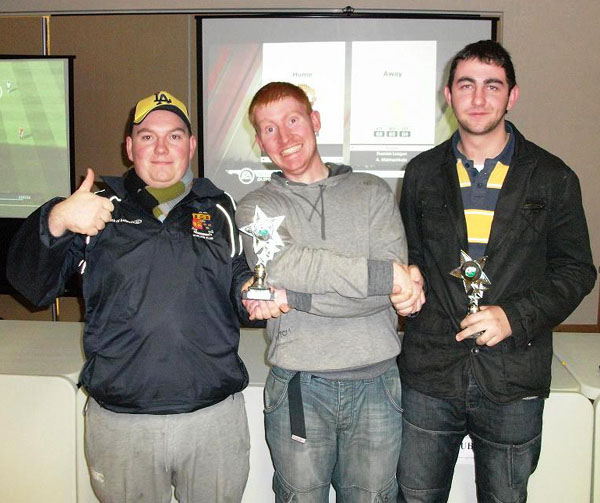 Gerry lends both hands to the Rory and Danny!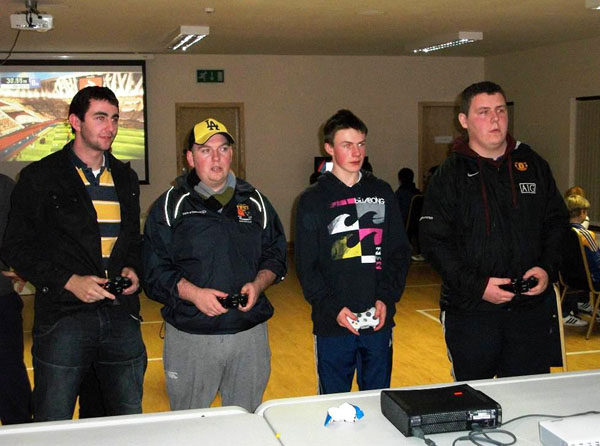 All eyes on the ball boys!
Danny Ryan, Rory Ryan, Paidi Scanlon and Denis Ryan enjoying the game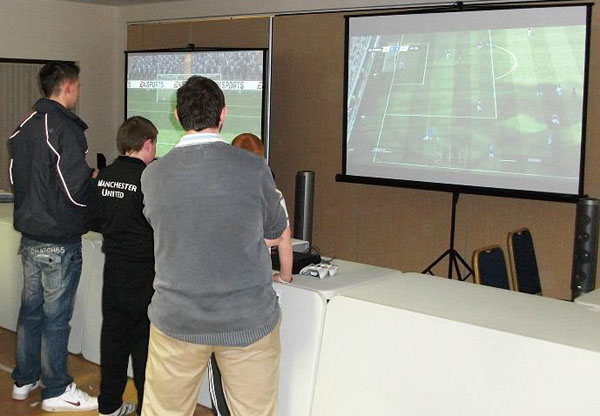 The view from the sideline at the 'Projector Pary' in The Community Centre last Friday night!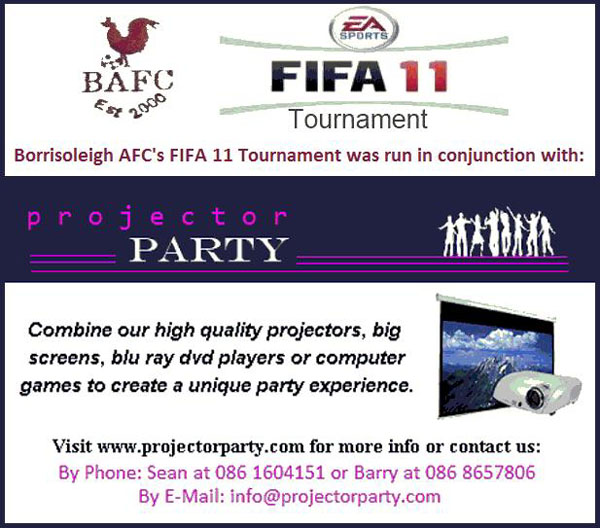 ---
Trad Night at Finn's Bar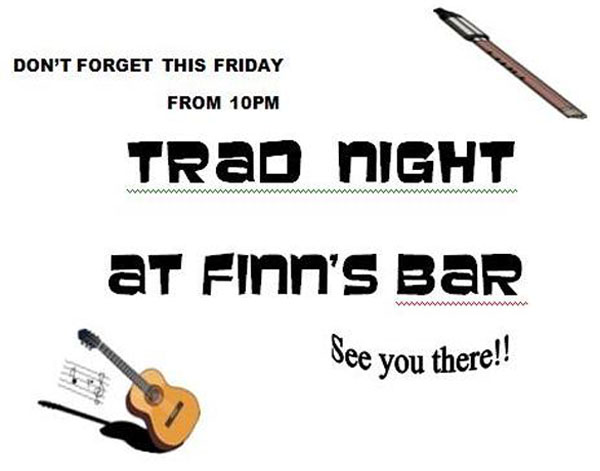 ---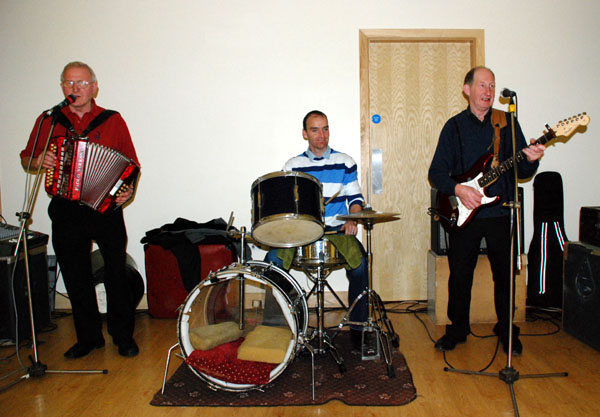 'The Catle Trio' in full flight at the Fair of Borris Dance in the Community Centre last Saturday night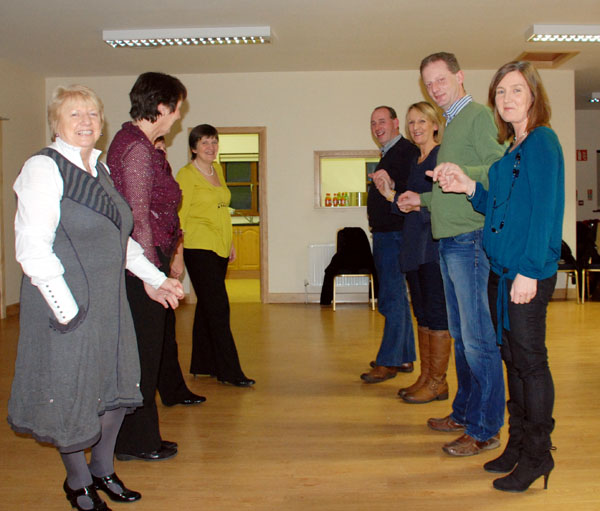 One step, two step, three step, four!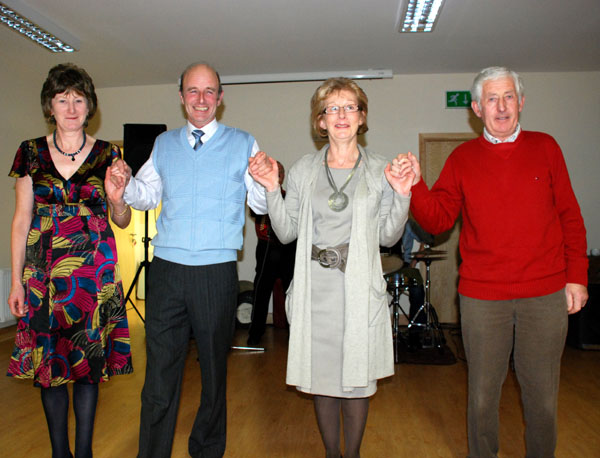 Angela and Martin Corcoran with Josephine and Pat Kennedy at the Fair of Borris dance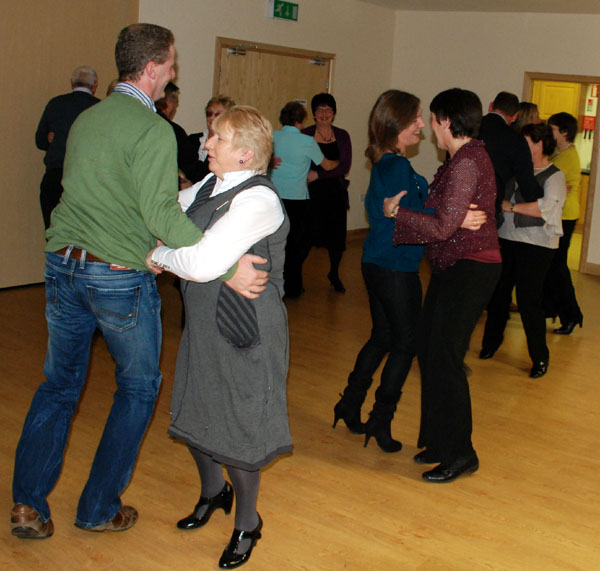 Aound the house and mind the dresser!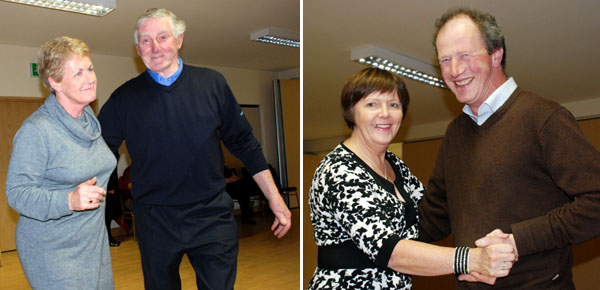 Ann Small with Jimmy Ryan & Catherine and Martin Ryan

Mai and Pat Ryan & Martin and Angela Corcoran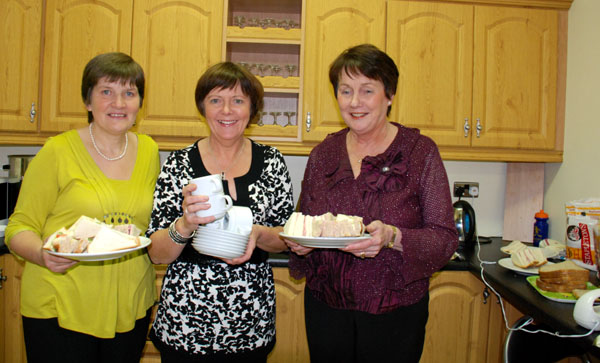 Teresa, Catherine and Mairead ready to feed the masses!
---
Calenders for Haiti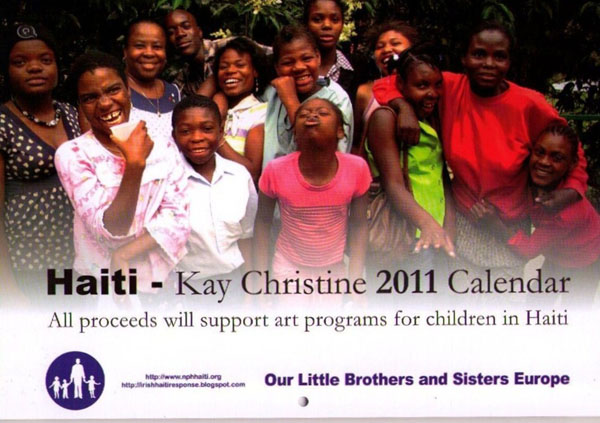 2011 calendars for sale in aid of Kay Christine home in Haiti. Kay Christine is a home for Special Needs Children and is run by Gena Heraty from Mayo who has been in Haiti since 1993. Gena also works to provide outreach services to children with disabilities and she recently received a REHAB International Person of the Year Award for her tireless work for the Haitian people.
Calendars are €10 each and are available from Geraldine Delaney at (086) 2240174. Your support would be greatly appreciated.
---
Retirement of Mrs Susan Hoare

To All Parishioners and Past Pupils of St Theresa's National School

After 38 years of service in St Theresa's National School, Borrisoleigh, Mrs Hoare has retired. To show our appreciation for her hard work and dedication over the years, it is planned to have mass on Friday 10th December @ 7.30pm followed by refreshments in the Community Centre. If you wish to be associated with the night in any way, please contact one of the following:

Marisa Kinane @ 086 0681131
Triona Fitzgerald @ 087 6522976
Elaine Ryan @ 087 9184809
Kathleen Ryan, O'Connell's Pharmacy @ 0504 51132 (W) 0504 52307 (H)

We are currently looking for old school photos spanning Mrs Hoare's career, should you have any, please put your name, address and phone number on the back of same and forward to any of the names mentioned above.
We look forward to seeing you all on the night.
---
Thurles Cancer Support Group


The Thurles Cancer Support Group is a support group for people who have had a cancer diagnosis. Family, relatives and friends are welcome.
The purpose of the meeting is to give members an opportunity to meet other members, chat and have a cup of tea or coffee and to support others in a similar situation.
The group meet on the 1st Tuesday of each month.
Next Date: Dec.7th, 2010
From 11.00 to 12.30
In
"Suir Haven"
Thurles Cancer Support Centre
Clongour Rd.,
Thurles.
Any further enquiries: Tel: 0504 21197

Volunteers are an essential part of our team. Our services are continuing to grow and accordingly we always need additional volunteers. We also look for volunteer services from trained and accredited complementary therapists and counsellors. Please contact us if you feel that you can give some of your time to helping out at Suir Haven. You will be very welcome.

---
Helping those bereaved by Suicide


Thurles Lions Club is association with the HSE will host a Suicide ASIST course in Thurles on February 24 & 25, 2011. ASIST is a 2 day skills based workshop that helps prepare individuals of all backgrounds to provide emergency first aid, life assisting interventions to persons at risk of suicide. The aim of the program is to increase the ability to promote the immediate safety of someone who may be at risk of suicide and providing links to further help. Any one interested in finding out more about participating in the workshop may contact Thurles Lions Club at
thurleslionsclub@gmail.com
or any member of the club.
---
Hilary Louis Doyle from 1 Ballygihen Villa Sandycove Road Dunlaoghaire Co. Dublin is looking for information regarding his family tree. He writes:
Daniel Fogarty born in Monroe in 1810 was an ancestor of mine. He moved to work in Dublin about 1830. The family tree of his descendants is now fairly complete. However, I have no information about his brothers or sisters. A further puzzle concerns a detailed family tree and papers that I received from a cousin in the USA. The tree was prepared by John J Fogarty (1881). His parents were Daniel Fogarty and Catherine Long. The family ran a Drapery and Newsagent business in Borrisoleigh. His sister Julia married John Keating of Curraghgloss. My mother's generation had frequent contacts with this family but I have not yet established how we are connected. I would be delighted to swop information with any interested parties. Email me at hdoy@indigo.ie or Tel: 087-2350833
Michael Stapleton from The United States writes:
Hi, I am from the United States and I am trying to track down the parish and town my family originates from in Ireland. My ancestor was Patrick Stapleton b. 19 Jan 1796 (or 1799) in Co. Tipperary. His father was John Stapleton b. around 1770 and mother was Bridget Fahey b. around 1774. He married Carolene Stapleton (unfortunately I don't have her maiden name). They immigrated to the US in the 1830s and settled in Erin, WI. Any assistance that anyone may have in seeing if Patick may have been from anywhere around Borrisoleigh would be appreciated. Email me at: michael.stapleton@gmail.com


---
Pic of the Past…Down Memory Lane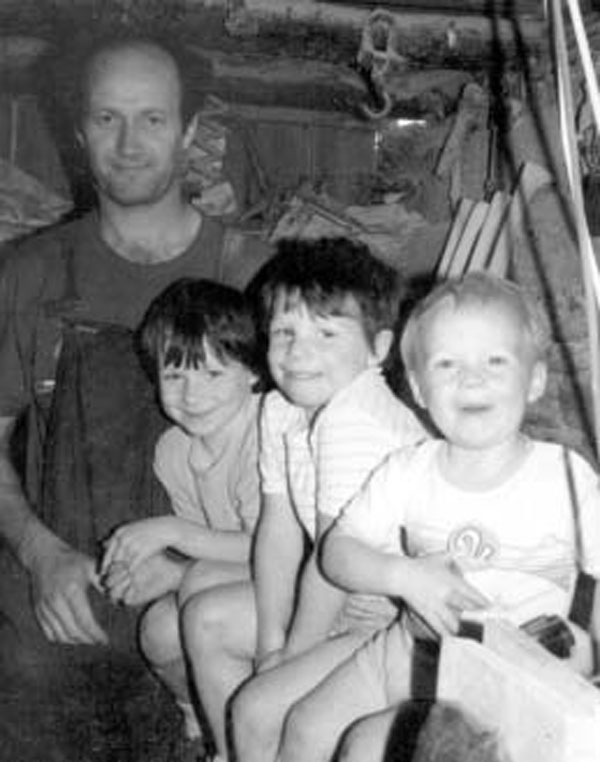 John, Shane, Timothy and Pathrick Stapleton in days of old!
---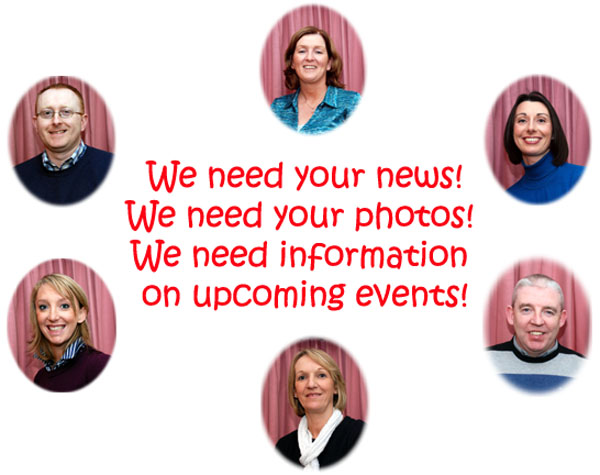 Website Committee: Enda Ryan, Noreen Fahy, Margaret Cowan, Aileen Óg Groome, Marie McGrath and Michael Barry

Many thanks to all those who contributed photographs and news items for this weeks current news. Well done!

Send your email to:
info@borrisoleigh.ie
Also, if you like what you see and want to leave a comment, remember to use the Guestbook!

While we make every effort possible to ensure that the information contained in this Website is accurate and complete, we cannot accept any legal liability as a result of the inaccuracy or incompleteness of the information presented to users of this site.