CAVA Awards Ceremony in Community Centre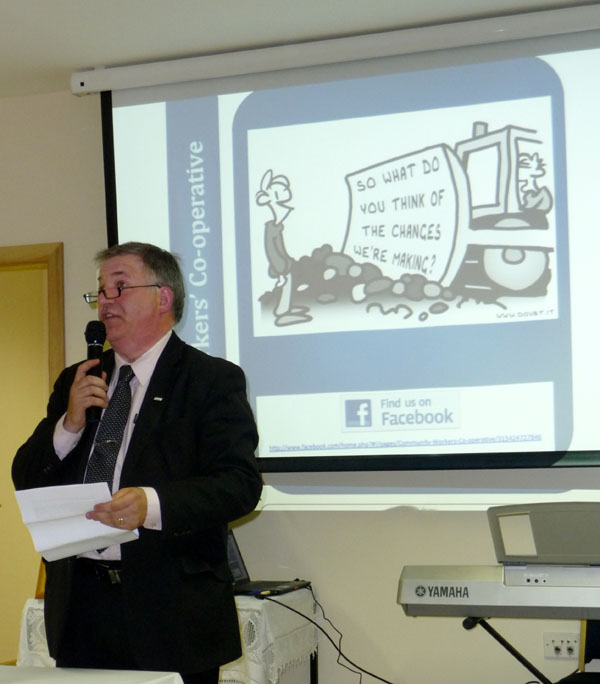 Prof. Gerry Boyle (CEO of Teagasc) gives the key note speech at the North Tipperary CAVA awards held in the Community Centre on Friday last 19 Nov. The awards pay tribute to the various voluntary groups that work for the betterment of their local communities across the North Tipperary region.

Fr. Liam gives his rendition of 'Hard Times Come Again No More' at the Awards Ceremony held in the Community Centre last Friday night while Frances Kennedy receives a bouquet of flowers on behalf of the Community Centre Management Committee from Noreen Leamy the organiser of the event.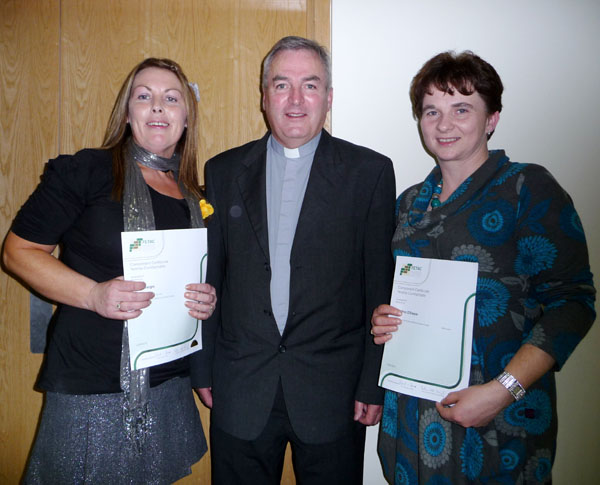 Sinead Bergin and Christina O'Dwyer being congratulated by Fr. Liam Everard PP on achieving their FETAC level 5 Certification in Community Addiction Studies. The Certificates were presented to Sinead and Christian at the CAVA Awards ceremony in the Community Centre last Friday night 19 Nov.

---
Happy 21st Birthday Sarah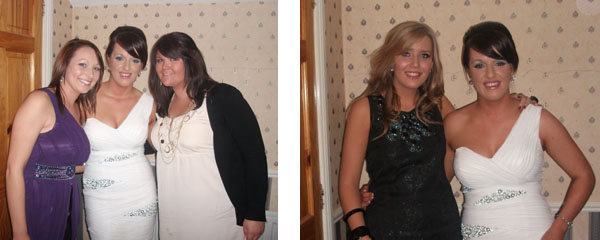 Sarah Cowan pictured here with her friends Sarah, Shauna and Elaine last Saturday night during her 21st birthday celebrations in Stapleton's Bar. Happy Birthday Sarah.


Sarah enjoying the birthday celebrations with her boyfriend Cathal and brother Ciaran
.


Some college friends from Sligo joining in the celebrations.
---
Coffee Morning at the Community Centre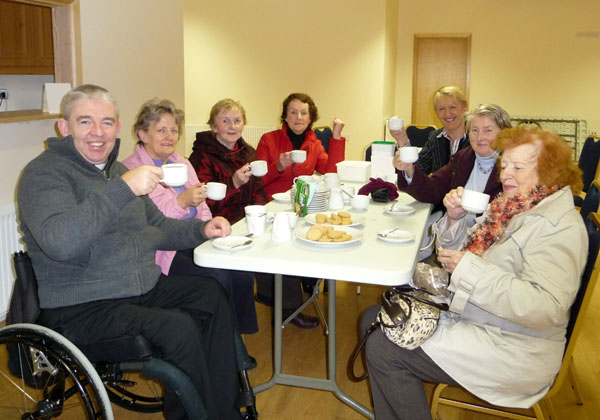 Each Thursday morning after the 10.30 Mass parishioners are invited to pop into the Community Centre for a cuppa and a chat. Pictured here are a few of the locals sharing a cuppa and discussing the issues of the day!

---
St. Vincent de Paul Society

A new conference of the St. Vincent de Paul Society has be formed in Borrisoleigh.
Any inquiries can be made by contacting 086 8951926 or by letter to
St. Vincent de Paul, c/o The Community Centre, Pallas Street, Borrisoleigh.
A Church gate collection will be held on the weekend of Dec 4th and 5th. Your generosity would be greatly appreciated.

---
Borris-Ileigh Juvenile GAA Club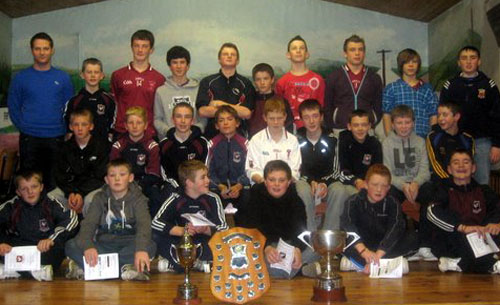 Paddy Stapleton pictured with the Borris-Ileigh U14 Hurling Panel North and County champions 2010 at the Juvenile Club medal presentation.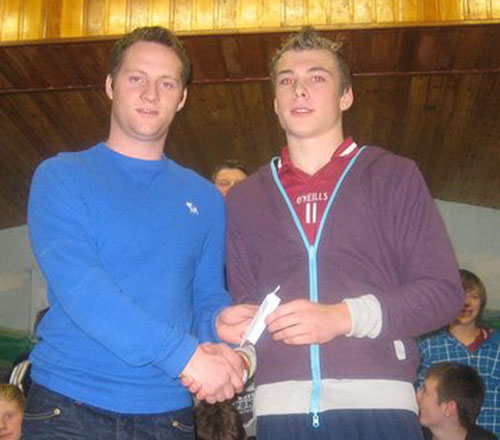 Sam U14 captain makes a presentation on behalf of Borris-Ileigh Juvenile Club to special guest Paddy Stapleton at the Juvenile Club medal presentation.
The U14 Hurling North & County medal presentation took place in the Marian Hall last Friday 19th. November. Borris-Ileigh and Tipperary hurling star Paddy Stapleton presented the medals to the players. Paddy stressed the> importance to the young players of training and maintaining their interest in hurling and building on their success. He also outlined the important role that parents had in ensuring their child's continued interest in sport. Each player was presented with a commerative program compiled by Brendan Kenny. A slideshow of photos taken by Michael Ryan during the year and put to music was also prepared and played by Brendan to the attendance which captured perfectly the committment, enthusiasm and skill of the 2010 U14 hurling panel. Thank you to Michael Ryan for the his photography during the year. Shane Kenny and Kieran Maher who were members of the North Division panel were also presented with their winning Peadar Cummins tournament medals. Chairman, Michael Carey, outlined the progress made by the club at all age groups this year and the acknowledged the work and commitment of the trainers involved. He also thanked the parents for their help and support throughout the year also outlined the importance of that support and the support of the local community in helping the juvenile club to succeed. He also thanked the local business's who provided sponsorship throughout the year, Borris-Ileigh Senior club officers and committee and anyone who helped in any way with the teams. The juvenile club would also like to thank the Marian Hall committee for the use of the Marian Hall. Thanks also to the parents who provided the refreshments that were served > on the night. Our activities for the year have now finished and will resume in 2011 with the AGM.

---
Happy Birthday Darragh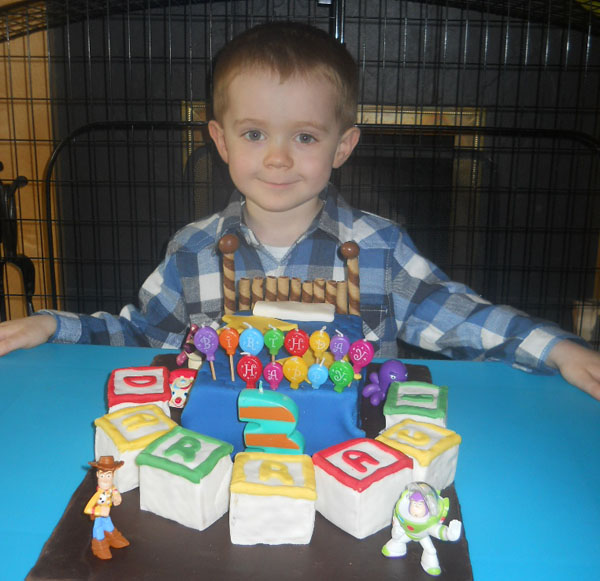 Darragh celebrated his 3rd birthday last Thursday. Happy Birthday Darragh.

---
Deputy Noel Coonan Receives Assurances that Borrisoleigh's CWO will be Reinstated in the 'Very Near Future'


Deputy Noel Coonan has been informed that Borrisoleigh's Community Welfare Officer will be reinstated from Templemore to Borrisoleigh in the 'very near future' as suitable accommodation is being finalised for the move.
The local Fine Gael TD has constantly questioned Health Minister Mary Harney on this issue ever since the Borrisoleigh CWO was removed from the area in 2008 when the HSE deemed the accommodation unsatisfactory from a health and safety prospective and no other HSE premises was available at the time. Almost 170 people from Borrisoleigh then signed a petition calling for the officer to be reinstated.
"For the last two years I have been calling on the Health Minister to address this issue as a matter of priority. The moving of the CWO to Templemore was a regrettable inconvenience for people who could not drive or who relied on a public transport service to Borrisoleigh which is non-existent," said Deputy Coonan.
"I'm disappointed that the Government discommoded so many people for so long in Borrisoleigh and I will continue to lobby the Minister until this issue is completely resolved. Unfortunately the HSE, in response to my parliamentary question, failed to outline a definite date for the return of the officer who currently offers a clinic twice weekly and whose service is invaluable in these financially strained times," concluded Fine Gael's Deputy Agriculture Spokesperson.

---
On holiday from Canada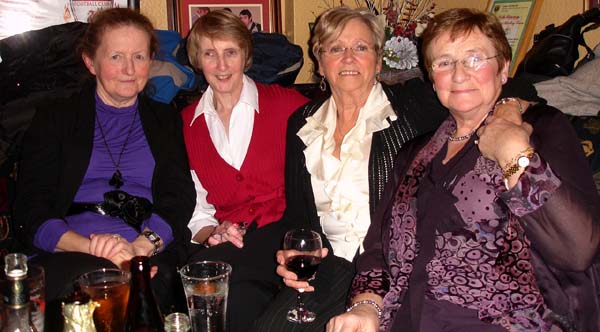 Margaret Wheatling with Anna Ryan, Kathleen Ryan and Mary Tierney enjoying a night out in Stapletons. Fred & Margaret Wheatling recently spent 6 weeks home on holiday from Canada visiting family and friends. Margaret is a sister of Connie Ryan (Coohaun) and Fred is a native of Roscrea. Margaret loves to keep up to date with the local news on the Borris website – now she's part of the news herself!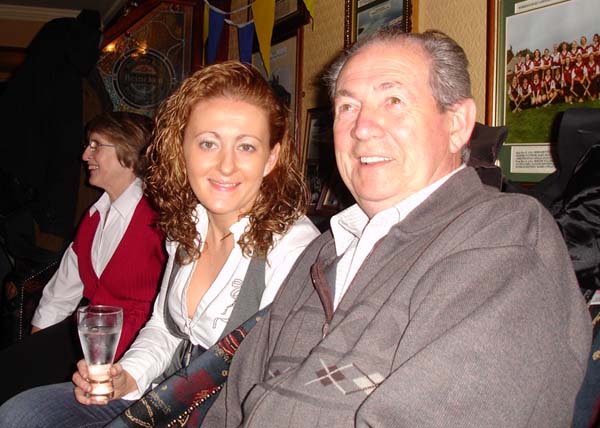 Marguerite Ryan is pictured with Fred Wheatling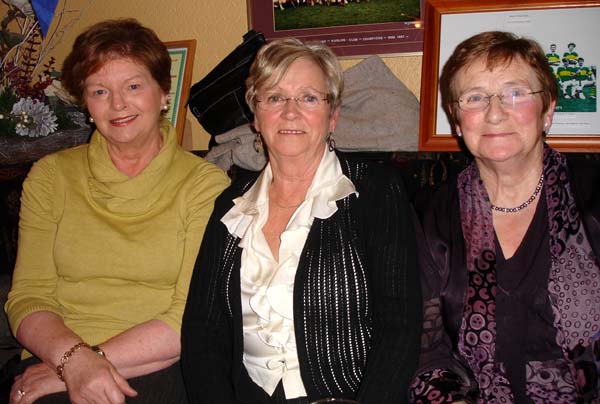 Hannie Devaney with Margaret Wheatling and Mary Tierney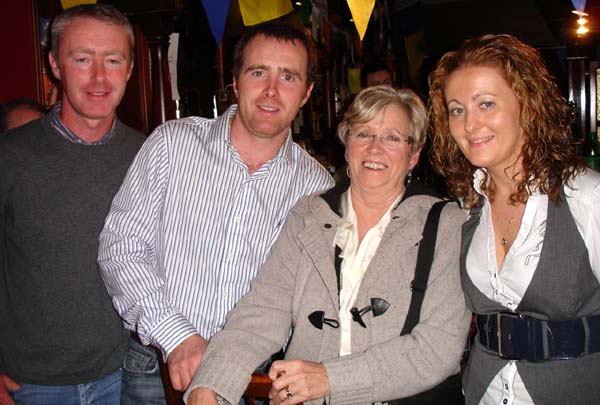 Margaret Wheatling with Conor, Timothy and Marguerite Ryan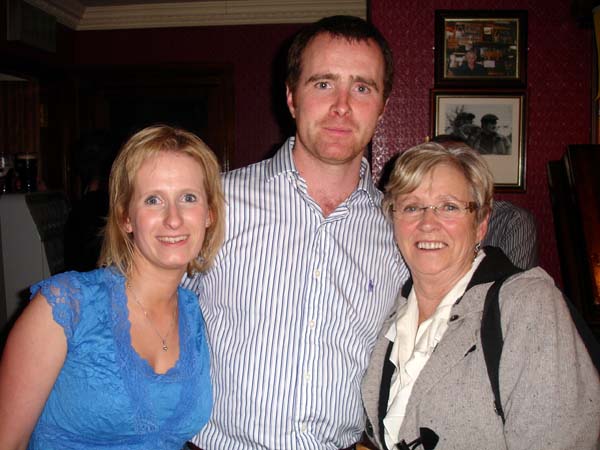 Margaret Wheatling with Timothy and Marie Ryan

---
Borris-Ilegh GAA News

The club are extremely grateful for all who contributed towards the church gate collection recently.
Our AGM will take place in the pavillion on Sat.11th. Dec 2010 at 8.30.pm. Motions and nominations to be with our club secretary Philip Delaney on the 4th.Dec.closing time 10.pm.
Congratulations to Brendan Maher on getting North Senior player of the year. North Scor na Og will take place in Ballina on the 4th Dec at 7.30pm.
Club merchandise is for sale contact 087 9439531.
The club extends its sympathies to the families and relatives of those who passed away recently.Ar dheis de go raibh a anamacha.

---
McCarthy Cup comes to Cullohill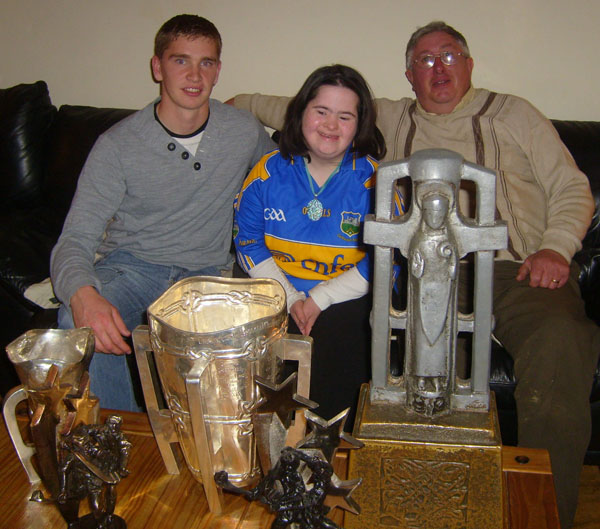 Brendan Maher with his friend Breda Farrell and her Dad Jimmy when they called recently to his home to view the Liam McCarthy Cup. Also on display is the Cross of Cashel trophy, Munster U/21 Cup, his All-Star award and his Young Hurler of the Year award.'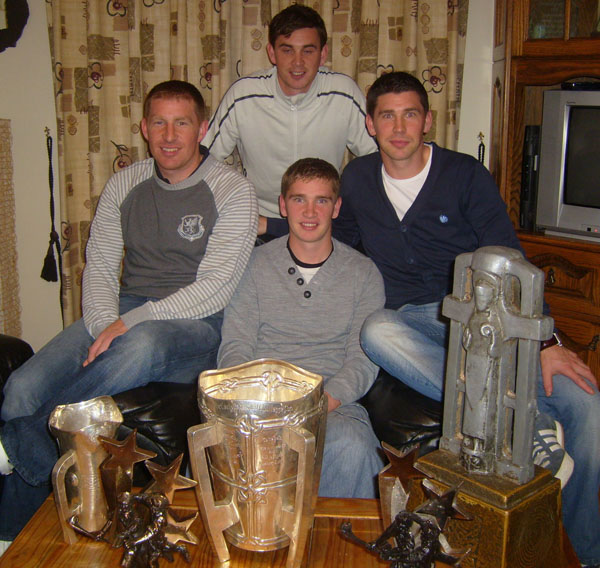 Brendan seen here with his brothers Sean, Martin and Declan.

---

Soccer Club Notice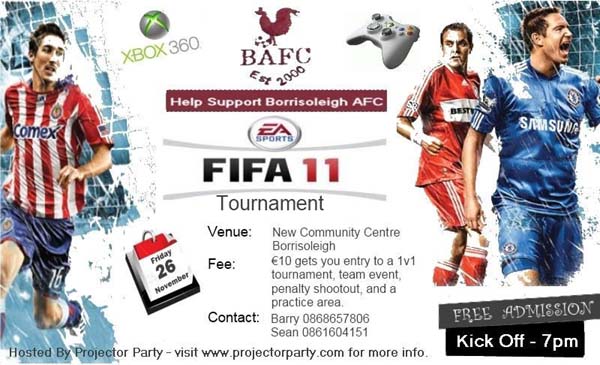 ---
Lucozade Sports Seminar on Nutrition


Nutrition – Feeding Performance
Tuesday 7th December 2010

Abbey Court Hotel, Nenagh

7.00pm – 9.00pm

North Tipperary Sports Partnership is hosting this seminar, developed and delivered by the National Coaching & Training Centre and Lucozade Sport. This sports education programme, offers clubs and sporting organisations an opportunity to access free education designed for regional standard athletes, players and level 2/3 coaches in the area of sports science.
This seminar will highlight the following topics:
– Feeding Performance
– Why is food important?
– Increasing Muscle Mass
– Timing of nutrient intake
– Type of Food
– Dental Health
– Fact Sheet Summary
Whether you're working with underage or seniors players there will be plenty of relevant information for you to take from this seminar
This is a two hour workshop followed by 15 minutes for questions and answers. If you are involved in a sport, coaching or a selector, this seminar is a must for your club.
Presenter: Brian Murray

This Course is open to everyone free of charge. To book a place, please, contact North Tipperary Sports Partnership office – Elaine/ Sharon on 067 43604.
All Lucozade Sport Education Programme factsheets are available for download at: www.coachingireland.com/lucozade_factsheets

---
Marian Hall Lotto
23/11/2010

Numbers: 13, 18, 23, 25

No Winner

2 Match 3 @ €75

Margaret Griffin c/o Bingo
Noreen Dunne, Thurles

Next Week's Lotto Jackpot

€5,000
---
Borris-Ileigh GAA Lotto

Thursday 16th November

Jackpot: €6,600 (Not won)

Numbers: 2, 5, 8, 19

€50 Lucky Dip winners:

J.J. Rusk, Kilfithmone
Joe Kenny, No 19 Cnoc Neibhin
Mary Walsh, Chapel Street
Liam Flanagan c/o T.F. Stapleton

Next draw: Thursday 25th November in Stapleton's (Cross of Pallas)

Jackpot: €6,800

---
Pic of the Past…Down Memory Lane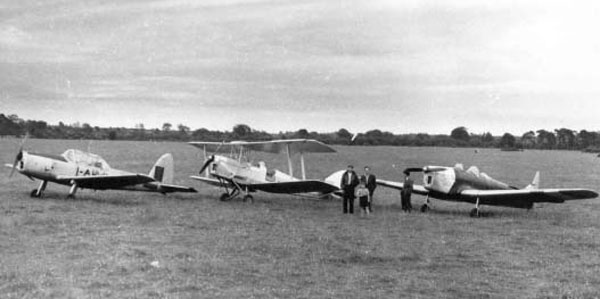 A Familiar Sight in the 1960s
Aeroplanes landing at Garrane on Cooke's farm.
---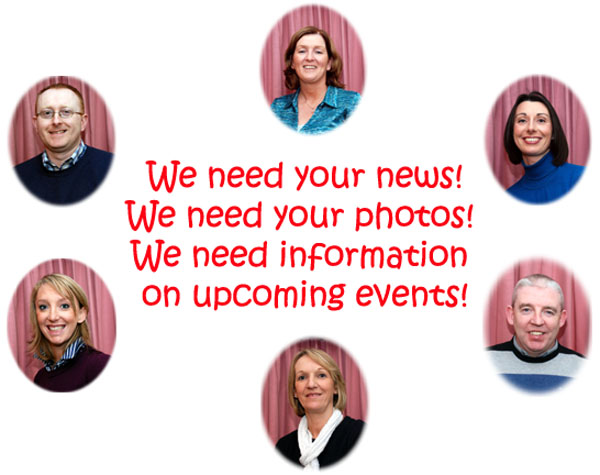 Website Committee: Enda Ryan, Noreen Fahy, Margaret Cowan, Aileen Óg Groome, Marie McGrath and Michael Barry

Many thanks to all those who contributed photographs and news items for this weeks current news. Well done!

Send your email to:
info@borrisoleigh.ie
Also, if you like what you see and want to leave a comment, remember to use the Guestbook!
While we make every effort possible to ensure that the information contained in this Website is accurate and complete, we cannot accept any legal liability as a result of the inaccuracy or incompleteness of the information presented to users of this site.