Borrisoleigh Camogie Club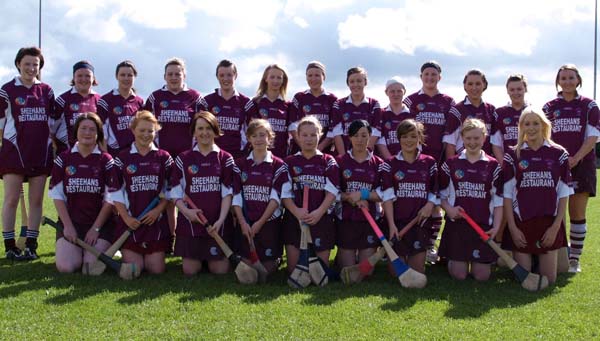 Our Junior Camogie team are into a County Semi Final which takes place this Sunday the 10th of October against Kilruane at 11am in the Ragg Camogie Field. Your support would be greatly appreciated as this is a big day for the club. The best of luck to the team and to the management. We would encourage all to keep their flags flying and the Borris colours on show in support of the girls!!!

---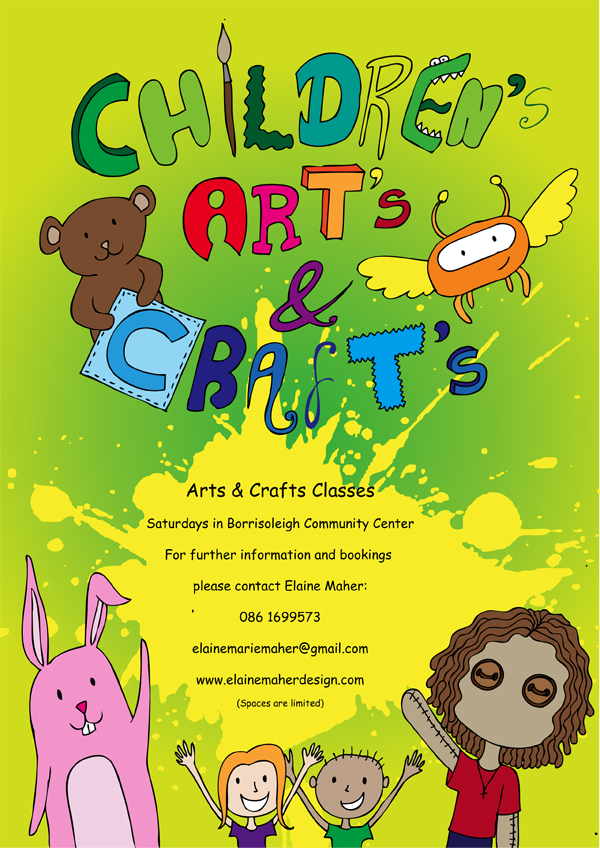 ---

Borrisoleigh Community Complex

Launch Night

of the popular game show
Who wants to be a thousandaire?


Stapleton's Bar
Thursday 21st October at 8:30pm


Come along and enjoy a preview of what's to come!!

Great fun to be had by all!
---

Harry Joes Golf Society
Mick Cowan Perpetual Trophy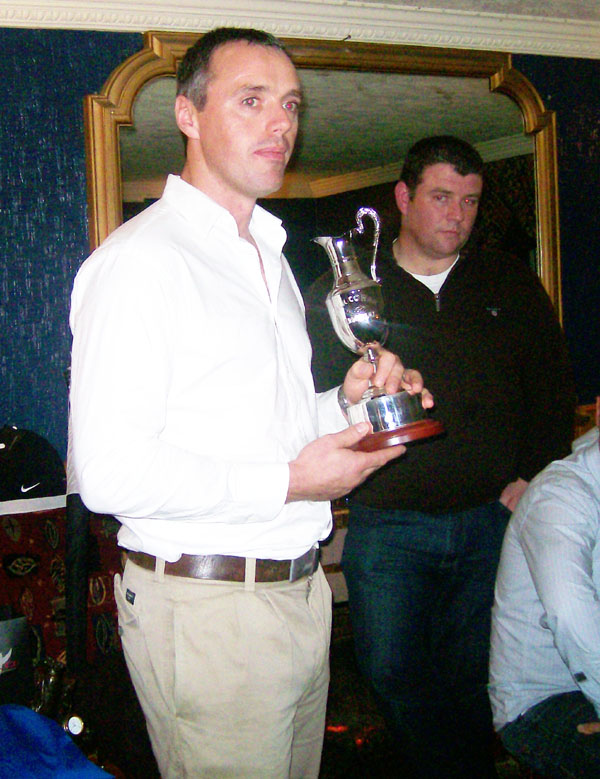 Aidan Cowan presents The Mick Cowan Perpetual Trophy to Harry Joes Golf Society Captain, Mark Rabbitte
Harry Joes Golf Society brought the curtain down on another successful year on Saturday 2nd October last when almost 60 golfers, armed with wet gear and umbrellas, took part in the final outing of the year at Nenagh Golf Club. This was no ordinary outing though as it was the first time we played for the innaugural Mick Cowan Perpetual Trophy — a beautiful replica trophy of the British Open Claret Jug — presented by Breed and the Cowan family to honour the memory of the late Mick, our friend and colleague who passed to his eternal reward earlier this year. Mick was the first President and an integral part of our golf society and following his passing it was felt that it was only right to honour the huge contribution he had made to the society over the years. This is where Breed and her family stepped in with the presentation of the Mick Cowan Perpetual Trophy to the society and this outing is sure to become a most prestigious one in the years to come.
The fact that almost 60 golfers, including a large number of visitors, took to the fairways last Saturday bore testiment to the esteem Mick was held in by everyone and it was easily our largest turnout for an outing for many years. Conditions for the most part were good but one can't help thinking that 'the bould Mick' may have had some part to play in a 45min deluge that fell midway through the round making conditions a little more trying. Whoever was going to win Mick's trophy was going to do it the hard way!!! In the end it was Jody Harkin who came out on top with a great score of 40pts and thus completing a very fine double having already won the Captain's prize in July in what was a memorable golfing year for him Second place fell to Aidan Cowan after a storming back nine while Noelie Maher and Joe Tynan completed the top four placings.
With business on the course concluded, everyone returned to Stapleton's Bar where Aidan Cowan handed over the Mick Cowan perpetual trophy to society captain Mark Rabbitte. Paying tribute to his dad Aidan said that Mick "loved the golf and with him it was never about who was the best golfer but that everyone got out and enjoyed playing the game."
Following this Mark Rabbitte presented prizes for 10th to 2nd place and also to Willie 'Sir Alex' Stapleton for nearest the pin and to Martin Fahy for longest drive. Mick's lifelong friend Jim Egan was then called on to present first prize in both visitors and member's categories. Before presenting the prizes Jim said that he was honoured and privelleged to be asked to present Mick's trophy for the first time and said it was a very fitting way to remember a remarkable man. Jim then presented Noel O' Dwyer first prize in the visitor's category before handing over the Mick Cowan Perpetual Trophy to a very deserving Jody Harkin, who also paid tribute to Mick in his acceptance speech.

This brought the official proceedings of the night to an end but there was many more hours of craic, chat and stories, many of which i'm sure were about Mick himself. To Breed and the Cowan family our heartfelt thanks for putting up the trophy and prizes for the day and helping to make it such an enjoyable outing. While it is natural that the occasion was tinged with some sadness in the fact that Mick is no longer with us, the establishment of this perpetual trophy will ensure that fond memories of Mick Cowan will be recalled every time this trophy is competed for — hopefully for many generations to come.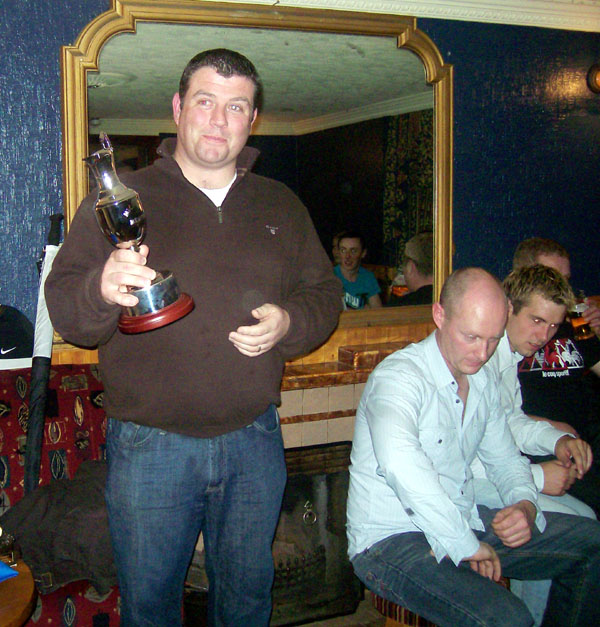 Mark Rabbitte admires the Mick Cowan Perpetual Trophy which was presented to Harry Joes Golf Society by the Cowan Family in honour of Mick Cowan who was one of the founding members of the Society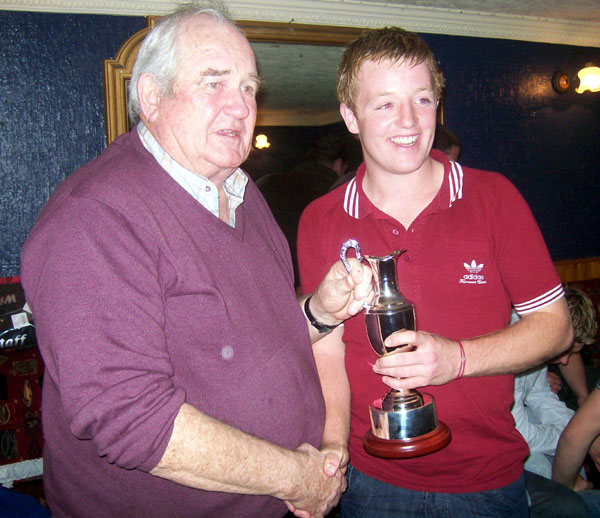 Jim Egan from Kiladangan, long time member of Harry Joes and close friend of Mick Cowan's presents the Trophy to Jody Harkin winner of the competition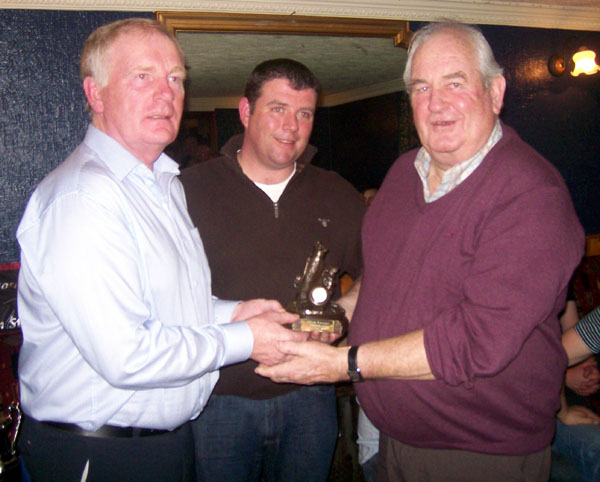 Jim Egan presenting the visitor's prize to Noel O'Dwyer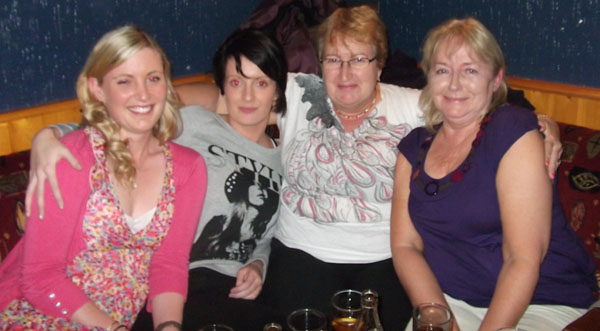 Margaret Bourke, Leona Bourke, Helen Bourke and Philiomena Maher enjoying the night
For more photos of the presentation night click here
---

St. Patrick's B.N.S.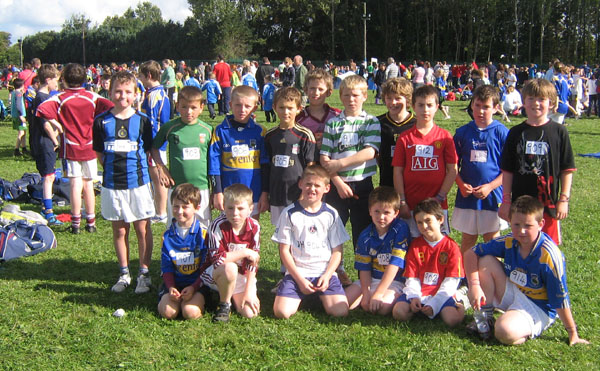 Twenty seven athletes from St. Patrick's BNS had a very enjoyable day at the County Cross-Country Championships which were held in Thurles on Wednesday, September 29th. This annual event is attended by schools from all over Tipperary and over 2,000 Primary School children from 3rd-6th class participated on the day. All our athletes performed well and at the end of the day we were delighted to discover that we had been awarded first place in the 3rd & 4th class team event in our category! Our 5th & 6th class boys also did us proud by finishing in 2nd place in their event!
Our gold medal recipients were Kevin Maher, Seamus Ryan and Dan Ryan while our silver medalists were Aaron Rabbitte, Alex Smyth and John Ryan. Well done to all concerned!



It's aTeam effort!!!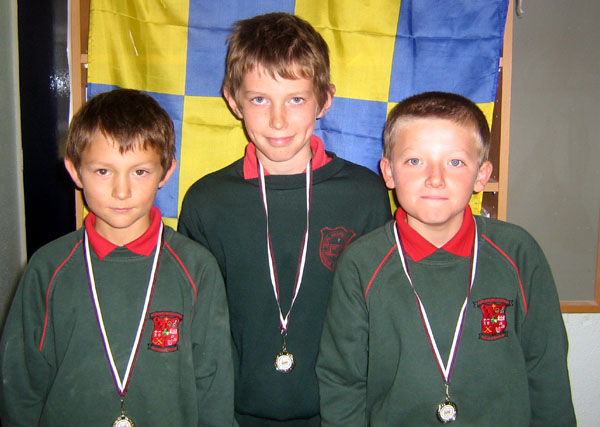 Winner's Enclosure!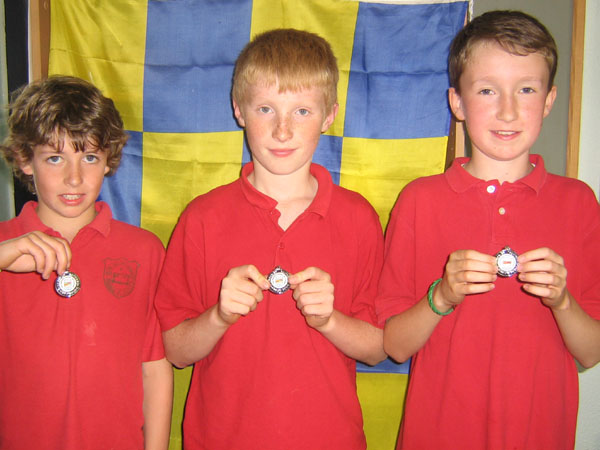 Proudly showing off their medals!
---

Under 10 camogie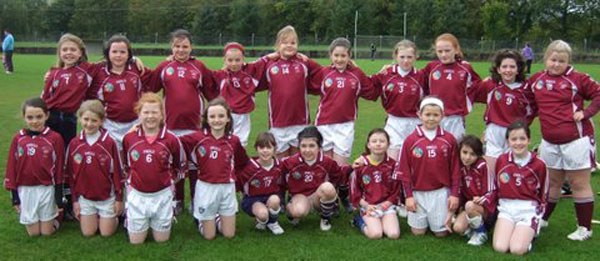 On Saturday last Oct 2nd, the Under 10 camogie panel set off by bus from the town park at 10am. They were Limerick bound and after an entertaining bus journey arrived in Cappamore Co Limerick. They played two 10 aside matches – luckily the final whistle coincided with the thunder and lightening! They had a great day and many thanks to Cappamore for their hospitality. After lunch they headed for Limerick city and Delta Adventure Centre. An energetic afternoon was spent there before they headed for home – a little tired! This brings our Under 10 camogie year to an end and hope it was enjoyed by all.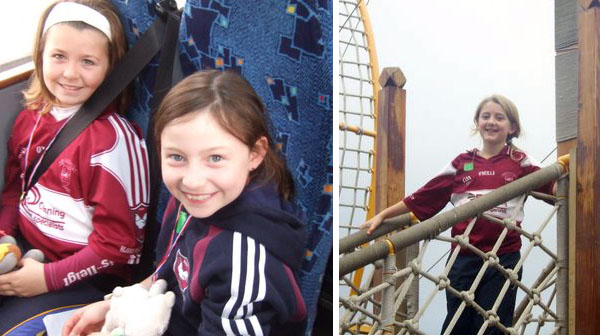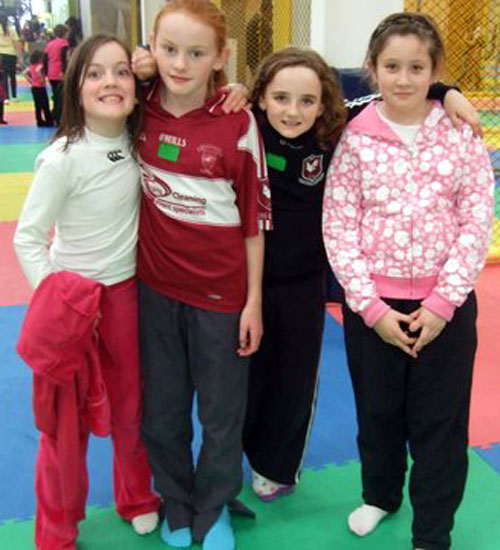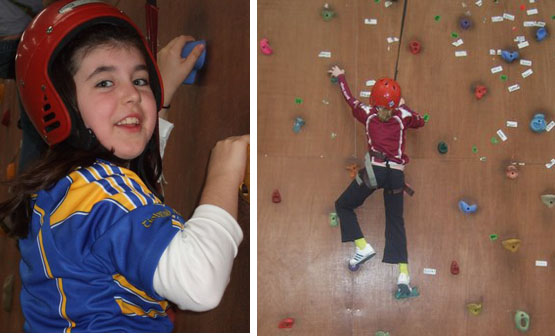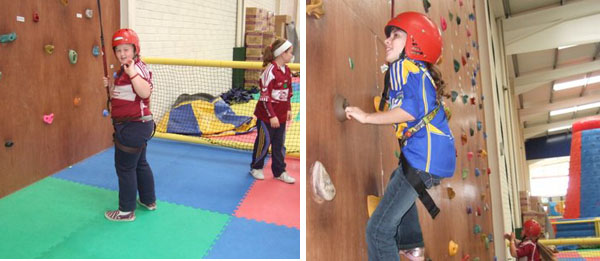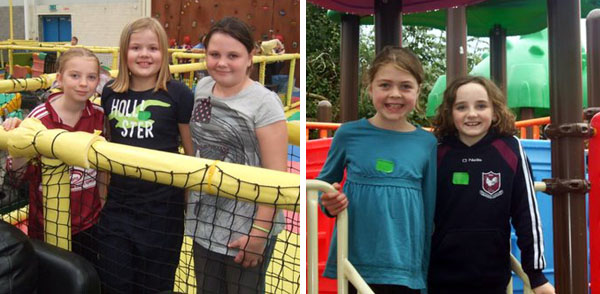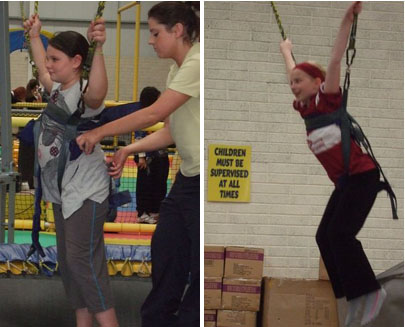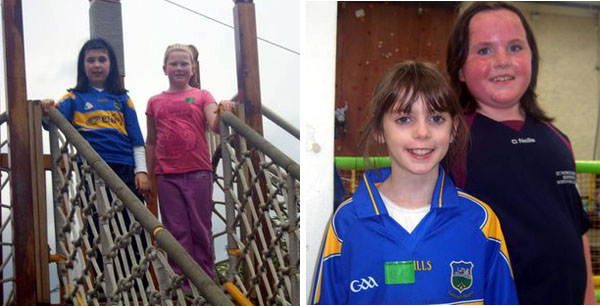 Lots of photos above showing the girls having a great time!!

---
Cheerios Childline Breakfast in Fifi's Tots Preschool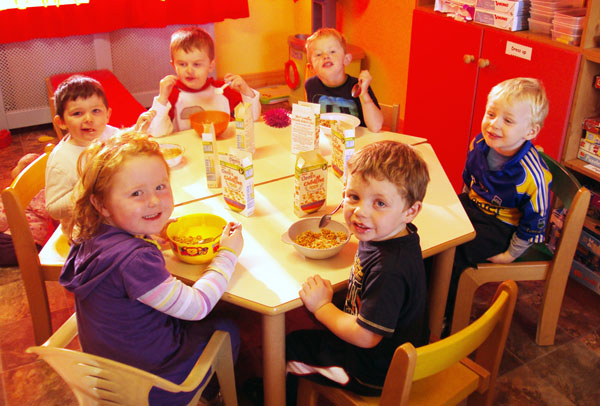 The children of Fifi's Tots Preschool participated in the Cheerios Childline Breakfast on Tuesday last. The children enjoyed having their breakfast in school, as did our few little visitors from up the road. We raised €130 for childline services. A big thank you to everyone for their contributions.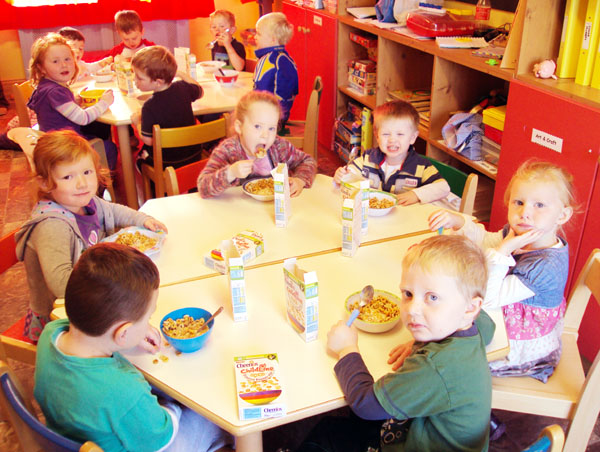 Yum yum! This is great!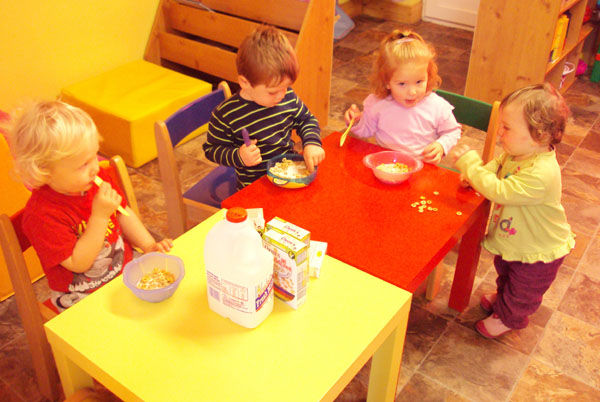 Havin' fun at school!
---

U8 Hurling Meagher Cup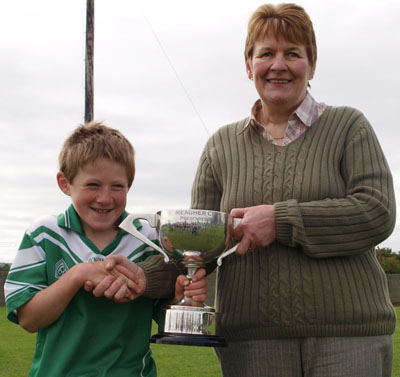 Rose Stapleton presenting the cup to the Drom-Inch Captain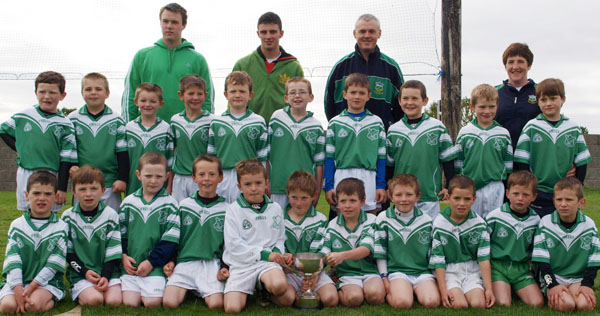 The winners of the Meagher Cup Drom-Inch which was played in Borrisoleigh on Saturday 2nd October 2010
---
Pic of the Past…Down Memory Lane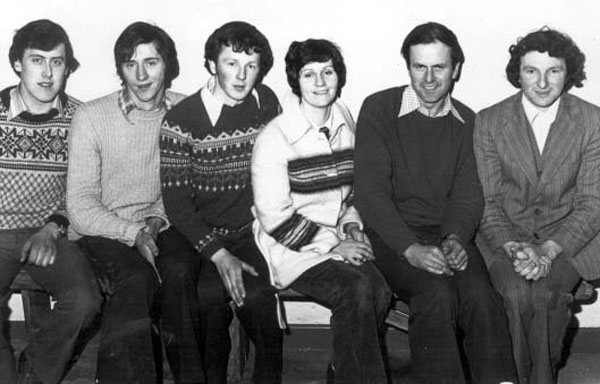 Macra na Feirme


Rory O'Dwyer, Gerry Ryan, Cooleen, James Slattery, Eileen Glasheen, Lar Brien and Gerry Regan


---
Your Website Needs You!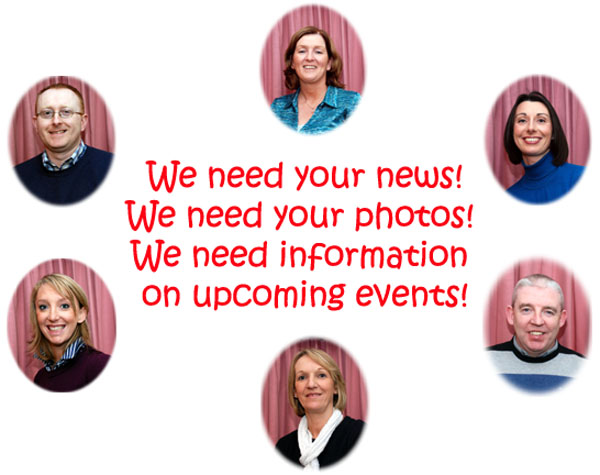 Website Committee: Enda Ryan, Noreen Fahy, Margaret Cowan, Aileen Óg Groome, Marie McGrath and Michael Barry

Many thanks to all those who contributed photographs and news items for this weeks current news. Well done!
Send your email to
:
info@borrisoleigh.ie
Also, if you like what you see and want to leave a comment, remember to use the Guestbook!

While we make every effort possible to ensure that the information contained in this Website is accurate and complete, we cannot accept any legal liability as a result of the inaccuracy or incompleteness of the information presented to users of this site.