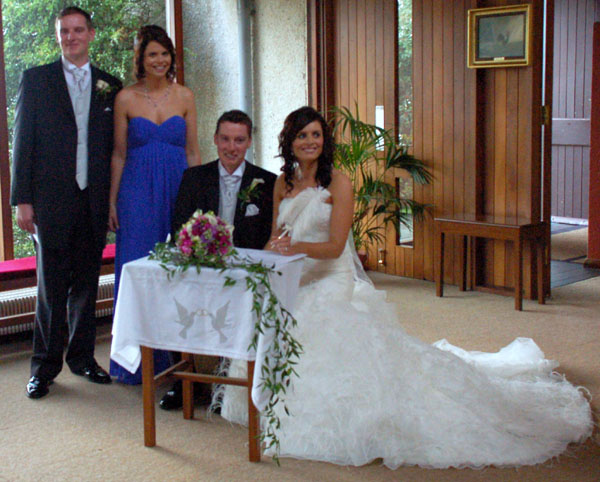 Congratulations to Damien Ryan (Ryan's Garage) and Helen Maloney from Galway, who were married on the 11th of September in The Church of Mary Immuculate Queen, Barna, Galway. The couple celebrated their reception in The Ardilaun Hotel in Galway.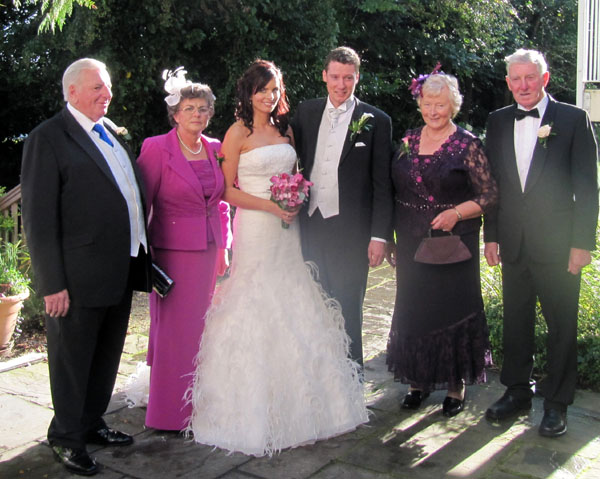 Damien and Helen pictured with their parents.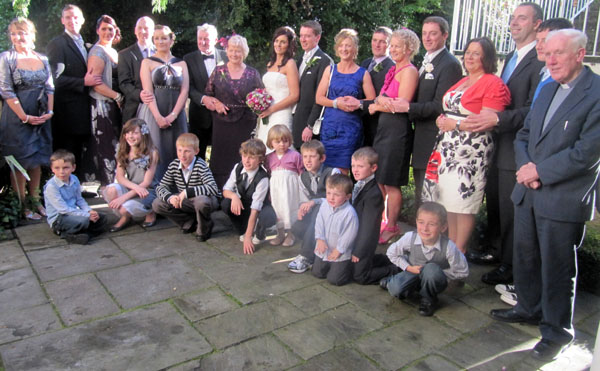 The Ryan Clan!
---
The Liam McCarthy visits Fifi Tot's Pre-School


The children of Fifi's Tots Preschool has a very special visitor on Friday last when Brendan Maher called in with the Liam Mc Carthy cup.
The children were very excited to meet their hero and get to hold the cup.
A big thank you to Brendan for sparing us a few minutes from his hectic schedule and showing us the cup.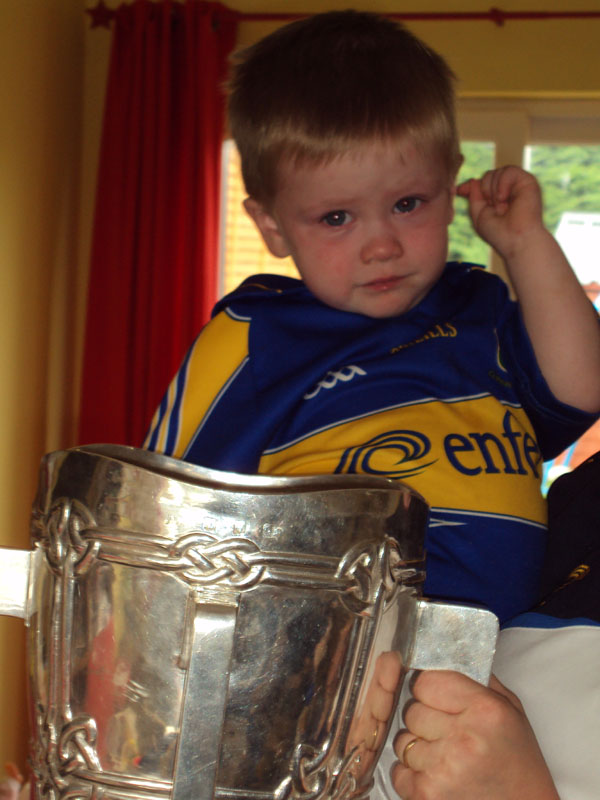 Nearly as big as him!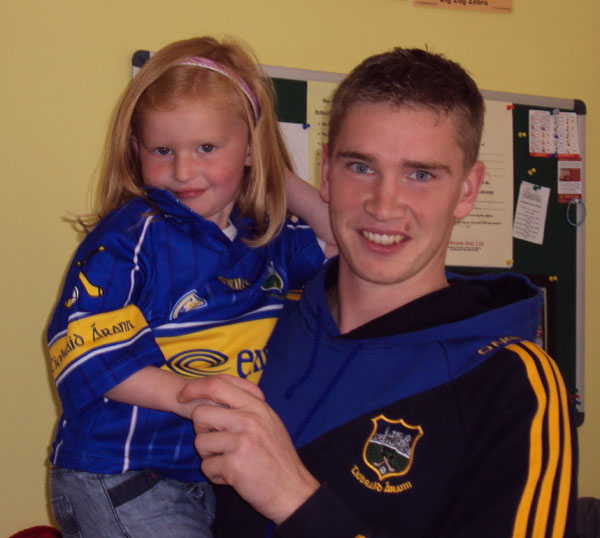 Brendan with his niece Eve

They all want a hold of the cup!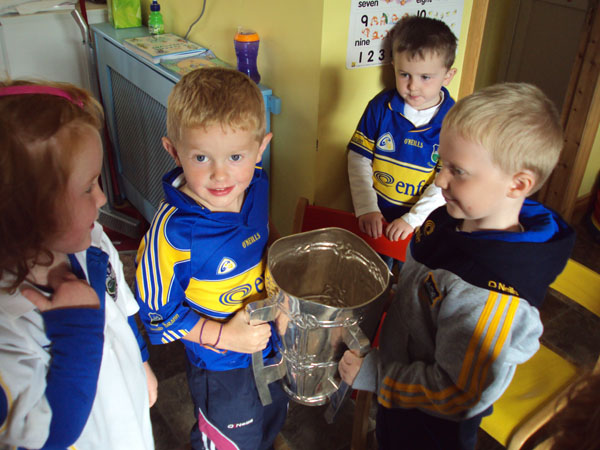 Some day it could be one of these lads bringing Liam home!
Liam in St. Patrick's BNS

First and Second Classes with their heroes!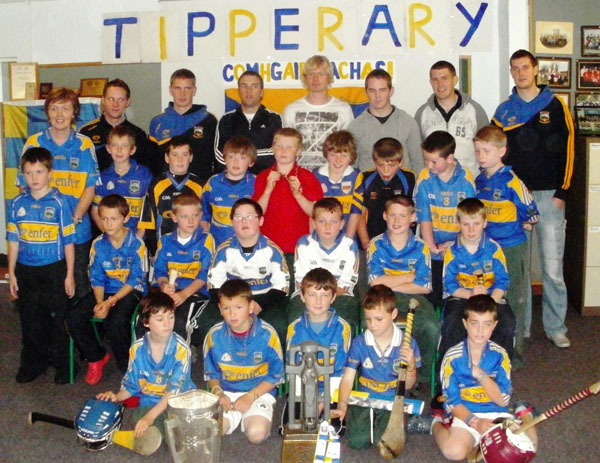 Third and Fourth Class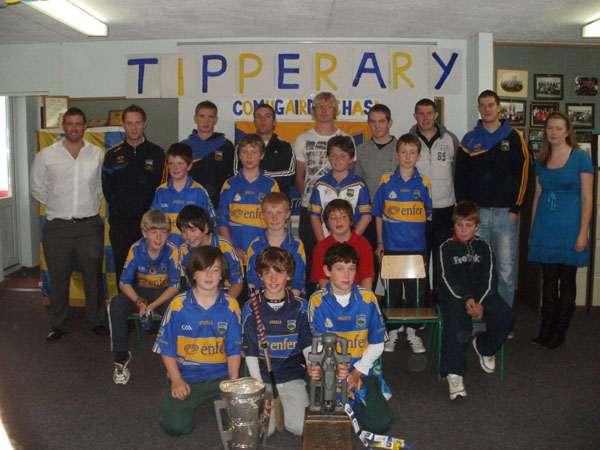 Fifth and Sixth Class


There was a great sense of occasion at St. Patrick's BNS on Friday when Paddy, Brendan, Gearóid, Seamus, David, James and Jody (The Magnificent Seven) visited with The Liam Mc Carthy Cup and the Cross of Cashel. The boys were delighted to meet their heroes, hear them talk and avail of the opportunity to ask questions. All at the school would like to thank the hurlers for making the occasion so special and wish them every success in the future. We hope that this is the first of many visits now that the cups have come home.

Even St. Patrick dressed up for the occasion!
Sincere congratulations to our U-14 hurlers who were crowned Co. Champions last Saturday. Well done to all concerned on a marvellous display. Best wishes, also to our seniors on Thursday night.
Click
here
to see more pictures from this great day
Liam McCarthy visits St. Joseph's

St Joseph's had seven hurlers on the senior panel and one on the U21s. They received a great reception at 11am on Friday 17th, with words from Padraig O Shea, School Manager, Catheriona Ryan, Principal, Rev D Clifford, Patron of the GAA, Kevin McCarthy Games teacher and Brendan Maher on behalf of the players. A small presentation was made to the players following the speeches.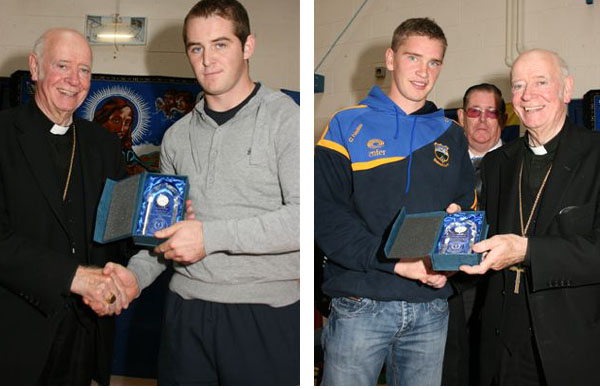 Gearoid and Brendan receive clocks from Archbishop Dermot Clifford.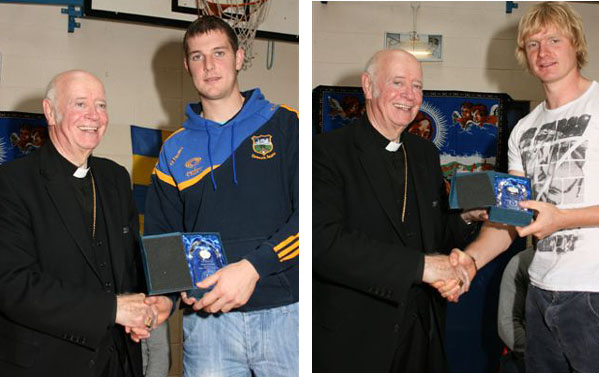 Seamus Callanan and Jody Brennan receiving their crystal clocks from His Grace.
James and Paddy receiving their gifts.
---
Celebrating our sporting victories at Scoil Bhríde, Fantane

Brendan and Paddy with this year's 6th class and The Liam McCarthy Cup
There were great celebrations at Scoil Bhríde, Fantane last Friday when past-pupil Brendan Maher and fellow team-mate Paddy Stapleton came to the school to show the pupils, staff, Board members and parents their winning Liam McCarthy Cup and The Cross of Cashel Trophy. Our young experts traded hurling tips with the two boys who were very generous with their time, signing autographs and smiling for the cameras. Thanks lads!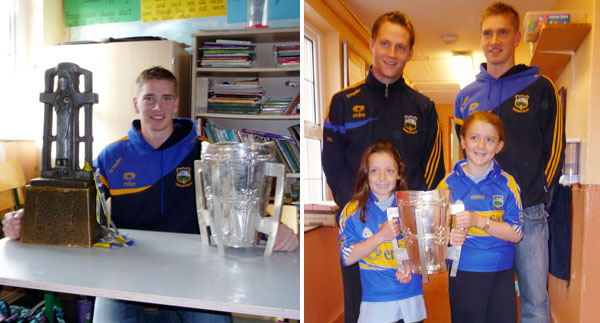 Brendan returns to his old desk at Scoil Bhríde, Fantane with all of his homework done. Top marks Brendan! (Right) Brendan and Paddy with Ciara and Emma and a guy called Liam!!!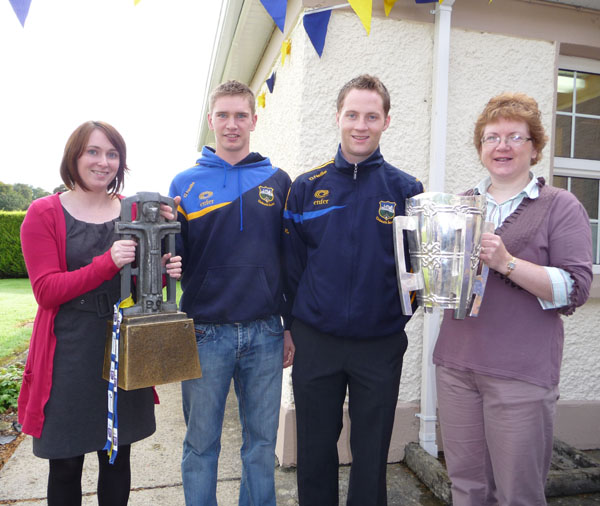 Miss Deirdre Harrison and Mrs Catherine Ryan with our local heroes and the winning trophy and cup.
---
Borris-Ileigh Juv GAA Club

U14 Hurling County Champions: Borris-Ileigh became U14B County Champions last Saturday with a magnificent display to record a win over Gortnahoe Glengoole in the final at the Ragg on a score line of 4-13 to 0-4. An early goal provided the good start we had hoped for and we never looked back after that and with solid displays once again throughout the team we led by 2-9 to 0-2 at halftime. Two quick points from Gortnahoe at the start of the second half focussed the minds once again and the lads settled down to close out the game. Well done to Gortnahoe who never gave up trying and played some lovely hurling throughout. The final whistle was greeted with great celebrations from players and the large crowd of Borris-Ileigh supporters present. Neil Ryan secretary of the County Bord na nOg presented the Cup to Captain Sam Devaney on behalf of the Borris-Ileigh Panel. Well done to all the players on the panel who deserve great credit for the effort and dedication they have put in throughout the year. Well done also to Brendan, Michael and Ruairi who have worked very hard with these players over a number of years and last Saturday's win was just reward.


Sam Devaney accepting the cup on behalf of the panel.

Presentation of Jersies to the U14 panel:
The Juvenile Club wishes to acknowledge the generosity of the following local businesses in Borrisoleigh who sponsored a set of jerseys for our U14 county finalists, M & J Gleeson, Hurleys Gala shop, Shanahans Centra and Tipperary Co-op. Representatives from each, Frank Cooney, Tom Hurley (representing Donal Hurley), Sean Shanahan and Martin Costello presented the jerseys to the panel the night before the game and the young players were delighted to receive them and are very appreciative of the support and generosity received from our local sponsors.
U12 Plate: We have qualified for the Plate final against Shannon Rovers, date, time and venue will be notified to players at training.
U16 Hurling: Our championship run came to an end in the quarter final play off against Portroe last Monday evening in Dolla. Well done to all the U16 panel who trained hard throughout the year and to the mentors P.J Ryan, Jimmy Slattery, Francis Doolan and Tom Hurley. Best of luck to those members of the panel who are in their last year U16 and who now leave the juvenile ranks.
U8 Hurling Meagher Cup: This tournament is scheduled for Saturday 25th September in the Town Park. This is a big day for our U8s so please come and support the team. Borris-Ileigh, Drom-Inch, Templederry and Upperchurch are the teams taking part with the first games scheduled to begin at 10.15am sharp.
Click
here
to see more pictures from the county final.
---
---
Fundraiser in Aid of Trócaire


Borrisoleigh branch of Comhaltas are holding a fundraising night in Aid of Trócaire in Stapleton's Bar on Friday 1st October starting at 9:30 pm. Donations greatly appreciated on the night. All proceeds to Trócaire.
---
May He Rest in Peace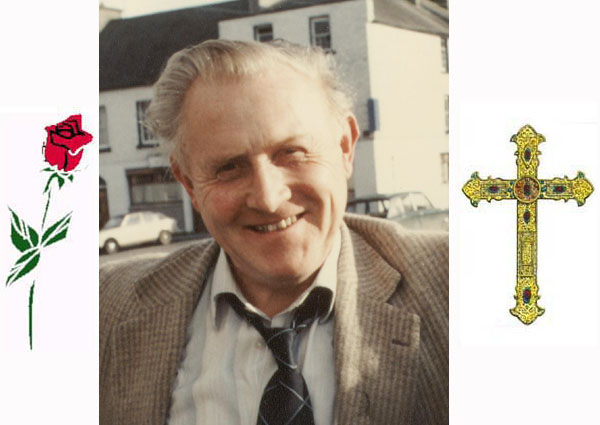 Jimmy Chadwick, McDonagh Square R.I.P.
The death has occurred of Jimmy Chadwick of McDonagh Square on Tuesday 14 September last. His Requiem Mass took place in the Sacred Heart Church on Thursday 16 September with burial in St. Brigid's Cemetery. We offer our sincere sympathies to his family and friends. May he rest in peace.

---
2010 Heart to Hand Charity
Table Quiz Winners L to R, Pat , Seamus, Dan and Francis.
On Friday 3rd September 2010, a table quiz was held in Stapleton's Bar to raise funds for the Albania Building Project. Gerry Ryan Cooleen, will travel with a group of volunteers from October 2nd-10th 2010. There was an excellent turnout to support this worthy cause. No doubt the prospects of winning two All Ireland Hurling Final Tickets and a framed signed Tipperary Jersey encouraged the large crowd. Quiz master Thomas Russell, ensured that all had a good night.
There was a thrilling conclusion to the night due to a three-way tie for first place. The eventual winners were Dan, Francis and Seamus Doolan and Pat Costello. In second place was Mairead Bradshaw, Michael Gleeson, Margaret Harty and Mary Tierney. In third place were Alan, Laura, Andrew and Sheila Ryan.
The winner of the All Ireland Hurling tickets was John Keane. Fr. Celcius Tierney, Holycross won the Tipp Jersey.

This team came in second place.
The total raised on the night was €1650. Gerry would like to thank everyone for their generous support. He would also like to thank Breed Cowan and all at Stapletons for the venue and finger food.
A big thank you also to all who helped on the night.
Click
here
to view more pictures of the night.
---
Women's Mini Marathon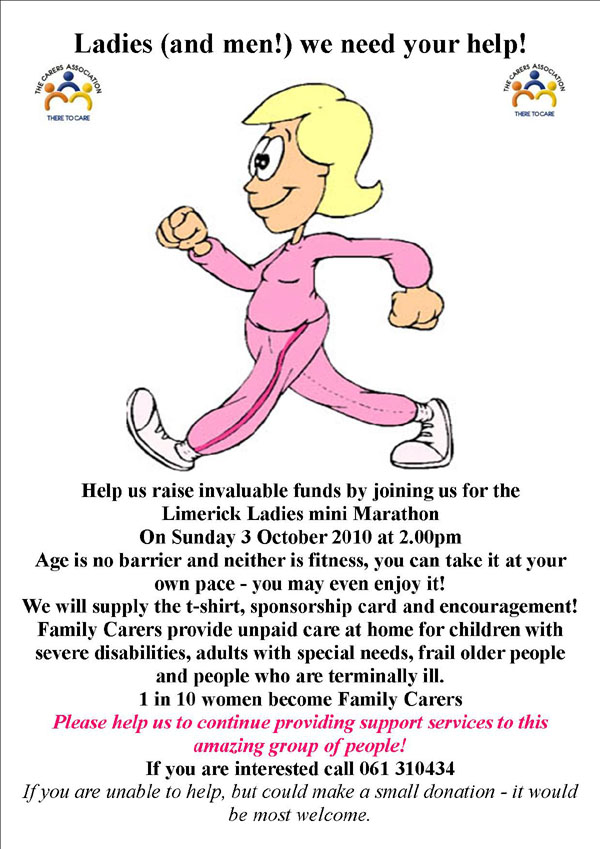 ---

Birthday Greetings!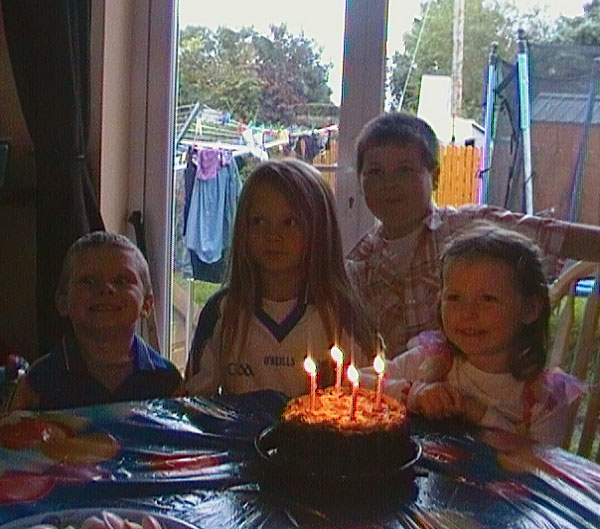 This is Emma Quigley, Pallas Street celebrating her 4th birthday with her brother and her two friends.



Taking a break!
---
Bringing us back!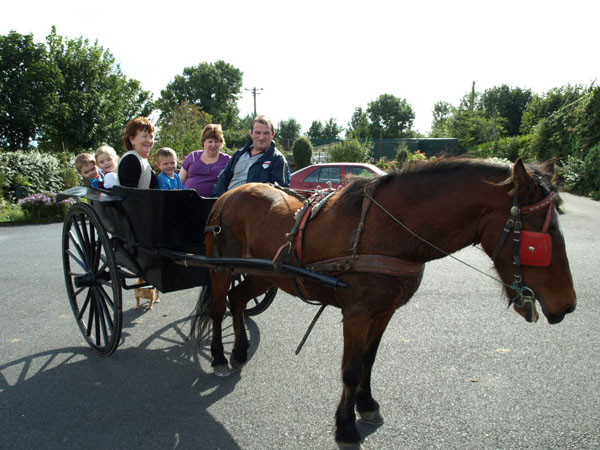 Residents of Pallas Street got a rare old treat when they were taken on a pony and trap ride by PJ Young.
PJ Young and his pony and trap are available for any charity events.
---
Borrisoleigh Pilgrimage to Medugorje
The Church of St. James in Medjugorje with the open-air sanctuary which is used to accommodate large crowds for Mass and Eucharistic Adoration.
On Friday 13th August, a group from Borrisoleigh led by John Connors, amongst who included Fr. Liam Everard, went on a pilgrimage to Medugorje, where since 1981 an estimated 45 million people have gone to meet the six visionaries who see the blessed Virgin Mary, & receive regular messages from her.
The pilgrimage lasted one week, during which the group had the opportunity of hearing four of the six visionaries talk about their visions of Our Lady & the messages she gives to them. One of the days also the group had the privilege of participating in a mass which was celebrated by Fr. Everard.
Martin Maher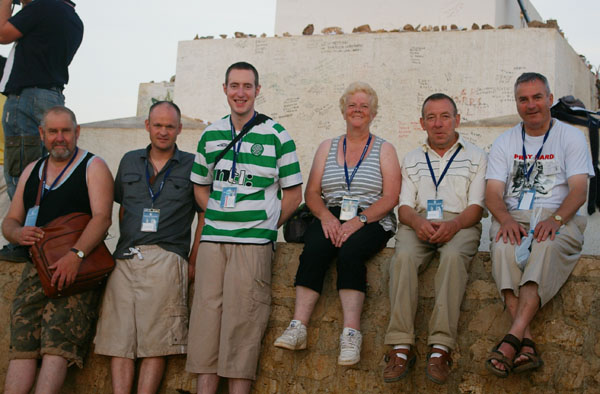 The Borris pilgrims take a welcome break at the top of Mount Krizivac which over-looks the village of Medjugorje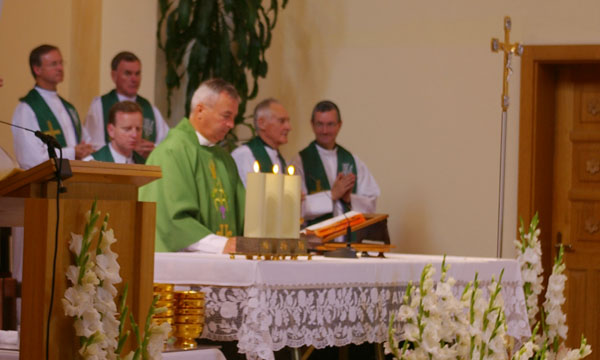 Fr. Liam celebrating Mass in the Church of St. James in Medjugorje

The Borris group with their host for the week Vesna, who visited Borrisoleigh a few years ago!

Pilgrims to Medjugorje taking a break in front of the statue of Fr. Slavko who died a few years ago while climbing Mount Krizivac. Fr. Slavko was an ardent supporter of the visionaries and has travelled the world proclaiming the message of Medjugorje.
---
Borrisoleigh Charity Cycle 2010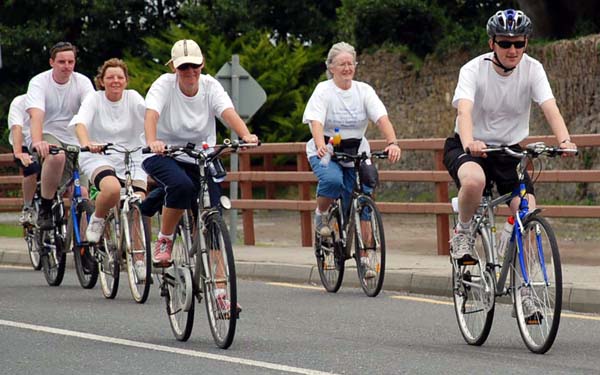 Just a quick reminder that the Borrisoleigh Charity Cycle in aid of the North Tipperary Hospice In Home Care Movement takes place this Saturday 25th September. We are holding both a 25 Mile and a 50 mile event this year. The 50 mile starts at 1.15pm from Borrisoleigh and will go through Thurles, Two-mile Borris, Urlingford, Johnstown, Rathdowney, Templemore and back to Borrisoleigh. The 25 mile will begin in Borrisoleigh at 2.15pm and take in Thurles and Templemore. Our aim is to get both sets of riders to meet up before we return to Borrisoleigh so the 50 mile event will be kept at a steady pace. Please ensure that all safety and reflective gear is worn and obey the instructions of the Gardai and marshalls at all times. Cards and money may be returned to P.J. Delaney or Ruairi O'Connell before Saturday or on the day. Best of luck to everyone and safe cycling.

---
Would YOU like do a course in:
PHOTOGRAPHY,
COMPUTERS,
or
PERSONAL DEVELOPMENT?

Are you free on a

Wednesday

or

Friday

morning?

Then contact:
Thurles Education Centre, Kickham St, Thurles on (0504) 90476
or come to our registration day
on Wed 29th Sept between 10-1pm
---
Marian Hall Lotto

21/09/2010
Numbers: 8, 19, 21, 25
No Winner
3 Match 3 @ €50
Murty Gleeson, Ballyroan
Teresa Coffey, Lower Street
Nora Long, Tyone, Nenagh
Next Week's Lotto Jackpot
€3,650
---

Pic Of The Past….Down Memory Lane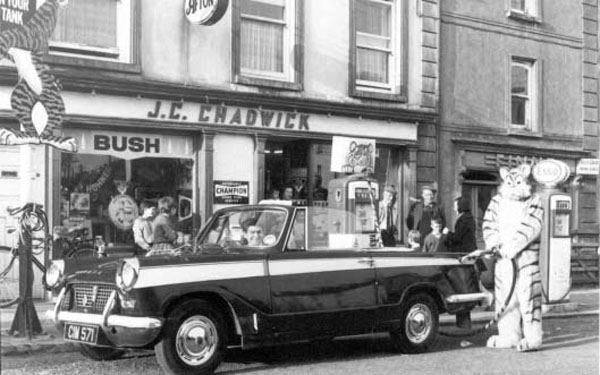 Put a Tiger in your Tank!
An Esso petrol promotion in Chadwick's Main Street in the 1960s.
---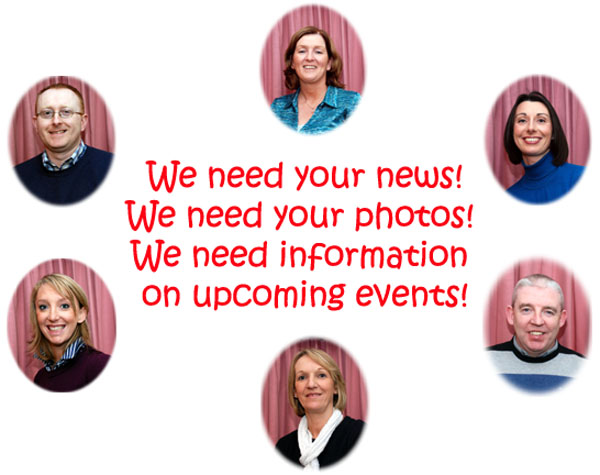 Website Committee: Enda Ryan, Noreen Fahy, Margaret Cowan, Aileen Óg Groome, Marie McGrath and Michael Barry

Many thanks to all those who contributed photographs and news items for this weeks current news. Well done!
Send your email to:
info@borrisoleigh.ie
Also, if you like what you see and want to leave a comment, remember to use the Guestbook!
While we make every effort possible to ensure that the information contained in this Website is accurate and complete, we cannot accept any legal liability as a result of the inaccuracy or incompleteness of the information presented to users of this site.