Apologies to our visitors

Due to a technical difficulty outside of our control access to our website was restricted during Wednesday and Thursday of this week. The problem has now been resolved. We thank you for you patience.
---

Borris gang at the Ursuline Debs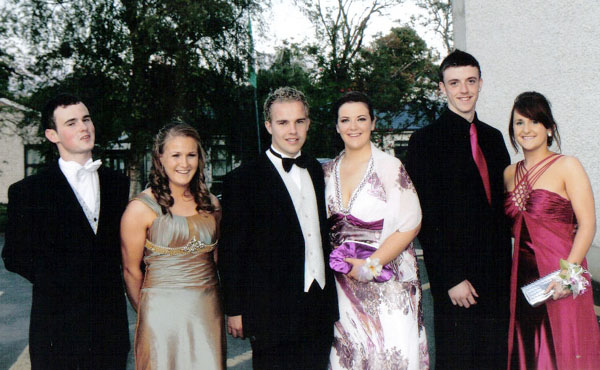 Mossy Shanahan, Caitriona Shortt, Tommy Kavanagh, Nicola Sweeney, Tim Delaney, Clíodhna Bourke at the Ursuline Debs which took place at The Anner Hotel recently

---
Tickets for the big match!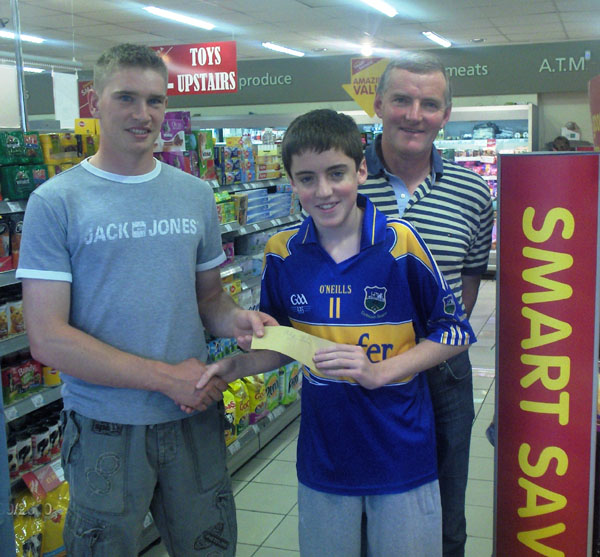 Pictured at Shanahans Centra are Martin Fahey and his son Philip receiving 2 all Ireland Hurling tickets from Tipperary Hurler Brendan Maher, Martin Geraldine and Philip would like to thank the nurses of the CF unit who contacted the famous Limerick Hurler Pat Hartigan who set the ball in motion, many thanks also to the GAA and Centra on the delivery of these 2 very sought after tickets.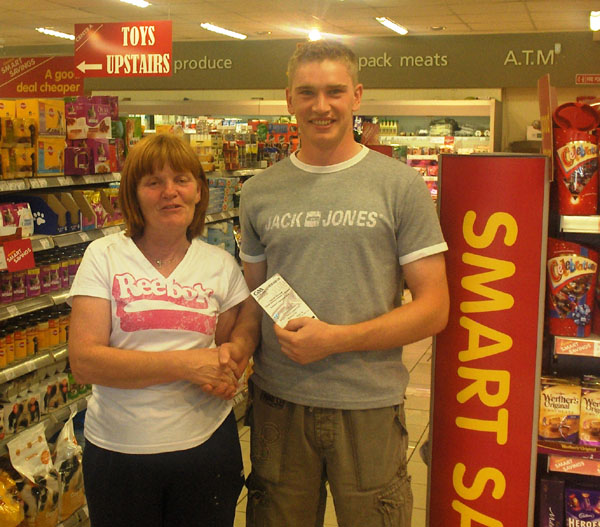 Pictured also is Carmel O'Brien receiving 2 all Ireland match tickets in Shanahan's in-house competition Brendan Maher drew the winning name from hundreds of entries. Congrats to all the lucky winners above from Shanahan's Centra Borrisoleigh.Thanks also to Brendan for taking the time to attend on this occasion.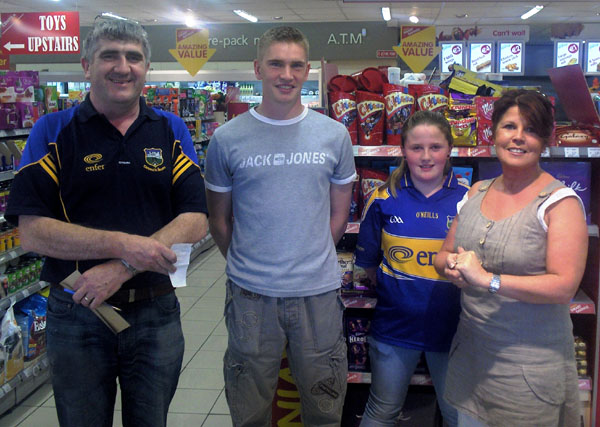 Brendan with Sean, Marie and Katie

---
Seamus wins the much-coveted 'signed' Tipp Jersey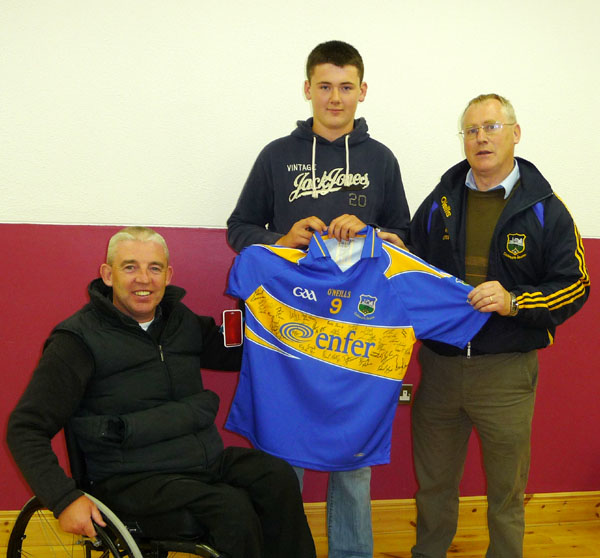 Fr. Michael Barry and Michael Carey presenting Seamus Doolan with the signed Tipp jersey
Juvenile Club All-Ireland Tickets Draw results
The draw was held last Friday night in the Pavillion before a large crowd. Father Michael Barry drew the winning tickets which were as follows, 1st Prize of two All-Ireland Tickets was won by Vicky Pulford c/o Jimmy Slattery and 2nd Prize signed Tipperary jersey won by Seamus Doolan, c/o Francis Doolan. Thanks to everyone for their generous support and also to our ticket sellers and Father Barry for conducting the draw.
Congratulations and well done to Paddy Stapleton and Brendan Maher and the Tipperary panel on their great win over Kilkenny last Sunday. Best of luck to Brendan and Tipperary as they go for the double with the U21 final V Galway next weekend.
Mick Prior Cup
Well done to our U10s who won the Mick Prior Cup in Borrisoleigh last Saturday with wins over Moneygall, Borrisokane and Drom-Inch who we also beat in the Final. Well done to the mentors, Paddy, T.J., John, Philip, Gerry and John Joe who have put in a lot of work coaching these lads over the last few years.This was a great tournament with all the teams participating demonstrating all the skills of hurling.
Borrisokane won the Plate Final with a victory over Moneygall. Sean Prior on behalf of the Prior family presented the Mick Prior cup and medals to Oran Bergin captain of Borris-Ileigh. Our thanks to Sean and all the Prior family, also to our referees Carmel Harkin and Siobhan Stapleton and all who provided and served refreshments and
prepared the field.Thanks also to the players mentors and supporters from Borrisokane, Drom-Inch and Moneygall.
U14 Hurling
We are due to play Sean Treacys from the West division next Sunday 12th September at 2pm in Clonoulty. Your support would be greatly appreciated.

---

Tipperary U14 Camoige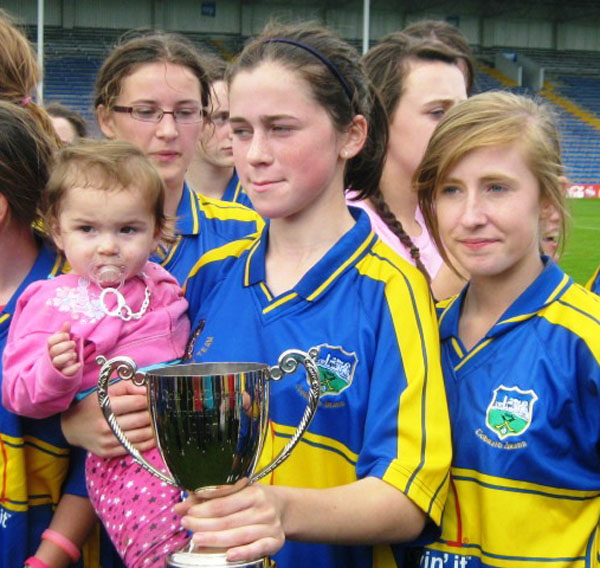 Juileann captain of the A team holding the winning cup and her youngest sister Marase
On Saturday 28th August the final u14 inter county Blitz of the year was held in Dr Morris Park Thurles with the finals being played in Semple Stadium. Both Tippeary teams beat tough competition to reach the finals with the Tipperary B team beating Waterford in the final and the Tipperary A team beating Limerick in the final.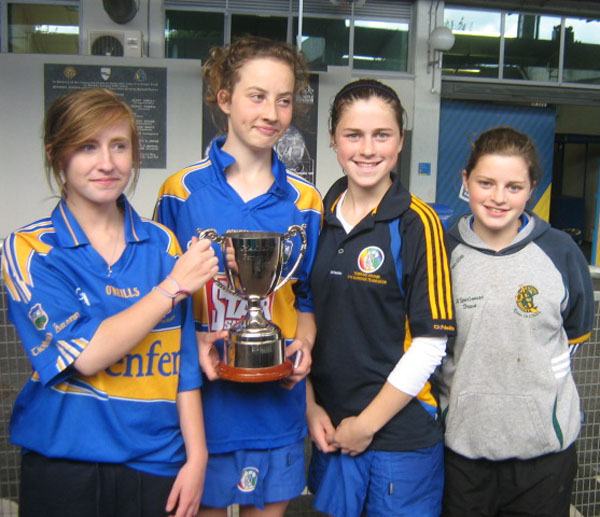 Aisling, Mairead, Julieann and Katie with the cup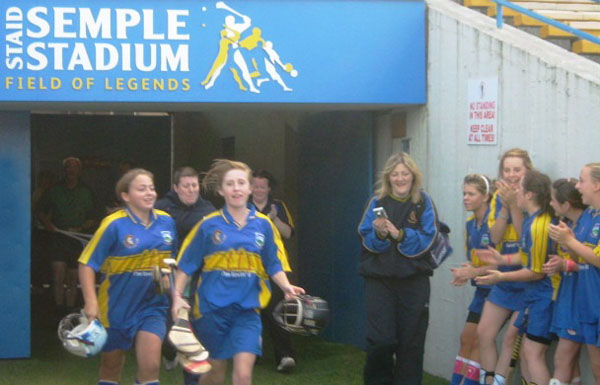 Aisling arriving onto the pitch for the Tipperary B final followed by Siobhan Stapleton team trainer being cheered on by the A team.

---
Welcoming home our heroes!

Ciara enjoying the fun in the Dome in Thurles on Monday night last with Paddy Stapleoton at the homecoming celebbrations for our jubilant county heros.

---
Heart Safe Award for Borrisoleigh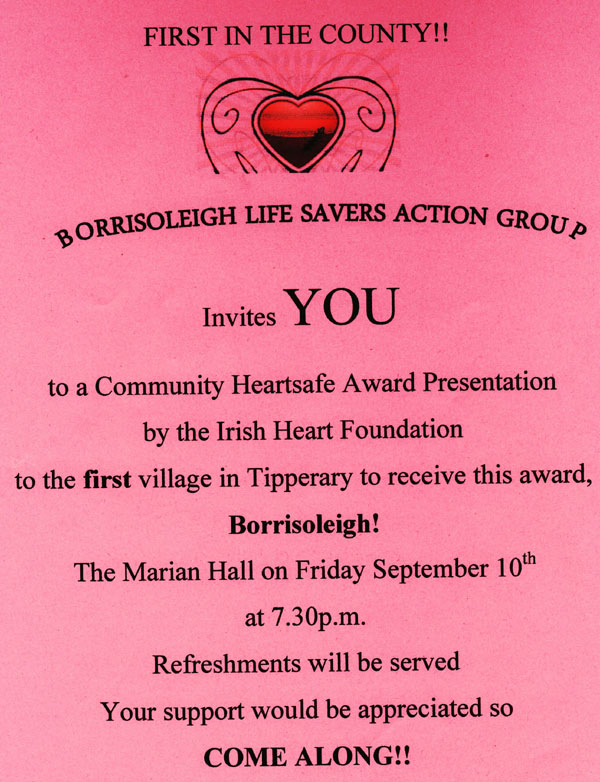 Well done to all concerned with the achivement of this Award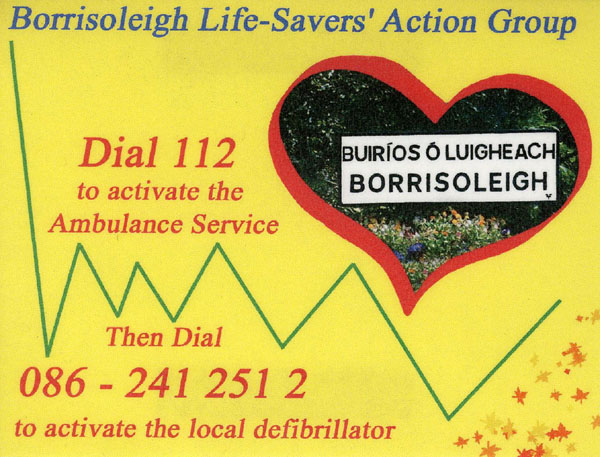 Numbers to call in an emergency

---
Pic of the Past…Down Memory Lane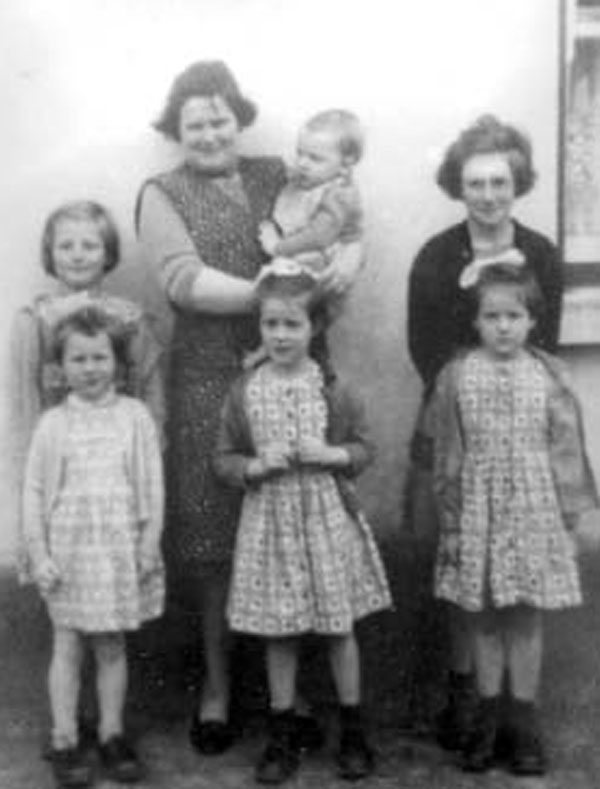 Young's of Pallas
Back: Margaret, Bridget (holding baby) and Sadie
Front: Patricia, Rose and Mary

---
Your website needs you!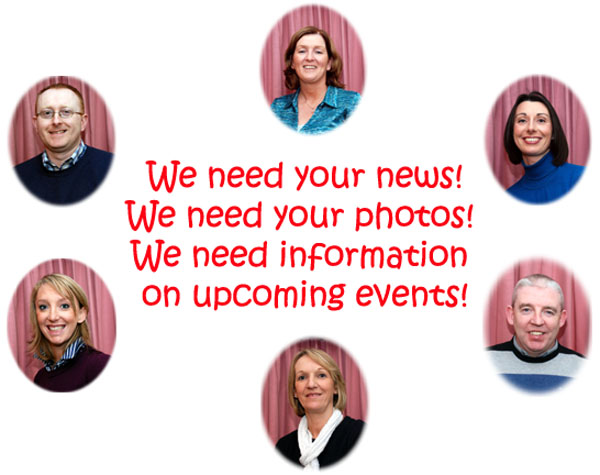 Website Committee: Enda Ryan, Noreen Fahy, Margaret Cowan, Aileen Óg Groome, Marie McGrath and Michael Barry
Many thanks to all those who contributed photographs and news items for this weeks current news. Well done!
Send your email to: info@borrisoleigh.ie
Also, if you like what you see and want to leave a comment, remember to use the Guestbook!
While we make every effort possible to ensure that the information contained in this Website is accurate and complete, we cannot accept any legal liability as a result of the inaccuracy or incompleteness of the information presented to users of this site.