Soccer Club News


Thank you Lisa!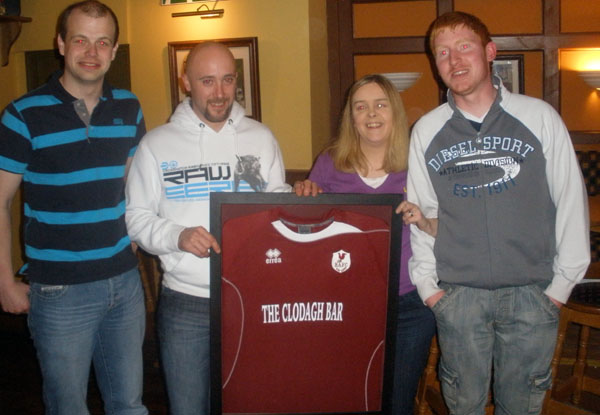 Pictured here are Barry Walsh, David Walsh, Lisa Ryan and Gerry Treacy.
Last Friday night the soccer club held their annual end of season night out in The Clodagh Bar. After a long and sometimes arduous campaign we felt we were entitled to celebrate our season's effort. Having come up as champions from Division One last year the odds were always going to be stacked against us to remain in the league but with even a few games left we had safety guaranteed and could relax for the remaining few weeks safe in the knowledge we would be staying in the Premier Division.
A presentation also took place with Lisa Ryan receiving a framed Borrisoleigh AFC jersey as a token of thanks from the club for her very generous sponsorship of the club for the past year. No doubt it will hang proudly on her wall!!!

Enjoying a few!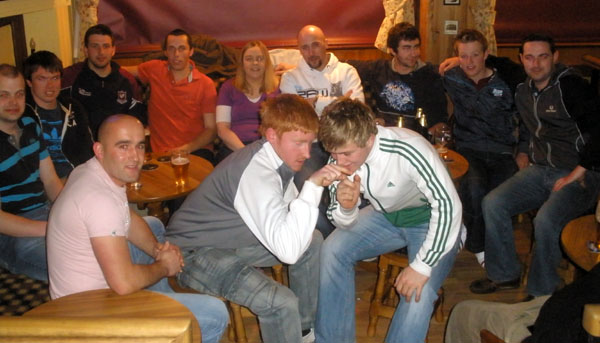 Some of the Borrisoleigh Soccer Squad.
The club would also like to congratulate Mark Stapleton, who was the winner of the Last Man Standing competition and recipient of the €300 prize money. A big thank you to all those who helped in the running of the competition and to those who took part. It was a huge success and boosted our account greatly-Don't be surprised if you see some "Galacticos" signing this summer.
Also our AGM shall take place in the Pavillion on the 26th of May at 8:30pm. All players and officers are asked to attend and anyone who wishes to get involved in playing or managing is more than welcome to come along.

---
May They Rest In Peace
Eamon Madden of Glentane RIP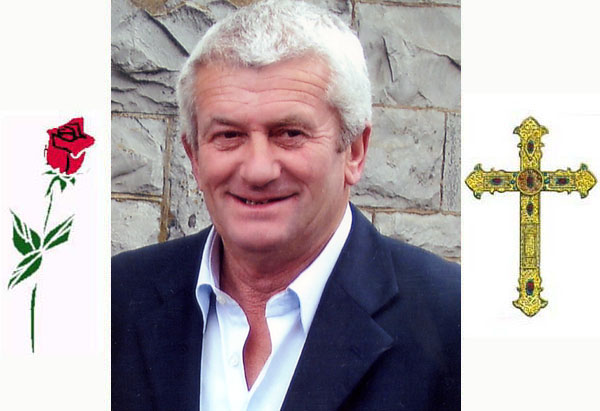 The death occurred on Tuesday 11th May of Eamon Madden of Glentane, Templederry. His Funeral Mass took place in the Sacred Heart Church Borrisoleigh on Friday 14th May with burial in Templederry New Cemetery. We offer our deepest sympathies to his family and friends. May he rest in peace.

Mick Cowan Main Street RIP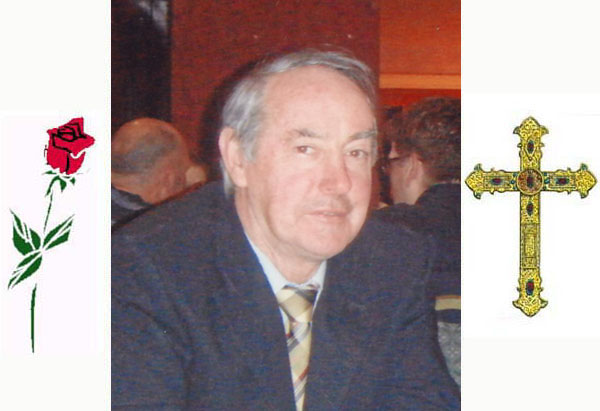 The death occurred on Monday 17th May of Michael (Mick) Cowan of Main Street. His Funeral Mass took place in the Sacred Heart Church Borrisoleigh on Wednesday 19th May with burial in St. Brigid's Cemetery. We offer our deepest sympathies to his family and friends. May he rest in peace.


---
Foróige Club Disco

Borrisoleigh Foróige Club are holding a disco in the Marian Hall on Friday 28th May from 8 p.m. til 11:30 p.m.
All members of the Club are asked to attend the meeting this coming Friday eveing (21st May) as there will be the election of the Officers of the Club Committee for the coming year.


---

Irish Cancer Society Benefit Night

On Sat 8th May, the Ragg Lounge hosted a benefit night in which all proceeds went to the Irish Cancer Society.
Music on the night was provided by:
DJ's Big Bald (David Butler and Kieran Keane)
K2 (Brian and Niall Kenny)
The Cheating Hearts (Tim Corbett and Declan Gallagher)
Heartfelt thanks to all the entertainers who gave their time free for the night. Thanks to all those who donated spot prizes, to Donal and Rose Young for the use of their premises at no charge and to Michael Doyle, Holycross who sponsored the tickets.
A specialword of thanks to all who bought tickets and to those who came to the Ragg on the night. It appeared they all had a great time and enjoyed the music.
We are delighted to say a total of €4,240 was raised and this money has been passed onto the Irish Cancer Society who have expressed their gratitude to all those who supported the night

---
Grave Interference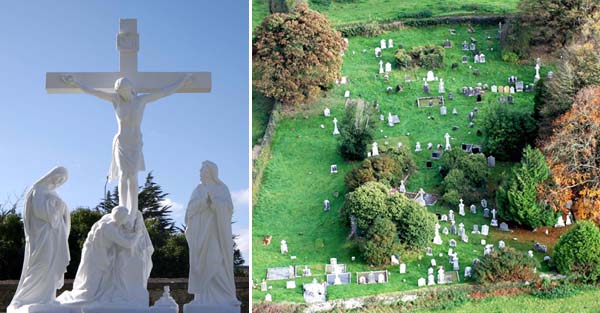 It is with regret that we publish the following piece: The local Graveyard Maintenance Committee inform us that they have been approached by a number distressed families who have had the graves of their loved ones interfered with. Family members have gone to reflect and to pray at the final resting place of their loved one only to find that flowers at the grave have been uprooted and taken away.
This kind of discovery only adds to the pain and suffering of an already grieving family and must be stopped immediately. The Committee asks that those visiting or passing the graveyard be vigilant to this kind of mindless vandalism. They further appeal in the strongest possible terms to those engaging in this totally unacceptable behaviour to cease doing so immediately. If you notice any suspicious activity please report it. This has to stop!!
---

MUSIC FEST III

June Bank Holiday Sunday
All proceeds towards building Borrisoleigh Indoor Sports Complex in Town Park

---
Cúl Camp 2010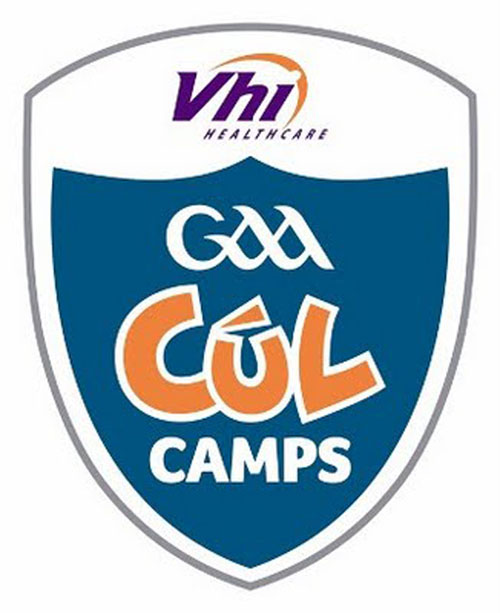 Cúl Camp 2010
09/08/10 – 13/08/10
Town Park, Borrisoleigh
€55 per child (€45 for second child, €35 for third, fourth child)

To book now click here

---
St. Joseph's College Sports Day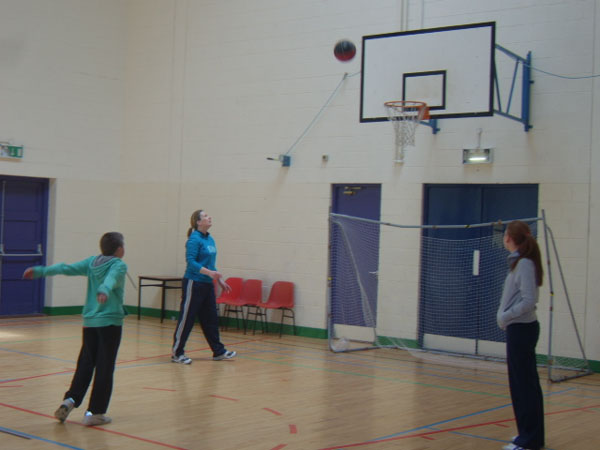 Daniel Casey takes a shot
St. Joseph's College held a very enjoyable Sports Day on Friday 14th May 2010.
Nine events captured the students' enthusiasm. As with last year, the Golfing Experience took the students by storm with entries having to be capped. The Outback Open was played on our own course. 'Course designer' Ollie Reid 5th Yr created the K Mac course, a 2 hole 4 par course that challenged even the experienced of golfers. The prize went to Simon Delahunty, 5th Yr on a score of one under after a playoff. Thanks goes to Ms Cait McCormack and Brid Ryan (TY) for the burgers and refreshments.
Other events on the four outdoor courts were the three legged race won by Shane Kenny and Michael Kelly with Odhran Murphy and Jack Ryan in second place, nest door to it was the beep test organised by teacher Mr Ml Halpin and had 17 students battling it out for fittest student. Eventually it was won by Dean Ryan (2nd Yr) with Michael Purcell in second and joint third for Michael Ryan and Andy Hayden. On courts 3 and 4 the slow bicycle race and tennis rally took place. The Slow bicycle race final consisted of 4 cyclist travelling over a course competing against each other as slow as possible. The participants were Declan Ryan, Michael Purcell, Paul Carey and Louise Fahy. Declan Ryan emerged the victor. The Tennis Rally consisted of 64 participants with the senior competition being won by Denis 'Federer' Ryan (6th Yr) and the second Yr competition having to be concluded during games class.
Indoors the Basketball shootoff was won by a Chris Fairbrother from Erill and seconded by Aoibhinn Moore of Borrisoleigh. This was followed by the 1st Yr competition, Balloon Busters. The competitors were wittled down to the final three with Jack Hogan fending off Jack Ryan and Eimear Ryan to win.
While waiting for the Staff v 6th Yr Students basketball match, the attention switched to the Relay race outdoors. The team of Jack Donovan fended off Michael Kellys team.

Darren Bourke takes his 2nd shot at the Outback Open
The Staff v 6th Yr students basketball match was the finished event of the Sports Day and always proves a fitting finale. The teams were well balanced with the scores tied at 4-4 after the first quarter and 12 -6 to the student at half time. The Staff turned things around in the second half with some tactical switches. Pat Crowley and Ml Halpin formed a formidable defence with creative players Cathal O Shea, Mgt Woods and Rebecca Kearns setting up Sean O Shea to amass a credible 11 points for the Staff. However it wasn't enough and the students ended up winning by the narrow margin of 1 point, 18 to 17 points.
Thanks to all who took part.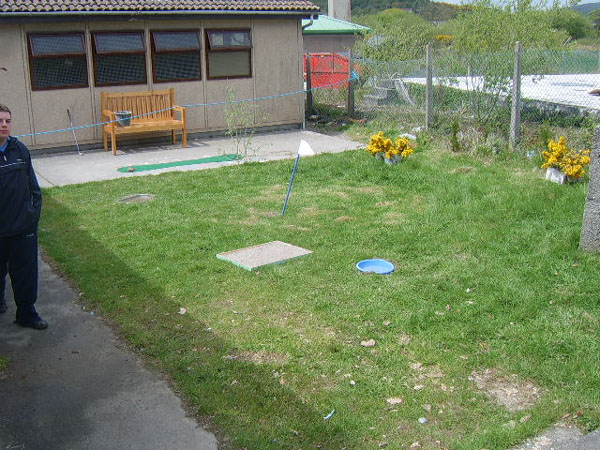 The 1st hole green is surrounded by sand and water hazards

St. Joseph's College Borrisoleigh wish the Leaving and Junior Certificate students all the best in their exams beginning on the 9th June 2010. House exams for the remaining students take place from Friday the 28th May. Following on from a very successful first year of Transition Year, we are holding a presentation night on Wednesday 24th May 2010 at 7.30pm.
---
More Pictures from Haiti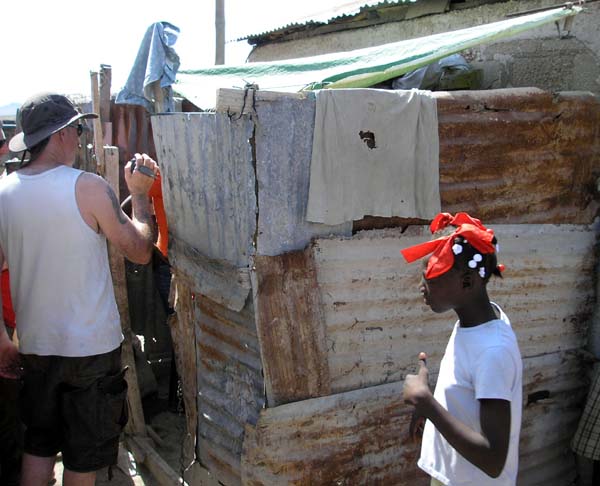 This is the house of one of the beneficiary families in the neighbourhood of Raboteau, Gonaives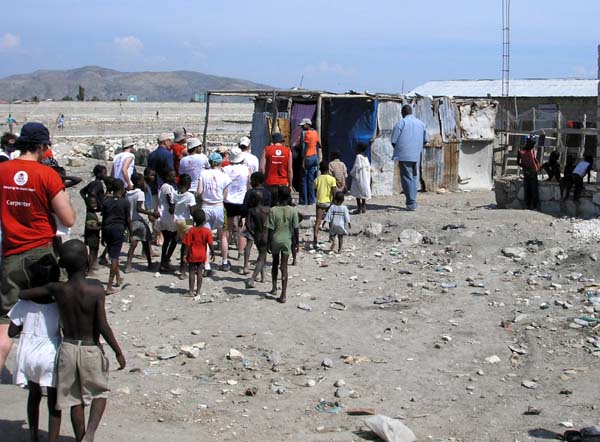 This is the tin shack house of another beneficiary family – 8 people live here!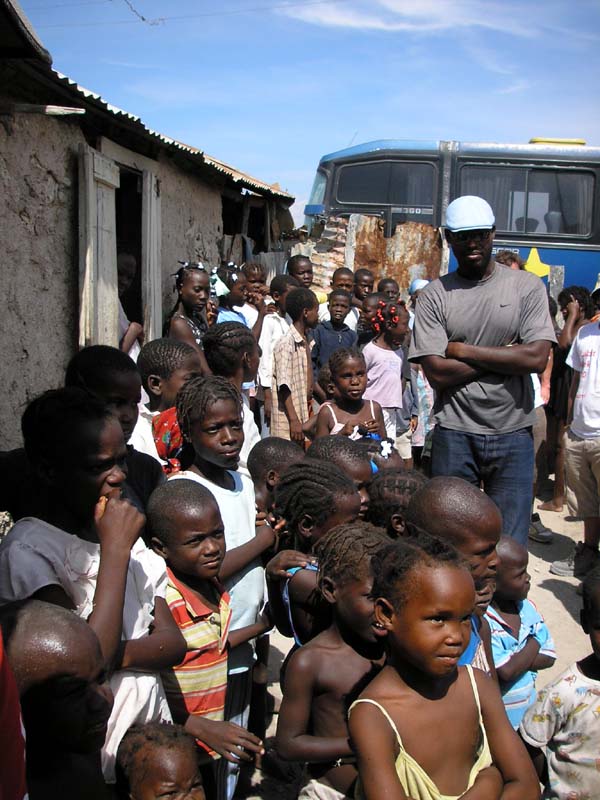 These are some of the children of local families in Raboteau.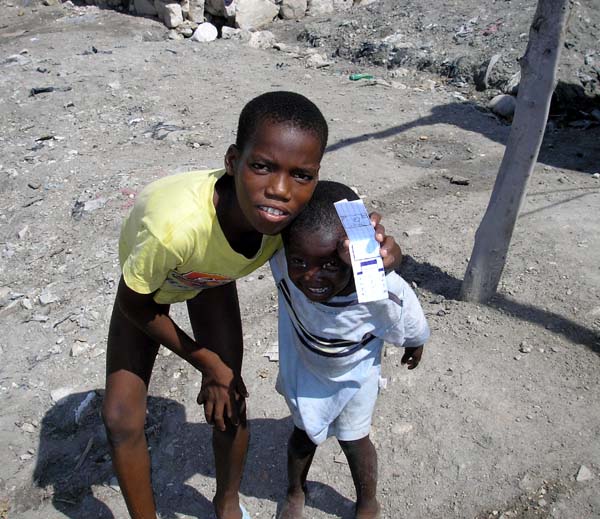 The children all wanted to have their photo taken and then shown to them – if you had a disposable camera they weren't interested in you!!
---
Borrisoleigh Comhaltas Eireann
County Final 2010
This years County Fleadh took place in Tipp Town on weekend of May 14-16th. Our branch was represented in set dancing, singing, harp, miscellanous fiddle, banjo, and flute by Aaron Reid, Muireann O' Dwyer, Aoife Delargy, Clare Kavanagh, Aileen Kennedy and Borris senior mixed set dancers.
The branch would like to thank very sincerely the following Businesses in Borrisoleigh who sponsored advertisements in the Fleadh programme – namely, Stapletons Bar – Main St., Fitzgerald's Family Butchers, Philly Bourke Hardware, Finns Pub – The Square, Coffee's Pub – Lower Main St., Kevin & Bronagh Delargy, Mary's Hair Salon – Main St., The Magic Wok – The Square.
It is with great sadness that we have just heard of the death of Mick Cowan, Main Street. Even though we knew he was very sick, it is still a shock to us all. Comhaltas will always be indebted to Mick and Breeda Cowan for their support over the years at the Thursday night sessions and many other special occasions. We would like to extend our deepest sympathy to his wife Breeda, his large family and to all his Cowan and Stapleton relatives. May he rest in peace.
---

Marian Hall Lotto
18/05/2010
Numbers: 1, 5, 17, 23
No Winner
1 Match 3 @ €150
Teresa Murphy, Templemore
Next Weeks Lotto Jackpot
€10,350

---
Pic of the Past…down memory lane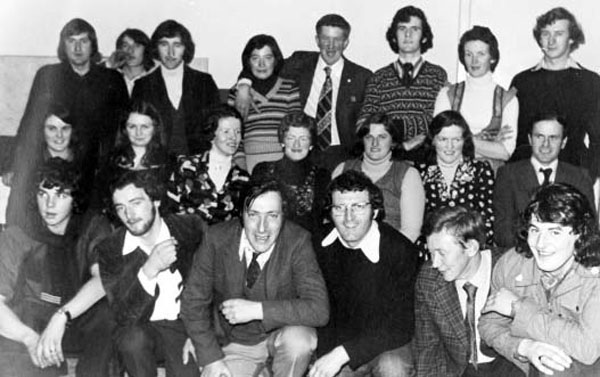 Back: Tom Costello, ….., Sean Kelly, Mary Ryan, Paddy Connors, Michael Ryan, Coolawn, Mary Ryan, The Glebe and Seamus Tynan
Middle: Ann Costello, Marion Everard, Margaret Ryan, The Glebe,
Margaret Ryan, Coolataggle, Mary Kennedy, Mary Ryan, Coolataggle and Tom Brien
Front: Tom Everard, Mickie Kelly, Jim Stapleton, Phil Maher, Paddy McDonnell and Paddy Ryan Murray

---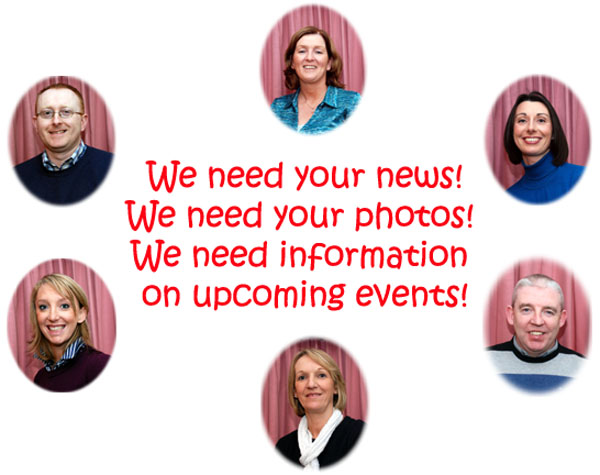 Website Committee: Enda Ryan, Noreen Fahy, Margaret Cowan, Aileen Óg Groome, Marie McGrath and Michael Barry
Many thanks to all those who contributed photographs and news items for this weeks current news. Well done!

Send your email to: info@borrisoleigh.ie

Also, if you like what you see and want to leave a comment, remember to use the Guestbook!