Parish Church Choir Fundraising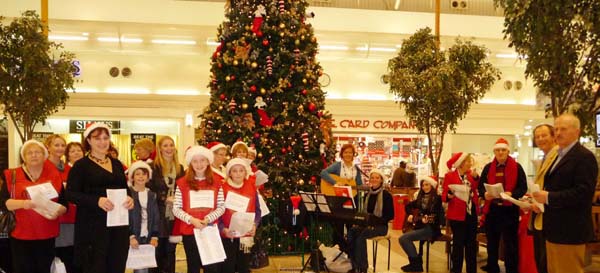 Joy to the World…… Borrisoleigh Parish Choir singing at the Crescent Shopping Centre


On Monday evening last, 7th December the Parish Church Choir travelled to the Crescent Shopping Centre in Limerick to create a bit of Christmas spirit as they sang Christmas carols to all the shoppers. All monies collected go towards the Borrisoleigh Community Centre on Pallas Street. Thanks to all who turned up on the night.
The young members have their opportunity to impress!!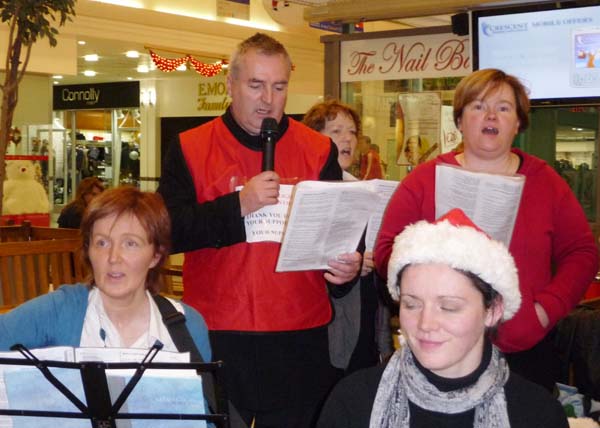 Fr Liam Everard PP demonstrates his singing talent!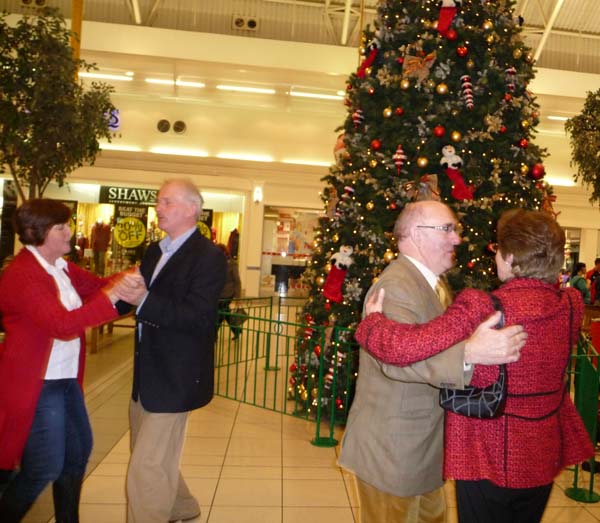 Dancing at the Crescent! Catherine Ryan, Ftiz Ryan, Michael Delaney & Angela McSharry


Fitz Ryan, Kellie Kelly & Paddy Dolan regale the Crescent shoppers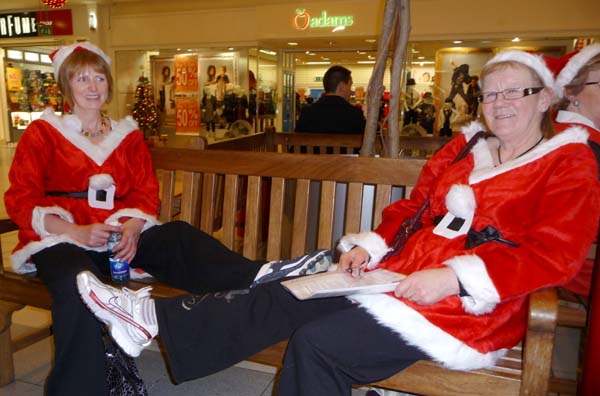 Nora Ryan and Rita Ryan sitting down on the job in festive garb!!
---
Borris-Ileigh Juvenile GAA Club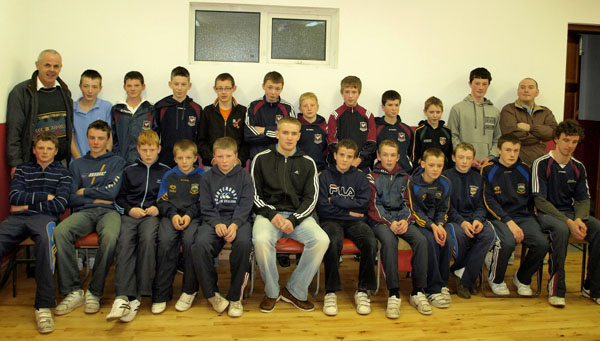 Borris-Ileigh U14 Hurling North Plate winners with Noel McGrath Front Row L-R Danny Ryan, Seamus Bourke, James McCormack, Tom Fitzgerald, Declan O'Connell, Noel McGrath, Declan Ryan, Shane Kenny, Stephen Doolan, Thomas Ryan, Paidi Scanlon, Brendan Kenny (Selector). Back Row L-R P.J. Ryan (Selector), Eoin Stapleton, Dean Ryan, Philip McCormack, Michael Ryan, Liam Ryan, Sean Kenny, Dylan Reid, Kieran Maher, Micheal Carey, Sean Ryan, Rory Ryan (Selector) Missing from Photo Liam Devaney, Sam Devaney, Jack Hogan, Matt Stapleton and Vinnie Stapleton (Manager)
Noel McGrath current Hurling All-Star and Young player of the year presented the U14 Hurling panel with their North Plate medals last Saturday in the Town Park Pavillion. Noel was welcomed by Chairman Jimmy Stapleton who outlined the great progress made by the juvenile club this year at all age groups with a number of finals contested. He also thanked all the mentors for the hard work put in during the year with each team and all the parents who supported teams and helped with transport to matches. The U14s had reached the North championship finals in hurling and football only to lose out in both and the hurling Plate final win was well deserved. Noel McGrath said he was glad to be available to make the presentation and advised all the young players present that working hard in training and matches and listening to the team trainers was the key to success. Seamus Bourke captain of the U14 panel made a presentation to Noel on behalf of the Juvenile Club. More photos from the night can been viewed in the Gallery.
---
Visiting the Crib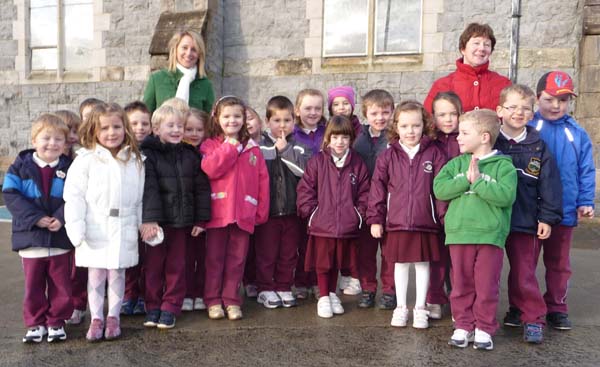 Dawn McCarthy & Marion Ryan with the Junior pupils of St Theresa's NS as they pay a visit to the parish church to pray at the crib
---
Camoige Blitz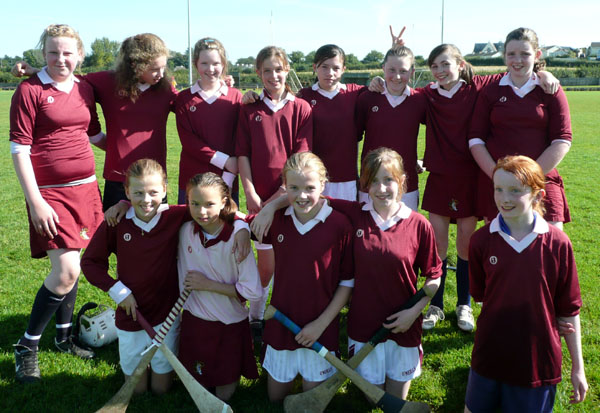 U12/U14 Camoige team that took part in a blitz competition in Kildangan in September
---
Lighting up for Christmas

Borrisoleigh – a brighter place this Christmas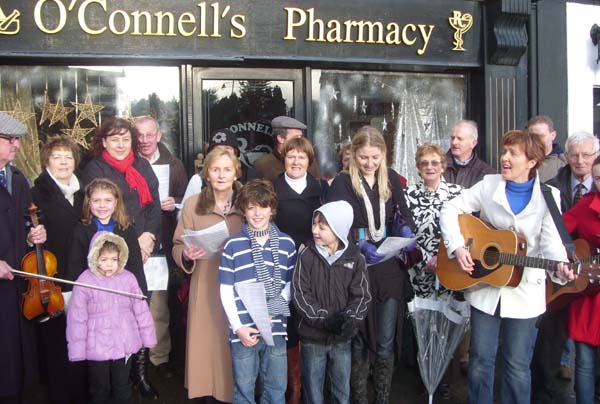 The Borrisoleigh Church Choir adding a festive tone to the turning on of the Christmas lights last Sunday afternoon.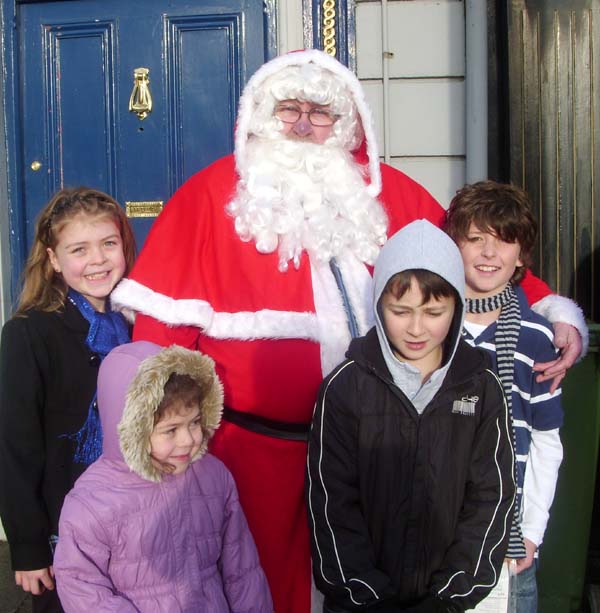 Santa with some of his little helpers at the turning on of the Christmas lights last Sunday

---
St. Cualan's Senior Citizens Christmas Party

Santa with Biddy Young and Nora Butler
Our annual Senior Citizens Party took place on Sunday last December 6th. The event commenced with the celebration of Mass by our chairperson Fr. Nicholas J Irwin CC . Our local choir enhanced the liturgy with their traditional hymns and Christmas carols.
As the partygoers left the Church the Community Development Committee greeted them with the "switching on" of the Christmas lights. Our choir sang Silent Night and Santa Claus also arrived on the scene. This brightened up the day for everyone and gave a kick-start to their party.
Santa then made a quick dash to the Marian Hall and once again had a greeting and a present for everyone. A full four course meal was served by Brian O Farrell, which was "top class" and went down a treat. Phil Maher, Michael Shanahan and Tim McSherry our loyal friends provided the music. They were also joined by the Kavanagh Family, Eimear Ryan with her fabulous dancing, and two Scor na Nog acts, The Set Dancers and Novelty Act. This was a great occasion for our Senior Citizens to get together, exchange greetings and reflect on the past year..
A sincere thanks to all who helped out and to all who contributed in any way to make this evening such an enjoyable occasion. Also a special word of thanks to all our sponsors who come up trumps every year and to the Marian Hall Committee for all their help.
We wish all our friends a very Happy and Holy Christmas.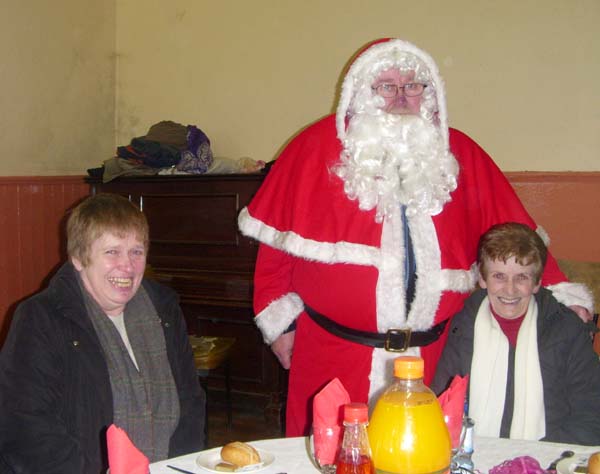 Pauline Cleary and Eileen Martin putting on their 'we've been very good this past year Santa' act!!!

Santa with the men folk: Mick Bourke, John McGrath, John Costello and Austin Kearney

Entertaining the senior citizens were: Tommy Kavanagh, Mick Shanahan, Toby Kavanagh and Anne Marie Kavanagh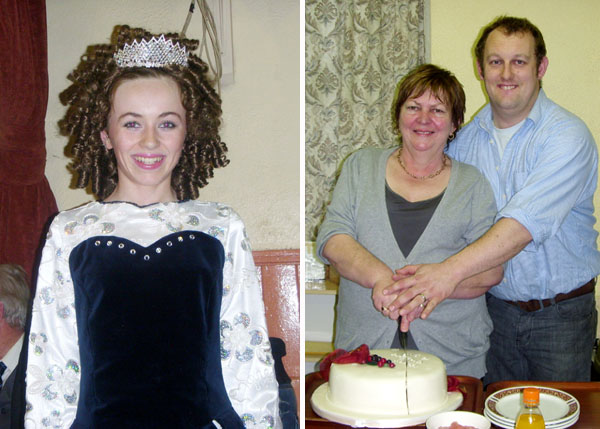 Eimear gave a dancing display and played music while Jamie and Nuala cut the festive Christmas cake

Angela McSherry, Bridie Shanahan, Margaret Kelly, Frances Kennedy and Theresa Stapleton taking a break from their duties at the party.

---
Christmas Party for People with Special Needs in Thurles

Thurles Parents and Friends of People with Special Needs are having their annual Christmas Party on the 13th of December 2009 in The Presentation Primary School Hall from 3-6.
Santa Claus, Food, Music, Caroling, Face painting, Spot prizes and Fun. For any other information contact Evelyn Nevin on 087 9774725.
---
Happy Birthday Luke!
Luke Preston celebrating his 4th birthday recently with Peppa Pig!!
Luke's Mum, Dad and sister Holly wish him a Happy Birthday!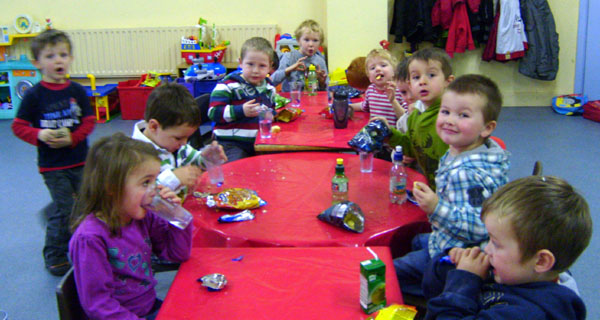 Party in progress at the playschool in the Marian Hall

Waiting for some cake!!
---
St. Patrick's BNS Christmas Concert
St. Patrick's BNS will hold their Christmas Concert at 8.00p.m. on Thursday, December 10th in the Marian Hall. First and Second Classes will present 'The Donkey Seller' and Third to Sixth Classes will stage 'Pied Piper-the Musical'. A great night's entertainment is assured. Your support would be appreciated.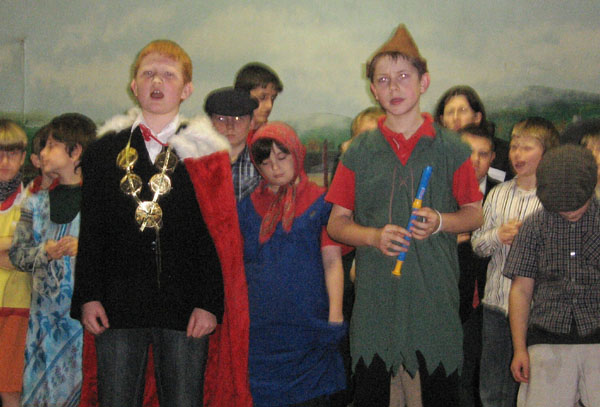 Practice makes perfect boys!
---
Marian Hall Lotto
08/12/09

Numbers: 6, 10, 13, 15

No Winner
2 Match 3 @ €75 each

Pat Costello, 4 Chapel Street
Kathleen Pomfret, c/o Bingo

Next Weeks Lotto Jackpot

€7,500

---
Pic of the Past… Down Memory Lane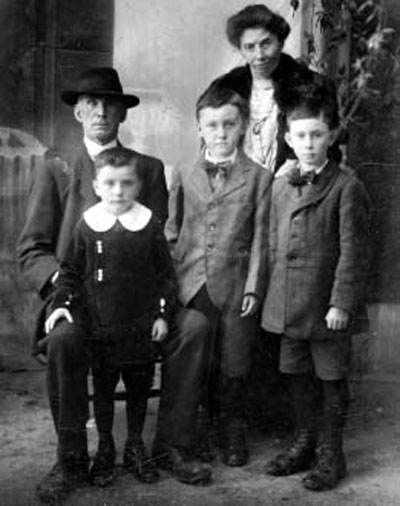 Tom and Catherine Costello with sons Jim, Matt and Tom, Pallas Lower
---
Your Website Needs You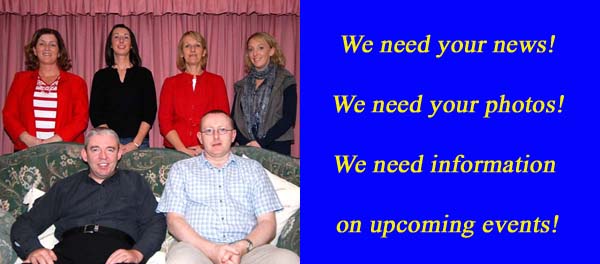 Website Committee: Noreen Fahy, Margaret Cowan, Marie McGrath, Aileen Óg Groome, Michael Barry and Enda Ryan
Many thanks to all those who contributed photographs and news items for this weeks current news. Well done!

Send your email to: info@borrisoleigh.ie
Also, if you like what you see and want to leave a comment, remember to use the Guestbook!