Thank You!



Presenting the money raised from her recent 25k swim Tracy Devaney happily hands over the cheque on Friday night last in the Clodagh bar after raising a total of €6,528-14 for the Alzheimers Society in North Tipperary.
Grainne Moore, Aoibhean Moore, Ana Brooks, Sharolyn and Dirk Leimlehner, the two Mary's from the Alzheimers Society, Ann Longman (Tracy's nan) George Stapleton, Celia Addis, Lorraine Stapleton, Joanne (Milford) Jennifer Woods, JD and Archie, Seamus Devaney, Tracy Devaney, Tia, Liam, Sam, Samantha, Ava, Hannah and Conor.



In picture from Left to right is Jennifer Woods and Jodie, both co-ordinators for the Alzheimers Society in North Tipperary,their offices are based in Nenagh. nxt- Joanne, one of the amazing home care nurses from the Milford Hospice who helped look after Tracy's Grandfather during his battle with cancer in 2007. Joanne covers the North Tipperary area with 3 other home care nurses and is based in the Hospital of the Assumption, Thurles. Nxt- Seamus Devaney, Archie, Tracy Devaney, Liam, Sam, Tia and JD. Tracy would like to say a huge THANK-YOU to everyone who has supported this venture, in particular all her sponsers, Lisa and Eamon Ryan- The Clodagh bar, Borrisoleigh, her Husband Seamus and my wonderful children, Sam, Liam, Tia, JD and Archie and all my great friends.


---
Fancy Dress Halloween Disco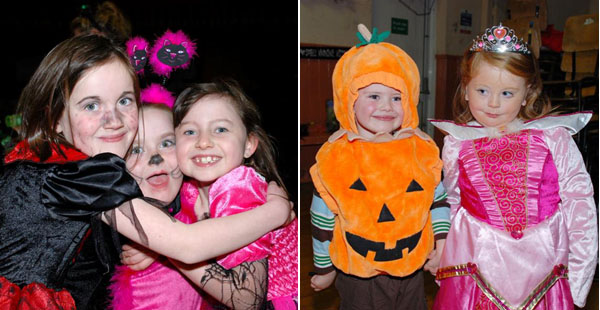 Some of last years Halloween disco-goers!


St. Theresa's Parents Assoc. & Borrisoleigh Youth Club wish to invite all primary school children to their fancy dress Halloween disco in the Marian Hall on Friday next October 30th from 7-8.30p.m. Admission is €5 per child and €10 per family. Refreshments will be provided. Spot prizes for the best dressed .See you there!
If you require further information, please contact Mary on (086) 3958553 or Denise on (087) 6154716

---
Well done young lad!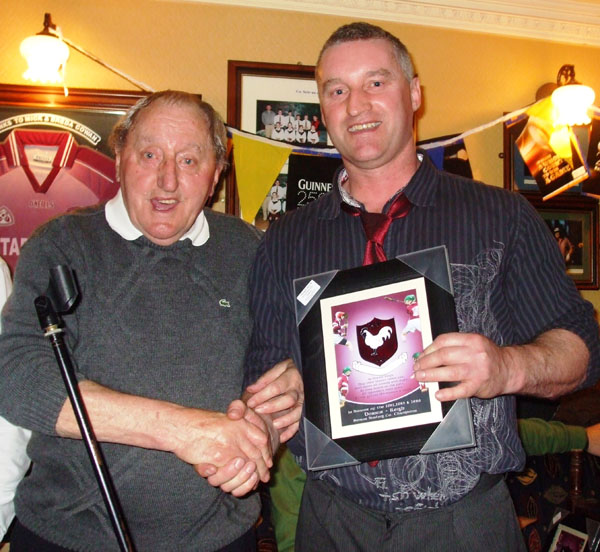 Liam Devaney congratulates his son Seamus on receiving a players award for being a member of the County Champions Team in 1981, 1983 and 1986


---
What a'head the ball'!!!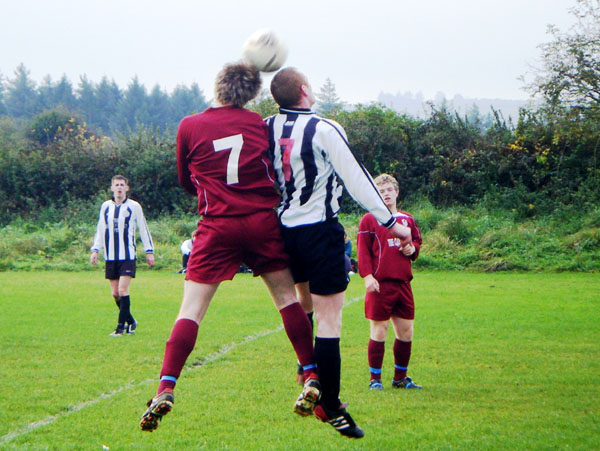 Jody Harkin shows that he's the 'bigger man' as he beats his opponent from Cloughjordan in a recent soccer match in The Town Park. His brother Benny looks well impressed!


---
Fifi's Tots Halloween Capers!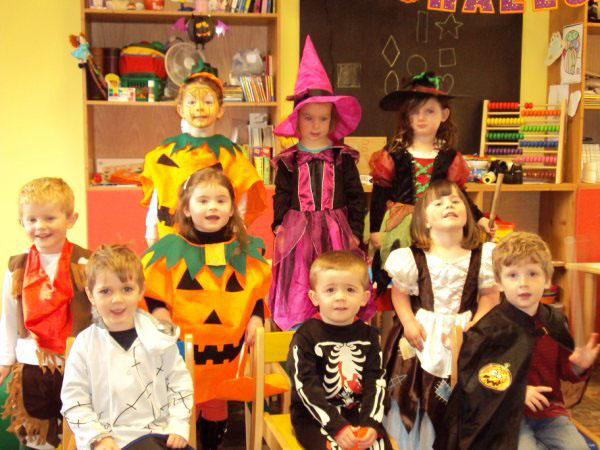 Pictured here are the children from Fifi's Tots playschool who had a fancy dress halloween party on friday 23rd October. Back row: Grainne, Aoife, Taylor. Middle row: Tom, Katie, Niamh. Front row: Pierce, Tadgh, Cathal.
---
AIB Award for Clodagh Macra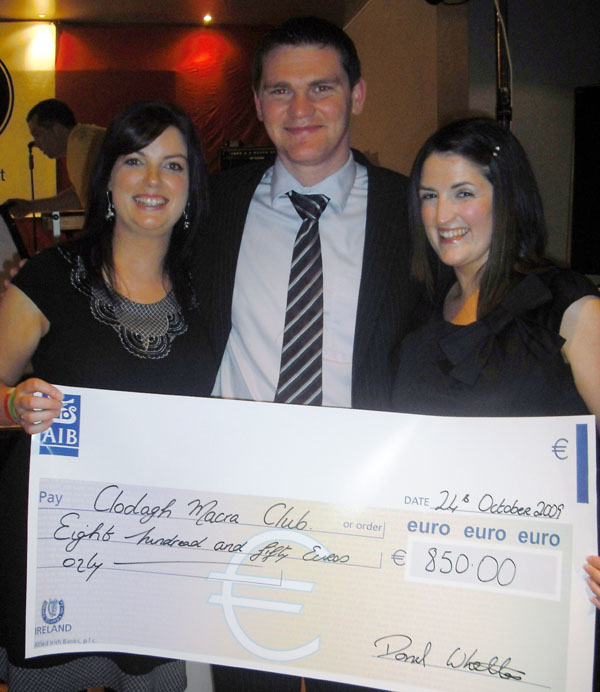 Majella, Alan and Teresa with the cheque


Clodagh Macra have been named as one of the Top Three Clubs in the country in the AIB Club of the Year competition for the second year running. The great news was announced on Saturday last at the Macra National Conference (The Rally) in Bantry, where club committee members Teresa Kennedy and Majella Carey gave a presentation to a huge Macra crowd. Athboy of Meath were awarded first place and Clodagh were awarded joint runners up with Knockraha of Cork. A cheque for €850 was presented to the club. Teresa and Majella were also awarded best presenters on the night! This is a huge achievement for our club to be rated as one of the best for the second year running and we would like to thank our dedicated committee members and our very enthusiastic members, without whom Clodagh would not have achieved this. To keep our club on top we are always looking for new members and if any of our activities interest you or you just want a good night out, check out Clodagh Macra!
Over 20 Clodagh members travelled to Bantry for the weekend and all that went had a great time. There was fancy dress on the Friday night and we danced and sang the night away on Saturday and Sunday. Some even had enough energy to go siteseeing! The fun doesn't end there. This Friday night in the Ragg there is a full agenda. At nine there is a meeting for those taking part in Capers. Afterwards there will be music to "Ring of Fire" and a DJ, where North Tipp Macra and beyond will dance the night away. The interviews for the personality competitions will take place also.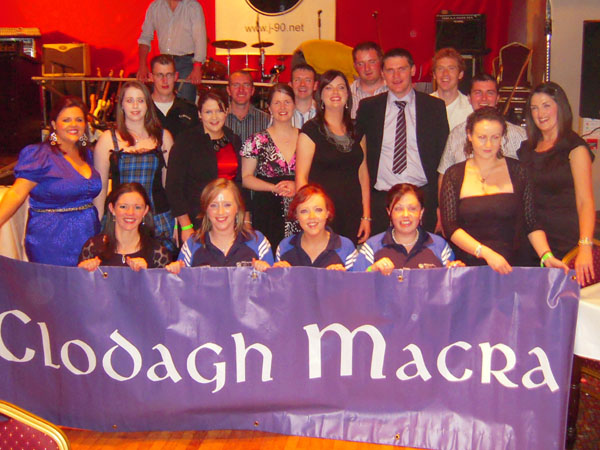 Clodagh members behind the banner celebrating our 2nd place!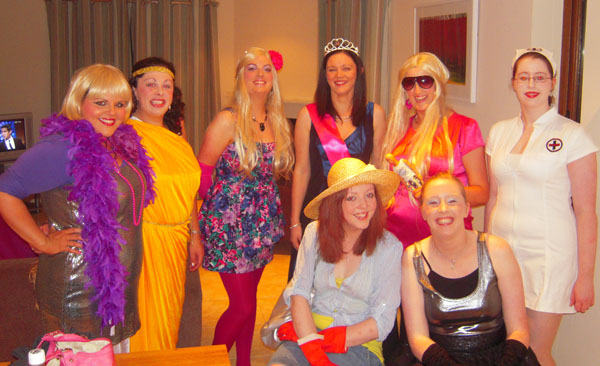 "When I was 5, I wanted to be…" Fancy dress macra style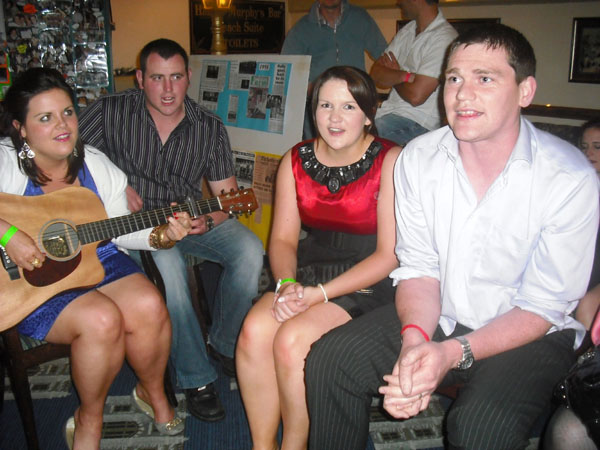 Singsong in the lobby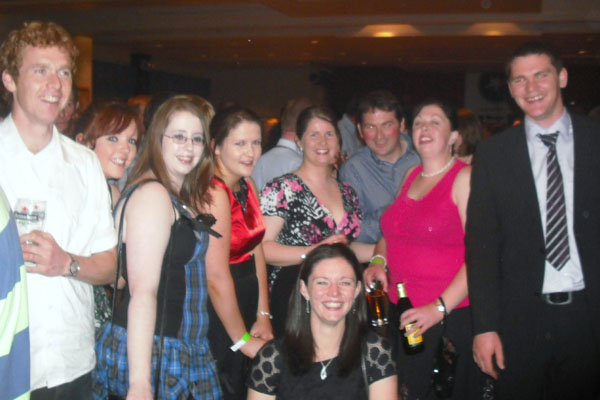 Still going strong at the end of the night!
---

During the month of November The Rosary will be prayed in the various cemeteries of our parish. The following are the times and places:
Glenkeen Cemetery on 8th November at 3p.m.
Ileigh Cemetery on November 15th at 3p.m.
St. Brigid's Cemetery on November 22nd at 3p.m.
Sacred Heart Church on November 29th at 3p.m.

Annual Mass of Remembrance

Our annual Mass of remembrance for all who died during the last year from our parish will be celebrated in The Sacred Heart Church on Friday November 20th at 7.30p.m. We especially invite family members and friends of all who died during the past 12 months to attend. May they rest in peace.


---
Junior and Senior Infants dress up for Halloween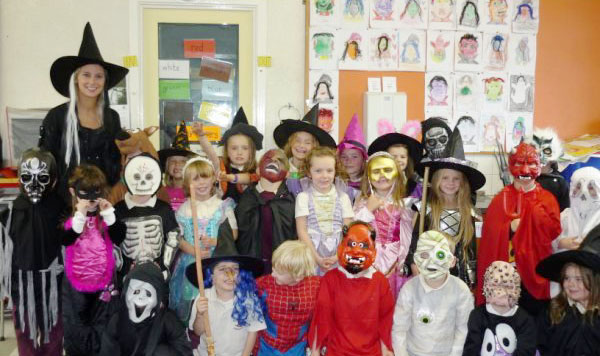 Miss Dawn (witch!) McCarthy with some of the scary people of Junior and Senior Infants of St. Theresa's National School
---
Let's go Dancing!!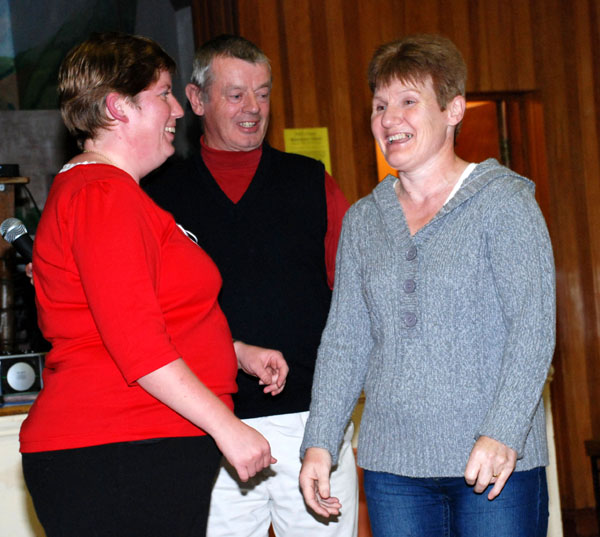 Francie helps Fiona and Phil to get aquainted at the 'dancing for fun' set-dancing classes in The Marian Hall!
Amidst a lot of swinging, tapping, chatting and laughing set dancing classes have gotten off to a great start in the Marian Hall. With the relaxing, social atmosphere everyone, no matter what level they are at, feels most welcome. Why not come along, join in the fun and stay for the cuppa and chat afterwards? The Marian Hall Thursdays at 8p.m is the place to be. See you there.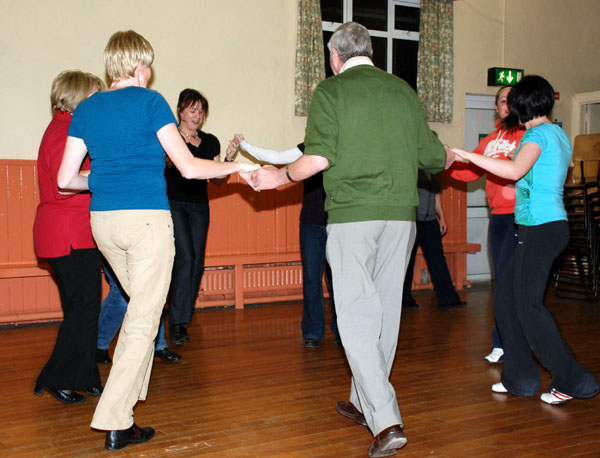 Ring a ring a Rosie. . .!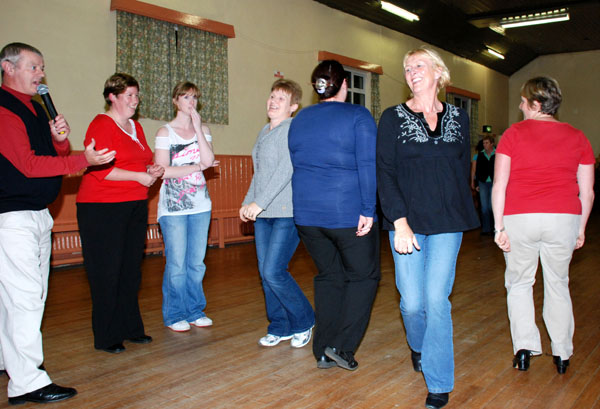 Round and round and round we go…!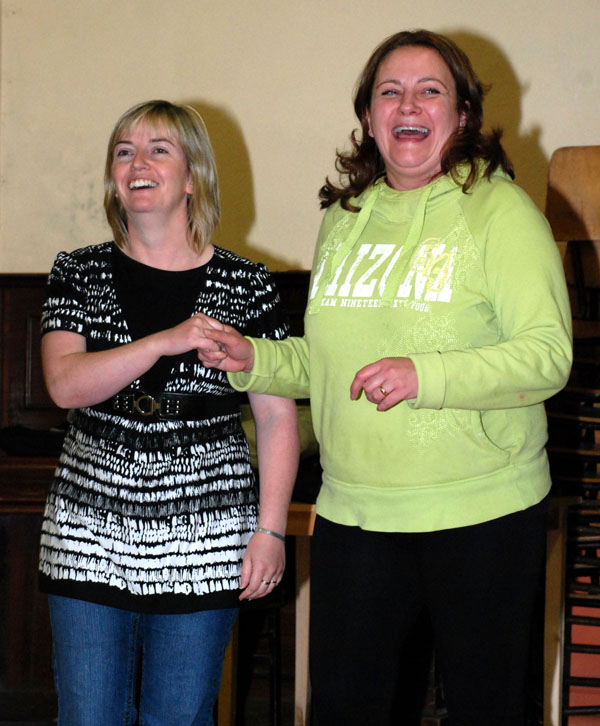 Julia may know how to cut hair but Úna knows a thing or two about dancing!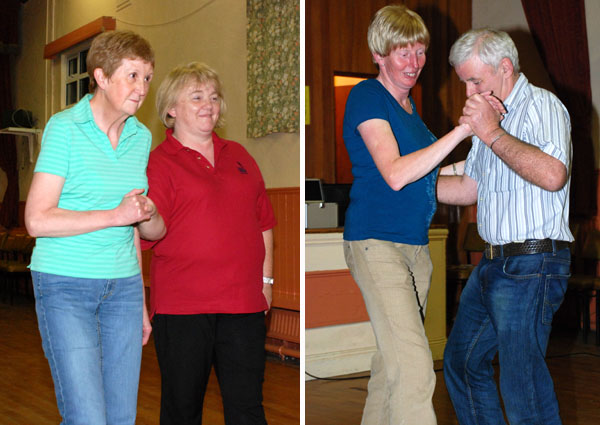 Borrisoleigh's answer to 'Jigs n' Reels!'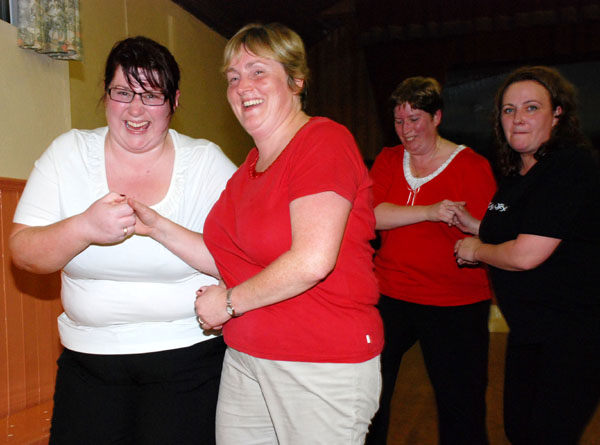 Fiona and Phyllis take the dancin' in their stride while the two behind TRY to keep up with 'em!
But of course Julia has to be different!!!



Francie invites everyone to sit down & take a break between dances but of course THERE IS ALWAYS ONE!
---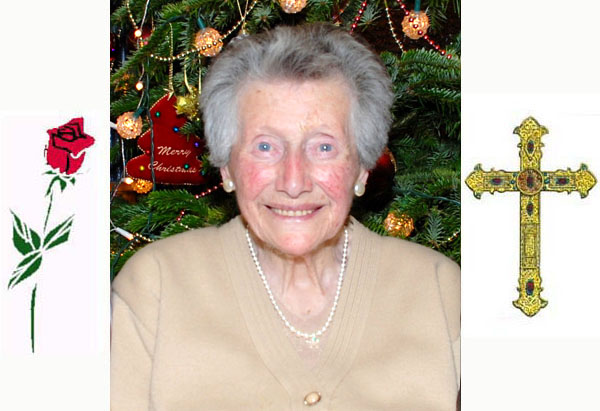 Mai Maher of Cullohill R.I.P. The death has occured on Friday last October 23rd of Mai Maher of Culohill. Her Funeral Mass took place in the Sacred Heart Church Borrisoleigh on Sunday 25th October with burial in St. Brigid's Cemetery. We offer our deepest sympathies to her family and friends. May she rest in peace.

---
Linda O'Connor Memorial Tournament
The Borrisoleigh Camogie Team with Vincent and Mary O'Connor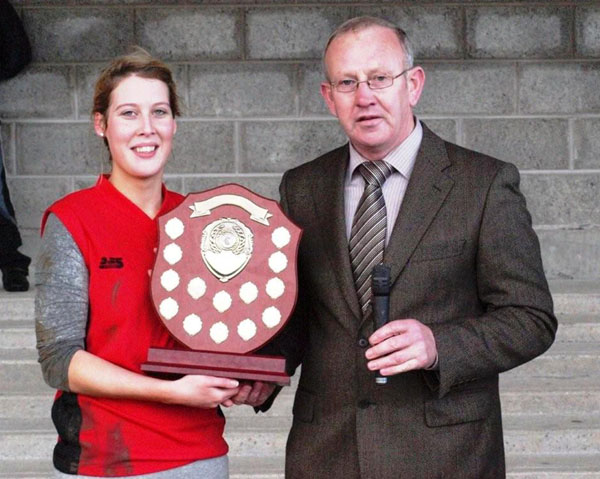 Vinny Stapleton presents the Memorial Plaque to the captain of the Moneygall winning team at the Linda O'Connor Memorial tournament held in The Town Park on Sunday 25 October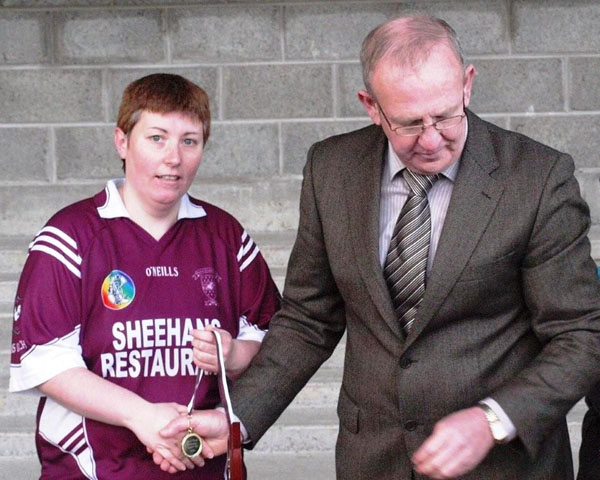 Vinny presents Siobhan Stapleton, Borrisoleigh Captain, with her runners-up medal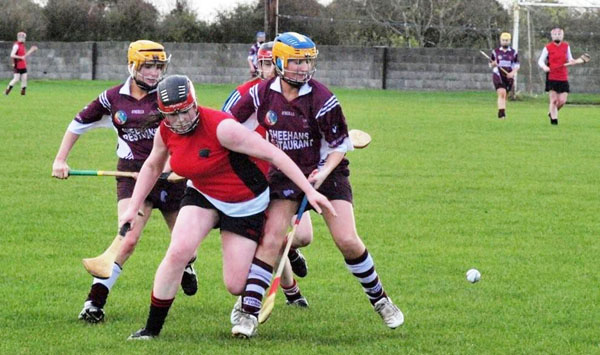 Some of the action as Borris fight for possession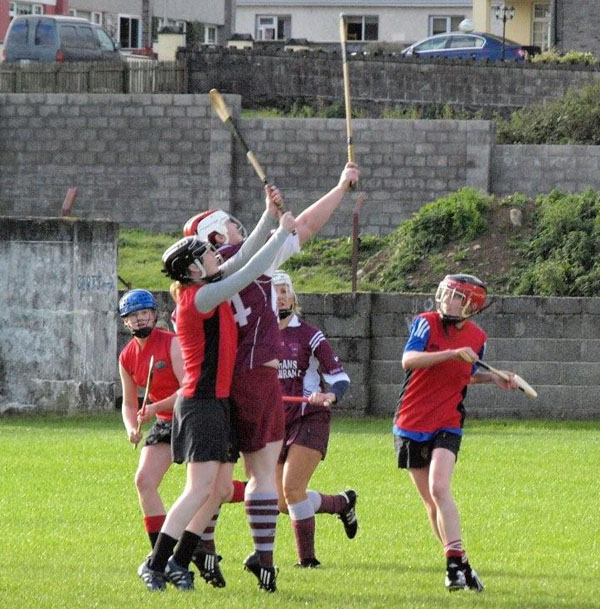 Borris win the high ball
To view more photos click here:

Gallery of Photos


---
Golden Jubilee Celebration



Albert Kelly pictured here with his brothers Fr. Tony, New York and Seán, London at a celebration to mark Fr. Tony's Golden Jubilee of his Ordination in The Cathedral, Thurles on 11 September last



John McGrath, Greenlawn enjoying the celebrations with Fr. Tony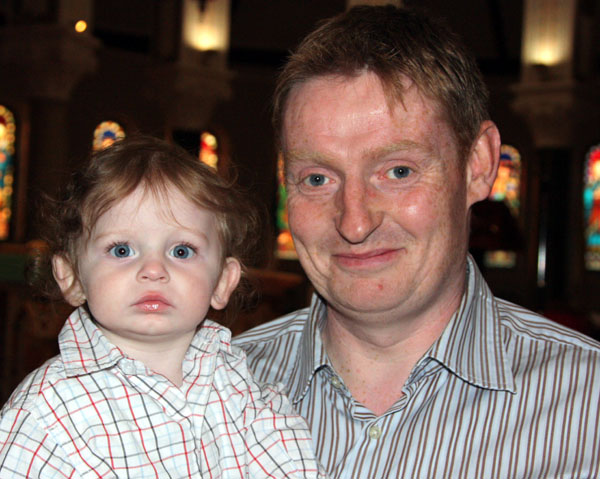 Tomás Kelly, nephew of Fr. Tony pictured here with his son Liam at his uncle's Jubilee
---
Poster Kids!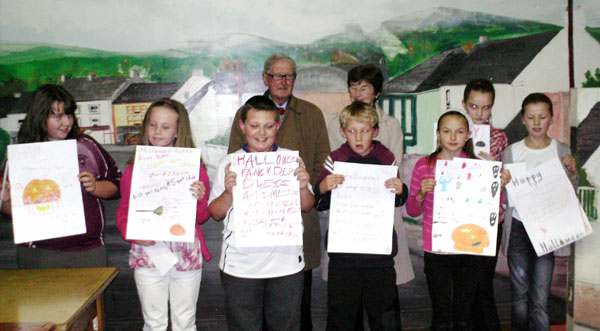 These are the six winners of the youth club halloween disco poster competition which was held in The Marian Hall last Friday night Oct. 23rd. The winners are Hazel, Laoise, Daniel, Dan, Kristina, Eimear and Lorna. their works of art may be seen in the local shops over the Halloween period. A special word of thanks to Tim and Angela McSherry for their adjudication of the competition.
---
The Magic Wok Oriental Restaurant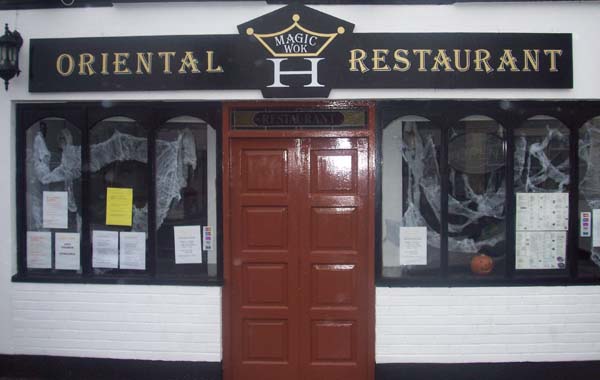 The Magic Wok, Main Street, Borrisoleigh has started an Early Bird Dinner Menu available every evening from 5pm to 8pm.

4 courses for the great value of €15

Choice of 2 set menus
Chinese or Thai

Phone: 0504 51888
Fax: 0504 50841
---
Marian Hall Lotto
27/10/09
Numbers: 1, 8, 9, 28
No Winner
2 Match 3 @ €75
Sadie Coffey, Nenagh
Mgt Quinlan, Boulabane, Roscrea
Next Weeks Lotto Jackpot
€6,600
---
Pic of the Past… down memory lane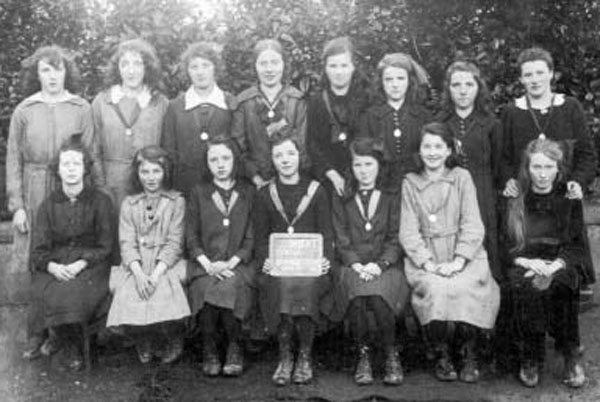 1920s
Back: Bridget Ryan (nee Maher), Mary Long (nee Maher), Kit Stephens, Bridget Loughnane (nee Harington), Mary Cashin (nee Simpson), Margaret Kennedy, Anna Ryan (nee Kennedy), and Alice Carroll
Front: Aggie Lee, Nan Mackey, Kathy Ryan, The Glebe, Josie O'Shea, Sis Cashin, Kathy Mackey and Bridget Kennedy (nee Hackett)

---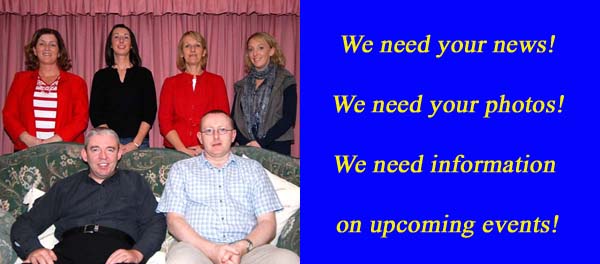 Website Committee: Noreen Fahy, Margaret Cowan, Marie McGrath, Aileen Óg Groome, Michael Barry and Enda Ryan
Many thanks to all those who contributed photographs and news items for this weeks current news. Well done!

Send your email to:
info@borrisoleigh.ie
Also, if you like what you see and want to leave a comment, remember to use the Guestbook!