Borrisoleigh Charity Cycle 2009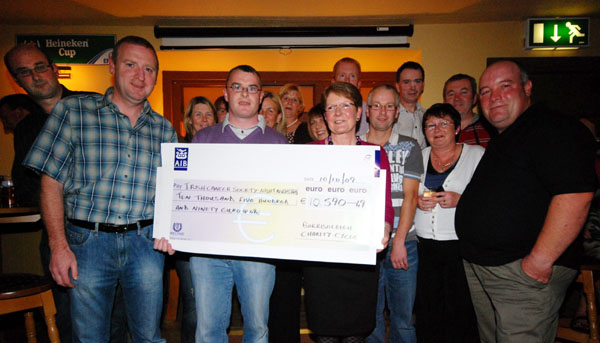 Ruairi O'Connell and P.J. Delaney presenting a cheque for €10,590.49, the proceeds of this year's charity cycle, to Night Nurse Gretta English
Last Saturday night in the Clodagh Bar the proceeds of this year's Cycle were presented to the Irish Cancer Society (Night Nursing Service). P.J. Delaney, on behalf of the Cycle presented the cheque for over €10,500 to Gretta English representing the Night Nursing Service. Gretta is one of many nurses who provide tremendous care to critically ill cancer patients in their own home. It's a vital service that helps in no small way to relieve the difficulties that the patient and their families experience during this time. Night Nursing allows the patient to remain at home, surrounded by their family, but accompanied by practical support and reassurance from the Service. It is a service that has been provided to many patients and their families in the local and surrounding parishes, and more recently Gretta provided such care and support to the late Paddy Delaney and his family during his recent illness. This was acknowledged by P.J. when presenting the cheque to Gretta when he said that he couldn't speak more highly of her and the care she provided during that time. In response Gretta said she was delighted to accept such a large sum of money on behalf of the Service that depends on voluntary contributions to survive. She said she was also humbled to think that so many people were willing to provide their time and effort to support the Service and thanked all involved including organisers, cyclists, their sponsors and all who helped in any way. The organisers would also like to thank Lisa and Eamonn Ryan and the staff of the Clodagh Bar for their hospitality on the night. Over the last six years the Cycle has now raised close to EUR60,000 for various worthwhile causes. The organisers would like to thank everybody who has contributed in any way during that time in making the event the success that it has been and hopefully will continue to be in the future.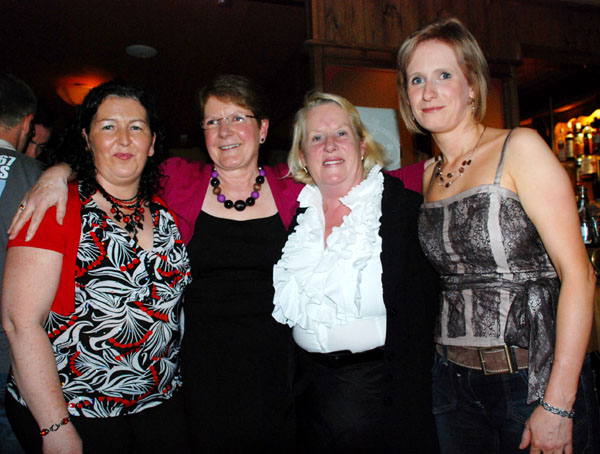 Nora Delaney with nurses Teresa Maher, Gretta English and Marie Tierney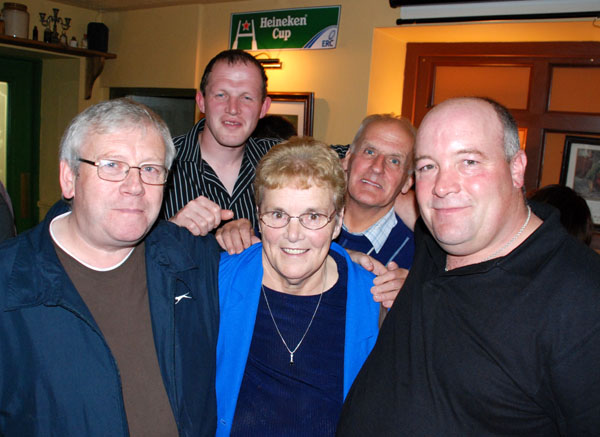 Donal O'Driscoll, Michael Quinlan, Josie and Jody Fogarty and Joe Holland enjoying the event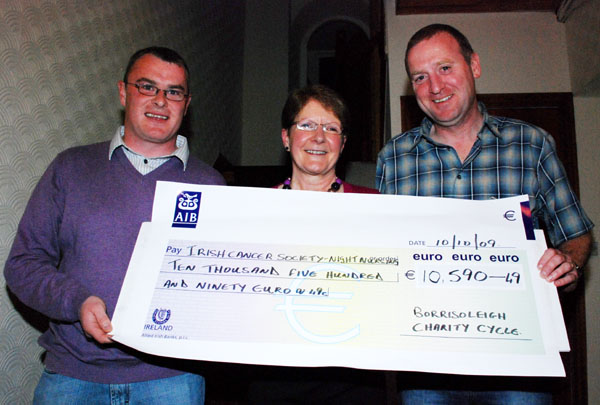 Ruairi and PJ with Gretta and the cheque
---

Charity Swim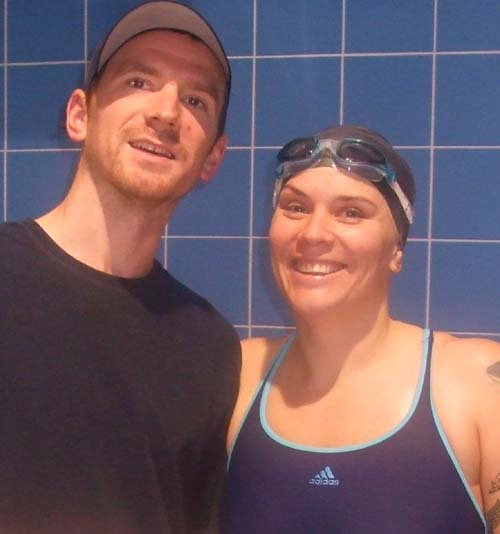 Tracy who recently swam 1000 lengths for Charity-pictured here with her brother Dean BEFORE the swim, (note the smile!) which went ahead at 7.30am on 30/09. Tracy completed the full 1000 lenghts of Thurles pool in a continuous time of 10hrs 41 mins, making it the first indoor long distance swim of it's kind.

"The support was amazing on the day, my family including my Mam and Dad, my brother and of course Seamus, my kids and all my wonderful friends all cheered me on as I swam up and down, and up and down- it was overwhelming, emotional, exciting and nerve-wracking all rolled into one but hey- I did it, and I'm thrilled"

The total money raised so far for the Milford Hospice and the Alzhiemers Society has exceeded €5,000. Thanks to everyone who has supported her.

A presentation of the cheques will take place on Friday October 23rd at 9:30 p.m. in the Clodagh Bar. Anyone who has cards to return can do so as soon as possible.


---

Minor B Football County Final


The Minor B Football County Final took place on Saturday last October 10th against Killenaule in Boherlahan. Even though the team played their hearts out they were not able to match the strength and pace of the Killenaule side. Well done to both players and mentors for getting so far and great credit is due to everyone involved.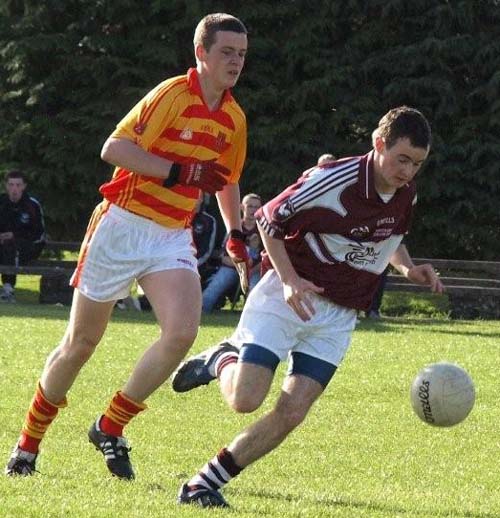 Mossy about to set up an attack!!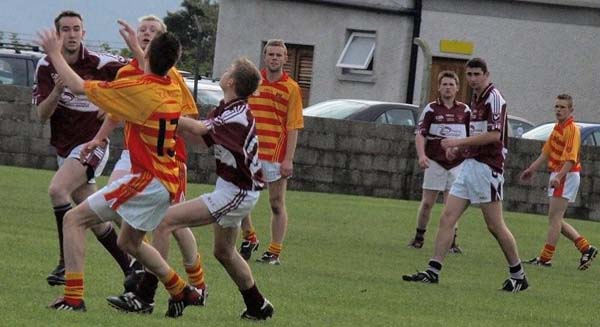 I wonder who finally got the ball!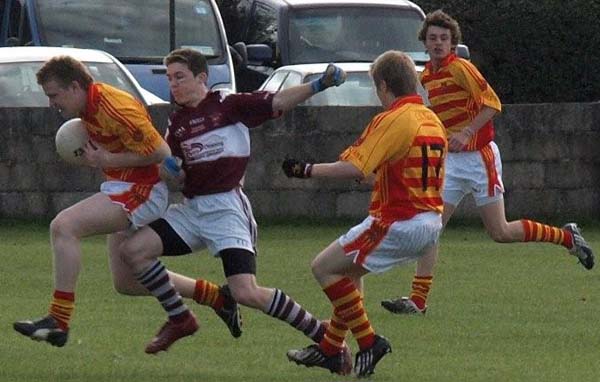 Barry Dwyer out numbered but that doesn't stop him challenging for possession.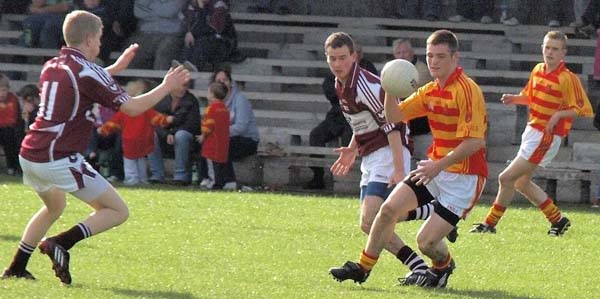 Dan McCormack and Mossy trying to win possession.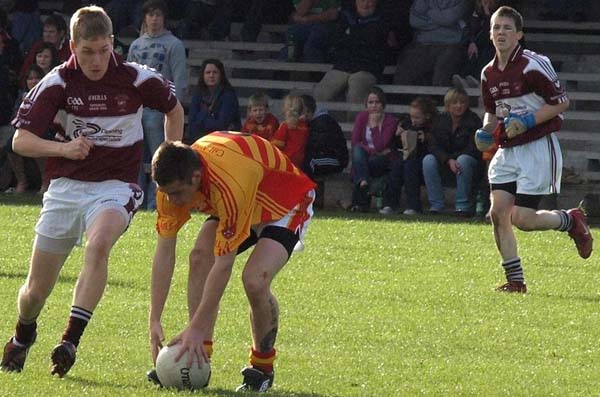 Dan moves in with Barry as backup.
To view more photographs click
here
---
Set Dancing Classes (and lots of fun!) for Adults

(The above picture is for illustration purposes only!! There is no guarantee that by the next time Ireland is host of the Eurovision Song Contest that this will be ye, but we'll give it a bash!!)
Set dancing classes start in the Marian Hall at 8p.m. on Thursday 15th October. These dancing classes promise to be great fun. Not only will there be set dancing but there will also be the odd waltz and quick-step thrown in. So, if you fancy an hour and a half of fun, exercising unbeknownst to yourself combined with the chance to meet and chat with friends, new and old, you know where to be this Thursday night at 8p.m. Come along and join in the fun. If you would like any further information please contact (086) 8408496
---
Parish Community Centre Development Project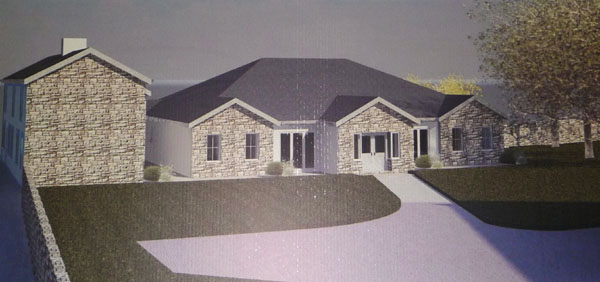 The Parish Community Centre as it will look like when it is finished

A 'progress report' meeting was held in the Boys' National School on Wednesday 7 October concerning the Parish Community Centre Development Project. Fr. Liam Everard, PP addressed the meeting and gave an up-to-date account of progress thus far including the funding arrangements for the project. John Cummins, Architect for the building works, then spoke of the finer detail regarding the building itself. A question and answer session followed and the meeting concluded with Fr. Liam thanking everyone for their support.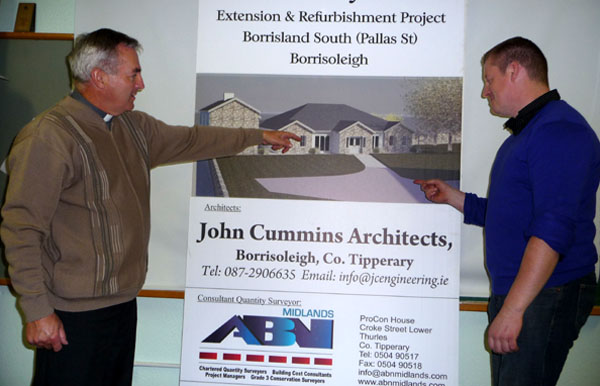 Fr. Liam Everard, PP and John Cummins discussing the project
---

County Development Plan 2010 – 2016

The Draft County Development Plan 2010-2016 is now on public display. Copies of the Draft Plan can be purchased from Planning Section, North Tipperary County Council, Civic Offices, Limerick Road, Nenagh, hard copies cost €80, disks cost €5. There is a settlement Plan for Borrisoleigh and it can be located in Chapter 12 pages 39 to 43 and same can be located by clicking
here
If you unable to open this document please scroll down to the end of the page and download DjVu Plug-in.

The closing date for receipt of submissions/observations with respect to the Draft Plan is Friday 20th November 2009
.
---
Borris-Ileigh Juvenile GAA Club Notes
Thomas Gleeson Memorial Cup Winners 2009
Back: Tom Stapleton, Eddie, Killian and Michael Galvin
Front: Cian, Adam, Dan, John Captain, Oran, John and Raymond

The third annual Thomas Gleeson Memorial tournament for U10 and U8 boys was held on Saturday morning last in the park. Four evenly matched teams took part on the day.
Team 1: Managers TJ Ryan and John Joe Maher
Dylon Captain, Nicky, James, Kevin, Micheal, Darragh, James, Oisin, Luke and Cathal
Team 2: Managers PJ Younge and Paul Boyle
Patrick Captain, Aaron, Seamus, Alvis, Stephen, Patrick, Bryan, Colm and Diarmuid
Team 3: Managers John Vahey and PJ Delaney
Jamie Captain, Dirk, Liam Garrangreana, Liam Borrisoleigh, Jack, James, Fintan, Pauraic, and David
Team 4: Managers Tom Stapleton and Michael Galvin
John Garrangrena Captain, Raymond, John, Oran, Killian, Cian, Adam and Eddie Thanks to Gary Kelly and Paddy Ryan who refereed the games on the day.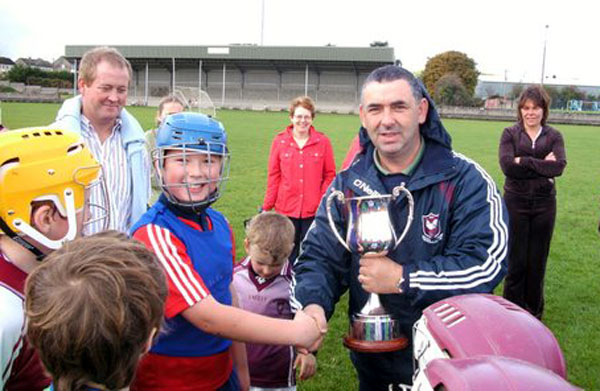 Paul Boyle presents the Thomas Gleeson Cup to winning Captain John
After two highly entertaining and close fought semi finals Jamie's team and John's team qualified for the final. John's team emerged victorious on the day. Paul Boyle presented the Thomas Gleeson Cup to the winning captain John on behalf of the Gleeson family. Paul reminded those present of Thomas Gleeson and the many enjoyable Sunday afternoons he and his friends spent hurling in the Bush up to 22 years ago. After a number of years absence the Thomas Gleeson Cup is finally back in the Bush where it will be cherished!
---
Galtybeg Climb
Last Saturday the U12 and U14 panels headed to the Galtee Mountains for their end of year trip. The plan was to climb the Galtymor near Skeheenarinky, the highest mountain in Tipperary. However, low cloud and mist meant that the smaller climb of Galtybeg was all that could be undertaken safely on the day (no mean feat in itself). Under the watchful eyes of Jimmy, P.J., Ruairi, John and Brendan all of the young lads returned safely after a three hour trek up the mountain. Then following a stop for much needed food in Cashel, we moved on to watch Borris-Ileigh in the the Minor County Football Final against Killenaule. Though the result didn't go our way a great day was still had by all. Commiserations to the Minor Football Panel, though beaten on the day it was a great achievement to reach the county final.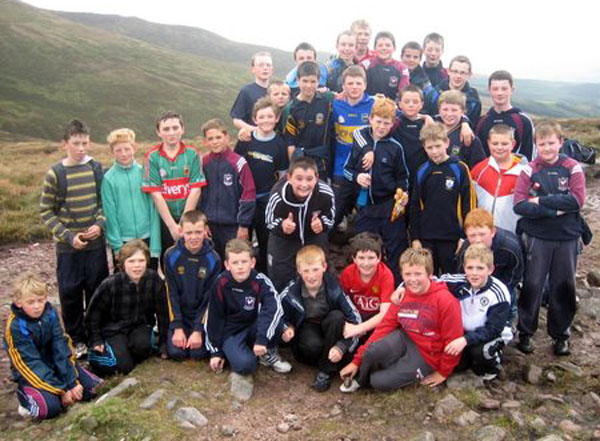 Mission Accomplished, the U12 and U14 Panels after climbing Galtybeg last weekend

---
Parish Hurling League Finals
The 2009 Parish Hurling League Finals will take place this Saturday 17th October. The Shield Final between Thomas' Team and Michael's Team will take place at 12 noon while the Parish League Final will follow on at around 12.45 between Declan's Team and Matt's Team. All players should be in the Town Park at 11.30am regardless of the final they are involved in.

---
Clodagh Macra are holding a meeting this Friday night in the Marion Hall at 9pm. We hope that anyone who might be interested in joining us or anyone who wants to see what we do will come along and check us out. We are selected for the final of the AIB Club of the Year and will be showing the presentation on the night as well as having our club scrapbook and plenty of photos on display.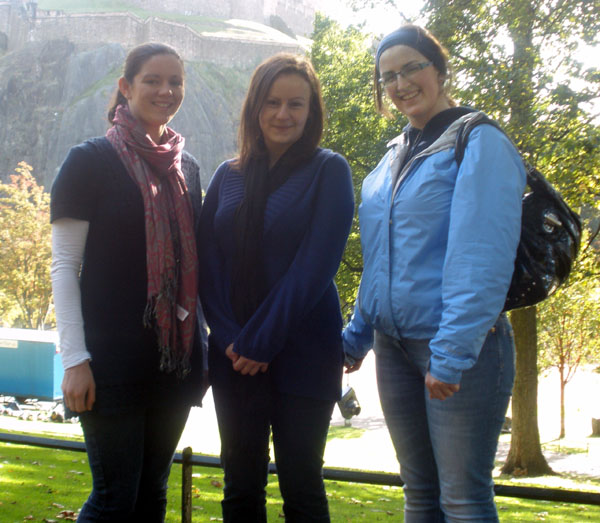 Laura, Denise and Teresa outside Edinburgh Castle on the Macra Prizewinners Trip
The past weekend was busy for our members. Edel Ryan represented North Tipp in the national semi-finals of the Impromptu Public Speaking. Although she spoke very well on such topics as "women" and "frost", she was unsuccessful on the night. Only one of eight went through to the final. Also busy during the weekend were the Clodagh team who won the Public speaking last February. The three girls were awarded a place on the Macra prize-winners trip to Edinburgh and enjoyed a great weekend with over 40 more Macra members from around the country.


---

Art Classes in Borrisoleigh!


Painting classes, for beginners and experienced, will be held in the Clodagh Bar on Tuesday nights. This is a 6 week course in Acrylic painting which will run for 2 hours, from 7.15 to 9.15. Classes start in Mid-October. If you are interested in this course, please contact Amy Delahunt at 087 2589021 or drop your name into the Clodagh Bar. Advance booking is essential.


---
Marian Hall Lotto
13/10/09
Numbers: 1, 14, 19, 27
No Winner
No Match 3
2 x Name Draw @ €75
Pat O'Halloran, Roscrea
Kay Ryan, Kilcommon
Next Weeks Lotto Jackpot
€6,300

---
Pic of the Past… down memory lane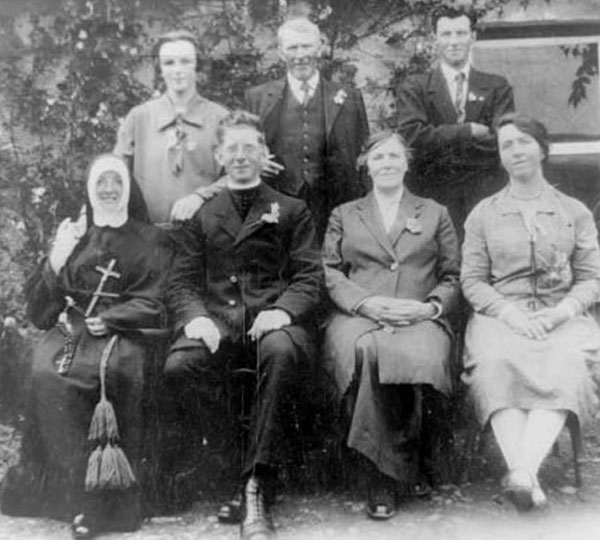 Back: Delia, Jim and Dick Tynan, Rathmoy
Front: Sr. Lanigan, Br. Dick Lanigan, Catherine Tynan and Bridgie Lanigan
---
Your Website Needs You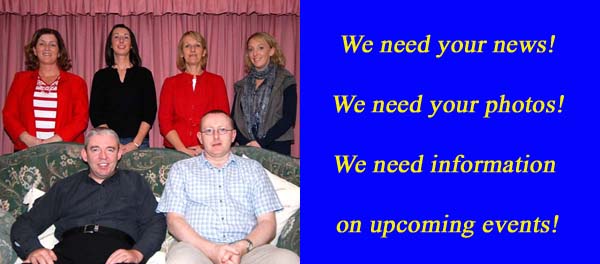 Website Committee: Noreen Fahy, Margaret Cowan, Marie McGrath, Aileen Óg Groome, Michael Barry and Enda Ryan

Many thanks to all those who contributed photographs and news items for this weeks current news. Well done!

Send your email to info@borrisoleigh.ie


Also, if you like what you see and want to leave a comment, remember to use the Guestbook!