Minor B Football County Semi Final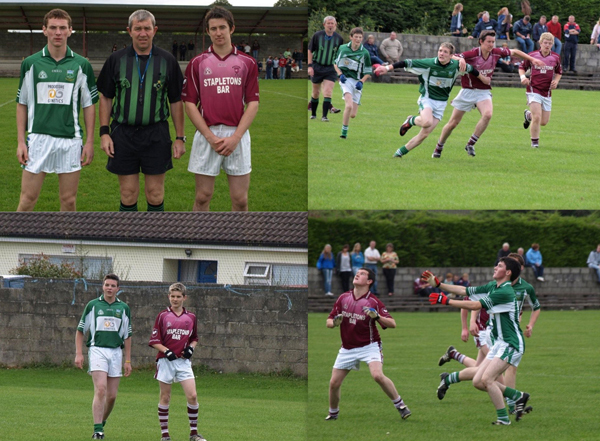 Borris-ileigh -v- Drom & Inch in Drombane on Saturday 19th September 2009. Borris-ileigh were victorious on the day with a final score of 2-9 to 0-4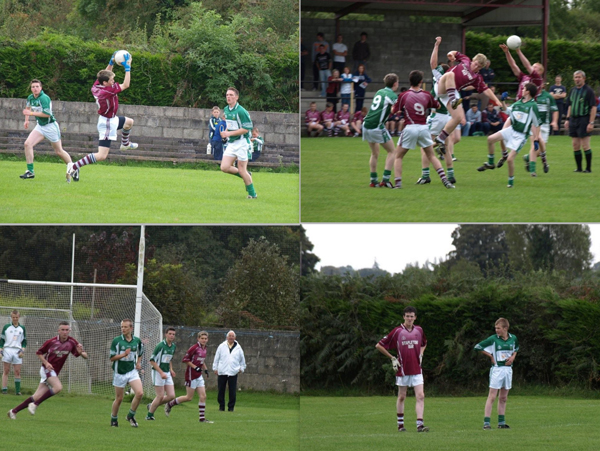 Some action on the day
---

Annual Charity Cycle 2009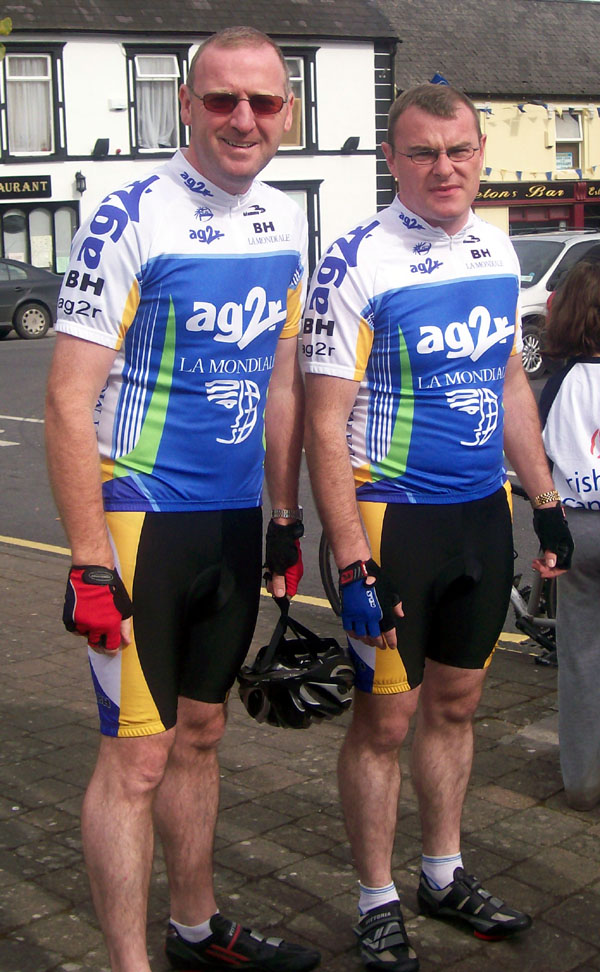 Ruairí O'Connell and PJ Delaney preparing to cycle
This year's cycle (our sixth year in succession), in aid of the Irish Cancer Society (Night Nursing Service) took place last Saturday 19th September. Once again the weather improved just before the start and damp conditions were replaced with glorious sunshine and little wind. In good spirits, with the fine weather and following a blessing from Fr. Barry over sixty five cyclists (our biggest crowd ever) set off from the Square in Borrisoleigh. With a steady pace being maintained, in no time at all and with no great difficulty we were over Killinan Hill and pulling up at our first resting point at Eurospar in Thurles. The leg to Templemore was a little more difficult and the heavy traffic heading to the matches in Templemore made for some dangerous situations at times, but thankfully there were no incidents and all reached Templemore in one piece. Following some much needed refreshments we set off on the final stage to Borrisoleigh. When we reached Greenlawn we regrouped and were joined by some additional younger cyclists. All completed the cycle together into Borrisoleigh. A tired but happy group of cyclists retired to the Clodagh Bar for some very welcome soup and sandwiches.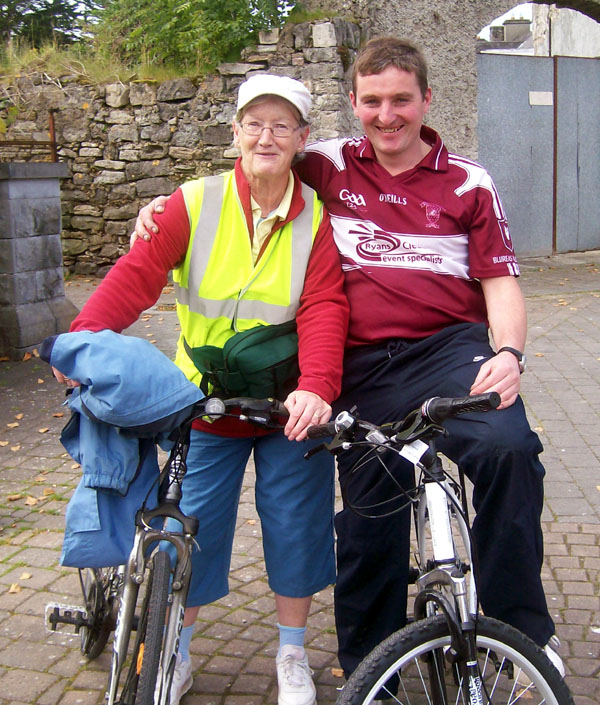 Delia Ryan and Denis Ryan getting ready for the road!
We would like to thank the following whose great assistance on the day ensured another successful outing, Joe Holland in the lead safety vehicle who carried the refreshments which were handed out en route by his capable team of Jody Fogarty, Declan O'Connell, Jack Hogan and Kieran Maher. Matthew Ryan and Matt Vahey who manned the back safety vehicle and ensured that no one was left behind on the road. Our photographers for the day were Marie McGrath and Fr. Michael Barry who could be spotted at various locations on the route and the results of their fine camera work are available for all to view on the Borrisoleigh website www.borrisoleigh.ie . Thanks also to Sargeant Tom McCormack of Borrisoleigh Gardai. Refreshments during the cycle were provided by Gleeson Group, Walsh's Costcutters, Donal Hurley's Gala and Shanahans Foodstore. While the sandwiches and soup were provided by Stapleton's Bakery and the Clodagh Bar. Thanks also to Lisa Ryan and the staff of the Clodagh Bar and those who made and served the refreshments, including, Sheila Stapleton, Vera Hogan, Nora Delaney, Bernie and Tara Johnson and Amanda Stapleton. Finally great praise and credit is due to all the cyclists who gave their time and effort to take part on the day and also to their very generous sponsors. Currently the sponsorship money lodged has reached almost EUR5,000 but there are a number of cards still outstanding so we would appreciate if all cards and money are returned as soon as possible to PJ Delaney or Ruairi O' Connell as we hope to present a cheque to the Irish Cancer Society at the end of September.

The Pedalling Pastor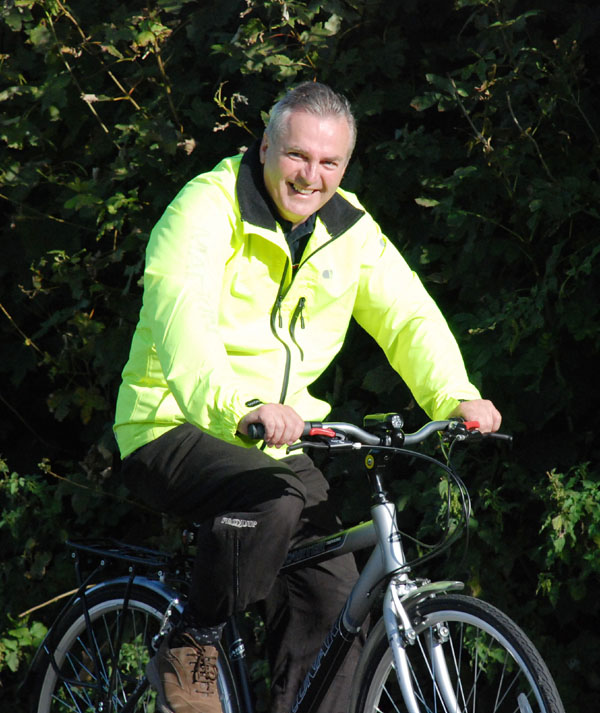 Fr. Liam Everard PP on his bike and enjoyin' the charity cycle
Bernie's pick up line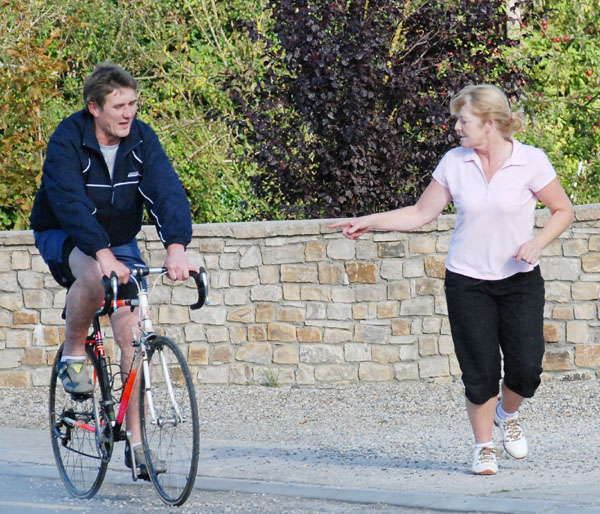 Nice wheels Donal!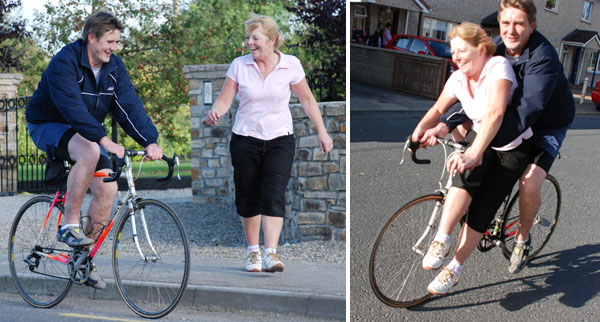 Donal is wooed by Bernie's charm and gives in to her 'damsel in distress' routine!

Two for the price of one!


Trevor Groome and Gerard Ryan who did the charity cycle circuit TWICE and caught up with the 'one time rounders' at the finishing line! Well done lads!

Like Grandad – like grandson!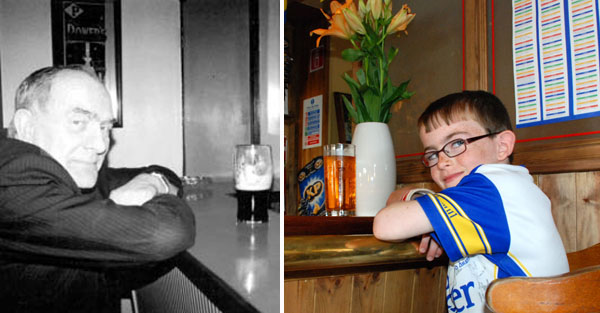 Cathal Hogan having a lucozade in similar pose to his late grandad Paddy Delaney who was having a 'quick' pint!

For more photographs of this years' cycle please click on the following links:
---
Recent visit to Mount Kinane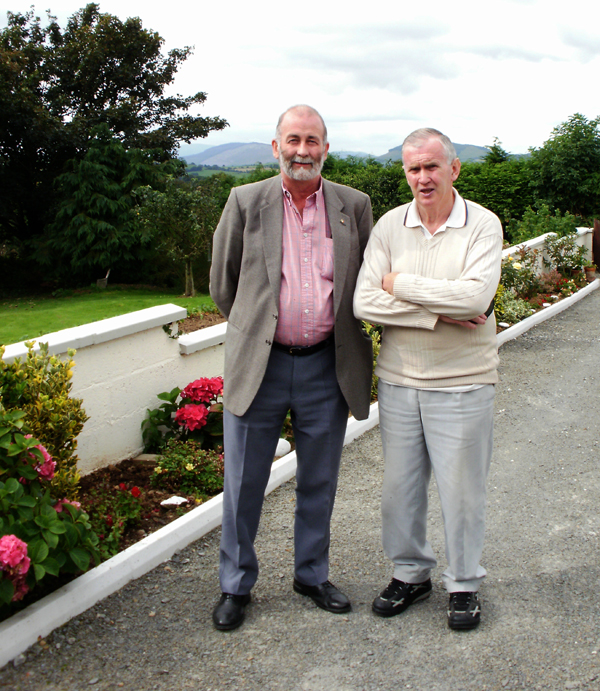 Patrick Meads from Henham, Essex, U.K. with his cousin John Kennedy, Mount Kinane. Patrick's late mother Bridie Meads nee Kennedy came from Mount Kinane, Borrisoleigh.
---
County Senior Hurling Championship – Round 2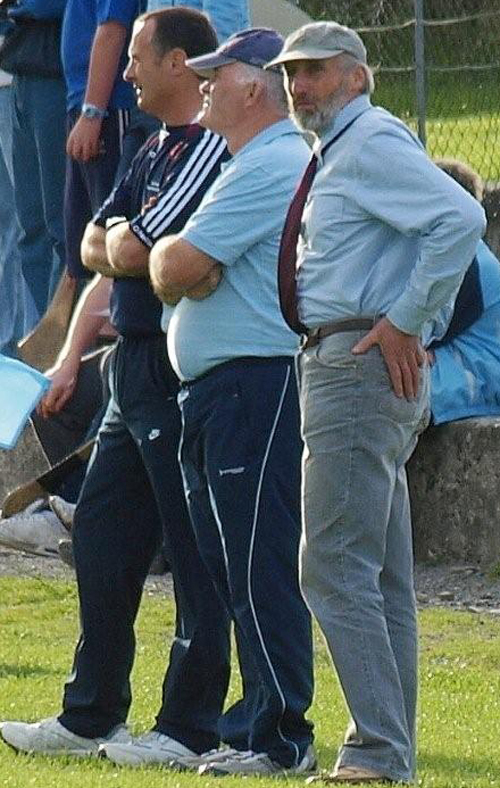 Martin. Jim and Timmy manning the side line
Borris-ileigh were victorious on Sunday last in Nenagh when they played Lorrha. The final score was 2 – 16 to 1 – 13. Borris-ileigh play Drom & Inch next Sunday in Semple Stadium at 3 p.m. We wish them the very best of luck.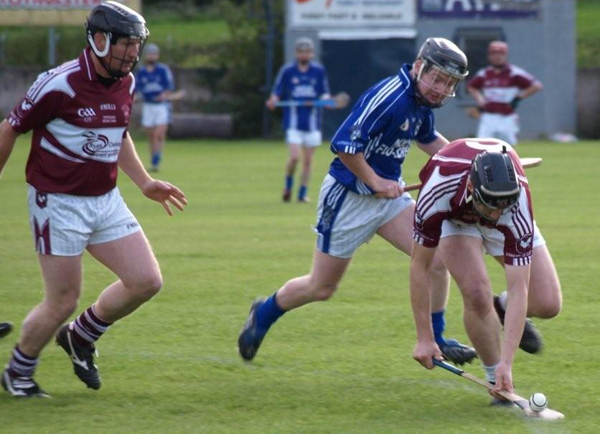 Declan Maher watches Philip as he gains possession to set up another attack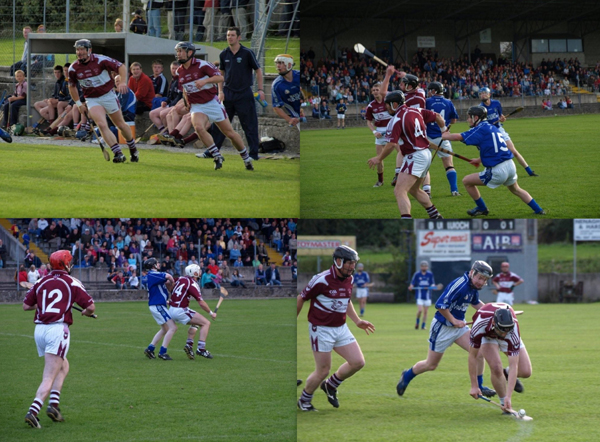 Some action from the match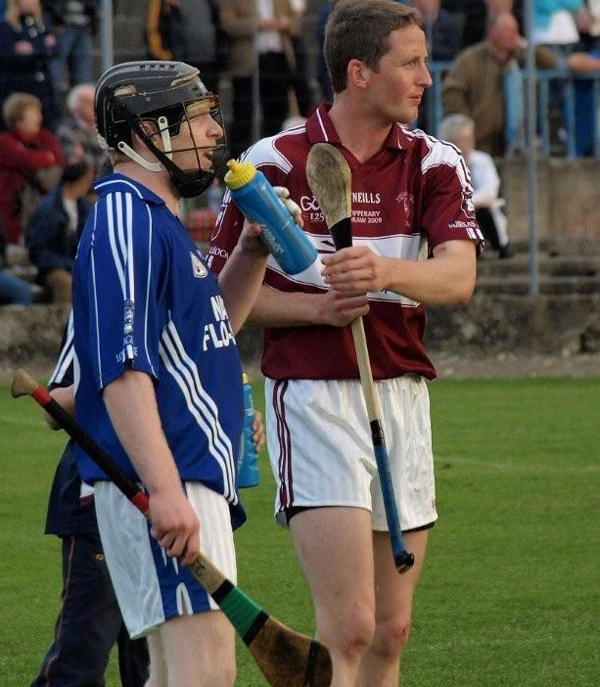 Vinny sharing the magic bottle with the opposition!!



---

Reunited in San Francisco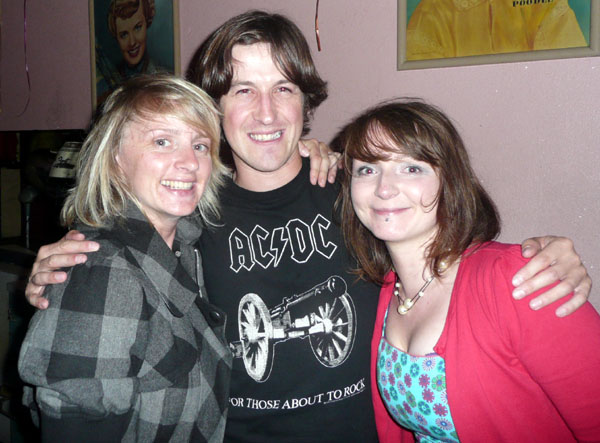 Claire Devaney, J.P. McSherry and Róisín Ryan catch up in San Francisco recently. Claire and J.P. are both currently living in San Francisco.



---
Skydiving for Charity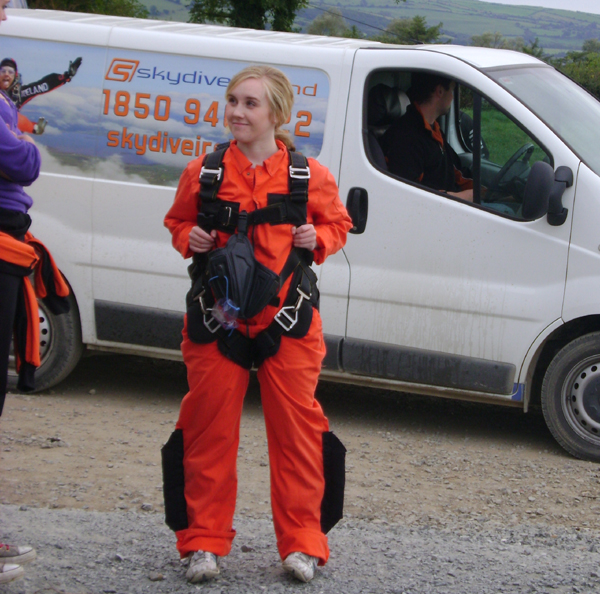 Danielle before her skydiving experience. She's looking very calm about the whole thing!!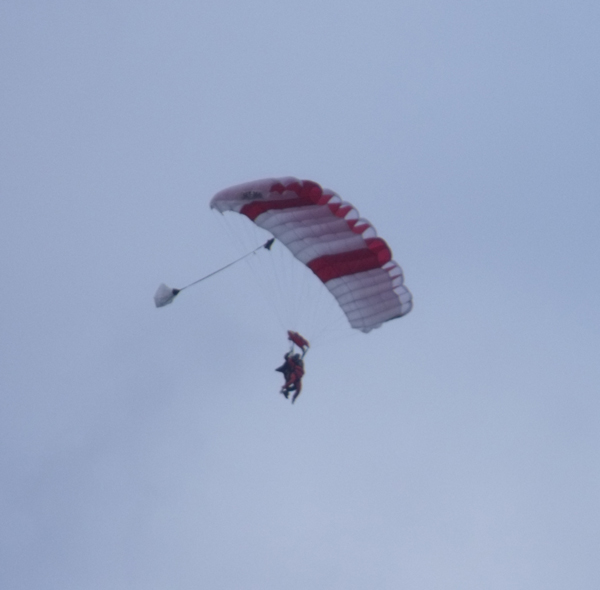 Danielle O'Driscoll, aged 23, daughter of Donal O'Driscoll of Lios Phadraig, recently undertook a tandem skydive from 10,000 feet to raise €1,800 for Crumlin Hospital for Sick Children. On 16 September 2009 Danielle arrived at Erinagh Airfield, Neneagh, where SkydiveIreland gave her training and instruction before boarding the plane and soaring to 10,000 feet. On leaving the plane, the first 5,000 feet was a free-fall through the low lying cloud formation. The parachute was opened at 5,000 feet and Danielle and her instructor gently floated down to a safe landing. Congratulations to Danielle.

---
Congratulations On Your Engagement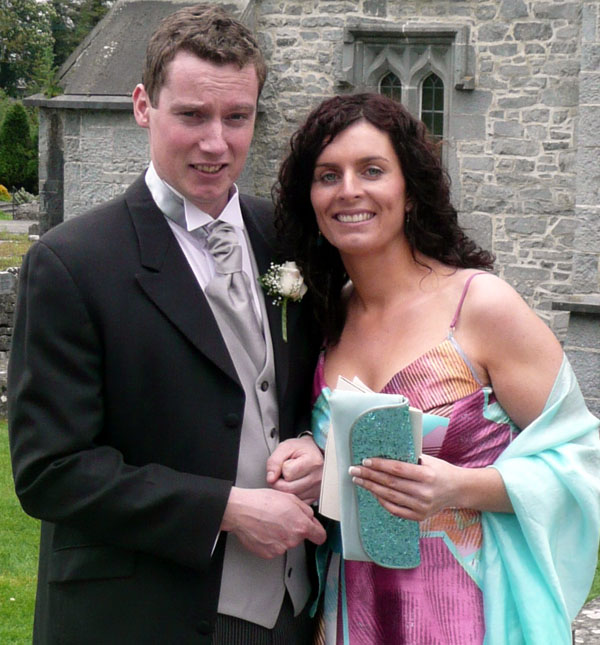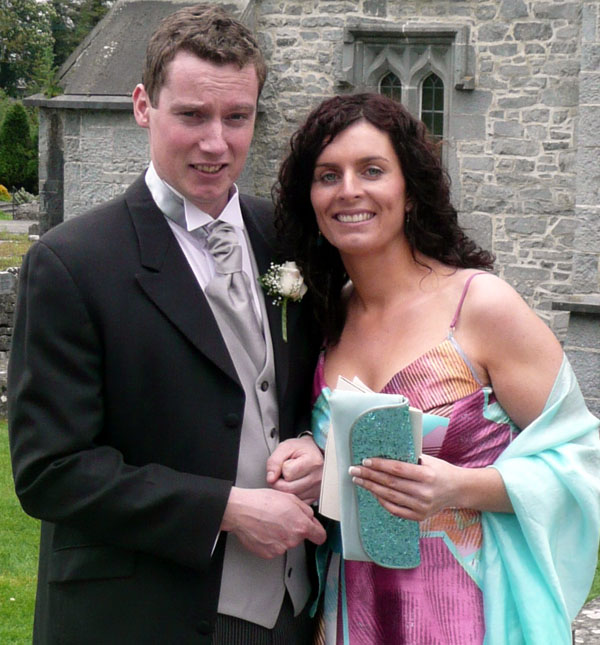 Congratulations to Damien Ryan, Lower Street and Helen Maloney from Galway who got engaged recently. Damien "popped the question" while holidaying in Holland recently. Congratulations to you both!



---

Harry Joes Golf Society

On Saturday 12th September we had our President's Prize competition. The current President is Mick Ryan of Knockanure who was one of the founding members of the club and also a past captain (1992).
The venue was Dromoland Castle Co. Clare. It was one of the few times this summer that the sun came out and helped to make it a great day out. The winner on the day was James O'Mahony with 38pts, second was John Ryan (Upperchurch) with 36pts and third was the President himself with 34pts.
This was also our final outing for the year. It was great to play so many top class courses and new venues for a lot of members this year. It is great to see the society going so well. Currently there are 70 members with an average of 50 playing in each outing. The dates and venues have not been chosen yet for next year. As soon as they are they will be published on our website, www.harryjoes.com.
An AGM will be held at some stage later in the year. One will appreciate it takes a lot of work to organise events, collect money, buy prizes etc. The more people that volunteer to do these jobs the better. As they say "many hands make light work".

---

A job well done!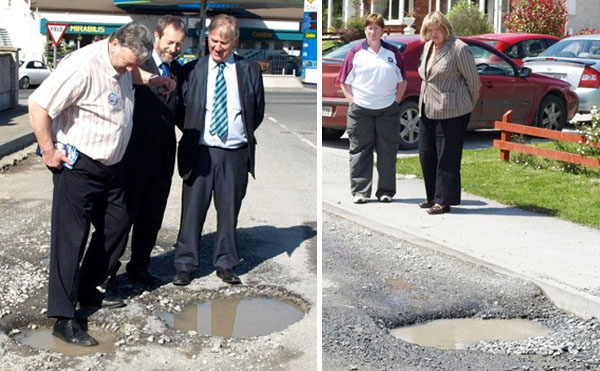 Before….


And after…..
The long-awaited road repairs have been carried out on Ileigh Road much to the relief and satisfaction of the locals. Thanks to Councillor Pauline Coonan's efforts the job finally got done!
---

Out with the 'old' and in with the 'new'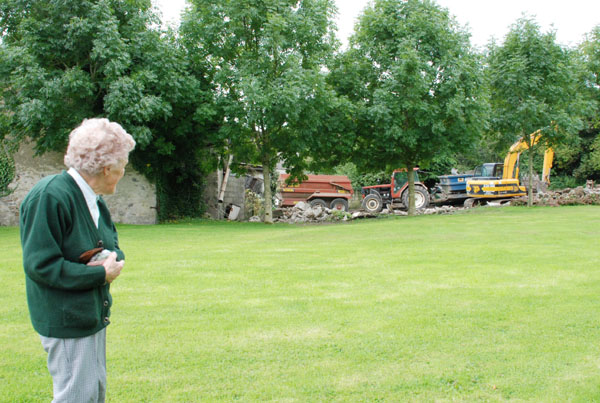 A local parishioner keeps a watchful eye on the parish centre development works.

Development works have begun on the parish centre site. Fortunately a grant of €150, 000 has been received from North Tipperary Leadership Partnership to enable the building works to commence. Thanks to all who have contributed to the fundraising efforts thus far, your generosity has been vital to this project. Hopefully before too long we will have a new community space to do new and exciting things.

---

County Development Plan 2010 – 2016
The Draft County Development Plan 2010-2016 is now on public display. Copies of the Draft Plan can be purchased from Planning Section, North Tipperary County Council, Civic Offices, Limerick Road, Nenagh, hard copies cost €80, disks cost €5. There is a settlement Plan for Borrisoleigh and it can be located in Chapter 12 pages 39 to 43 and same can be located by clicking
here
If you unable to open this document please scroll down to the end of the page and download DjVu Plug-in.

The closing date for receipt of submissions/observations with respect to the Draft Plan is Friday 20th November 2009.
---

Come on Tipp!!!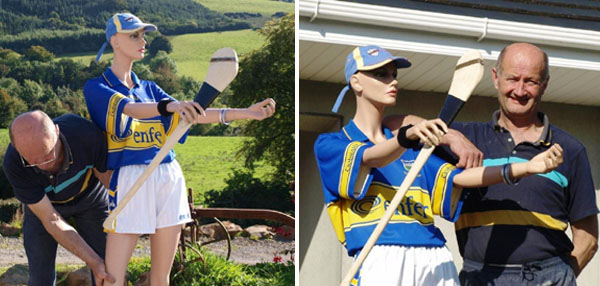 John Stapleton checking all was in order for the recent All Ireland and happy to pose with his "model" friend
---

Umpiring at the Maher Cup
Are you right there Michael are you right?!!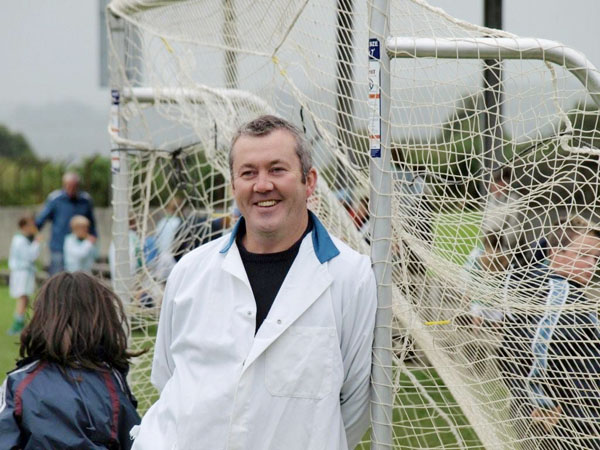 Michael Stapleton takes the tough job of umpiring in his stride during the recent Maher Cup at The Park
---

Charity Swim in aid of Milford Hospice and the Altzhiemers Society of Ireland
Tracy Devaney of Lower Street will attempt to swim 1000 lengths consecutively (25k 0r 16.2 miles) of Thurles swimming pool this coming wednesday 30th september in Thurles leisure centre, starting between 7-7.30 am. The swim is expected to last several hours.

This is a one-of-a-kind event for charity and so far has not been attempted in Ireland as a single fund raising event in itself. ALL SUPPORT ON THE DAY IS MOST WELCOME.
The hope is to raise awareness of the importance of home care providers during long term and or, terminal illness of our loved ones. All money raised will go to the Milford hospice and the Altzhiemers Society of Ireland, home care and home support divisions.

Tracy, who has lived in Borrisoleigh for 12 years and is married to Seamus Devaney, has a background in swimming and was a competetive juvenile swimmer in the U.K. She has recently re -qualified as a life guard and swim teacher and is currently working in the new leisure facility and swimming pool in Roscrea which opened on Sept 14th.
To sponsor Tracy you can call to Thurles leisure centre on the day of the swim, or you can find sponsor cards and collection tins in the post office, the Clodagh and Shanahans Centra, or you can contact Tracy directly-0872109666. Tracy will let us all know how it went at a later date.
---

Mick Prior Tournament Presentation
Toby Kavanagh representing the Prior family presenting the Mick Prior Cup to the captain of the Moneygall Team
In fabulous sunshine our annual U10 hurling competition in memory of the late Mick Prior took place on Saturday 12th September with teams from Borris-Ileigh, Borrisokane, Silvermines and Moneygall participating. Following some very exciting qualifying games Moneygall qualified for the final against the Silvermines who just edged out Borrisokane on score difference following a very tight drawn match between the clubs. Borrisokane went on to beat the hosts in the Plate final while Moneygall retained the Mick Prior Cup with a very impressive display in the final.

Toby Kavanagh presented the cup and medals to the Moneygall captain on behalf of the Prior family. Well done to the players and mentors from all four clubs who put in a tremendous effort to ensure a great day was had by all.

Our thanks to PJ Younge, John Hogan, Paul Boyle and Vincent Stapleton who have been coaching Borris-Ileigh U10s during the year. Thanks also to everyone who supplied and helped to serve the refreshments on the day. The juvenile club would also like to thanks our referees during the competition, Michael and Denis, and in particular John Stapleton who refereed the final of the tournament.

For more photographs of the Mick Prior Tournament please click here

---

Pic of the Past… down memory lane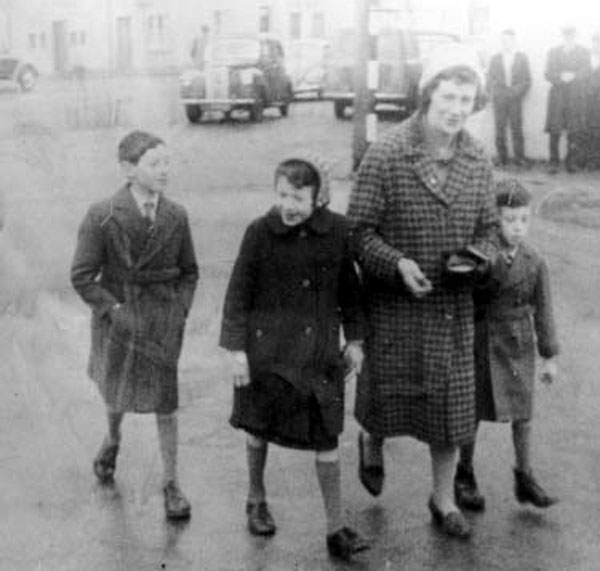 Going to Mass

Richie, Kathleen, Katie and John Tynan, Rathmoy

---

Your Website Needs You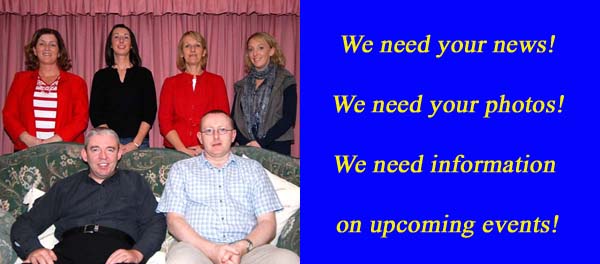 Website Committee: Noreen Fahy, Margaret Cowan, Marie McGrath, Aileen Óg Groome, Michael Barry and Enda Ryan Many thanks to all those who contributed photographs and news items for this weeks current news. Well done!
Send your email to info@borrisoleigh.ie
Also, if you like what you see and want to leave a comment, remember to use the Guestbook!