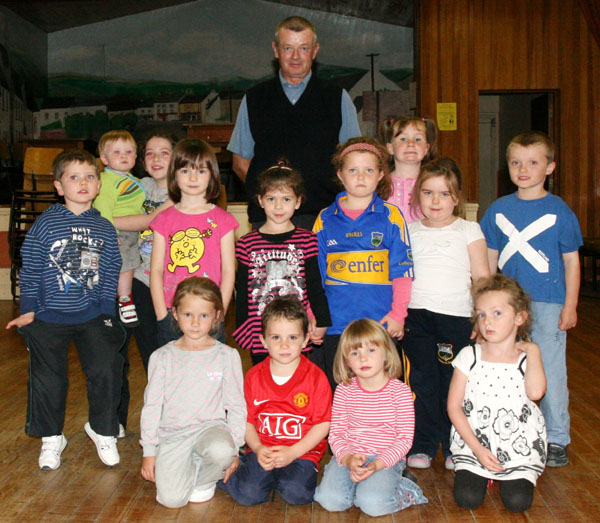 Francie (dance teacher) with some of the new recruits!
Classes resumed last Monday night in the Marian Hall. These classes cater for all levels and ages. There was an excellent attendance and new-comers are always welcome. So come along and join Francie and a dedicated group of helpers in the fun, learn a new skill, meet with friends and get a little exercise into the bargain!! The first class (for beginners) starts at 6.45 p.m., the second class (for those with a little experience!) at 7.30p.m., the third class (for those with a little more experience!) at 8.15p.m. and the fourth class begins at 9p.m.. Hope to see you there next week!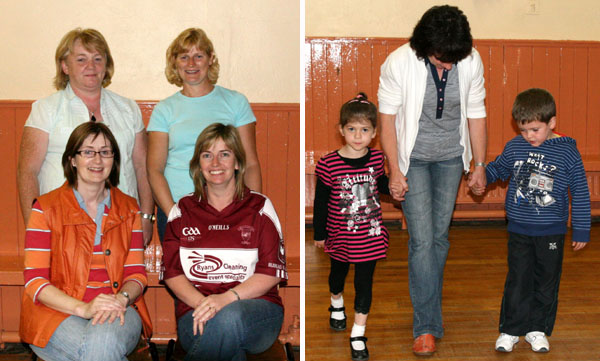 Committee officers: Mary Bourke (PRO), Teresa Ryan (Treasurer), Eileen Slattery (Secretary), Úna Shanahan (Chairperson) and Betty Treacy showing Emma and Séan some new steps.

Teacher and pupils hard at work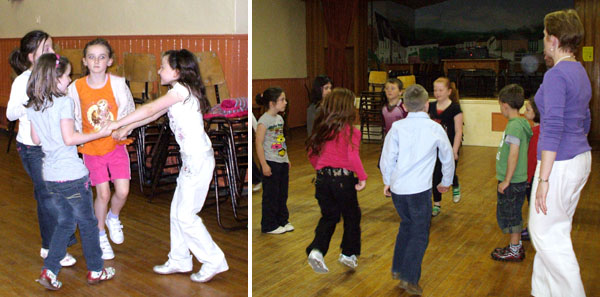 Step one two three…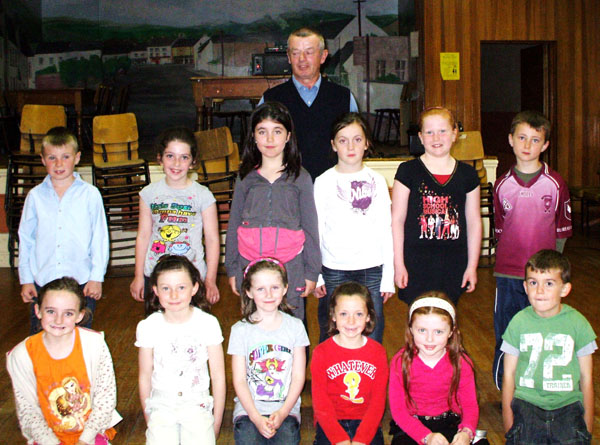 Francie with more Monday night dancers!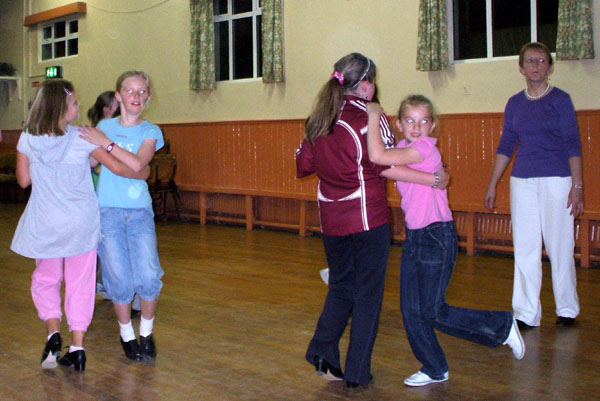 Stepping it out in the Marian Hall last Monday night at the set dancing class

---
Meagher Cup Victors!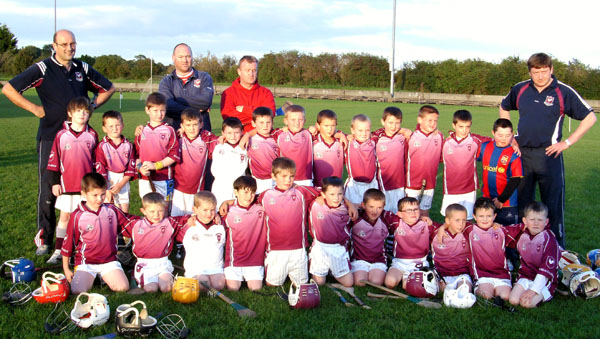 Coaches; Paddy, John, John Joe and T.J. Back Row (R-L): Killian, Eddie, Pauric, Oisin, Michael, John, Dan, Kevin, James, Micheál, James, Jack & Diarmuid. Front Row (R-L): Cian, David, Colm, Luke (Captain), Fintan, Jack, Bryan, Cathal, Adam, Josh & Paul. (Missing from the photo Darragh).
Congratulations to Borris -Ileigh U8s who retained the Meagher Cup following a very close and hard fought final with Drom-Inch last Wednesday. Despite going a goal down in the early stages the young lads from Borris fought back to lead at half time and held the advantage all the way to the final whistle despite strong pressure from Drom. Our thanks to Rose Stapleton who presented the Meagher Cup to the the Borris-Ileigh captain Luke Cooney on behalf of the Borris-Ileigh Panel . Thanks also to Paddy Stapleton and Brendan Maher who presented the medals to the Borris-Ileigh panel of players. Thanks also to referee John Stapleton who kept the game flowing and did a fine job. Great credit is due to Paddy Ryan, John Vahey, TJ Ryan and John Joe Maher who have put in a huge effort in coaching these players since the beginning of the year. Judging by the range of skills on view from all players their efforts are being rewarded. Well done also to Drom-Inch, Upperchurch and Templederry whose players and mentors also helped to make this tournament a great success.

Local Heroes meet Local Heroes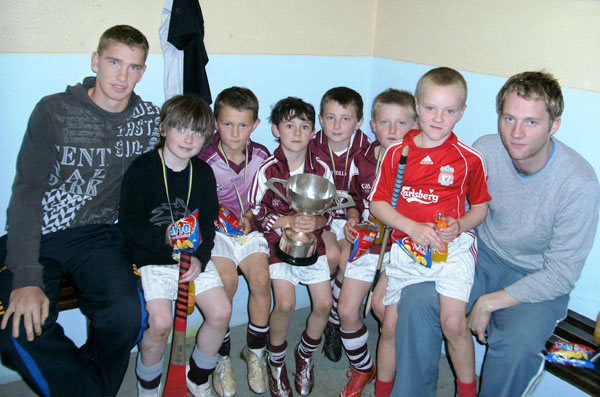 Brendan and Paddy following their heroic displays for Tipperary in the All-Ireland Final against Kilkenny meet Killian, Kevin, Luke, Micheál, Dan and James following their great win against Drom-Inch in the U8 Meagher Cup Final.
To view more photos of the Meagher Cup click here:
More Photos
---
Tom Russell Climbs Howling Ridge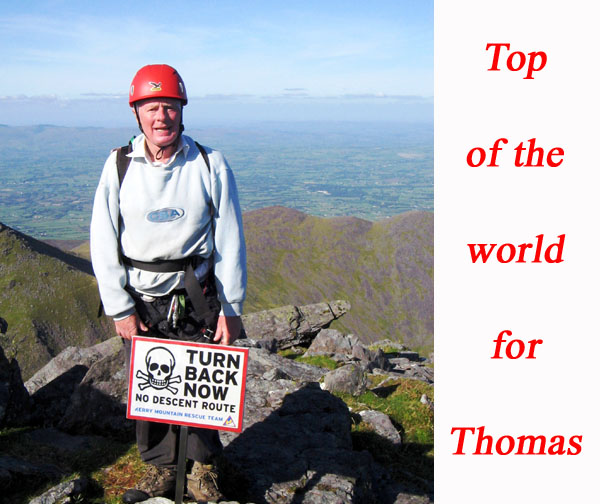 Congratulations to Thomas Russell on his success in climbing the classic mountain climb called HOWLING RIDGE which is on the south face of Carrauntoohil, the highest mountain in Ireland. This climb is not for the faint hearted. Well Done Thomas.

Nearly there Thomas…!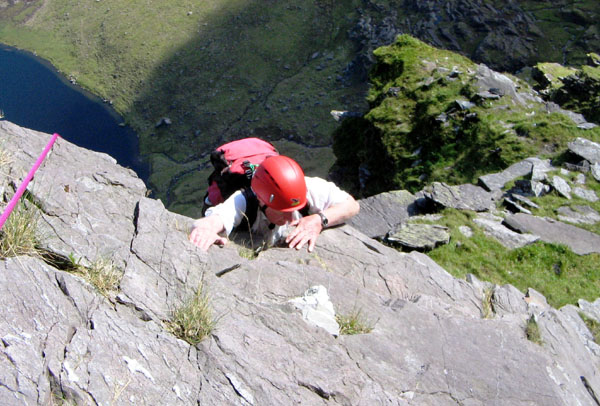 Reaching out for the top!

---
Love is in the air!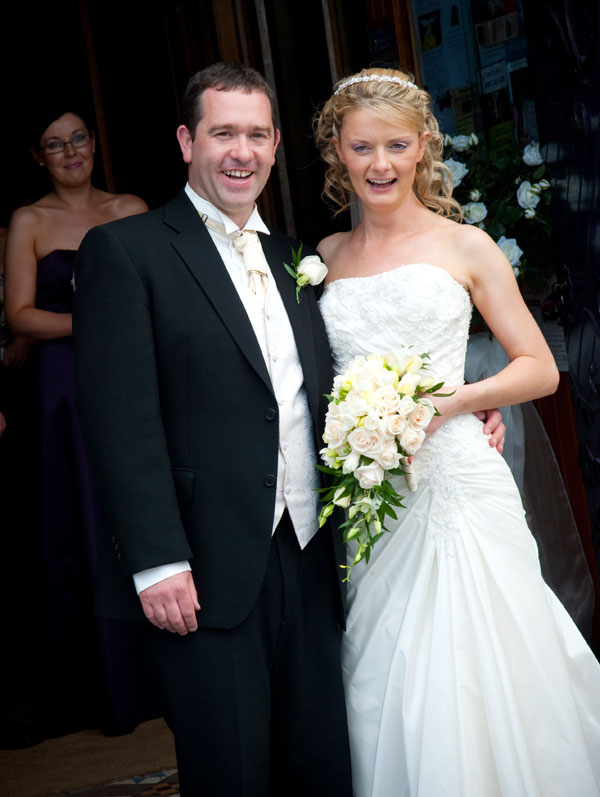 Catriona Ryan of Mount George and Anthony McInerney of Mallow, Co.Cork on the day of their wedding on 4th July at The Sacred Heart Church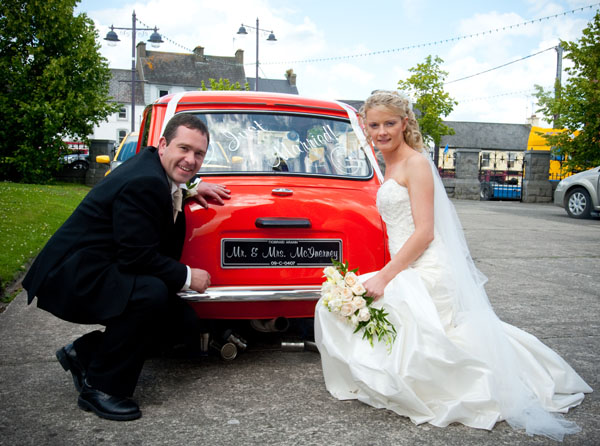 Mr & Mrs McInerney helpin' to give the ol' red mini a push start. Best wishes to the newlyweds!

---
Diamond Jubilee Celebrations for Sr. Agnes Mary!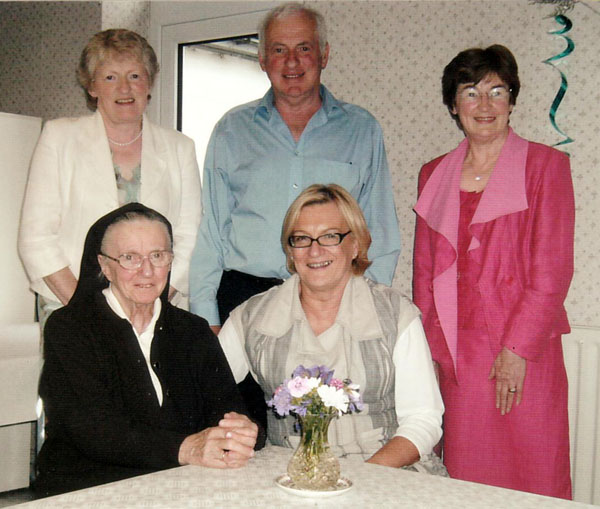 Sr. Agnes Mary with friends Margaret Buckley, Pat and Mary Ryan and Angela McSherry

On 6th June, 2009, Sister Agnes Mary Lynch, only child of the late Patrick and Joanna Lynch, of Knockbrack, Borrisoleigh, celebrated her Diamond Jubilee of religious Profession at Mount Oliver Convent, Dundalk. Sister Agnes Mary joined the Franciscan Missionary Sisters (founded by Mother Kevin) in1946 and made her First Profession in 1949.
In welcoming Sister Agnes Mary's guests to her Diamond Jubilee Mass Sister Patricia referred specially to her heart-warming smile and good humour. Now residing in the Motherhouse in Mount Oliver, Dundalk she is still caring for the sick. She spends long hours with sick and dying sisters, day or night. She's there to welcome visitors, to lend a listening ear to anyone with a problem and she still finds time to visit the sick in the local hospital and keep in touch with neighbours and her many friends.

At the wonderful meal provided after the Mass more reminiscences were shared, the Jubilee cake was cut, and the Superior General, Sister Miriam, presented the Jubilarian with a framed Papal Blessing. As Sr. Agnes Mary herself said: "It was a wonderful day. I thank the good Lord that I have reached this stage of my life. And I thank you, each and all – my sisters, friends and my neighbours from Borrisoleigh, for being here and making this day so happy for me. God bless you all."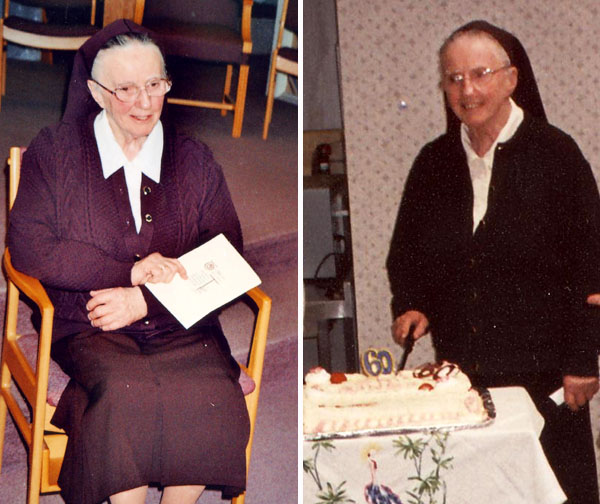 Sister Agnes Mary celebrates 60 years in religious life

Sister Agnes Mary is joined by friends Margaret Buckley from Upperchurch and Angela McSherry from Borrisoleigh as she celebrates this great milestone in her life. Ad multos Annos!

---
A trip down memory lane!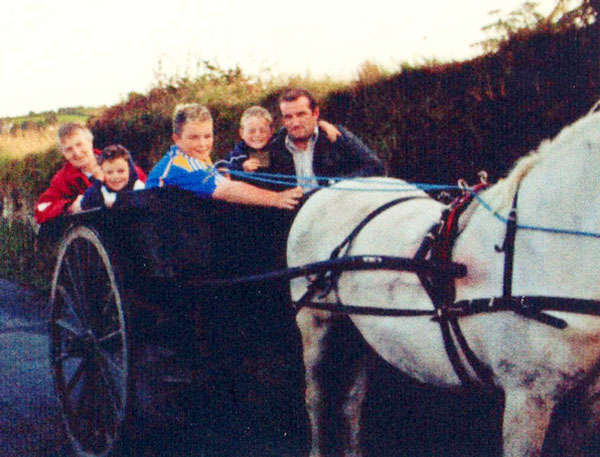 PJ Younge with his mum Josie and boys Josh, Paudí and Harry out for a jaunt on horse and trap recently

---
Congratulations!!!



Michael & Mary Tierney – Pedaling away after all these years!
Congratulations to Michael & Mary Tierney, Glenbreeda who recently celebrated their ruby wedding anniversary among family and friends. We wish them both many more years of "wedded bliss".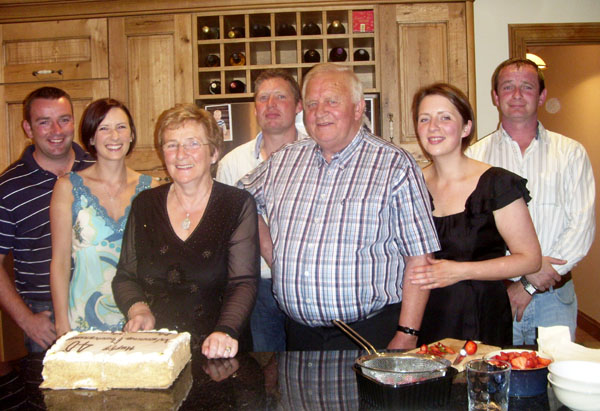 Mary & Michael pictured with family David and Anne Marie Skehan, John Louis and Bridgid Kennedy and son Micheàl Tierney.

---
North Tipp Miss Macra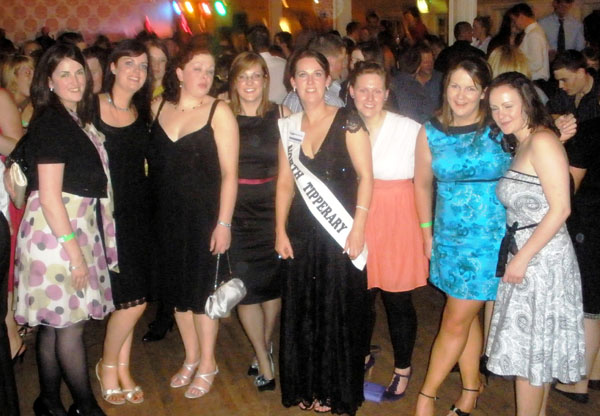 Marguerite Sutton representing North Tipperary in Miss Macra with supporters from Clodagh and Toome Macra Clubs

---
Borrisoleigh AFC

Mattie Vahy and Gerry Treacy lining the pitch for this seasons club activities


The 2009/10 season is well and truly under way, and so far it has been a very mixed start for us. After narrowly missing out on the shield final by a narrow loss to Rearcross 1-0, we started the league campaign off with a great win against Blackcastle but only picked up one point in three games since, with two losses and a draw all we could manage. As is the usual with us at the start of most seasons, we have been struggling with numbers every Sunday but our squad is slowly but surely starting to develop and we are very hopeful of starting to put a real run together and kick start our season. We recently held a Table quiz in the Clodagh and we would like to thank Eamon and Lisa for hosting the night and would also like to thank everyone who supported us on the night.


---

Borrisoleigh 25 Mile Charity Cycle 2009

A timely reminder to all participants that this year's cycle in aid of the Irish Cancer Society (Night Nursing Service) will take place at 2.00pm next Saturday the 19th of September 2009. All cyclists should gather in the Square at that time. There will be refreshment stops at Eurospar Thurles, Eddie Joe's Templemore and a short stop at Greenlawn to ensure that everyone arrives back to Borrisoleigh together. We will have warning vehicles at the front and rear of the group and cyclists should heed all advice given by them and Gardai throughout the cycle. Please ensure to observe the rules of the road and cycle safely. Cyclists should be no more than two abreast on the road at any time. Reflective jackets and cycle helmets should be worn by participants if at all possible. Sponsorship cards and money may be returned to P.J. or Ruairi before or on Saturday.
---
"The Baby Powers"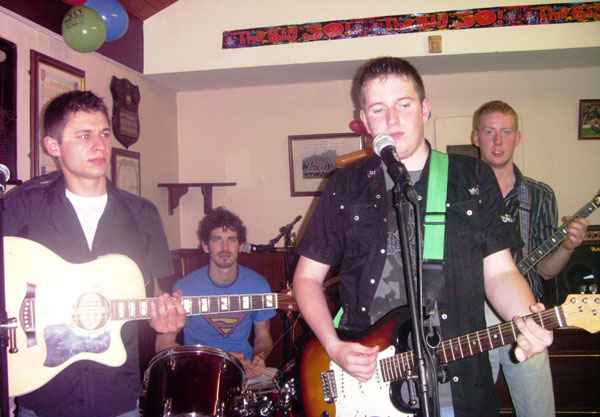 It is lovely to see our local lads doing well with their new band "The Baby Powers". Pictured are Damian Corcoran, Barry Donnelly, Ian Cleary and Thomas McCutcheon. Best of luck in future projects!! Cracking band!!!
---

Hangin' out in The Park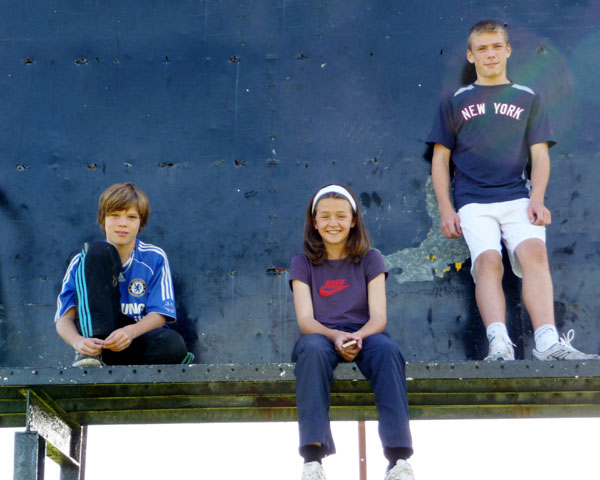 Liam, Karen and Sam in chillin' out mode in The Town Park recently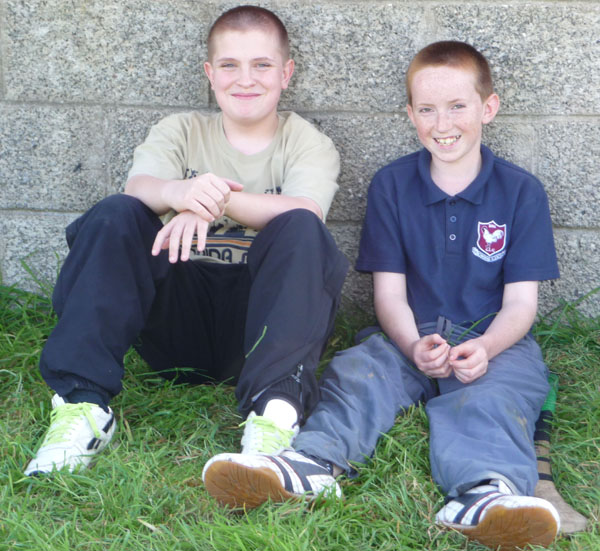 Eddie and TJ just shootin' the breeze at The Park last Saturday

---
Marian Hall Lotto
15/09/09
Numbers: 2, 3, 5, 9
No Winner
7 Match 3 @ €30
Pauline Shanahan, c/o Bingo
Donal O'Driscoll, Lios Padraig
Anne Purcell, Thurles
K. Kelly, Johns Lane, Nenagh
Mary Cummins, c/o Shanahans
Bgt Shanahan, Cummer (x2)
Next Weeks Lotto Jackpot
€5,650

---
Pic of the Past… down memory lane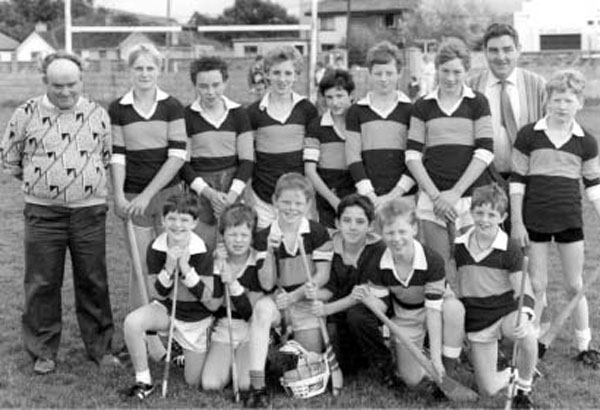 Parish League

Back:
Liam Gleeson, Thomas Ryan, Cconor Gleeson, Denis Kelly (Captain), Conrad Kennedy, John Cummins, Seamus Maher, Albert Kelly and Joseph Carroll.
Front:
Darragh Rabbitte, Barry Walsh, Martin Hennessy, John Paul Ryan, Philip Maher and Sean Ryan.
---
Your Website Needs You!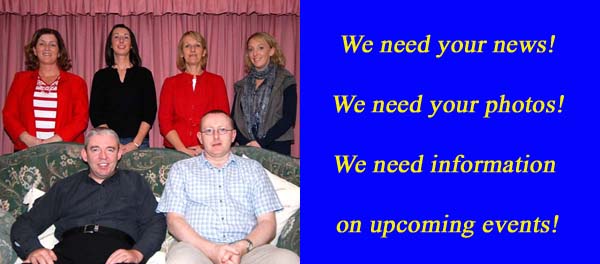 Website Committee: Noreen Fahy, Margaret Cowan, Marie McGrath, Aileen Óg Groome, Michael Barry and Enda Ryan
Many thanks to all those who contributed photographs and news items for this weeks current news. Well done!

Send your email to info@borrisoleigh.ie
Also, if you like what you see and want to leave a comment, remember to use the Guestbook!