Tomás Max Memorial Shield Camógie Tournament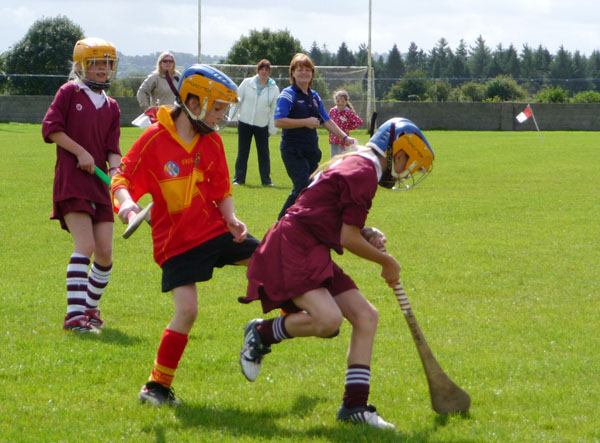 Kristina wins possession for Borris!
Following on from the sudden and tragic death of Tómas Max of Cnoc Neibhin last September and in recognition of his chairmanship of the local Juvenile Camogie Club, The Tomás Max Memorial Shield Tournament was held last Saturday in The Town Park.
Among the players for the Borrisoleigh Team was Aoife, Tomás's daughter. Borrisoleigh reached the final but were not strong enough to beat the Moycarkey-Borris team who were the ultimate victors.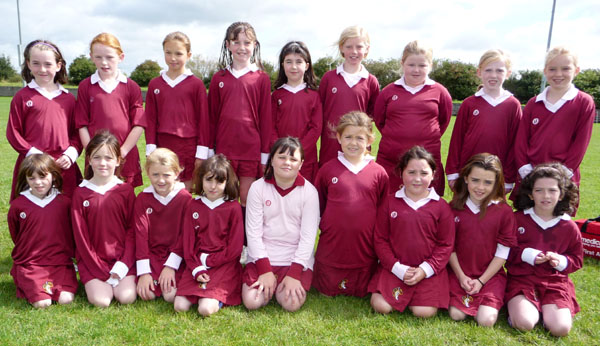 The Borrisoleigh Team competing in the Tournament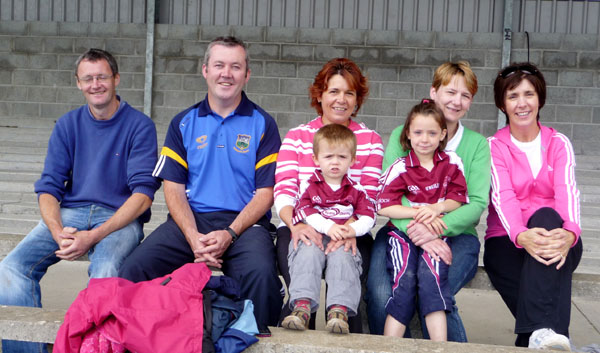 Supporters of the local side keeping an eye on events at the camogie tournament in memory of the late Tomás Max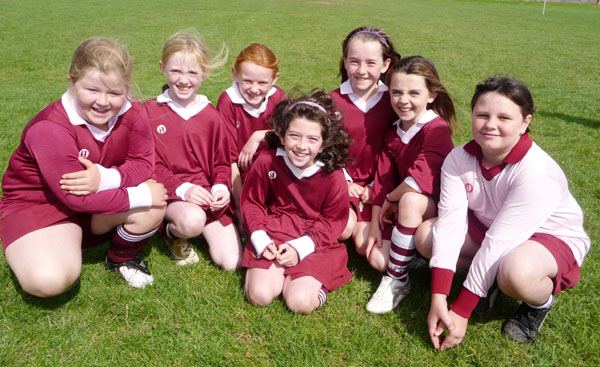 Aoife with her friends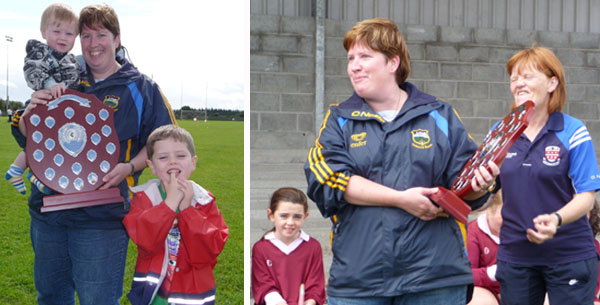 Fiona with baby Tomás and Seán and The Memorial Shield and also Fiona saying her few words on the occasion of the Tournament in honour of her late husband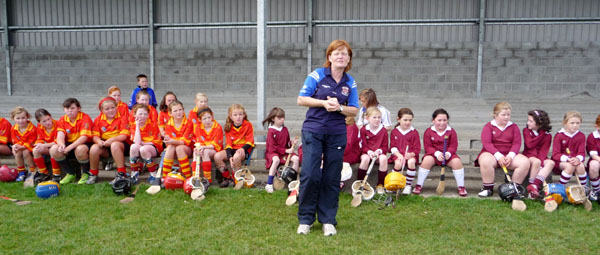 Carmel O'Brien speaks of Tomás's contribution to the club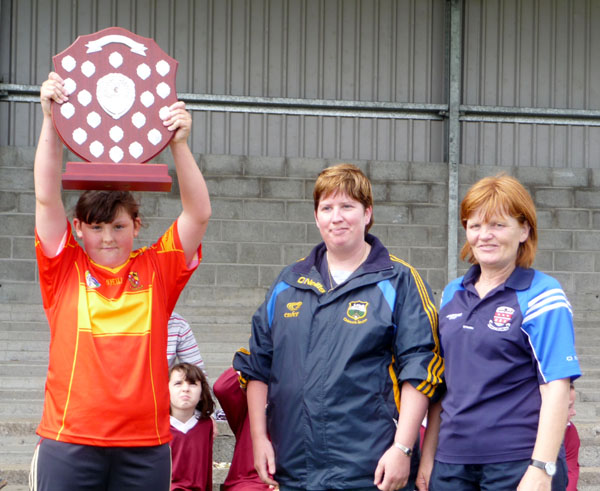 Fiona makes the presentation of The Memorial Shield to the Moycarkey-Borris captain
The winners!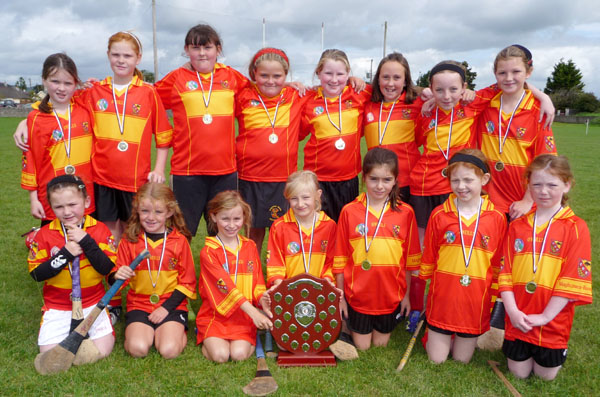 The victorious Moycarky-Borris Team

Tea Ladies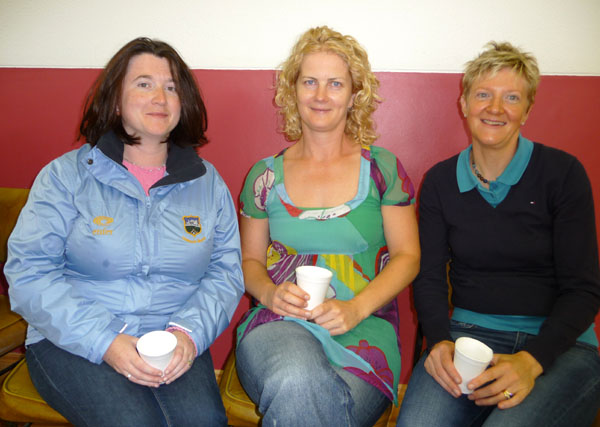 Clare, Rena and Noreen happy to pose for the paparazzi

---

Best of luck Vinny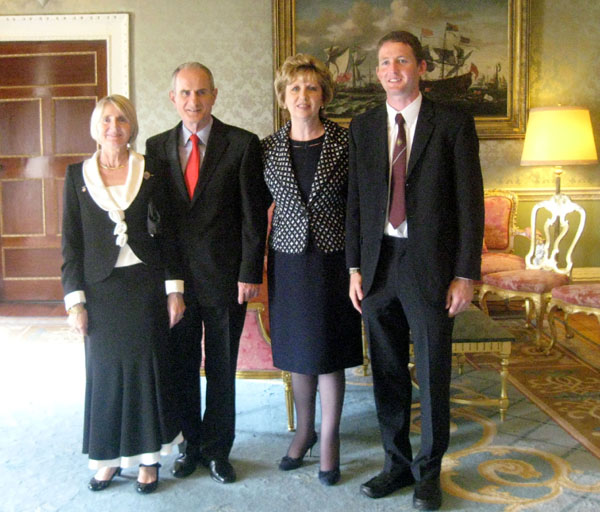 Vinny Stapleton with his mum Biddy and President Mary McAleese with her husband Martin at a recent function in Áras an Uachtaráin
Last week one of our parishioners Vincent Stapleton of Pallas Cross announced of his intention to enter the seminary and study for the Priesthood. This news, which did not come as a surprise to many, was enthusiastically received and there was a general sense of goodwill towards Vinny with everyone wishing him the very best as he embarks on this new direction in his life. Vinny has already begun his studies at The National Seminary in Maynooth, Co. Kildare and is only one of twenty-six men who have begun their first year of study for the priesthood there.

This year's number of first year students at the seminary is the highest number in a decade, marking an upward trend in those seeking to follow a path into religious life. We wish Vinny 'God Speed' and every good wish as commences his studies. Go n-eirí and bóther leat.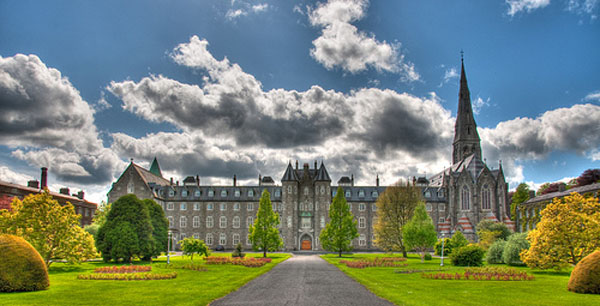 Maynooth College – The National Seminary, Vinny's home for the next six years
---
Come on Tipp!!!

Best of luck to Tipp in the All Ireland Hurling Final on Sunday next against Kilkenny and especially to our two local representatives Paddy Stapleton and Brendan Maher.
Don't forget to don the blue and gold!!!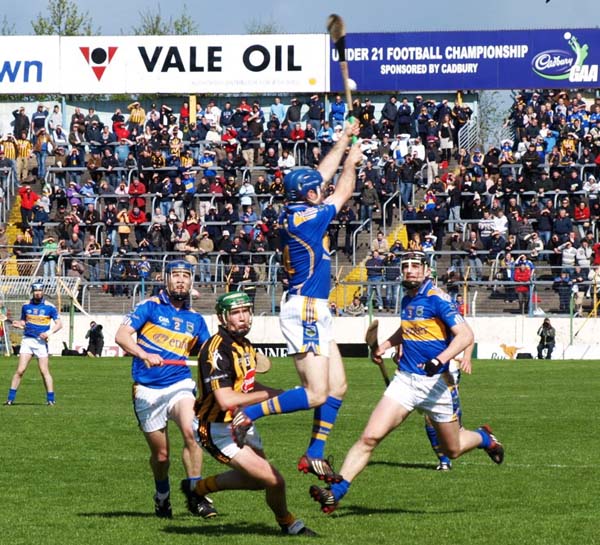 Paddy Stapleton does his best to keep Tipp on top!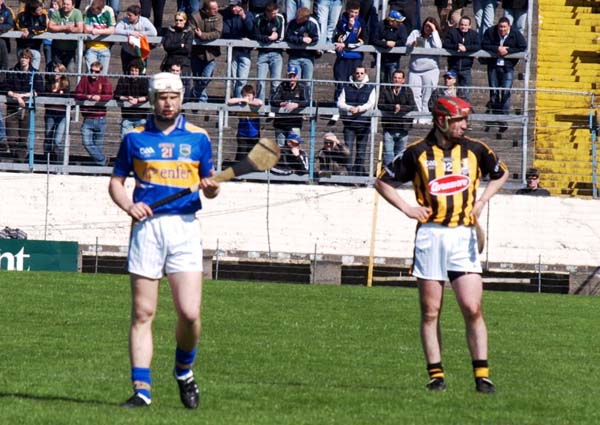 Brendan Maher with a look of determination !

Scoil Bhríde Fantane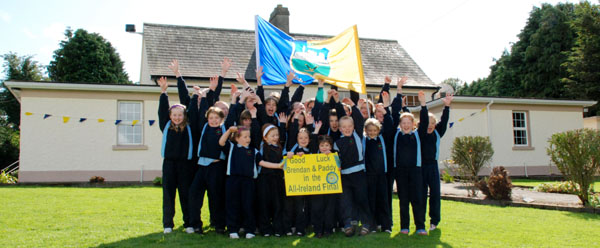 Pupils of Scoil Bhríde Fantane wishing Brendan (past pupil) & Paddy all the best in the All-Ireland next Sunday

St. Patrick's show their support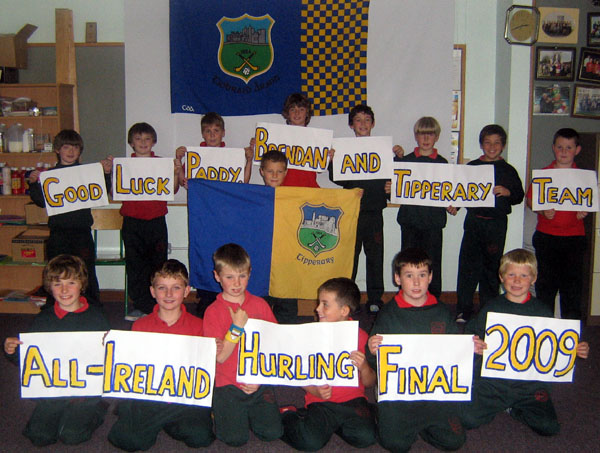 Borris Boys-proud to support their heroes!
Returning to school is not so bad when you have the excitement of an All-Ireland Hurling Final to look forward to! All at St. Patrick's are proud and delighted to have past pupil, Paddy Stapleton and Brendan Maher representing our parish on a superb Tipperary Team who will, (we hope!), bring the Liam Mc Carthy Cup back to Tipperary! Both Paddy and Brendan have assisted us in many ways in the past and particularly so when they did us the honour of presenting medals and jerseys at our celebration ceremony in July.
Pupils in all classes are busy preparing a display of support for the team. Here are some snapshots of the work in process. Every good wish to Paddy, Brendan and the team on Sunday!
Tiobrad Árann abú!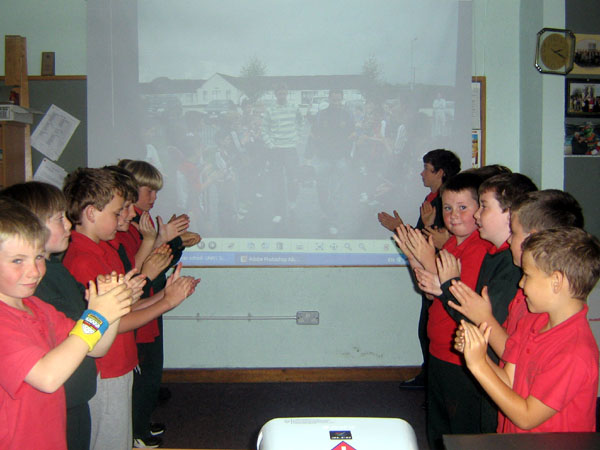 Recalling the the guard of honour we gave to Paddy and Brendan when they arrived with the Munster Cup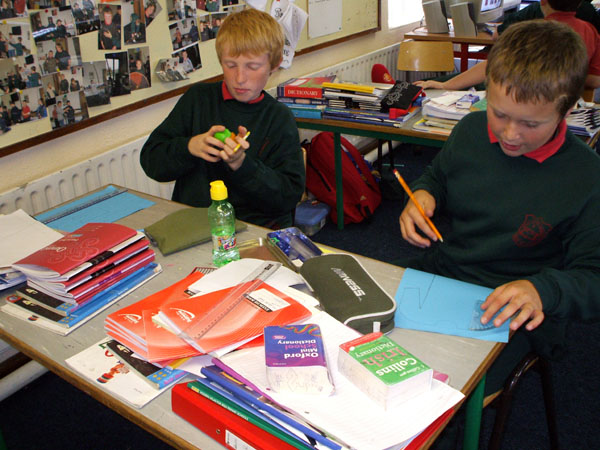 John and Aaron preparing the ground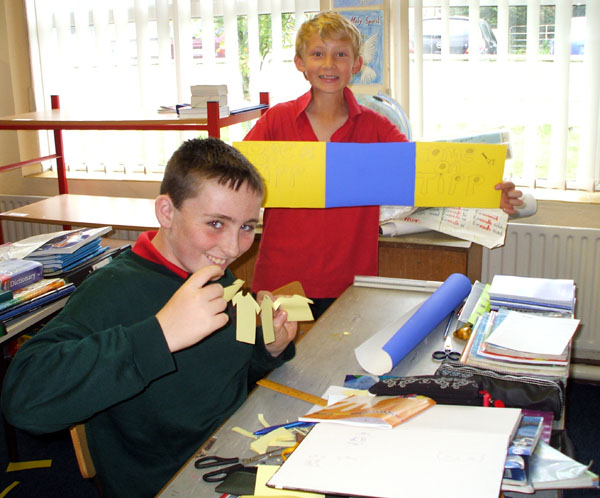 Brendan and Dan making flags and jerseys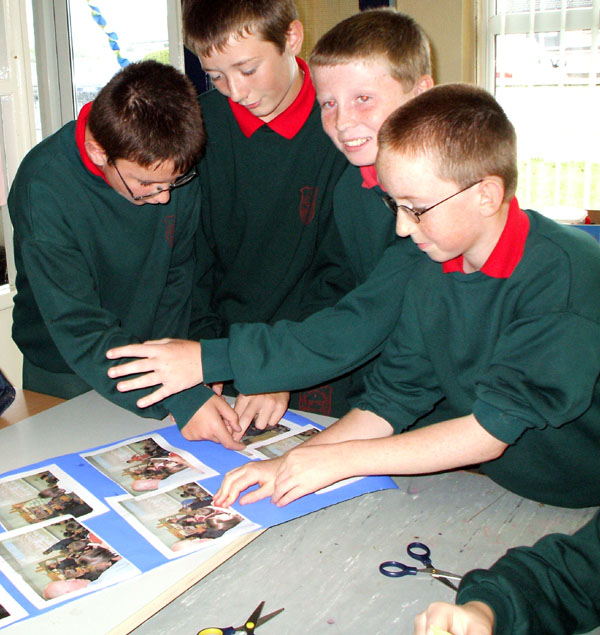 Charlie, Eoin, Declan and T.J. recalling the presentation night when Paddy and Brendan came with the Munster Cup to meet their fans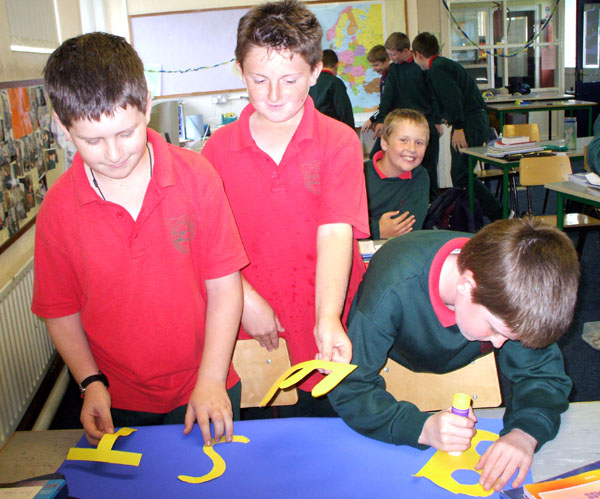 Aaron, Dylan and Oisin making a banner much to delight of Aaron!
Locals painting the town

blue

and

gold

!!


Local fans make sure the Blue and Gold is flying high in Borris for the big day!
---
Eileen Martin's 70th!!!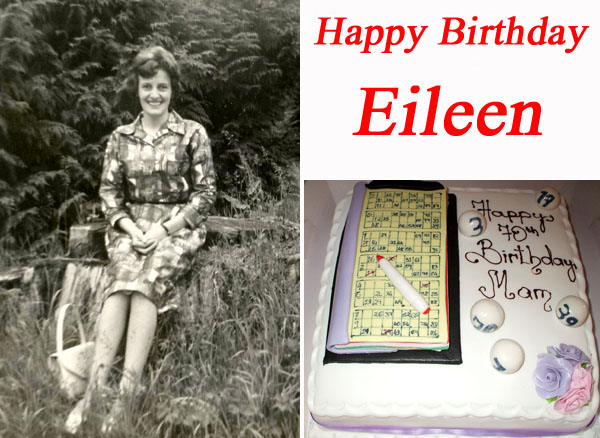 Eileen Martin in her 'younger days!' and the celebratory cake embossed with the all-important bingo book!
Eileen Martin of Currabaha recently celebrated a very special birthday. Many travelled from near and far to join in the surprise celebrations, from Saudi Arabia to England to Borrisoleigh. Eileen is keeping her age a closely guarded secret but we believe she called house on 70!! Check!!!
Cutting the cake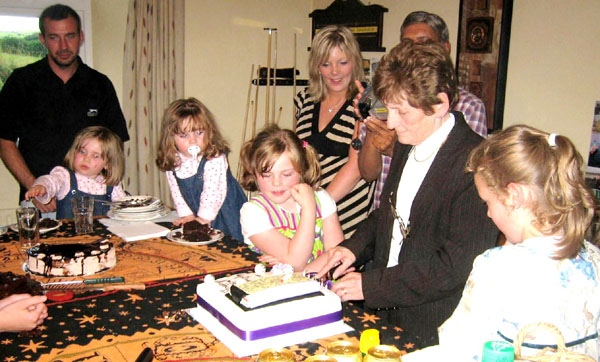 Eileen Martin of Currabaha recently celebrated a very special birthday. She is pictured here at a surprise party in her honour with family and friends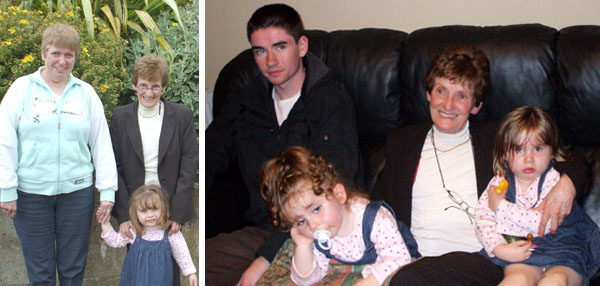 Eileen with her freind and side-kick Pauline and grandchildren Steven, Codi and Ruby

---
May He Rest In Peace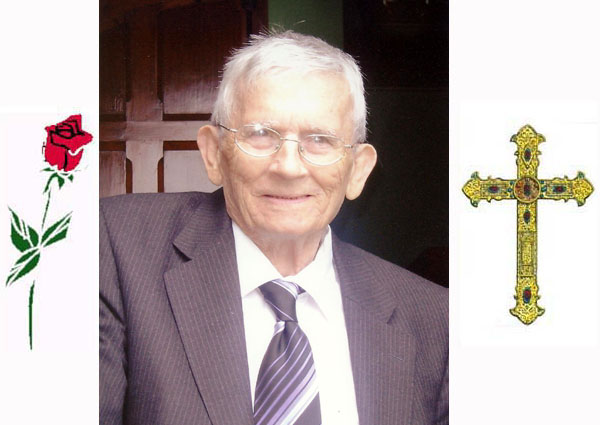 Jimmy Slattery RIP
The death has occurred of Jimmy Slattery of Pallas Street on Monday 31 August last. His Requiem Mass took place in the Sacred Heart Church on Wednesday 2 September with burial in St. Brigid's Cemetery. We offer our sincere sympathies to his family and friends. May he rest in peace.


---

The New Recruits at St. Theresa's N.S.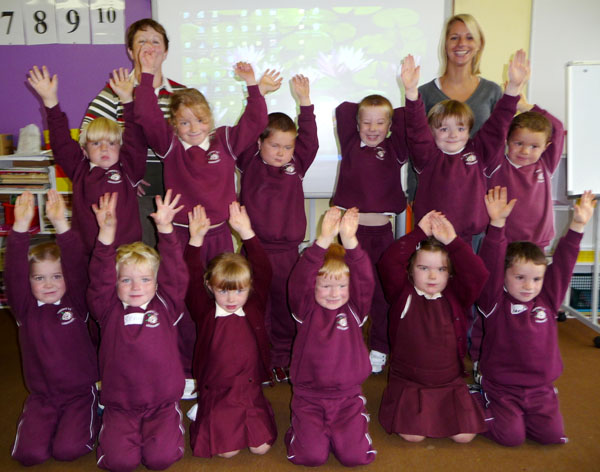 These are the new bunch of pupils who commenced school last Thursday at St. Theresa's N.S.. They are pictured here with their class teacher Miss Dawn MCCarthy and the class special needs assistant Mrs. Marion Ryan. The pupils are: Padraig, Kandie, Shane, Bradley, Christopher, Dylan, James, Sean, Jane, Kian, Anne and Michael. (missisng from photo: Hope)
Little Emma begins in Fantane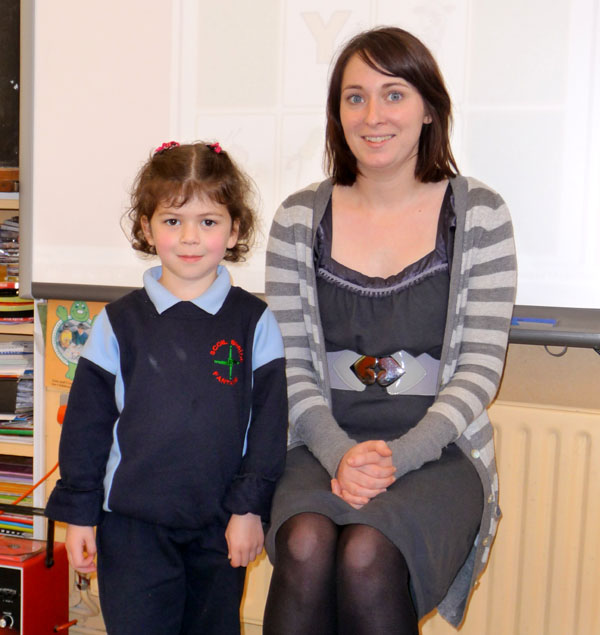 Little Emma who had her very first day at school last Monday with her class teacher Miss Harrison
---

Holidaying in Edinburgh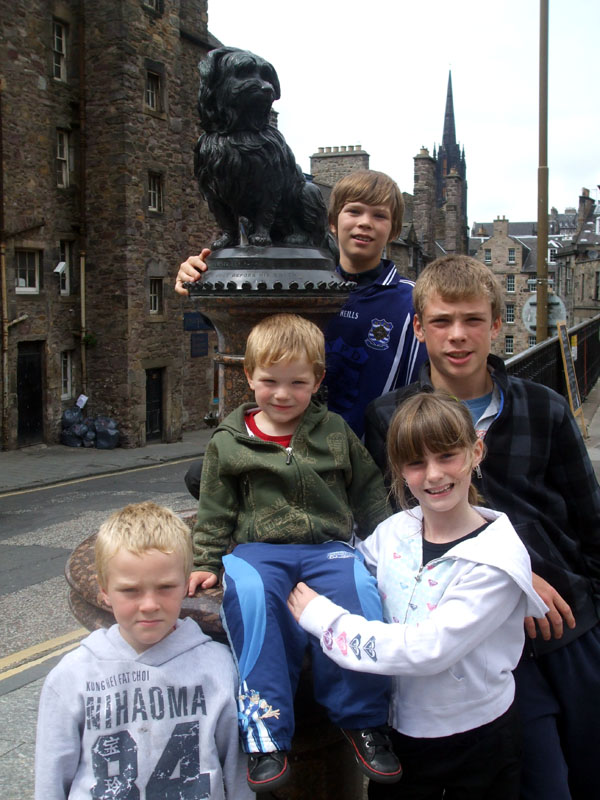 Pictured here are James, Tia, Archie, Liam and Sam with the famous 'Greyfriars Bobby' memorial in Edinburgh, Scotland recently. They were there for two weeks in June visiting their Uncle who had been hospitalised, but has since gone on to make a full recovery from his injuries. 'Greyfriars Bobby' was a Skye Terrier who became known in 19th-century Edinburgh, Scotland, after reportedly spending fourteen years guarding his owner's grave, until his own death on 14 January 1872.
---
Happy Birthday Archie!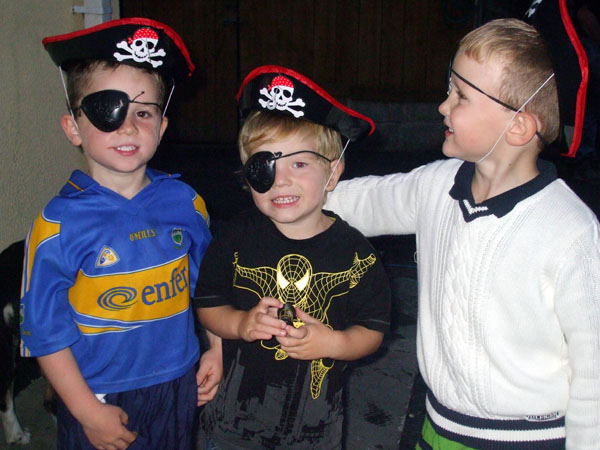 Archie with his friends Michael and Patrick celebrating his 4th birthday on the 18th August. Congratulations Archie!
---
Marian Hall Lotto
01/09/09
Numbers: 9, 10, 20, 26
No Winner
4 Match 3 @ €40
Peggy Ryan, Upperchurch
Jim Ryan, Garnakielka, Upperchurch
Peggy Treacy, Fantane
Stephen Mitchell, Nenagh
Next Weeks Lotto Jackpot
€5,400

---
Pic of the Past… down memory lane
M & J Gleeson's Dinner Dance
George Kinane, Linda Stapleton, Pattie Kinane, ……….., Kieran McDonnell, Mary and John Gleeson
---
Your Website Needs You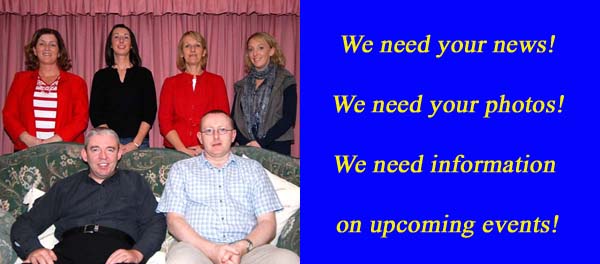 Website Committee: Noreen Fahy, Margaret Cowan, Marie McGrath, Aileen Óg Groome, Michael Barry and Enda Ryan
Many thanks to all those who contributed photographs and news items for this weeks current news. Well done!

Send your email to: info@borrisoleigh.ie
Also, if you like what you see and want to leave a comment, remember to use the Guestbook!