Wedding Bells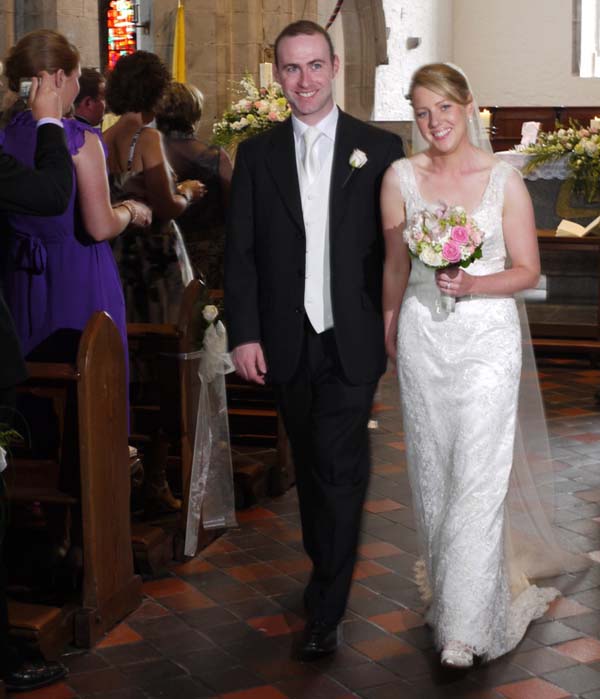 Eithne O'Regan, Pallas, Borrisoleigh and Paul McNally, Dublin who celebrated their Wedding on Saturday 17th July 2009 at Holycross Abbey. The ceremony was performed by Fr. Liam Everard, PP. The Wedding celebrations were held in the River Court Hotel, Kilkenny and the happy couple are now on honeymoon in Portugal. We wish them a life's-time of happiness.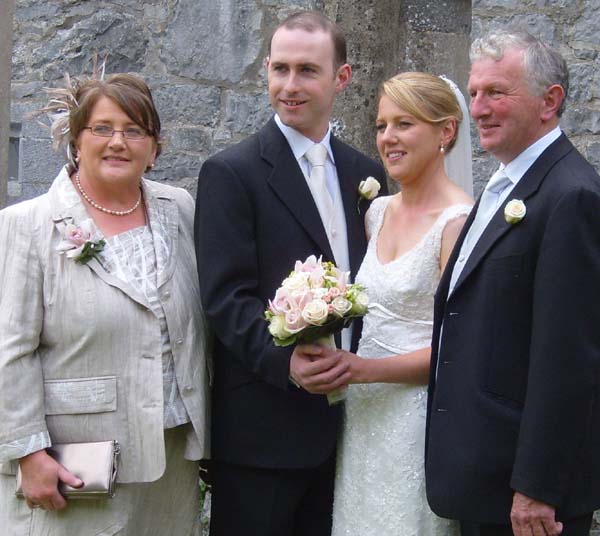 Eithne, Paul and Eithne's parents Mary and Gerry O'Regan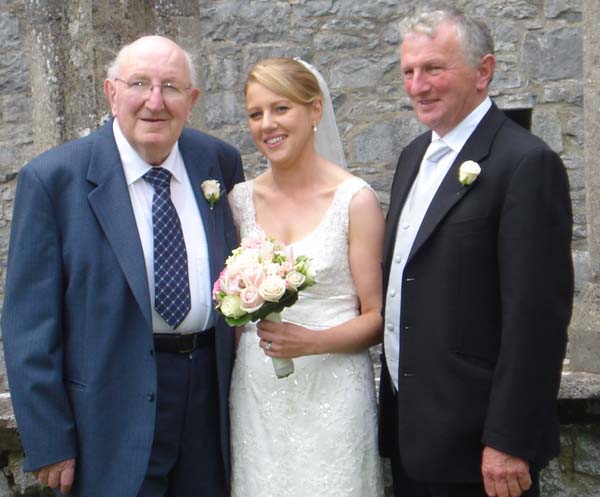 Three Generations of the O'Regans, Eithne's Grandfather Tom, Eithne and her father Gerry
---

Leaving Cert Smiles!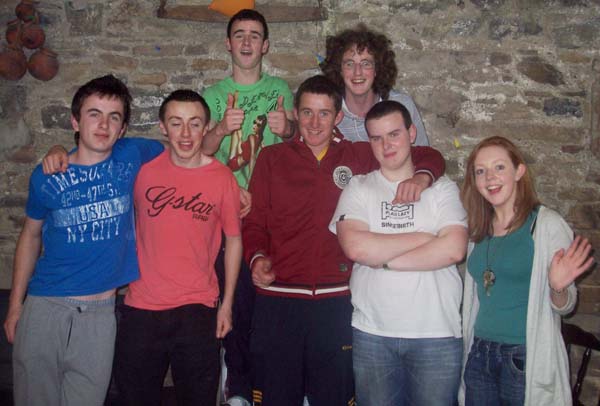 Mossy, Cathal, Lorcan, Niall, John, Rody and Maria celebrating their leaving cert results this morning. Congratulations to all who received such outstanding results and best wishes for the future ahead.
---
Greetings from Down Under!!!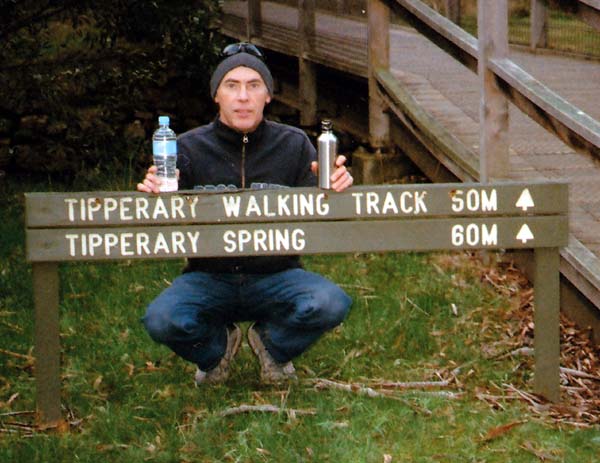 Paul Treacy, originally from Kilfithmone pictured here on a recent visit to Daylesford, Victoria, Australia. Tipp Srring Water here before the Borris version!
Paul tells us that a fella called John Egan from Borrisoleigh was the first man to discover gold in this area and obviously became quite wealthy. He settled here and donated a plot of land for a church and graveyard to the local community. Paul has promised us more photos of the church and graveyard which are located in a townsland called Eganstown.
Interestingly enough the following was received last week from Austin Ryan
.
"Someone mentioned to me that a John Egan of Borrisoleigh had struck gold in Australia in the 19th Century and there was a small hamlet in Victoria named after him. I found the following which may be of interest to you."
http://www.ballaratgenealogy.org.au/art/loddon.htm#corinella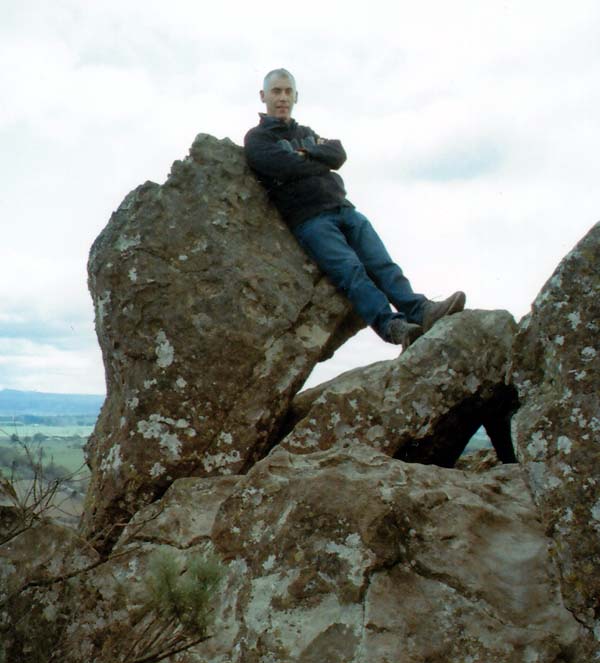 Paul relaxing while taking in the scenery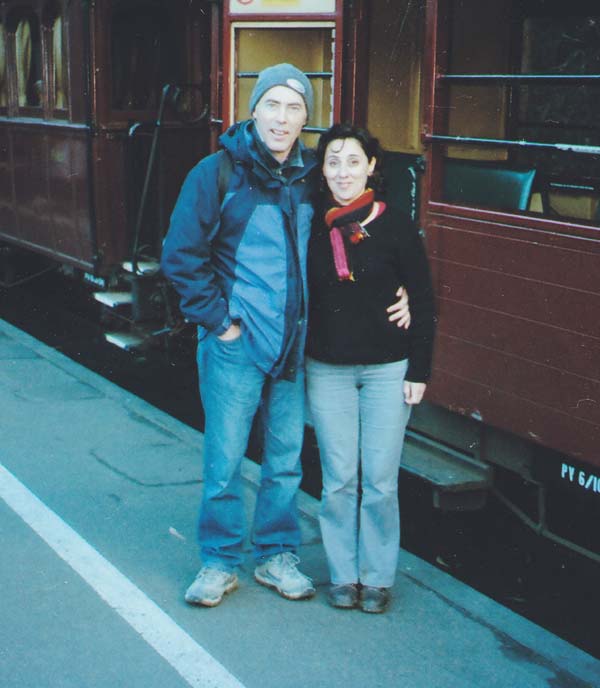 Paul pictured here with his friend Maria (Mary) Carmela Gazzo

---

All Ireland Minor Hurling Semi-Final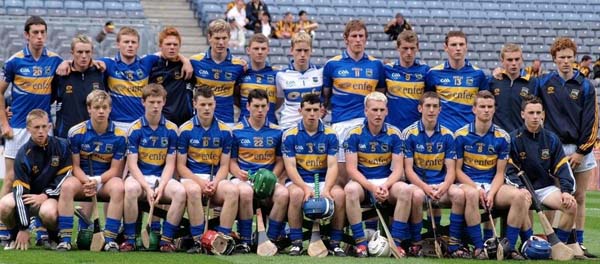 The All Ireland Minor Hurling semi-final against Kilkenny was played in Croke Park on Sunday August 9th. A great match was played but unfortunately Kilkenny were victorious at the final whistle. Dan McCormack (Goalie) did his parish proud.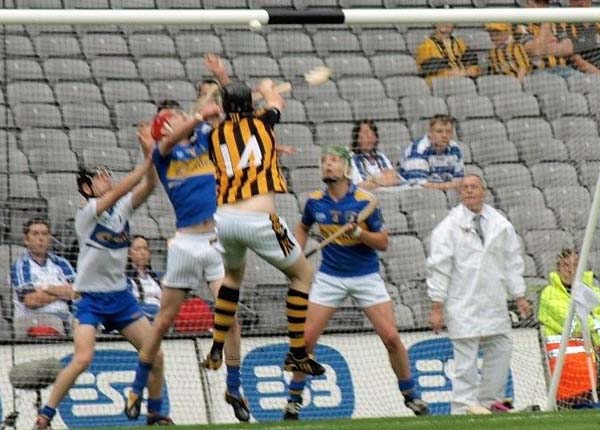 Dan the super goalie in action!!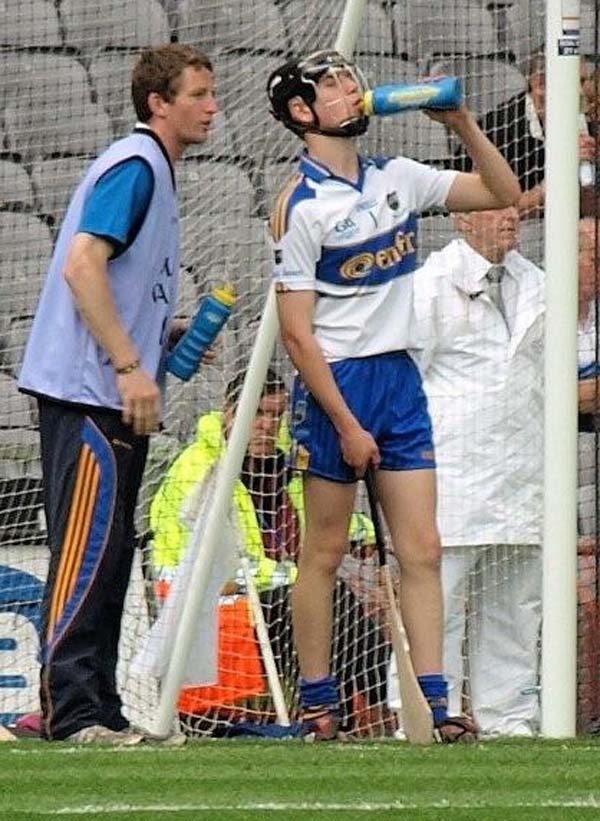 An inspirational word from Vinnie Stapleton to Dan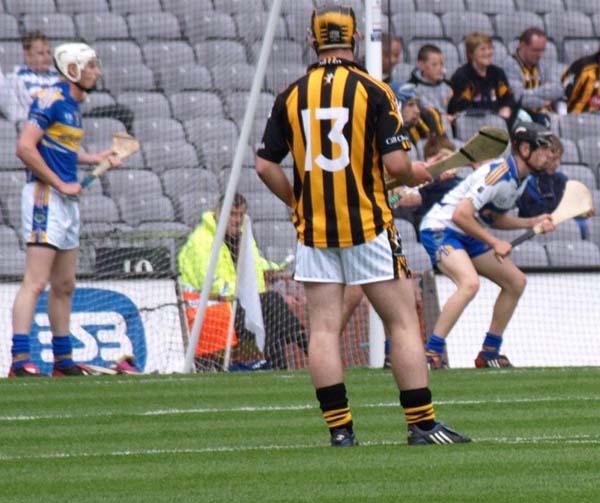 Dan getting ready to keep out the goals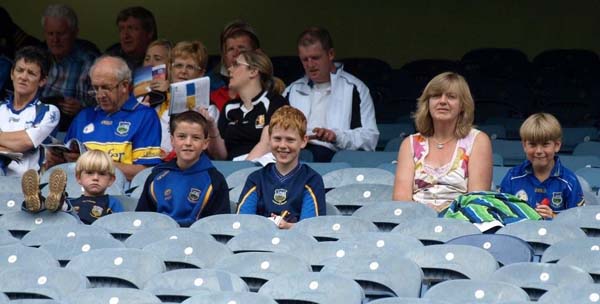 Family and friends watch in anticipation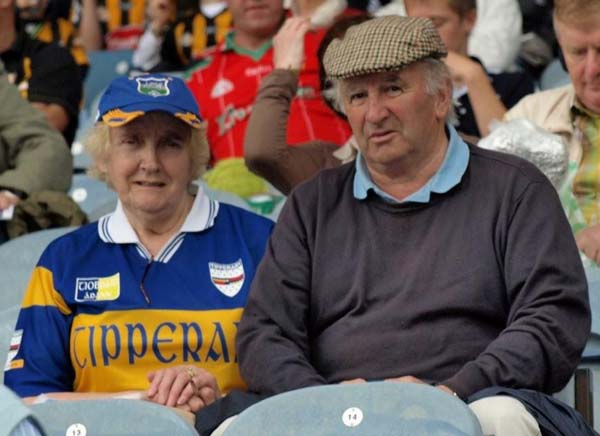 Mary and Tommy giving their support to Dan & Co. on their big day



---

Borris-Ileigh Juvenile GAA Club
U12 hurling: We will play Moneygall in the North Championship Final on Saturday next 15th August at 1pm in Nenagh.

U14 hurling: The North semi-final V Shannon Rovers has been deferred and has been provisionally rescheduled for next Monday 17th August. Date, time and venue will be confirmed later in the week. See posters in local businesses for details.

Best of luck to both teams and please come out and support our young players in their efforts to bring both titles back to Borrisoleigh.
All Ireland Minor Hurling Semi-Final: Well done to Dan McCormack who lined out in goals for Tipperary in the All-Ireland semi-final against Kilkenny. Commiserations to Dan and the rest of the panel who lost out narrowly in a great game. Best wishes to Paddy Stapleton and Brendan Maher in the All-Ireland Senior Semi-Final against Limerick in Croke Park next Sunday.
---

Caroline and Paul Tie the Knot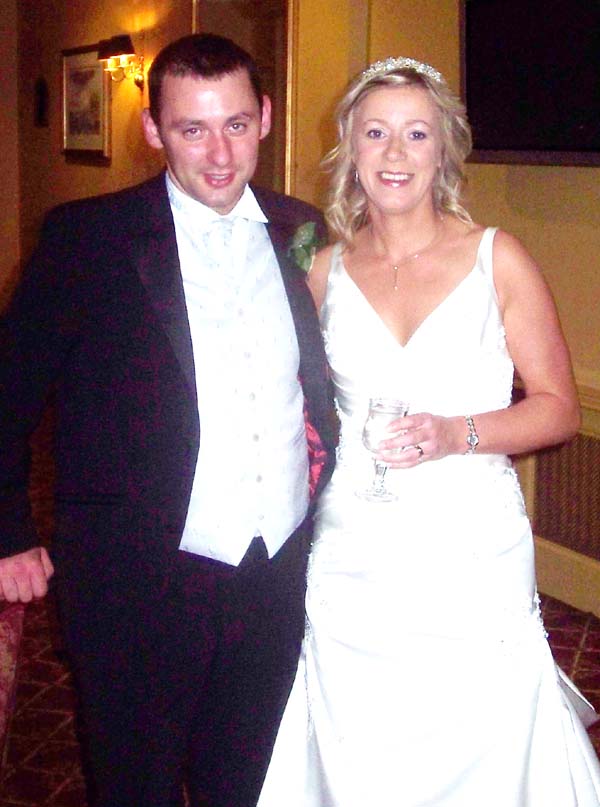 Caroline Shanahan(Curnaboula) and Paul Ryan (Drom), both living in London, celebrated their marriage on Saturday last August 8th in Ileigh Church followed with a reception in the Abbey Court Hotel Nenagh. Caroline and Paul are honemooning in Mexico. Congratulations to you both.
---
Borrisoleigh Annual Charity Cycle
2009
In aid of the Irish Cancer Society
(Night Nursing Service)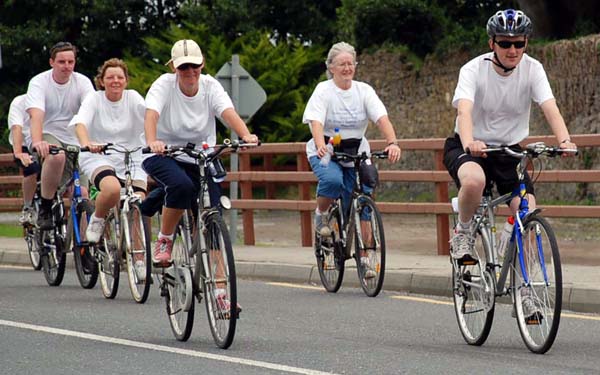 Some of last years' participants
Once again the time has come for our annual cycle which will take place at 2pm on Saturday the 19th of September 2009. This year we will be cycling for the Irish Cancer Society (Night Nursing Service) which provides a service for critically ill patients with cancer in their home. This service is vital to relieve the difficulties that families experience during this time. Night Nursing allows the patient to remain at home, thereby maintaining the continuity of care that the patient has experienced, surrounded by their family and supported by the home care team. Night Nurses sit with the patient through the night, providing nursing care, practical support and reassurance. The Night Nursing service has now been extended to cover patients with cancer during stages other than terminal illness e.g. respite care. This allows the family time to rest and take a break from their very demanding caring role. Night nurses are provided free of charge for up to 10 nights. Last year almost 1500 families throughout Ireland availed of the Irish Cancer Society Night Nursing service.

Sponsorship cards will be distributed shortly, so it's time to get the bike in working order again and start training. A few short spins two to three times a week between now and the19th September should be enough to get you around the course which again will be from Borrisoleigh to Thurles, onto Templemore and back to Borrisoleigh.For further information please contact P.J. Delaney or Ruairi O'Connell.


---
Hollywood Fame!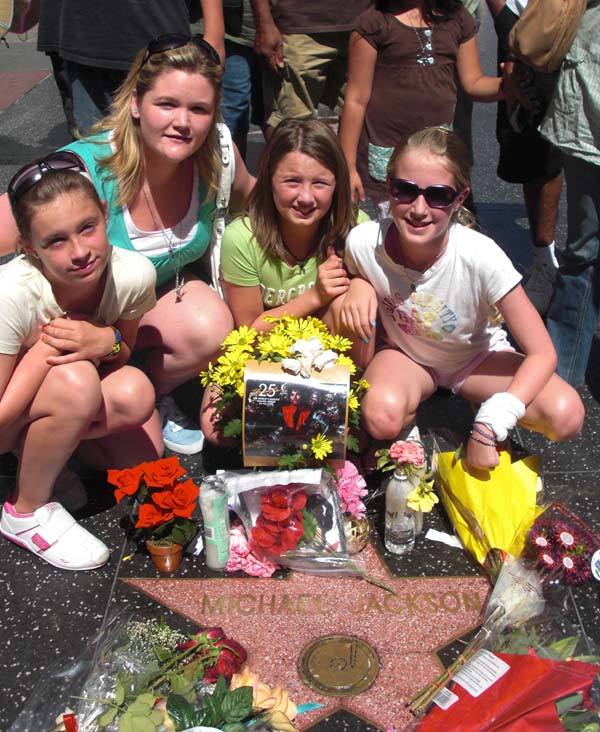 Sarah, Shauna, Hazel and Tara visiting the Michael Jackson's Star on The Hollywood Walk of Fame while holidaying in Los Angeles recently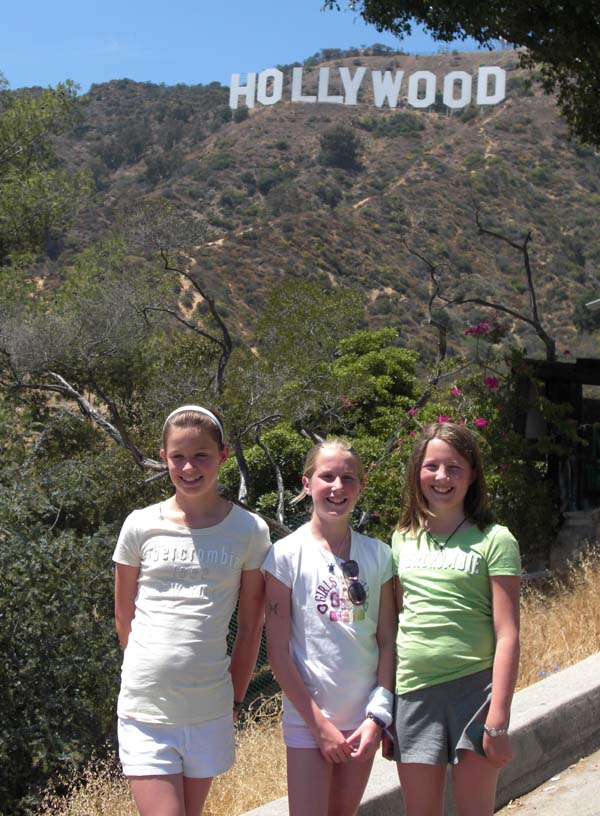 Sarah, Tara and Hazel enjoying the Californian sunshine with the Hollywood sign in the background
---
The three wise men of Borris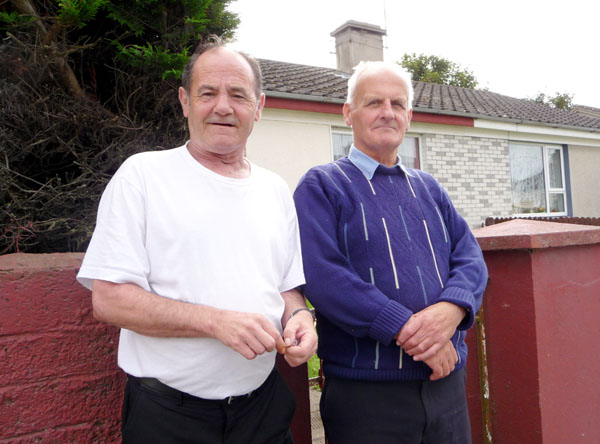 Matt Vahy and Jody Fogarty – two thirds of the three wise men of Borris!
Pictured above are the three wise men of Borris! Unfortunately due to the 'Recession' and the implementation of An Bord Snip Nua's cutbacks the three had to be reduced to two! Matt and Jody are having to do the work of three wise men as they seek to solve the worries of the world. If solutions are found we will of course report them in our weekly current news!!!

---
Making hay while the sun shines in Garrangrena!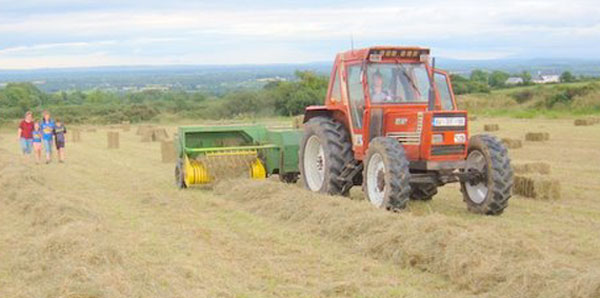 Anita from Springfiled takes her turn at the wheel as she bales the hay in the 'garden of the sun' (Garranagrena)
---
On your bike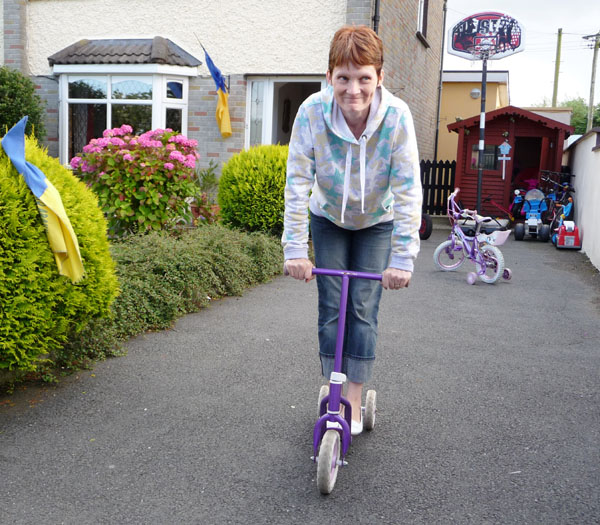 Paula Ryan of Pallas Street shows that there's a child in all of us older folk as she plays on her daughter's scootery thingy!
---
One woman and her dog!

Nuala Ryan of Mount George is pictured here with her dog Gypsie. Most people take their dog for a walk, but Nuala prefers to take her dog for a read. Gypsie is seen here scanning the pages of the daily paper looking for a bargain or two in the dog biscuit section!
---
Cúl Camp in The Park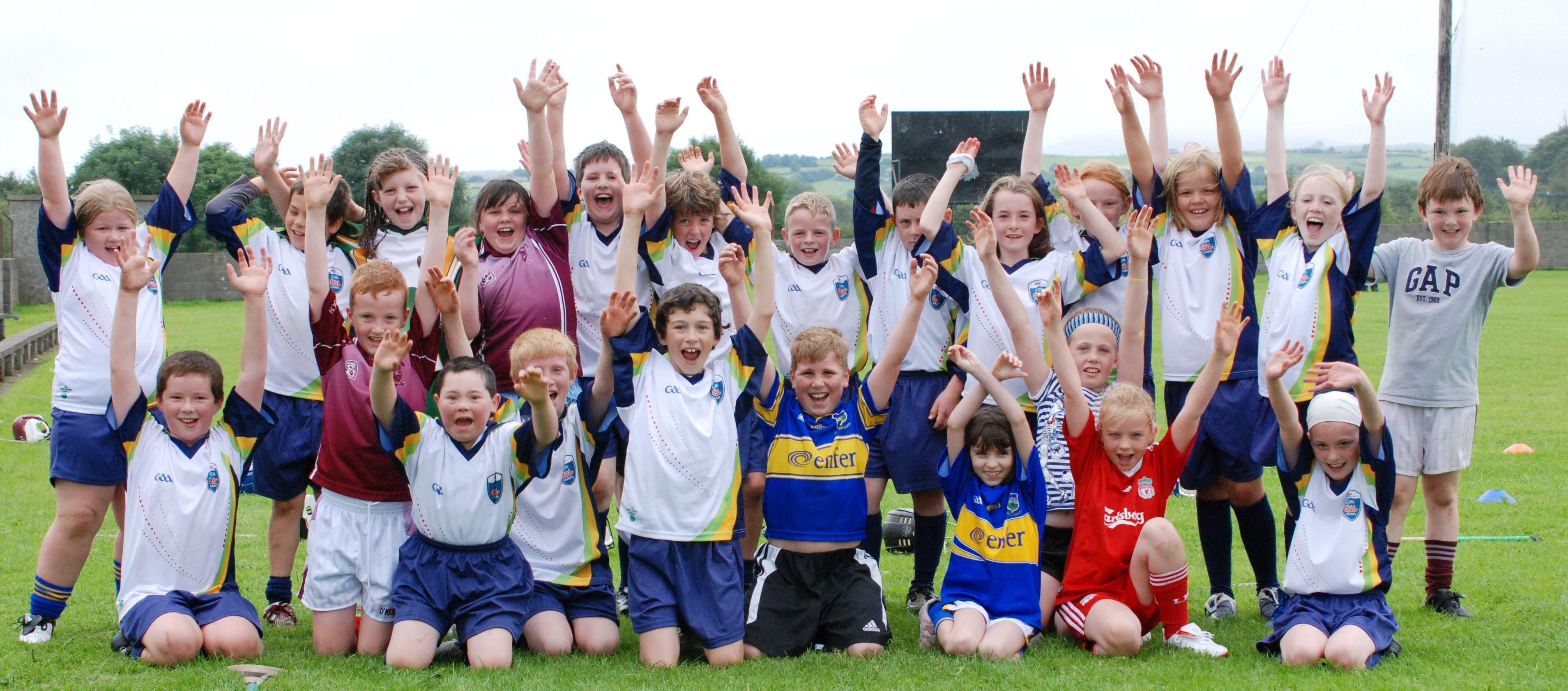 Some of the participants at this years Cúl Camp in The Town Park being run by the GAA in association with VHI
The GAA in association with VHI are running a 'Sports' Cúl Camp in The Town Park this week (Mon 10th – Fri 14th August). We hope to have a fuller report of the week's activities with loads of more photos in next week's current news. Stay tune as they say. . .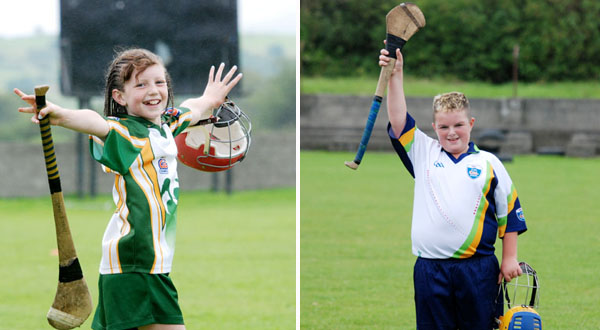 Clodagh and Paidi enjoying the fun at The Cúl Camp in The Park
---
Home on holidays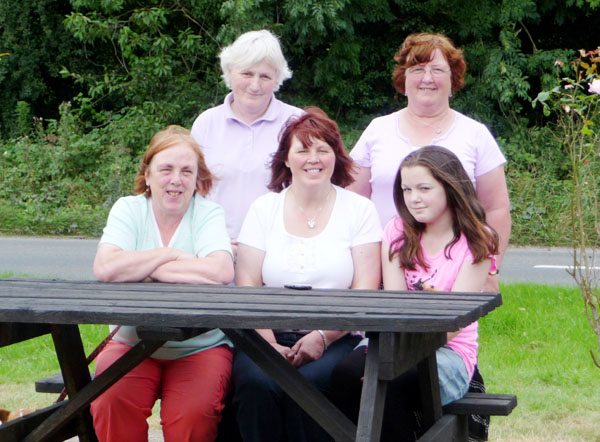 Ellen Vahy pictured here with her two sisters Catherine Butler and Mary Radestock (in Borrisoleigh on holiday) and Kathleen Patterson and Michelle
---

Tipperary – v – Limerick All Ireland Hurling Semi-Final and Ticket Information


The Tipperary v Limerick All Ireland hurling semi-final will take place in Croke Park at 3.30pm on Sunday August 16th. It will be the first time that Tipperary and Limerick will play a senior championship game outside of a Munster venue. The last competitive meeting of Tipperary and Limerick at Croke Park took place on April 25th 1971. The Shannonsiders won a tremendous League play off game, by 2-15 to 1-15 and subsequently beat Tipp by a point in the Final, at Cork, on May 23rd.

Tickets for the game are available on www.tickets.gaa.ie
---

Marian Hall Lotto

11/08/09

Numbers: 5, 6, 8, 12

No Winner
4 Match 3 @ €40

Mary Costello, Post Office
Patricia Fahy, Dromtarsna
Cissie Walsh, Roscrea

Next Weeks Lotto Jackpot

€4,950
---
Pic of the past….down memory lane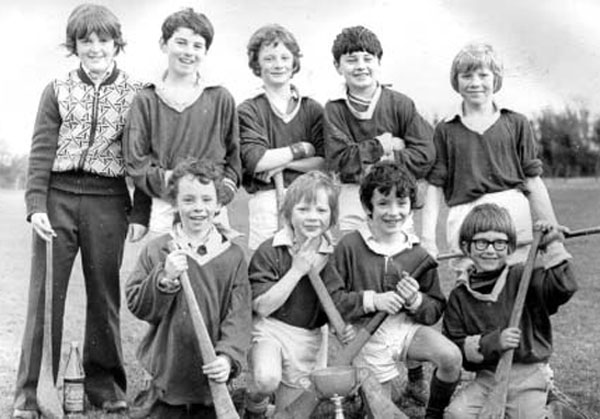 Back
: Michael Kinane, Denis Ryan, Jimmy Stapleton, Ger Ryan and Aidan Ryan
Front: John Glasheen, John Ryan, Paul Boyle and Mattie Stapleton


---
Your Website Needs You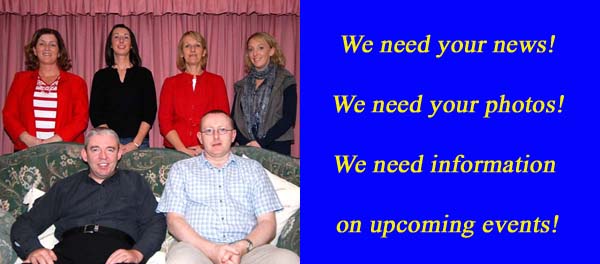 Website Committee: Noreen Fahy, Margaret Cowan, Marie McGrath, Aileen Óg Groome, Michael Barry and Enda Ryan

Many thanks to all those who contributed photographs and news items for this weeks current news. Well done!

Send your email to
info@borrisoleigh.ie
Also, if you like what you see and want to leave a comment, remember to use the Guestbook!