Love is in the air!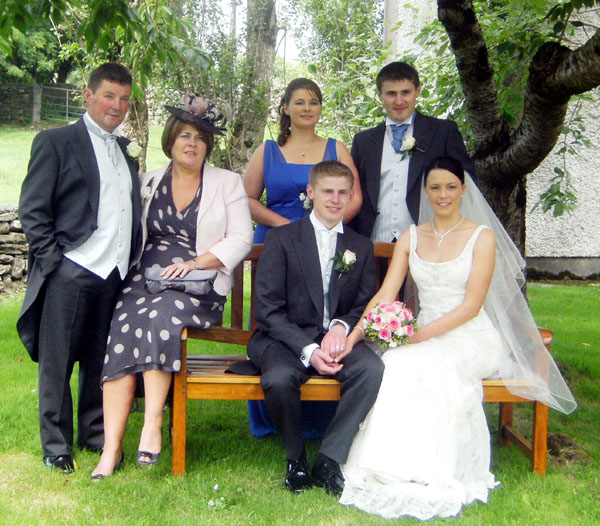 Tom Joe, Paula, Amy and John with Andy and Annemarie on the day of their wedding
Congratulations to Andy Spillane and to Annemarie Ryan on the celebration of their wedding at the Maree Church, Oranmore, Galway on Friday last June 6th. The wedding reception was held at the Galway Bay Hotel and the honeymoon is being spent on a Mediterranean cruise. Both Annemarie's parents are formerly from Borrisoleigh. We wish the happy couple many years of wedded bliss.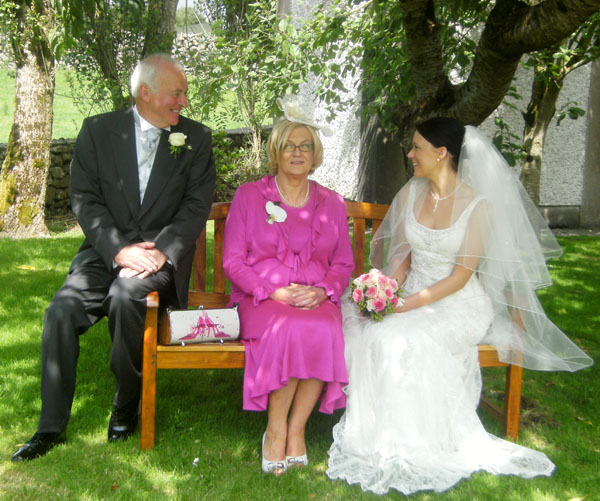 Annemarie with parents Pat Ryan, formerly from Coolataggle and Mary Maher formerly from Greenlawn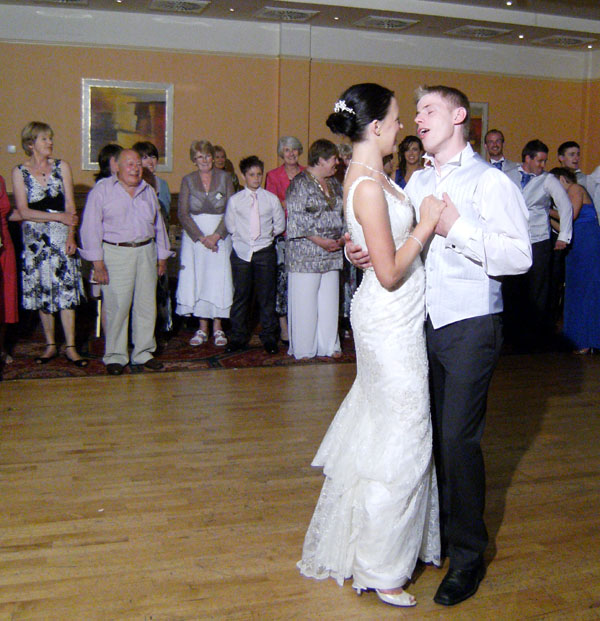 The happy couple dancing their first dance as Mr. and Mrs. Spillane
In and 'Out of Africa'!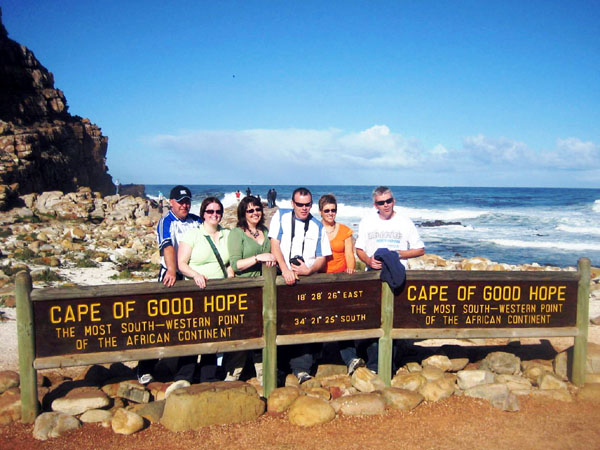 The Holidaymakers at The Cape of Good Hope
A trip to South Africa to take in some of the Lions test matches was taken by Pat and Helen Keane of Mountkinane, Borrisoleigh, Betty and Christy Slattery of Latteragh and Vera Martin of London in early June. Michael Lynch, whose mother Nora Ryan originally hails from Mountkinane, lives in South Africa and was a great guide for the trip.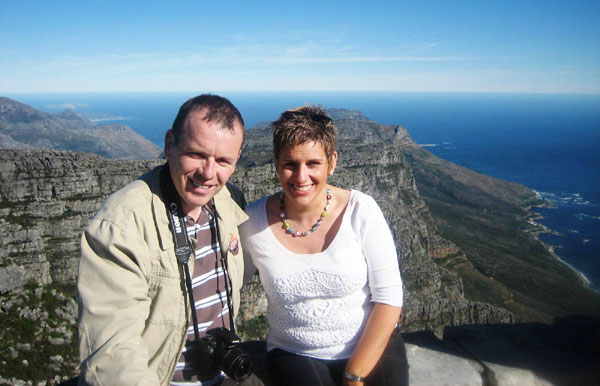 Christy and Betty at Table Mountain

Miaooow!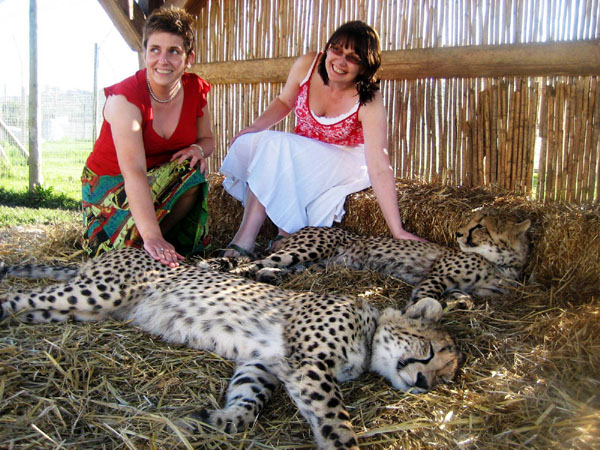 Betty and Vera petting cheetah cubs in Spier. (Looking mighty brave there girls!)


Betty, Michael, Christy, Helen and Pat at the 1st Test match at the ABSA Stadium, Durban. The Lions took on the Springboks and we all know who was still smiling at the end of the match!!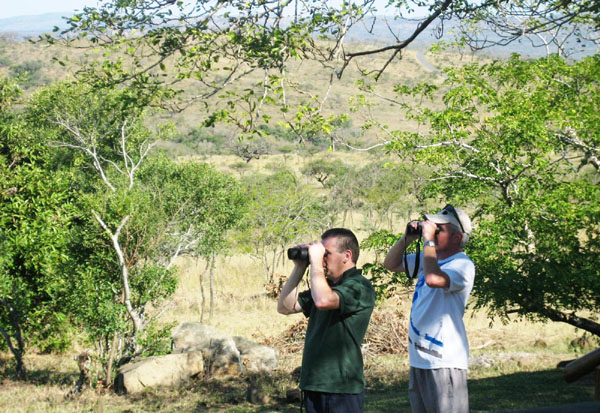 Christy and Michael on safari in Umfolozi Game Reserve. They know how to keep their distance from 'big' 'wild' 'dangerous' animals!!!

Guess who?!!!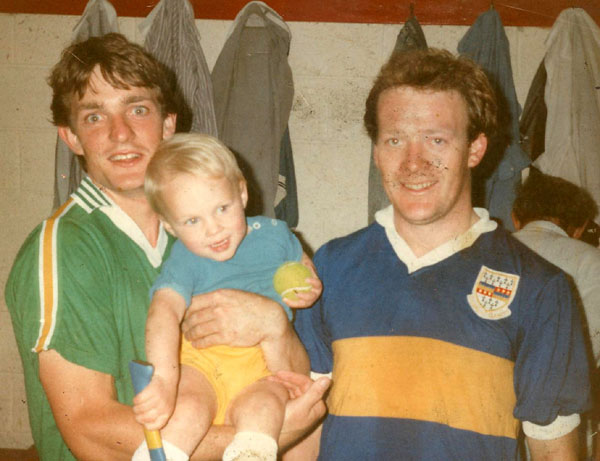 Can you identify the present Tipperary player in the middle of these two past captains of the Premier County? We wish the little lad and his team-mates the best of luck next Sunday against Waterford in Semple Stadium.

Family Fun Day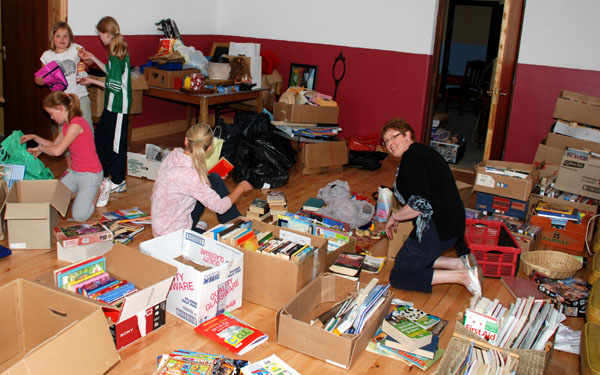 Breda Ryan and a band of little volunteers sorting stuff for the brc-a-brac sale at the Fun Day on Sunday July 5th in The Town Park
The Borrisoleigh Community Complex Committee ran a Fun Day in the Town Park on Sunday July 5th. We hope to have a full report of the day's events with many more photos of the goings-on in next week's current news.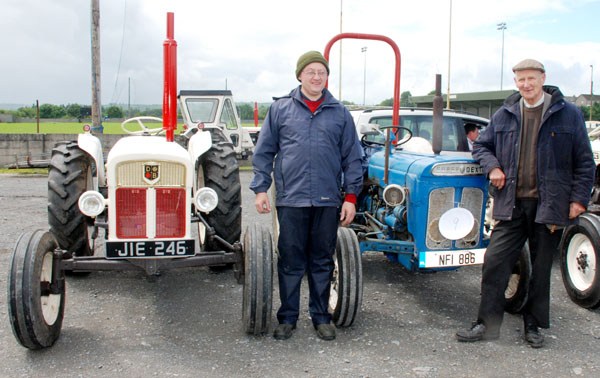 Donal Ryan and Jack Ryan each with his 'pride and joy' at the Vintage Tractor Run which preceeded the Fun Day activities

The modified cars brigade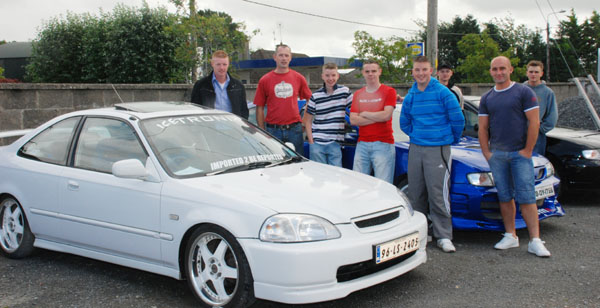 These local lads are happy to show off their modified machines

Gooooaaaal!!!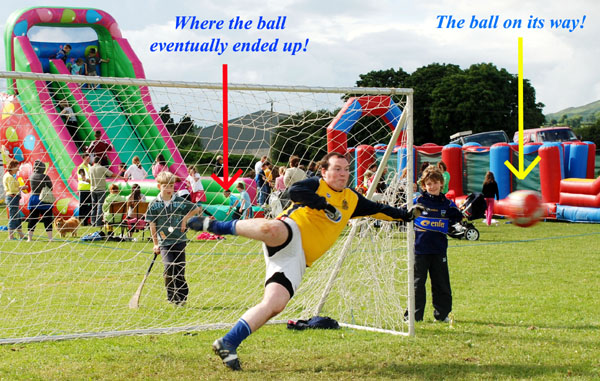 Rory Ryan captured here showing us how good he is at ballet but not much good at goal-keeping on this occasion!!! The two boys watchin' on are not impressed!!!
Not so sure about those tyres Guard!!!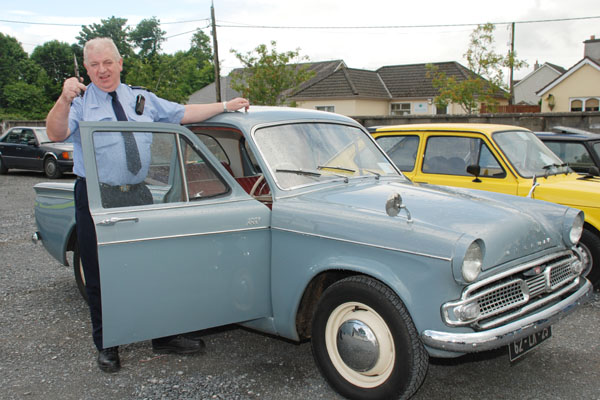 Local Sargeant Tom McCormack displays his vintage car, in keeping with his own age!


Thumbs up from Bobby!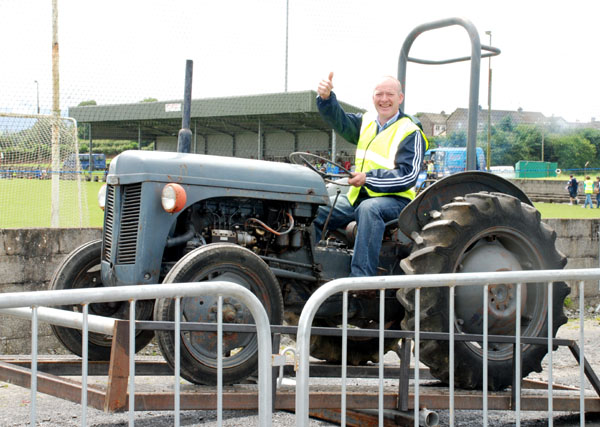 Bobby tries his hand (single-handed!) at the tractor balancing!

Smile! tis for the website!!!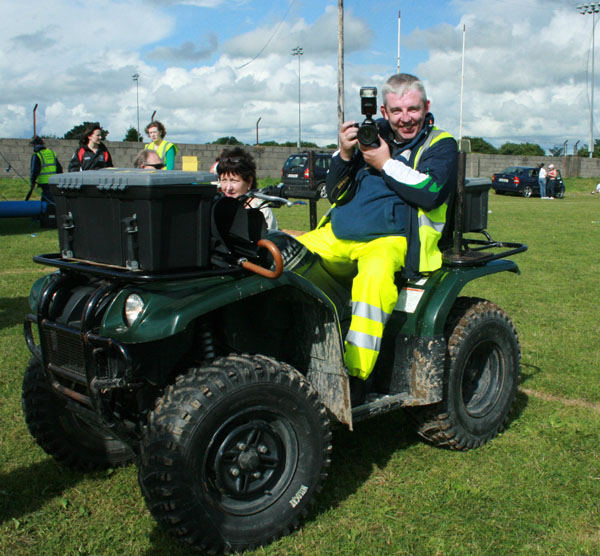 Fr. Michael on the other side of the camera… for once!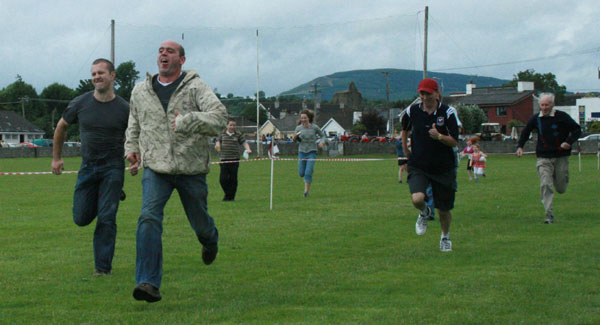 Joe taking the lead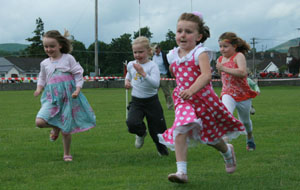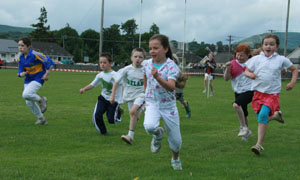 Olympians in the making!

On yer bike!!!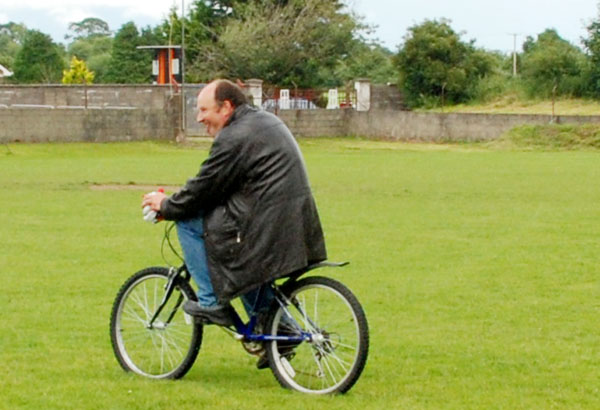 Willie Ryan making a dash for shelter as a big shower makes its way to Borris during the Fun Day. Maybe you should think about raising the saddle a bit Willie!
More love in the air!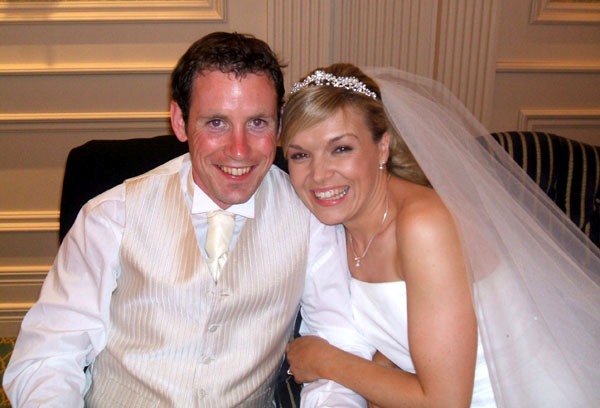 Pierce Ryan and Liz Gleeson on the day of their marriage recently
The wedding took place of Pierce Ryan of Pallas to Liz Gleeson from Templetuohy on Friday June 26th in Templetuohy. The happy couple were joined by family and friends at their reception which took place in The Newpark Hotel in Kilkenny. They are currently on honeymoon in Mauritius and later plan to visit South Africa. We wish them both a lifetime of happiness.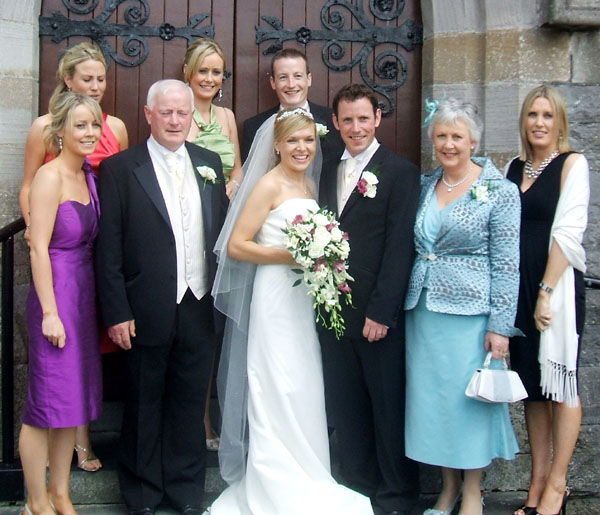 Pierce and Liz with Pierce's family after the wedding ceremony

Biddy hard at Work!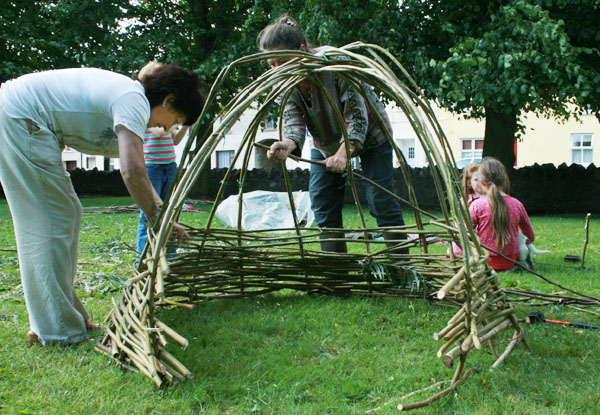 On a recent visit to her son Jody's, Biddy Hurley gets stuck in wattle weaving. Is this to be your summer residence Biddy?!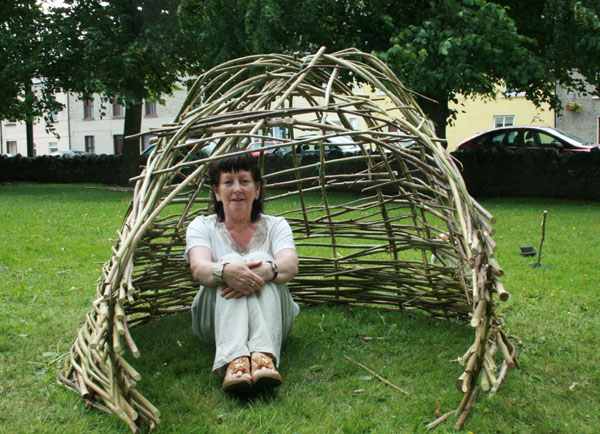 Biddy taking a well deserved break – building houses can be such hard work!!!

Golden Jubilee Celebration!


Sr. Josephine Ryan surrounded by family on the occasion of her recent Golden Jubilee Celebration as a Mercy Sister


Sr. Josephine Ryan, sister of Pat Ryan of Curraghgloss, recently celebrated fifty years as a Mercy Sister. She celebrated this great milestone in her life with family and friends recently and with two of her other sisters in religion, Sr. Joan Bradshaw and Sr. Sheila Sheehan. Mass was celebrated in the Convent of Mercy Chapel, Doon and reception was held in Cappamore Community Centre. Sr. Josephine is presently ministering in Doon. Congratulations Sr. Josephine – 'Ad multos annos'!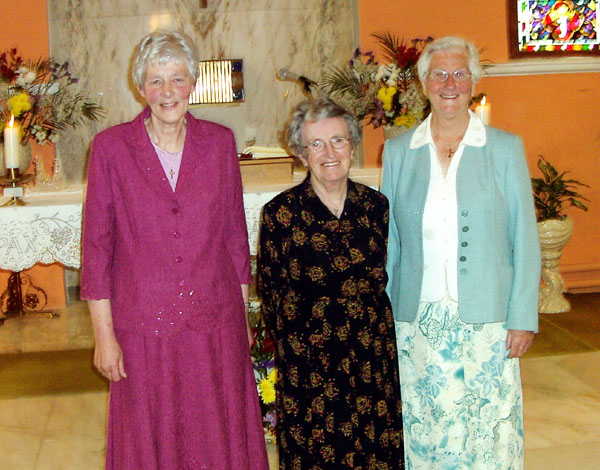 Sr. Josephine Ryan with with two other Golden Jubilarias Sr. Joan Bradshaw and Sr. Sheila Sheehan
Borris-Ileigh GAA Lotto
Thursday 2nd July
Jackpot: €6,800 (Not won)

Numbers: 1, 6, 12, 29
€50 Lucky Dip winners:

Aisling & Aoife c/o P.J. Kiely
Katie Fitzgerald c/o Butchers
Marie Fogarty c/o Ryan's Garage
Kevin Waldron c/o Vets

Next draw: Thursday 9h July, in Stapleton's (Cross of Pallas)
Jackpot: €7,000

Pic of the Past… down memory lane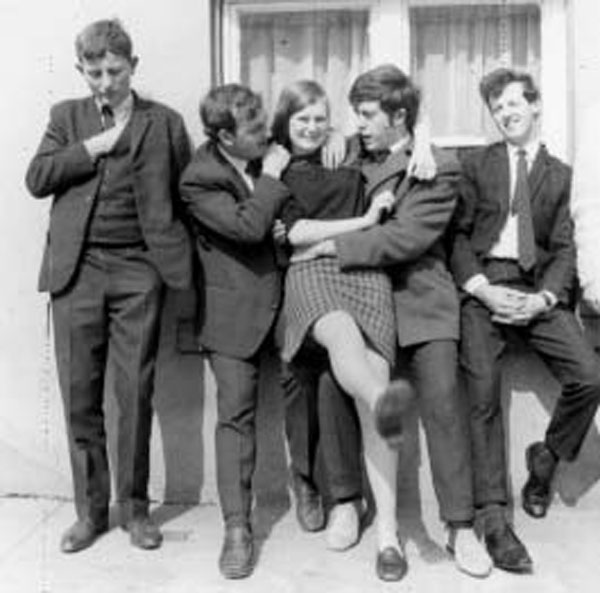 Seamus Kennedy, Harry Groome, Colette O'Dwyer,
Lar Smith and Kevin McSherry
Your Website Needs You!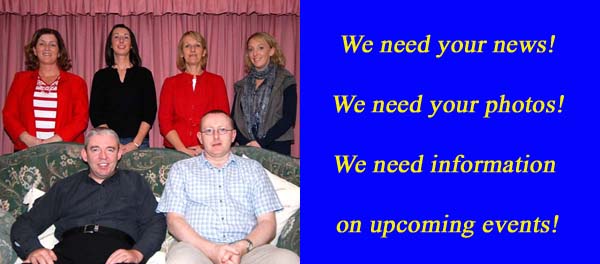 Website Committee: Noreen Fahy, Margaret Cowan, Marie McGrath, Aileen Óg Groome, Michael Barry and Enda Ryan

Many thanks to all those who contributed photographs and news items for this weeks current news. Well done!

Send your email to: info@borrisoleigh.ie

Also, if you like what you see and want to leave a comment, remember to use the Guestbook!